If you are searching for almond butter substitutes, this post is made for you. And I guarantee you will be amazed by the quantity of its substitution.
Therefore, in case this nut-based butter is too costly to you, or you are not really into the almond taste, or just simply because you are a nut-allergic person, these replacements will please you. Well, I think you can choose at least 1 option from these.
So what are you waiting for? Let's dig in and explore them.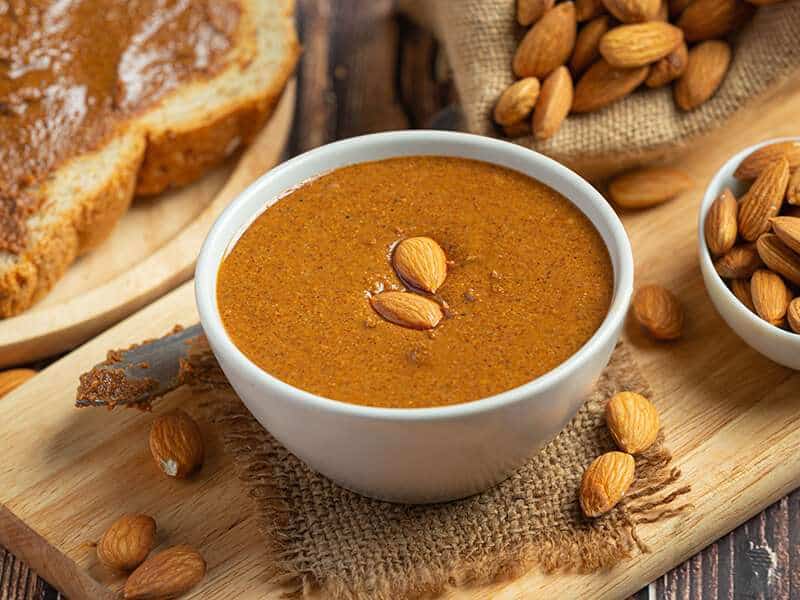 Almond Butter – A Brilliant Product From Almond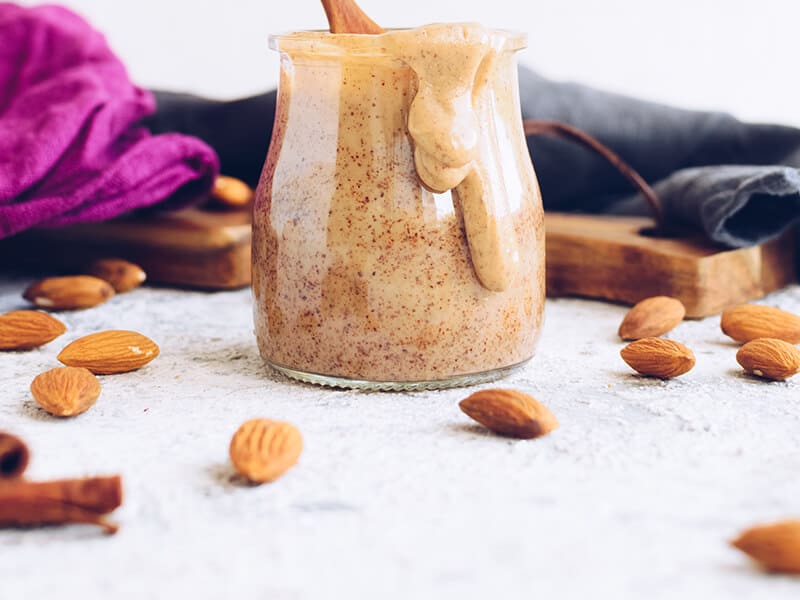 Many of you must have known about peanut butter before, but how about almond butter? Have you tried it yet? In reality, almond butter has started to gain popularity and become a staple food in many kitchens recently.
Almond butter is so nutty, rich, and creamy that it pairs well in tons of recipes, whether they are sweets or savories. Because it has a creamy, thick yet smooth texture, you can easily spread it on your toasts for a quick breakfast.
Also, almond butter can be considered a healthier choice compared to other butter varieties as almond nuts contain high levels of omega 3 fatty acids, vitamin E, B, monounsaturated fats, fiber, zinc, calcium, and magnesium.
Therefore, you can improve your brain, blood, skin, stomach, metabolism, and bone (1).
If you want to make almond butter at home, you should check this simple instruction.
Extensive And Awesome List Of Almond Butter Substitutes
Not everyone can buy almond butter in their areas as its availability is not as wide as peanut butter. That's why I have listed several ideas to swap for almond butter easily and effectively. Let's check the table below for quick information about these replacements.
| Substitutes | Ratio (Substitute: Almond Butter) | Best Uses - As A Spread | Best Uses - In Smoothies | Best Uses - In Baking | Best Uses - In Other Dishes |
| --- | --- | --- | --- | --- | --- |
| Peanut Butter | 1:1 | Yes | Yes | Yes | Bread, toast, breakfast, etc. |
| Walnut Butter | 1:1 | Yes | Yes | Yes | Stews, soups, dressings, salads, dips, bisque, breakfast |
| Pecan Butter | Taste as you go | Yes | Yes | Yes | Dips, dressings, breakfast, unbaked desserts |
| Cashew Butter | Taste as you go | Yes | Yes | Yes | Dips, fruits, sandwiches |
| Hazelnut Butter | Taste as you go | Yes | Yes | Yes | Chocolate-based desserts, dips |
| Macadamia Nut Butter | Taste as you go | Yes | Yes | Yes | Sweet and savory recipes (e.g., stews, soups) |
| Pistachio Butter | Taste as you go | Yes | Yes | Yes | Sweet and savory recipes, snacks, desserts, ice cream |
| Soynut Butter | Taste as you go | No | No | Yes | Breakfast, dressings, etc. |
| Black Bean Paste | Taste as you go | No | No | Yes | Muffins, cakes, brownies, main dishes |
| Hummus | Taste as you go | Yes | No | No | Savory recipes |
| Greek Yogurt | 1/2:1 | No | Yes | Yes | Sweet and savory recipes (e.g., dips, dressings, pancakes, shakes) |
| Unsalted Butter | 1:1 | Yes | No | Yes | Sweet and savory recipes (e.g., stews, batter, coffee) |
| Sunflower Seed Butter | Taste as you go | Yes | Yes | Yes | Dips |
| Pumpkin Seed Butter | Taste as you go | Yes | Yes | Yes | Sandwiches, toast, sauces |
| Coconut Butter | Taste as you go | No | No | Yes (but in limited recipes) | Dips, coffee, mayonnaise |
| 5 Seed Butter | Taste as you go | Yes | Yes | Yes | - |
| Cookie Butter | Taste as you go | Yes | Yes | Yes | - |
| Mashed Bananas | Taste as you go | Yes | Yes | Yes | Breakfast, desserts |
| Mashed Avocados | Taste as you go | Yes | Yes | Yes | Soups, salads, dips |
| Tahini | Taste as you go | No | No | No | Dips, dressings, desserts, breakfast |
| Nutella | Taste as you go | Yes | No | No | Toast, sandwiches, |
| Fruit Spread | Taste as you go | Yes | No | No | Breakfast, toast, crackers, bread |
| Ghee | Taste as you go | Yes | No | Yes | Dressings, toast, bread, vegetable dishes |
| Applesauce | 1:1 | Yes | No | Yes | Breakfast, desserts |
Best Nut, Drupe, Or Legume-based Alternatives For Almond Butter
Let's start with the substitutions that are made from relevant nuts, drupes, and legumes. And here are 10 solutions for you to choose from.
1. Peanut Butter
Peanut butter is the first ideal replacement as it can reduplicate texture with nutty-and-rich flavor like almond butter. Plus, it is cheaper and easier to find. There are also various peanut butter brands out there with distinctive features like smooth, stir, stir-free, or crunchy peanut butter.
Regarding its flavor, peanut butter can add some light sweetness, saltiness, earthiness and make your dishes smoother. It would be used best in toasted, baked recipes, breakfast, smoothies, etc. But be noted that peanut butter is sweeter than almond butter.
Moreover, this one is not as healthy as almond butter, but it is still a great solution. The ideal ratio for this swapping is 1:1. So feel free to exchange 1 part of peanut butter for 1 part of almond butter.
For more information, peanuts are not nuts; they are legumes instead, so you do not have to worry whether it is suitable for nut-allergic people.
2. Walnut Butter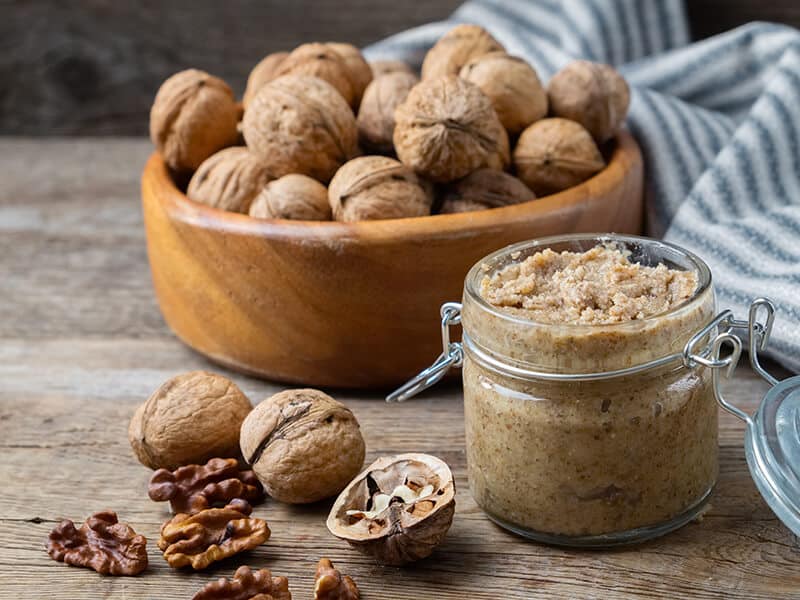 If you like some bitter aftertaste, you can use walnut butter instead of almond butter. This component is also a healthy source with higher benefits compared to other nut-based butter. In case you need a protein source for your vegan menu, choose this one.
You still feel its creaminess and nutty flavor with a rich texture in a spoon of walnut butter. And you cannot even recognize any difference in this replacement.
However, keep in mind that walnut butter is quite sweeter than almond ones, but it is not too much, so use a 1:1 ratio.
Serve it with honey and top them on toast, or add it to your stews, soups, dressings, salads, dips, bisque, breakfast, smoothies, or baked dishes. Or suppose you want to enjoy walnut butter on its own; just add a little bit of salted caramel or vanilla for the best result.
3. Pecan Butter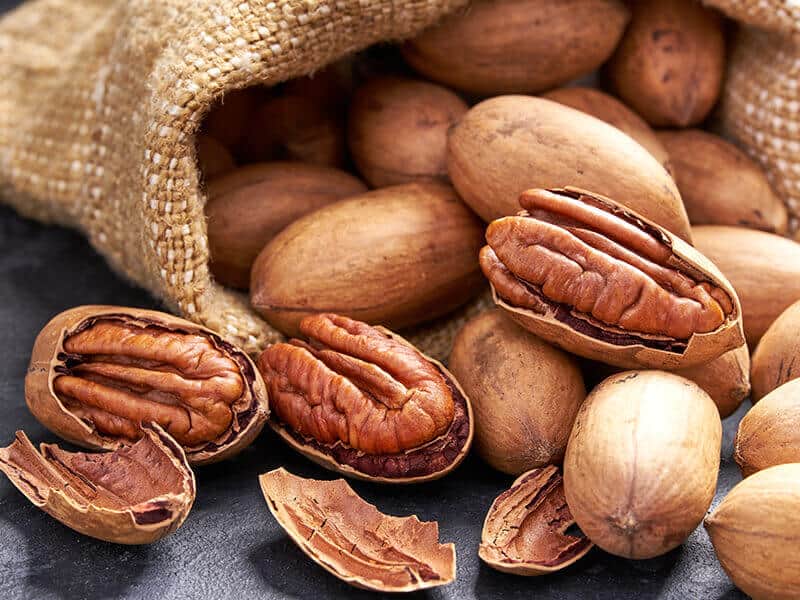 Pecan butter is another way to substitute almond ones as it is also a nut-based butter. But its flavor will surprise you. If you think almond butter is not creamy and nutty enough, pecan butter will meet your demand.
This butter is also a good balance of sweet and salt taste with coconut and vanilla undertones. And it can pair perfectly with jam to spread on your toast, or you can add them to your dips, baked or unbaked desserts, dressings, breakfast, and smoothies.
The only drawback of this substitution is that pecan butter's price is higher than almond butter. But once you try it, you might stick with this butter forever.
4. Cashew Butter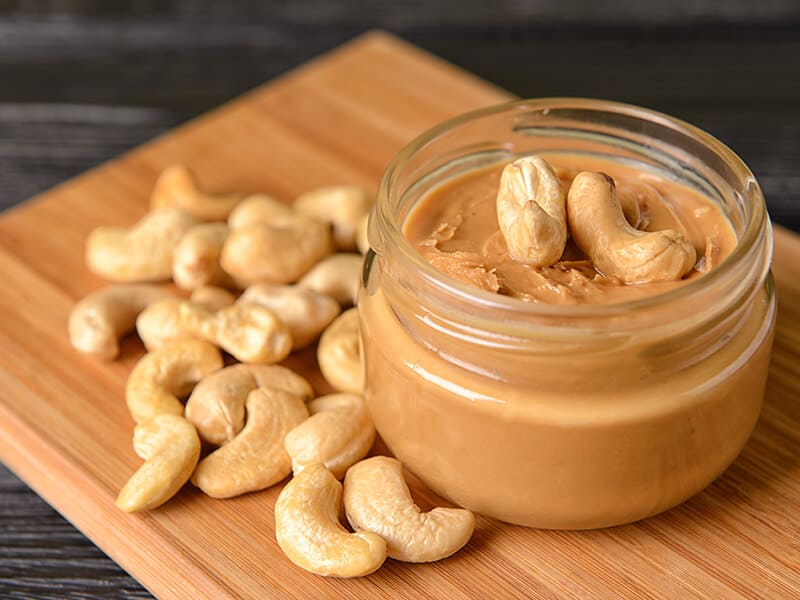 Fun fact: Cashew nuts are not tree nuts, technically. But the reason why people often classify them as a nut is that they have the same nutrition and cooking uses as other nuts (e.g., hazelnuts).
Cashew butter can improve your health since it is high in antioxidants and vitamin K that almond butter does not have. These 2 types of butter share similar taste, texture, and smell characteristics, so yes, you can swap cashew butter for almond type.
A little note about this exchange is that cashew butter might be a little bit sweeter than almond type, but I am pretty sure that you will not notice any difference.
The best recipes to go with this alternative are dips, fruits, or combine it with jam for your sandwich treats, make smoothies, or any dessert that asks for the buttery sweetness.
5. Hazelnut Butter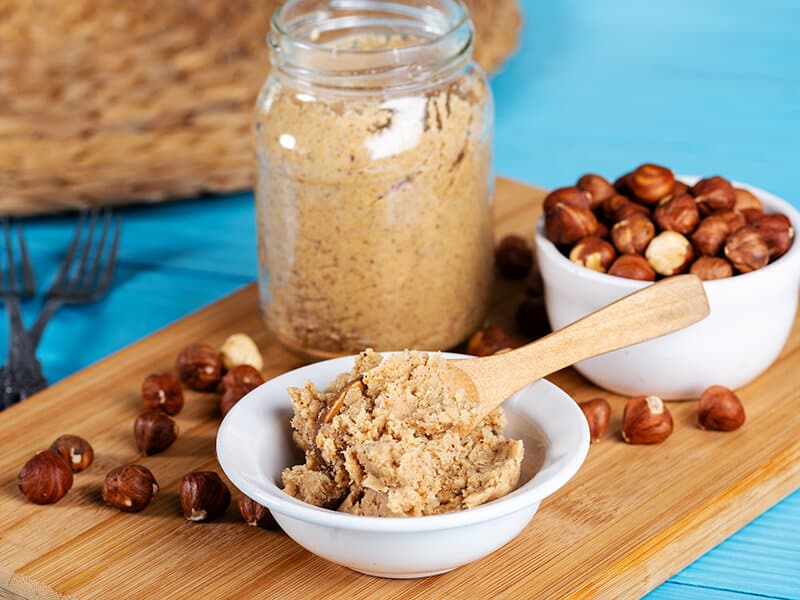 Similar to the above ingredients, hazelnut butter is also not an allergy-friendly choice. But as it contains a high level of protein and fiber with less saturated fat than almond butter, it is a better choice in terms of health benefits.
The flavor of this butter is creamy, nutty, earthy, and slightly sweet, making it so perfect to be in place of almond ones. Use it for your desserts, dips, or spread it on toasts.
Also, hazelnut butter can be a good companion with chocolate, so making chocolate-based dessert would be fantastic.
However, you might expect a higher price tag if you use this ingredient. But if your concern is more about a healthy lifestyle, I cannot find any reason you should not try hazelnut butter.
If you have a lot of hazelnuts and are not sure what to do with them, try making hazelnut butter.
6. Macadamia Nut Butter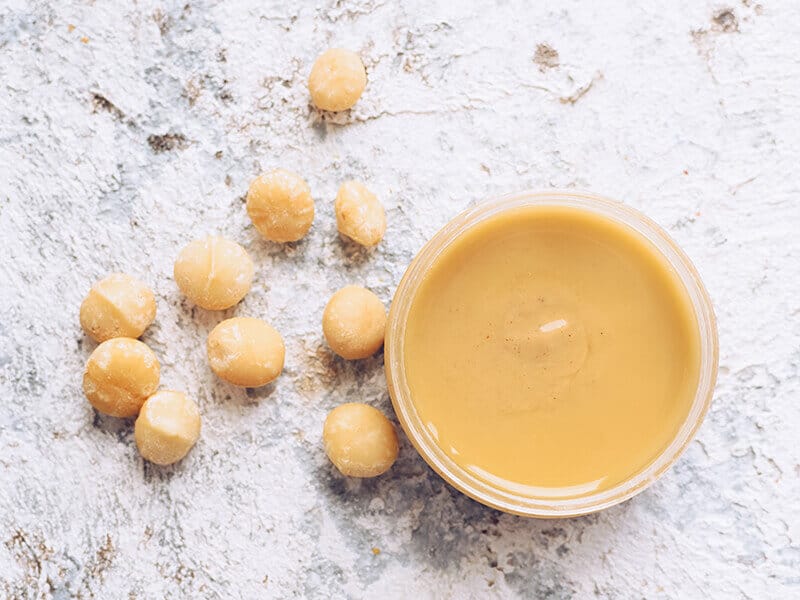 Another great bet that you can use in place of almond ones is macadamia nut butter. This one is suitable for those who do not like an intense nutty flavor since macadamia nut has a milder taste.
However, it is creamier and fattier in texture compared to almond butter. So if your recipes need a thick and rich surface, opt for this replacement.
Macadamia nut butter still knows a way to shine in many sweet and savory treats. You can use it as a spread on toasts, crackers or add it to stews, soups, baked goods, and smoothies to increase the richness. But if you are too fond of this butter's taste, feel free to enjoy it on its own.
7. Pistachio Butter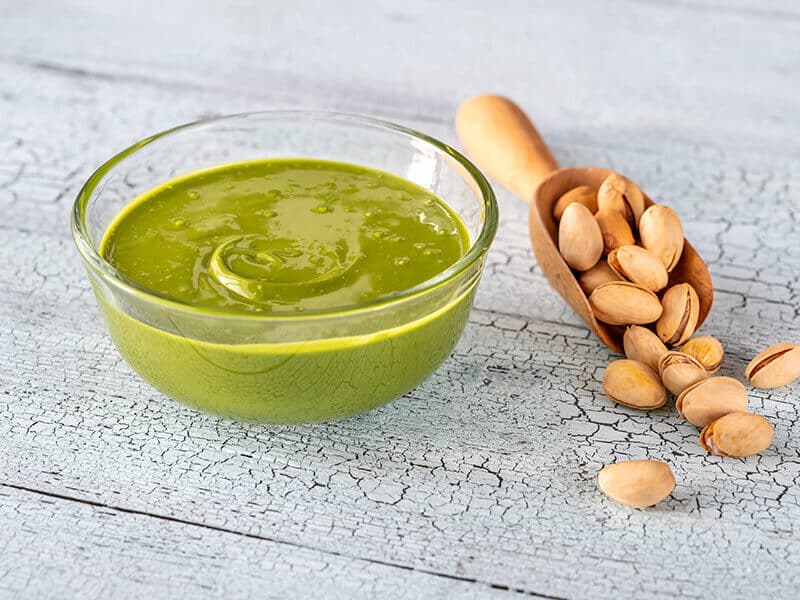 If you are a healthy lifestyle enthusiast, you do not want to miss this one. Indeed, pistachio butter is not only appealing with a green appearance, but it also offers the same creaminess as almond ones.
Also, pistachio butter has a rich nutty and lightly sweet taste, so whenever you want to make dessert, ice cream, smoothies, toasts that need almond butter, use this component instead.
You can even serve it with fruits for a quick snack. Or, in case you want to add some sweetness to savory dishes, try a little bit of this butter to see how they work.
8. Soy Nut Butter
Here is another excellent butter for those who cannot consume almonds. Soy nut butter has a creamy and smooth consistency like peanut butter. That's why it can become a potential backup plan for almond butter.
You can replace it in your baking recipes, breakfast, dressings, etc., with the appropriate amount and taste as you go.
9. Black Bean Paste
If you want to add some Asian vibe to your food, black bean paste might be a suitable replacement for almond butter. For healthier options, go with paste that is blended in water or veggie oil.
This ingredient has earthy, salty, and lightly sweet flavors. It can pair well in any recipe that asks for a rich and thick consistency, especially in baked dishes. So if your muffins, cakes, brownies, or even main dishes call for almond butter, you can replace it with black beans paste.
10. Hummus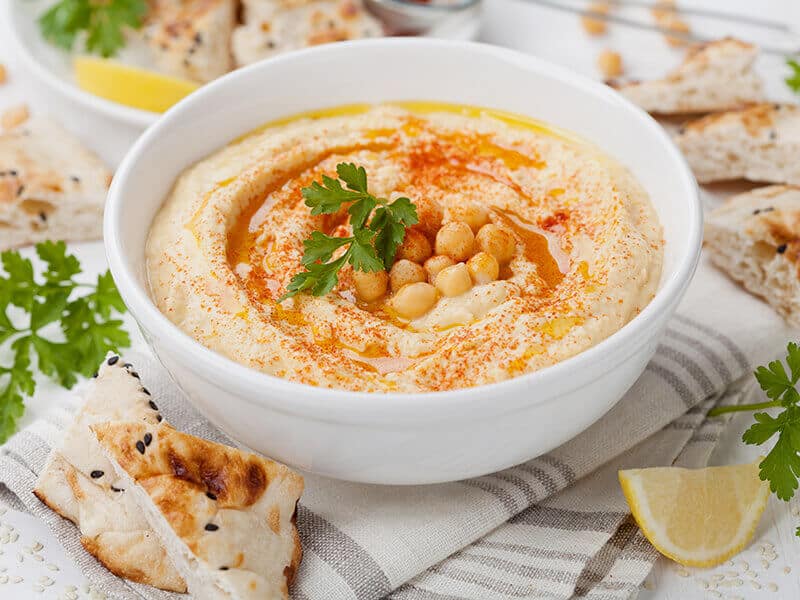 Hummus, a thick dish that is made from chickpeas, is another legume-based choice for replacement. And you know what the good side of it is? Hummus is super tasty and healthy as well.
You can make them at home effortlessly as well. So whenever you are out of almond butter, try using hummus in your savories or spread. But remember that this one is not too ideal for smoothies or baking recipes.
How to create a big batch of delicious hummus? This is what you need to know.
And 14 Potential Nut, Drupe, Or Legume-free Almond Butter Backups
It is hard to imagine there are 14 different almond butter substitutes produced with substances other than nuts, drupes, or legumes. But they have 1 thing in common: these replacements will make you forget the absence of this butter.
11. Greek Yogurt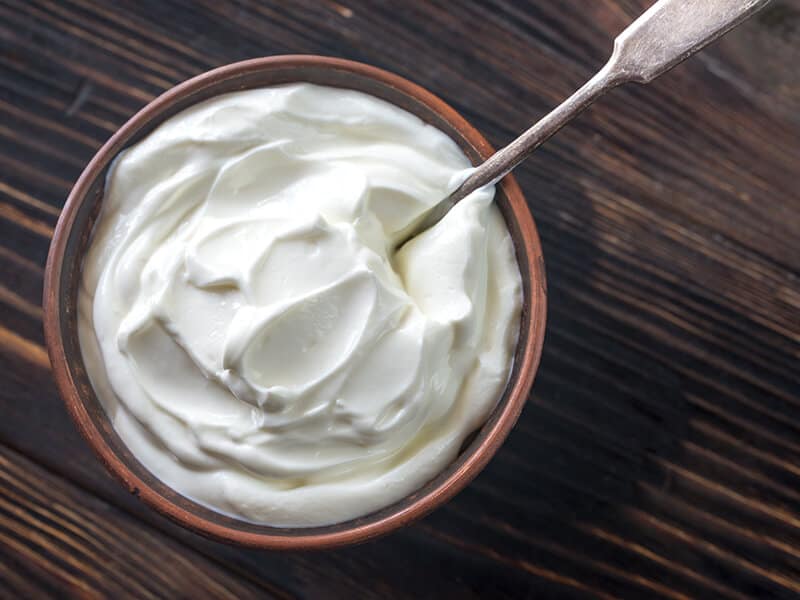 Who would have thought that Greek yogurt can be a good swap, right? But human creativity is unlimited, so give this one a try and see how they taste when you do not have almond butter.
Greek yogurt tastes sour, sweet, and tangy, making it an odd alternative for this butter. However, its rich and creamy consistency is what I want to emphasize in this replacement.
Moreover, Greek yogurt is not a vegan-friendly choice as it is made from animal milk. That's why it is not suitable for those who are lactose intolerant.
But if you are totally fine with milk-based products, use 1/2 part of this yogurt to exchange 1 part of almond butter for many sweet and savory dishes, for example, dips, dressings, baked recipes, pancakes, smoothies, or shakes.
12. Unsalted Butter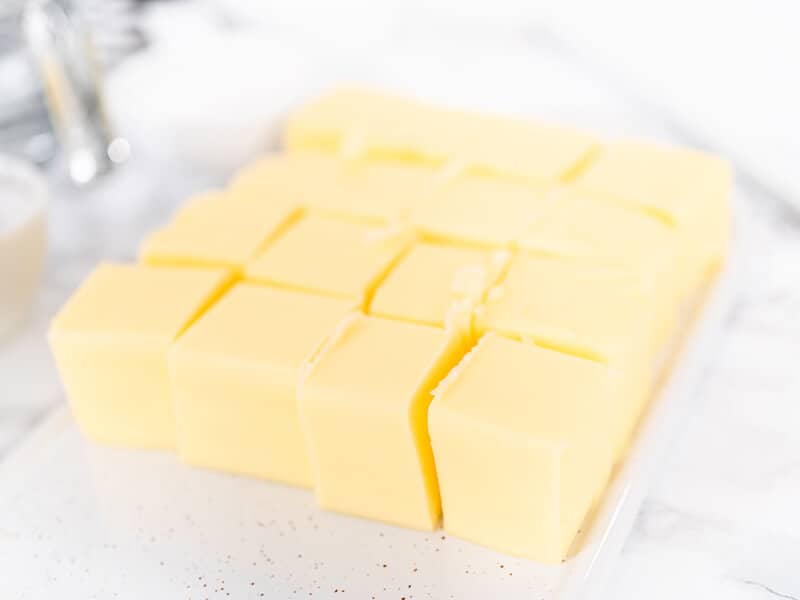 If you do not want to take a trip to the supermarket to buy any substitution as above, and if there is any chance that you have a block of unsalted butter in the cabinet, do not hesitate to go for it.
It might sound strange to exchange almond butter for this component, but it would not cost anything to give it a shot, especially when making baked food.
You might not get the same taste and smell as almond butter, but you will get a creamy, moist, fluffy baked dish when you use unsalted butter instead.
You can also use unsalted butter as a spread like almond ones. It also pairs well in stews, batter, coffee, or basically, any sweet and savory recipes. And the ideal substitution ratio is 1:1 in any case.
13. Sunflower Seed (Or Any Sunflower Seed-based) Butter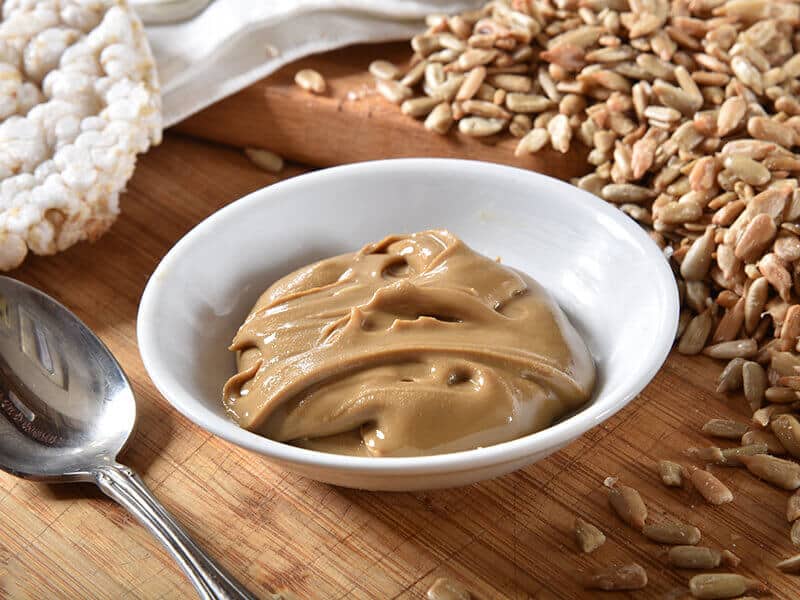 Sunflower seeds are very healthy seeds that you can use to make butter. You can receive many vitamins and minerals from consuming this component, particularly vitamin E, folic acid, folate, and healthy fats.
However, it will not carry a nutty flavor and is less thick and consistent than almond butter. But overall, this butter is still an acceptable exchange for allergic people. So if you have some sunflower seed butter on hand, use the same amount to replace almond butter.
As sunflower seed butter's less-creamy yet still-smooth feature, you can easily spread it on toast, bread, crackers, or use them in any breakfast recipe.
Also, mixing it with fruits (fresh or dried) for a healthy snack or making dips, smoothies, or baking with this ingredient are not bad ideas. But do not forget to add a little bit of salt or sugar for full-of-flavor dishes.
14. Pumpkin Seed Butter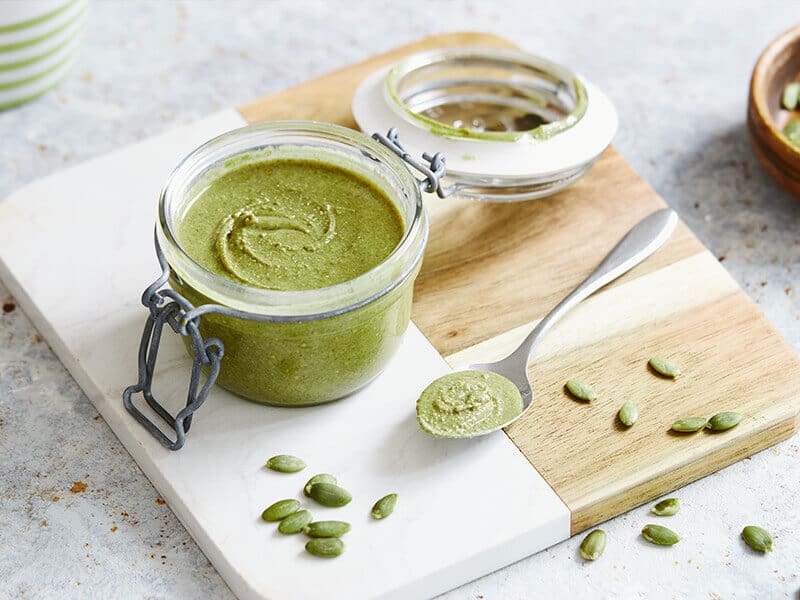 Pumpkin seed butter is also another excellent possibility for many nut butter, especially the almond type. Like sunflower seed ones, you do have to worry about your nut allergy when consuming this butter.
It is also a good choice for your keto menu. Besides, you will find various healthy nutrients in this butter as pumpkin seeds are rich in omega 3, 6 fatty acids, healthy fats, antioxidants, vitamin E, B2, iron, magnesium, etc.
If you are not too picky, you will fall in love with this butter's attractive green color, rich and creamy texture.
Overall, this butter can replace almond butter in toasts, sandwiches, baked goods, sauces, or smoothies with a milder flavor. Also, you can either use it as a spread or add it to your recipes.
15. Coconut Butter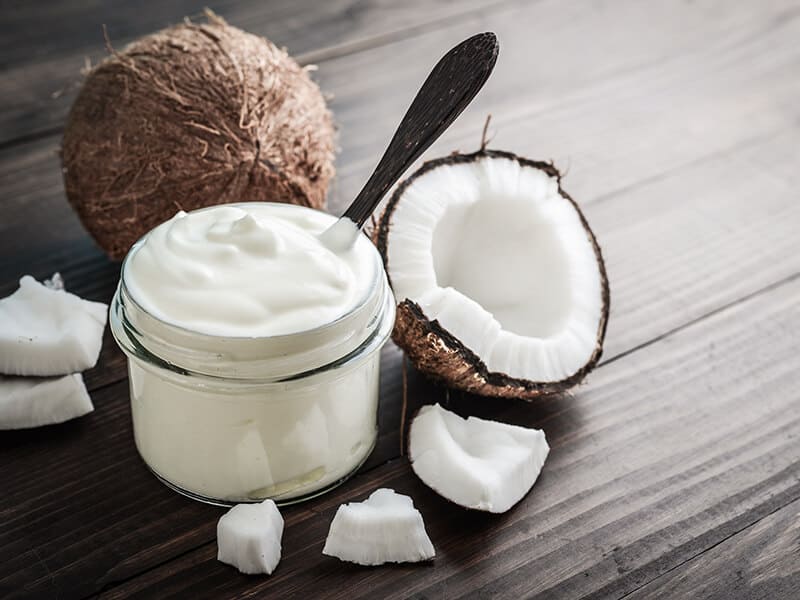 If you love coconut taste, you definitely want to try coconut butter in place of almond butter. Made from the flesh of coconut fruit, either they are dried or fresh in form, coconut butter will give a pleasant coconut-rich flavor and creamy white texture.
Its application in cooking is pretty versatile. You can use coconut butter to swap for not only almond butter but also olive oil. Or you can use it as dips, spread, or add to coffee or mayonnaise.
But since they have a strong coconut taste, this butter might not be suitable for all baking dishes. Also, though they are nut-free, you should still ensure that you are not allergic to coconut.
There is no store-bought coconut butter that tastes more delicious than a homemade one.
16. 5 Seed Butter
5 seed butter is another nut-free substitute for almond butter as it contains chia, flax, hemp, sunflower, and pumpkin seeds. Therefore, the protein level and good fats in this butter are superb yet low in carbs.
The good news about this type of butter is it has a relevant texture like nut butter in general, so if you can buy a bottle of 5 seed butter at the supermarket, it is time to let it shine as a spread, or increase flavors for smoothies or any baked dishes in place of almond butter.
17. Cookie Butter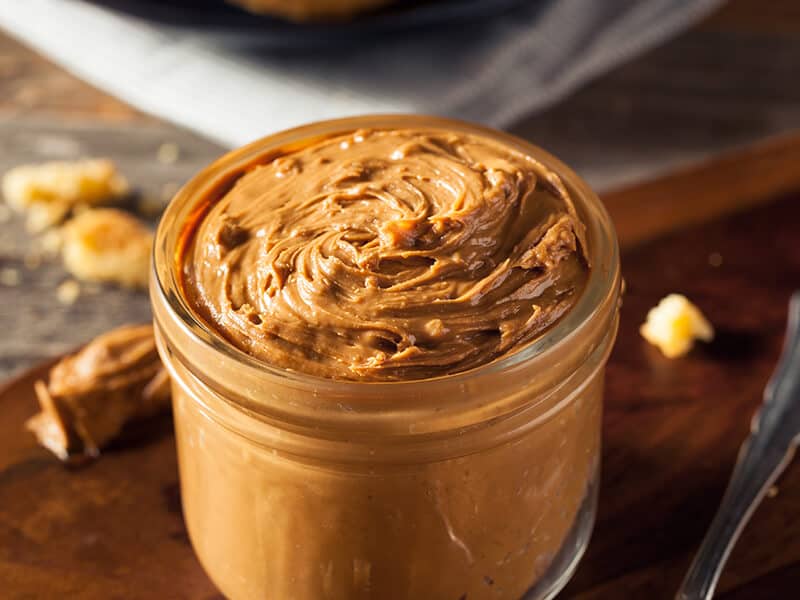 As the name suggests, cookie butter is typically made from spice ground cookies, flour, oil, and sugar. That's why they are pretty sweet, so if you use this one to replace almond butter, use it moderately.
Though its flavor is not similar to almond butter, cookie butter can still offer consistency, perfect for baked recipes. And, of course, you do not have to worry about nut allergy in this replacement.
18. Mashed Bananas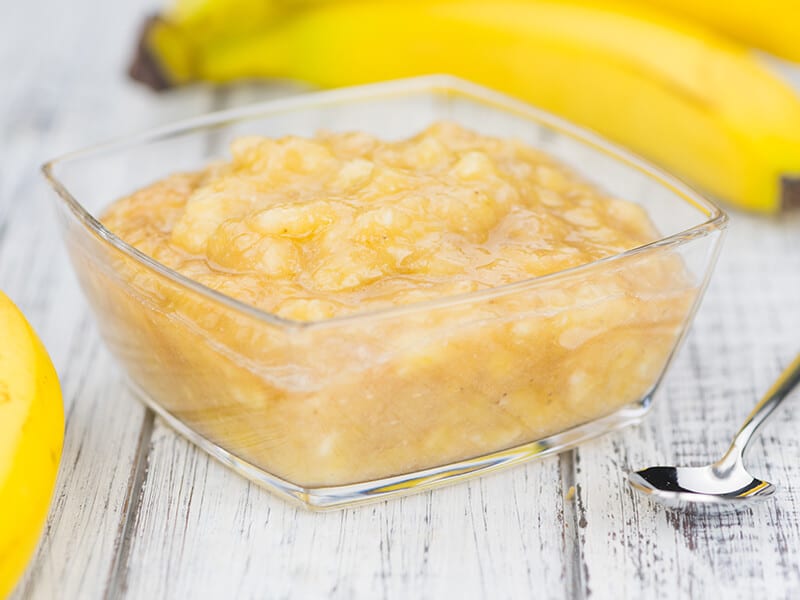 Do you know you can even use ripe bananas in case you do not have almond butter in many baking treats? Indeed, this gluten-free option here will make you forget this nut-based butter as it also has a buttery texture and sweetness, even sweeter than almond butter.
So whether breakfast, desserts, baked goods, or smoothies, where they require a rich surface, opt for mashed bananas with the same amount for swapping.
19. Mashed Avocados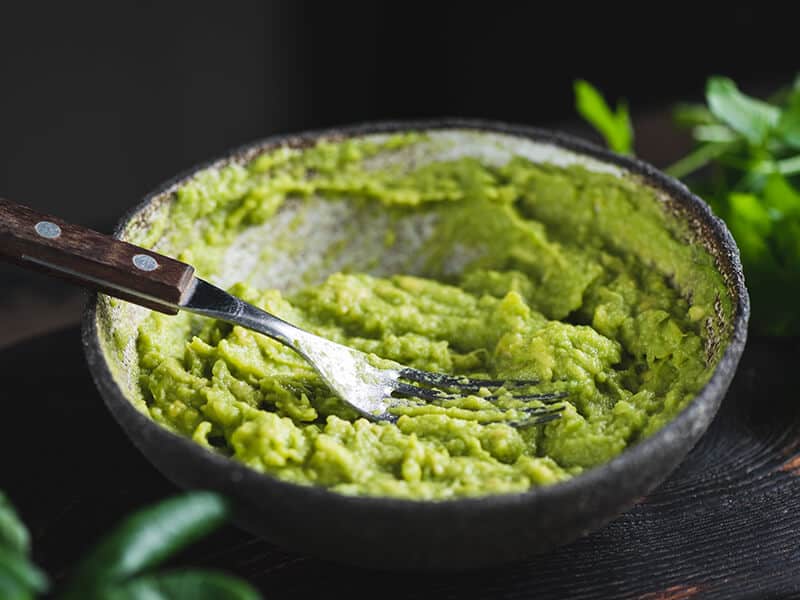 This alternative might not be super ideal in place of almond butter, but if you need a smooth and vegan-friendly spread on your toast like the way you use this butter, mashed avocado is perfect.
With a nutty taste, smooth, creamy, and consistent texture, you can use avocado in baking dishes to increase moisture and fluffiness or make super fresh smoothies (or shakes).
Also, this fruit can be an excellent component to make salad, dips. If desired, combine avocado with other ingredients to create hearty soups.
20. Tahini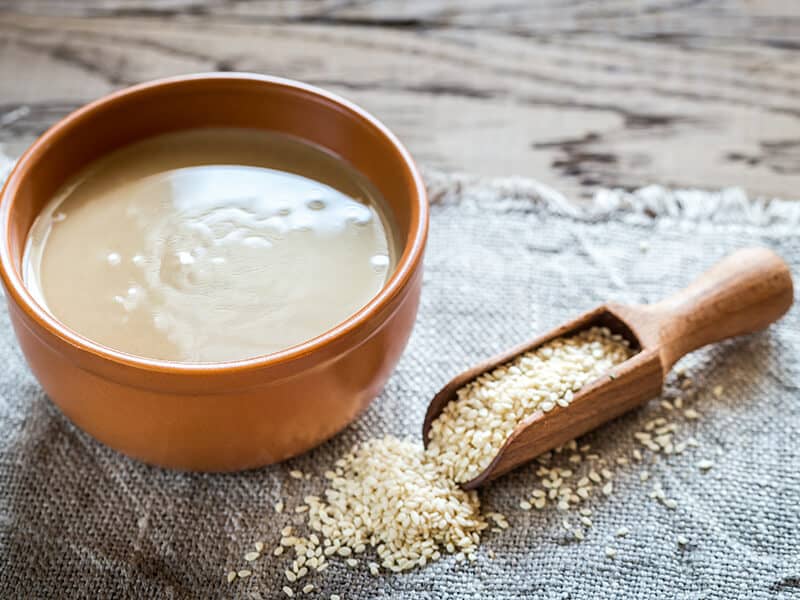 Tahini is a native to Eastern Mediterranean and has been a staple ingredient in South Caucasus, North Africa, and some East Asian areas (2). This paste is made from toasted and ground sesame seeds, and people mainly use it as a condiment.
Compared to almond butter's texture, tahini is quite runny, but you can use them to swap for almond butter as it has a creamy and slightly nutty flavor. So if your dips, dessert, breakfast, or dressing ideas need almond butter, use tahini instead.
However, be cautious if you have tree nut allergies. Sesame seeds are also associated with these allergies.
21. Nutella
As I mentioned about the mixture of hazelnut butter and chocolate to replace almond butter in chocolate-based dessert, I cannot skip Nutella in this list. Why? Because 2 important ingredients to make Nutella are hazelnut and chocolate.
Thus, if you have any box of Nutella in your kitchen, you can substitute it for almond butter. It will go great as a spread on your sandwiches or toasts. And in case you like to add some chocolate hint to your baked goods, Nutella is a safe choice.
22. Fruit Spread
Fruit spread is a mixture of varied fruits that you can spread on toasts, crackers, bread, or top on your oatmeal breakfast instead of almond butter.
There are various types of fruit spread with different ingredients and flavors (less sugar or full sugar) to choose from based on your preference. And depending on what fruit that they use to produce, this spread will have different amounts of nutrients.
23. Ghee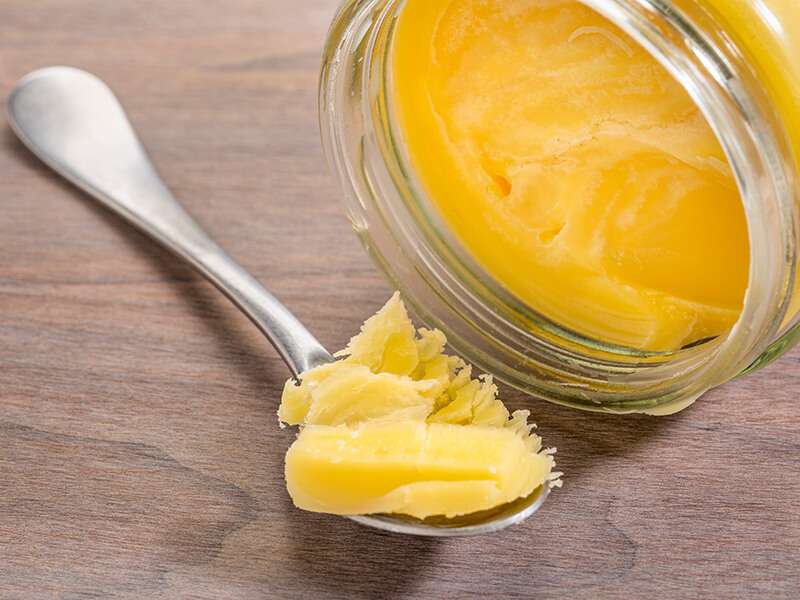 Ghee is clarified butter that native to ancient India. So if you have been to India before, I bet you have already heard about it.
Ghee is made by simmering butter. The texture and taste of ghee are 100% depending on what butter you use and the simmering time, so it might be varied. But the typical flavor of ghee is nutty and buttery.
Overall, ghee can act as an almond butter alternative in many dishes such as baking, dressing, veggies dishes, or you can spread ghee on toast or bread. However, ghee does not contain fiber or protein, like almond butter.
Homemade ghee is easy. Let's make it today.
24. Applesauce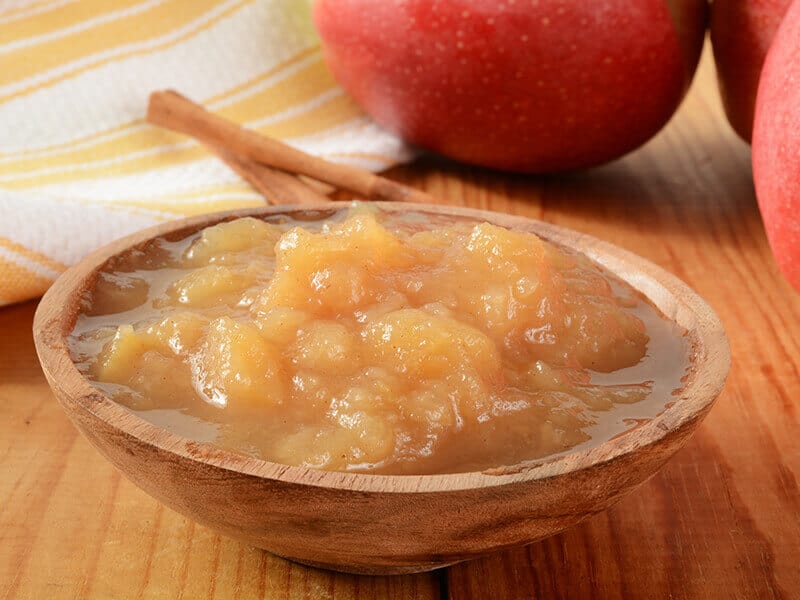 Applesauce, obviously, is made from peeled or unpeeled apples. This sauce can be spiced or added by many sweetened agents. But in general, applesauce will bring a light sweetness and smooth texture to your mouth that you cannot resist after a bite.
It is also an affordable replacement for almond butter yet packed with various health benefits as nut-based butter. Therefore, if you have applesauce at home, just use them as a spread or create yummy desserts, baked goods, or breakfast with the substitution ratio of 1:1.
FAQs
Last but not least, here are some questions about almond butter that you should not ignore. It is attached with the answers to make sure that you can grasp the whole idea about this topic in the shortest way.
Plenty Of Options For Substituting Almond Butter
And which one is your go-to ingredient? Please share your opinions or experience when you try it at home.
Finally, I do hope that you can create tons of wonderful dishes, even without almond butter. So do not hesitate to save this list on your phone; I believe you might need it some days. And if you like this post, your likes and shares are highly appreciated. Thank you so much!
References
Platt, I.D. et al. 2011, 'Postprandial Effects Of Almond Consumption on Human Osteoclast Precursors – An Ex Vivo Study', Metabolism, vol.60(7), pp.923-929. doi: 10.1016/j.metabol.2010.08.012.
En.wikipedia.org. 2021. Tahini – Wikipedia. [Online]. Available at: https://en.wikipedia.org/wiki/Tahini.