This article provides 14 chipotle substitutes for your consideration when you have no chipotle powder at home. Since it is a crucial ingredient in various mouth-watering dishes, it is a pity to run out of all the chipotle powder while cooking the recipes that require it.
Do not worry! There are diverse substitutes for chipotle powder in recipes that need a spicy note. Although they do not bring an exact flavor and heat like chipotle powder, they are still the best choices.
Without any further ado, let's dive into the article now and explore them!
General Knowledge About Chipotle Powder You Should Not Miss
Before moving to the introductions of these alternatives, it is essential to know more about chipotle powder. What is it? How does it taste? And other information related to chipotle powder you may never have heard of before. Short on reading to find out!
What Is Chipotle Powder?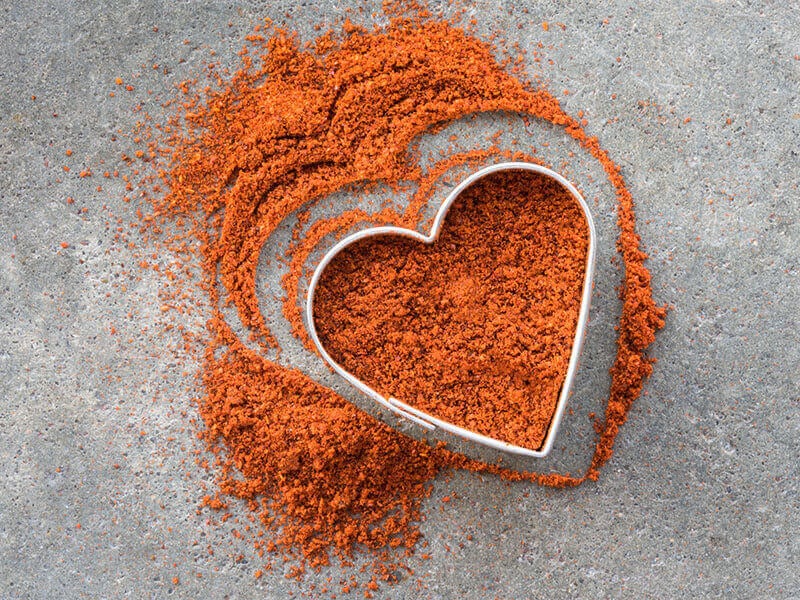 Chipotle powder is a spice blend mainly made from smoked jalapeno peppers and other aromatic herbs and seeds. You can recognize chipotle powder by its super fine texture with a brick red color.
It frequently appears in various Mexican and Mexican-inspired dishes, including Tex-Mex and South Western United States dishes, and creates a unique taste of those foods.
Is it spicy? Chipotle powder is not considered a hot spice as it tastes mildly spicy, and it goes from 2500 to 8000 Scoville Heat Units on the Scoville scale. Therefore, it helps strengthen and deepen your foods without overwhelming them. (1)
In addition, the chipotle powder is an excellent source of beneficial nutrients as it is packed with vitamins and minerals, particularly vitamin A, vitamin B6, riboflavin, iron, and potassium. These nutrients provide various health benefits. (2)
The Distinct Flavor Of Chipotle Powder
Chipotle powder is mainly made from smoked jalapeno and other mouth-watering elements. The chipotle powder has a complex and intense flavor. It tastes smoky, earthy, and tangy. Its smoky flavor is from being smoked over a wood fire for several days.
How People Usually Use Chipotle Powder?
Chipotle powder is used in various Tex-Mex and South Western United States dishes as well as Mexican cuisine. People add it to their quesadillas, tacos, and burritos. Chipotle powder is also used in various stews, soups, and curries to add vivid color and a spicy note.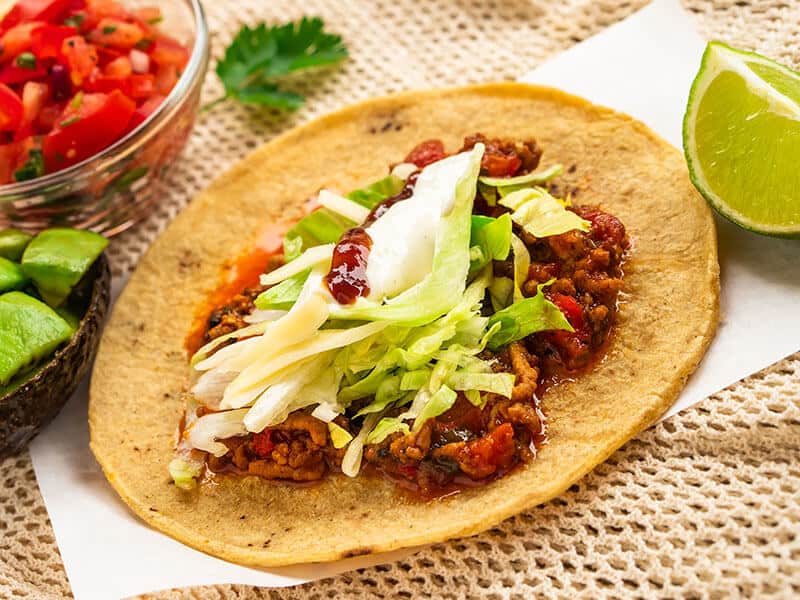 Besides, thanks to its distinct smoky and earthy flavor formed during the making process, it works well as meat rubs, ranging from red meat like beef to various kinds of seafood. Chipotle powder is also a key ingredient in salad dressings.
People also prefer sprinkling this fantastic spice on their popcorn, sandwiches, or pizzas to add a hint of spiciness and vibrant color to those foods.
14 Chipotle Powder Replacements For Your Consideration
Since chipotle powder can work well when combined with many different recipes, it will be miserable when no chipotle powder is available. Especially when you are cooking dinner or for your upcoming party! Check these alternatives!
| Chipotle Powder Substitutes | Heat (SHU) | Proportion |
| --- | --- | --- |
| Smoked paprika | 500 - 1000 | 1 tsp chipotle powder = 1 tsp smoked paprika |
| Ancho powder | 1000 - 2000 | 1 tsp chipotle powder = 1 tsp ancho powder + other spicy seasonings |
| Chili powder | 500 - 1500 | 1 tsp chipotle powder = 1 tsp chili powder = ½ tsp chili powder + ½ tsp cayenne powder |
| Aleppo powder | 2500 - 5000 | Start with a small quantity before adding more |
| Hot paprika | < 500 | ¼ tsp chipotle powder = 1 tsp hot paprika 1 tsp chipotle powder = 1 tsp hot paprika |
| Piri Piri powder | 50000 - 175000 | Start with a tiny amount before adding more |
| Cayenne powder | 30000 - 50000 | 1 tsp chipotle powder = ½ tsp cayenne powder Start with a little quantity of cayenne powder mixed with smoked paprika powder before adding more |
| Guajillo powder | 2500 - 5000 | Start with a small quantity before adding more |
| Sweet paprika | 12000 | 1 tsp chipotle powder = 1 tsp sweet paprika |
| Pasilla powder | 1000 - 2500 | 1 tsp chipotle powder = 1 tsp pasilla powder |
| Gochugaru powder | 8000 | 1 tsp chipotle powder = 1 tsp Gochugaru powder |
| Crushed red pepper | 15000 - 30000 | 1 tsp chipotle powder = 1 tsp crushed red pepper |
| Adobo seasoning | 2500 - 8000 | 1 tsp chipotle powder = 1 tsp Adobo seasoning |
| Chipotle-based products | 2500 - 8000 | 1 tsp chipotle powder = ½ tsp chipotle-based products = 1 tsp Adobo sauce |
1. Smoked Paprika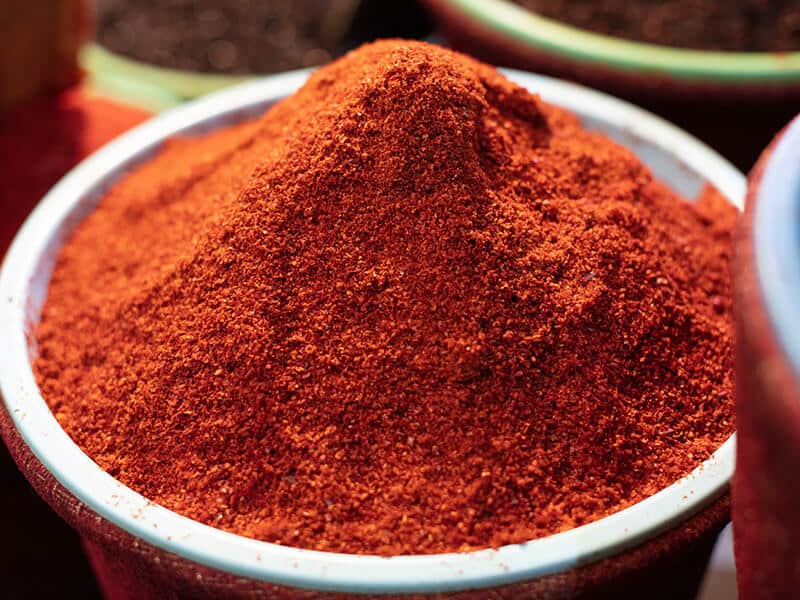 Smoked paprika is an Indian spice blend that is usually made from smoked hot or sweet bell peppers. It yields a unique smoky aroma and a dark red color but is still lighter than chipotle powder.
Smoked paprika is the best substitute for chipotle powder as they share a very similar smoky taste. Nonetheless, there are still some distinctions between smoked paprika and chipotle consideration, especially the heat.
There are two types of smoked paprika: smoked hot paprika and smoked sweet paprika. Because the smoked sweet paprika's heat is too low (100 – 250 SHU), you should choose one made from dried hot bell peppers to substitute.
Smoked hot paprika is from 500 to 1000 SHU on the Scoville scale. Consider using the same amount when replacing.
Let's explore how people make smoked paprika to use as a chipotle powder replacement.
2. Ancho Powder
Ancho powder is another best substitute for chipotle powder because it brings a smoky flavor to your dishes. Since being made with dried poblano peppers, it tastes mildly spicy like chipotle powder, with the heat being 1000 – 2000 Scoville Heat Units.
Adding ancho powder to the dishes calls for chipotle powder may bring a less tangy, intensity, and smoky flavor experience. The sweet and fruity taste of ancho chili will remind you of raisins. You should add other hot spices to have a better result.
Ancho powder can work well as a chipotle substitute in most Mexican recipes, especially taco meat and enchilada sauce. You can use the 1:1 ratio for substituting and adding more spicy seasonings.
3. Chili Powder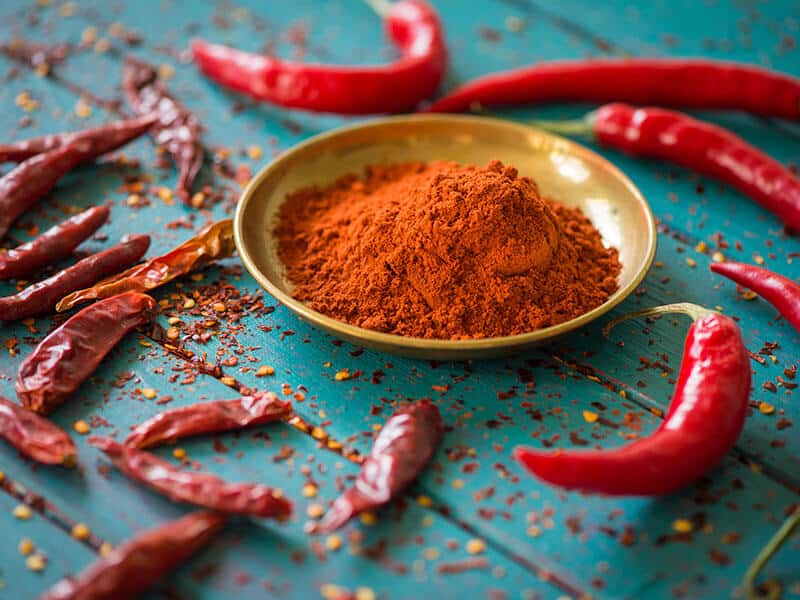 Chili powder and chipotle powder are popular in Tex-Mex and Mexican dishes. So that you can substitute chipotle powder with chili powder, but there are still some differences. It doesn't give the heaty and smoky flavor like chipotle.
Chili powder can vary from chilies that are used to make it. Therefore, the spiciness will be affected. But most chili powder varieties are slightly milder than chipotle powder. It goes from 500 to 1500 SHU. You can use the same amount of them.
Besides, spice it up with cayenne powder to add a smoky flavor to chili powder. To substitute chipotle with the mixture of chili powder and cayenne, you can mix half and half of them.
Chili powder also contains other aromatic ingredients, including garlic and cumin powder, and oregano, which bring a more fragrant smell than chipotle powder.
4. Aleppo Powder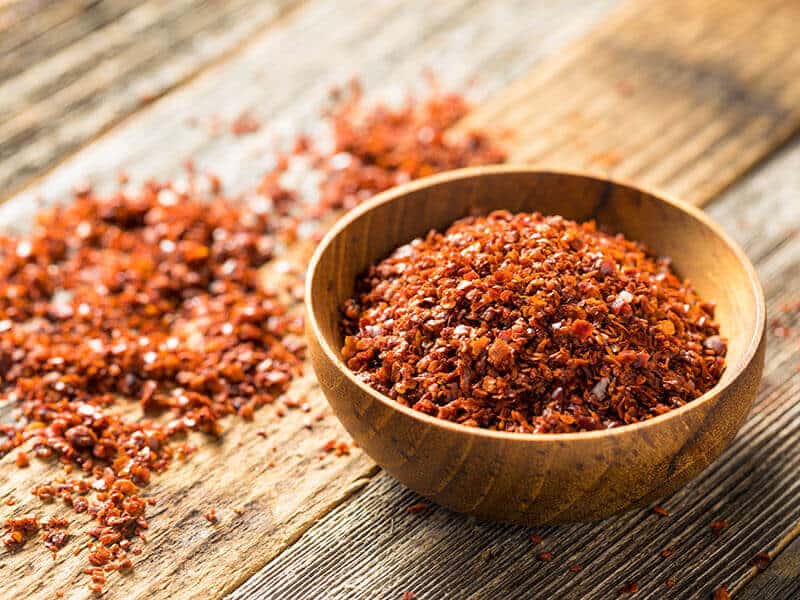 Aleppo powder is also known as pul biber. It is made from Halaby pepper, and it is a common condiment of many Middle Eastern and Mediterranean dishes. You can recognize it by the deep and bold red.
Aleppo powder also tastes mildly spicy and earthy like chipotle powder, but it lacks a smoky taste. However, Aleppo powder gives your dish a tangy flavor with a hint of fruitiness similar to tomato and comes with a little bit salty and oily.
The heat of Aleppo powder can go from 2500 to 5000 SHU. Consider adding slowly to control the amount of it. People tend to add Aleppo to marinate chicken, roasted vegetable rubs, and salad dressings. They also sprinkle it on top of their food.
Let's learn how to make Turkish salad with a delicious dressing added with Aleppo powder.
5. Hot Paprika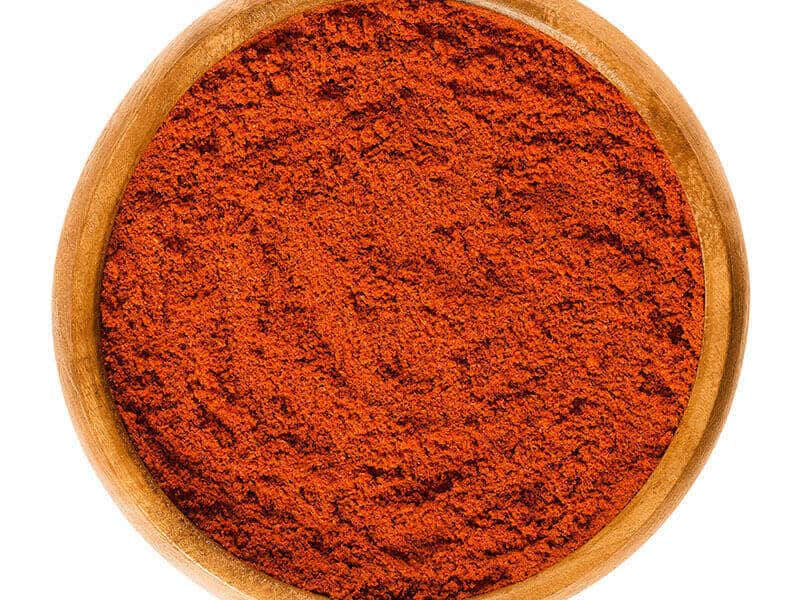 Hot paprika is a famous Hungarian chili powder. It is usually made from Bonnet peppers. Since it is made with spicy peppers, hot paprika, it is still not spicier than chipotle powder. Its heat is under 500 SHU while chipotle goes from 2500 to 8000.
Hot paprika tastes peppery, tangy, and slightly spicy, but it lacks the smoked flavor. However, it is also a suitable option when you have no choice. The recommended ratio is 1:¼; use 1 teaspoon of hot paprika for every ¼ teaspoon of chipotle powder.
Also, you can use 1 teaspoon of hot paprika to alternate 1 teaspoon of chipotle powder if you want to lower the heat of the dishes. Adding hot paprika also helps enhance your dishes' color.
You can replace the chipotle powder with hot paprika in various vegetables, potatoes, egg noodles, stews, soups, Goulash, creamy paprika, and curries. Also, people use it as a garnish or sprinkle it on top of their deviled eggs or popcorn.
6. Piri Piri Powder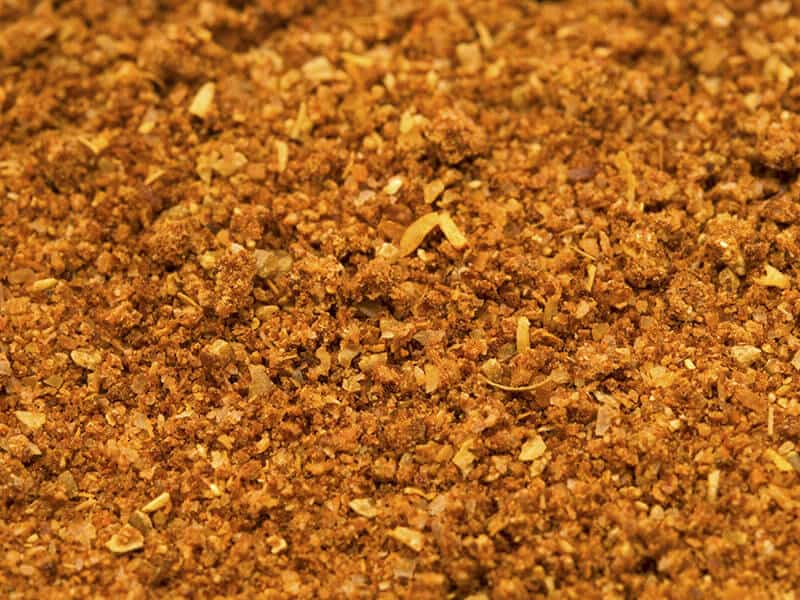 Piri Piri is also spelled as Peri Peri. People prefer mixing Piri Piri powder with French fries or Makhana – fox nuts or lotus seeds. This elegant and delightful spice blend will be a decent choice to replace chipotle.
Piri Piri is a combination of hot spices, including pepper, ginger, paprika, and herbs like oregano and pire pire powder to balance the spiciness of this mixture, make it more delightful and elegant.
Although it can go up to 175000 Scoville Heat Unit on the Scoville scale and is considered a hot spice, you can adjust the spicy level of Piri Piri powder by making it at home. It is better if you start with a tiny amount of it before adding more.
People usually use this kind of spice blend to make sauces to season and marinate ingredients of many Portuguese dishes. You can also use it to season chicken, beefsteak, fish, and vegetables.
How about making the famous Peri Peri French fries in many fast-food menus at home?
7. Cayenne Powder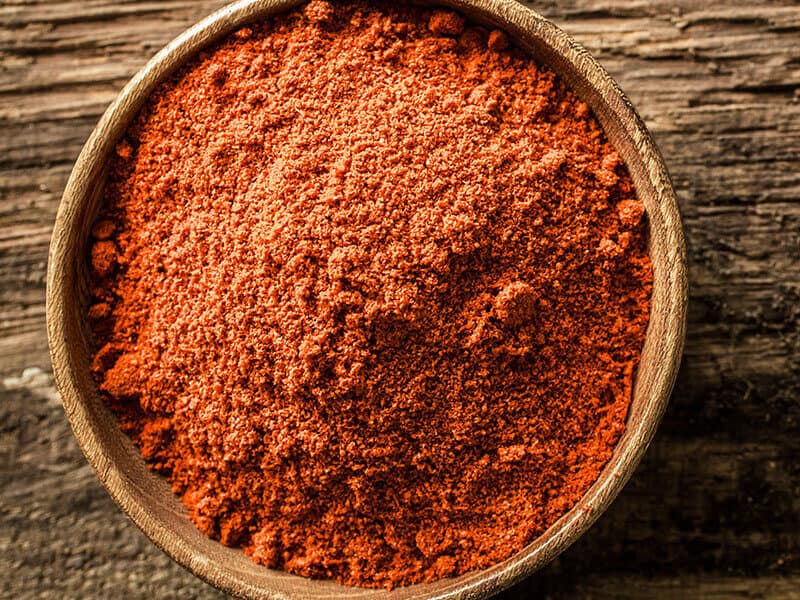 You can also substitute chipotle powder with cayenne powder. It is a blend of a variety of hot and stew chili peppers. That is why it is much spicier than chipotle powder. The Scoville Heat Units of cayenne powder goes from 30000 to 50000.
However, the cayenne powder does not share the featured smoky flavor with chipotle but is comparatively neutral. It also adds a spicy kick to your foods since it is much more intense than chipotle powder.
Therefore, you should start with a half teaspoon of cayenne powder before adding more so as not to make your dish too spicy to eat. You can also mix the cayenne powder with smoked paprika and add a small amount to substitute chipotle powder.
Cayenne powder is also beneficial for your health, as it helps boost digestive function, metabolism, and it's anti-inflammatory. You can add the cayenne powder in all types of egg and cheese dishes, curries, hot sauces, meats, and stews.
8. Guajillo Powder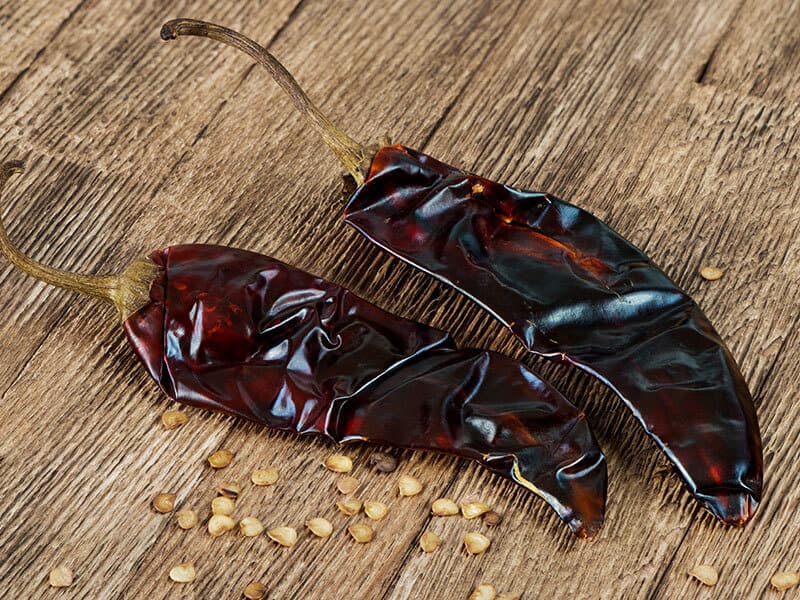 Guajillo powder originates in Central America and Mexico. It is a good choice when substituting chipotle powder in family-friendly cooking as Guajillo powder is not too spicy. It can hold about 2500 to 5000 Scoville Heat Units on the Scoville scale.
It is made from dried Guajillo chile peppers and has a rich, tart, tangy and spicy-sweet flavor with a hint of smokiness. Its flavor is reminiscent of pine nuts, berries, and green tea that can be a perfect replacement for chipotle powder.
People use it to marinate meats and make sauces. They also add Guajillo in homemade salsas, pozole (Mexican traditional soup and stew), chili corn cane, or tortilla soup.
You can use a small amount of it and add more later when substituting it for the chipotle powder to compensate for the dishes' flavor.
9. Sweet Paprika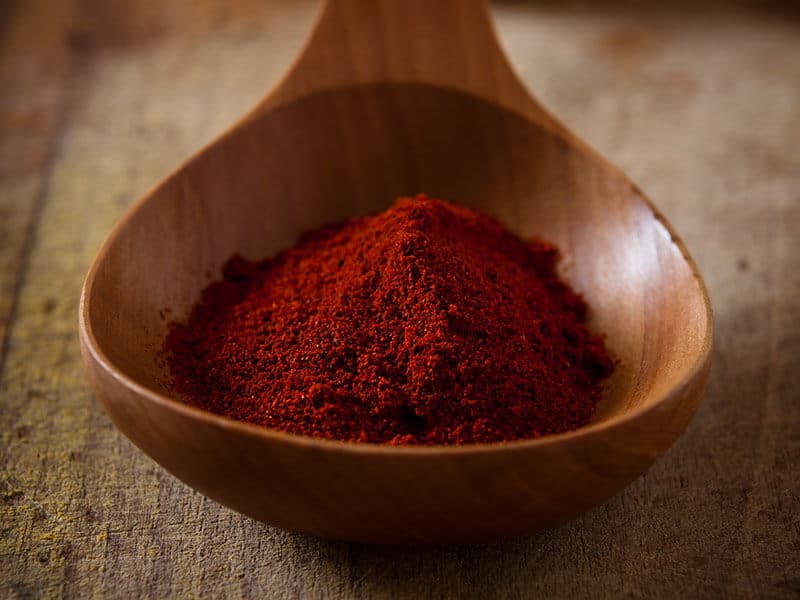 You can also use sweet paprika to replace chipotle powder because it tastes mildly sweet, peppery, and fruity. However, it is not made from smoked peppers, so sweet paprika powder does not have a smoky flavor like chipotle.
Sweet paprika is not too spicy since people make it from sweet bell peppers. Its spiciness goes up to 12000 SHU. Sweet paprika also adds vibrant red color to your dishes.
The dishes that you can use sweet paprika instead of chipotle powder are stews, stir-fries, roasts, and curries. People also drizzle sweet paprika on their salads or deviled eggs. You should replace them with a 1:1 ratio to deepen your dish's flavor.
Wanna make sweet paprika powder yourself? This detailed guide will help you!
10. Pasilla Powder
Pasilla powder is widely used in Central Mexico. Pasilla powder can enrich your dish's flavor with its rich, fruity flavor, similar to raisins or prunes. Although it is rich in smoky and earthy flavor, it is also milder compared to chipotle powder.
Pasilla has mild heat, ranging from 1000 to 2500 SHU. When using it to replace chipotle powder, the recommended ratio is 1:1, which means that you can substitute every teaspoon of chipotle with 1 teaspoon of pasilla powder.
It appears regularly in Asian, Cajun, Caribbean, Tex-Mex, and a lot of other dishes. You can add this spice blend in sauces, including salsa, enchilada, and mole sauce. It is also fantastic with poultry, fish, or meat.
11. Gochugaru Powder
Gochugaru powder is a critical ingredient in gochujang – a Korean paste that is widely used in various mouth-watering Korean foods. Conversely, it is not well-known in Western countries. But it can be a fantastic chipotle powder alternative.
Both gochugaru and chipotle powder have a similar smoky and spicy taste with a hint of sweetness. Its level of spiciness is about 8000 SHU, which is identical to chipotle powder. Also, gochugaru is a coarse-grind chile powder like chipotle powder.
I recommend you use the same amount of gochugaru powder when substituting chipotle. Do not miss this blend spice when you need a chipotle powder substitute for your Asian dishes.
12. Crushed Red Pepper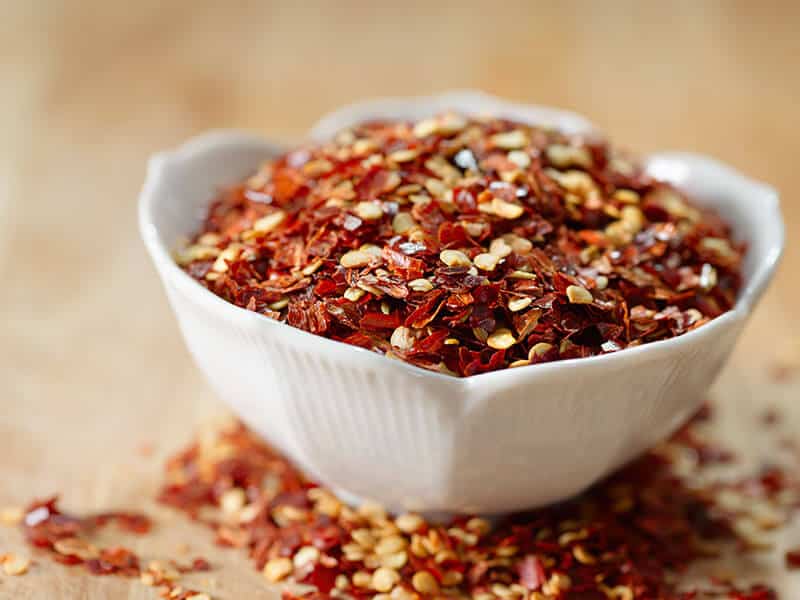 Crushed red pepper ingredients can vary from many dried Capsicum annuum species, including jalapeno, Fresno, Anaheim, cayenne, and bell peppers with the seeds. That's why it has a bold and robust spicy flavor.
You can use crushed red peppers as a chipotle powder alternative in the dishes that need a spicy kick because it goes from 15000 to 30000 SHU. The most suitable substituting ratio is 1:1.
Compared to chipotle powder, crushed red pepper brings to your food a more pungent taste. Crush red pepper is at its best taste when you sprinkle it over your pizzas, pasta, meat, or salads.
13. Adobo Seasoning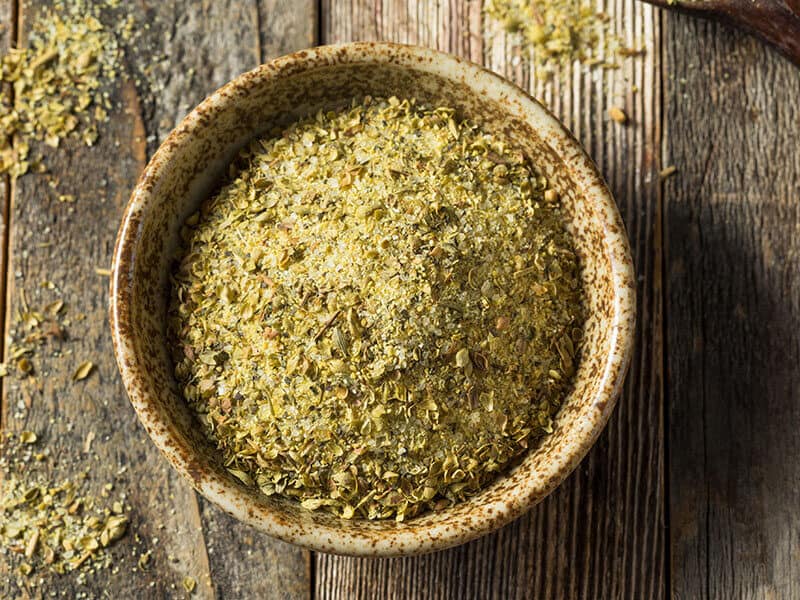 Adobo seasoning is also a go-to option for alternative chipotle powder. It is a trendy seasoning that is widely used in various Mexican and some European cuisine.
Adobo seasoning base ingredients consist of herbs, salt, garlic, black pepper, turmeric, oregano, and vinegar. In some recipes, it is also added with paprika. Thanks to the mild spiciness, it can be a suitable chipotle powder replacement.
Previously, people mainly used it to marinate, but it is used as a condiment to add extra flavor to the dishes. You can use 1 teaspoon of Adobo seasoning to replace 1 teaspoon of chipotle powder.
14. Chipotle-Based Products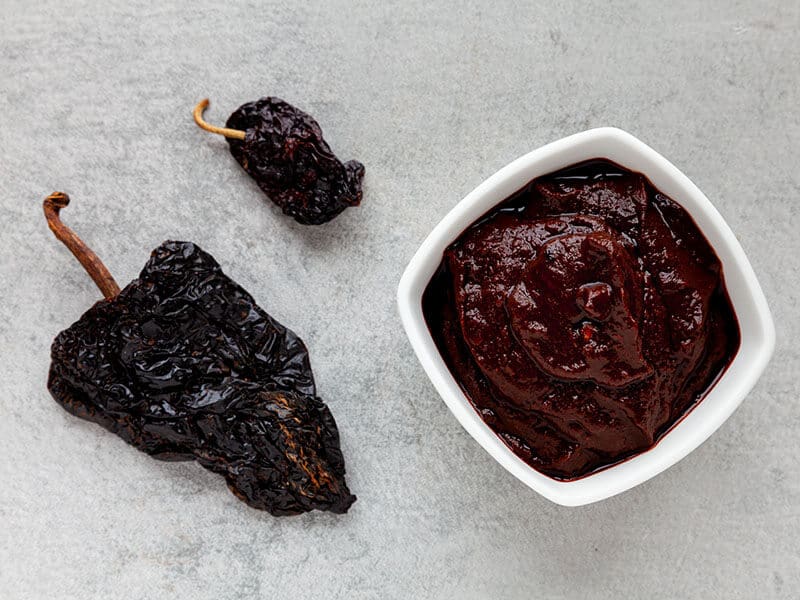 If all of the substitutes above cannot satisfy you since their flavor is not precisely like chipotle powder, I have a wise choice for you: using chipotle-based products! You can use the 1:½ ratio to swap chipotle powder with these products.
Because chipotle is the main ingredient in these products, you will no longer be curious whether they change your food's flavor or not. An outstanding chipotle-based product you must try to substitute chipotle powder is Adobo sauce.
The recommended ratio to substitute chipotle powder with Adobo sauce is 1:1. You can use an equal amount to swap them since they have the same base ingredient and heat level.
Their texture is different since it brings the same flavor and aroma to your dish as the chipotle powder does. As a result, you cannot use it for sprinkling, but adding it to soups, stews, or using it as a meat and vegetable marinade is better.
A Guide To Make Chipotle Powder Like A Pro!
Let's explore the foolproof instructions on how to make a perfect homemade chipotle powder! You will be no more afraid of running out of it again when cooking. Before starting to make it, you need to prepare these ingredients:
½ teaspoon of sea salt
½ tablespoon of charred, dried, and crushed chipotle pepper
1 tablespoon of smoked paprika
1 teaspoon of ground cumin
1 teaspoon of ground coriander
1 teaspoon of garlic powder
1 teaspoon of oregano
It does not require much effort to make. All you need to do is put all of the ingredients above in a processor or spice grinder and pulse them until they become powder. Use a sieve to remove any pulpy material to have a smooth and fine chipotle powder.
FAQs
After reading the one-by-one substitutes for chipotle powder, I am sure that you will have some curiosity. I have got your back! Take a look at the questions and answers below!
Have You Made A Choice Among These Excellent Substitutes?
There is a diverse range of excellent spice blends and even sauces that can replace chipotle powder. Nevertheless, they can't bring the same texture and flavor as chipotle powder. Each of them has a different advantage, and the choice depends on your desire.
When substituting, pay attention to the recommended ratio, but you can adjust the ratio to suit your recipes or eating portions. I hope you can get the best result while using one of the chipotle powder alternatives above.
Like and share this article before you leave to support me and encourage me to come back more quickly to provide you with other fascinating information. Thanks for spending time reading my post!
References
En.wikipedia.org. 2021. Chipotle – Wikipedia.
PS Seasoning. 2021. Health Benefits of Chipotle.