Dashi substitutes might be what you need when you fall in love with Japanese cuisine but don't always have access to Japanese ingredients, especially dashi.
Some substitute options have a long shelf life so that you can stock them in the pantry and have them ready whenever you're going to make a warm miso soup or a comforting bowl of udon noodles. Sounds great?
Dashi is the main part of many delicious Japanese recipes because it creates an umami flavor which makes the dish become satisfying and addicting.
Based on this clue, I have tried to find all top-rated yet popular ingredients which might somewhat imitate this meaty aroma.
Read on for more detailed information!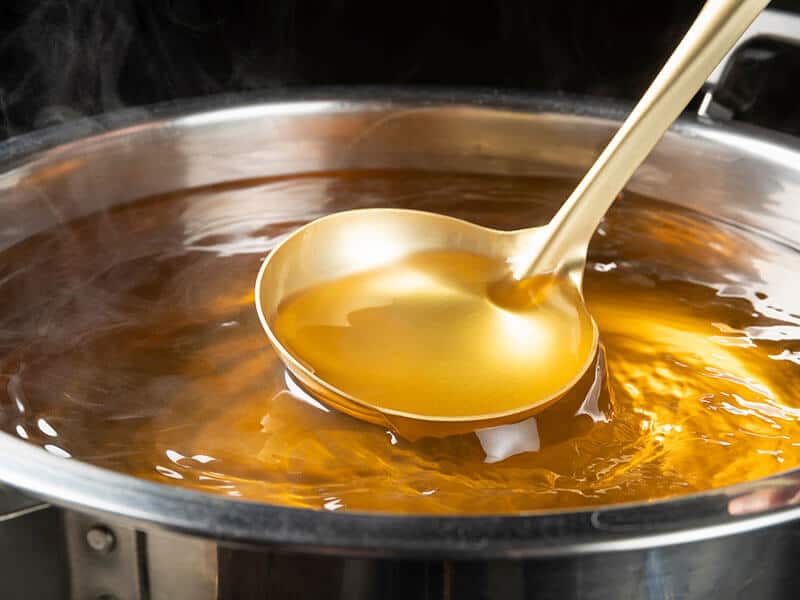 What Is Dashi And What's In It?
Dashi is a basic soup stock present in many Japanese recipes and can be made from different ingredients such as kombu, vegetables, chicken bones, dried fish, shiitake mushrooms, and more.
There are many kinds of dashi stock, and they're used in different dishes to produce a unique and appealing aroma.
It can be used as a base of miso soup, noodle soup broth, or various simmering liquids in traditional dishes. Dashi is also a secret seasoning that is added to the flour of takoyaki and okonomiyaki. (1)
The most popular type of dashi, which I mention in this article, is dashi made from dried bonito flakes and dried seaweed or kombu. Dried shiitake mushrooms and dried small sardines might be additional ingredients if you prefer.
In fact, there are about 4 different types of dashi:
Kombu dashi: Made mainly with dry kelp and has a light aroma. It's suitable for clear soups and broth.
Katsuo dashi: Made mainly with bonito flakes. Great for making chawanmushi, miso soup, simmered kabocha, and dashimaki tamago.
Awase dashi: Made with both kombu and bonito. Often used to cook noodle soups, clear soups, nimono, and more.
Iriko dashi: Made with dry sardines or anchovies and has a pronounced flavor. Good for simmered dishes with mushrooms, soybeans, and vegetables.
Dashi Substitutes and How To Cook With Them
Here's a list of 17 dashi substitutes for quick reference. Besides their names, I also include their cooking uses so that you can decide to choose the best alternative for each recipe.
| Dashi Substitutes | Best Use For |
| --- | --- |
| Mentsuyu | Somen noodles, udon, and soba |
| Shiro-Dashi | Pasta, noodles, soup, stir-fried vegetables, fried rice, and more |
| Kombu-Tsuyu | Marinades, dressings, and noodle soup, dipping sauces for soba, udon, Nabemono, Nikujyaga, vegetable stews, stir-fries, teriyaki, and tempura |
| Hondashi Granules | Simmering foods, making soups, and cooking other Japanese foods |
| White Fish | Stews, simmered foods, and soups |
| Shellfish | Stews, soups, noodles |
| Chicken Broth/ Chicken Stock Powder | Soups, katsudon, gyudon, and more |
| Soy Sauce  | Stews, soups, noodles, stir-fried dishes, |
| Dried Bonito Shavings  | Broth, toppings for cooked rice, cold tofu, stews, salad, miso soup |
| Powdered Or Cubed Broth | Stews, soups |
| Vegetable Dashi  | One-pot dishes, stews, and soup, used for tempura, katsudon, gyudon, and more |
| Dried Seaweed  | Noodles, soups, stews |
| Dried Shiitake Mushroom | Noodles, soups, stews |
| Kombu Tea | Stir-fried dishes, soups |
| Monosodium Glutamate | stir-fries, sautes, soups |
| Shio Kombu  | Soups, steamed rice, salads |
| Tororo Kombu | Soups, topping for tofu, soba, ramen, simmered dishes, udon, vegetable salads, and even natto  |
17 Delectable Options Make A Good Substitute For Dashi
Instead of making dashi broth from scratch, you can refer to the following suggestions to make a good soup base for your Japanese recipes. Let's start right away!
Mentsuyu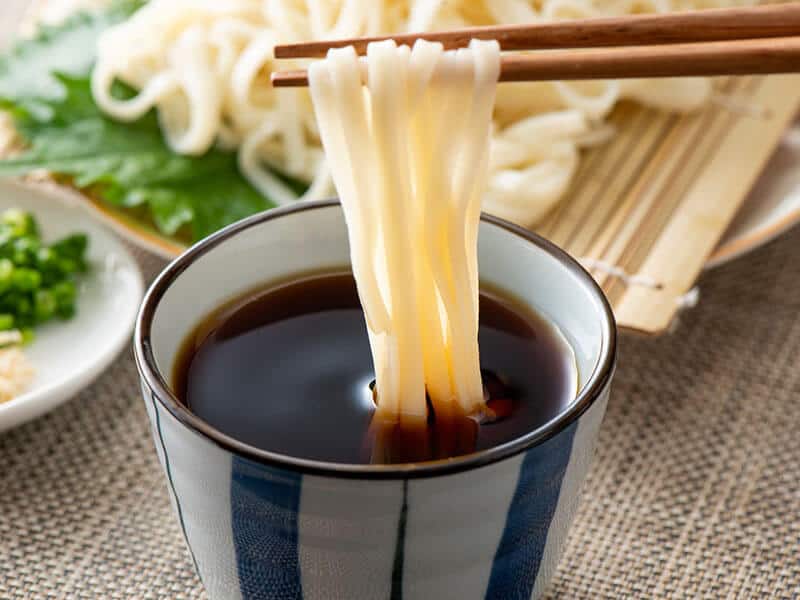 As far as I know, the term "men-tsuyu" in Japanese means "noodle-soup," so the primary use of mentsuyu is as a soup base for somen noodles, udon, and soba.
Besides noodle soups, mentsuyu is also an essential seasoning for traditional Japanese simmered dishes because it resembles the dashi flavor this recipe calls for. Moreover, it can add depth to simmered dishes and make them taste more appealing.
It's a combination of dried bonito flakes, sometimes sardine or tuna flakes, soy sauce, sake, kombu, and mirin. Mentsuyu features mainly umami and salty flavor with a slight sweetness from mirin or sugar. Therefore, it's an excellent substitute for dashi.
However, mentsuyu features a bolder taste than dashi, so you might need to use a smaller amount of it than dashi to achieve the desired flavor.
Most mentsuyu don't contain preservatives, so they should be kept in the refrigerator to maintain freshness. This way, it can stay well for up to one month.
Shiro-Dashi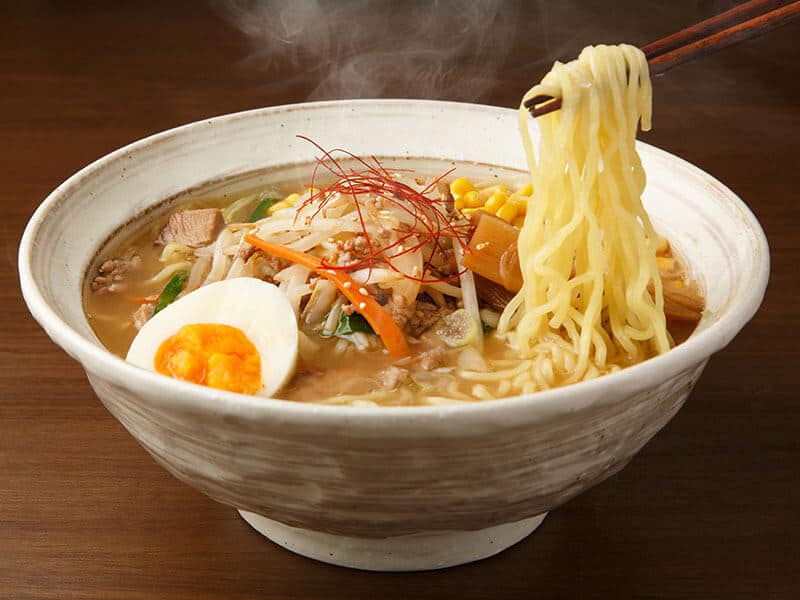 Shiro-dashi can be used exactly the same as mentsuyu. It's also made from bonito flakes or kombu dashi, mirin, sugar, and soy sauce. The only difference between the two of them is that shiro-dashi uses white soy sauce instead of the dark one, as in mentsuyu.
Therefore, shiro-dashi is widely incorporated into recipes in which you don't want to add any extra color. Besides using it as a condiment, it's considered as a concentrated soup base.
To be more specific, it's also used to add umami flavor to Japanese, Chinese and Western dishes such as pasta, noodle, soup, stir-fried vegetables, fried rice, and more.
Kombu-Tsuyu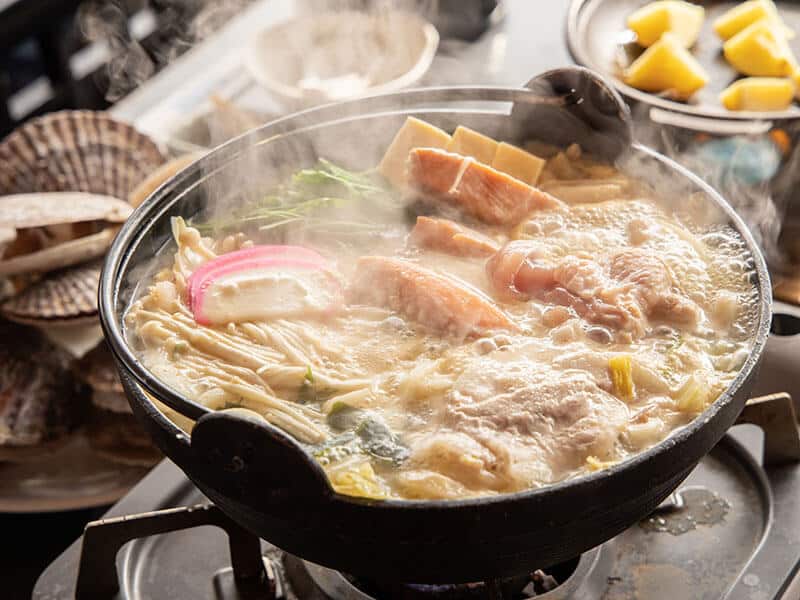 Kombu-tsuyu is one more concentrated stock for you to choose from when looking for a dashi substitute. Like mentsuyu and shiro-dashi, it's versatile and super tasty, which can add umami flavor to whatever you add it in.
The most important thing you should know is that kombu-tsuyu is made mainly with kombu dashi, so if you're a fan of kelp, feel free to choose this soup base.
With a subtle and mellow flavor, kombu-tsuyu is often used as an essential ingredient for marinades, dressings, and noodle soup. Notably, it can be used to make dipping sauces for soba, udon, Nabemono, Nikujyaga, vegetable stews, stir-fries, teriyaki, and tempura.
Hondashi Granules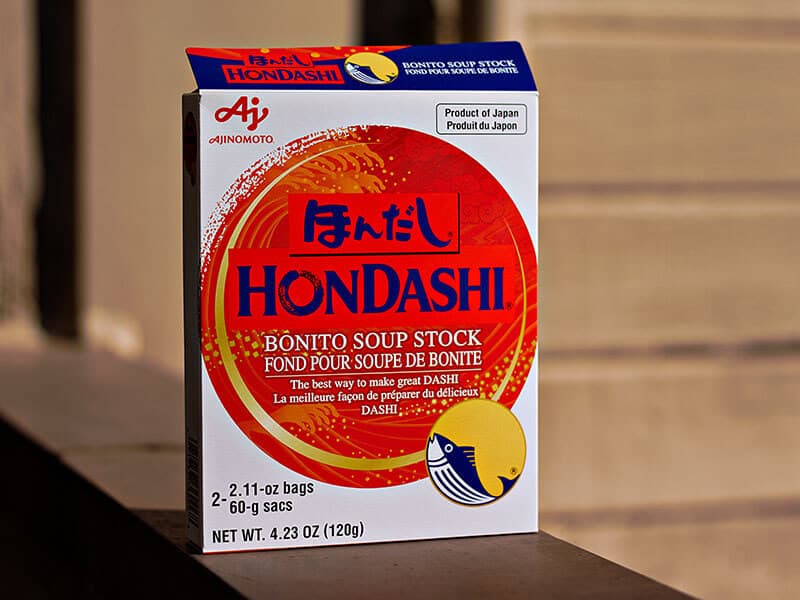 Hondashi is the name of commercial dashi products which are very popular in Japan. Hondashi comes in granulated form and is often kept in a small jar.
This ready-to-use dashi seems to be extensively used by many home cooks due to its convenience and long shelf-life. Not everyone can spend time making homemade dashi from scratch.
Generally, hondashi granules are made from agodashi, kelp, dried tiny sardines, and bonito. Besides umami flavor, it adds a uniquely smoky and mildly sweet aroma to the dish.
You can use them for simmering foods, making soups, and cooking other Japanese foods.
You might want to add some sugar, miso, or soy sauce, to complete your recipe other than using only hondashi granules.
White Fish
Bonito flakes – grated dried bonito fish, are considered one of the main components that make up dashi flavor. Therefore, using fish to mimic the umami taste of dashi seems to be a good idea.
If you plan to go for fish as a substitute, remember to choose non-oily white meat fish, such as snapper, halibut, catfish, haddock, bass, tilefish, bass, and cod. Red meat fish can be too powerful for your dish.
All you need to do is put the head, tail, skin, bones of white fish into a pot and simmer them with some aromatic herbs and vegetables such as garlic and leeks. To round up, add soy sauce and sugar to perfectly replicate how the dashi tastes.
Shellfish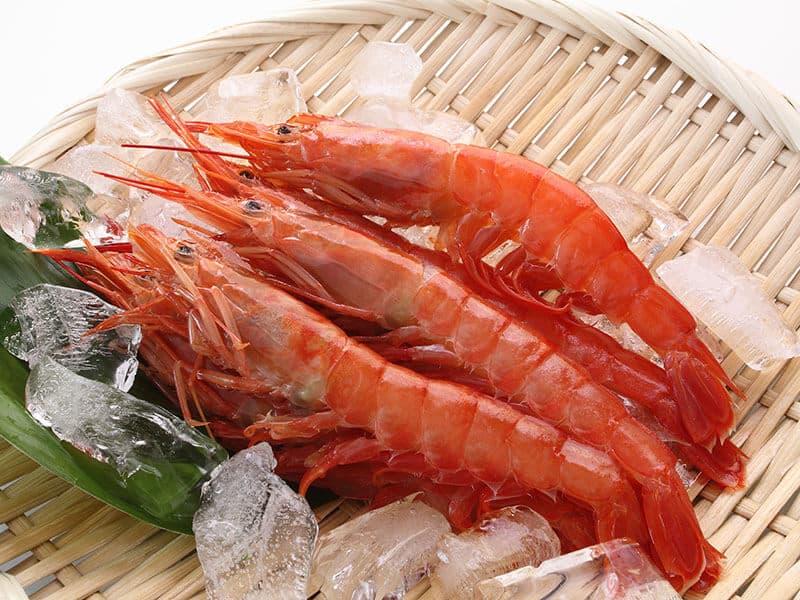 To my surprise, I discovered that I could cook dashi replacement from shellfish scraps, mostly shrimp shells. This results in a rich, flavorful, and seafood-like broth that indeed satisfies your taste buds.
Let's find out how to cook shellfish broth:
Step 1: Prepare some aromatics such as garlic, celery, carrots, onions, and then dice them into small chunks for later use.
Step 2: To make them release their full flavors, toss them in an olive oil pan and fry them with shrimp shells for about 15 minutes.
Step 3: Add water and other spices, herbs, and seasonings to achieve the expected taste.
Step 4: Remember to simmer this mixture for at least 1 hour before straining and using it as a base for other dishes.
The chicken broth might be the next best replacement for dashi in case you run out of it in the pantry. What I like about chicken broth is that it's made from simple ingredients which are easily accessible.
Not many things can beat chicken broth as a soup base due to its mild, slightly sweet, and satisfying flavor. Although it doesn't have a briny flavor like from seaweed, it can impart a strong umami taste to your food: soups, katsudon, and gyudon.
From my experience, you can use an equal amount of chicken broth as you would with dashi.
If you're in a hurry, the chicken stock powder is a quick solution that features the same flavor profile as chicken broth and is a ready-to-use dashi substitute you can make use of.
Let's enjoy this delicious chicken broth recipe!
Soy Sauce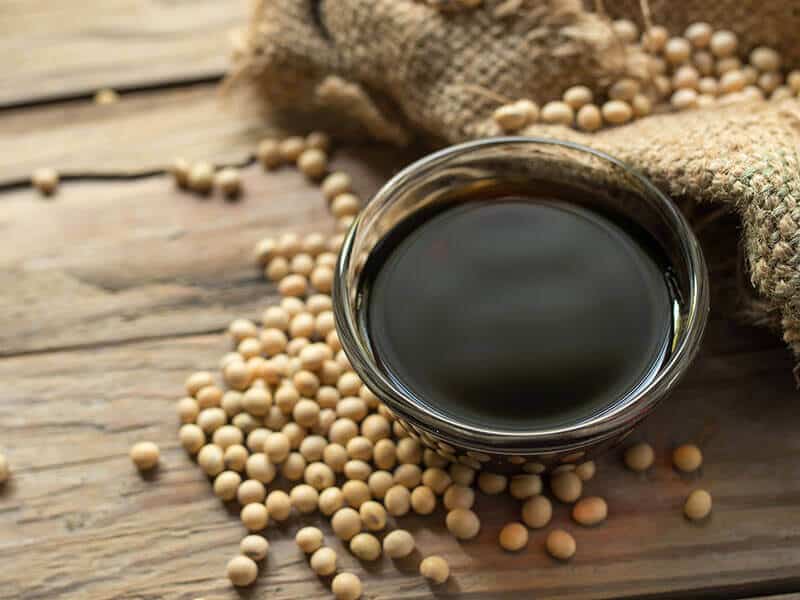 Soy sauce is the most popular staple condiment in Japanese kitchens and can be applied in various recipes. Although it might have a dark brown color, it's still a fantastic choice to replace dashi, thanks to its rich and umami flavor.
Soy sauce which is sold in Japan often has a denser texture and is less salty than many soy sauces you buy in the supermarket.
There are many chances that the recipe calls for both soy sauce and dashi, so all you have to do is to double the amount of soy sauce as a method to compensate for the flavor of a missing ingredient.
This might be the quickest and most versatile substitute you can have, especially if you're in a hurry. The best part? Soy sauce seems to always go well with Japanese recipes.
Dried Bonito Shavings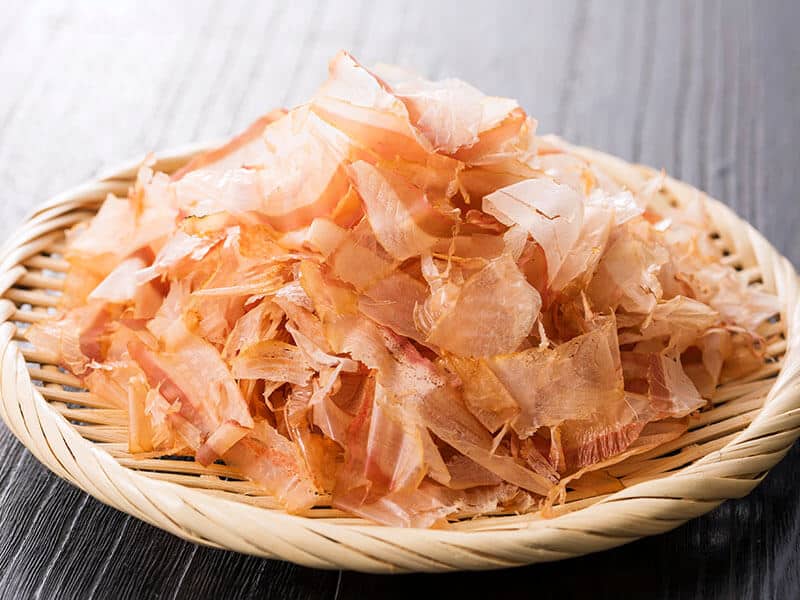 Some dried bonito shavings left in the fridge could make a comforting pot of soup broth which you can use instead of dashi in many cases. Thanks to their long smoking and drying duration, their aromas are enhanced greatly and become unique.
Known as having a savory, smokey, and mildly fishy flavor, 1-3 tablespoons of this ingredient could create a noticeable change in how your broth tastes. Some might say it tastes quite as rich as anchovies and bacon.
If you don't have time or feel lazy, sprinkle dried bonito shavings directly into your dish to create a richer and flavorful result.
Other than adding to broth, it can be used quickly as a topping for cooked rice, cold tofu, stews, salad, miso soup, and more.
Powdered Or Cubed Broth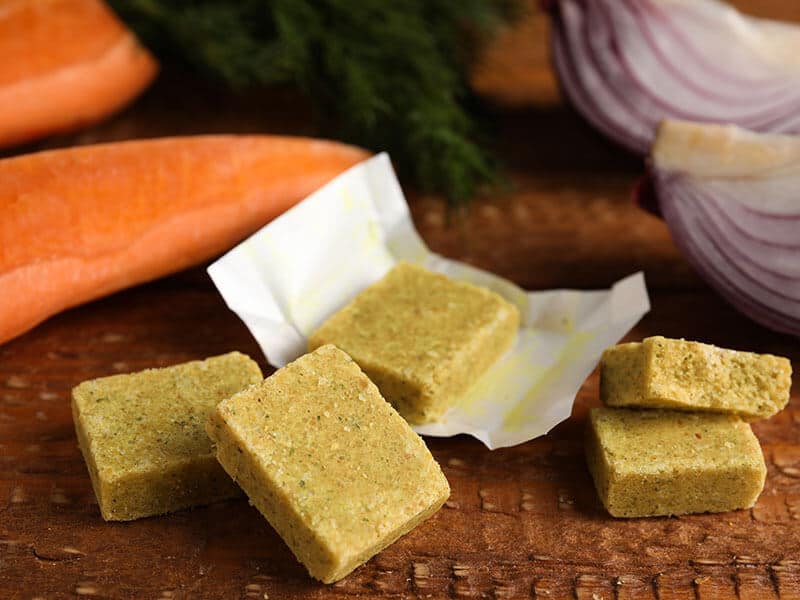 You might find this quick dashi alternative easily almost everywhere, from Western grocery stores to Asian markets. It might be available in a wide range of flavors, such as powdered shrimp broth, chicken broth, fish, or even vegetable broth.
You can experiment with several products and choose the most suitable one for your favorite dish.
Ensure to stay away from the powdered or cubed broth that is too strong because it might overwhelm other flavors, like beef and pork stock powder.
These products are often well-seasoned, so pay attention when cooking to avoid getting too salty soup broth.
Vegetable Dashi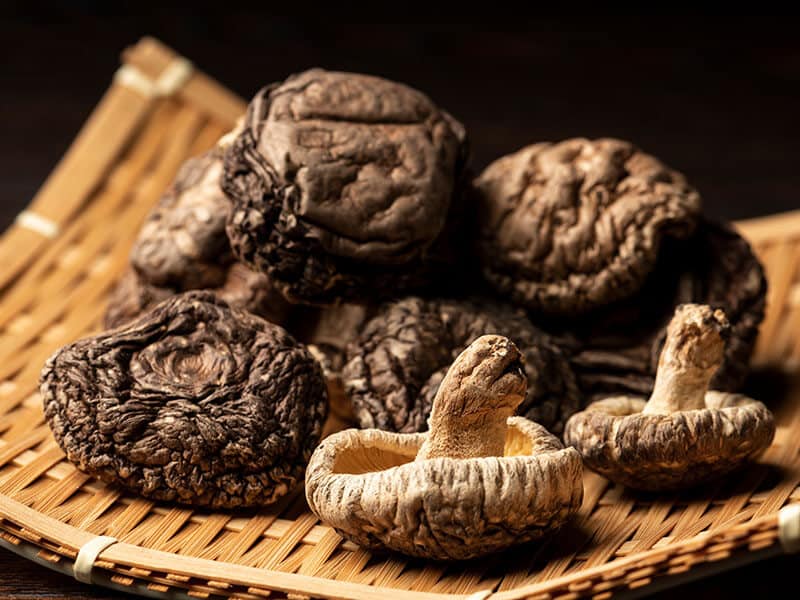 If you're a vegetarian or plan to cook for people on a vegan diet, then seaweed and mushrooms (kombu and shiitake) dashi alternative would be a great option to try.
This substitute is for vegetarian people because it doesn't contain any fish or meat; however, it still has an umami flavor and tastes incredibly delectable.
Step 1: Prepare some dried seaweed (kombu) or dried shiitake mushrooms, or any vegetable you have in the pantry.
Step 2: For dried seaweed, soak them in the water for half an hour before simmering the mixture for about 10 minutes.
The same goes for dried shiitake, but you might want to keep soaking it for about 6 hours in the fridge or leave it overnight.
If you're going to use dried shiitake and kombu packets that you find in the supermarket or grocery store, you might want to follow the "how to cook" instruction on the pack.
Step 3: Also, you can make use of other vegetables which are available in your kitchen but be sure to simmer them for about 20 minutes so that they can release their full flavors.
This vegetable dashi soup stock is suitable for adding into one-pot dishes, stews, and soup with the same amount as dashi required. To be more specific, use them for tempura, katsudon, gyudon, and more.
How to make vegetarian dashi using authentic Japanese techniques.
Dried Seaweed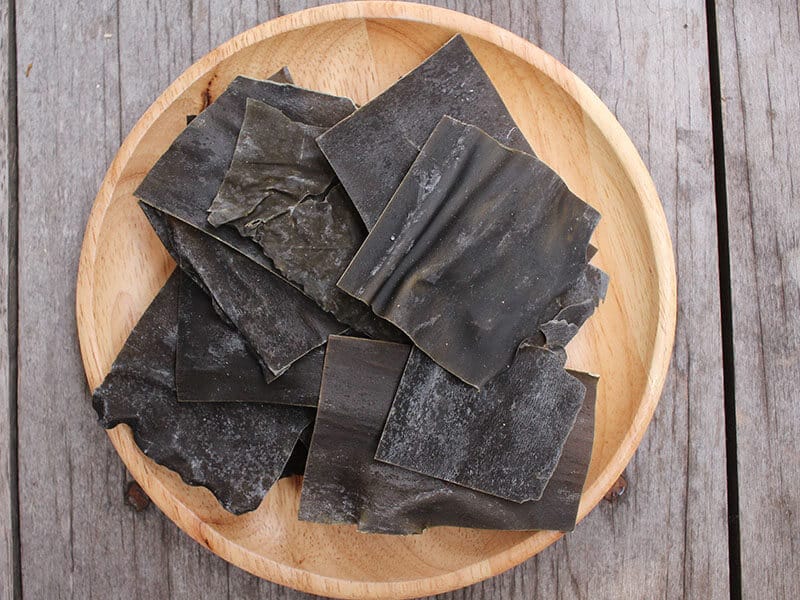 Another simple way to make a dashi substitute is making broth from dried seaweed. This ingredient is present almost in any supermarket and Japanese grocery store, so you can easily get one when necessary.
Moreover, if you are looking for a vegetarian or vegan option, this dashi alternative is for you.
Broth from dried seaweed can somewhat mimic the flavor of dashi because, as you know, one essential ingredient of dashi is made from kombu – a kind of seaweed.
With dried seaweed, you will have a soup base with a seafood flavor in no time. Moreover, it has a mild and delightful aroma which many people enjoy.
Below is a step-by-step instruction to make this broth:
Step 1: Soak dried seaweed in cold water for about 30 minutes so that it can expand slowly.
Step 2: Pour all the water and seaweed into the pot, turn on the heat at a low level.
Step 3: Keep simmering for about 10 minutes.
Dried Shiitake Mushroom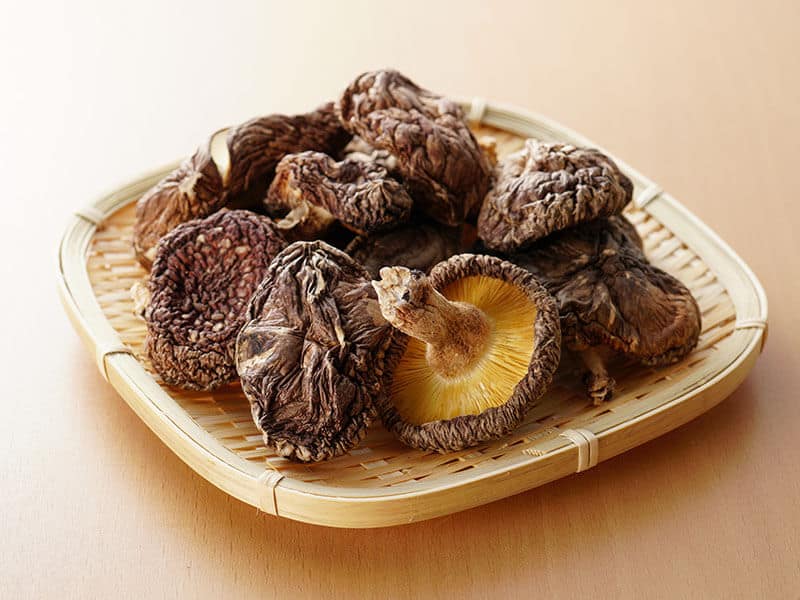 Dried shiitake mushrooms are so familiar to vegetarians because they bring an umami flavor to many dishes, especially soups, broth, sautés, and stir-fries.
To be more specific, they feature a meaty and rich taste; therefore, they can be a fantastic alternative for dashi in various recipes.
Keep in mind that you need time to soak shiitake mushrooms and make sure they become really soft before simmering. You might allow them to sit for 6 hours or even overnight if they're pretty thick.
Let's follow each step below:
Step 1: Soak 7-8 large shiitake mushrooms in water.
Step 2: Let it sit for at least 6 hours. You can check shiitake mushrooms by pinching them to see how soft they are.
Step 3: Transfer shiitake mushrooms and the liquid into a pot and simmer for about 30 minutes
Kombu Tea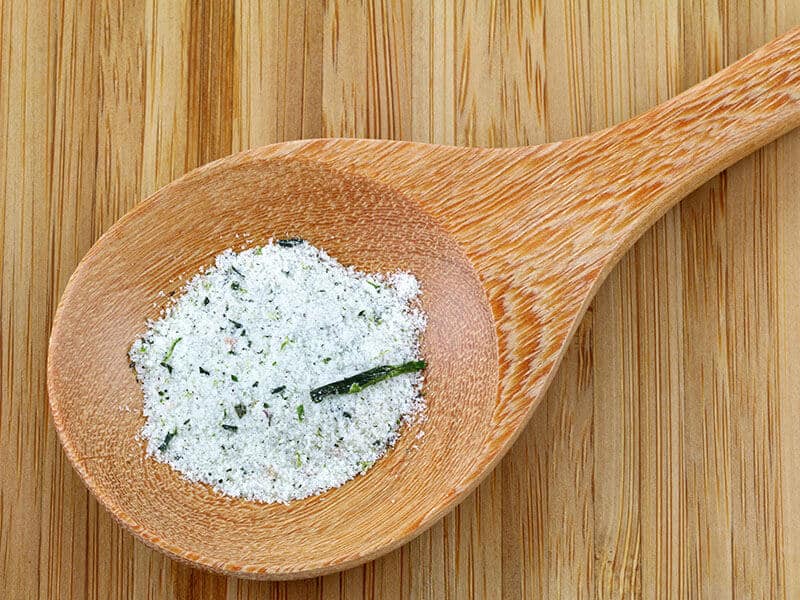 Kombu tea is another vegetarian dashi stand-in which is super straightforward to make at the comfort of your own home. I guess you usually make hot tea from dried kombu powder, but today it's not for drinking purposes. Instead, it's used as a soup base.
This tea is made from the same seaweed used to make dashi, so it has an umami-packed, rich, and salty flavor.
It can go straight to the pan for stir-fried dishes because it's quick to melt, so you don't have to mix it with water first. In some cases, it can replace salt and soy sauce. It's worth noticing that you should opt for kombu tea without any added flavor when cooking.
Monosodium Glutamate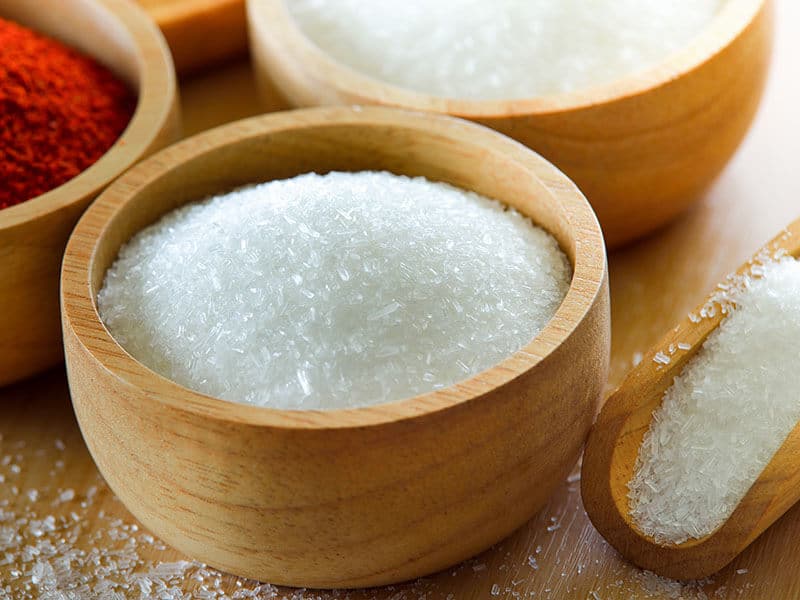 If you can't get your hands on any of the above suggestions, you might consider using monosodium glutamate, often known as MSG.
For those who wonder, monosodium glutamate is an additive that makes umami present stronger in the food. (2) Therefore, it's added to the broth to increase a rich and meaty flavor.
MSG is made from various ingredients, including soybeans, and can be found easily in the nearest grocery store.
It's suggested that you add several teaspoons of MSG in place of 1 tablespoon of dashi if you need to mimic the dashi flavor profile right away.
Shio Kombu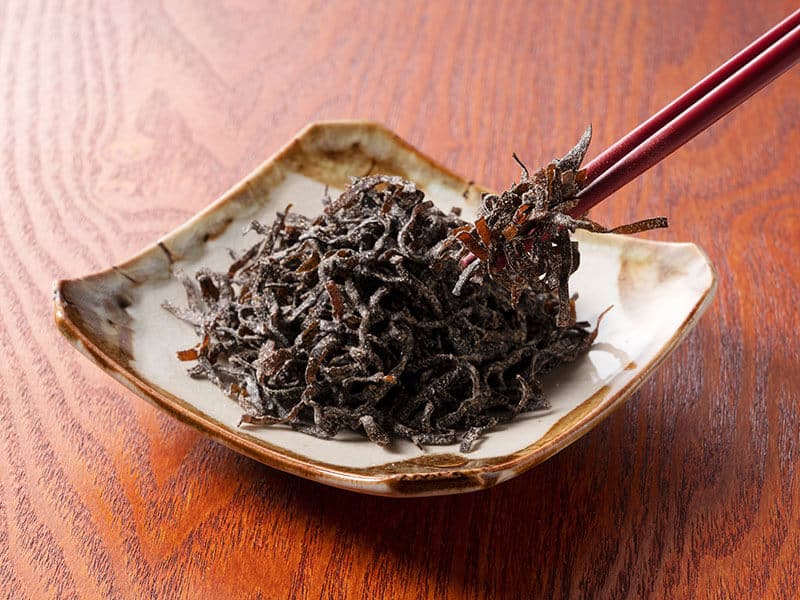 Shio kombu is a traditional Japanese food that is made with kelps – seaweeds with a leathery texture. Here's how to make this savory, briny and unique shio kombu:
Step 1: Boil kelp in an umami-rich mixture, including soy sauce, mirin, and sugar.
Step 2: Then, coat it with salt and dry it.
Step 3: Cut into small pieces.
Shio kombu is said to have a sweet and ocean-like flavor which is highly concentrated and umami-rich. When compared to plain kombu, it seems to have a more complex flavor.
For this reason, it can be used as a replacement for dashi, especially when eating steamed rice or cold tofu. You can sprinkle it directly onto your salads or other dishes to enhance the aroma of the whole dish.
Tororo Kombu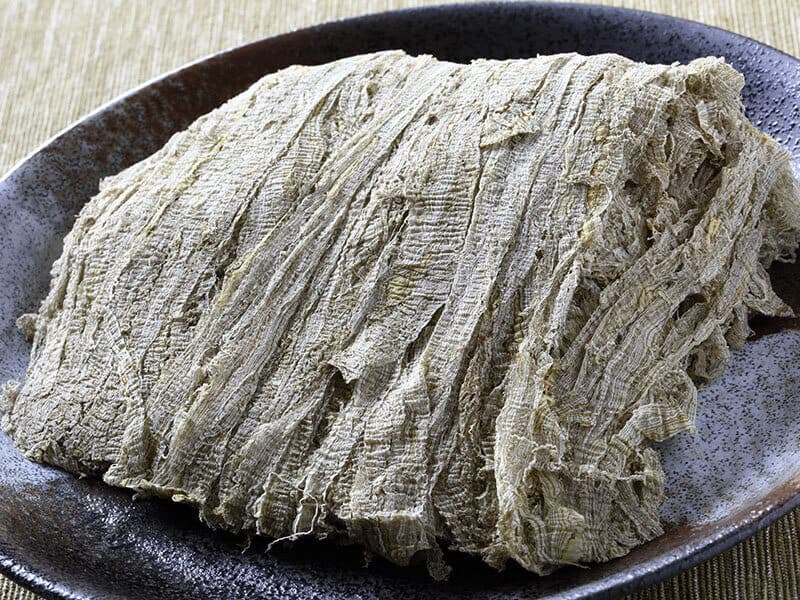 Tororo kombu, or kezuri kombu, is used to describe long, thin, dry kombu flakes, which are extremely popular in Japanese-styled soups. Like all dashi replacements, tororo kombu is an excellent addition to foods, thanks to their umami flavors.
Tororo kombu is made by drying kombu in about 24 hours, then immersing them in vinegar water, and finally being shredded into long strips like you can see.
It's super easy to cook with this type of kombu. If you want soup with savory flavor, toss a handful of tororo kombu in a bowl and pour boiling water, season the soup, and everything's ready.
The quickest way to impart their umami aroma to the dish is to use them as a topping for tofu, soba, ramen, simmered dishes, udon, vegetable salads, and even natto.
How To Make Dashi At Home?
If you have spent time collecting all the necessary ingredients to make dashi at home, then, wait no more, you can do it now by following closely each step I listed below.
Step 1: Soak kombu in cold water for about 30 minutes.
Step 2: Transfer both kombu and the liquid they're soaked into the pot
Step 3: Turn on the heat, start with medium-low heat and simmer for about 10 minutes.
Step 4: After that, remove kombu from the pot and add katsuobushi.
Step 5: Bring to boil and simmer for about half a minute.
Step 6: Wait more than 10 minutes before straining dashi to get a clear broth
Wow! It's time to make dashi stock at home for my Japanese noodles!
FAQs
Feel free to ask questions about dashi and its substitutes. Below are some popular ones that I have selected to share with you.
Don't Worry and Keep Cooking, Even Without Dashi Stock
You might find yourself a little bit panicked when looking at a Japanese recipe and reading "dashi" as an essential ingredient without having it anywhere in your kitchen.
Since you might be a Japanese food lover, I guess there might be at least a bottle of soy sauce somewhere in your reach. Then, grab it, use it confidently as a dashi substitute, and all is well.
Remember that dashi is a word that refers to Japanese soup broth in general so that it can be made from various ingredients. For this reason, there is no fixed recipe for making dashi, and you can even experiment with it.
Feel free to cook your dish in your own way using some substitutes from my list and enjoy it wholeheartedly and happily. It might be the key which decides how good the food is.
What do you think? Let me know soon in the comment section!
Reference
En.wikipedia.org. 2021. Dashi – Wikipedia.
Blogs, W., 2021. What Is Umami?.