When making a cocktail and realizing you don't have vermouth on hand, look for a dry Vermouth substitute. There are a lot of ingredients that are perfect as a substitute for your Martini or recipe.
You can easily find these dry vermouth alternatives right in the kitchen cabinets. Each choice will give you a bit of a signature flavor (you might even like more) and still do the job well. Continue with me to find out what that is.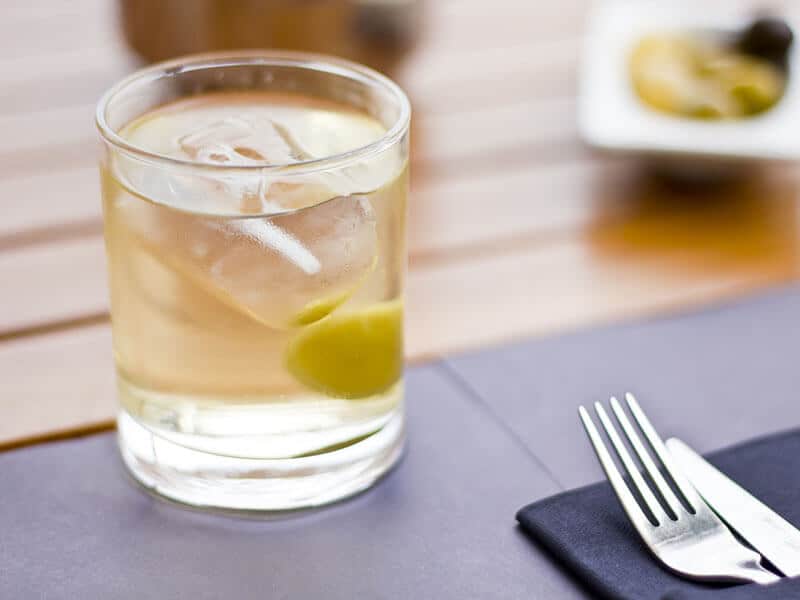 What Is Vermouth?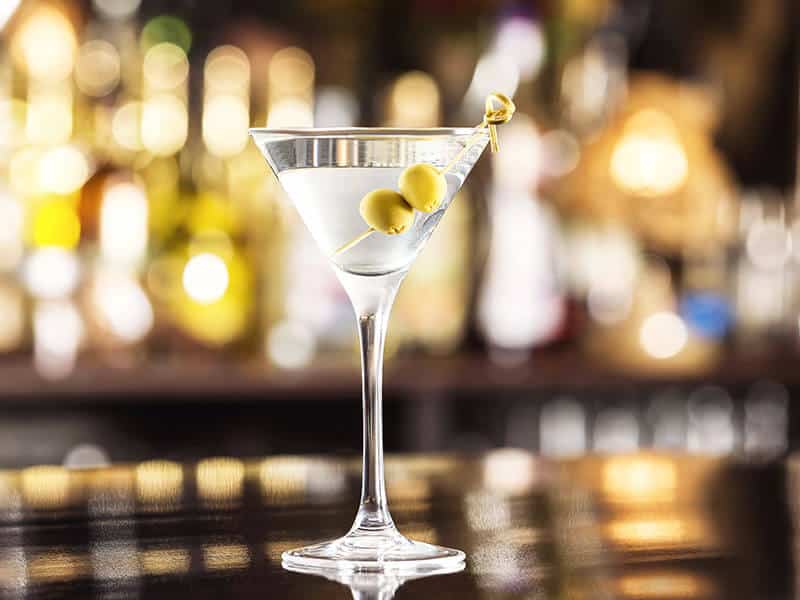 Vermouth is an aromatized wine. It is made from a mixture of wine, and other herbs, and fortified wine (1) . Although not as popular and well known as other wines, Vermouth still has the look of unique wine and typical flavors from spices.
Vermouth comes in a wide variety of flavors, depending on the producer and the style of winemaking. However, every type of vermouth has four prominent flavors: bitter, sweet, sour, and herb. Let's learn about the type of vermouth in the next section.
Types of Vermouth
Today's vermouths are mainly used to make cocktails. There are three main vermouth styles: sweet vermouth, dry vermouth, and blanc vermouth. The manufacturer has created each type of Vermouth with its own intentions, unique flavors and used it to make different cocktails.
Dry Vermouth
Dry vermouth or French vermouth is a wine that ranges in color from clear to pale golden yellow. This kind of vermouth has a particular herbal taste with some savory notes and a tiny fruity feeling.
Besides, the sugar content in dry vermouth is only 5%. Therefore, it has a dry finish with an intense and paler flavor than sweet vermouth.
Dry vermouth is usually used to make Martini or pair with Vodka, Gin, and Tequila. In the kitchen, people also use this wine as a marinade for fish, seafood, and meat.
Sweet Vermouth
This type of vermouth is red in color, with added sugar to create sweetness. You can call it Italian vermouth. It is so sweet with 10-14% sugar content.
Sweet vermouth is often paired well with dark rum, scotch, or bourbon. It is also included in some kinds of cocktails such as Rob Roy, Negroni, and Manhattan. This wine makes a good couple with all kinds of salty cheese.
Blanc Vermouth
Blanc vermouth's taste combines the two above types – not as sweet as sweet vermouth, and not as dry as dry vermouth. The sugar content may vary by manufacturer.
Sometimes it tastes like a blend of spicy, herbal, and vanilla. The flavor can be richer than dry vermouth with added ingredients.
Blanc vermouth is so popular behind the bar. People use Blanc vermouth to sweeten and dry the drink, like in combination with Dry Martini, Vesper, or Manhattan, etc.
You can make dry vermouth at home according to this recipe!
Dry Vermouth Vs. Substitutes: The Best Alternative Ratios
Do you wonder how many replacements should be used? The table below will show you the exact ratio to use these alternatives instead of dry vermouth:
| | |
| --- | --- |
| Dry Vermouth Substitutes | Ratio Vs. Dry Vermouth |
| Dry White Wine | 1:1 |
| Sake | 1:1 |
| Dry Sherry | 1:1 or less |
| Lillet Blanc | Add slowly until the taste is suitable |
| White Grape Juice | 1:2 |
| Wine Vinegar | 1:3 |
| Lemon Juice | 1:2 |
| Apple Cider Vinegar | 1:1 |
| Fortified Wine | Add slowly until the taste is suitable |
| Poultry Broths | 1:1 |
| Beef and Vegetable Broth | 1:1 |
| Salers Aperitif | Add slowly until the taste is suitable |
| Cocchi Americano | Add slowly until the taste is suitable |
| Umeshu | Add slowly until the taste is suitable |
9 Most Appropriate Dry Vermouth Substitutes
Don't panic when the dry vermouth runs out! Try looking in the kitchen cabinets to see if you have any of the following ingredients!
1. Dry White Wine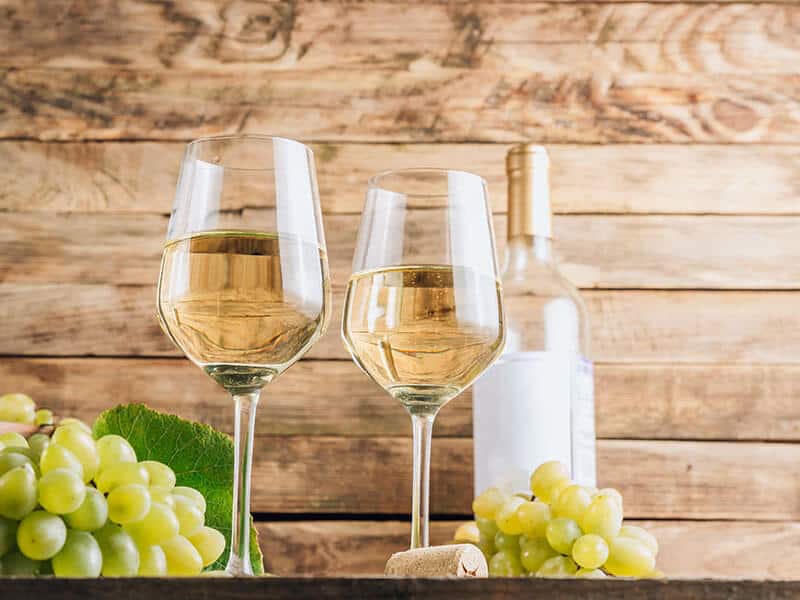 Dry white wine is very versatile and can be used to substitute for dry vermouth in many different dishes, incredibly savory dishes. The taste of dry white wine closely mimics the taste of dry vermouth but is slightly less intense.
This is perfect for those who want the mild sweetness of vermouth but do not like the wine's strong taste. You can also lower the alcohol content of white wine during cooking by heating it at low heat for a long time.
Use an equal amount of white wine to replace the vermouth. You can use dry white wine to tenderize meats and prepare sauces, stews, risottos, and seafood. It can also replace vermouth in a Martini, as long as you choose the right dry white.
2. Sake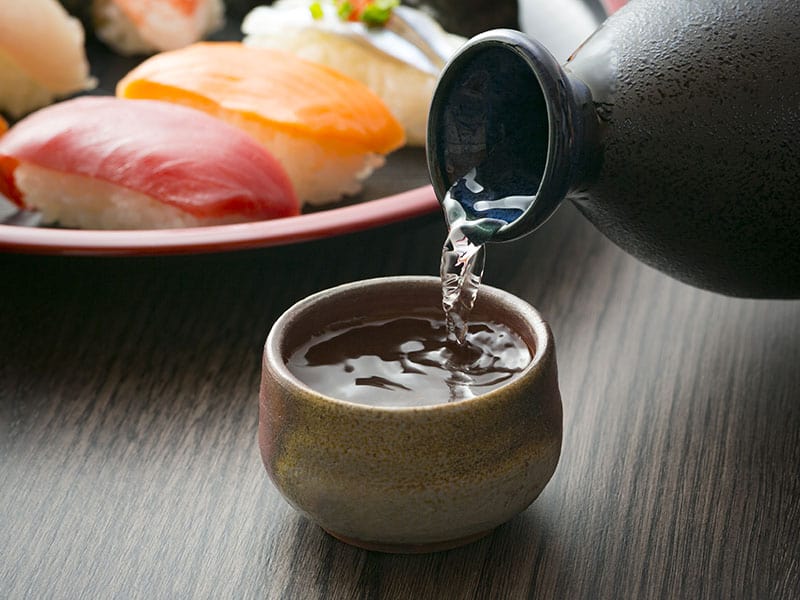 Sake is an alcoholic beverage from Japan made from fermented rice. The dry taste of Sake has a similar feel to that of dry vermouth, somewhat sweeter and more subtle.
Even though it does not taste as tart and crisp as regular wines, its richer texture and recognizable sweetness make a good substitute.
An equal amount of substitution in recipes is suitable for this option. You can also use Sake to replace dry vermouth in Martini recipes. A good tip is to mix Sake with gin/vodka in a ratio of 1:3.
Sake goes well in cocktails as Vodka Martini and Gin Martini. It pairs well with soup and sauce, desserts, and other savory dishes. You can also use it to marinade and tenderize your meat. Like white wine, you should cook Sake on low heat to bring out the dish's flavor.
3. Dry Sherry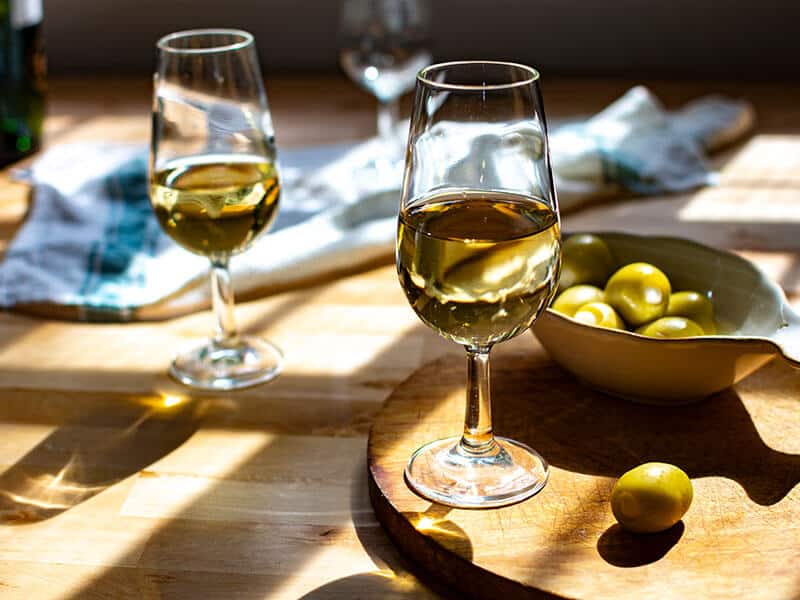 Dried sherry is a fortified wine primarily enjoyed as a beverage. It can be said that dried sherry is one of the best Spanish wines. It is suitable for cocktails as an excellent substitute for dry vermouth with a slightly sweeter taste with a shiny nutty note.
An equal amount will make a suitable substitute, but you can also use less dry sherry if you don't like a sweeter drink.
Dry sherry would be good to replace dry vermouth in a Martini recipe. The flavor of sherry is also great for de-fermenting and making sauces. It makes the taste of pork, chicken, and seafood more appealing. You can even drink it directly with some salad.
Discover everything about dry cherry and why it is so good for your cocktail!
4. Lillet Blanc
This is the most suitable substitute for dry vermouth in Martini recipes. This fortified French aperitif is similar to dry vermouth in its crisp flavor and clear white color.
Lillet Blanc has a semi-sweet taste, somewhat similar to dry vermouth. It also has subtle herbal and floral notes – scents found in dry vermouth.
The Lillet Blanc is also great for other cocktails like the Lillet G&T, Vesper Martini, or the Lillet Spritz. You can adjust the Lillet Blanc ratio to suit your own taste by adding slowly until it feels good.
5. White Grape Juice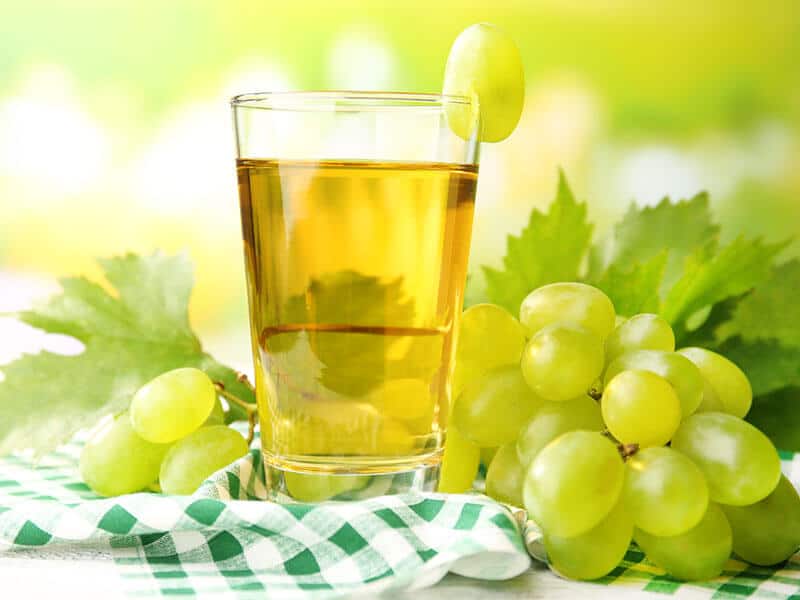 White grape juice has a slightly sweeter taste than dry vermouth. Therefore, for a standard recipe, you should replace dry vermouth with grape juice in a ratio of 2:1.
You can taste and add more if needed. However, be sure to choose the pure white grape juice with no added substance; because otherwise, your dish will be as sweet as sugar!
This alternative would be suitable for sauce recipes like sauces for poultry. If you feel the sauce is too sweet, consider re-balancing it with salt or another seasoning. That can help you create a flavor that is most similar to dry vermouth.
6. Wine Vinegar
Vinegar has the same acidity as dry vermouth. Wine vinegar has two types, red and white, but the difference in taste is not significant, so both can be considered substitutes for dry vermouth.
But for the best, you can prefer white wine vinegar because it is very suitable for marinating foods, making sauces and stews. Red wine vinegar should not be used in lightly colored recipes such as soups to discolor the dish.
Feel free to substitute using 1/3 white wine vinegar for one dry vermouth. If you only have red wine vinegar, try diluting the color and sweetness 1/3 cup with 2/3 cup water. You can decide by considering the other ingredients' characteristics.
7. Lemon Juice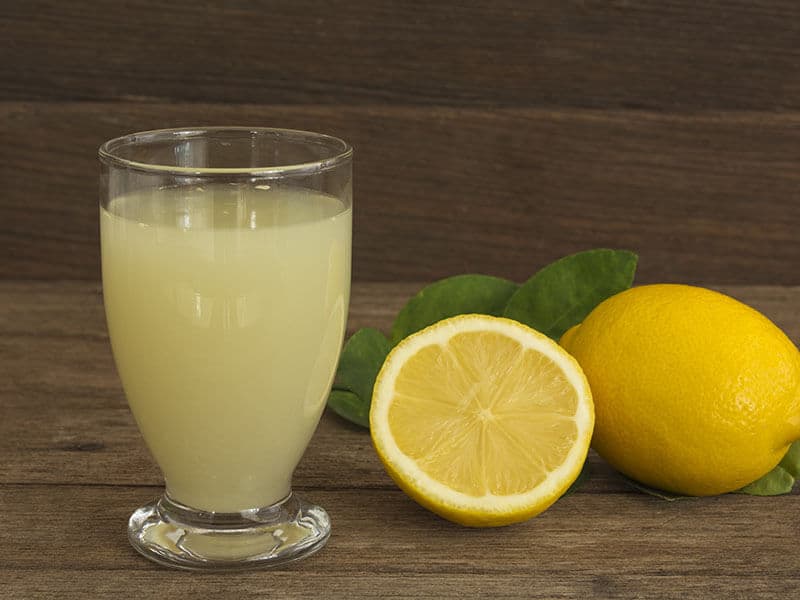 The similarity between lemon juice and dry vermouth is the acidity. In recipes, you might consider lemon juice as a relatively good substitute. The ideal ratio here is 1/2 cup of lemon juice instead of a cup of vermouth because you will not want the dish to be sour!
It's just a general recipe. You can still reduce or increase the amount of lemon juice, depending on your eating preferences. And note that only lemon is used, not lime or another citrus, to avoid the taste being too strong and sour.
And note that not all recipes match the citrus flavor of lemon juice. Therefore, consider the ingredients and characteristics of the dish when choosing this alternative! It can work especially well in meat and pasta sauces.
8. Apple Cider Vinegar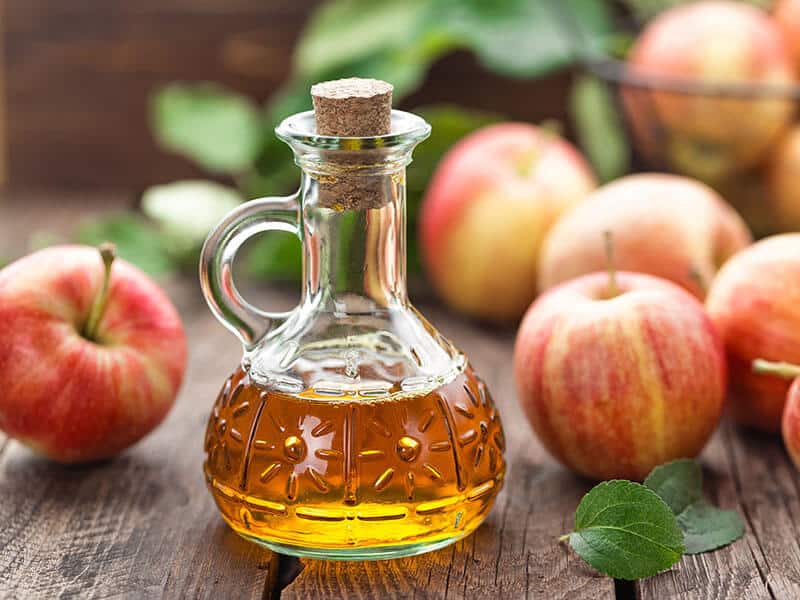 Apple cider vinegar is a great alcohol-free substitute for dry vermouth. It has a sour taste and is highly acidic, so it will give a similar taste.
You can use apple cider vinegar as a substitute for dry vermouth in most dishes, including both sweet and savory ones. Take it as a marinade for your pork, chicken, or lamp. It will also create the best flavor in candies and cake.
Consider adding apple cider vinegar to dishes slowly so you can adjust the flavor accordingly. You can replace 1 cup of dry vermouth with 1 cup of apple cider vinegar.
Find the most simple way to make apple cider vinegar at home!
9. Fortified Wine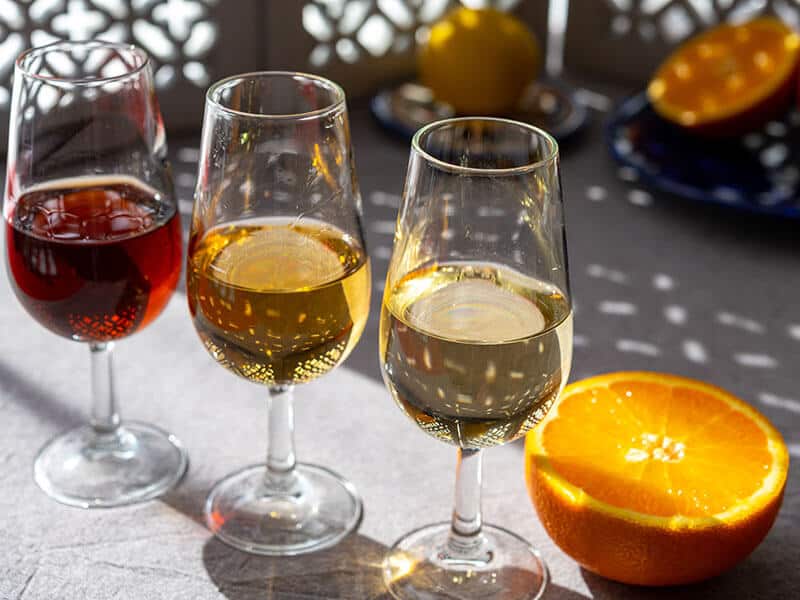 Of course, you cannot ignore other fortified wines when looking for an alternative to dry vermouth. You will have the same choice in both taste and color. Some great and frugal examples are Port and Madeira. Just start with a small amount of wine and continue until it suits your taste.
10. Poultry Broth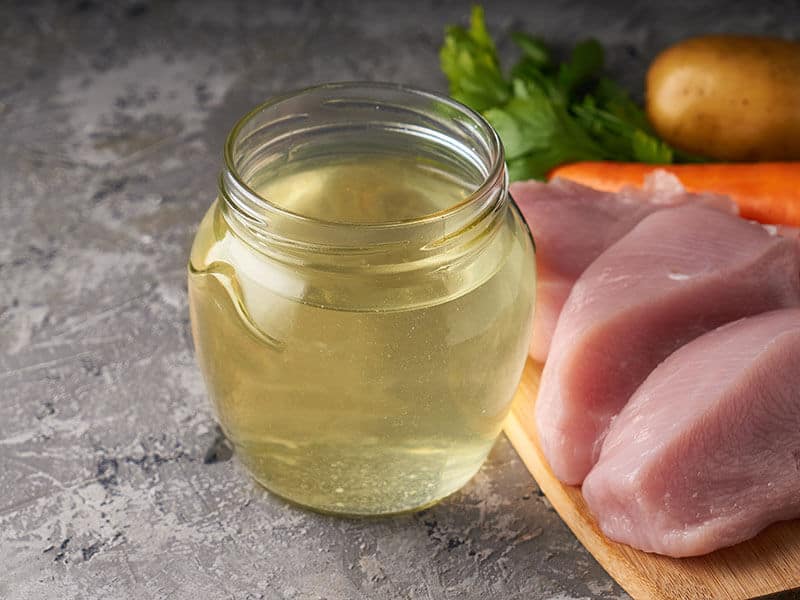 While it lacks the distinct flavor and strength of dry vermouth, poultry broth can still be considered a dry vermouth substitute. Just by choosing the right recipe, you can replace 1 cup of dry vermouth with 1 cup of poultry broth (maybe turkey broth or any white meat broth).
One of the suitable recipes is roast chicken. You can add oregano and lemon to rebalance the poultry broth to create a taste similar to dry vermouth. The rich flavor of poultry broth will create a flavorsome taste for this dish.
11. Beef and Vegetable Broth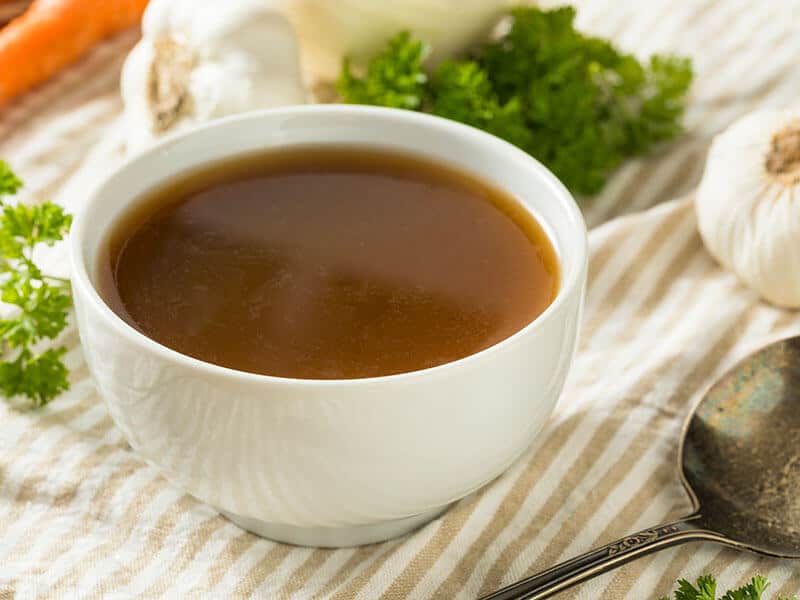 Red meat broth is even more suitable than white meat broth. Its effects are similar to dry vermouth, although the taste is different. It is an added ingredient for a richer flavor to many recipes. Try replacing dry vermouth with an equal amount of beef broth.
You might consider using beef and vegetable broth as a substitute for dry vermouth in recipes for grilled meats, onion soups, or vegetable dishes. You can simmer for a while for the best flavor.
The optimal point of this substitute is that you can store it in the refrigerator to use it gradually. If you freeze it, you can keep it for up to 6 months. Its flavor is rich enough to replace dry vermouth.
Dry Vermouth Substitutes For Martini
Are you tired of the regular flavors and want to bring something new to the classic Martini? Besides sake and sherry as I mentioned above, try these fun substitutes for dry vermouth in Martini recipes!
12. Salers Aperitif
This wine is soaked with gentian and aged for a long time before it can be used. It will provide a slight bitterness to your Martini. What you'll love is the tangy citrus flavors that dry vermouth doesn't give your Martini.
13. Cocchi Americano
Made from the bark of the cinchona and aromatic herbs, this wine will give your Martini a whole new vibe with a strong bitter taste of honey mixed with fruity notes. It also adds an interesting smoothness and viscosity to the Martini.
14. Umeshu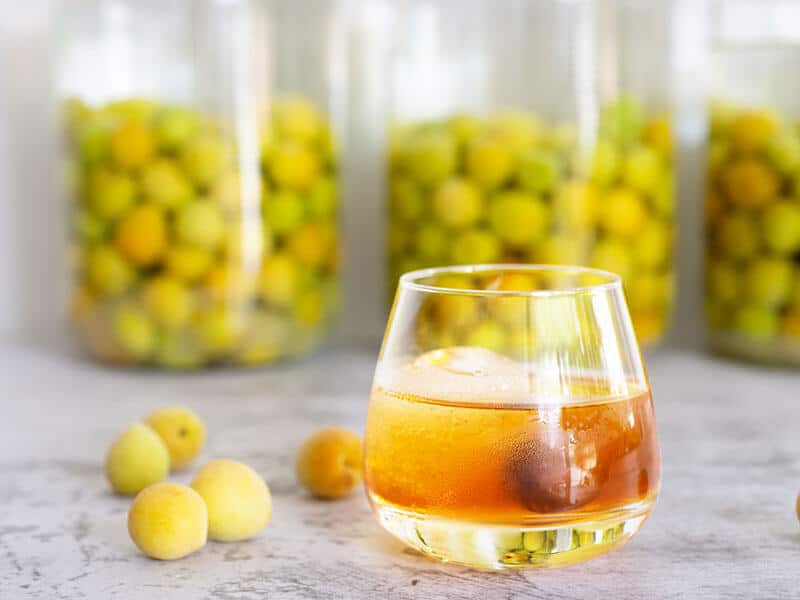 Fermented and salted sour plums create the powerful Umeshu. The strong umeshu, when used to make Martinis, produces a beautiful floral aroma that blends with the moderate saltiness of the salt.
FAQs:
There are many interesting things about dry vermouth and its alternatives that you may not know! Discover some useful information about dry vermouth in these Q&As:
What Is Your Favorite Dry Vermouth Substitute?
Now without vermouth, you can rest assured that there are still plenty of alternatives with unmatched taste. These substitutes are definitely ultimate for any dishes you want in your dinner!
Try making your dish with a favorite substitute, and let me know the results! And don't forget to share this post with anyone who needs it. Happy cooking!
References
En.wikipedia.org. 2021. Vermouth – Wikipedia.