Fennel seed substitutes are familiar to most of you, so don't worry when you're short of them; I can walk you through a list of fennel seed stand-ins so you're able to continue the recipe in no time.
Also, if you belong to the number of people who might not like how fennel seeds taste or have an allergic problem, I've got you covered, so keep scrolling down to get to know about 12 picks and select the preferable one.
Let's start!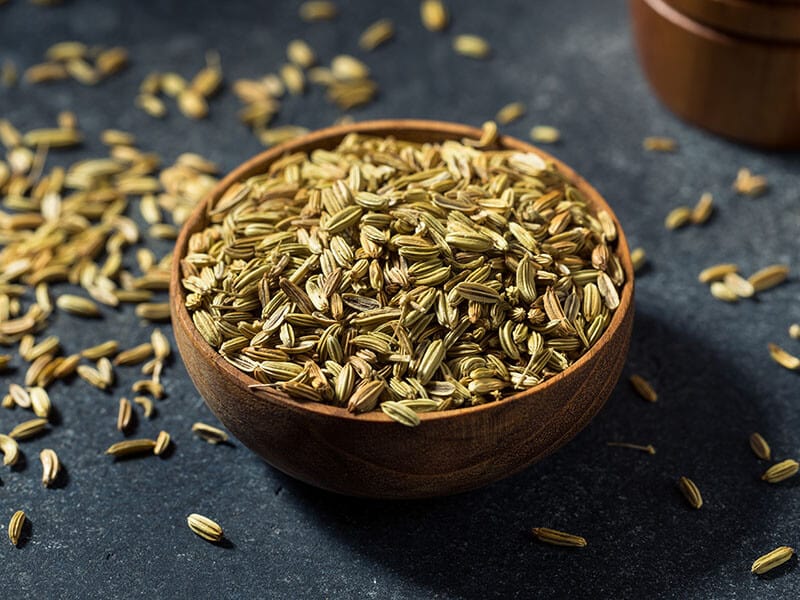 What Are Fennel Seeds?
Fennel is native to Mediterranean regions and is used extensively in Chinese, French, Italian, Indian, North African, and Middle Eastern cuisines. Fennel seeds are a part of fennel plants with a long, oval-shaped, greenish, or yellowish-brown appearance.
They are well-known for their licorice-like and anise-like flavor. To be specific, they feature sweet and earthy notes which aren't too overpowering.
Fennel seeds tend to switch from pale green to tan, greyish, or brown when they age. Along with the color change, the taste of fennel seeds also becomes stronger, especially its warmness and licorice flavor.
Once roasted, dried fennel seeds can bring out the best flavor: nutty and earthy and are ready to ground into powder for culinary uses.
In the old days, people often chewed fennel seeds after the meal to freshen their breath and aid digestion. (1)
As you might know, fennel seeds are an essential ingredient that creates a unique flavor for bread, curries, sausages, candies, herbal teas, desserts, and stews. Moreover, they're also a key spice in some common spice mixes, such as Chinese five-spice powder.
Western people have recently discovered fennel seeds when they're added to cappuccino or pumpkin pies.
When looking for a fennel seed substitute, make sure to find herbs that can closely mimic their licorice flavor.
What Is A Good Replacement For Fennel Seeds And Their Ratios?
Take a glimpse at the chart I have brought below and start cooking in a proper way, even if you don't have any fennel seeds.
Substitute

Substitute Ration

Anise seeds
1 teaspoon of fennel seeds = 1 teaspoon of anise seeds
French tarragon
1 teaspoon of fennel seeds = 1 tablespoon of fresh French tarragon
1 teaspoon of fennel seeds = 1 teaspoon of dried French tarragon
Caraway seeds
1 teaspoon of fennel seeds = 1 teaspoon of caraway seeds
Dill seeds
1 teaspoon of fennel seeds = 2 teaspoon of dill seeds
Licorice root
1 teaspoon of fennel seeds = 1/2 teaspoon of dill seeds
Cumin seeds
1 teaspoon of fennel seeds = 1 teaspoon of cumin seeds
Fresh fennel And fennel fronds
1 teaspoon of fennel seeds = 1 pound of fresh fennel
Mahlab
1 teaspoon of fennel seeds = 1 teaspoon of mahlab seeds
Parsley
1 teaspoon of fennel seeds = 1 cup of chopped parsley
Anisette Liqueur
Try with a smaller quantity and taste until desired
Celery
1 teaspoon of fennel seeds = 1 cup of chopped celery
Fennel Oi
Add 1 or 2 drops of fennel oil
Surprising Fennel Seed Substitutes In Your Pantry
Can't find fennel seeds is not a tragedy because you have 12 suggestions to consider. Let's elaborate on each option and choose the right spice or herb for your recipe.
1. Anise Seeds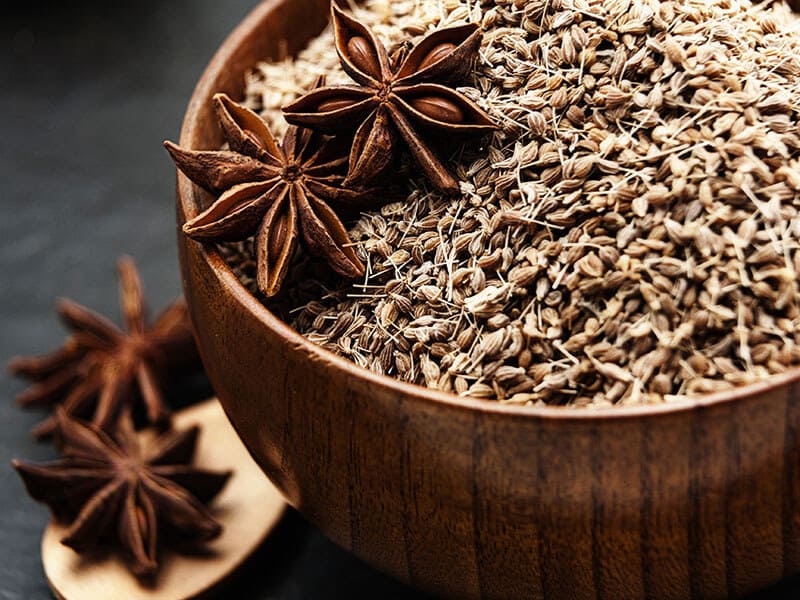 The top candidate is unarguably anise seeds because both seeds share the same flavor profile despite not belonging to the same family. Anise seeds can be used in both whole and ground form.
Anise seeds come with a smaller shape with licorice-like aroma and seem to be more pungent than fennel seeds. Moreover, they're usually used in sweet desserts and pastries but sometimes in savory dishes if needed.
Anise seeds often find their way into pie fillings, bread dough, baked goods, ground meat, and beverages. When cooking, you can prepare the same amount of anise seeds as fennel seeds.
2. French Tarragon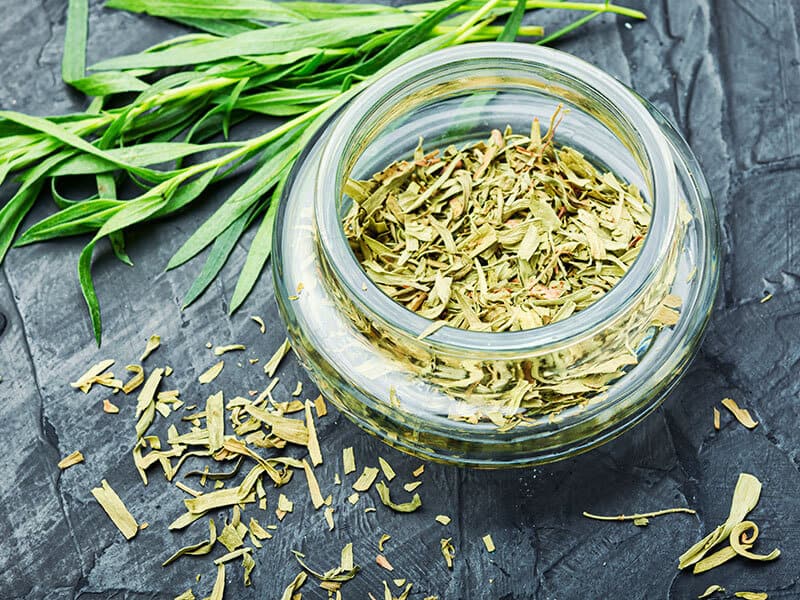 French tarragon, known as "a king of herb" in France, features noticeable anise or licorice-like aroma which resembles fennel seeds; therefore, no wonder its name appears next on the list.
Moreover, French tarragon is also known for its bittersweet and spicy aroma, which can easily add a touch of fresh herb to the dish.
To substitute, use one teaspoon of dried tarragon or one tablespoon of fresh tarragon for one teaspoon of fennel seeds the recipe specifies.
This fragrant herb can perform incredibly in chicken, veal, salmon, rabbit, and egg dishes when it comes to its culinary usage. Also, it makes a good partner in many vegetable recipes, including asparagus, artichokes, carrots, and fava beans.
Do you feel how good this tarragon chicken is just by seeing how it's cooked?
3. Caraway Seeds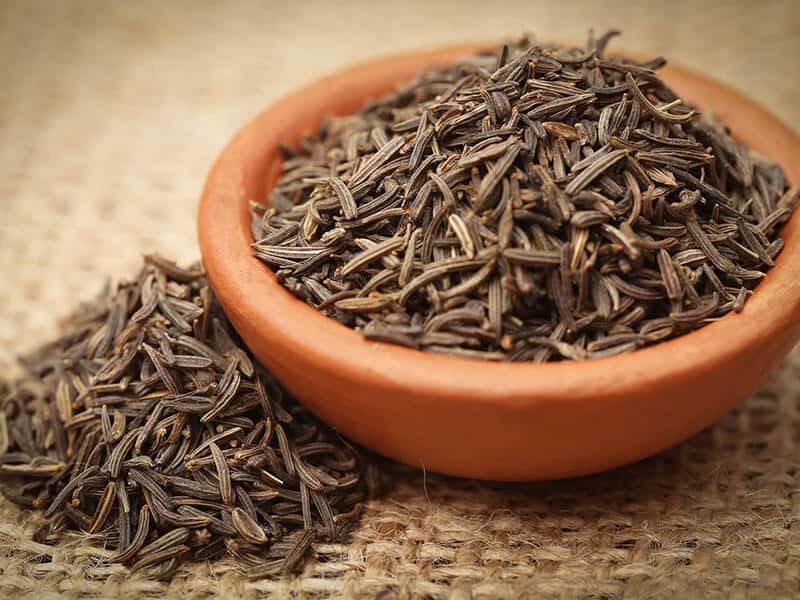 If you're going to bake rye bread but can't find any fennel seeds around your house, let's consider swapping them for caraway seeds. In this recipe, they're used interchangeably.
Before adding these seeds to your dish, you should be aware that they have a bolder aroma of licorice than fennel seeds. In addition, they possess a hint of peppery and citrus flavor which might add depth to what you plan to cook.
My go-to dishes for caraway seeds should include cabbage, garlic, and all meats.
The 1:1 ratio can be acceptable in any dish. However, these seeds tend to be bitter rather than sweet, so you should prepare a small amount first, then slowly add more until achieving the flavor you want.
This German cabbage salad with caraway seeds looks so mouthwatering.
4. Dill Seeds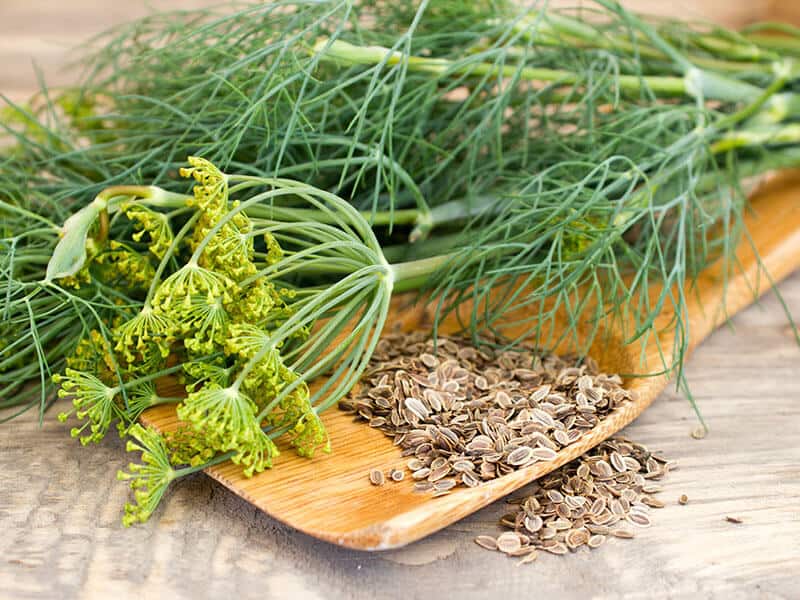 Although dill seeds lack the sweet side of fennel, they still work amazingly in savory recipes. For this reason, they could be helpful in some recipes which call for fennel seeds.
You can add both dried and fresh dill seeds to the recipe and keep in mind that the licorice flavor of dill seeds isn't as strong as fennel seeds.
It's vital to note that you should go for the former if you have to choose between caraway seeds and dill seeds as a substitute for fennel seeds. And if there are no fennel seeds and caraway seeds in the pantry, let's cook with dill seeds.
Dill seeds pair well with fish and egg dishes. They are not as flavorful as fennel seeds, so it may be good to use 2 teaspoons of dill seeds for 1 teaspoon of fennel seeds.
5. Licorice Root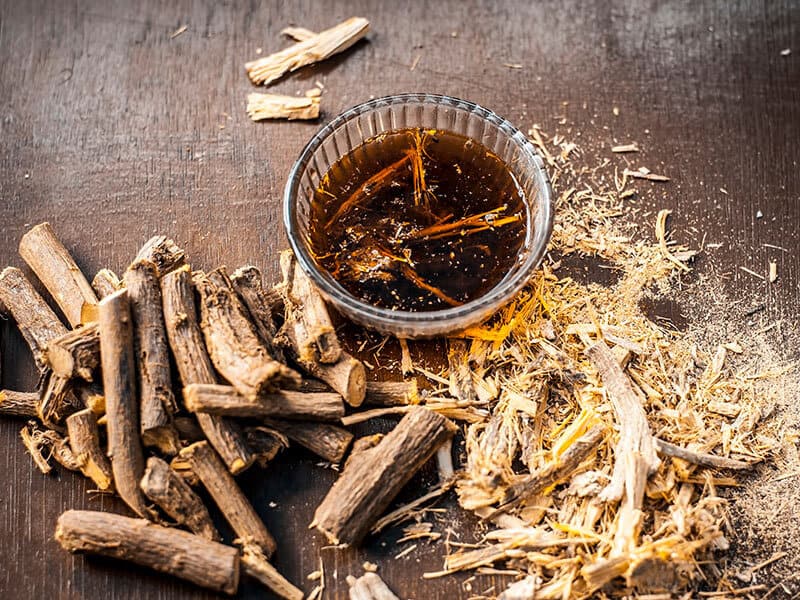 Licorice root makes for an ideal pick which you should add immediately to the list in case you have none of the fennel seed left.
Like fennel seeds, licorice root has some medicinal properties and can be chewed after the meal to freshen the breath. Besides, they're popular as a cooking ingredient that lends a naturally sweet flavor to the dish with a trace of bitterness.
Licorice root is often stored in its original, dried, or powder form. It best teams up with big flavors like mint and ginger, as well as with pork and game meats. It also works miracles in sweet recipes.
Because licorice is far sweeter than fennel seeds, so for the ultimate result, it's advised that you incorporate it in sweet recipes with only half as much as with fennel seeds.
6. Cumin Seeds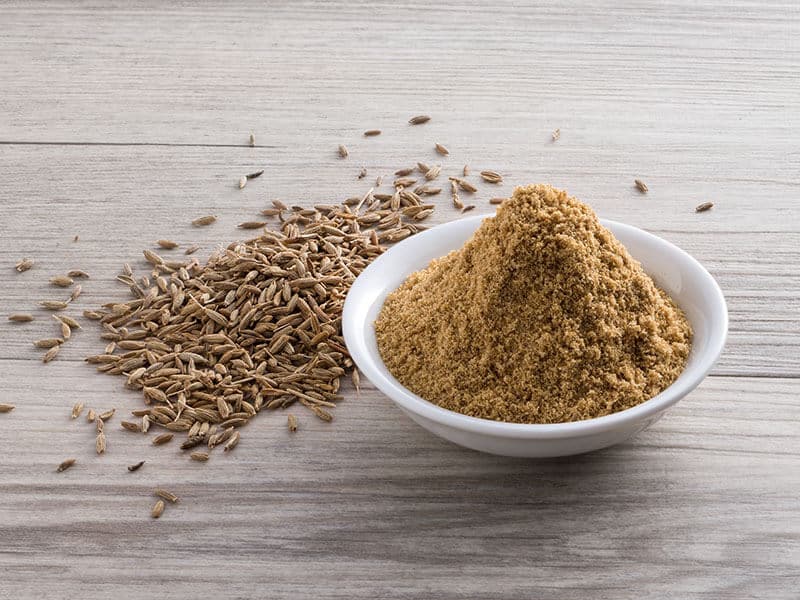 Cumin seeds are well-known as an ingredient of garam masala spice mix and are used in traditional Indian cuisine.
Cumin seeds can render a sweet and earthy flavor to the dish like fennel seeds; therefore, it could be your substitute option when you want to save a trip to the grocery store.
They also look pretty similar to fennel seeds, so they become a perfect replacement for garnishing foods. To be more specific, it can be added on top of salads, tortillas, sauces and soups.
However, cumin seeds produce heat and peppery aroma when tossed into dishes which means it would be helpful if you learn how to use them properly.
Finally, both these spices are successfully used as a stand-in for each other, in equal amounts.
7. Fresh Fennel And Fennel Fronds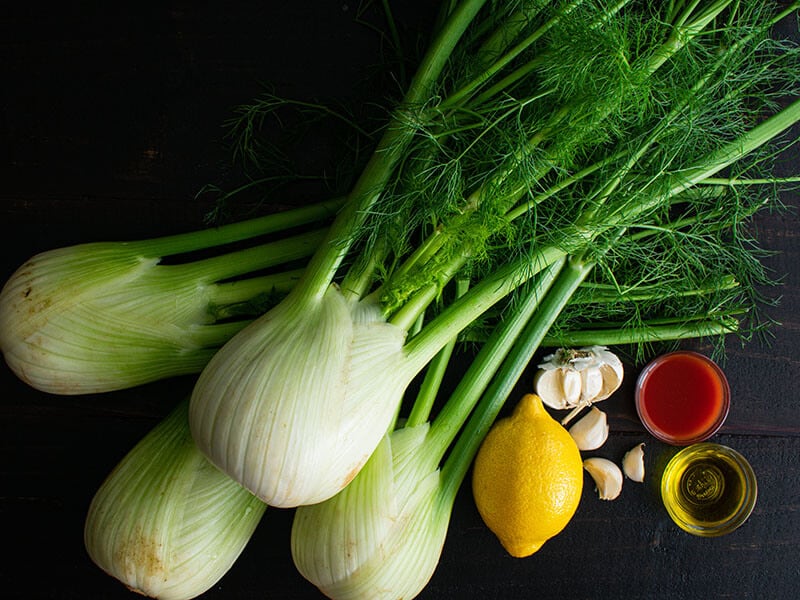 Are you having spare fresh fennel and fennel fronds in the fridge? It seems sensible to use them for your cooking right now if you run out of fennel seeds.
To bring out the best flavor of fresh fennel, toss them into the oven, then finely chop them and use them in the recipe. This way, you can add a mild licorice aroma from fresh fennel to the dish and successfully replicate the taste of fennel seeds.
If the recipe calls for 1 teaspoon of fennel seeds, you should prepare 1 pound of fresh fennel to replace them.
Fennel fronds taste much like the bulb with a bit of licorice, bright and vegetal flavor. I'd like to have them as a garnish for soups, salads, and stews.
This healthy yet delectable fennel apple salad makes me truly hungry.
8. Mahlab
Mahlab might be familiar with people who love baking because it's often used in pastries, bread, and cakes throughout the Middle East.
As for flavor, mahlab seems to maintain the balance between sweetness and sourness perfectly. This unique ingredient is actually ground wild cherry pit, which comes with a complex flavor and can be described as a mixture of almonds, cherries, roses, and vanilla.
Mahlab can be used instead of fennel seeds, thanks to its sweetness. It goes well with dairy and cheese products and not so well with meat.
It's important to note that you should cook mahlab seeds before adding them to the dish. This way, you can reduce the bitter aftertaste.
It's suggested that you follow the ratio of 1:1 when using it as a substitute for fennel seeds.
9. Parsley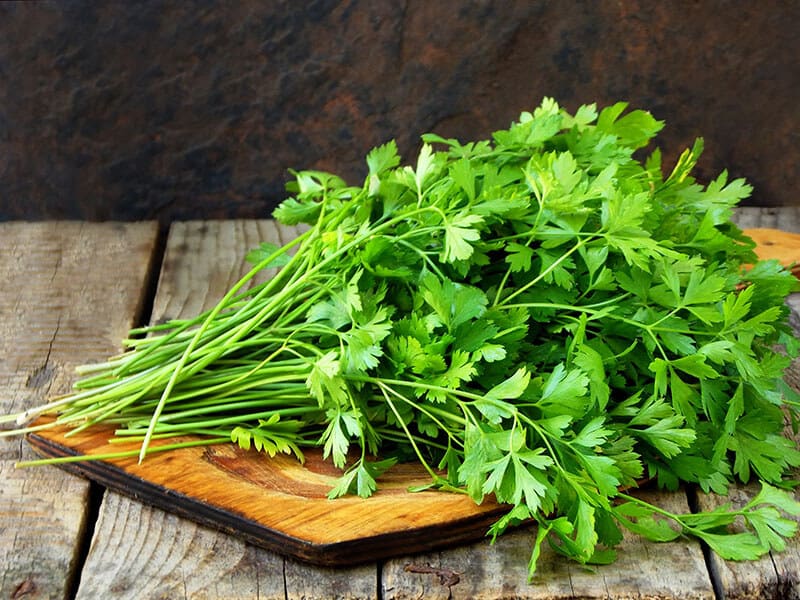 Another prevalent culinary herb that can be substituted for fennel seeds is parsley. I guess this aromatic ingredient might be a staple in many kitchens.
The first impression about parsley is that it's a hero among garnishes for soups and other dishes. However, their application in cooking goes beyond what I thought.
Having a sweet and earthy flavor with a dab of licorice-like notes, parsley can brighten food items and make them more palatable. Also, if you pay more attention, you might notice it features clean and peppery notes.
Parsley works well with steaks, frittata, meatloaf, hummus, salads, pasta, and more.
Both fresh and dried parsley are easy to find in supermarkets and grocery stores. If you don't want to spend time prepping it, you can opt for dried form, which seems to be more convenient.
Bear in mind that one cup of chopped parsley might bring your dish a flavor you wish from a teaspoon of fennel seeds.
Let's cook this 5-ingredient potato salad with parsley!
10. Anisette Liqueur
Anisette liqueur refers to French liqueur flavored with anise seeds. It's prevalent in Mediterranean regions, specifically in Greece, Italy, and Spain.
To my surprise, it has a sweet flavor that resembles the aroma of black licorice. Therefore, it can be used in some recipes as a fennel seed substitute.(2)
Anisette liqueur is often mixed with coffee and enjoyed after a family dinner. People also like to make cookies and biscotti out of this famous liquid. My suggestion is that you add it in tomato sauce or meatloaf recipes for better flavor.
If it's the first time you use anisette liqueur, start with a small dose and increase it little by little until you feel satisfied with the dish's flavor.
Keep in mind that it contains alcohol, so if you plan to cook for your kids, it's not a wise choice.
11. Celery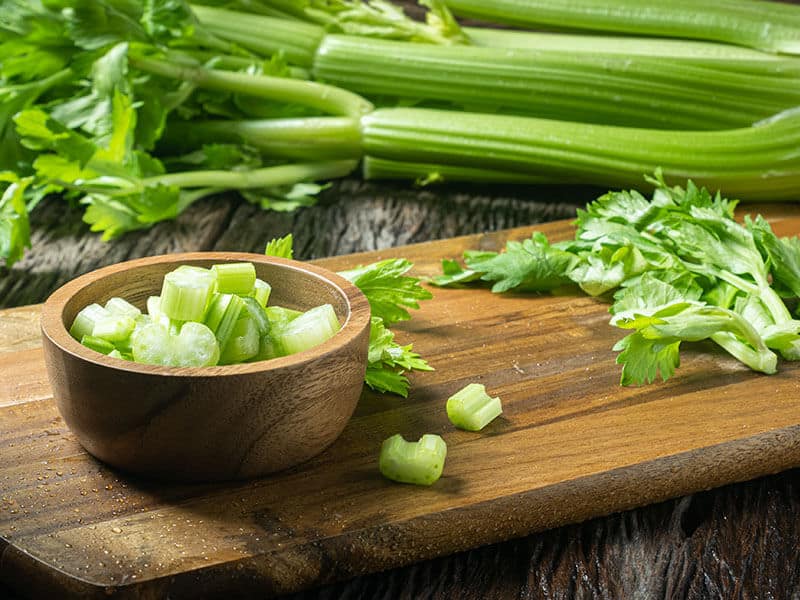 Celery is known for its refreshing, bold, and earthy flavor, which you can use in cooking as a stand-in for fennel seeds if you're in a hurry. It tends to lend aromatic savor to soup, stock, pasta, and salad.
Moreover, it can offer crunchy texture and make your dish, especially raw recipes, more enjoyable to munch on.
It's worth noting that if you blanch celery before adding it to the food, it often tastes sweet and pleasing, so don't skip this step if you want to bring perfection to the recipe and avoid any bitterness.
It's said to go along with beef, chicken, blue cheese, eggs, potatoes, carrots, apples, and more.
It would be best if you use one cup of celery for one teaspoon of fennel seeds. You can adđ more if you feel like doing so.
12. Fennel Oil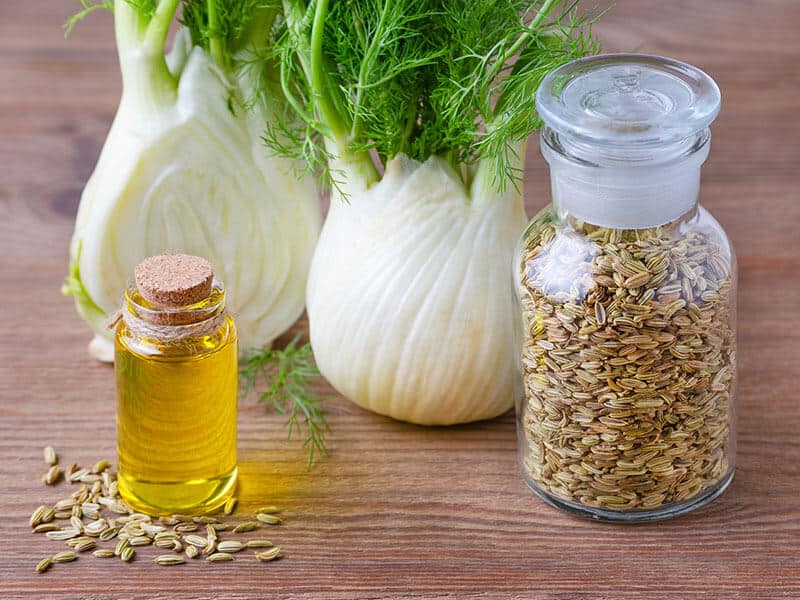 With a distinctly licorice-like flavor and a hint of herb, fennel oil will be helpful in salad and baking recipes. And because it's made from fennel seeds, it can mimic the flavor of these seeds successfully.
If you don't prefer the oily texture, you shouldn't add too much of it, and remember to remove any other oils from the recipe.
Moreover, fennel oil is well-known for its high-antioxidant compounds and antimicrobial properties, so you can incorporate it into your diet to benefit from it.
Using 1 or 2 drops of fennel oil is pretty enough to successfully impart the distinct flavor of fennel seeds into your dish.
Amazing Culinary Uses Of Fennel Seeds
This versatile fennel seed can be a part of various recipes, so it might be a bit challenging to list out all of its usage in cooking. Let's check them out below
Play an essential role in a number of spice mixes
Add to cured and cooked meat to create a distinct flavor
Sprinkle on top of a bowl of salads
Add to curry recipes
Make a cup of tea with lots of health benefits
Make a dry rub for meats, fish, and poultry
Add to baked goods
Use in sausage blends
Make salad dressings
Health Benefits of Fennel Seeds
Fennel seeds have a high amount of vitamin C, potassium, iron, calcium, magnesium, and more. Therefore, they're incredibly good for your health. Let's explore more now!
Promote Weight Loss
Rich in fiber, fennel seeds can help with weight loss and keep you from feeling hungry at odd hours. Drinking fennel tea can suppress appetite and make you consume fewer calories than usual.
They are also thought to reduce fat-storage as they improve nutrient absorption.
In addition, fennel seeds have diuretic properties. They increase urine output and flush excess fluid out of the body. This can also contribute to weight loss.
Improve Digestive Health
Fennel seeds are commonly used to treat a variety of digestive ailments. These include heartburn, intestinal gas, bloating, and even colic in babies.
Fennel seeds have an antispasmodic effect and prevent the formation of gas in the digestive tract. It can therefore help treat other serious digestive conditions such as irritable bowel syndrome.
Increase Breast Milk Production
Fennel seeds contain a compound called anethole. This is a type of phytoestrogen that mimics the properties of the hormone estrogen and increases breast milk supply. This is especially helpful for breastfeeding women.
Enhance Liver Health
Incorporating fennel seeds into daily tea or salads could be an excellent way to detox the body from the leftovers of uric acid in the blood and prevent fat buildup around the liver. This way, they greatly support liver health in the long term.
FAQs
To make you feel more confident when cooking, I'm glad to answer all your questions related to fennel seed substitutes below.
What Is Your Favorite Fennel Seed Substitute?
Anise seeds might be your go-to alternative for most recipes related to fennel seeds, but it doesn't mean that you should not try other suggestions I have mentioned above.
For me, each spice or herb has its distinct notes of flavor, which bring a delicate touch to the recipe you're going to cook. So, it might happen this way: you will cook with an option you have on hand and stop worrying about how bad your food can be.
As long as you pay enough attention to the dish, you can balance the flavor and achieve a far better result than you thought.
If you've been cooking with the nine ingredients I mentioned earlier, please share with me and other your cooking experiences. I look forward to hearing from you.
Reference
1. 2021. [online] Available at: <https://timesofindia.indiatimes.com/life-style/food-news/not-just-a-mouth-freshener-fennel-seeds-are-a-health-food-too/photostory/68109981.cms?picid=68110012>
2. 2021. What is Anisette? (with pictures).