Thinking about fire-roasted tomato substitutes can give you a headache. Because fire-roasted tomatoes not only have the original flavor but also have a stronger, sweeter, and more smoky aroma than any other ingredient. How to keep this spirit in your dishes?
I have here some interesting substitutes for your fire-roasted tomatoes. They may not be perfect, but each choice will give your dish a new vibe and worth experiencing. Flavors, textures, and recommended dishes are ready for you to research!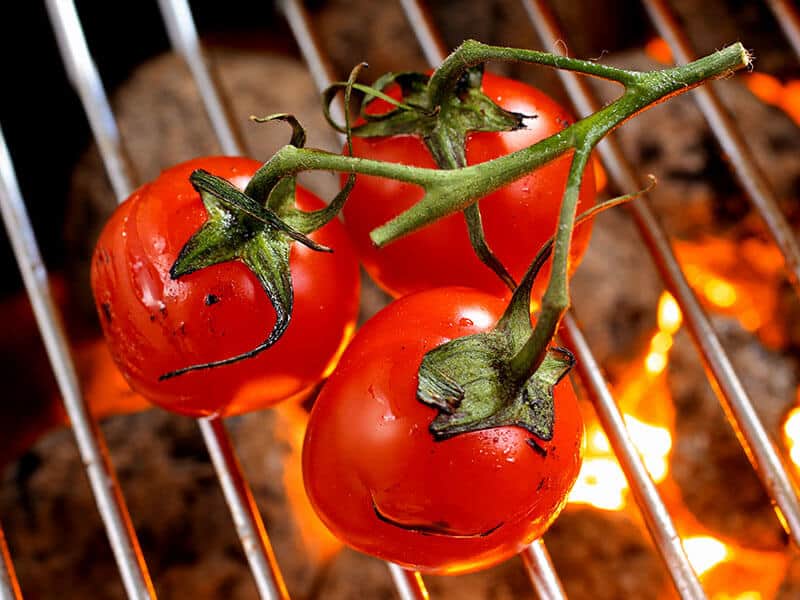 What Are Fire-Roasted Tomatoes?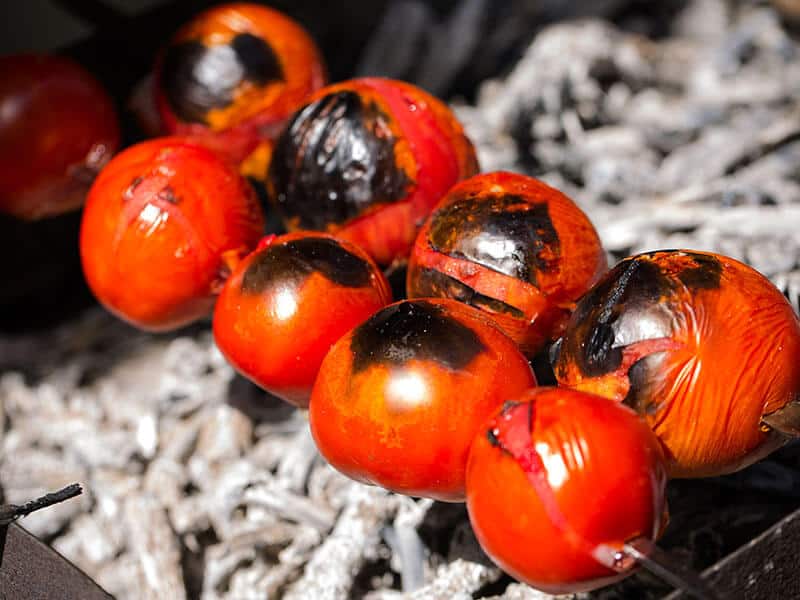 Fire-roasted tomatoes are whole tomatoes that are roasted over an open flame. You can then mash, puree, or dice them as your recipe calls for.
Fire-roasted can be added with aromatic spices such as garlic, chili peppers, or basil for extra flavor. Fire-roasted tomatoes are available in supermarkets in cans, or you can make them on your own to ensure your love results.
Moreover, fire-roasted tomatoes can be used in almost any dish: pasta, pizza, soup, salads, or appetizers. You can make many different dishes depending on your preferences and creativity.
In the main dishes, fire-roasted tomatoes are used to awaken the taste buds of the enjoyers. It helps you to have a more flavorful feeling.
The Distinctive Taste of Fire-Roasted Tomatoes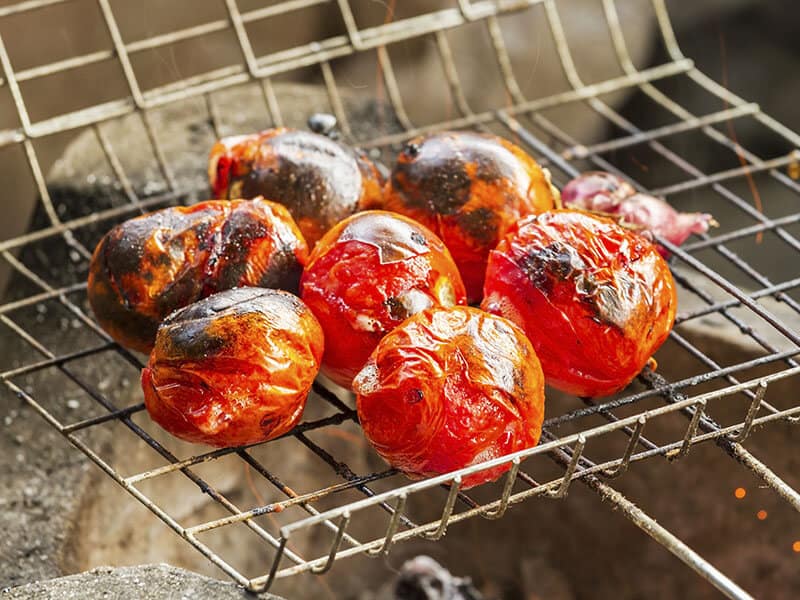 Roasting over an open flame helps activate the natural sugars in the tomatoes. As a result, fire-roasted tomatoes are significantly sweeter than other types of tomatoes, both fresh and canned. This is even more wonderful when mixed with the smoke flavor from the fire.
As a result, dishes prepared with fire-roasted tomatoes receive a wonderful taste: a mixture of naturally sour and sugars caramelized flavors, along with a faint smoky smell that no other ingredient can bring.
13 Exceptional Fire-Roasted Tomato Substitutes: A Comparison Chart
Because of their distinctive flavor, it can be challenging to find a perfect substitute for fire-roasted tomatoes. However, you still have relatively good options with some similarities and differences. Check out the table below!
Fire-roasted Tomato Substitutes
Similarities
Differences
Best Used For
Crushed Tomatoes
Flavor

Consistency and texture
Lack of smokiness

Lasagna, salsa, soup, pasta, pizza sauce toppings
Tomato Paste
Flavor

Texture
Lack of smokiness

Pasta sauce, meats, and stews, roasted vegetables
Tomato Puree
Flavor

Thinner texture
Lack of smokiness

Tomato pasta sauce, grilled eggplant, chicken or beef stew, sauces, soups
Sun-dried Tomatoes
Flavor Crispy texture

Less smooth
Lack of smokiness

Chicken breast, pizza, salads, burgers, and pasta
Diced tomatoes
Flavor

Watery texture
Lack of smokiness

Creamy soups, pizza toppings, casseroles, salads, or sausages
Pan Roasted Tomatoes
Flavor Soft texture
Less smokiness
Salad and bruschetta
Seared Tomatoes
Flavor

Less smokiness
Drier texture

Salad and pasta
Tamarind Paste
Sour Flavor

Thinner texture
Lack of sweetness and smokiness

Savory dishes and desserts
Roasted Red Peppers
Sweet and smoky flavor Color

Lack of sourness
Drier texture

Pasta
Grilled Mangoes
Flavor
Buttery texture
Salad and curry
Alma
Sour flavor Texture

Lack of sweetness and smokiness

Sauce
Pumpkin
Sweet flavor Texture
Lack of sourness and smokiness
Curry, sauce, and soup
Lauki
Texture
Lack of sourness and smokiness
Curry
13 Optimal Fire-Roasted Tomato Substitutes!
Let's go into the details of each of the fire-roasted tomato substitutes. I will introduce you to everything about them, from the taste, texture, and even the recommended recipes they match!
1. Crushed Tomatoes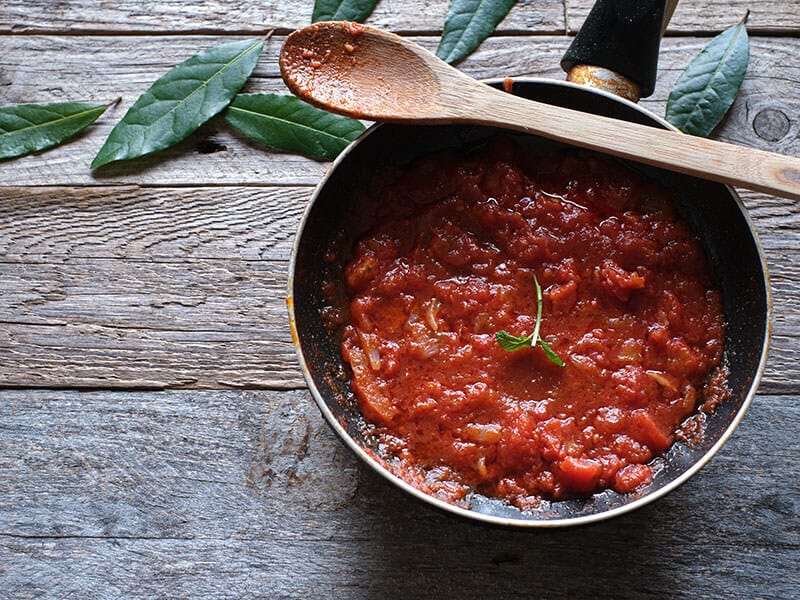 Crushed tomatoes are helpful if you don't have time to fire-roast your tomatoes. The good thing is that you can buy cans of crushed tomato from the store without having to process it at home. It has exactly the sour taste of fire-roasted tomatoes.
The most significant difference when you apply this substitution is the consistency of the dish. You can imagine the texture of the crushed tomatoes being intermediate between diced tomatoes and ketchup – neither too pure nor too big.
What's more, the canned crushed tomato has, of course, gone through a water removal process, so it won't make your dish watery like diced tomatoes. However, it will have a hard time getting the smoke and sweetness of fire-roasted tomatoes.
But that's fine. This is still a good alternative if you know how to take advantage of the help of spices. If you're crafty, you can create a flavor that's a lot like fire-roasted tomatoes.
Furthermore, crushed tomatoes can be quickly applied without preparation in many recipes in place of fire-roasted tomatoes, such as lasagna, salsa, soup, pasta, pizza sauce toppings, etc.
The great thing is that crushed tomatoes mostly retain the nutrients in tomatoes like vitamin C, vitamin K, lycopene, and minerals. You can absolutely check the label on the tomato can when you buy it to confirm the nutritional information.
You can see this video to know more:
2. Tomato Paste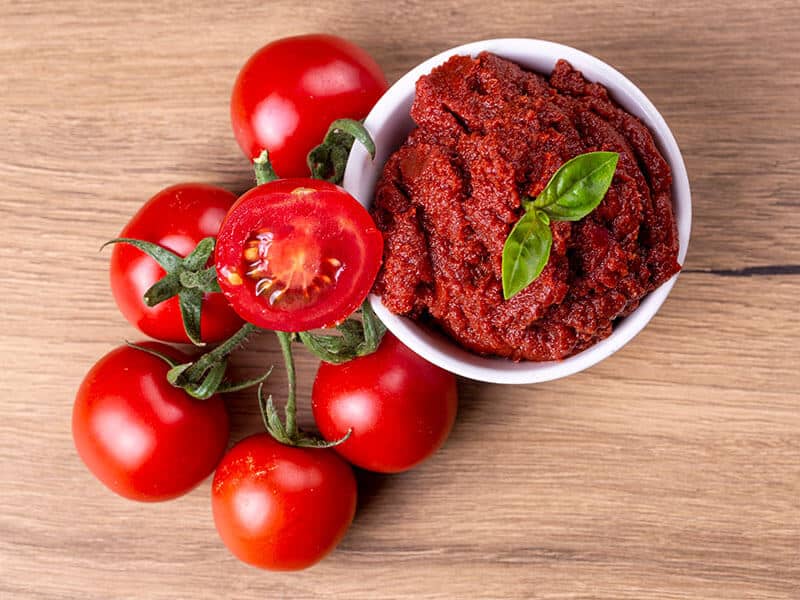 Tomato paste is an alternative that has a relatively thick and consistent texture. It brings out the signature umami flavor in your recipes. If you are aiming for this, then tomato paste will be the optimal choice!
The advantage of this option is that it's readily available in stores, which makes it more convenient and cheaper than fire-roasted tomatoes. You do not need to go through the process of processing and cooking fresh tomatoes. It's also a lot easier to store in an airtight container and only requires a small amount to create a bold flavor.
Of course, keep in mind that tomato paste can't give you the dry texture and smoky flavor of fire-roasted tomatoes. If your goal is to add intense tomato flavor and color to your recipes, go for it.
The prominent use of tomato paste is to add consistency and depth to pasta sauces. Combine it with herbs and olive oil for a subtle fragrance boost! Furthermore, meat dishes and stews with saucy texture taste much better with a bit of tomato paste.
Especially if your dish already has the smoky smell and crunchy texture from the grilled vegetables, the combination of colorful and flavorful tomato paste makes for a great dining experience!
3. Tomato Puree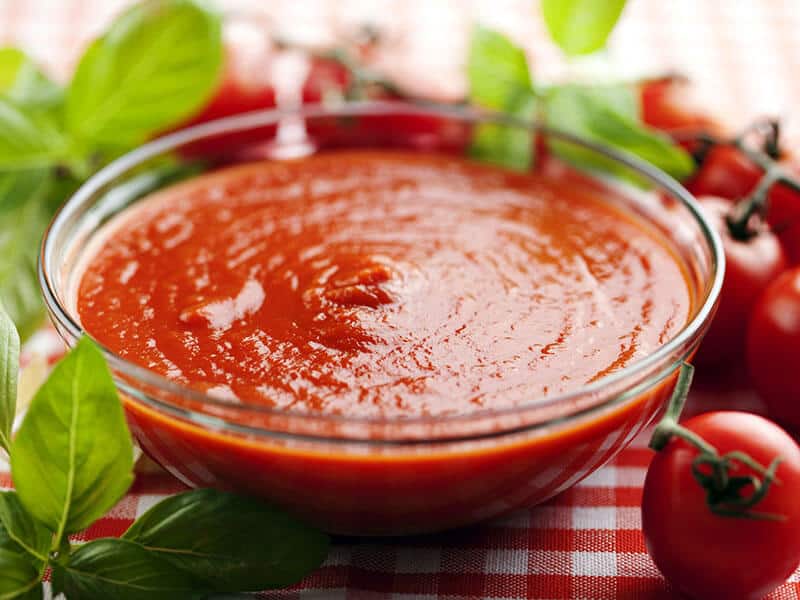 Tomato puree is made from straining cooked tomatoes. Compared to tomato paste, it has a more robust tomato flavor, making it suitable for replacing fire-roasted tomatoes. Of course, its consistency won't match tomato paste, but it's worth a try.
If you don't require the crunchy texture of tomatoes in your dish, choose tomato puree as an optimal substitute. This will be a good choice in recipes that call for a thin consistency, such as tomato pasta sauce, grilled eggplant, chicken or beef stew, a variety of sauces, soups, etc.
You can puree tomatoes at home if you have time. By this way, you can get the most delicious and freshest puree. If you are lazy to process, canned items available at the supermarket are always ready.
You can even store these purees for up to several months in the refrigerator. Remember to read the label on the tomato can to see if it gives you enough of the nutrients you want tomatoes to include in your diet.
4. Sun-Dried Tomatoes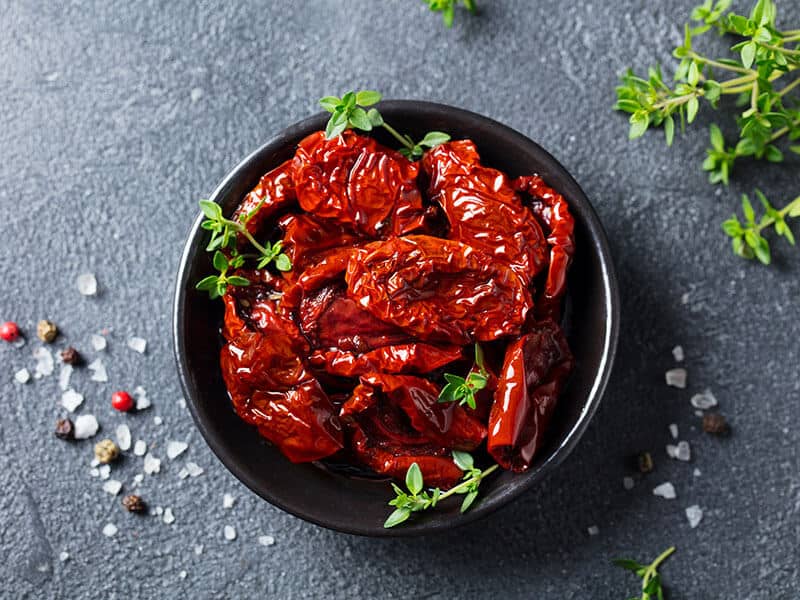 Another exciting option available to you: sun-dried tomatoes. It is widely sold in stores that you can easily find. Sun-dried tomatoes have the most similar taste to fire-roasted tomatoes. It also brings a new crispy texture to your dishes.
Of course, sun-dried tomatoes still have some preservatives added to preserve the nutrients and freshness of the tomatoes. It has a certain crispiness, slightly salty with the mild sourness of tomatoes. It is also good when stored easily for up to several months.
Keep in mind that sun-dried tomatoes will not be suitable for creating a smoky flavor or smooth sauce in your recipe. Sun-dried tomatoes will go well with drier dishes like chicken breast or pizza. You can use it in salads, burgers or pasta.
5. Diced Tomatoes
The simplest solution when you don't want to roast tomatoes is diced tomatoes. Almost everyone has fresh tomatoes in the fridge. Simply place tomato slices on top of each other and divide them into equal squares to substitute fire-roasted tomatoes.
Without complicated cooking, diced tomatoes retain their simple texture and freshly sour flavor to your dishes. The main difference here is that fresh tomatoes have not been cooked, and roasted tomatoes have been cooked to a certain extent.
So, if you don't mind the lack of smoky flavor in your tomatoes, you can use this instead in any creamy soup, pizza topping, casserole, salad, or hot dog. Mexican dishes also go well with diced tomatoes.
The nutritional composition of diced tomatoes is even more intact. Fresh tomatoes contain many B vitamins and potassium that help reduce bad cholesterol. Thanks to its high vitamin C, fiber, and choline content, it's also great for heart health.
However, fresh tomatoes can lack depth and some complexity. It can also make your dish watery if you don't eat it right away.
Find out the best way to dice your tomatoes!
6. Pan Roasted Tomatoes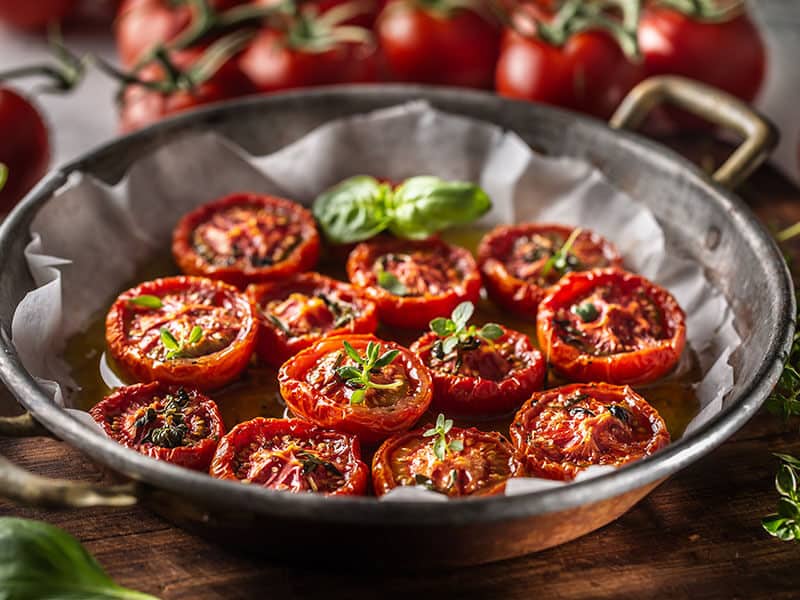 To find a similar alternative to roasted tomatoes, you can choose tomatoes that have undergone the same roasting process. Therefore, pan roasted tomatoes will produce a sweet taste, smoky aroma with a soft texture just like fire-roasted tomatoes.
To have pan roasted tomatoes, you just need to cut the tomatoes in half. Then, roast the tomatoes on the pan at the right temperature to help the tomato sides ripen evenly.
Remember to add a little olive oil and salt to make it feel like fire-roasted tomatoes. It goes well with any dish where you want to add fire-roasted tomatoes, such as the base for bruschetta or salad.
7. Seared Tomatoes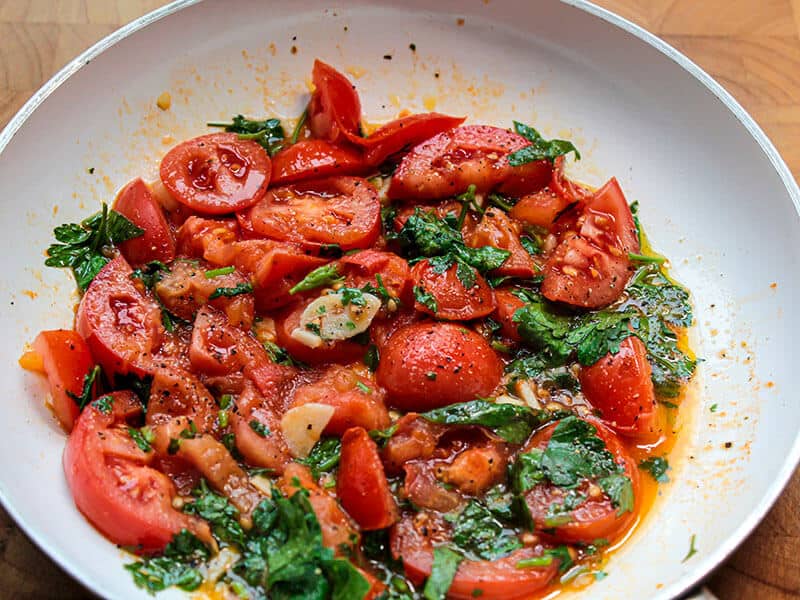 Seared tomato is also an option worthy of a mention on this list. While seared tomato doesn't taste quite like fire-roasted tomatoes, it's still worth a try.
This alternative requires a little time to prepare, but the results are well worth the effort. Fresh tomatoes should be diced, then fried in a pan with olive oil until the tomatoes smoke and the skin turns brown.
This process locks in the tomato's sweet and tart flavors with a little smoky smell. All blend well with the aromatic olive oil. Eating it with salad or pasta is excellent. However, you should expect a dryer texture compared to fire-roasted tomatoes.
8. Tamarind Paste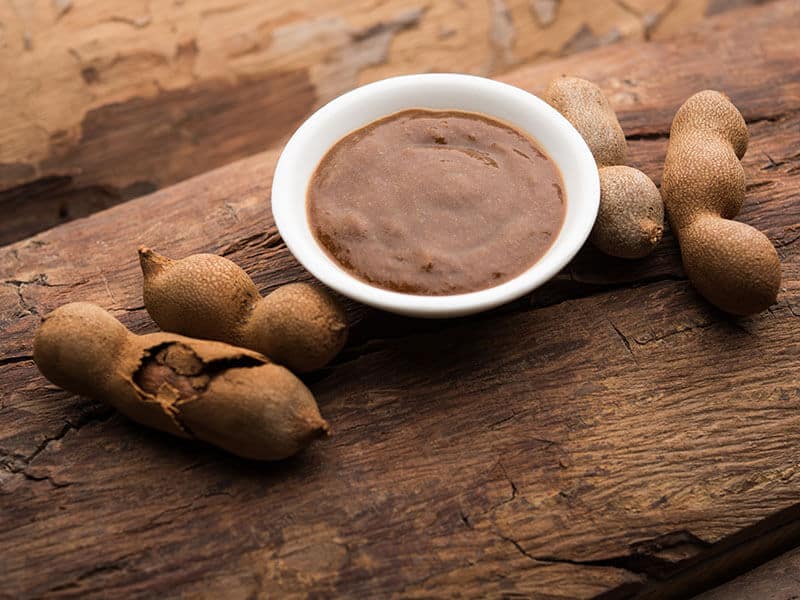 Native to Africa (1) , tamarind paste resembles a fire-roasted tomato in that it is sour and somewhat more acidic. This paste is made from tamarind fruit with a thick and sticky texture similar to tomato paste.
Tamarind paste is an indispensable ingredient in Indian and Thai cuisine. You can use it in both savory dishes and desserts. It will help you mimic the sour and sweet taste of fire-roasted tomato.
Just be aware that tamarind paste may not give you the texture or smoky flavor of fire-roasted tomato. Feel free to add some necessary seasoning according to your recipe. You can store your tamarind in the refrigerator or a dry place in the kitchen cabinet.
9. Roasted Red Peppers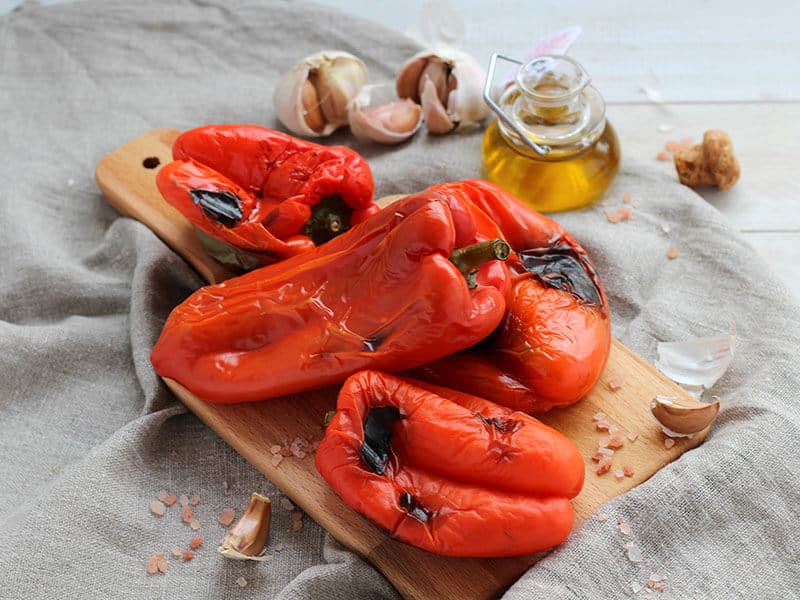 Roasted red peppers will give you the same smoky flavor and color as fire-roasted tomatoes. This alternative also brings out the sweetness of the tomato to some extent. This is also a choice rich in vitamins and minerals as tomatoes.
But certainly, red peppers will not give you the sour taste of tomatoes. Therefore, you need to choose recipes that are suitable for flavor adjustments. This substitute works best in pasta. Add spices like cumin, chili spice, and smoked paprika to make the dish more flavorful.
Another thing you should pay attention to is that red peppers don't have as much water content as fire-roasted tomatoes. If your recipe calls for a liquid texture, add more water to make up for this shortcoming.
Roasted red peppers can be stored for several days in the refrigerator. To roast them, after removing the seeds, simply bake them for a few minutes in the oven with some seasoning and olive oil.
You can use this ultimate tip to make roasted peppers!
10. Grilled Mangoes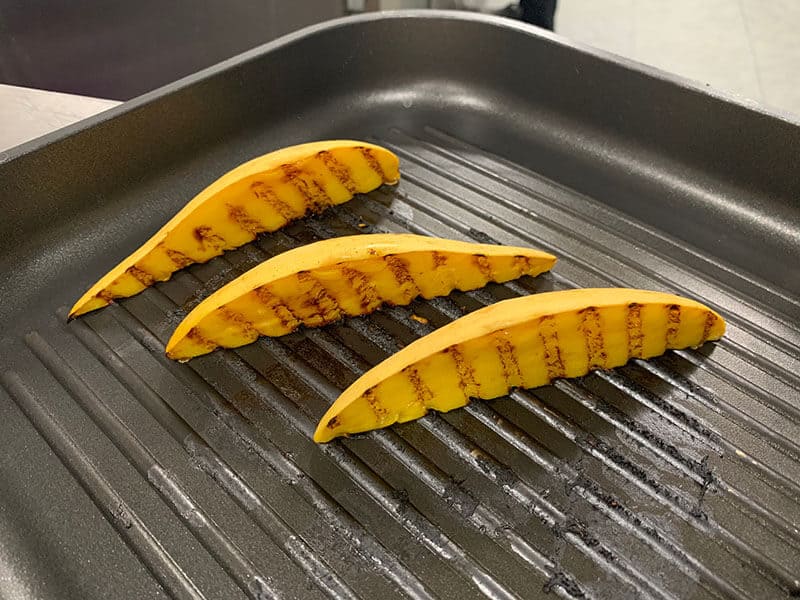 In terms of taste, grilled mangoes are a sweet and sour combination quite similar to fire-roasted tomatoes. Just properly grilled, mango will give the dish a remarkably similar flavor with a bit of smoke taste.
This is an ingredient you can use to replace tomatoes in salads and curries. You also only need a small number of mangoes compared to the number of tomatoes you have to use. You can also store it longer, up to 6 months, in the freezer.
If you don't like the buttery texture of grilled mango, try unripe mango. It has a crunchy texture similar to fire-roasted tomatoes, great for pairing in a savory dish or salad.
11. Indian Gooseberries (Alma)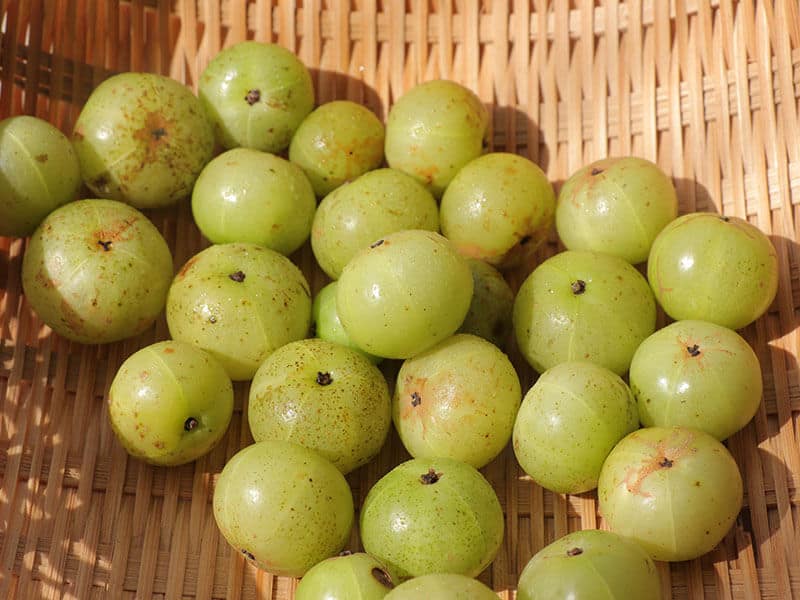 These Indian gooseberries or alma would be a decent alternative with a taste similar to fire-roasted tomatoes. It is widely used in recipes to impart a strong sour and astringent taste to dishes.
In addition, the taste of this fruit also combines with a sweet and a tiny bitter aftertaste. In particular, it has a crisp and juicy texture similar to a fire-roasted tomato. It will create a comparable texture and flavor, especially in sauces.
Alma is also well known for its many health benefits and is used in many herbal medicines (2) . You can store it in airtight bags for up to 12 months in the freezer.
12. Pumpkin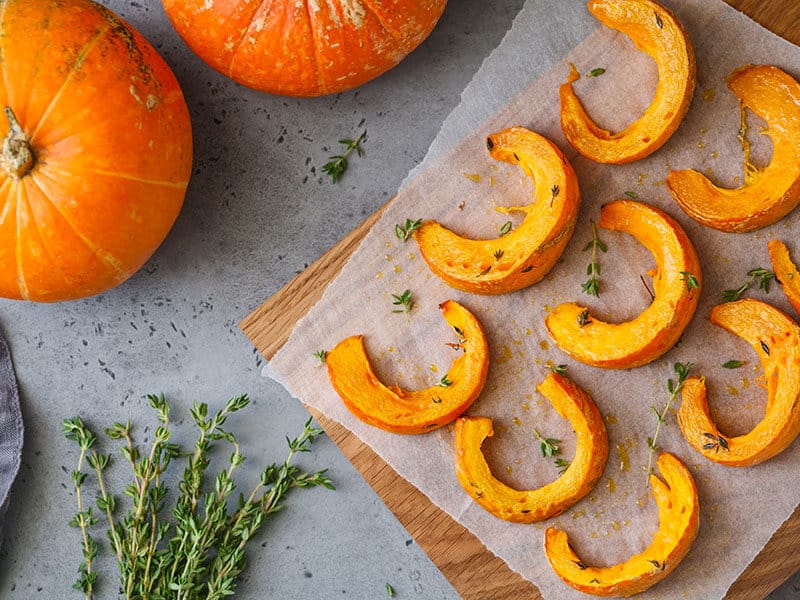 Pumpkin can give you a relatively tomato-like sweetness and texture, so you might consider picking it up if you're aiming for these factors. Pumpkin is also richer in calories than fire-roasted tomatoes if you want an extra boost of energy.
However, you cannot get the sour and smoky taste of tomatoes if you use pumpkin. Adding something sour like tamarind sauce can create a slightly weird taste.
Therefore, consider it for appropriate dishes such as curries, sauces, and soups. Add garlic and onions for a richer flavor.
This easy one pot pumpkin curry recipe is so delicious!
13. Lauki (Gourd)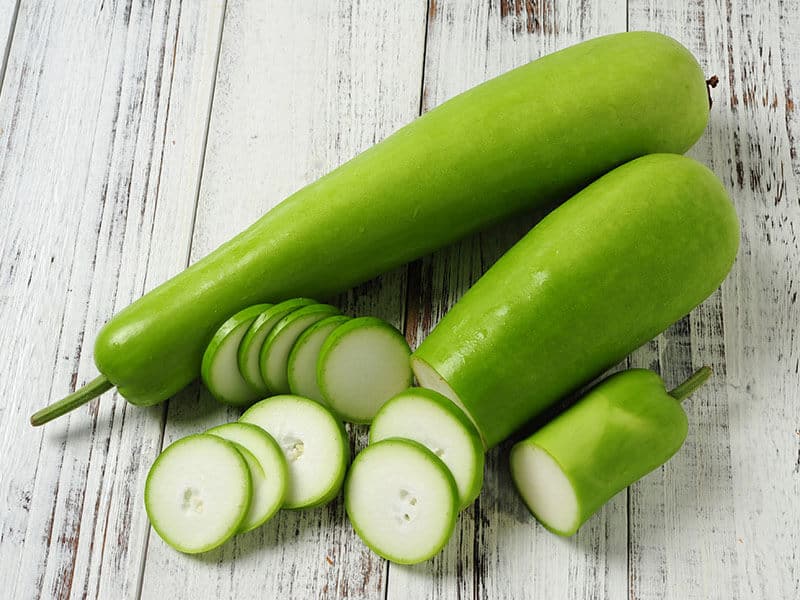 If you're just looking for the texture of tomatoes, try lauki (gourd). Of course, it can't bring out the sour and smoky taste of fire-roasted tomatoes, but it's slightly crunchy and juicy texture is quite similar.
Just chop the lauki into medium-sized dice like fire-roasted tomatoes. Try this substitute in curries. If you love the sour taste, add some tamarind paste because the two go well together! This can be the last choice when you run out of all the ingredients above!
How To Make Flavorful Fire-Roasted Tomatoes At Home?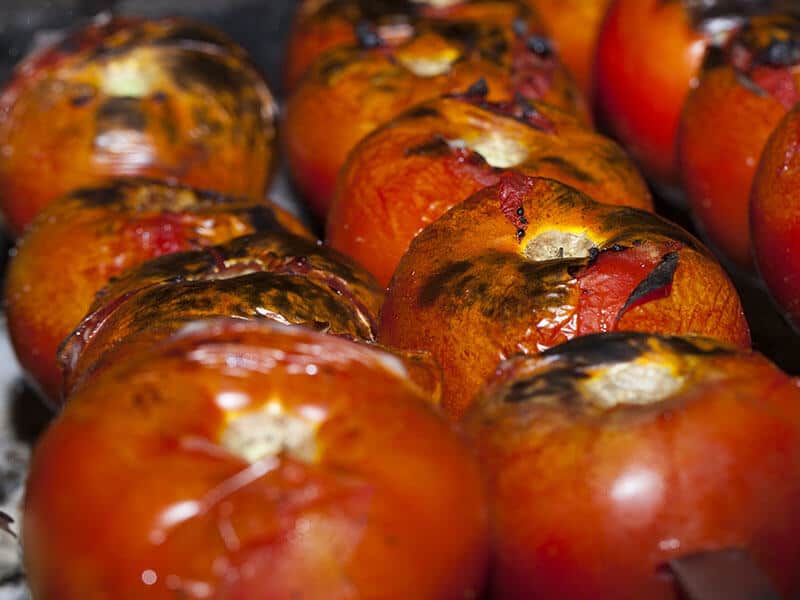 Nowadays, not many people use fire to cook, so you don't need a fire to make fire-roasted tomatoes. Join me in the kitchen to make extremely simple yet delicious roasted tomatoes with the oven!
Ingredients
Tomato
Olive oil
Salt
Black pepper
Cayenne pepper
Breadcrumbs
Step 1: Prepare Tomatoes
First, you need to wash the tomatoes and cut off the stems. Then, cut the tomatoes:
If you are using large tomatoes, cut the tomatoes into 2 – 2.5cm slices.
If you are using small tomatoes, halve the tomatoes lengthwise.
Step 2: Marinate Tomatoes
Arrange the cut tomatoes evenly on the oven tray, sprinkle salt and pepper on the tomatoes to season.
Drizzle a bit of olive oil over each tomato slice and sprinkle with dry breadcrumbs at the end.
Step 3: Bake the Tomatoes
Place the tomato tray in the oven and roast at 450˚F until the tomatoes are softened, usually about 45 minutes.
Depending on the capacity of the oven, adjust the temperature and time accordingly.
Tomatoes after roasted often have a fragrant aroma and fatty flavor of olive oil. They are a little sweet and a little sour, and have a richer taste due to the addition of spices. You can have this dish for a snack or eat it with other dishes at the main meal.
Tip: Use an oven with a convection fan to help the tomatoes roast evenly.
Why not try this quick and easy oven roasted tomatoes to add flavor to any recipe?
You can see this video to know more:
FAQs
May you discover some more exciting information about fire-roasted tomato and its substitutes in the Q&A below:
Make Some Fascinating Dishes Without Fire-Roasted Tomatoes!
You see, fire-roasted tomato is an excellent cooking ingredient, but there are still plenty of outstanding substitutes for you to enhance your taste. Each has a distinct flavor and texture, and they can work well if you use them in suitable recipes.
Try these optimal choices in your next recipes instead of fire-roasted tomatoes, and give me your opinion! And do not forget to share this post if you found it helpful!
References
[1] En.wikipedia.org. 2021.
Tamarind – Wikipedia
. [2] Healthline. 2021.
Indian Gooseberry: Benefits, Uses, and Side Effects
.