I've seen many people struggling, trying to find a decent grapeseed oil substitute. Actually, this problem may be simpler than you thought if you understand the characteristics of grapeseed oil.
Thus, here, you'll get to know about this oil and its replacements. Some of the options can surprise you as they are available all the time in your kitchen, while others can be a fun try when you want to experience other new flavors.
The world of flavor is waiting for you now. So, don't play around anymore! Shall we begin?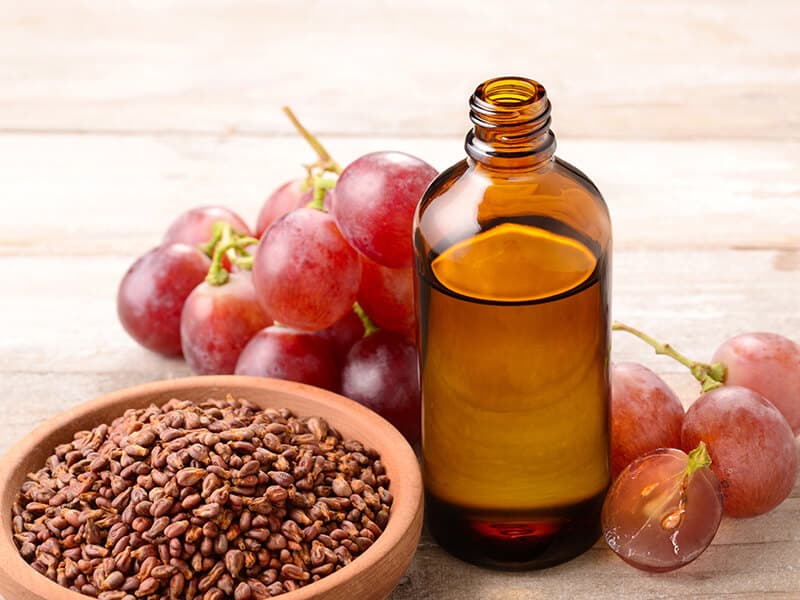 Let's Learn About Grapeseed Oil First!
To pick the most suitable replacement for grapeseed oil, you must know it inside out. So, here is an overview containing all the most vital information about this oil.
Grapeseed Oil Is Wine's "Brother"?
Surprise? I think you'll never expect this. But yes, grapeseed is a byproduct of the wine-making process. After making wine, manufacturers will crush the leftover grape seeds to extract this oil. That's why you mainly see it in wine-producing countries like Italy or France. (1)
Amazing Health Benefits Of Grapeseed Oil
Since it's made from grape seeds, this oil undoubtedly contains lots of antioxidants and other nutrients. Here come some of its incredible health benefits:
● Help body resist insulin and inflammation better
● Lower the risk of heart diseases and cancers
● Shrink blood clots
● Improve your skin quality (2)
Prepare to have your mind blown away with these benefits from grapeseed oil.
Various Uses Of Grapeseed Oil
Of course, grapeseed oil has a high position in the culinary world thanks to its relatively high smoke point and neutral flavor. From dressings to stir-frying and even baking, grapeseed oil makes it work all the time.
Apart from that, people also use it in the beauty industry as grapeseed can enhance your skin and hair conditions by a mile.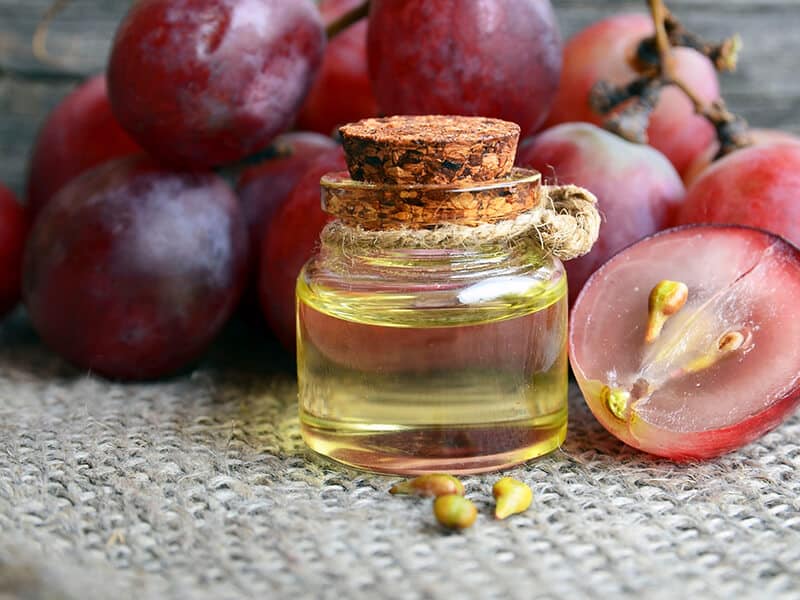 Get Ready To Know These Grapeseed Oil Substitutes
Now, you are already an expert on grapeseed oil. You can go to the next step: Find out how to swap it for other replacements!
But before going to the details, let's take a look at this table below to have a quick comparison among my favorite options.
| | |
| --- | --- |
| Grapeseed Oil Substitutes | Best Use For |
| Canola Oil | Baking, grilling, barbecuing, stir-frying, sauteing, and salad dressing |
| Avocado Oil | Deep-frying, baking, grilling, sauteing, dressing, garnishing, and marinating |
| Olive Oil | Baking, roasting, dressing, making dipping sauces, and garnishing |
| Almond Oil | Baking desserts and frying |
| Corn Oil | Deep-frying |
| Peanut Oil | Stir-frying and sauteing (especially Asian dishes) |
| Safflower Oil | Salad dressing, garnishing |
| Sunflower Oil | Deep-frying, baking, roasting, dressing, and garnishing |
| Walnut Oil | Dressing, garnishing, and finishing |
| Sesame Oil | Baking, frying, sauteing, and garnishing (especially Chinese and Malay cuisine) |
| Coconut Oil | Deep-frying and baking |
| Macadamia Nut Oil | Baking and frying |
Canola Oil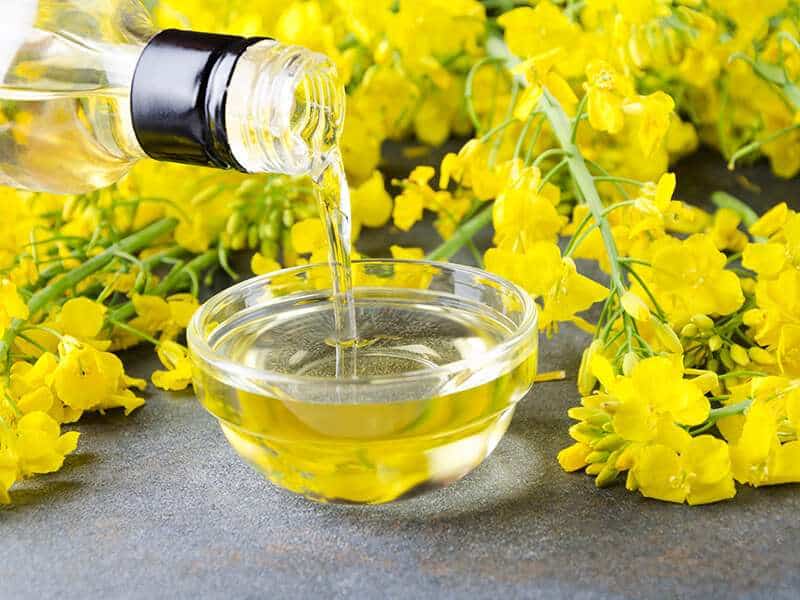 Among all choices I've listed here, the first place obviously belongs to canola oil. Not only is its appearance similar to grapeseed oil, but its flavor is also no different. Not to mention, canola is relatively cheaper than the original, so that you can buy it with ease.
Also, canola oil's smoke point (400°F) is pretty close to grapeseed oil's one (420°F). That means canola oil can go with any dishes that use grapeseed oil before without leaving an unpleasant burned taste.
Canola oil is a decent choice for your health as well since it's full of vitamin E, omega-3, and monounsaturated fats.
Avocado Oil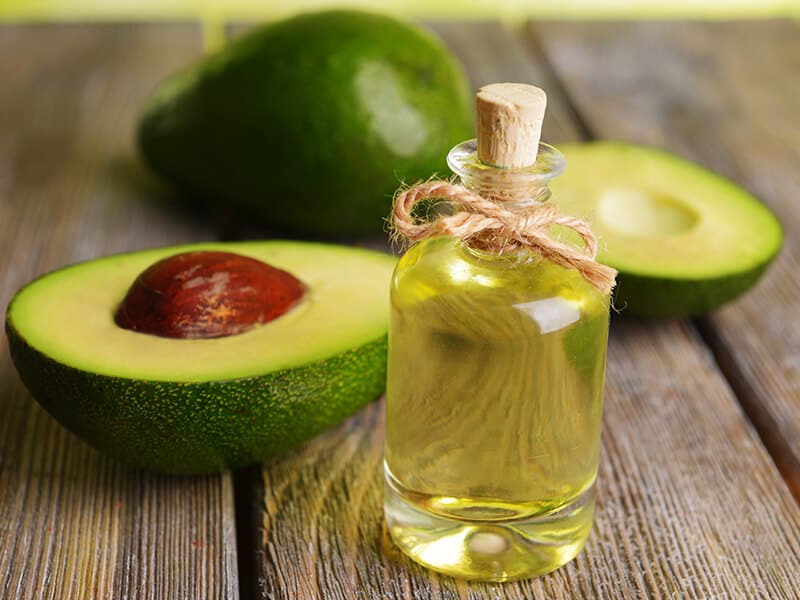 If you are looking for some grapeseed replacements in high-heat cooking, avocado oil should be the first one on your list. That's because this oil has a high smoke point of 520°F, enough to handle any cooking methods from grilling to baking, even deep-frying.
Aside from that, avocado oil is also suitable for marinades and salad dressings due to its neutral taste.
And do you know what is better about this oil? Since it's made from avocado pulp, this oil is an excellent source of nutrients, such as vitamin A, vitamin E, folate, and antioxidants.
Olive Oil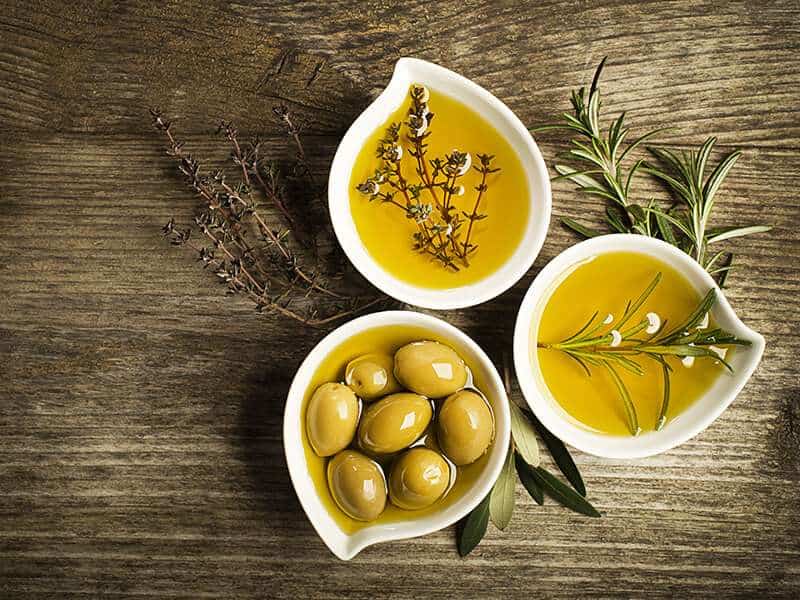 Nowadays, almost everyone knows about olive oil. It's widely loved for its health benefits and excellent flavor.
Most of the time, you'll find olive oil in these two types: Extra Virgin and Virgin. The first one is produced from the first press, with a green shade and a more robust flavor. In contrast, the Virgin type comes from the second press; thus, its taste is lighter with a yellow color.
Depending on your cooking purposes, you can choose either of them. For example, with its robust flavor, Extra Virgin olive oil is an ideal salad dressing. And when you want to bake some desserts, you should look for the Virgin one.
This is how a chef compares olive oil with grapeseed oil.
Almond Oil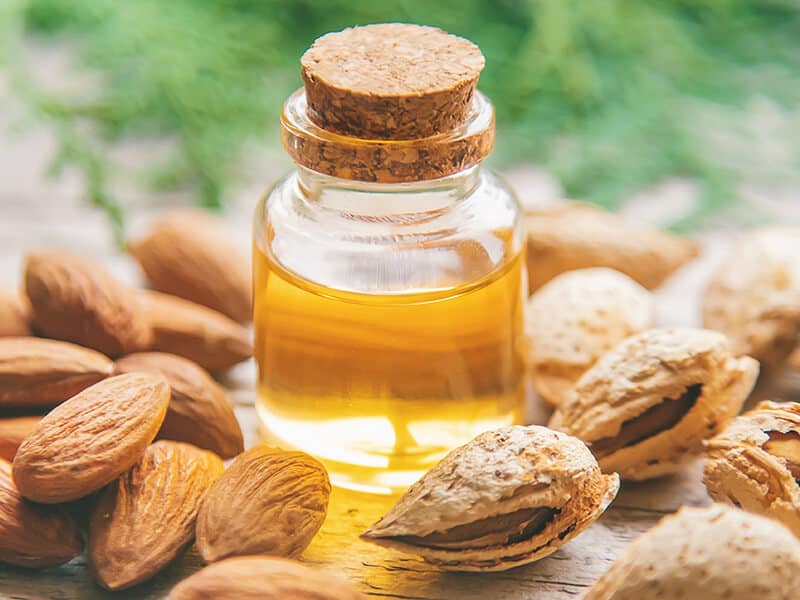 Some people don't prefer switching grapeseed oil with almond oil since this alternative contains a light nutty and buttery flavor inherited from its primary ingredient: sweet almonds.
However, this characteristic makes almond oil a perfect candidate for baking desserts like cakes, muffins, or cookies. Don't worry about it being burned during the cooking process since almond oil can handle high temperatures up to 421°F.
In terms of nutrients, almond oil doesn't lose to other competitors as you can find various beneficial chemicals in it: vitamin A, vitamin E, omega-6, omega-9, zinc, and many more.
Corn Oil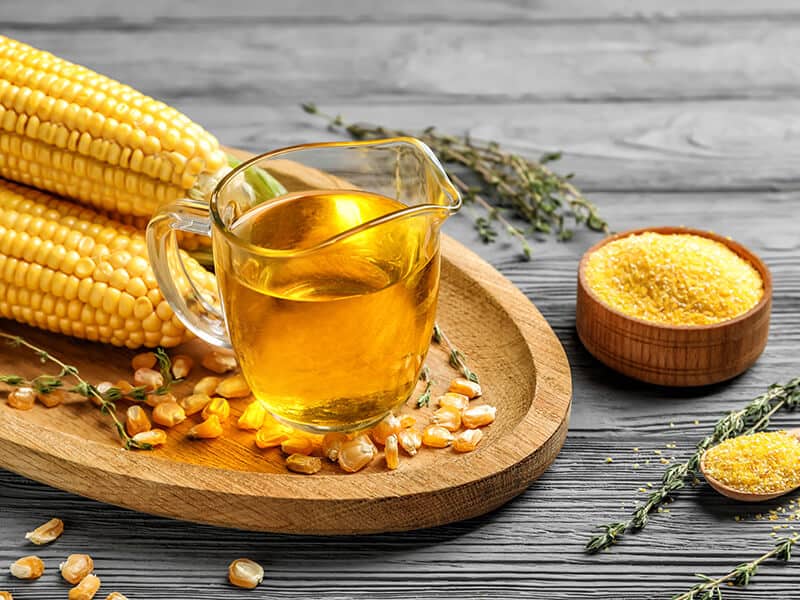 If taking the budget into the calculation, corn oil can be the best choice to substitute grapeseed oil. Since it's made from the germ of the corn plant, you can find it almost everywhere at a reasonable price.
Also, corn oil has a much healthier version than regular ones on the market: organic cold-pressed corn oil. This type can satisfy even the pickiest people with its health benefits.
Besides, corn oil has a smoke point of 410°F, high enough to use in deep-frying recipes. Its flavor is also more suitable for this cooking method than grapeseed oil.
Peanut Oil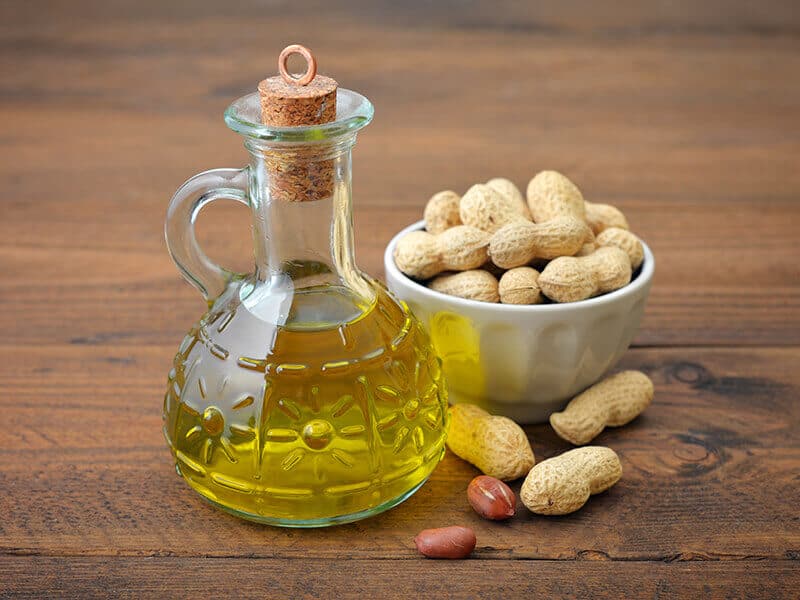 Just like almond oil, peanut oil also brings a nutty flavor to your dishes. However, with this oil, that taste is much stronger. That's why peanut oil usually appears in Asian recipes, which tend to require a bit of peanut flavor.
Additionally, since peanut oil doesn't get affected by other flavors, you can use it to stir-fry multiple ingredients at once. That's also because this oil can handle higher heat than grapeseed oil (up to 441°F).
However, since peanut oil contains peanuts, many people with this allergy can't use it. If you are the same, go with refined type instead since with this product, manufacturers have removed the allergenic components.
Safflower Oil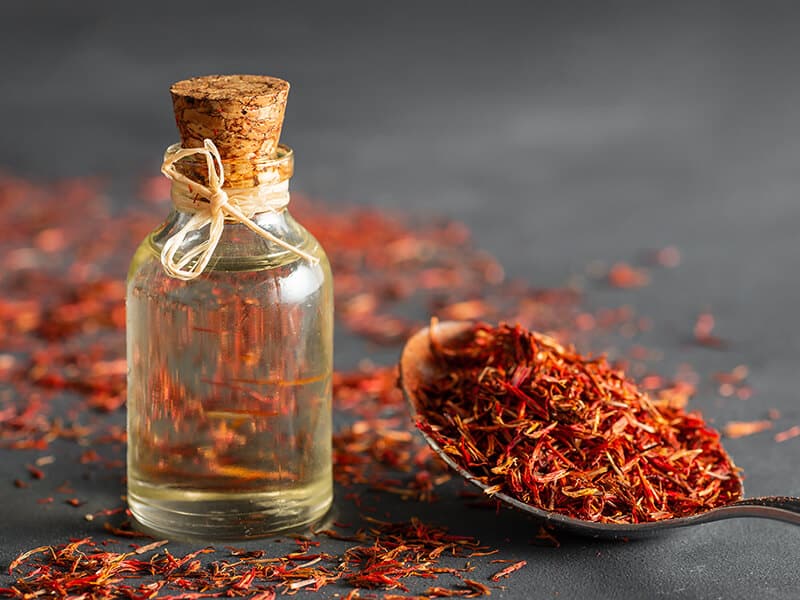 When it comes to garnishing or dressing, you can't miss out on this safflower oil. Its biggest advantage is this oil doesn't solidify even at low temperatures. So, you can use it to flavor your salads before refrigerating them.
Also, safflower oil doesn't have much flavor. In fact, you could say that it's primarily flavorless. Thus, safflower oil won't overwhelm any ingredient in your dish.
Regarding health benefits, safflower oil is quite similar to grapeseed oil, perfect for those loving the original because of its nutrients. But sadly, people allergic to chrysanthemums, marigolds, daisies can't use this safflower substitute.
What is better than having a doctor explain the benefits of safflower oil for you?
Sunflower Oil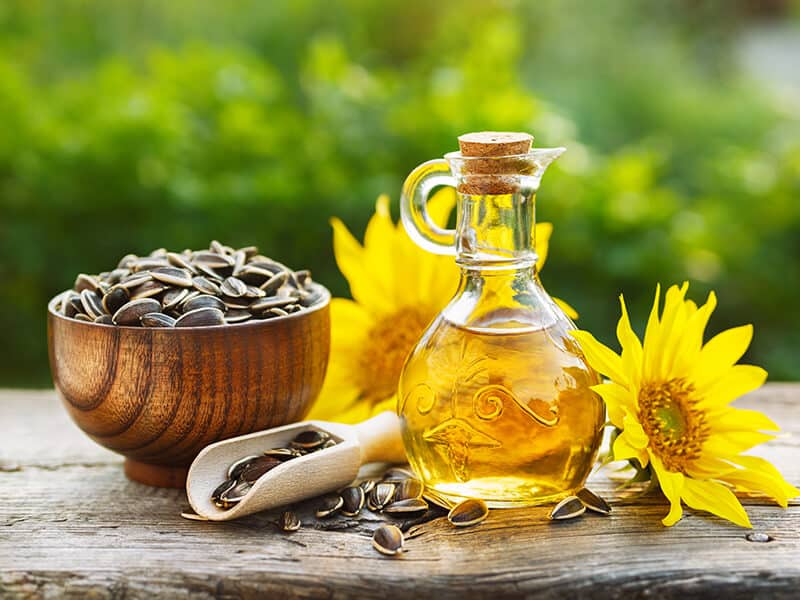 Made from flower seeds like the previous option, however, sunflower shows up in deep-frying dishes more than dressings or garnishing. That's thanks to its high smoke point (446°F). But sunflower oil still makes an acceptable salad sauce due to its neutral flavor.
Aside from cooking, you must have heard about this oil's health benefits. It's so full of nutrients that people even use sunflower oil for beauty purposes, such as preventing thin hair and baldness.
And my favorite part is you can find sunflower oil everywhere. It also doesn't cost much, an ideal option for those whose budget is limited.
Walnut Oil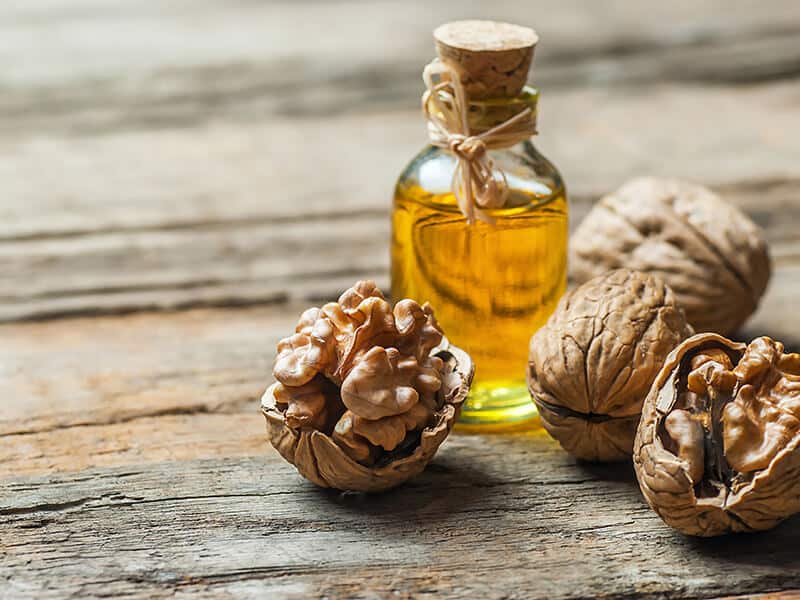 Walnut oil is not so different from peanut oil with its robust nutty flavor. However, unlike the majority of these substitutes, walnut oil will turn bitter at high heat.
Therefore, it's better to switch it in as a finishing oil. Drizzling it over salads or other dishes is the best way to enjoy its walnut flavor to the fullest.
When choosing walnut oil, you should pick one that's dried and cold-pressed. These products retain almost every nutrient and flavor from walnuts and don't contain any harmful chemicals.
This traditional way of making walnut oil is astonishing!
Sesame Oil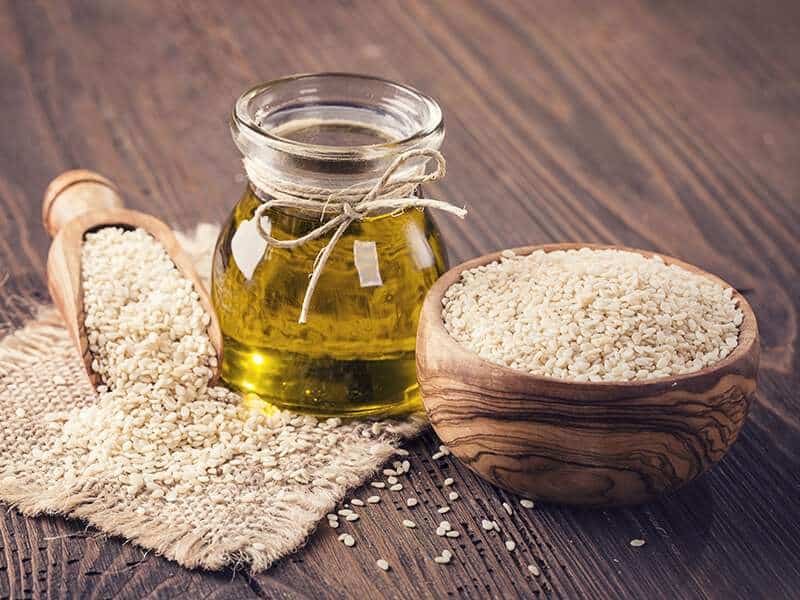 Sesame oil is an indispensable part of Asian cuisine, especially Chinese and Malay. Its robust flavor and aroma help elevate these dishes to a new height.
However, that's also the reason why you should avoid using it too much in dishes requiring grapeseed oil. Or else, its sesame taste can throw your meal off balance.
If possible, opt for light sesame oil instead of the dark version. This light one uses raw, untoasted sesame seeds to have a milder flavor and higher smoking point. Toasted sesame oil is more fitting for garnishing.
Coconut Oil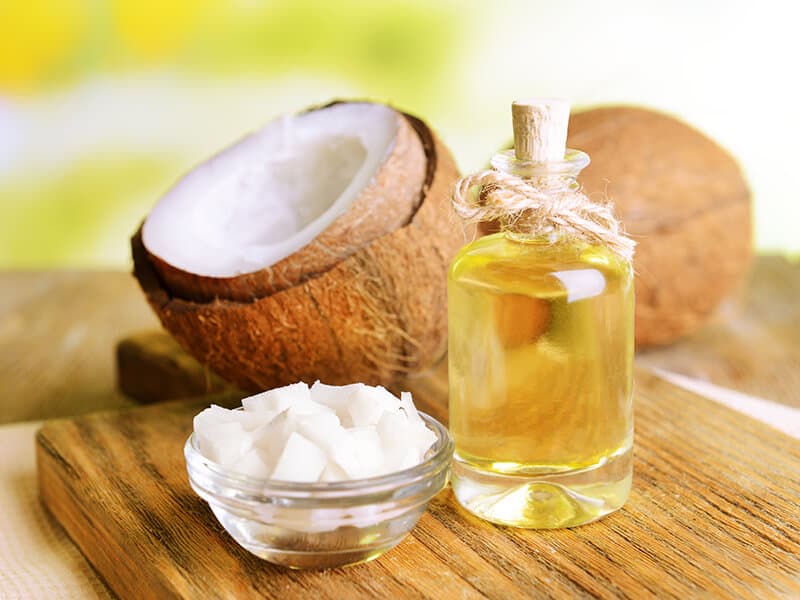 Some of you may feel surprised seeing coconut oil on this list. Though coconut oil is more famous as a beauty application, more and more people have recently started using it in cooking, especially to replace butter for vegan dishes.
Not only butter, but coconut oil can also substitute for grapeseed oil. Since it doesn't have any distinct flavor or aroma, this oil matches well with all recipes. Not to mention, it's budget-friendly so that anyone can buy a bottle of coconut oil.
Also, remember that coconut oil is divided into refined and unrefined; each can replace grapeseed oil in its own way. Refined type suits baked recipes, whereas, for deep-fried ones, you should go with coarse products.
Have you ever wondered why coconut oil is pricey? This is your answer.
Macadamia Nut Oil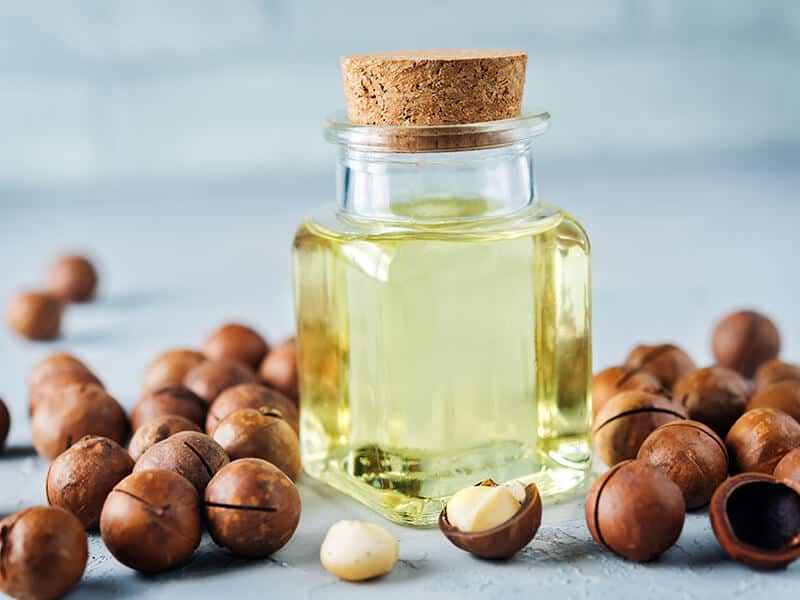 While these above options are easy to buy, finding macadamia nut oil is not so simple. Since its origin is in Hawaii and Australia, it's almost impossible to find this oil in your regular grocery stores.
However, if you have one at home, it'd be the ideal replacement for grapeseed oil as these two share a pretty high smoke point. Baking and frying are where macadamia oil can shine the brightest.
While macadamia oil is delicious, its flavor is kind of robust. So, be careful with the amount you intend to use unless you want your dish full of nutty taste.
FAQs
You may think your job's done now. But I beg to differ. With these common questions below, you'll realize there's so much about grapeseed oil and its alternatives you need to learn. So, make sure you read this part carefully!
A Small Word Of Advice
As you've seen above, each oil has its distinct usage and flavor. So, be flexible when using these substitutes. It's not 100% sure that you'll get the exact taste of grapeseed oil all the time. But experiencing is a fun part of the cooking journey, right?
So, don't hesitate to give these oils a try and state your opinions in the comment section below. And if this article is helpful enough for you, don't hesitate to share it with your relatives!
References
Anon, 2021. Grapeseed oil. Wikipedia. Available at: https://en.wikipedia.org/wiki/Grape_seed_oil
Brennan, D., 2020. Grapeseed oil: Are there health benefits? pros and cons, nutrition information, and more. WebMD. Available at: https://www.webmd.com/diet/grapeseed-oil-health-benefits#1