Green onion substitutes can be found readily available in many grocery stores in your neighborhood. Thus, there is no need to make a fuss about missing this ingredient.
Also, there's a high probability that you can get at least one or two substitutes out of your fridge. Before all that, make sure you've read my post from beginning to end so that you can be equipped with enough information to cook with confidence.
Who knows when you're going to run out of green onions in the middle of a recipe?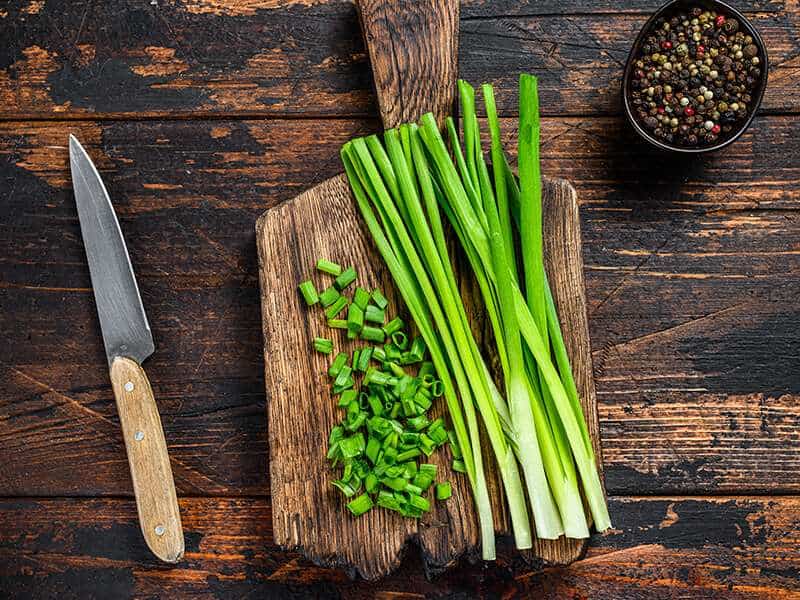 What is Green Onion?
Green onions belong to the Allium family, consisting of onions, shallots, garlic, leeks, and many other wild plants.
The term "green onions" and "scallions" literally describe the same ingredient and can be used interchangeably in supermarkets and grocery stores.
However, sometimes, it's said that scallions can't produce bulbs while green onions have small bulbs.
Green onions are sometimes called spring onions, but these vegetables are different. Specifically, green onions are considered young onions and have smaller bulbs than those spring onions.
As for green onions, they are herbaceous perennials, with a length of 30-50 cm. Each green onion can grow about six leaves on average. It might take about 20-30 days to be ready to use. (1)
You can tell by the way it looks that it clearly has two parts: green and white. Both are edible and can be applied differently in cooking.
The white bottom possesses a robust and onion-like flavor and might not be suitable for eating raw, while the green shoot seems to have a milder taste and can be used for garnishing food items.
This small but mighty vegetable is so familiar in Asian cuisine. If, for some reason, you couldn't find them around, don't hesitate to try the list below to experiment with several selected substitutes.
Excellent Substitutes For Green Onion in Cooking
Green onions are used extensively in many cuisines. You might want to stock them in your pantry because they're pretty versatile. However, if you can't find any, check the table below, which will provide you with ten substitutes of green onions with their corresponding ratio.
| | |
| --- | --- |
| Substitute | Substitute Ration |
| Chives | 1 tablespoon of green onions = 1 tablespoon of chives |
| Spring onions | 1 tablespoon of green onions = 1 tablespoon of spring onions |
| Scallions | 1 tablespoon of green onions = 1 tablespoon of scallions |
| Leeks | 1 teaspoon of green onions = 1 tablespoon of chopped leeks |
| Shallots | 1 tablespoon of green onions =1/2 tablespoon of shallots |
| Ramps | 1 cup of mixed chopped green onions and garlic = 2 cups of chopped ramps |
| Yellow Onions | 1 tablespoon of green onions = 1 tablespoon of yellow onions |
| Red Onions | 1 tablespoon of green onions = 1 tablespoon of red onions |
| Garlic | A smaller amount of garlic |
| Celery | A smaller amount of celery |
*These recipes are not straight and should be measured according to your recipes and likings
What Can Be Successfully Substituted For Green Onion?
Green onion can be regrown by submerging its root into a jar filled with water, and new growth tends to appear in about 3 days. While waiting for green onions ready to use, why not swap them with all possible alternatives you could find in the pantry.
Let's get down to details right now!
1. Chives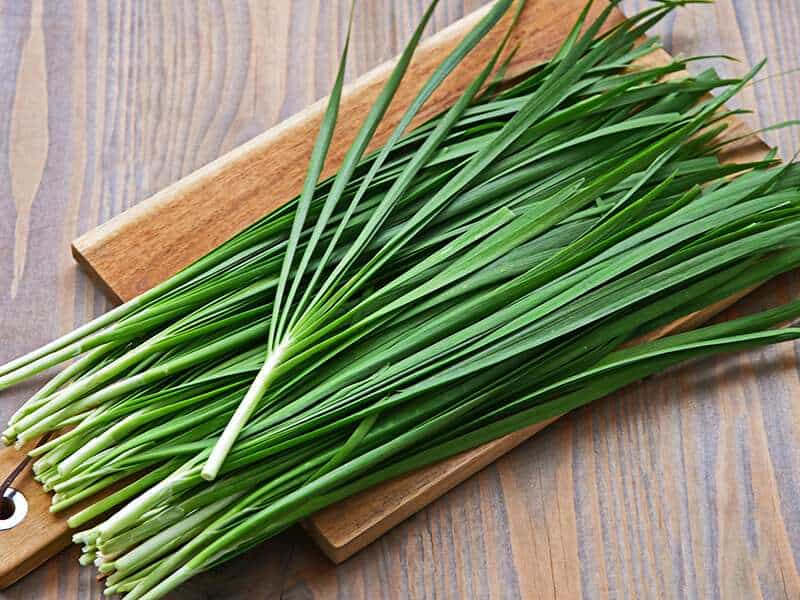 For me, chives are the number 1 choice that will come to mind regarding green onion substitutes. This herb is also a member of the Allium family; therefore, they feature a similar taste to green onions.
Chives are known for long, green, and straw-like leaves, so they look exactly like chopped green onions once chopped. You can find them in soups, dressings, dips, frittata, dumplings, and potato dishes. Keep in mind that chives can be cooked more quickly than green onions.
Although some people might notice that chives appear a bit milder and have a hint of garlicky flavor, they're still the best replacement when it comes to both appearance and aroma.
To substitute, you might need to use 1 tablespoon of chives for 1 tablespoon of green onions. In some cases, you can add more chives to get the intense flavor you want.
2. Spring Onions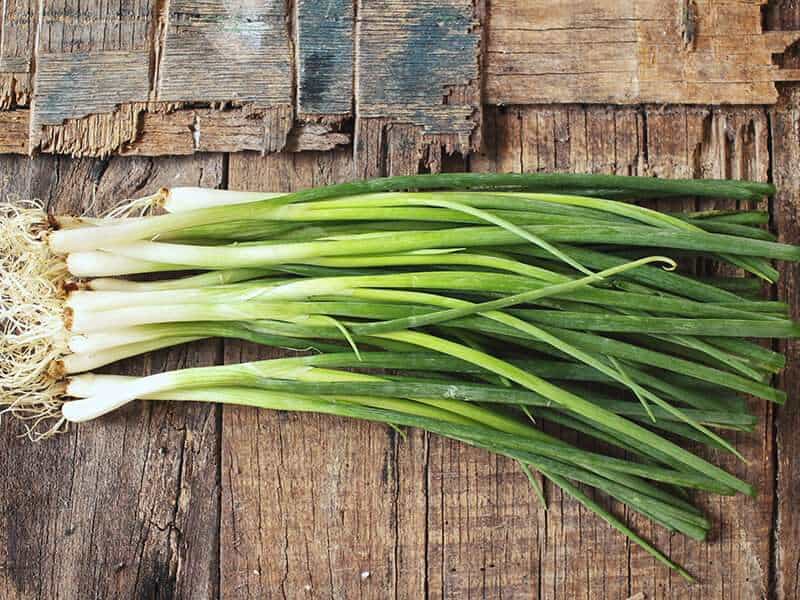 Spring onions are more mature than green onions. They're harvested when their white bulbs grow more significant, and their stalks are harder and longer.
You might realize that they taste slightly bolder, but basically, both green onions and spring onions share the same aroma. Therefore, you can use them interchangeably without affecting the fragrance of the dish.
Besides eating raw, spring onions can be grilled, simmered, sauteed, and roasted. They make a great addition to soups, stews, casseroles, pizzas, and stir-fried dishes.
Watch this video to know more:
3. Scallions
Scallions are regular onions plucked earlier than green onions and haven't developed their bulb yet. As mentioned above, people often think green onions and scallions are one thing; however, scallions feature grassier fragrances.
Scallions have a peppery, slightly spicy, and robust flavor. As for culinary use, chopped green leaves are often tossed in soups and salads while the white part is sliced and added to fried rice.
If the recipe calls for green onions and you find scallions in the pantry, don't hesitate to use them as a replacement. You can first follow the ratio of 1:1 and add a bit more if necessary.
4. Leeks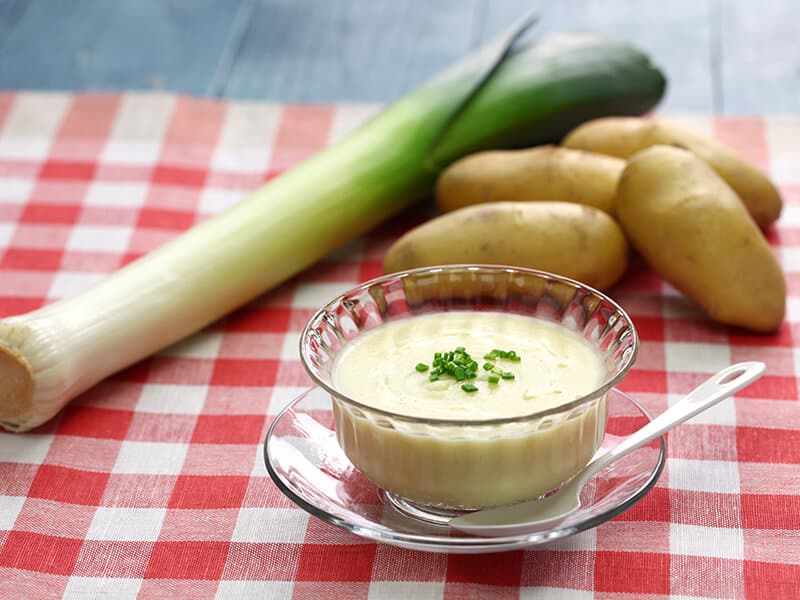 Leeks can be an excellent substitute for the white part of green onions because they have a potent flavor. They can become overpowering if you add too much to the pot, so be careful when using them in the cooking.
Leeks look much like green onions, only with bigger stems and bigger leaves. They have a sweet and onion-like flavor that works fantastic in stews, soups, pasta, and more.
To bring out their flavors, you can choose to grill, roast, or saute them. Leeks should not be eaten raw due to their mild onion taste and potent aroma.
When cooking, use 1 tablespoon of chopped leeks for 1 teaspoon of green onions.
Learn how to cook super comforting potato leek soup tonight!
5. Shallots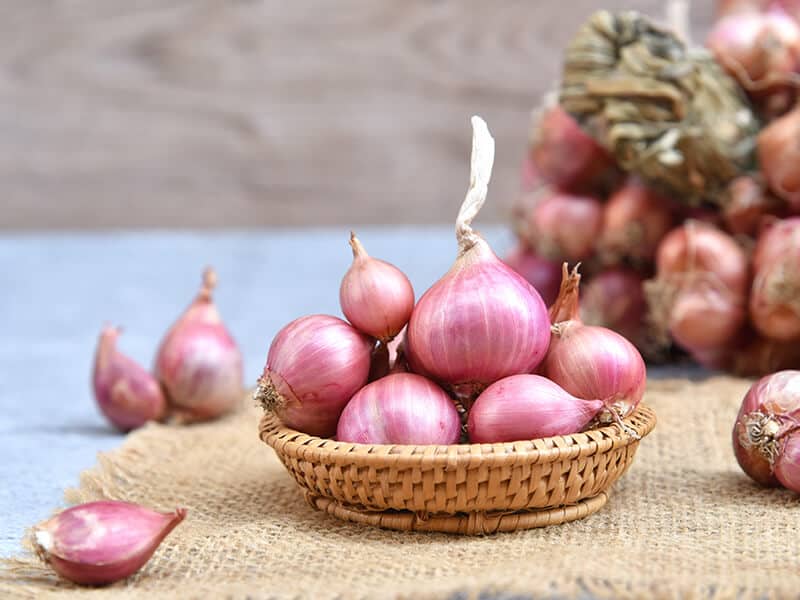 Another kind of onion you can consider as an alternative for green onions is shallots. You will probably come across many different shallots, but the most common are yellow shallots, French gray shallots, and banana shallots.
Shallots' flavors are perceived to be a lot more prosperous and potent than green onions. Depending on the variety, different shallots might taste sweeter or bolder.
This vegetable is commonly used in stir-fries, stews, sauté, soups, casseroles, or side dishes. Moreover, when staying raw, it makes a great addition to vegetable pickles and salads.
To alter one for the other in recipes, prepare half the shallot you would with onion.
Discover how to peel and cut shallots now.
6. Ramps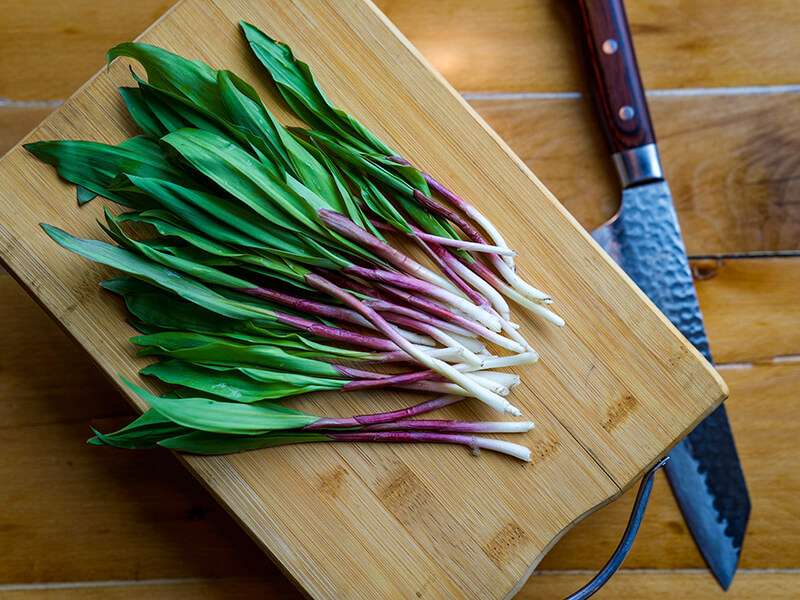 Also referred to as wild leek or ramson, a ramp is a type of wild onion present in spring's short window of time. It consists of one or two broad leaves with a slightly red hue.
Ramp might not be as popular as other substitutes on my list, so if you have a chance to find it in the grocery store, make sure to buy a bunch of this aromatic vegetable.
I bring it up here because it has a garlicky-onion flavor that can mimic the taste of green onions in cooking. To my surprise, 1 cup of mixed chopped green onions and garlic equals 2 cups of chopped ramps.
It's crucial to note that ramp tastes much more robust, so it can easily overwhelm other ingredients. But if you use it in moderation, this aspect will not necessarily bother you. Ramps are best used in casseroles, salads, and soups.
7. Yellow Onions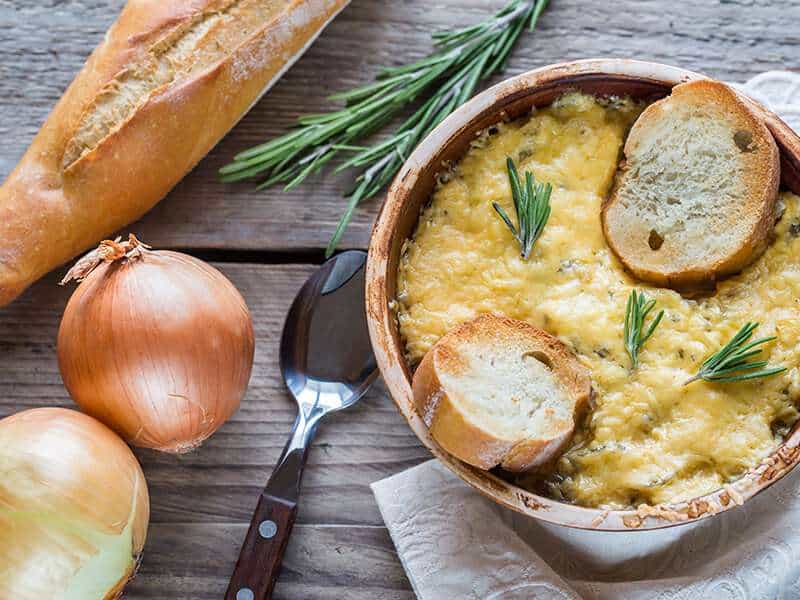 Yellow onions are a staple food in many households because they're considered an all-purpose ingredient and can be a star of various recipes worldwide.
When eating raw in salads, they might taste more intense than you imagine, so you can soak them in water beforehand to make them more enjoyable to have.
If you cook onions, they will lend your food the sweet and mildly onion-like flavor, which resembles green onions. For those who wonder, you can use an equal amount of yellow onions when substituting green onions in the recipe.
8. Red Onions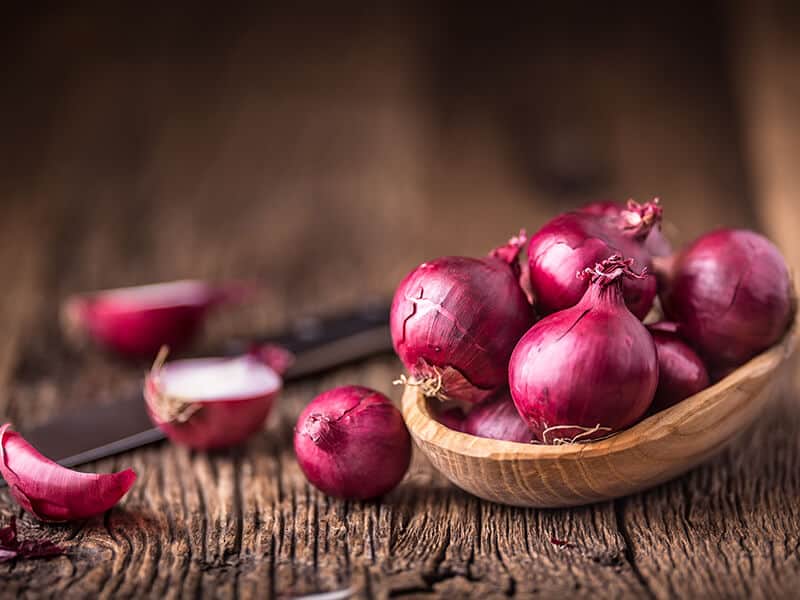 Although red onions have a sharper flavor than their cousins, yellow onions, they turn out to be more enjoyable in raw condition.
Thus, they can be used instead of green onions in recipes that don't require cooked onions, such as topping for soups, pickling, salads, sandwiches, burgers, and salsas.
In this case, the 1:1 ratio is applied and proved to work well from recipe to recipe so that you can keep this in mind.
If you plan to cook red onions, cook them a bit longer than green onions so that they can become softer and able to release their full flavors.
Pickled red onions can be made easily.
9. Garlic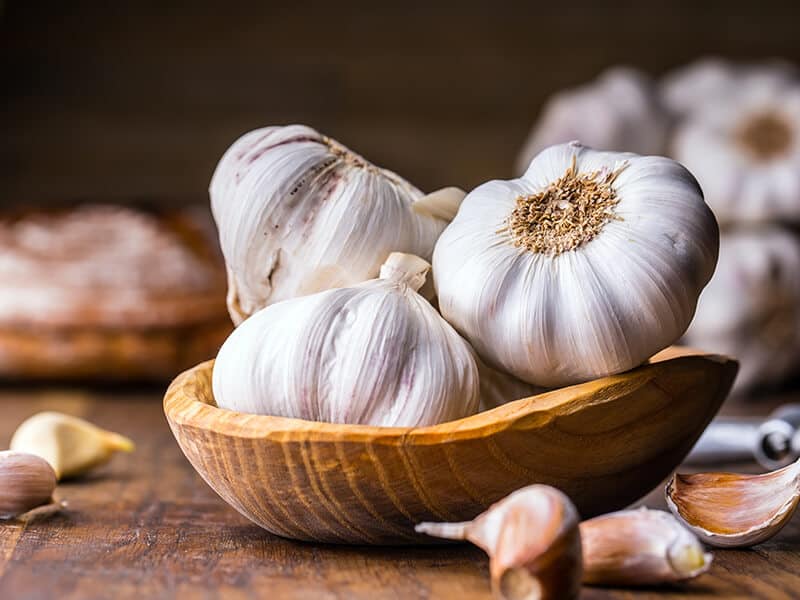 You might already store this substitute in your pantry. Obviously, the taste of garlic is different from green onions. Still, because they are a bit spicy, they can be substituted for green onions in some recipes if you don't have another option.
I'd suggest adding chopped garlic when sauteing greens because it adds depth to the overall flavor. But don't use raw garlic to replace raw green onions. Although you can get creative, this is what you should remember in order not to spoil the recipe.
So instead of omitting green onions, you can add garlic to liven the fragrance of some dishes. It's worth noting that only a small amount will work.
10. Celery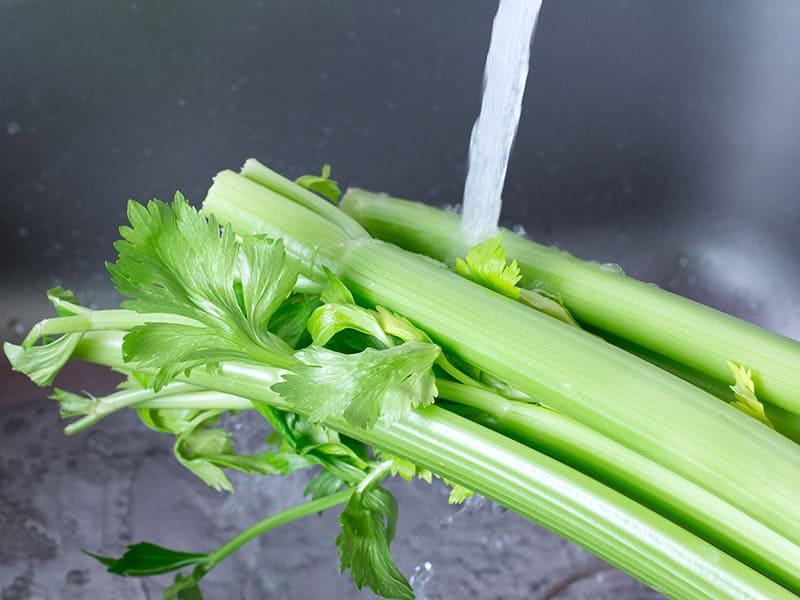 There's a high chance you have celery in your fridge, so I think you can use it to substitute green onions when garnishing foods. When chopped, both have a bright and beautiful green color which adds freshness to the dish.
Although the taste is different from green onions, it can be used in case you can't go shopping, and no other option is available. Celery brings life to dishes as well as many health benefits. It's highly recommended that using a small amount of chopped celery is enough.
Enjoy your breakfast with an incredibly delicious red onion and celery sandwich now.
Is Green Onion Good For Your Health?
The answer is a big "Yes" and please scroll down for more detailed information before adding more green onions to your daily meals.
Prevent Cancer
One of the most prominent benefits of green onions is preventing the development of certain types of cancer. This is because the extracts from scallions can stop the growth of tumors and reduce inflammation in cancer patients.
In addition, green onions also contain a compound called allicin that is used to prevent cancer growth and help kill stomach cancer cells.
Keep Your Eyes Healthy
Green onions contain vitamin A and carotenoids, which play an essential role in maintaining vision and keeping eyes healthy.
Including onions in the daily menu is to help protect the eyes from fatigue, inflammation, common eye diseases, and macular degeneration, which hinders vision loss over time.
Strengthen Your Bones
Vitamin K found in green onions also helps strengthen bones by increasing the production of proteins needed to maintain bone calcium and increase bone density. (2)
On the other hand, the vitamin K in green onions can work with the vitamin D and calcium in your diet to keep your bones healthy and prevent osteoporosis in the elderly.
How to Regrow Green Onions In Water?
Here's a step-by-step guide on how to "reuse" onion roots to grow new shoots of green onions. Let's start!
Materials
Scissors
A small glass of water
Instruction
Step 1: Cut the green onions and leave one inch of the white bulb with the root intact.
Step 2: Rinse the roots under the faucet until they become free of dirt.
Step 3: Drop them in a glass with enough water to cover only the root and half of the white part. You can use bottled water to ensure it doesn't have much chloride, inhibiting the new growth.
Step 4: Put it near the window where there's sunlight.
Step 5: Green onions will regrow and are ready to use after about only one week. This way, you don't have to worry about lacking this incredible ingredient.
Explore the way to regrow green onions, so you don't have to shop for them anymore. Watch this video:
FAQs
Green onions are commonly used in everyday homes, and still, there are several questions surrounding their alternatives. I have listed some commonly asked questions below.
Finding Substitutes For Green Onions Is Easy As Pie
Although it's trouble-free for you to find some good options that can replace green onions in cooking, there's no perfect ingredient that can substitute for this wonderful vegetable.
It's said that some might be too potent, some might be too mild, and some don't have a green color.
However, if you know how to use each of them correctly, you will gain more freedom in the kitchen because your cooking doesn't always depend on a specific recipe.
What's your favorite substitute for green onions? Do you have anything different in mind? Please let me know below.
Reference
Albert, S., 2021. Onion Growing Tips.
Verywell Fit. 2021. Green Onion Nutrition Facts and Health Benefits.