Ham hock substitute? You are planning to make a savory soup for your family tonight but disappointedly realize that the grocery nearby doesn't have it? Don't panic. Just simply find a replacement. Really? Is it hard to find?
No, absolutely not. Some ham hock alternatives are even easier to get. If you have not found any idea of ham hock substitutes for your recipes, check out this article right away for further support. In addition, I do have some useful suggestions for you too!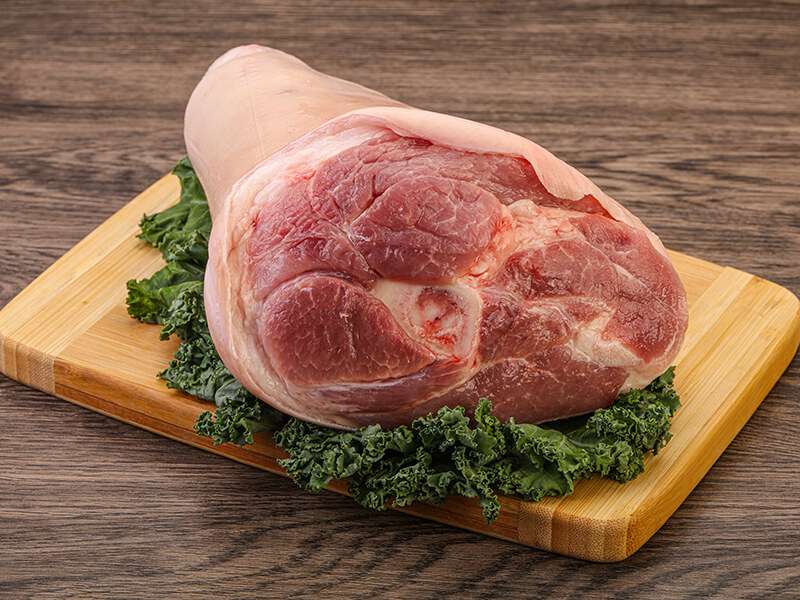 Ham Hock – Adding The Rich Flavor To Your Dish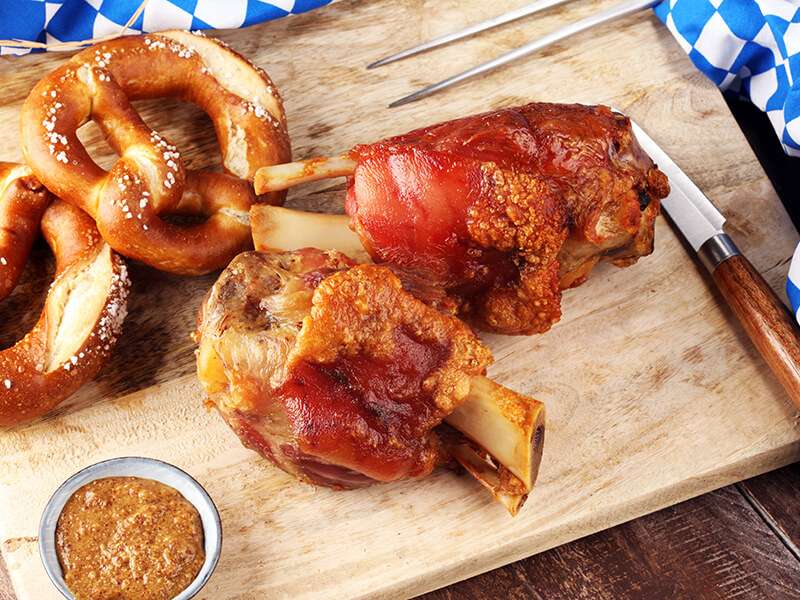 Getting to know the basic information about ham hock might significantly help you to make a good decision when choosing a suitable substitute for your recipes. Just take a quick look at the section below for more insights.
1. What Is Ham Hock?
Ham hock is actually a 4-inch long part between the bottom half of the pork leg and the pork foot. Ham hock is sometimes known as pork knuckles, including collagen, connective tissue, and a small amount of lean meat inside protected by thick and fatty skin.
Both front and hind legs of pigs have the ham hock cut. And typically, when you go for purchase in the supermarket, you can find that ham hock is sold in pairs. Compared to bacon, loin, and chops, ham hock is not popular but more budget-friendly.
On the other hand, most ham hocks have been cured and smoked for longer storage before displaying on the supermarket's meat section. It will be harder to look for a ham hock that can only be cured.
2. What Does Ham Hock Taste Like?
Normally, one prominent flavor you often get from ham hock is smoky since most ham hock is smoked after being cut from the pig. Furthermore, it is often said that ham hock has a bacon-like flavor with a rich, salty, and fatty taste.
In case you get the cured-only ham hock that has not been smoked before, the rich taste of ham hock still remains the same. Even though lacking the savory, smoky flavor, it can still give off a satisfying and porky taste with a tender texture once cooked properly.
3. Various Treats Of Ham Hock In Cooking
The chewy texture of ham hock often makes many people step away from it.
However, once the ham hock is cooked decently, it is one of the most delicious parts of the pig you can ever enjoy. You can have mouth-watering dishes with ham hock by stewing, braising, roasting, or even frying.
The most classic treat for ham hock is vegetable soups. Being slow-cooked in a few hours, ham hock will give your soup an extremely rich flavor thanks to the high collagen and fat content. It pairs well with cabbage, collard greens, and beans such as pinto or green beans.
In addition, you can add slow-cooked ham hock to quiche and salad to double the flavor too. The slow-cooked ham hock is often shredded or minced before being used.
When it comes to roasting, roasted ham hock is very favored too. In Germany, there is schweinshaxe – a kind of roasted ham hock popularly found in Bavaria during Oktoberfest. (1)
And do you know scrapple? Yes, ham hock is a part of this Pennsylvania Dutch meatloaf too. Aside from America and European countries, in China, ham hock also widely appears in many recipes, which can be served in either sliced, chopped, or the whole one.
Take off the ham hock from the bone easily with these tips here!
Respectively Ratios Between Ham Hock And Its 10 Substitutes
For a clearer understanding, I will put this conversion table here first. Some of you might be in a hurry now. So, let's take a glance at this section for a better decision.
| Substitutes | Ratios (Ham hock/Substitutes) |
| --- | --- |
| Ham Bone | Equal amount |
| Smoked Ham | Equal amount |
| Smoked Bacon | Equal amount |
| Smoked Sausage | Self-adjusted |
| Smoked Turkey | Equal amount |
| Smoked Pork Shank | Self-adjusted |
| Salt Pork | 1 pound of ham hock = ½ pound of salt pork |
| Guanciale | Equal amount |
| Meat Stock | Same volume of the water portion you use to cook ham hock |
| Smoked Salt | 1 pound of ham hock = 1 tablespoon of smoked salt |
10 Outstanding Ham Hock Substitutes For Your Plate
For more detailed information, don't skip out on this main section. Not only will I provide you with some basic knowledge about these substitutes, but I will also tell you which substitutes are the best match in each specific recipe.
1. Ham Bone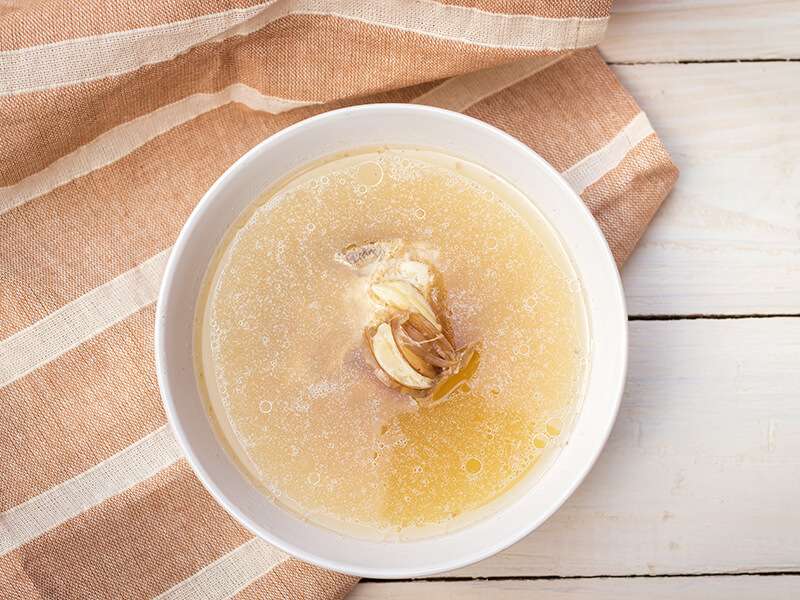 Just like ham hock, ham bone is a great ingredient that is a perfect choice in a cold winter by adding the extra rich flavor into your fragrant soup. Although called "bone," ham bone still contains a bit of meat, giving liquid-based dishes a silky and rich consistency.
You can find both smoked and fresh ham bone. Use the ham bone the same way you do with ham hock. In other words, fresh ham bone is ideal for replacing cured ham hock. And as the smoked one offers a smoky flavor, it's better to be used as a smoked ham hock alternative.
As suggested above, because ham bone needs to be simmered thoroughly before serving, soups will be the most decent treat for this substitute. Make magic on your boring vegetables with ham bone; I'm sure you will not be disappointed.
Besides, you can use it to make stock (or broth) too. Take the equal amount like your ham hock.
Note: If you don't like the bone part in your soup, take the ham bone out when it is tender, shave off and only keep the meat.
Make an easy soup with ham bone right now!
2. Smoked Ham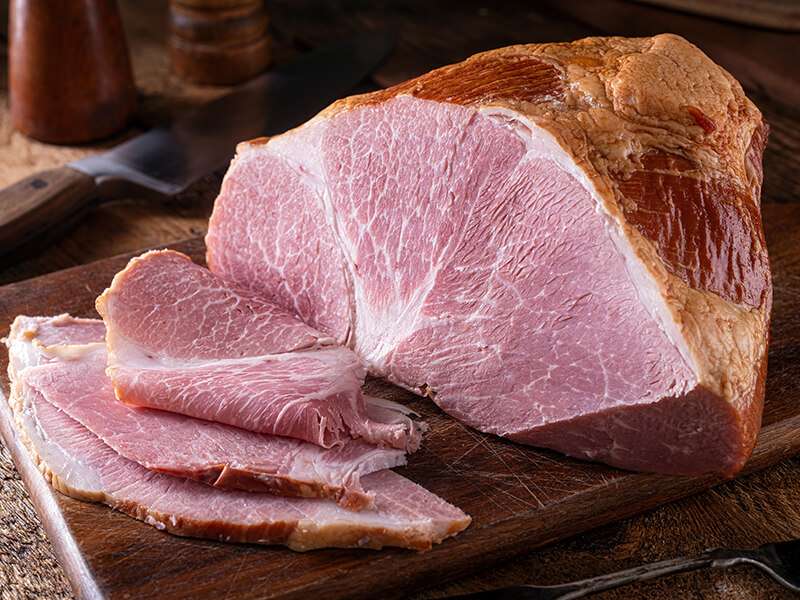 Although the regular unsmoked ham seems to be more common, I'm sure that smoked ham is not a hard-to-find option for you. Being made from the hind leg of a pig, smoked ham can offer you the most similar porky taste.
Furthermore, due to being smoked as well, smoked ham obviously can also bring up a signature smoky flavor in the recipes that call for smoked ham hock. And of course, since smoked ham is marinated with salt, the salty taste is also an indispensable part.
Take a note that smoked ham is leaner than ham hock. It works well in recipes that require less fatty content. The perfect recipes for this ingredient as ham hock replacement are salads, soups, sandwiches, or pasta. And remember: the same ratio will be the best bet.
3. Smoked Bacon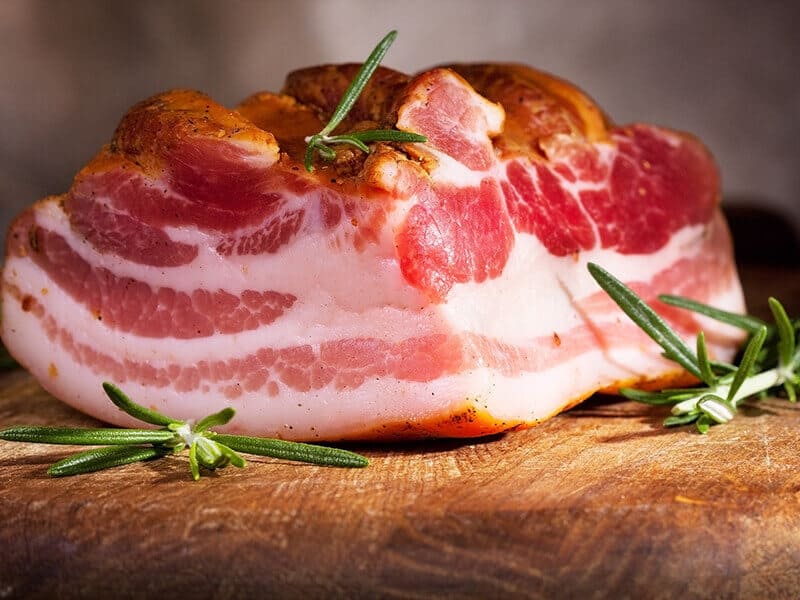 Similar to smoked ham, smoked bacon should be on your list as a ham hock alternative. Except for the smoky flavor everyone knows after hearing its name; smoked ham also brings up a salty taste as your ham hock.
And there is one thing you need to know about this ingredient: bacon is varied in kinds identified by different cuts.
However, streaky bacon and back bacon are the ones you can easily find in the market. If you need a high-fat content substitute, go for streaky bacon. In contrast, when the excess fat may ruin your recipes, back bacon should be your priority.
Let's add smoked bacon directly to your sandwiches. This is one of the most convenient ways for a busy morning. Additionally, minced pan-fried smoked bacon is not a bad idea either. Sprinkle it into your salad; the fragrant smell and crispy flavor are all you will get.
Want something more interesting? Well, go for smoked bacon gratin, pasta, meatloaf, cheeseball, or a quiche. The same volume should be your best decision.
4. Smoked Sausage
One of the reasons why I love sausage is its flexible uses. With huge fans worldwide, sausage is very diverse in kinds, including fresh sausage, pre-cooked sausage, cured sausage, and smoked sausage.
But for a ham-hock-like flavor, smoked sausage should be taken into account first.
Undoubtedly, the smoky flavor will again be the first offering. You also can consider a pork sausage to get an alike porky taste to ham hock. This choice will add a bunch of flavor to your recipes since many various ingredients are used during the production.
Decided on this one? Great! Use smoked sausage in mac and cheese, scrambled eggs, casseroles, soups, stews, pasta, or some kinds of rice dishes. All the above are hearty treats that are good for even beginners.
Because each brand or place does not have a certain formula, you also need to adjust yourself to achieve a satisfying result. As long as you use it smartly, the dish will not be overwhelming. And maybe you will love the new version with sausage rather than ham hock.
Who knows, right?
5. Smoked Turkey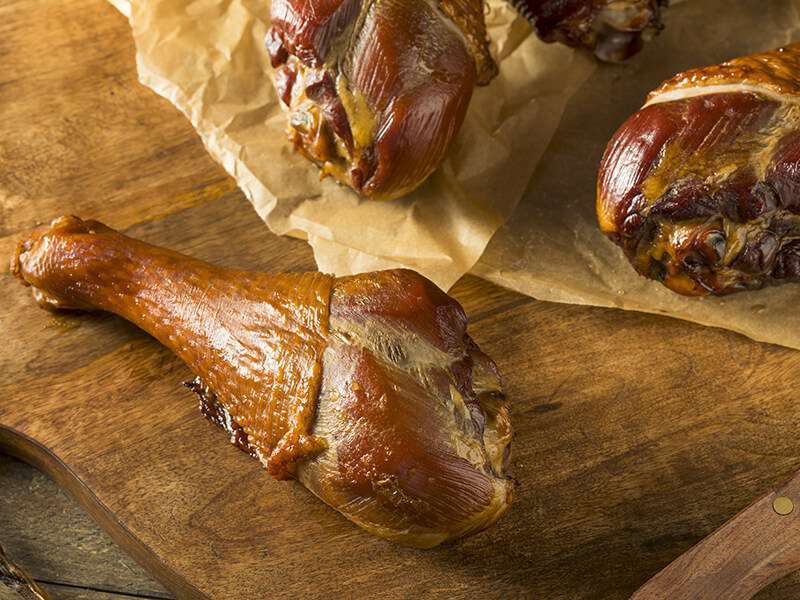 Smoked turkey? Yes, of course! Don't just save this savory treat for Christmas. Once you need a good substitute for ham hock, smoked turkey is not a bad choice.
Some of you may disagree with this replacement since it is totally another kind of meat. But believe me, with a smoky, meaty, fatty flavor and a crunchy, collagen-rich texture, smoked turkey, especially smoked turkey leg, will significantly give you a similar taste.
Moreover, smoked turkey wings, neck bones, and drumsticks can also be used as smoked legs. These parts are rich in fat content, so you don't need to add extra oil to your food when replacing them with ham hock.
In case you have already had smoked turkey bacon on hand, use it.
Similar to the regular smoked pork bacon, smoked turkey bacon can also show its best in your recipes. But at last, no matter which smoked turkey you use, don't forget to add smoked turkey to salads, chowders, soups, and rice dishes.
Note: You can start with the same volume first to get a balanced flavor.
Can't find smoked turkey in the market? Smoke a turkey yourself! Watch this video to know more:
6. Smoked Pork Shank
I know many people mistake pork shank with ham hock because sometimes they come from the same cut. Pork shank is the part between pork ham and ham hock. In some cases, pork shank will be sold together with ham hock without the cut between.
Due to being the closest cut to pork ham and ham hock, pork shanks share some common traits, in which muscle, connective tissue, and meat are abundant at the same time. Therefore, if you see pork shank in the supermarket, get it.
And of course, always choose the smoked one.
The fatty and meaty content in smoked pork shank is very balanced. If you love the crunchiness of ham hock but don't like its over-fat content, go for pork shank. This replacement is suitable for braise and stew too. And well, soup is never an outdated recipe.
Note: Depending on each person's reference, I will not recommend the specific ratio here. Adjust it slowly to get a satisfying result.
7. Salt Pork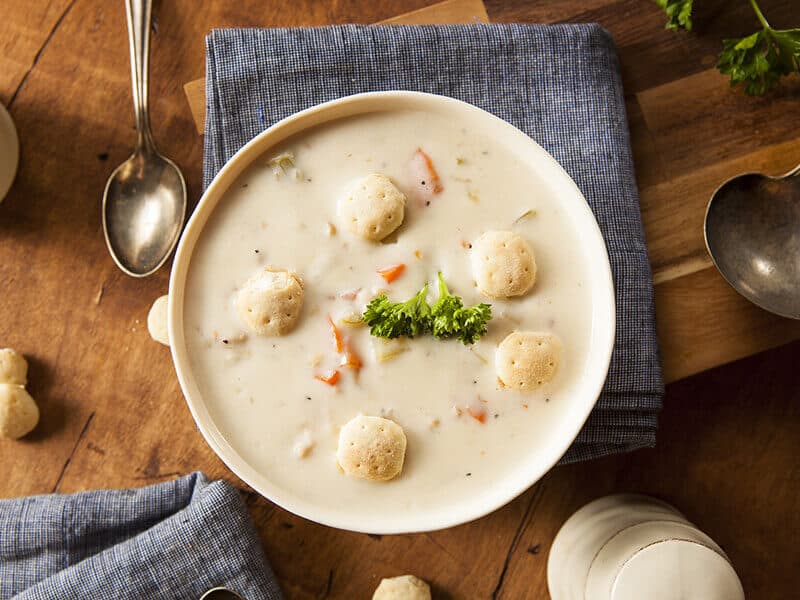 You don't have all the options above on hand? Find the salt pork. Salt pork is actually a kind of salt-cured pork. I put it in this list because salt pork also can bring you a bacon-like taste as ham hock does. Moreover, salt pork gives off an intense porky taste too.
Keep in mind that due to salt pork being soaked in excessive salt, its salty taste will be stronger than ham hock. This substitute also won't bring you a smoky flavor.
Plus, salt pork is mostly made from pork belly; so, you don't need to add extra oil to your recipes.
Salt pork and soup is a wonderful engagement. It is a part of New England clam chowder. Besides, don't hesitate to make it one of the important ingredients in your baked, grilled, or fried recipes too. But all above, be careful about the salt content.
Only use a half amount of salt pork on your plate (1 pound of ham hock is equivalent to ½ pound of salt pork.)
8. Guanciale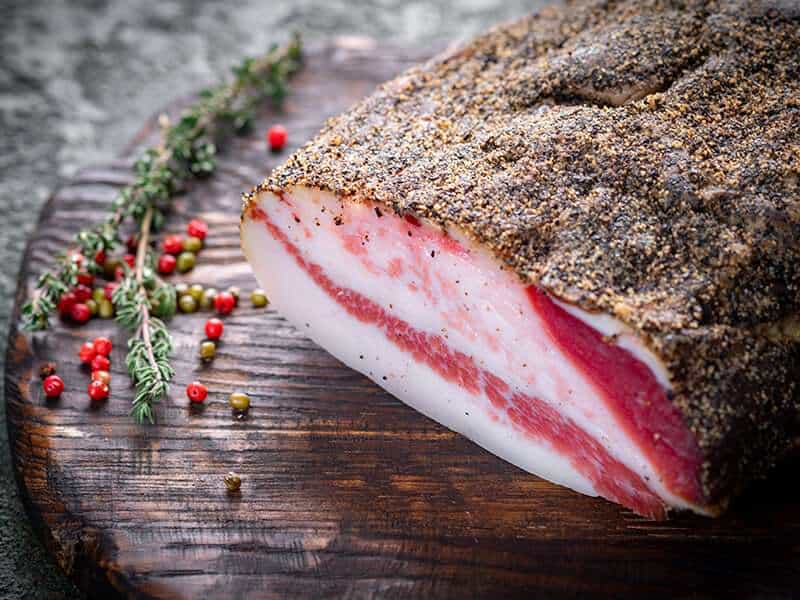 I usually replace ham hock with guanciale when I'm too busy to go shopping. Though this replacement cannot handle good stews or braises recipes, it is still ideal for soups, pasta, sandwiches, sauces, vegetable wraps, and well, a charcuterie board too.
Guanciale is a type of Italian cured meat originating from the pork cheek. Hence, the fat content will be a prominent factor. This means you don't need to worry about lacking the fatty flavor.
Also, it is said that guanciale has a rich, salty, buttery flavor with a tone of bacon and a tender texture. If you are careful enough, you will realize a slight note of sweetness in guanciale too. But you shouldn't expect a smoky taste when using guanciale.
This is the only shortcoming of this alternative. In terms of a precise ratio, simply use the same amount.
9. Meat Stock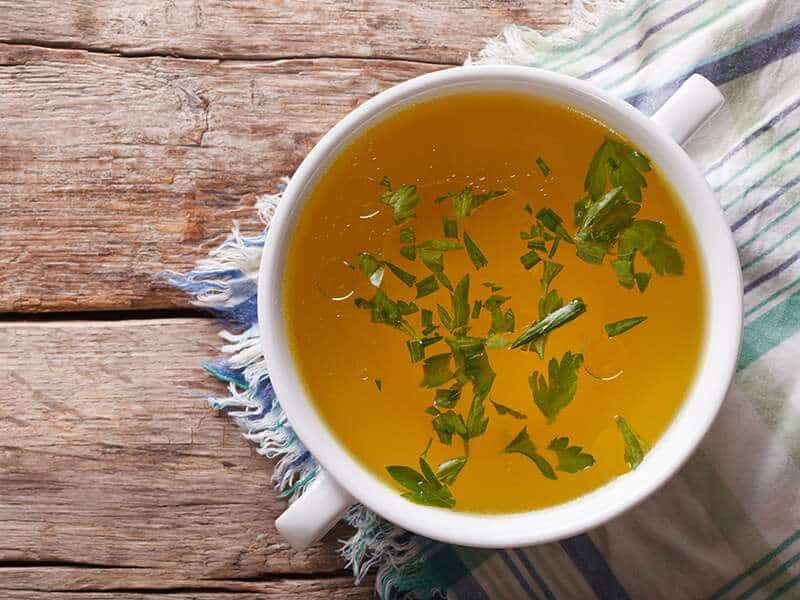 In case your recipe only needs the ham hock flavor and doesn't require the presence of ham hock, meat broth definitely can meet this need. What you need to do is put the pork meat into the pork. And remember to add some of your favorite vegetables for a sweeter taste.
Pork bone can be used too. It will even bring up a more savory flavor.
Let's alternate the water in your ham hock recipe with meat stock. Since meat stock is well-seasoned with condiments, it tastes like the portion of the water you used to cook ham hock. As a result, use the same volume of that water portion.
Meat stock is suitable for liquid-based recipes such as soups and chowders. In particular, you can go for French lentil and carrot soup, slow cooker sweet potato soup, lemony turkey rice soup, or whatever kind of soup that calls for meat stock.
Note: In case you buy the in-store meat stock, make sure its sodium level is at your accepted level.
Try this pork stock here to get the closest taste!
10. Smoked Salt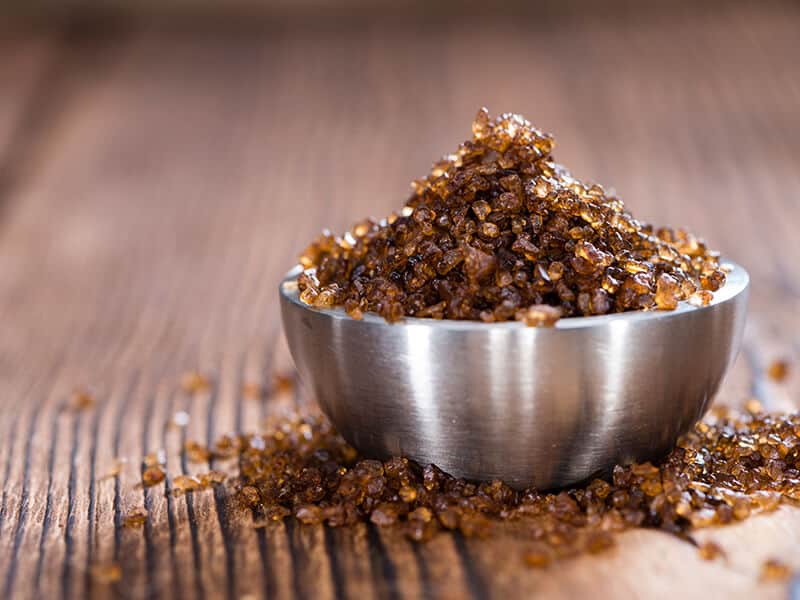 You can use smoked salt to replace ham hock in your recipes, but it only should be the last option on your list. The advantage of smoked salt is that it offers you a smoky and salty taste similar to ham hock. Nonetheless, you won't gain the meaty and fatty flavor.
Compared to the regular white salt, smoked salt also reminds you of a woodsy scent with a very slight hint of sweetness. However, as smoked salt is 100% made of salt, don't forget to decrease the ratio to avoid overwhelming your dishes.
For each pound of ham hock, use 1 tablespoon of smoked salt in return. Smoked salt shows its best in marinating and flavoring meats and vegetables. It is great in sauces, stews, and grilled recipes too.
FAQs
Don't hurry to get out of my post. Before that, take a quick look at these frequently asked questions below. I'm sure that it can be beneficial for some of you.
Ham Hock Substitutes Are Not Too Hard To Find
If you still haven't found an appropriate replacement for your ham hock, consider 10 options in this post. These replacements might not give you a copy flavor profile like ham hock, but I'm sure they can work best in some specific recipes calling for your ham hock.
If you are still afraid about the ratios, just simply start with a small amount first. I really hope that this substitute collection can somehow be beneficial for all of you. And in case you have any other suggestions, don't hesitate to let me know in the comment section below.
Now, that's all for my post. I would be delighted that you visited here. Remember to share this post with anyone you think they need!
References
Ham hock – Wikipedia. En.wikipedia.org.
Nicki Wolf. Nutrition in Smoked Ham Hocks | Livestrong.com.