Finding a suitable malt vinegar substitute is actually harder than you think. While it's true that there are many other vinegar types that seemingly fit the profile, only some will yield great results.
In this post, I'll introduce 10 perfect replacements for your malt vinegar. After reading, I'm certain that you won't have to worry about ruining your dinner due to a wrong choice of vinegar ever again.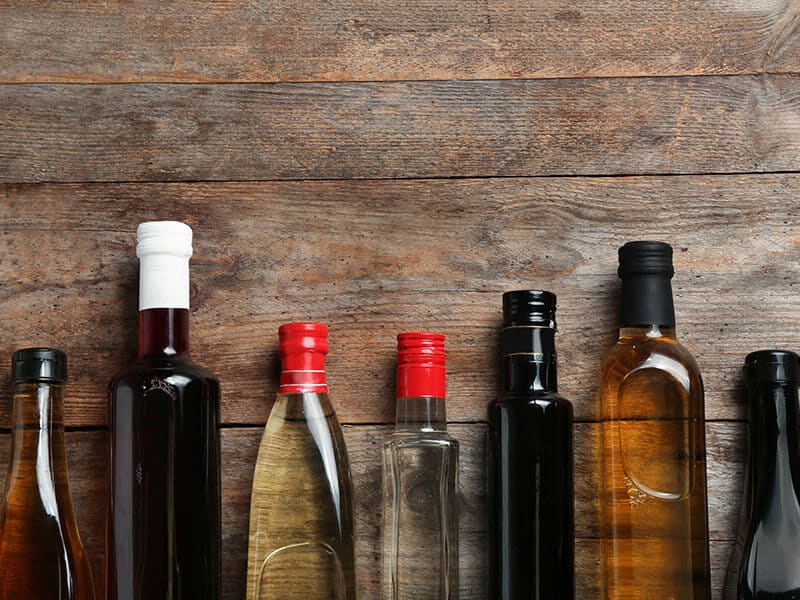 What Exactly Is Malt Vinegar?
Made from malted grains of barley, malt vinegar is a staple for Canadian and British cuisine.
This condiment is famous for its unique flavor that can be described as a perfect blend of sweet, lemony taste with hints of caramel and nutty flavor from its barley origin. You can find malt vinegar in clear to dark brown color, with the latter boasting a more pungent taste. (1)
For most people, a dish of crispy, delicious fish and chips is the first thing that comes to mind when thinking about malt vinegar. While it's true that malt vinegar is a classic topping for fried fish and French fries, the condiment also finds its uses in a wide variety of recipes.
Malt vinegar works really well as a salad dressing, especially in simple salad dishes such as coleslaw and bean salad.
In addition, it also shines when used in chutney or marinade recipes and is an excellent choice for pickling vegetables, thanks to its 4-5 percent acidity range.
You can pickle eggs easily with malt vinegar and here's how.
Best Easy-To-Find Substitutes For Malt Vinegar
Let's get cooking with these widely available malt vinegar alternatives. Although they are all great candidates for a malt vinegar stand-in, each of them has its own unique characteristics, so make sure to give them a try.
| Malt vinegar substitute | Characteristics | Best use for |
| --- | --- | --- |
| Apple cider vinegar | Fruit-like, light flavor, similar acidity range | Salads, sauces, marinating meat, pickling vegetables, chutneys, vinaigrette |
| Lemon juice | Bittersweet and sour, refreshing | Salad, pickling, fish, meat, sauce, fried dishes, vegetables, as a preservative |
| White wine vinegar | Light and delicate flavor | Hollandaise, bearnaise sauces, marinades, vinaigrette, salad, seafood, chicken |
| Red vinegar | Mild taste, similar acidity range | Sauces, salads, marinades, stews, and curries |
| Red wine vinegar | Intense but balanced taste | Marinating red meat (beef, pork, lamb), pickling, bold sauces. |
| Sherry vinegar | Deep flavor with hints of nutty and sweet | Marinating meat, sauces, salads, fruits, cheese, and ice cream |
| Balsamic vinegar | Rich, sweet, and sour flavor with hints of wood | Salad, dessert dishes, seafood, meat, steak, pasta dishes, fried fish, and chips. |
| Spirit vinegar | Strong and tangy taste, high acidic level | Food pickling, preserving, crispy fried food |
| Worcestershire sauce | Umami, sweet and sour | Pies, marinades, soups, stews, sauces, casseroles, sprinkle over steaks, sausages, and cheese |
| Black vinegar | Rich, umami, earthy flavor | Japanese, Chinese-inspired recipes, noodles, braising meat, seafood, salad, cold appetizers, dipping sauce for dumplings. |
Apple Cider Vinegar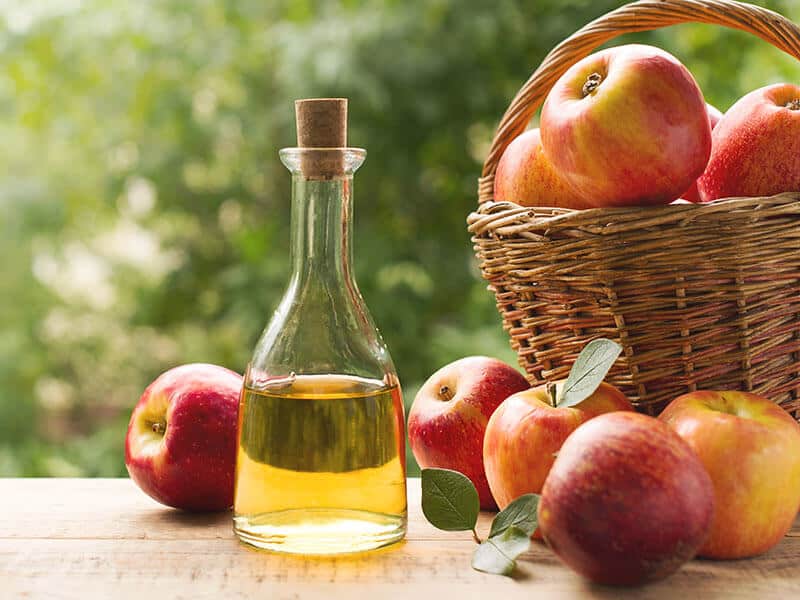 Apple cider vinegar is a great gluten-free alternative to malt vinegar. Despite having a fruit-like, light flavor due to its fermented apple origin, apple cider vinegar still bears a lot of resemblance to malt vinegar.
First is their acidity range. These two vinegar variations both have an acidity range of 4-5 percent, which is perfect for making salads and sauces, marinating meat, or pickling vegetables.
You can also switch malt vinegar for apple cider vinegar in chutneys, vinaigrette, or added to ketchup for an extra kick of flavor. In addition, apple cider vinegar has a yellow-brown color which is comparable visually to that of malt vinegar.
You can switch 1 tablespoon of malt vinegar for 1 tablespoon of apple cider vinegar.
Lemon Juice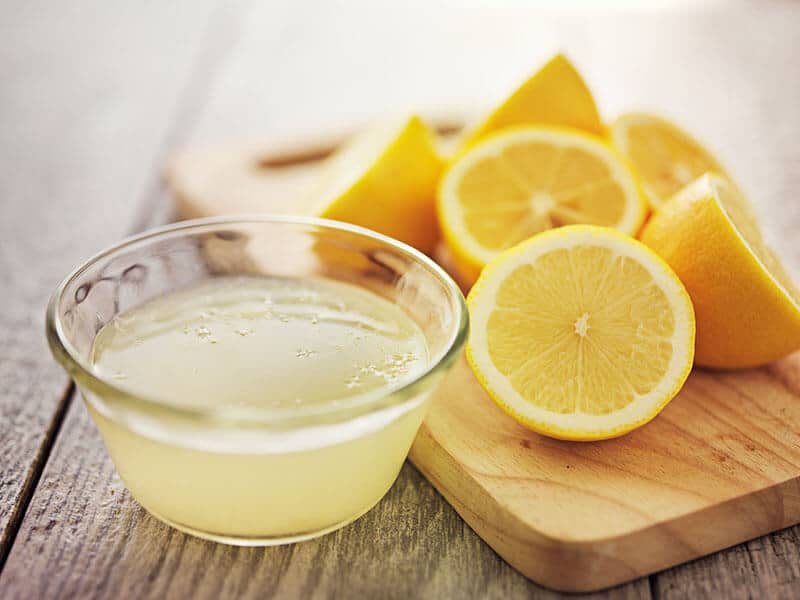 In terms of flavor, lemon juice might not be as strong as malt vinegar and leans more on the bittersweet and sour side. However, this doesn't mean that it doesn't fit to be a malt vinegar substitute.
In fact, lemon juice, along with apple cider vinegar, is often considered one of the best replacements for malt vinegar, thanks to its natural refreshing taste. If you prefer a more sour and light flavor instead of the acidic, intense taste of vinegar, lemon juice is your best choice.
It can be used interchangeably with malt vinegar in pretty much any recipe ranging from salad, pickling, fish, meat, sauce to fried dishes, vegetables, and even as a preservative.
The rule is simple, for 1 tablespoon of malt vinegar, use 1 tablespoon of lemon juice.
White Wine Vinegar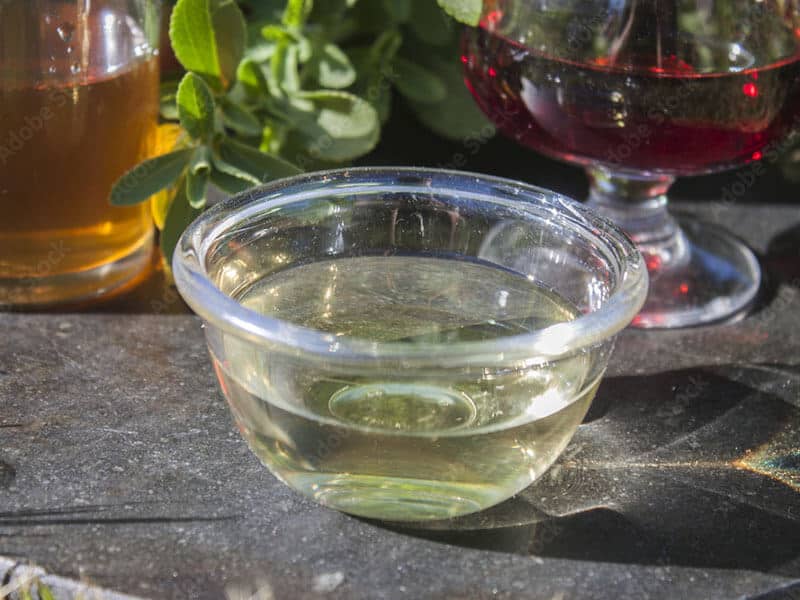 White wine vinegar is a light-yellow colored vinegar that is made from fermented wine. Since the taste and acidity of wine vinegar will change depending on the aging process, white wine vinegar, in general, has a light and delicate flavor.
Thanks to its bright taste, white wine vinegar is a suitable replacement for malt vinegar in a good many recipes, including hollandaise and béarnaise sauces, marinades, vinaigrette, salad, seafood, or chicken.
You can replace malt vinegar with the same amount of white wine vinegar.
Rice Vinegar
Rice vinegar is a sweet and mild-flavored vinegar made from fermented rice. It's often used in Asian cuisine and has about the same acidity range as malt vinegar.
Thanks to this similarity, rice vinegar can substitute for malt vinegar in almost any recipe. It shines best when used to make sauces, salads, marinades, stews, and curries.
One drawback is that it's quite mild in taste in comparison with malt vinegar. To make up for this, you'll need to increase the amount of vinegar used.
Start with 1 tablespoon of rice vinegar for 1 tablespoon of malt vinegar, then add more according to your taste and what the recipe calls for.
Red Wine Vinegar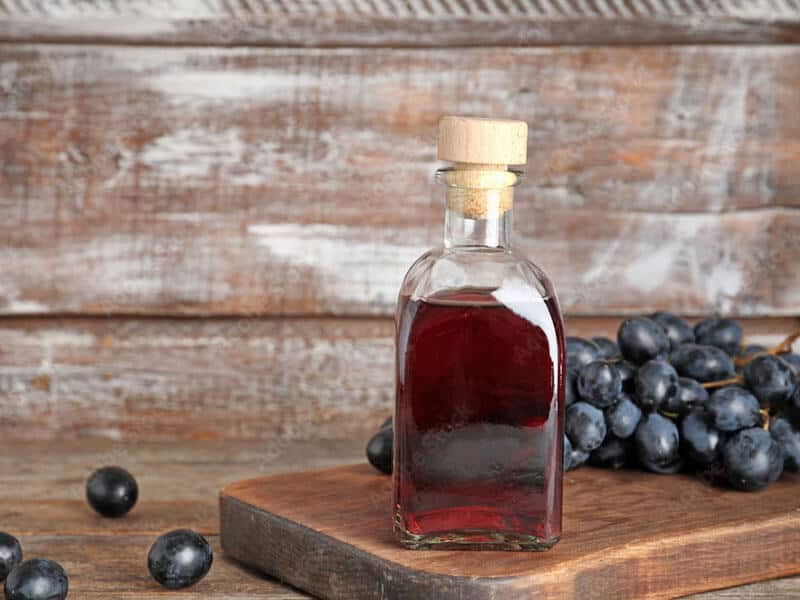 Red wine vinegar has a more intense taste than its white wine counterpart, which makes it a perfect option for marinating red meat such as beef, pork, or lamb. It's also great for recipes that call for a strong and rich taste, such as pickling or bold sauces.
Despite packing quite a powerful flavor punch, this magenta-colored vinegar is still balanced in taste and works exceptionally as a gluten-free malt vinegar stand-in.
Similar to white wine vinegar, you can use red wine vinegar as a 1 to 1 malt vinegar equivalent in suitable recipes.
Sherry Vinegar
Made from aged sherry wine, sherry vinegar has a deep flavor with hints of nutty and sweet taste that is comparable to the taste of malt vinegar.
Sherry vinegar's taste will vary depending on how long the wine is fermented. Some are only about 6 months old (which is also the minimum time required to make sherry vinegar), but some can age up to more than 10 years!
The older the vinegar is, the more concentrated and complex the flavor will be. As a result, people often prefer older sherry vinegar to the rough and young ones.
When it comes to application in cooking, sherry vinegar is a highly versatile condiment. Thanks to its acidic content, it works great at marinating meat. Its complex flavor also complements whatever sauces, salads, fruits, cheese, and ice cream that it takes part in.
You can use the same amount of sherry vinegar as you would typically use for malt vinegar.
You can see this video to know more:
Balsamic Vinegar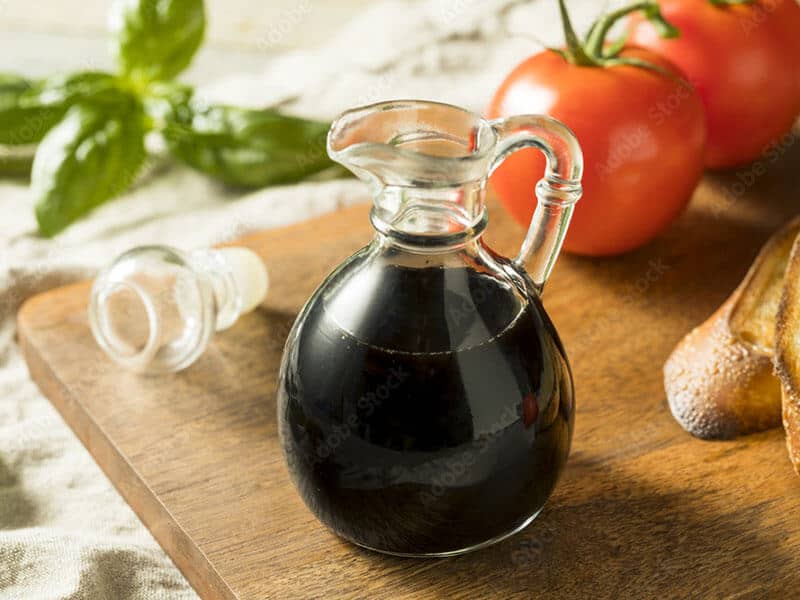 Balsamic vinegar is made by barrel-aging white Trebbiano grape juice for at least 3 years and as long as more than 25 years! This results in a rich, perfectly balanced sweet and sour flavor with a slight hint of wood from years of being stored in a cask.
This dark brown vinegar is known for being an incredibly good salad dressing and sometimes integrated into dessert dishes. That said, balsamic vinegar can also replace malt vinegar in seafood, meat, steak, pasta dishes, and even the classic fried fish and chips.
Since balsamic vinegar tastes quite similar to malt vinegar, you can often use it as a 1 to 1 alternative.
You can see this video to know more:
Spirit Vinegar
If you're looking for a strong, agricultural-based malt vinegar substitute with a high acidic level, then spirit vinegar is the one for you.
The name "spirit vinegar" is often used to address strong vinegar varieties that have an acidic range of 5% to 24% rather than a specific type of vinegar. Vinegar types in this "spirit" group all have a strong and tangy taste.
Thanks to its high acidic range, spirit vinegar is a solid choice for food pickling and preserving. It also pairs well with crispy fried food and can even be used to clean things.
Worcestershire Sauce
Worcestershire sauce is a dark brown sauce made by mixing vinegar and sugar with other spices such as anchovies, garlic, molasses. It has a complex and powerful taste that is a combination of umami, sweet and sour.
Since vinegar plays an essential in the making of Worcestershire sauce, it's no surprise that you can swap malt vinegar for this condiment. It fits particularly well in pies, marinades, soups, stews, sauces, casseroles and can be sprinkled over steaks, sausages, and cheese.
Black Vinegar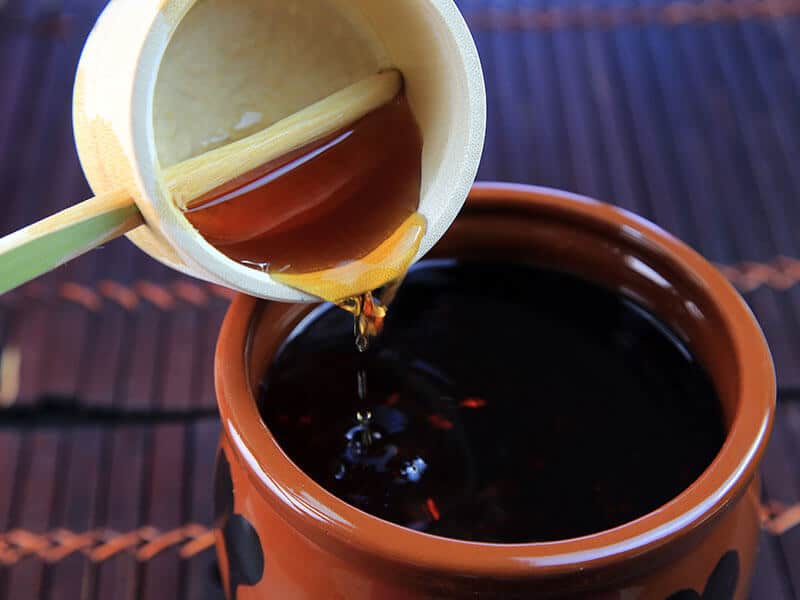 This dark-colored Chinese vinegar is famous for its rich, umami, earthy flavor. Similar to malt vinegar, black vinegar is made from grains. As a result, it also has that malty, nutty characteristics which can take any dish to another level.
The Japanese also have their own version of this vinegar called "kurozu", which literally translates to, you guessed it, "black vinegar".
To bring out the very best of black vinegar, you should use it in Japanese or Chinese-inspired recipes.
It works exceptionally when used to make noodles, braise meat and seafood, add to salad and cold appetizers, or simply used as a dipping sauce for dumplings.
Learn more about the Japanese's interesting take on black vinegar. You can see this video to know more:
FAQs
I'm certain that you still have more questions regarding malt vinegar. If you want to know more about this condiment, then be sure to give this section a read.
Malt Vinegar Or No Malt Vinegar?
As you can see, there are really good options for malt vinegar alternatives. Not only do these substitutes fill the missing role of malt vinegar perfectly, but they also give your food a new flare in flavor.
After trying them out, maybe you'll find an ingredient that suits your taste even better! I'd love to hear about your experience with these substitutes in the comment section below. If you had a great time reading this post, don't forget to like and share it around!
References
Contributors to Wikimedia projects, (2001). Vinegar – Wikipedia.
Is Vinegar Good for You?.