Mustard seed substitutes are not hard to find. I can guarantee you that you can find at least a suitable one in your kitchen. While you read this article, try to remember what you have at home so that you can quickly find a perfect substitute for mustard seeds.
Running out of an essential ingredient in the recipe is a common situation. But you should not get worried too soon because there is always something that you can do to fix it. That is finding a replacement. Let's see what kind of substitutes you can use for mustard seeds.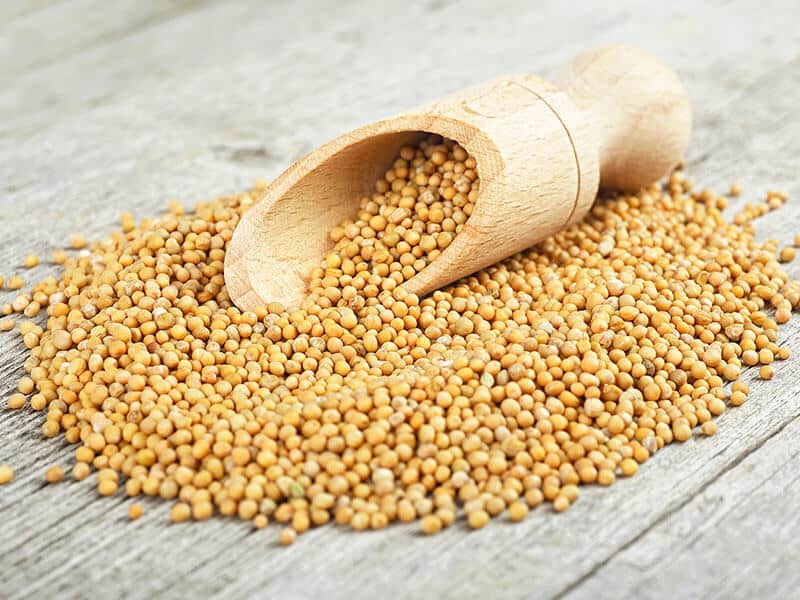 Mustard Seeds – A Wonderful Spice For Savory Dish
First of all, let's have a quick look at the characteristics and uses of mustard seeds so that you know more about their function in the recipes. Then, it will be easier for you to find an appropriate substitute.
Mustard seeds are the edible seed of the mustard plant, which was first grown in Europe and Asia. They are one of the most widely-used spices in the world. There are black, white, and brown mustard seeds. People often use mustard seeds in whole or ground form.
The most common application of mustard seed is making mustard, the famous condiment that is very popularly used. Many savory dish recipes call for mustard seeds. Its strong spicy and earthy flavor is best used in making curry, salad dressing, sauces, and pickled food.
Furthermore, mustard seeds are a nutritious ingredient. They are packed with minerals, such as calcium, potassium and magnesium, and vitamin A, C, and K. (1)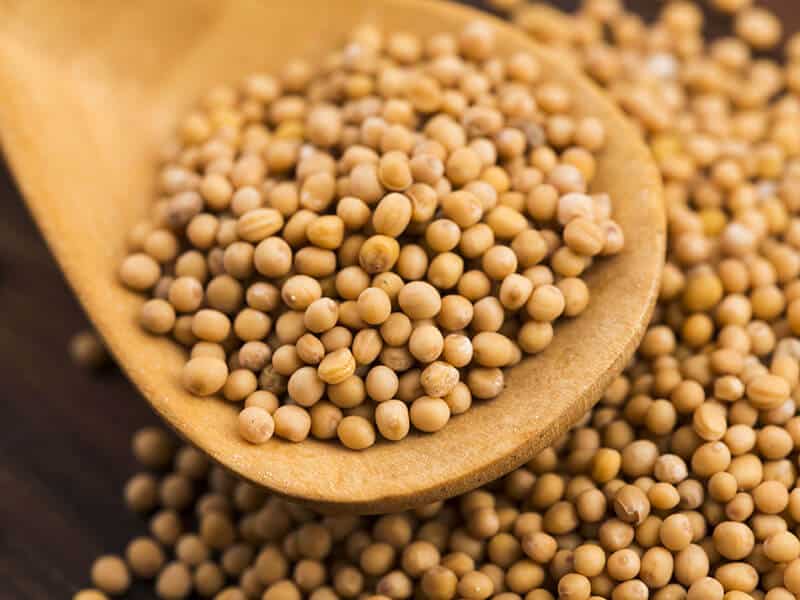 11 Substitutes For Mustard Seed That You Can Go For
Here they are, the amazing alternatives for mustard seeds that are right in your kitchen. Look at the table below to have a quick overview of the names of substitutes and the substitute ratio.
| | |
| --- | --- |
| Substitutes | Ratio |
| Prepared Mustard | 1 tsp of mustard seeds = ⅓ tsp of prepared mustard |
| Ground Mustard | 1 tsp of mustard seeds = 1 tsp of ground mustard |
| Whole Grain Mustard | 1 tsp of mustard seeds = ½ tsp of whole grain mustard |
| Cumin | 1 tsp of mustard seeds = 1 tsp of cumin |
| Mayonnaise | 1 tsp of mustard seeds = 1 tsp of mayonnaise |
| Wasabi | 1 tsp of mustard seeds = ⅓ tsp of wasabi |
| Horseradish | 1 tsp of mustard seeds = ½ tsp of fresh horseradish or prepared horseradish (for spicy flavor) = 1 tsp of fresh horseradish or prepared horseradish (if you can't handle the spicy taste) |
| Turmeric | 1 tsp of mustard seeds = 1 tsp of turmeric |
| Caraway Seeds | 1 tsp of mustard seeds = 1 tsp of caraway seeds |
| Pickling Spices | 1 tsp of mustard seeds = ½ tsp of pickling spice |
| Other Varieties Of Mustard Seeds | 1 tsp of black mustard seeds = 4 tsp of white mustard seeds or 2 tsp of brown mustard seed |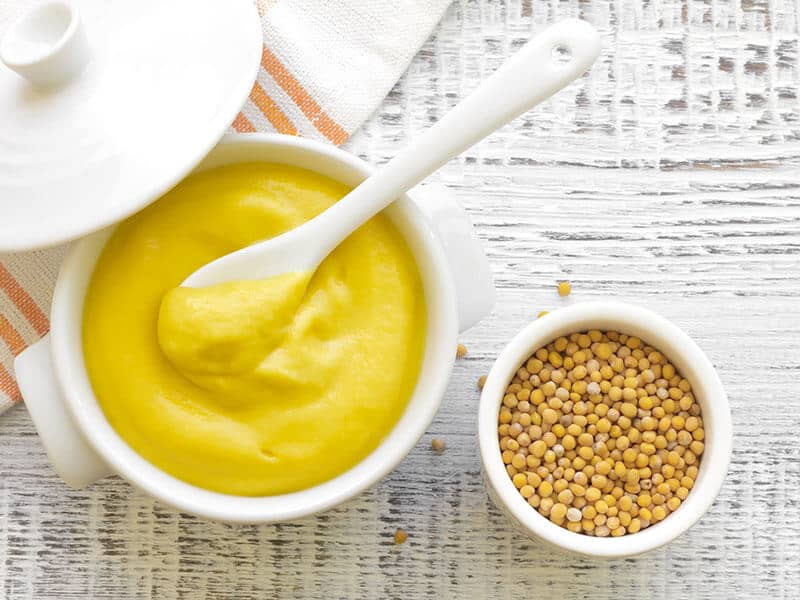 Prepared mustard is made from mustard seeds. So it is no doubt one of the best substitutes for the seeds themselves. Whenever you are out of mustard seeds, look around the kitchen to see whether there is some mustard left.
The flavor of prepared mustard is pretty much the same as mustard seeds. It also has a tangy note because some acidic ingredients, such as lime juice, vinegar, and wine, are added. Sometimes, sugar and honey are used to increase the sweetness.
Prepared mustard has a creamy texture, which is different from mustard seeds. Therefore, it can add more moisture to your dishes. If you cook a recipe that has the same thick texture, such as sauces and curries, this substitute will work best in place of mustard seeds.
Because prepared mustard has a noticeably stronger taste than mustard seeds, you should use a smaller amount of it for substitution. Use around ⅓ teaspoon of prepared mustard to substitute 1 teaspoon of mustard seeds. For the best result, use the French dijon mustard.
Learn how to make Dijon mustard here!
2. Ground Mustard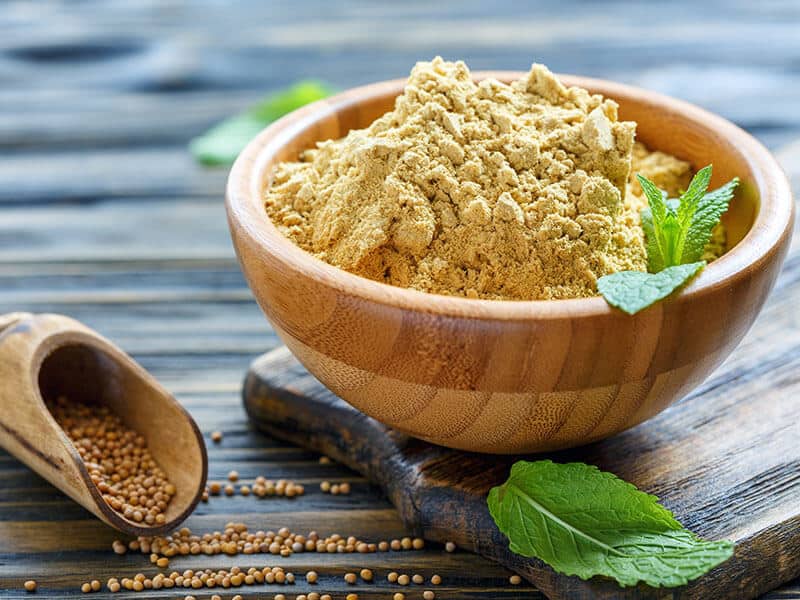 Ground mustard, dry mustard, or powdered mustard is the most straightforward substitute for mustard seeds because it is just the ground form of mustard seeds. You can absolutely replace mustard seeds by any of its counterparts of different forms.
While prepared mustard is most suitable for creamy dishes, grounded mustard is ideal for making recipes that are quite watery in texture, such as salad dressing and soups. Because it will be fully absorbed into the liquid.
Since grounded mustard is made from mustard seeds, their flavors are almost the same. Yet it is a little bit less pungent than mustard seeds. But the difference is negligible. You should use a 1:1 ratio when substituting mustard seeds with ground mustard.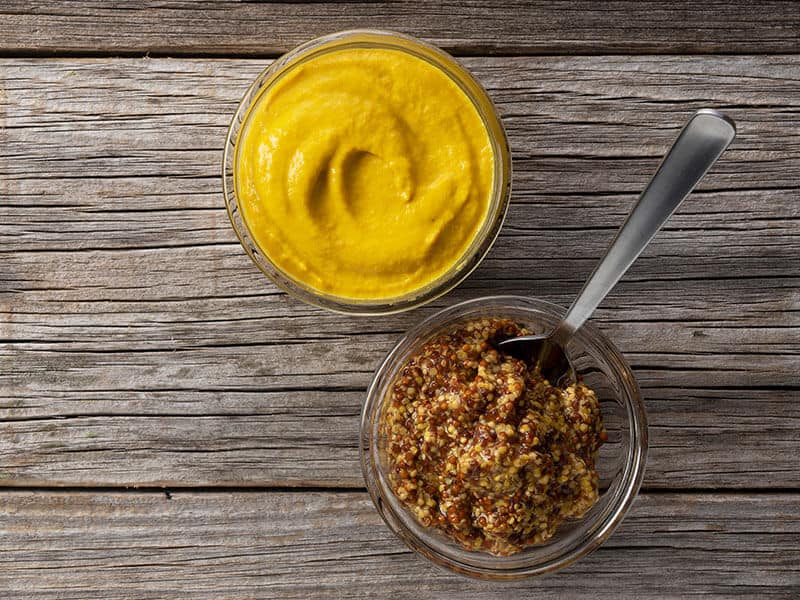 Whole grain mustard should never be absent from this list. Similar to prepared mustard, it is made of mustard seeds, vinegar, sugar, and some other ingredients. So there is no doubt that it can substitute mustard seeds in your recipes.
People make whole grain mustard by grounding it to the degree that the seeds can retain their shapes. Yet they create a thick and grainy paste. Traditionally, people use it in salad dressing, marinades, and serve it as a dipping sauce or sandwich spread.
Its peppery taste is very close to mustard seeds. But it is quite bitter and not as spicy and pungent as mustard seeds. However, it has a much stronger flavor. That flavor will stay in your tongue longer than other forms of mustard. As a result, you can enjoy it more.
I recommend that you use ½ teaspoon of whole grain mustard to replace 1 teaspoon of mustard seeds.
Let's take a closer look at how whole grain mustard is made.
4. Cumin
Cumin has a strong nutty and earthy flavor that is similar to mustard seeds. It is popularly used in Indian cuisine, especially in rich and hearty dishes like curries, soups, and stews. It has a hint of citrus, which can provide depth and warmth for your recipes.
As a spice, cumin does not have an overpowering spiciness as mustard seeds.
There are two forms of cumin, namely the whole form and the ground form. The seeds look like rice because they are quite big in size. So the ground form is a better substitute for mustard seeds to ensure the consistency of the dishes.
If you see cumin somewhere in the house and decide to use it in place of mustard seed, use 1 teaspoon of cumin to substitute 1 teaspoon of mustard seeds. You can also combine cumin with wasabi and horseradish to get a flavor that is more similar to mustard seeds.
5. Mayonnaise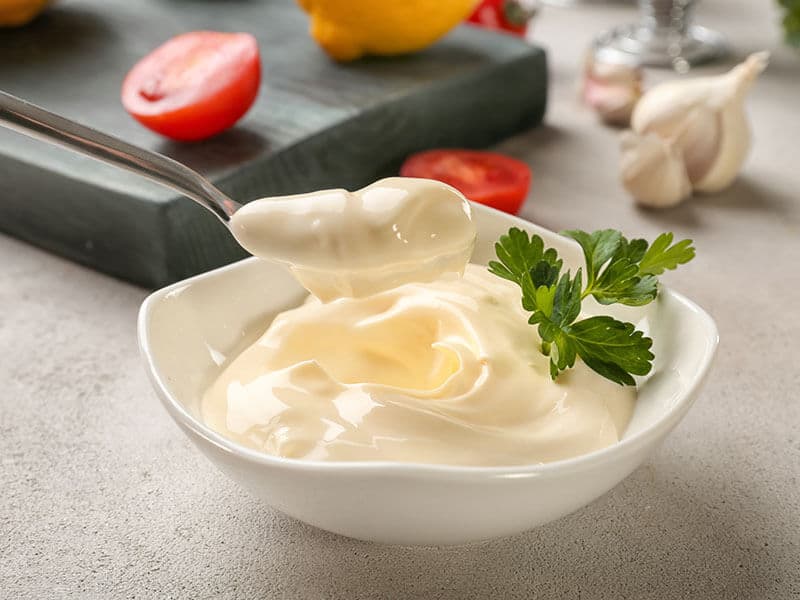 Mayonnaise has a mild and mustard-like taste and creamy texture. But it is less tangy than prepared mustard. Because it is mild, I recommend that you only use it when the recipe calls for white mustard seeds, instead of the black ones.
You will find it a good replacement for mustard seeds in creamy dishes. If you don't have mustard seeds, go for mayonnaise to achieve the thick and velvety texture of the dishes. It is also ideal for substitute mustard seeds in salad dressing.
Use 1 teaspoon of mayonnaise to replace 1 teaspoon of mustard seeds. It is great if you can mix it with other substitutes to create a flavor that is closest to mustard seeds.
6. Wasabi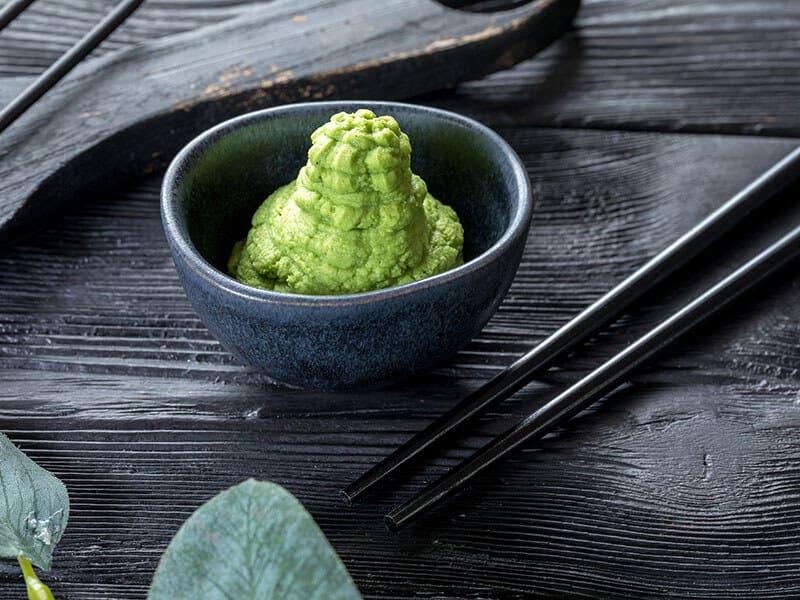 If you're a fan of Japanese cuisine, you probably know wasabi, a popular condiment that is often served with sushi and other Japanese dishes. It adds a lot of spiciness and heat to the dish.
Wasabi is in the form of a paste, which is totally incomparable to mustard seeds. However, its strong pungent and spicy flavor is perfectly matched with mustard seeds, making it a potential candidate when you lack mustard seeds. It best replaces mustard seeds in spicy dishes.
As you may know, wasabi is famous for its overpowering taste. People just use very little of it each time. Too much wasabi will burn your mouth. If you have wasabi, use 1⁄3 teaspoon of it for every teaspoon of mustard seeds. It works best in salad dressing and marinades.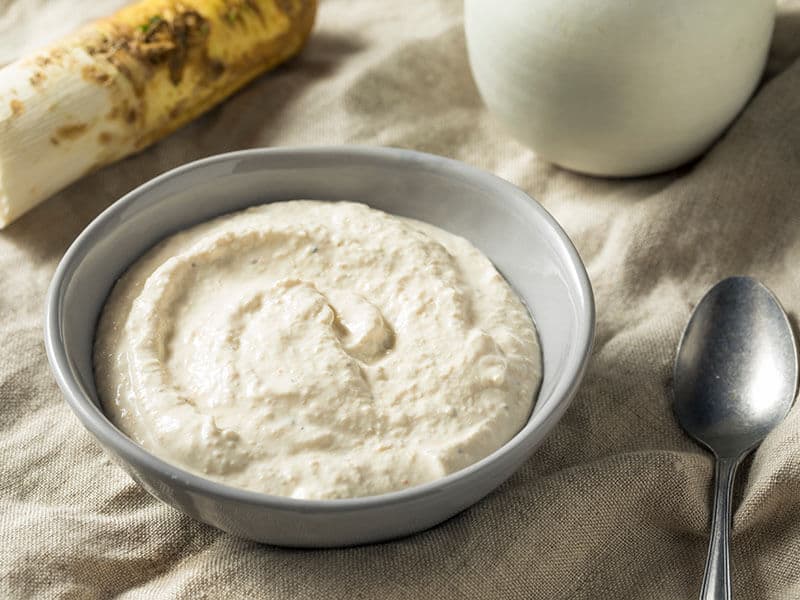 Horseradish is very familiar to us. It is a condiment that is used to kick up savory dishes. But do you notice that its strong spicy and hot taste is very similar to mustard seeds? They can be used interchangeably whenever you don't have the one you need.
Horseradish comes from the same family as mustard seeds. It has a white creamy texture. So it is most suitable for replacing mustard seeds in salad dressing. Both fresh and prepared horseradish can substitute mustard seeds.
You should store it in the fridge instead of the pantry. It can last for 4-6 months. Freezing it is also possible but its pungency will be reduced.
If you choose prepared horseradish or fresh horseradish. Use a 1:1 ratio if you want your dish to be spicy. In case you want it to be less spicy, use ½ teaspoon of it to substitute 1 teaspoon of mustard seeds.
Prepared horseradish can be easily made. You can see this video to know more:
8. Turmeric
Turmeric is a spice that is always available in almost any kitchen. Its earthy and peppery taste is compatible with mustard seeds. Although it is quite bitter and not as spicy as mustard seeds, you can balance it out by adding more spices.
The health benefits of turmeric are very impressive. It is packed with antioxidants which help to prevent heart diseases and other chronic illnesses. (2)
While turmeric is an ideal substitute for mustard seeds in Asian and Indian dishes, I don't recommend it for pickling. Its yellow color will make the picking look unappetizing.
There are two forms of turmeric, namely ground, and fresh turmeric. You can use any of them to replace mustard seeds. The appropriate substitute ratio is 1:1.
9. Caraway Seeds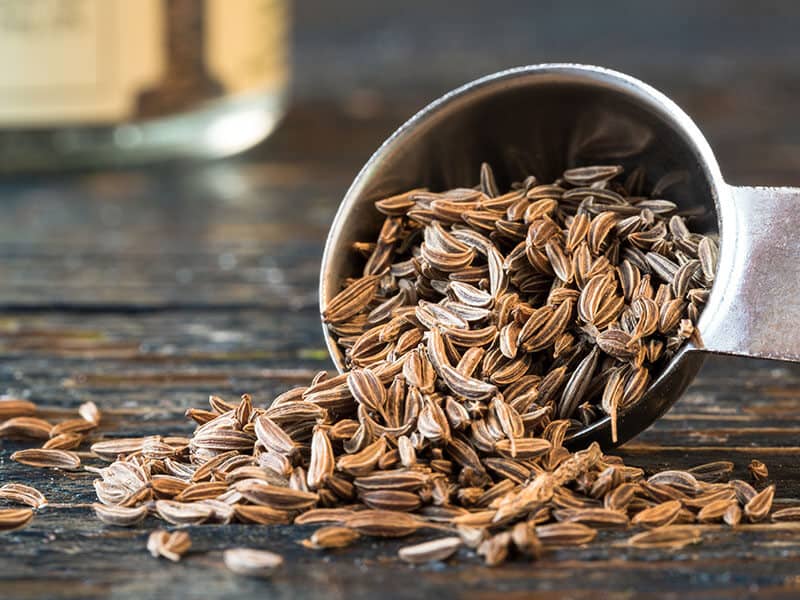 The next wonderful substitute for mustard seeds is caraway seeds. They are often used in European cuisine to add flavor to sweet dishes, such as bread, cake, biscuits, and savory dishes, such as stew and pickles.
Caraway seeds are quite similar to mustard seeds in taste. They are peppery, nutty, and citrusy. Yet they are less spicy than mustard seeds. When the recipe especially requires the seed form, such as pickling, caraway seeds are the right substitute.
Since caraway seeds are as spicy and pungent as mustard seeds, I suggest you use the same amount of them to substitute mustard seeds.
10. Pickling Spice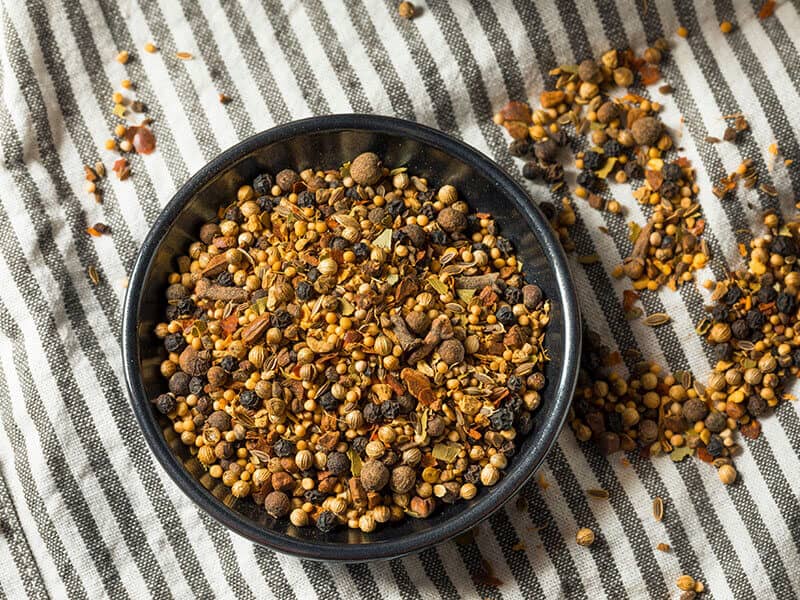 Have you ever heard of pickling spice? It is not a natural spice but a combination of different spices and seasonings. Normally, it includes mustard seeds, coriander seeds, ginger, cloves, cinnamon, bay leaf, and peppers.
Pickling spice's flavor relatively resembles that of mustard seeds. The amount of mustard seeds in it is very high and accounts for the largest portion.
As you may notice its name, pickling spice is made for pickling. But it is much more versatile. You can use it in cooking, too. Stews, braised meat, and casserole recipes often call for pickling spice to increase the spiciness.
There are whole pickling spice and ground pickling spice. You can use whichever form you have. Use ½ teaspoon of pickling spice to substitute 1 teaspoon of mustard seeds.
11. Other Varieties Of Mustard Seeds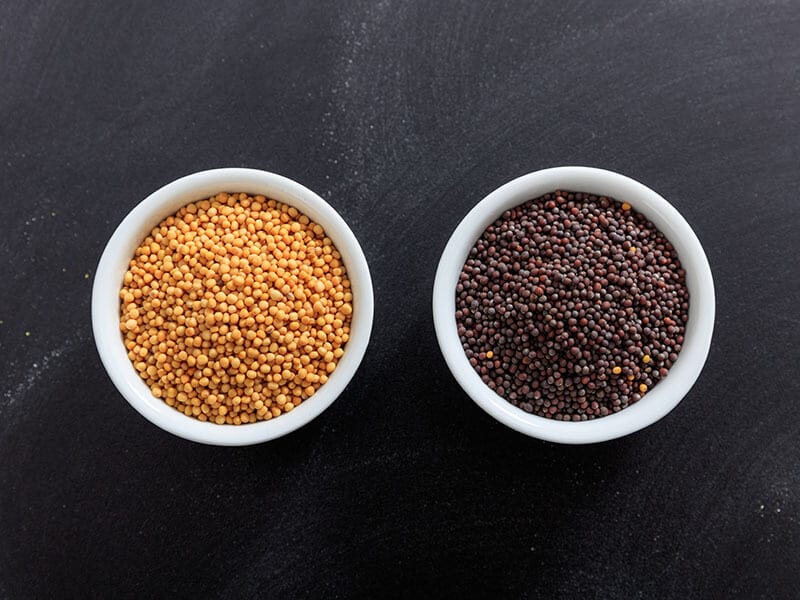 Each variety of mustard seeds has slightly different flavors and degrees of spiciness. But one can perfectly substitute for the other in most recipes. If you have another variety at home, don't be concerned anymore!
As you have known, mustard seeds come in three varieties. The mildest is the yellow one. They are more tangy than spicy. Brown mustard seeds are spicier and black mustard seeds are the hottest and most overpowering variety. It is also the most widely-used one in America.
1 teaspoon of black mustard seeds is equal to 2 teaspoons of brown mustard seeds and 4 teaspoons of yellow mustard seeds. Adjust the amount of use accordingly.
FAQs
Stay with me for another minute! There is something more you need to know. Here are the most asked questions when it comes to mustard seed substitutes. I am sure they're as helpful to you as the above information.
Have You Found The Perfect Substitute?
I hope that you got yourself a suitable ingredient to replace mustard seeds in your favorite recipe. Missing mustard seeds may frustrate you at first. But after you read this article, you've learned that lacking them will not ruin your dish.
The substitutes that I choose for you are very common and easy to find. Even if you don't have them right in your kitchen, you can rush to the grocery store to buy them. The more alternatives you have in hand, the faster you can overcome the problem.
If you're successful with the new ingredient, let me know in the comment section. You can't imagine how happy I will be once you get
References
Health Benefits | Health Benefits of foods and drinks. 2021. Mustard seeds Facts, Health Benefits & Nutritional Value.
Healthline. 2021. 10 Proven Health Benefits of Turmeric and Curcumin.