A ponzu sauce substitute will create more options for you to use in cuisine. The ponzu sauce is familiar to you, so you need to choose a fantastic replacement to use when you do not have it on hand. To do that, you need a list of quality substitutes.
My mission is to bring this great list to you, and you need to read this article carefully to get all the incredible alternatives. These replacements will make you feel comfortable and excited when cooking. Apply and serve your family delicious dishes now!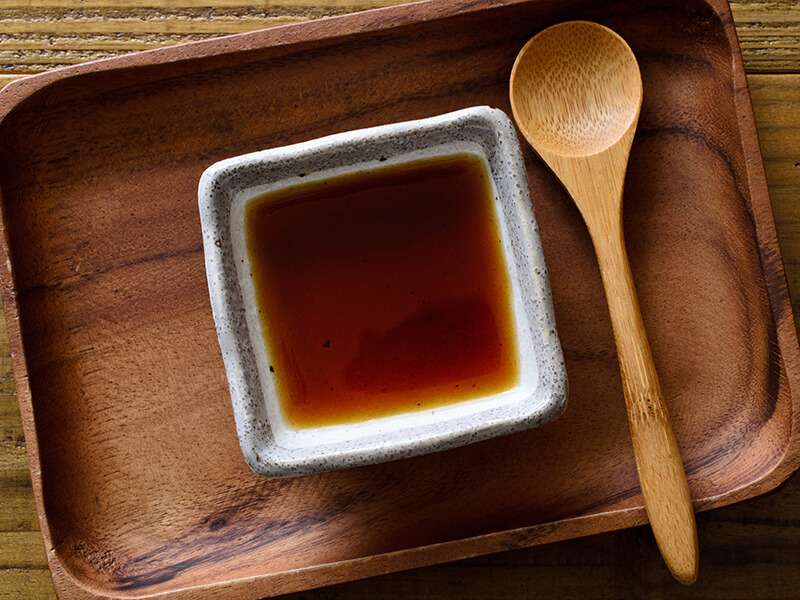 What Does Ponzu Sauce Taste Like?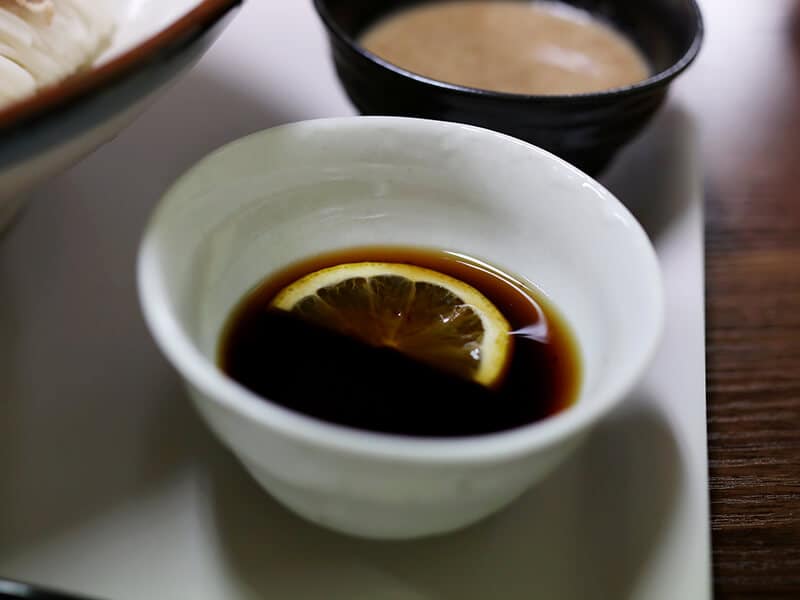 Ponzu is a sauce that is made from citrus fruits and is popular in Japan (1). It has a characteristic flavor and aroma, so it is combined with various recipes. To create this great sauce, you should mix soy sauce, sugar, vinegar, mirin, citrus liquid, and other ingredients.
Ponzu sauce is a mixture of sweet, salty, and sour. This variety of flavors comes from the various components in the ponzu sauce. In addition, you will also feel the citrus taste from the fruit, such as daidai, lemon, or yuzu, when you taste the ponzu sauce.
Ponzu sauce has a relatively dense texture. It is often used in Japanese dishes. You can serve it with shabu-shabu, dumplings, sushi, sashimi, and grilled dishes. Furthermore, it will help diversify the salads' flavor when used as salad dressings.
17 Ponzu Sauce Substitutes – Bringing New Inspirations To Recipes
Today, sauces play an essential role in the culinary scene. Sauces create novel flavors and make a fantastic addition to recipes. The 17 alternatives to ponzu sauce include single substitutions and alternative mixes.
Ponzu Sauce Alternatives
Proportions
1. Mentsuyu
1 to 2 tsp mentsuyu = 1 tsp ponzu sauce
2. Yuzu Kosho
1 tsp yuzu kosho = 2 tsp ponzu sauce
3. Soy Sauce
1 part of soy sauce = 1 part of ponzu sauce
4. Shoyu
1.5 tsp shoyu = 1 tsp ponzu sauce
5. Sake
1 part of sake = 1 part of ponzu sauce
6. Lemon Juice
1 tsp lemon juice = 1 tsp ponzu sauce
7. Seaweed
1 to 2 pieces of seaweed = 1 tsp ponzu sauce

1 tsp seaweed powder = 1 tsp ponzu sauce
8. Rice Vinegar
1 tsp rice vinegar = 1 tsp ponzu sauce
9. Worcestershire Sauce
1 part of Worcestershire sauce = 1 part of ponzu sauce
10. Orange Juice
1 tsp orange juice = 3 drops of ponzu sauce
11. Prik Nam Pla (Traditional Thai Sauce)
1 tsp Prik nam pla = 2 ponzu sauce
12. Mentsuyu And Vinegar
Add a bit of vinegar to a cup of mentsuyu
13. Mentsuyu And Fruit Vinegar
Add a bit of fruit vinegar to a cup of mentsuyu
14. Mentsuyu And Lemon Juice
Add a bit of lemon juice to a cup of mentsuyu
15. Soy Sauce And Vinegar
3 tsp soy sauce + 1 tsp vinegar = 1 tsp ponzu
16. Soy Sauce And Lemon Juice
Add a bit of lemon juice to a cup of soy sauce
17. Soy Sauce And Orange Juice
Add a bit of orange juice to a cup of mentsuyu
Quickly Select With Single Ponzu Sauce Alternatives
Nowadays, there are many various ingredients on the market that you can use as an alternative to ponzu sauce. These are ready-made replacements that you just need to buy and use. It is fast and straightforward, isn't it?
1. Mentsuyu – A Valuable Alternative To Ponzu Sauce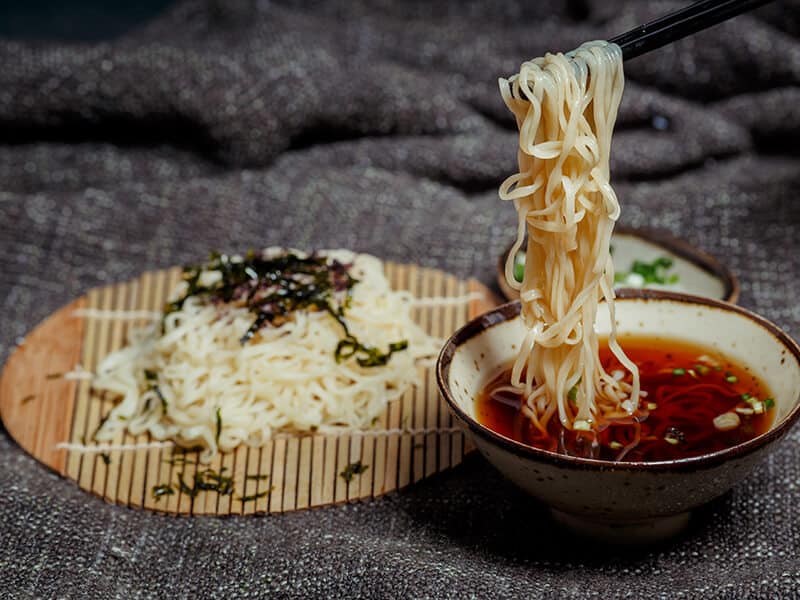 You are struggling in the kitchen since there is no ponzu sauce, so you should use the mentsuyu immediately. Mentsuyu has a distinctive taste and smell because it is made up of soy sauce, dashi, salt, and many other ingredients.
The variety of ingredients creates a complex flavor for mentsuyu. You should add a little sugar to the mentsuyu to make it more flavorful. Sweetness and spiciness are the two dominant flavors of mentsuyu.
The taste of mentsuyu is pretty robust, so you should combine it with other elements, such as vinegar, or lemon to balance the flavor. If you are busy, you can use 1 to 2 tablespoons instead of 1 tablespoon of ponzu sauce to make dipping sauces, dressings.
Making fantastic mentsuyu at home for ponzu sauce substitute.
2. Yuzu Kosho – Combination Of Yuzu Skin And Green Chili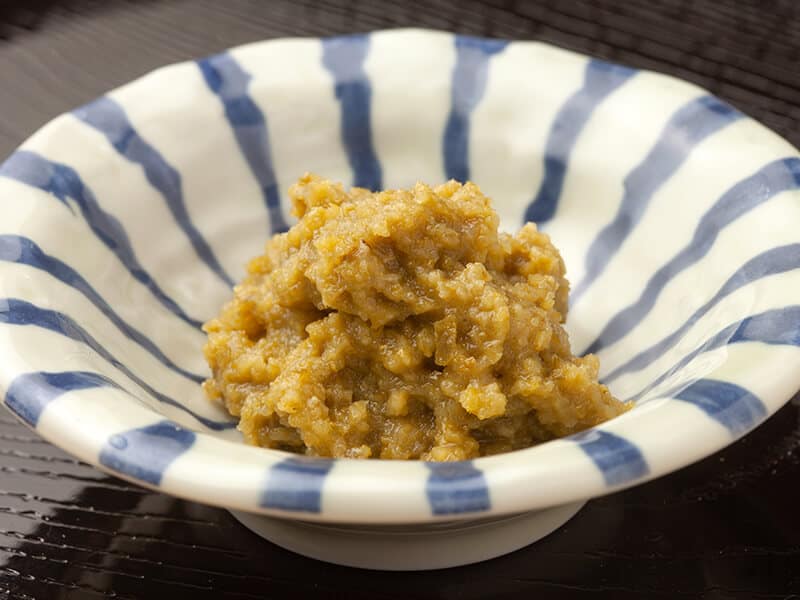 The dish will also be more fragrant, thanks to the yuzu kosho. It would be a suitable alternative. To make yuzu kosho, you need to prepare yuzu peel and green peppers. Yuzu kosho will bring a citrus flavor to your dish.
You will have the chance to enjoy the citrus taste of yuzu fruit that blends with the spiciness of peppers and the salty taste of salt. All of them create an excellent and wholesome taste for yuzu kosho.
Using yuzu kosho to serve with sashimi, steak, or noodle recipes instead of ponzu sauce is a common way of enjoying them. Yuzu kosho is a bit spicier than ponzu sauce. Add 1 tablespoon of yuzu kosho to the dish instead of using 2 tablespoons of ponzu sauce.
3. Soy Sauce – The Best Vegetarian Ponzu Sauce Substitute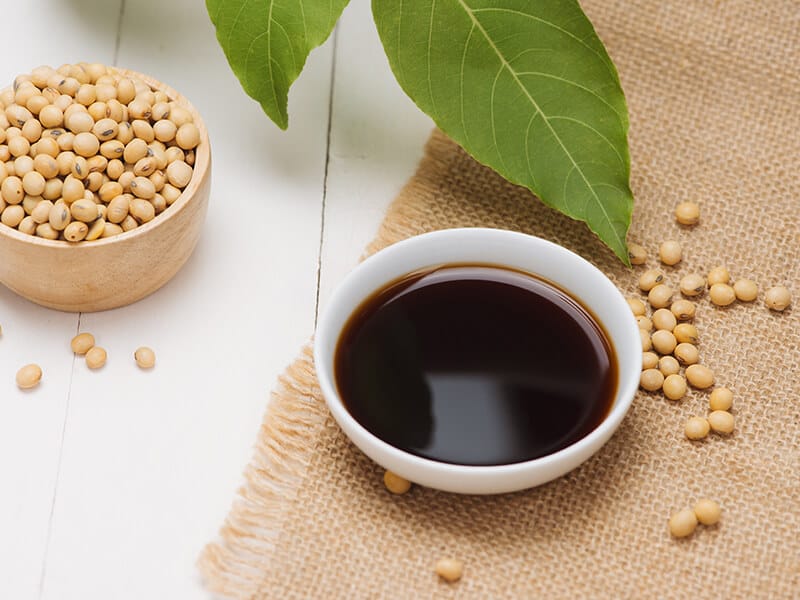 Soy sauce is a popular alternative because it is almost always available in your kitchen. If you are looking for umami flavor like ponzu sauce, soy sauce has it for you. However, if you need a perfect texture as ponzu sauce, soy sauce will not do.
The texture of soy sauce is much more liquid than ponzu sauce, so you should combine it with cornstarch to get a thick consistency similar to ponzu sauce. The taste of soy sauce goes well with many dishes. Let's use a 1:1 ratio instead.
4. Shoyu – Signature Umami Flavor Ingredient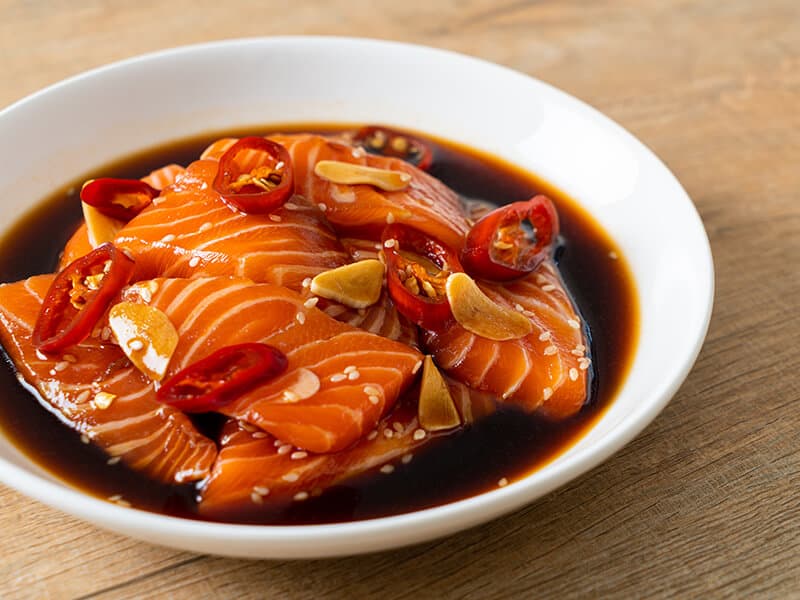 Shoyu will make you feel like you are enjoying ponzu sauce sold in the market. Shoyu is an essential ingredient in ponzu sauce, so do not worry about the taste when using shoyu instead of ponzu sauce.
The marinaded dish pairs great with shoyu because it will bring out the signature umami and rich flavors. You should change the shoyu a bit to make the taste more suitable; for example, complement lemon juice or vinegar to enhance the sourness of the shoyu.
The perfect substitution ratio is to use 1.5 parts of shoyu to substitute 1 part of ponzu sauce.
5. Sake – Traditional Drinks In Japan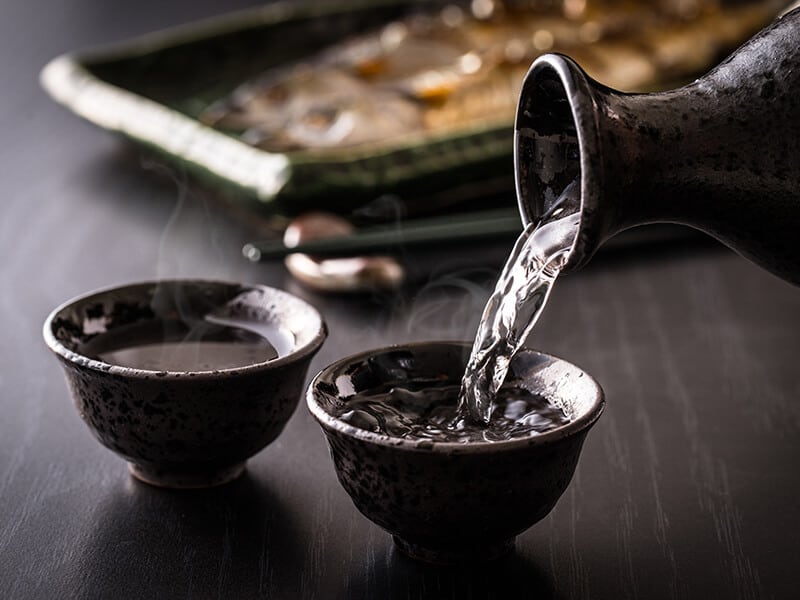 Perhaps when it comes to famous drinks in Japan, you will think of sake. This is a rice wine that is aged for a while until ready to drink. The attractive taste and fruity scent are the properties that make you use sake instead of ponzu sauce.
If you want to enjoy a dish with umami, bitter, sweet, sour, savory, and fruit flavors, you should add sake to the dish. Sake will also bring out its total value in sweet, fish, chicken dishes, and combination with other drinks.
Increase the aroma and quality of stews with sake. If you want to replace ponzu sauce with sake, it is suitable to use 1 part of sake for 1 part of ponzu sauce.
Are you wondering about the way to make sake at home?
6. Lemon Juice – An Amazing Replacement From Fresh Fruit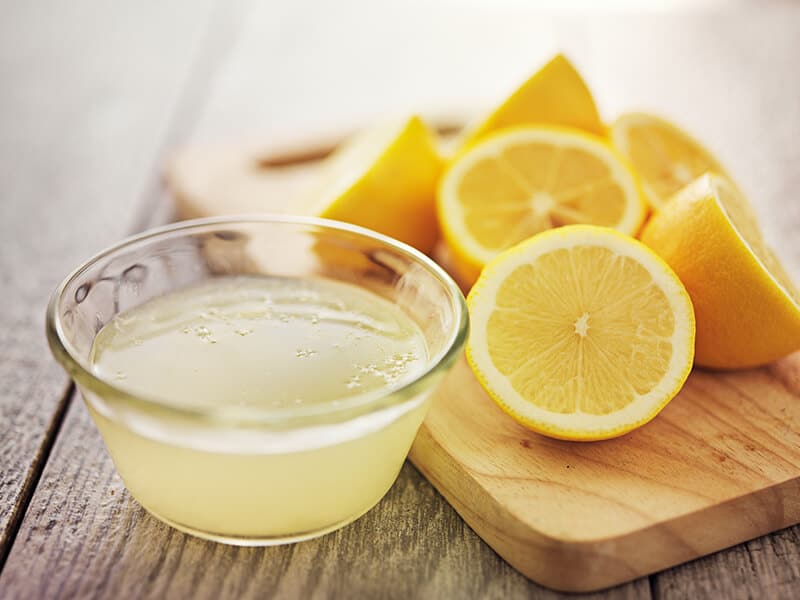 Add citrus aroma and sour taste to dishes with lemon juice. Lemon juice is a simple and convenient alternative to ponzu sauce. If you like sour ingredients, lemon juice should be on your ingredient list.
Lemon juice will bring new experiences to drinks, sweet dishes, or meat and seafood plates. The vitamin C content of lemon juice will help improve the immune system. 1 teaspoon of lemon juice is as effective as a teaspoon of ponzu sauce.
7. Seaweed – An Alternative Comes From The Sea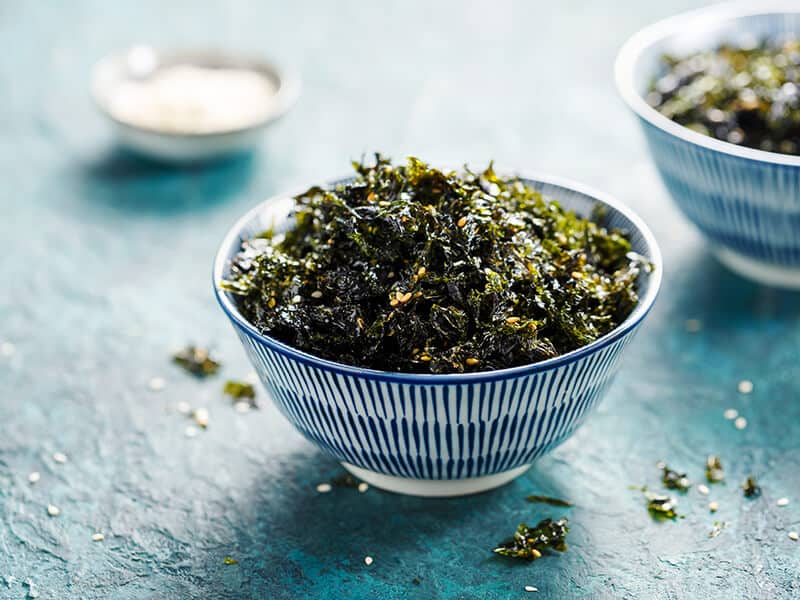 Are you surprised by the appearance of seaweed on this list? In fact, it is hard to imagine using seaweed as a replacement for ponzu sauce. However, the impossible became possible. Although they are totally different in texture, the taste will surprise you.
Seaweed has a mild salty taste of sea salt, a pungent taste, and an umami flavor. It is widely used in salads and sushi. Seaweed is a pure plant material that you can find in many seas around the world. It has a high nutrient content.
It would be better to use 1 to 2 pieces of seaweed or 1 teaspoon of seaweed powder to replace 1 teaspoon of ponzu sauce.
8. Rice Vinegar – The Main Component Of Ponzu Sauce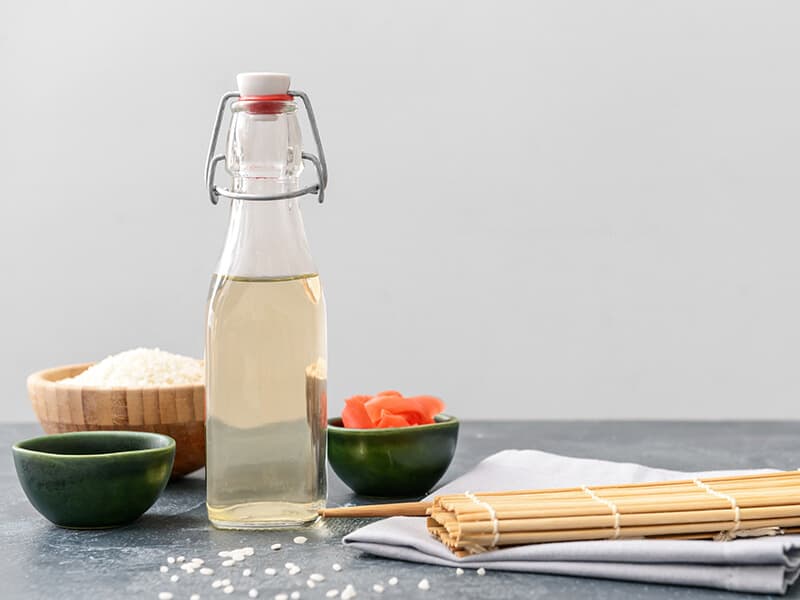 Besides using ponzu sauce, you can use rice vinegar to diversify flavors with culinary recipes. East Asia is the largest consumer of rice vinegar in the world. No need to introduce; you probably know that rice is the main element to make this vinegar.
Because of the mildly sour taste of rice vinegar, it makes a perfect substitute for ponzu sauce. Soups, rice, and fried dishes are better with rice vinegar. So, it is time for you to enjoy the dishes with wonderful flavors of rice vinegar.
To bring out the best quality to the dish, I recommend that you should replace 1 teaspoon of ponzu sauce with 1 teaspoon of rice vinegar.
9. Worcestershire Sauce – Another Option Comes From England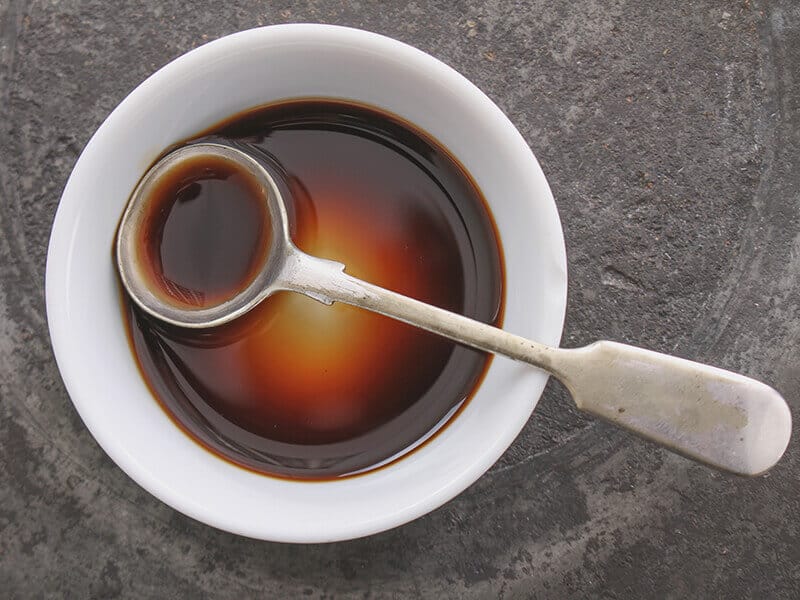 Worcestershire is a fermented sauce first produced by John Wheeley Lea and Wiliam Henry Perrins in England (2). For me, Worcestershire sauce is the name that leaves the most impression on me.
It has both a standard taste to replace ponzu sauce and a luxurious and modern feeling. Similar to ponzu sauce, vinegar is also a significant ingredient in Worcestershire sauce.
Umami taste is the typical flavor of Worcestershire sauce. Furthermore, you can easily find the sour, spicy taste and sweetness that come from vinegar, tamarind, and sugar.
The flavor of Worcestershire sauce is pretty diverse, so it mixes well with a variety of dishes. Worcestershire sauce makes a great dipping sauce or pair with salads and marinades. Do not worry about the taste of the plate when replacing Worcestershire sauce with a 1:1 ratio.
Learn 3 easy and fast ways to use Worcestershire sauce.
10. Orange Juice – Bring Fruity Aroma To The Dish With Orange Juice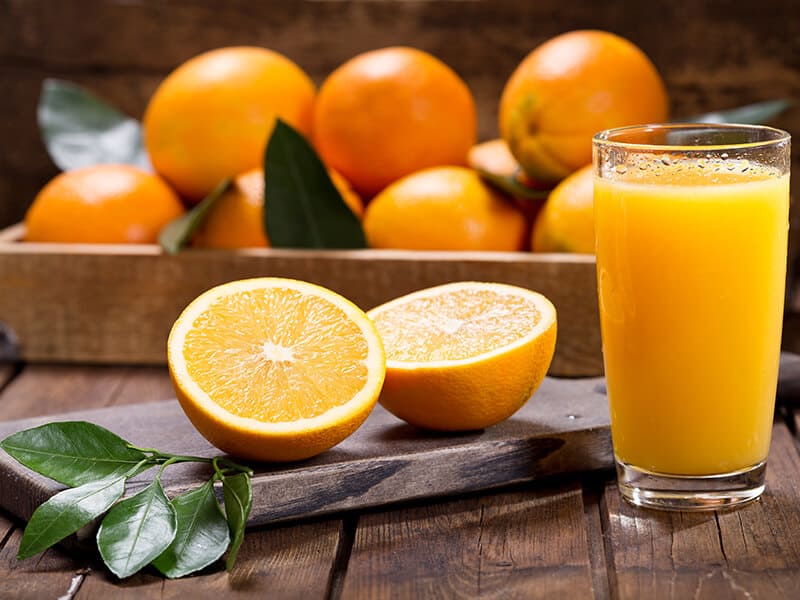 You just spend a short time having fresh orange juice to replace the ponzu sauce. If you want the citrus flavor to dominate in recipes, you should use orange juice. You will also feel the wonderful aroma from dishes containing orange juice.
The mild sweetness and sourness of orange juice will enhance the flavor of baked goods or salads. Try marinating the fish with orange juice to reduce the fishy taste of the fish. With a teaspoon of orange juice, you will get the same flavor as three drops of ponzu sauce.
11. Prik Nam Pla (Traditional Thai Sauce) – Replacement Of Thailand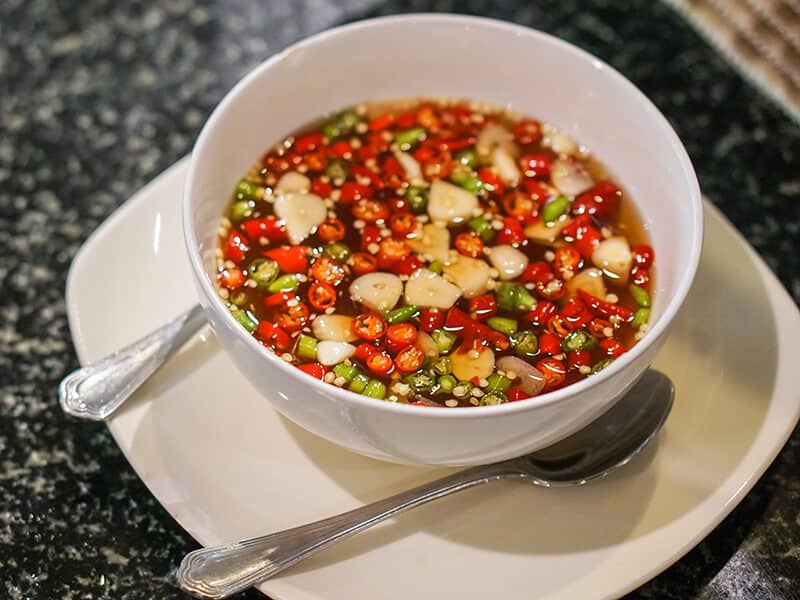 Let prik nam pla do the part of the ponzu sauce in the dish. Prik nam pla is a typical sauce in Thai cuisine. The combination of fish sauce, lime juice, and chilies makes this an attractive sauce. If you do not like spicy food, you should consider this option.
However, other ingredients of prik nam pla make great additions to Japanese recipes. Prik nam pla is a mixture of salty, sour, and sweet tastes. These flavors always bring fantastic experiences.
In case you want to create unique flavors for food, you should try prik nam pla immediately. To ensure the quality of the substitute, you should add 1 tablespoon of prik nam pla to substitute 2 tablespoons of ponzu sauce.
Creating spicy prik nam pla following the recipe of Thailand people.
Prepare Some Substitution Mixture To Replace Ponzu Sauce
To balance flavors or create the same flavors, you can combine different ingredients to create substitutes for ponzu sauce. The ingredients and recipes to make these mixes are pretty easy to find and make.
12. Combining Mentsuyu And Vinegar To Create Fantastic Substitute
Mentsuyu and vinegar are great complements to each other. Mentsuyu is a sauce with a variety of flavors with decadent ingredients. Its taste is also pretty characteristic. The vinegar that comes with mentsuyu would be a perfect substitute.
Add a little vinegar to mentsuyu to make the taste more harmonious, balanced, and more like ponzu sauce. Because of the taste difference of various types of mentsuyu, you need to choose the suitable amount of it when combining with vinegar.
This recipe can be used as an accompaniment sauce, salad dressing, or seasoning in marinades.
13. Mentsuyu And Fruit Vinegar – Diversify Fruit Flavor With This Mixture
Use your household fruit vinegar and mentsuyu to make a ponzu sauce replacement. This mixture will bring a fruity flavor and typical aroma to the dish. The diverse flavors of mentsuyu will create new feelings for diners.
You can choose any fruit to make vinegar according to your preference. But I highly recommend that you should use apples and oranges to bring out the best flavors. The taste of this mixture depends on your dosage usage.
14. Mentsuyu And Lemon Juice – Raise Sourness With Lemon Juice And Mentsuyu
If lemon can go well with soy sauce, it can also pair well with mentsuyu. The umami flavor of mentsuyu is enhanced when combined with the sour and fruity flavors of lemon. This is a perfect alternative to ponzu sauce.
Add some lemon juice to the mentsuyu cup to add more flavor to the sauce. The taste of this mixture depends on you. You will use more lemon juice when you want to eat sour and reduce the amount of lemon juice when you do not like sour.
15. Soy Sauce And Vinegar – A Perfect Combination Of Two Amazing Elements
Soy sauce and vinegar are two ingredients that often appear in your kitchen. Why don't you combine the two to create an alternative recipe for ponzu sauce? Both vinegar and soy sauce have distinctive flavors and go well together.
For this mixture, you need 3 teaspoons of soy sauce and 1 teaspoon of vinegar. However, you can improve the sourness of the mix by raising the amount of vinegar. If you feel the taste is too acidic, try some sugar. This mixture is suitable for dipping dumplings.
16. Soy Sauce And Lemon juice – A Reasonable Combination
Following the success of the soy sauce and vinegar mixture, you can try a combination of soy sauce and lemon juice for various recipes. Besides using the mixture of soy sauce and vinegar, the mixture of soy sauce and lemon juice will be a valuable change for you.
The presence of lemon juice will bring a citrusy taste similar to ponzu sauce. Add a moderate amount of lemon juice to the soy sauce to make a side sauce instead of ponzu sauce. You can also use lime or yuzu instead of lemon.
17. Replace Ponzu Sauce With The Combination Soy Sauce And Orange Juice
When you run out of lemon juice, you can use orange juice to combine with soy sauce. Surprisingly, this is also a perfect alternative to ponzu sauce. Compared with vinegar and lemon, the sourness of orange juice is milder due to the sugar content.
This alternative blend is suitable for those who do not like the intense sourness of lemon and vinegar. The taste of this mixture is also ideal for children. You can also replace oranges with grapefruits.
Making Incredible Ponzu Sauce At Home With Me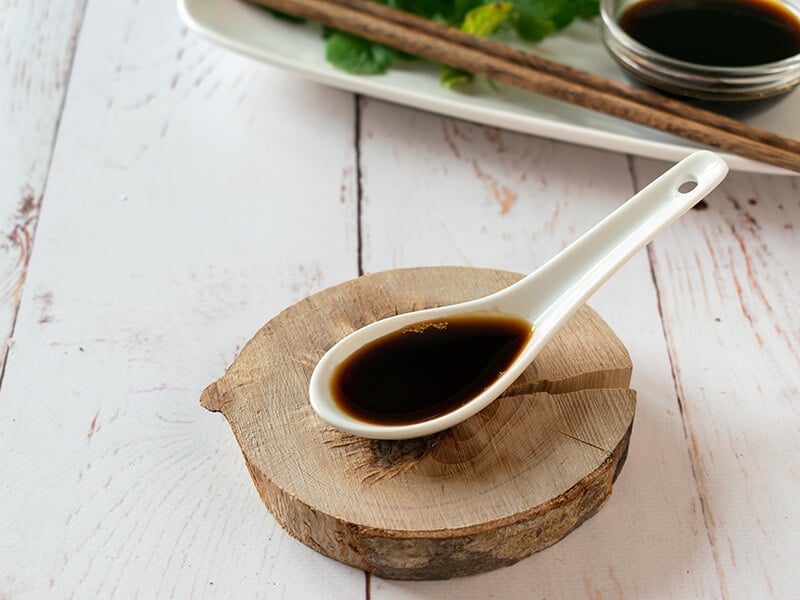 You should prepare a backup plan in case you cannot buy ponzu sauce or run out of ponzu sauce in the house. Therefore, you need to learn the recipe for making ponzu sauce at home to be ready when you cannot find alternatives.
The first step is to prepare some needed ingredients to create ponzu sauce. You need soy sauce, rice vinegar, salt, yuzu or orange juice, mirin, sugar, bonito flakes.
To make a standard quality ponzu sauce, you need to follow these instructions step by step:
Step 1: Put mirin, soy sauce, vinegar, and bonito flakes into a pan.
Step 2: Heat the mixture at a medium temperature.
Step 3: Wait a few minutes to cool the mixture.
Step 4: Pour the mixture into a bowl and discard bonito flames.
Step 5: Add lemon, yuzu, or orange juice to the mixture
Step 6: Pour the mixture into a jar and place it in the refrigerator for about 3 days.
Step 7: Use the homemade ponzu sauce to enjoy your result.
Listen to the directions to make the ponzu sauce of the Japanese.
FAQs
I spent a night answering frequently asked questions about the ponzu sauce substitutes. These questions are pretty interesting, and the answers have been given by me most understandably and simply. Let's see now!
Do You Have Any Other Ideas?
Do you wonder about the effectiveness of these alternatives? You must try them now for the most authentic taste experience. You have to change to approach and experience new things more. Please update the results after using these alternatives below.
The value and quality of your dishes will be enhanced. Cooking inspiration comes from changes and variations to create unique flavors. Give a like and share for this article. Thanks for your time!
References
Ponzu – Wikipedia. (2021). Retrieved 13 October 2021,
Worcestershire sauce – Wikipedia. (2021). Retrieved 13 October 2021,