"Prosciutto substitute? No way. How can you find this distinctive flavor from elsewhere?" Yes. You cannot duplicate exactly the flavor of this famous Italian beloved ham. However, having some similar-taste replacements is not a far-fetched dream.
If you are looking for prosciutto substitutes for your favorite recipe but suddenly discover that the supermarket does not have it today, try some substitutes here. In this post, I will tell you the best options that you can pick for alternating your prosciutto.
Quickly glance down to get the detailed instructions!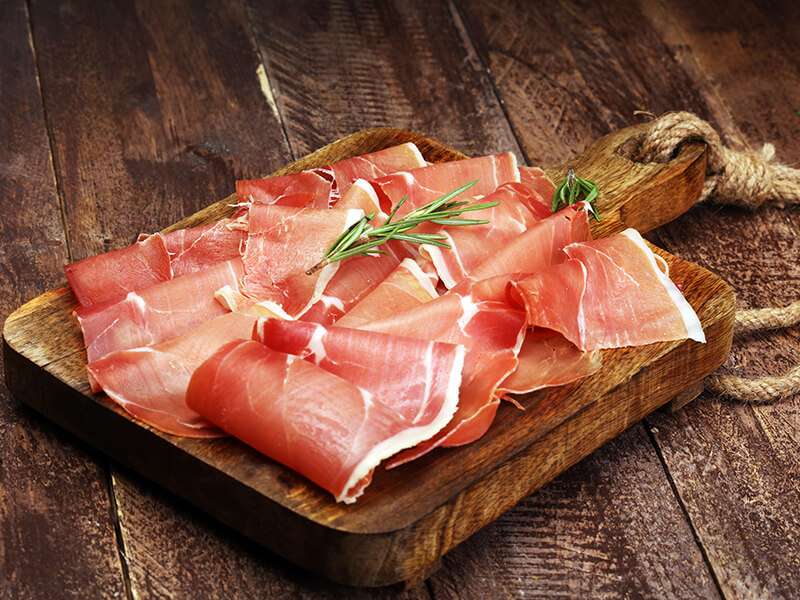 Prosciutto – The Italian Beloved Ham
Even though prosciutto is a familiar delicacy with many Italian cuisine lovers, some of you might hear about it for the first time. So, don't skip out on this section. I'm sure you can get more insights about this food here.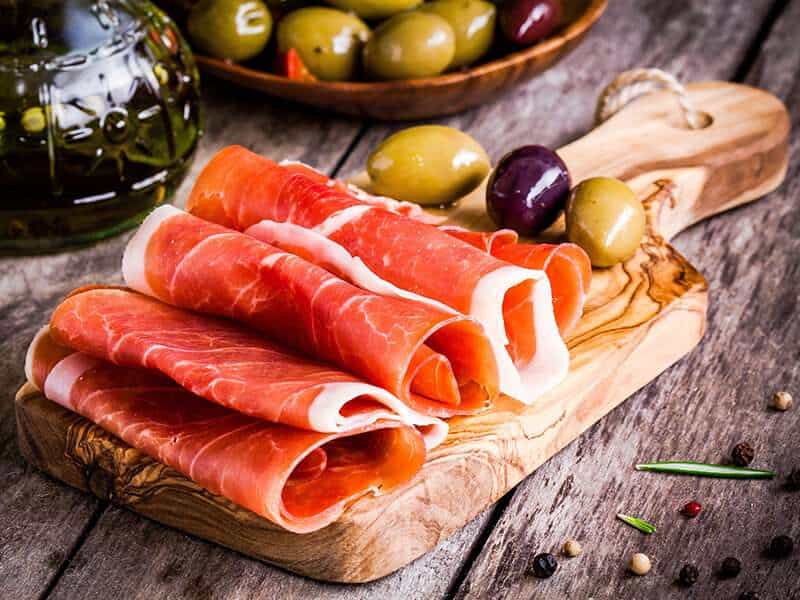 1. What Is Prosciutto?
In the Italian language, "prosciutto" means ham, which is divided into two types: prosciutto cotto and prosciutto crudo.
On the other hand, when it comes to "prosciutto" in America, you should automatically understand that they are talking about the latter – prosciutto crudo, the uncooked and dry-cured ham compared to prosciutto cotto, a baked or cooked ham. (1)
Cemented with the long history of Italia, the idea of prosciutto came up when Italians wanted to have enough meat supply in the extreme winters. It can be said that prosciutto is one of the "greatest works" of Italian cuisine, requiring subtle, dedicated, and meticulous treats.
Prosciutto is traditionally made from the high-quality pig's hind leg. The blood and moisture inside will be removed through heavily salting and rested for 8-12 weeks in cool and humid rooms to prevent the bacteria from finding their way to the leg.
Moreover, the salting step also makes the leg flavor more concentrated and sharp.
After the salt curing time, the leg is rinsed with warm water to remove the excess salt and impurities and seasoned with spices. Finally, it is left to dry-age in a designated temperature room for about 12-36 months before appearing in the food section of the supermarket.
And because each region has its own producing techniques, you also may find various brands of prosciutto. The most famous prosciutto is Prosciutto di Parma, protected by the European Union Protected Designations of Origin.
Curious about how prosciutto is made? Well, this video will show you!
2. What Does Prosciutto Taste Like?
Depending on the pig leg quality and the region where it was made, prosciutto will taste quite different. But in general, the flavor of prosciutto is a balanced combination between the delightful sweetness and slight saltiness with a rich and refined porcine note.
Not only that, but you also can find other fragrant flavors derived from several kinds of seasonings. They could be garlic, pepper, or rosemary. Prosciutto is typically served in paper-thin slices, which almost melt in your mouth right after the first bite.
And the longer the prosciutto is aged, the sharper and more aromatic it tastes.
3. Prosciutto Can Be Paired With Many Of Your Favorites
Prosciutto is Italian special. It appears everywhere throughout this beautiful country. This mouth-watering ham features many of Italian's beloved delicacies: appetizers, main dishes, and side dishes to desserts.
The popular rosy-pink thin slices are served with sandwiches or panini with other ingredients inside, included in a simple pasta sauce, or added into a pizza as a flavor-doubling topping.
In addition, prosciutto is a perfect pick in any time you want to make antipasto – the first course of a formal Italian meal that requires cured meats, fish, vegetables, and various kinds of cheese.
With its savory flavors, prosciutto is also wrapped around bread and vegetables, then taken to a grill. And do you know candied prosciutto? This sweet, craving, and delicious ice cream is topped with caramelized candied prosciutto as a powerful flavor addition.
If you have prosciutto on hand, make a plate of pasta!
Conversion Table: Ratios Of Prosciutto And Its 17 Alternatives
Before entering the main description, I want to show you this conversion table. You might want to check it out first to make a quick decision.
| Substitutes | Ratios (Prosciutto/Substitutes) |
| --- | --- |
| Sandwich Ham | Equal amount |
| Bacon | Equal amount |
| Pancetta | Equal amount |
| Duck Prosciutto | Use smaller amount first then increase gradually |
| Salami | Equal amount |
| Capicola | Equal amount |
| Guanciale | Smaller amount |
| Culatello | Smaller or equal amount |
| Jamón Serrano | Equal amount |
| Jamón Ibérico | Smaller or equal amount |
| Beef Bresaola | Self-adjust |
| Speck | Self-adjust |
| Mortadella | Self-adjust |
| Cheese | Self-adjust |
| Toasted Nuts | Self-adjust |
| Mushrooms | Equal amount |
| Phyllo Dough | Self-adjust |
Prosciutto Substitutes – 17 Options For A Perfect Flavor
In this section, you will get all the related information about 17 prosciutto substitutes. Not only can you know the basic things, but you also can achieve some cooking tips when using them.
1. Sandwich Ham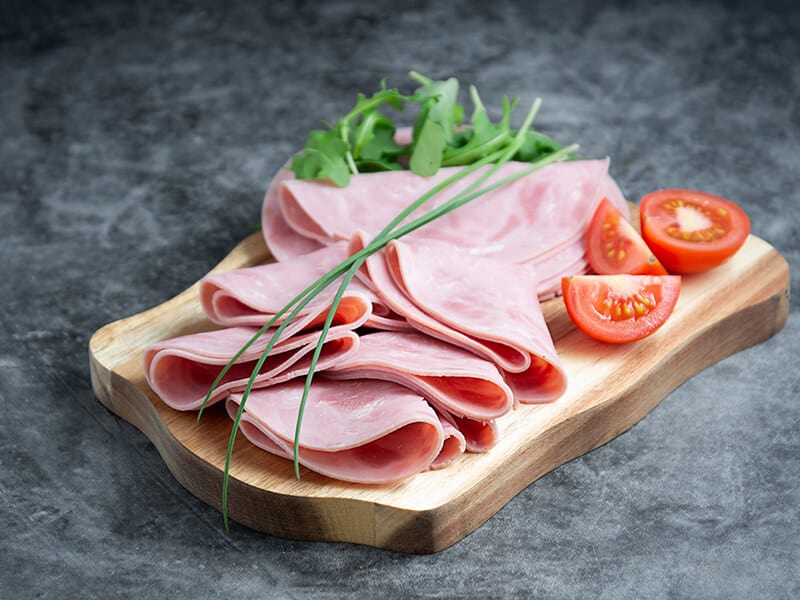 Prosciutto is literally a kind of ham. So, there is nothing wrong with substituting it with ham in your recipes. And normally, ham will have a lighter saltiness than prosciutto. It will be suitable for those who want a mild taste. If not, extra salt can solve the problem.
You may want to buy the ham made from the rear leg of a pig to get the most similar taste.
If you don't know what part the ham is made from, the sandwich ham will be the easiest option. It is more tender, moister, and has a subtle flavor than other regular ham. Besides, smoked ham or black forest ham is also a great choice.
For the most decent flavor, simply use the equal amount as you do with prosciutto. Plus, sandwiches, salads, and pasta are your best treats with this replacement.
Whatever ham you have, make a sandwich!
2. Bacon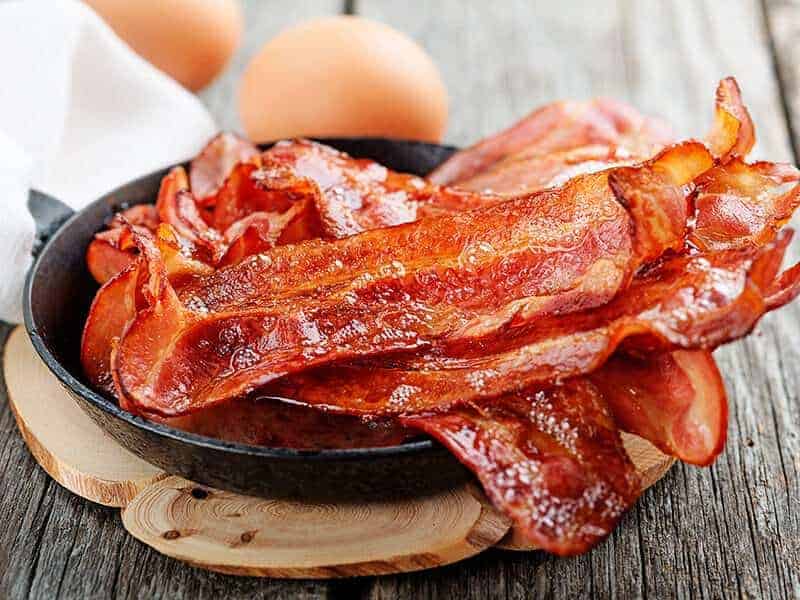 Another easy-to-find prosciutto substitute for you: bacon. Just like prosciutto, bacon is cured meat salted with sea salt with a smoky note. It can be eaten raw or cooked as well. But to have the most alike taste of prosciutto, raw and smoked bacon should be prioritized.
Before using raw bacon in your dishes, blanch bacon in boiling water until transparent and rinse it carefully.
You also need to pick the proper bacon since this alternative varies in kind. Popularly, go for streaky bacon for more fat content and back bacon in case you want more meat.
Again, no matter which kind of bacon you use, it absolutely has more fat content than your prosciutto. That's not a bad sign because you also can pan-fry it to serve in your sandwiches, pies, pasta and enjoy its unique crisp tone.
About the portion? How much prosciuttos you use, get the same taste by substituting the respective amount of bacon.
3. Pancetta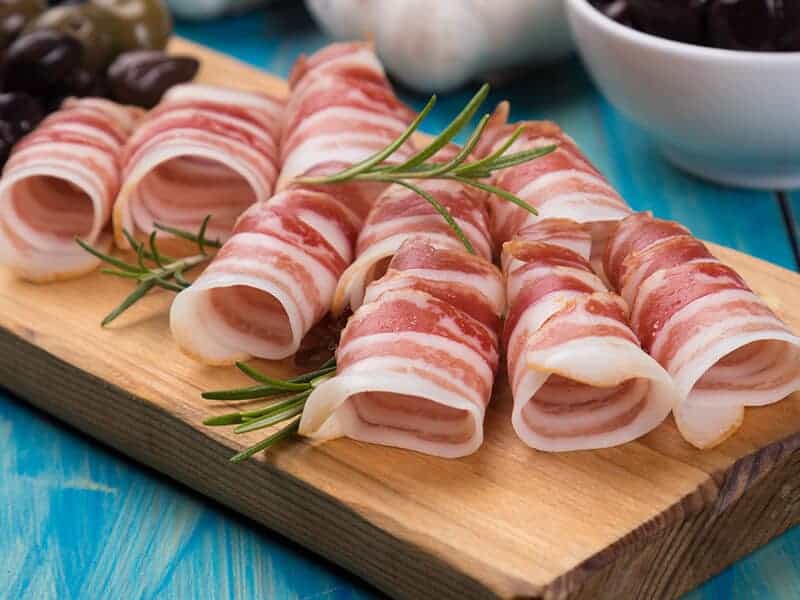 Pancetta is one member of the large cured meat family, also known as the Italian version of bacon. Nonetheless, pancetta does not have a smoky flavor and is also saltier compared to regular bacon.
Pancetta is a perfect replacement. The salty, peppery, and fragrant flavor comes from diversified condiments that almost precisely replicate your prosciutto taste. The only thing that sets pancetta apart from prosciutto is the way it is handled.
In particular, before you do anything with pancetta, you always need to cook it first (except the rolled pancetta). It is best for recipes calling for a tangy and bold flavor. You can use pancetta in soups, salads, pasta sauce, pizza, casseroles, or on a charcuterie board.
And as the familiarity in taste, use the same amount of pancetta like prosciutto.
Note: In case you are planning to make a cold dish, it is recommended that cooked pancetta be cooled first to have a better taste when mixed with other ingredients.
4. Duck Prosciutto
I love the way the fully-flavor duck prosciutto is presented in my casseroles. It makes this creamy treat become even more comforting and satisfying. Yes, you didn't hear it wrong. Duck meat can be processed into prosciutto.
Made from duck breast – the most scrumptious part of a duck, duck prosciutto is not inferior to the authentic pork prosciutto version. It's rich and incredibly flavorful. Specifically, sometimes you may find it a bit porky like the authentic one.
And not only casseroles, but duck prosciutto also goes well in many other dishes, especially sweet recipes like cherry preserves, fig chutney, and pickled raisins. You also can cut it into small cubes, then fry it up and add it to your salad.
To substitute for prosciutto, use the smaller amount of duck prosciutto first to check whether you like the taste. Then, increase gradually as expected.
Making duck prosciutto? It's suitable for prosciutto beginners! Watch this video:
5. Salami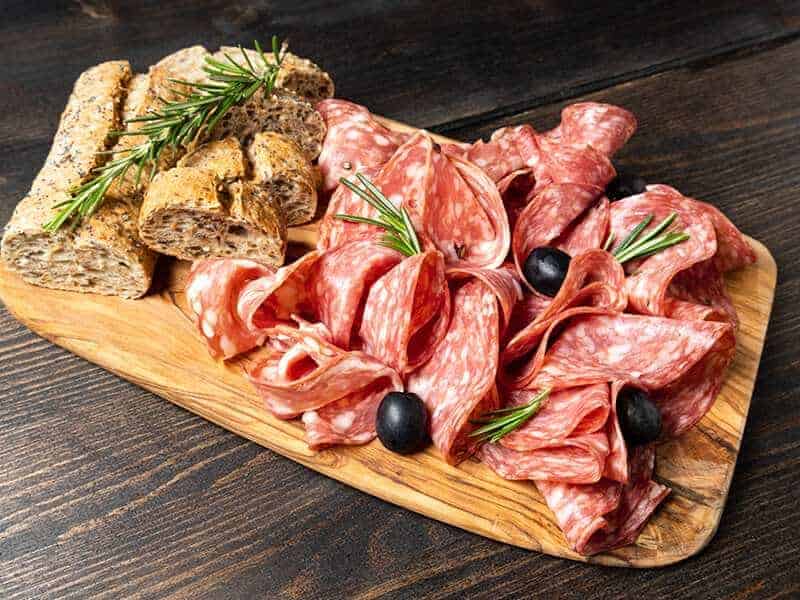 Italians have a wide range of food made from cured meat. If you are a fan of sausage, don't ever miss out on salami. This treat is enough to conquer your heart. Salami is a kind of Italian sausage with fermented and air-dried pork as the main material.
Even though salami doesn't have the exact flavor and texture like prosciutto, it is still delicious in its own way. Some people said that salami tastes much sweeter than prosciutto. It's because this alternative also comes up in different techniques and flavor profiles.
You should choose an appropriate salami to round out the ultimate flavor. The one having a spicy taste and a hint of sweetness should be the first selection. It will fit in most of your recipes, from salads, sauces, stew to sandwiches, pizza, and rolls!
What about the ratio? Well, the same amount of "right" salami can work well in replacing your prosciutto.
6. Capicola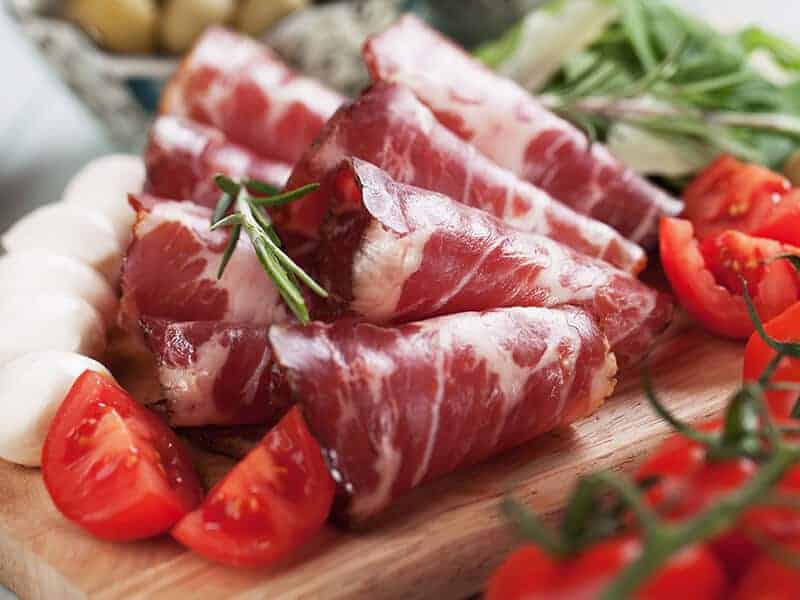 "Capicola," "coppa," or "capocollo," whatever you call it, is definitely one of the most common replacements for your prosciutto. And of course, this is one of my favorite foods too. Capicola is dry-cured meat that originated from a pig's shoulder or neck meat.
As a result, you can see the white fat veins running all over the pink slices. When eating, you will find it smoky, fattier, softer, and subtle than the taste of prosciutto. Furthermore, the salt content in capicola is lesser too.
Despite some insignificant differences, capicola is never a bad choice. Don't forget to ask for the thin slices as prosciutto when you buy them in the supermarket. Same size, same flavor!
Freely using an equal portion like prosciutto and adding it into your pasta, pizza, frittata, sauces, salads, soups, or topping it into your bread to have a savory breakfast is an excellent idea.
Note: Avoid the sweet-cured Capicola. It can overpower your food with its bold sweetness.
7. Guanciale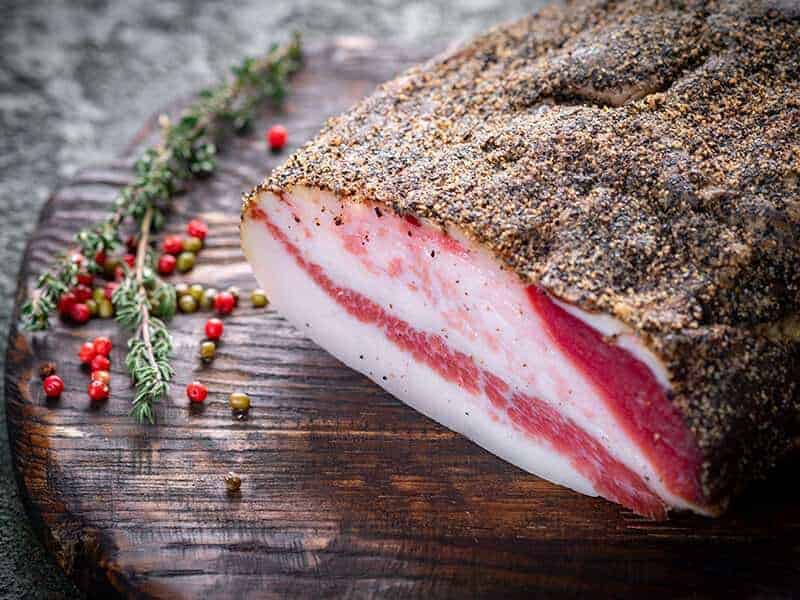 In Italy, all parts of a pig are appreciated. If prosciutto is made from the pig leg, capicola is taken from pig shoulder, and pancetta is derived from pig belly, guanciale, on the other hand, originated from pig cheeks. This substitute is easily recognized by its rich fat content.
I don't know how many cured types of meat the Italians own, but I'm sure that guanciale totally can satisfy you. From the outside look, guanciale seems quite greasy with the large meat covered with fat. However, once you cook it properly, it can be surprisingly well-tasted.
You may not get the smoky tone in this alternative. Due to sharing some common spices such as sugar, salt, pepper, garlic, you don't need to worry about the unrelated flavor between guanciale and prosciutto.
Let's apply this option to all pasta varieties like carbona and amatriciana; you will never be disappointed. Use a smaller amount than prosciutto to achieve the wanted flavor.
8. Culatello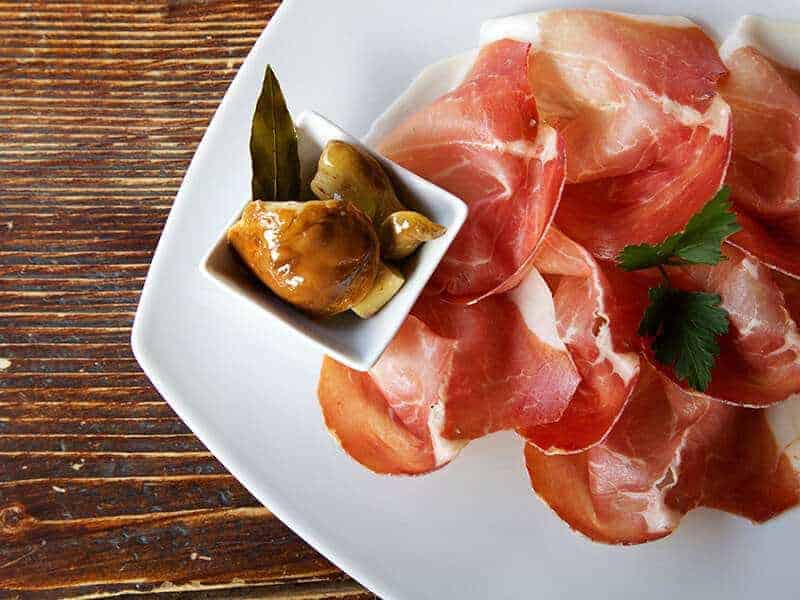 Similar to prosciutto, culatello is also a part of pork leg. The only difference is people use the loin cut of the leg to make culatello, resulting in the leaner ham. Because of being cured and aged in a beef or hogs bladder, culatello has a more concentrated and sharper flavor.
While possessing the lighter smokey taste, culatello gives off a saltier flavor. Once you accidentally add too much culatello, it will ruin your dish. Hence, consider carefully as it will be, or you may end up with a salty plate.
Use a smaller amount first to detect the taste, then add more according to your preference. Remember, culatello is quite expensive. Treat it well, so you don't waste your pay.
Note: Pizza and pasta are classic treats to add culatello in. Besides, culatello is good as a starter. Serving it with watermelon and cantaloupe will be great.
9. Jamón Serrano (Serrano Ham)
I bet many of you are familiar with this alternative. Jamón Serrano, also called serrano ham, is a famous delicacy in Spanish cuisine and the world. This ham production process is quite like prosciutto.
One different thing is it is made from the Landrace white pig. Both the appearance and flavor of jamón serrano are said to be similar to prosciutto. Some diners also say that it has a hint of nutty flavor.
In general, jamón serrano is less salty than prosciutto. But don't worry, the long curing and aging time brings you intense taste, which is enough to push up your dish flavor.
In terms of ratio, use the equal amount of jamón serrano in recipes that prosciutto is presented. Pair this alternative with vegetables, cheese, fruits, and bread. And taspa is also a recipe you should leave behind.
10. Jamón Ibérico (Iberico Ham)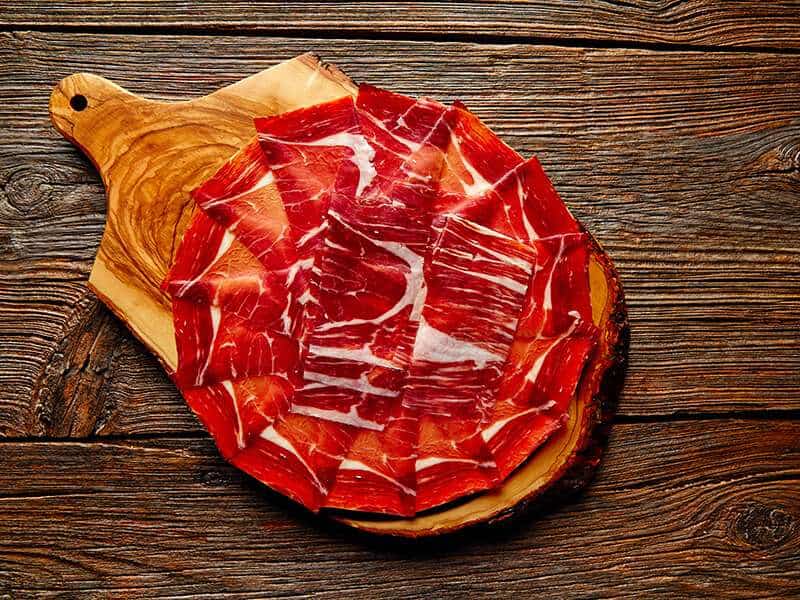 Jamón ibérico, or iberico ham, is known as the world's most expensive ham. The main ingredient of this ham is black Iberian pigs – a rare breed of pig that is nourished under the strictest standards.
Furthermore, due to the long curing process (up to 2 years), the meat is just a flavor explosion. It's intense, salty, sweet with a hint of nutty flavor. With a smooth texture and rosy red meat, Jamón ibérico can easily arouse your appetite.
Also, this ham has a high-fat content. If you love a rich flavor, don't hesitate to pick it up.
It's so expensive? Yes. But it is worth every penny! You can buy it and serve savory treats on special occasions. Top it in a toasted sandwich with tomato and olive oil. Also, poached eggs are an ideal companion too.
Note: The same portion is the best formula (or a smaller amount if you are afraid of the intense taste).
So, what's more about this most expensive ham's main material?
11. Beef Bresaola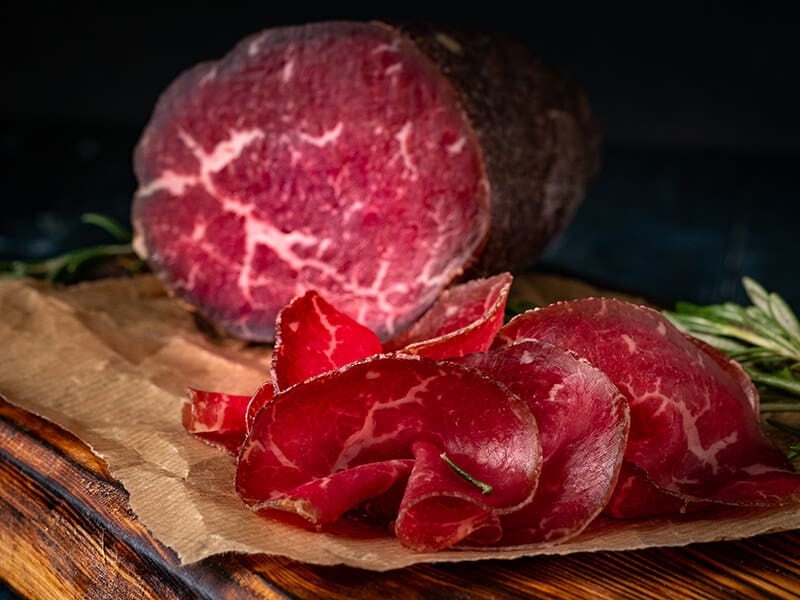 Beef bresaola is a gift for those who can't eat pork. This replacement is also rooted in Italian. As the name suggests, beef bresaola is made of beef which is air-cured and aged for about 2-3 months.
Compared to other cured meat products, beef bresaola is leaner because of containing a very tiny fat content. This cured meat has a signature dark red (almost purple color). It reminds you of the flavor of pastrami with a sweet, nutty garlicky, and musty taste.
You also can expect a milder flavor in comparison to prosciutto. Depending on your favorite, take the amount of beef bresaola you are comfortable with. Serve it with crackers, crusty bread, cheese, pizza, salads, or vegetables.
12. Speck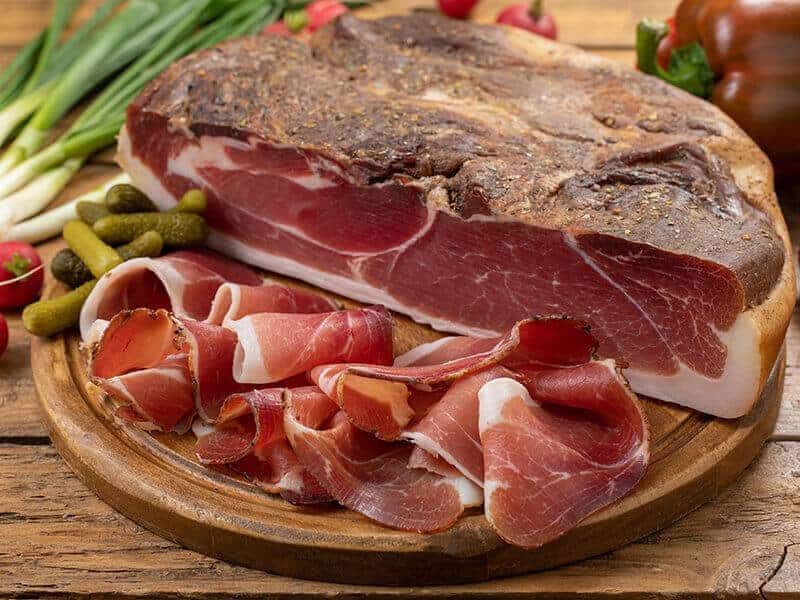 Don't count. You can never count all the cured meat recipes this boot-shaped country has offered to the world's cured meat industry.
Yes. Speck is another made-in-Italy cured meat. When it comes to production, the standards are stricter. Only high-quality pork legs are selected.
Unlike its closest relative, specks have a darker color and denser texture. A load of spices is added to get the unique flavor, described as deep, savory, and smoky with a hint of juniper and bay leaf.
Being smoked outside in nature, it is believed to possess a mountain-like flavor too.
Red radicchio, eggs, and pasta are the best companions. Additionally, you also can use speck in canederli, antipasto, or other cold recipes. About the suitable ratio, adjust yourself. All you need to keep in mind is that the taste of speck is more intense than your prosciutto.
13. Mortadella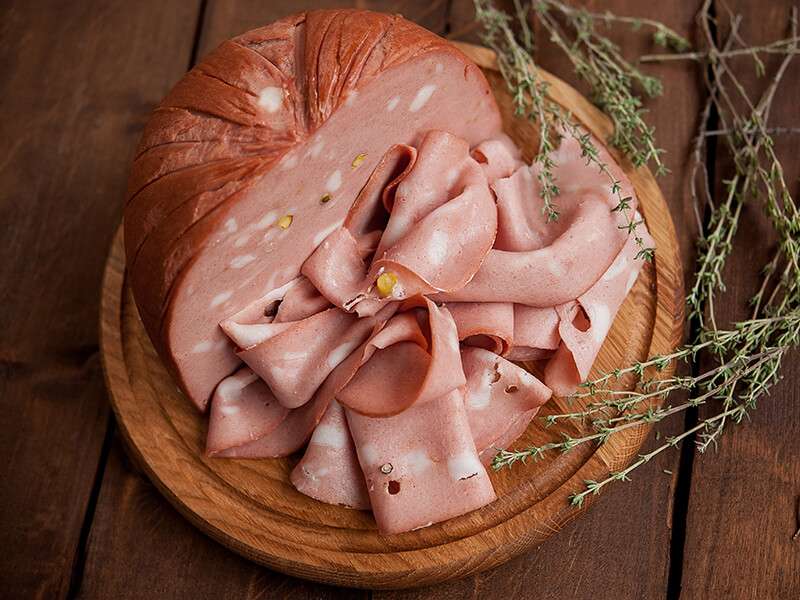 Mortadella is another kind of Italian sausage. It is the cousin of salami, but both of them still share distinctive features. Mortadella has a pastel pink look with while "spots" identifying as its fat content.
This replacement gives off a salty, mild pork flavor, lighter than bacon but stronger than pork chop or pork loin. On the textured side, mortadella is surely thicker than prosciutto since the meat experiences a grinding process with a mortar.
Moreover, some uncommon ingredients of mortadella, such as black pepper, pistachios, or myrtle berries, make it unique and more special than all other kinds of Italian sausage.
Though mortadella can not exactly duplicate the flavor of prosciutto; however, mortadella will be the outstanding alternative in case you want a new experience. You can begin with a little first. Change the portion flexibly to get the ideal taste.
Note: Like other sausages, mortadella shows its best in bread, sandwiches, or simply eaten alone.
14. Cheese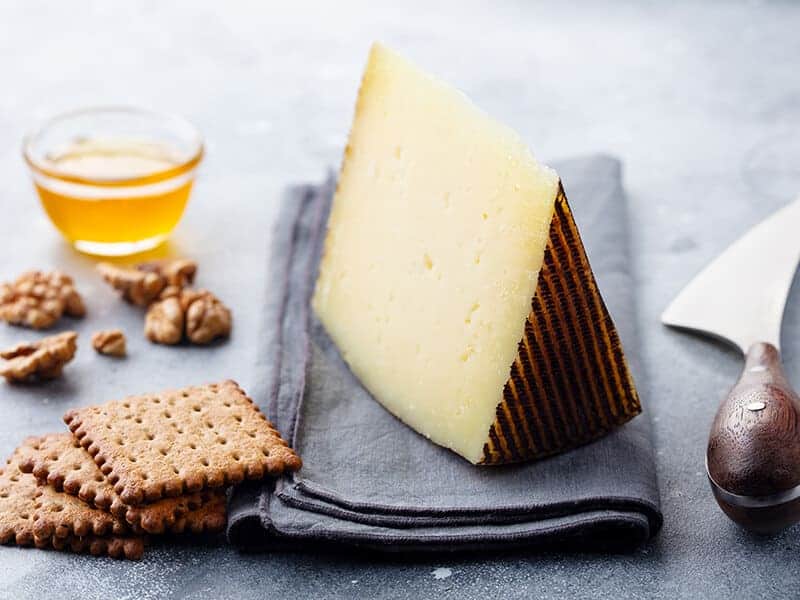 Cheese is always my prioritized choice whenever I want to go for a non-meat prosciutto substitute. With the naturally salty, rich, and creamy flavor, cheese brings you a satisfying feeling that can be found when eating prosciutto and other varieties of cured meat.
It is recommended that you should replace prosciutto with hard-aged cheese; for example, Asiago cheese, Swiss cheese, Romano cheese for the closest taste of prosciutto. Aso, Parmesan Reggiano, and Manchego cheese should be considered.
Cheese is a good material to add to the appetizers' recipes. You only need to cut it off preferentially to serve with sandwiches, add it into your salads, or wrap your cheese around a breadstick. Take the desired amount, as every cheese will work well in different ratios.
15. Toasted Nuts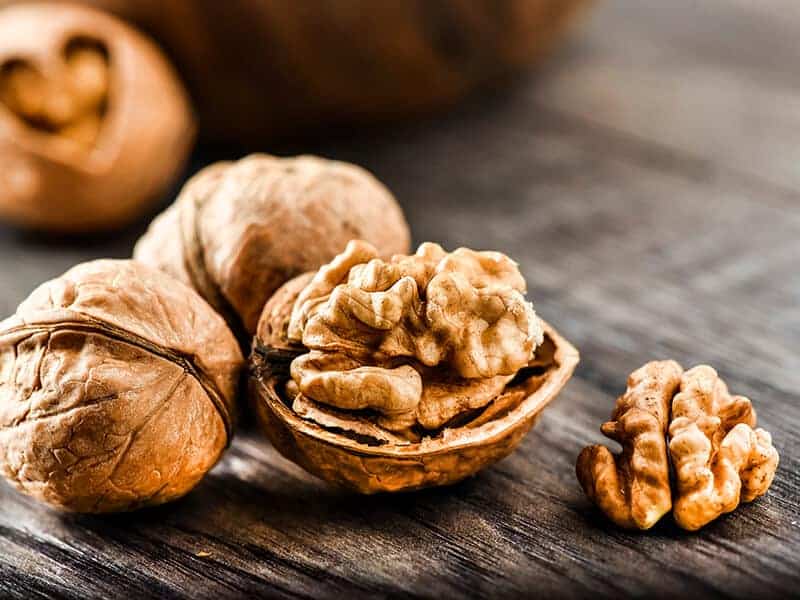 I know that some of you might wonder whether a vegan substitutes for prosciutto. Yes, it is! Almost all kinds of toasted nuts can be used to alternate your meaty prosciutto.
Walnuts and almonds are the two most appropriate choices. Being toasted with salt, they bring out a pleasant and aromatic nutty flavor. Paprika can be added together to pull out the authentic sharped and fragrant taste of them.
You don't know how to treat toasted nuts? Okay, sprinkle it on the top of a pizza, serve it with cheese, or boost up the pasta, risotto, and salads flavor with a pinch of nuts. This substitute doesn't have a specifically designated ratio. Just pick up a number of nuts as wanted.
Note: Aside from toasted nuts, chickpeas also can join the play.
16. Mushrooms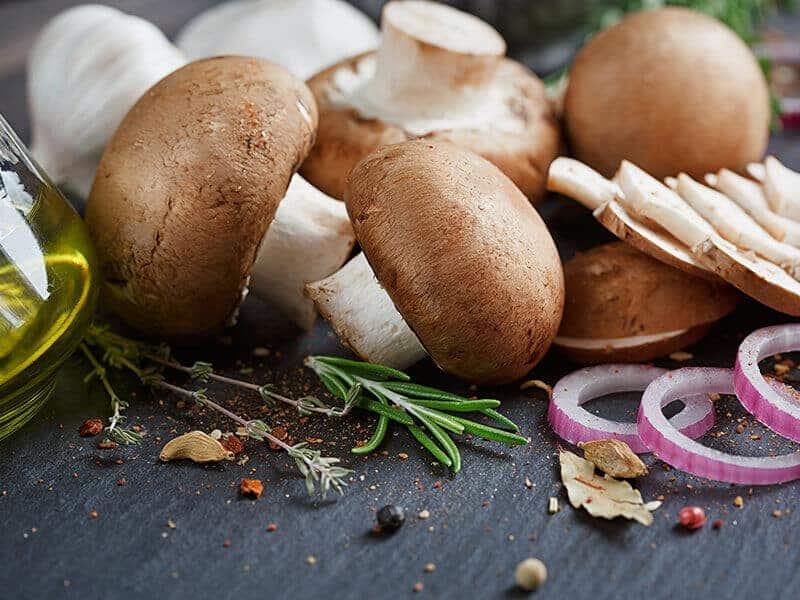 If you are looking for a substitute that can be an available option for both non-vegan or vegan people, mushrooms have to be prioritized. By using mushrooms, you can receive an umami flavor that even some other meat substitutes can not give you.
Portobello, Shiitake, button mushroom or any other bold mushrooms should be your first picks since they can give off a strong meaty flavor, especially when they are caramelized. Caramelized mushrooms can upgrade many of your baked food recipes requiring prosciutto.
The tasty and rich flavor can easily hook you up for a long time. Besides baked dishes, salads, pasta, sauces, pizza, tacos are also the perfect treats for your mushroom. The ratio? Use the same volume as prosciutto!
Plus, mushrooms are also good for your health, such as boosting heart health and immune system, having antibacterial and antiviral effects, containing antioxidant properties, and providing many nutrients. (2,3)
17. Phyllo Dough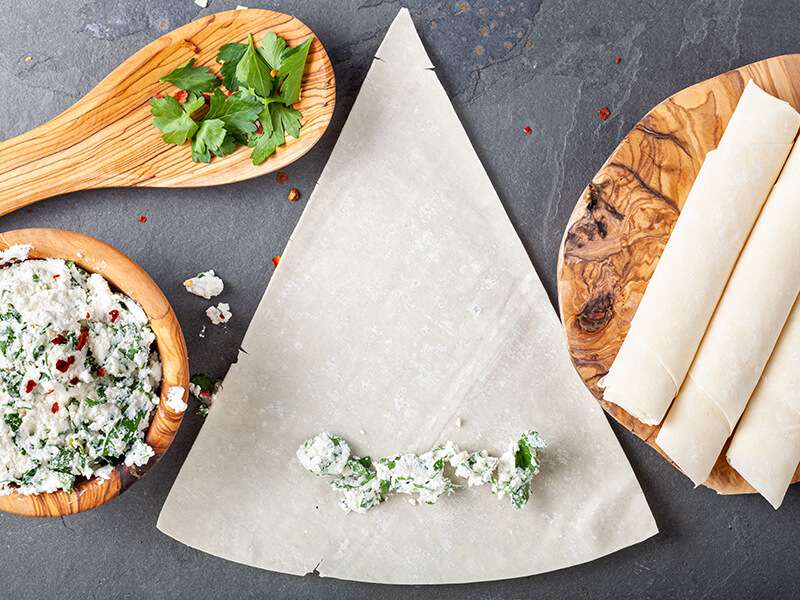 It seems weird to use a flour-based product to substitute for a meat-based one. Yes, it's weird. But it really does work! Not only is phyllo dough an essential ingredient in making pastries, but it also can be used to substitute your prosciutto in some recipes.
And if prosciutto cups are your favorite, don't be afraid; use phyllo dough in this recipe. It will bring you a similar crunchy texture and flavor as prosciutto does.
I believe flour is an all-time item in your kitchen, right? Take it out and prepare now! You can adjust the amount of phyllo dough freely according to your favorite. You know, as long as you are comfortable with it, it is a good recipe!
FAQs
These frequently asked questions below might solve all of the remaining problems toward prosciutto and its alternatives. Spend some minutes to figure out the answers.
Don't Give Up Your Recipe Just Because Of Lacking Prosciutto
Prosciutto is a famous Italian delicacy that can be used in a ton of recipes. But don't be panicked if you cannot find them in your city supermarket. Take note of all the substitutes in this post and consider their possibility in your recipes.
Once you pick the right one, magic can happen. With these substitutes, you still have breathtakingly delicious dishes to share with your family and friends. Cooking should never be limited in old and bland ways.
That's all for my post today. I hope you can enjoy this post and figure out the most suitable prosciutto replacements for your recipes. Don't forget to let me know your opinions in the comment section below. I'm always here to read all of them!
References
Prosciutto – Wikipedia. En.wikipedia.org. 2021.
Rena Goldman. Are Mushrooms Good for You – Healthline. 2017.
Kerri-Ann Jennings. Why Shiitake Mushrooms Are Good For You – Healthline. 2019.