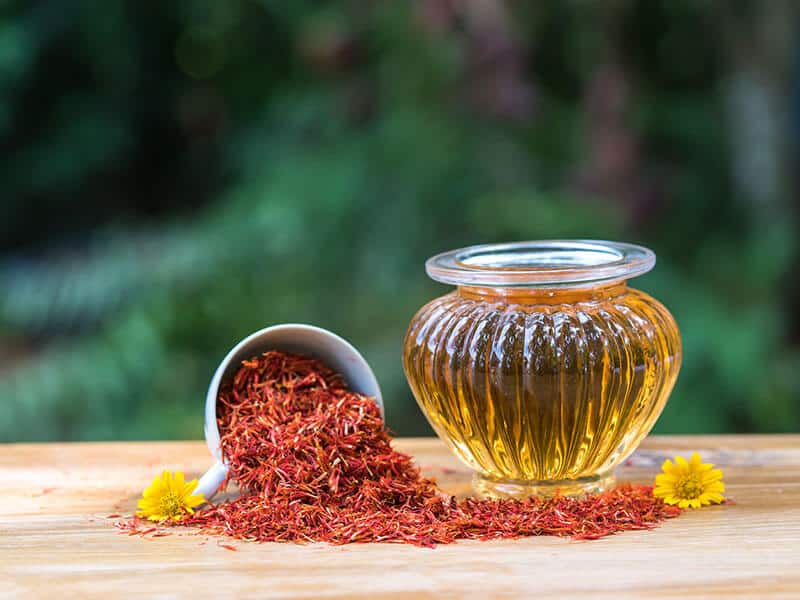 Finding the proper safflower oil substitute can be difficult since safflower oil has a higher nutritional content and smoke point than other cooking oils. What's more, this healthy oil has a neutral taste and is easy to incorporate into any dish.
How to find an alternative that meets both these factors well? Don't be confused! I have a great list of cooking oils below to help you out! From my experience, all of them are great substitutes in case you are short on safflower oil.
What Is Safflower Oil?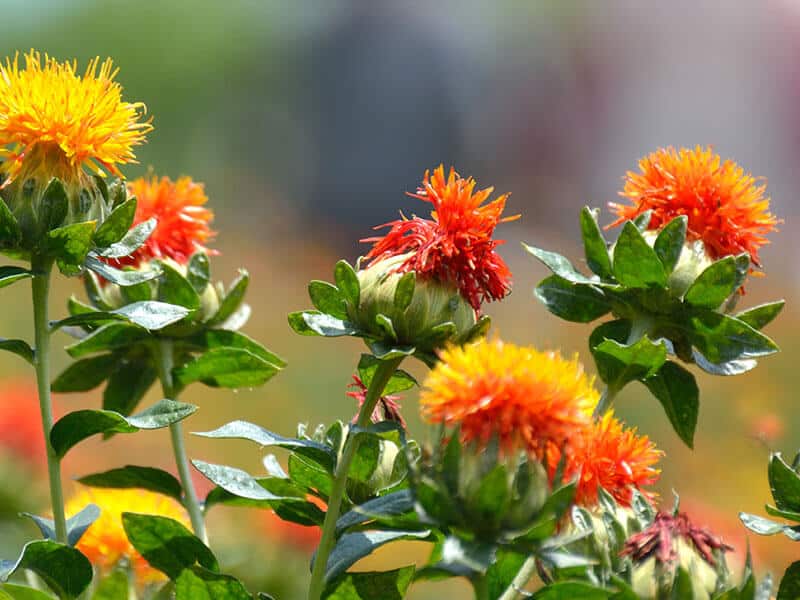 Safflower oil is an oil extracted from the seeds of the safflower tree, which is one of the oldest plants with origins dating back to ancient Egypt and Greece. Safflower is a tall plant with pointed leaves and yellow or orange flowers.
To extract this oil, safflower seeds can be expeller pressed or solvent expelled. This oil has an absolutely high smoking point of up to 510F, so it can be used for high heat cooking methods.
Safflower oil has two popular types on the market:
High-oleic: contains a lot of monounsaturated fats, suitable for cooking at high temperatures.
High-linoleic: high in polyunsaturated fats, which are suitable for unheated food.
Smoke Point Of Safflower Oil And Its Substitutes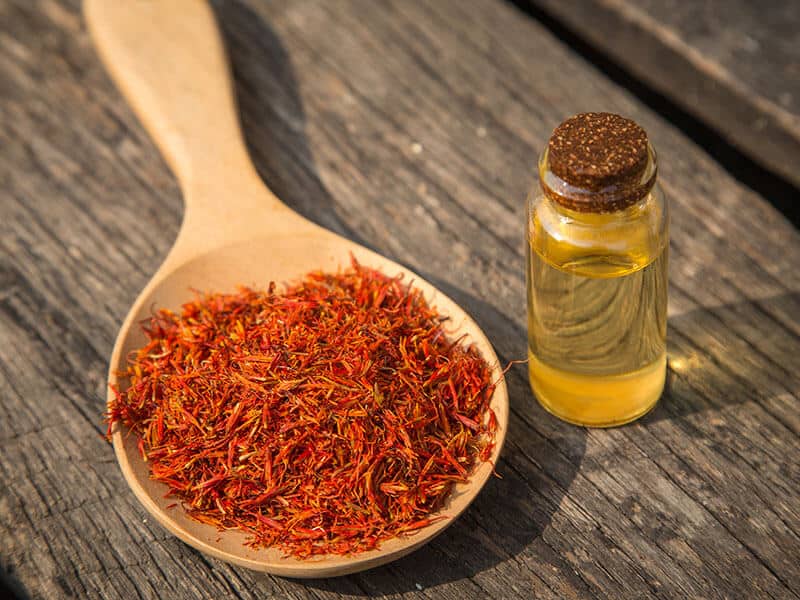 The most important thing when using oil in cooking is not to exceed its smoke point. If you do not pay attention to this, the oil will produce several harmful substances that negatively affect your health. The following table compares the smoke points of safflower oil substitutes in order from highest to lowest:
| | |
| --- | --- |
| Type of Oil | Smoke Point |
| Safflower Oil | 510F/265C |
| Avocado Oil | 480F/250C (unrefined), 520F/270C (refined) |
| Soybean Oil | 450F/230C |
| Peanut Oil | 450F/230C |
| Corn Oil | 450F/230C |
| Sunflower Oil | 450F/230C |
| Hazelnut Oil | 430F/220C |
| Vegetable Oil | 400-450F/205-230C |
| Canola Oil | 400F/205C |
| Grapeseed Oil | 420F/215C |
| Extra-Virgin Olive Oil | 374–405F/190–207C |
| Coconut Oil | 400F/205C (unrefined), 350F/176C (refined) |
| Wheat Germ Oil | 225F/107C |
| Apricot Kernel Oil | 495F/257C |
| Borage Seed Oil | Should not be exposed to heat |
You can see this video to know more:
Safflower Oil Substitutes: 14 Best Choices For Your Health
Choosing an affordable alternative to safflower oil is not easy. So let me help you with these 14 great oils to replace below:
1. Avocado Oil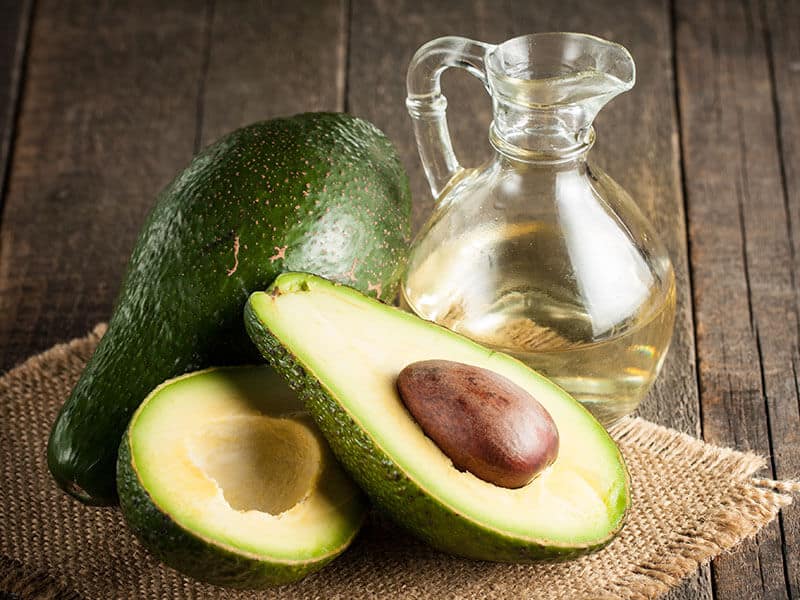 Avocado oil is the fat obtained after pressing and processing the pulp of an avocado. Like safflower oil, about 70% of avocado oil is oleic acid, a heart-healthy, monounsaturated omega nine fatty acids.
In addition, avocado oil also contains omega-6 and omega-3 fatty acids. These fatty acids can regulate blood pressure, reduce cholesterol, prevent type 2 diabetes, etc.
Avocado oil has two types. Unrefined avocado oil is healthier and more natural than refined avocado oil. It preserves the flavor, nutrients, and characteristic aroma of butter. However, it has a lower smoking point than refined avocado oil (480F vs. 520F).
You might consider opting for refined avocado oil if you need to cook at high temperatures and unrefined avocado oil if you want its signature flavor to linger in your dish.
2. Soybean Oil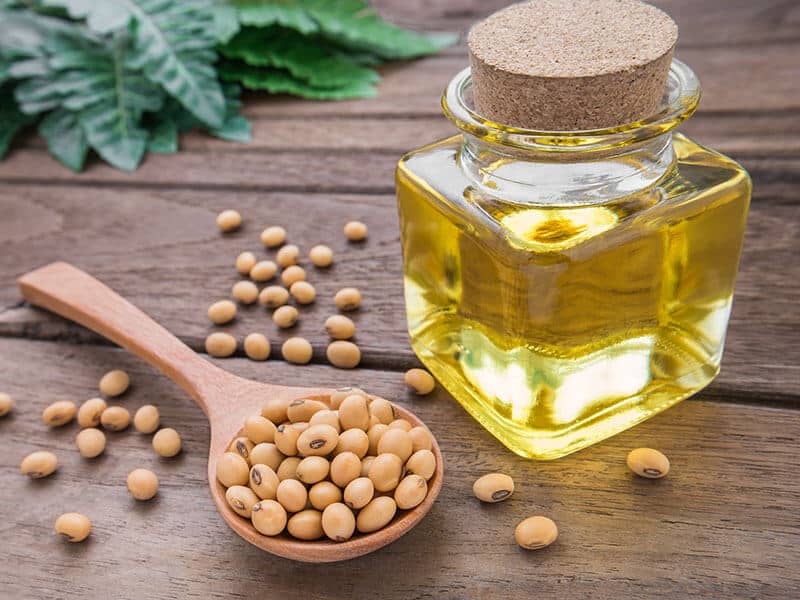 Soybean oil belongs to the group of vegetable oils, which can be sold in its pure form or mixed with other vegetable oils depending on the purpose. Because of its mild and neutral flavor, soybean oil can be used in place of safflower oil, as well as sunflower, corn, or canola oil.
It has a high smoke point close to safflower oil of 450F, so you can use it in place of safflower oil in frying, sautéing, sautéing, baking, etc. In addition, soybean oil also contains monounsaturated fats such as oleic acid that give this seed oil a stable structure, suitable for cooking at high temperatures for more extended periods.
Not only for cooking, but soybean oil is also commonly used in packaged foods, sauces, baked goods, and snacks. In addition to fat, soybean oil is also considered a rich source of vitamin K and vitamin E for the diet.
This oil also contains many of the same healthful unsaturated fatty acids as safflower oil. Specifically, this oil has many polyunsaturated fats such as omega-3 and omega-6, which is considered a source of linoleic acid that is essential for human health because our body cannot produce it on its own.
3. Peanut Oil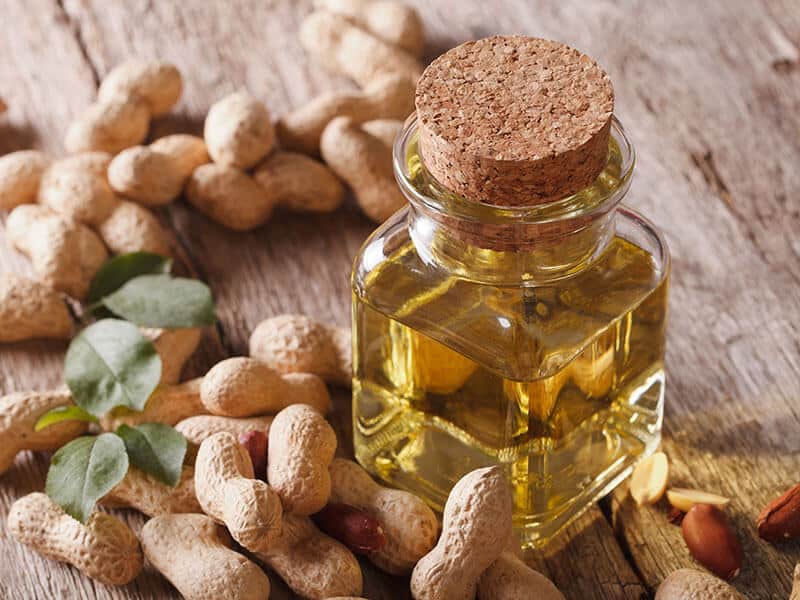 Peanut oil is an oil made from peanuts, also known as Arachis oil. Because of its high smoking point (reaching 450F), peanut oil can be used to fry foods instead of safflower oil. Peanut oil is especially suitable in baking recipes such as cookies.
Peanut oil has different flavors depending on the processing method, from light and sweet to bold and aromatic. Peanut oil makes a dish more flavorful than safflower oil. So use it in moderation as it can leave a distinct peanut flavor in your dish.
Peanut oil includes much-monounsaturated fat like safflower oil, so it is often used for high-temperature cooking methods. In addition, this vegetable oil also provides a significant amount of vitamin E – an antioxidant active, beneficial for health.
However, peanut oil has a small amount of saturated fat (palmitic acid). Therefore, you should consider using it in moderation. People with nut allergies should use refined peanut oil instead of cold-pressed peanut oil.
4. Corn Oil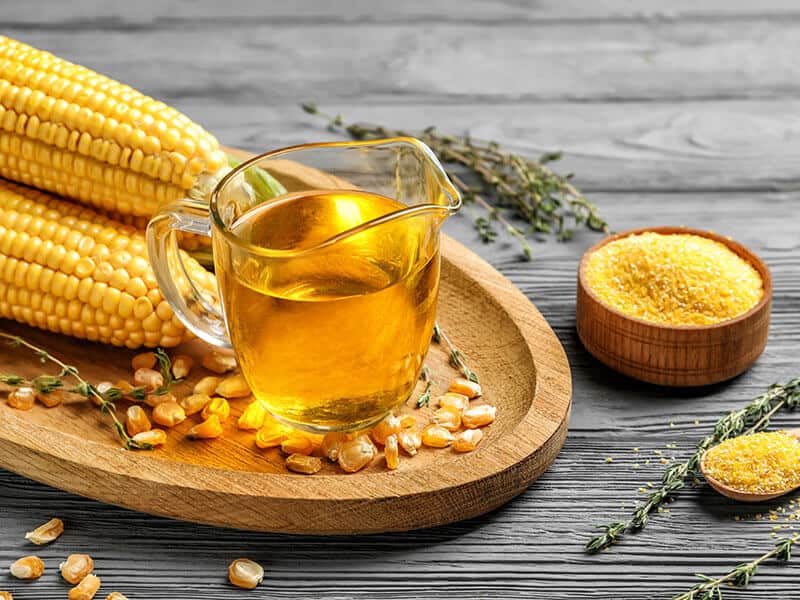 Corn oil is extracted from the corn germ. This is a popular cooking ingredient because it contains many elements that are beneficial to health. You can choose extra virgin corn oil (unrefined oil with full nutrition) to have a neutral taste like safflower oil.
Many studies show that corn oil can reduce harmful fat in the body than olive oil because it contains omega-6 fats like safflower oil. Eating foods prepared with corn oil can help you avoid heart disease and lose fat.
Its average smoke point is 450F, making it suitable for cooking at medium temperatures. You can use it in place of safflower oil for sautéing or cooking everyday dishes to enhance the taste of the delicacy. Corn oil has a mild buttery flavor that is great for your salad dressing, too.
5. Sunflower Oil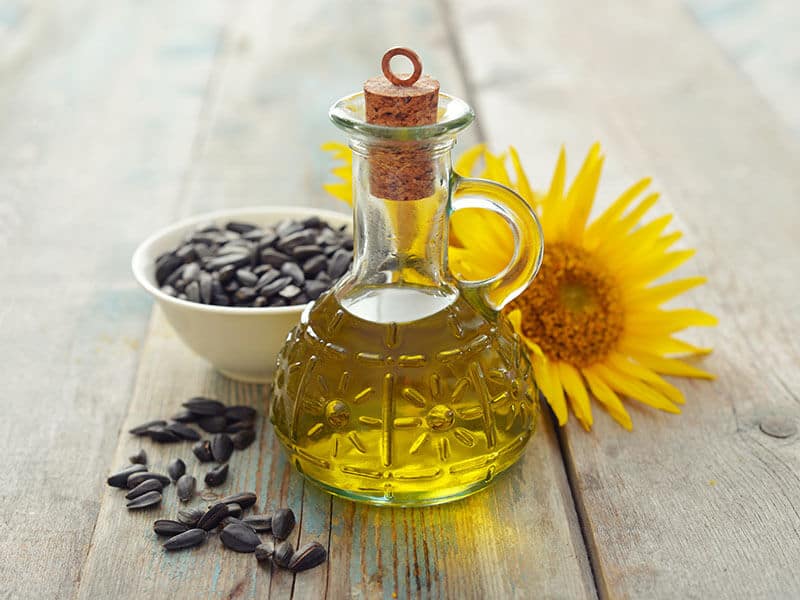 Sunflower oil is an oil extracted from sunflower seeds by direct pressing or using chemical solvents. Refined sunflower oil is clear, slightly amber in color, neutral in taste, and has a somewhat fatty smell similar to safflower oil. The cold-pressed type can be more buttery and nutty.
Sunflower oil consists mainly of triglycerides in varying proportions. Depending on the variety and production method, sunflower oil contains different levels of fatty acids. Most are monounsaturated fats (omega-6) like safflower and polyunsaturated (acidic acid). linoleic) along with large amounts of vitamin E.
Its smoke point is slightly lower than safflower oil and relatively high (450F), so you can use it as a replacement oil for stir-frying and deep-frying. Sunflower oil gives a beautiful mild flavor to the dish you are making. It may also help reduce the risk of cardiovascular disease.
6. Hazelnut Oil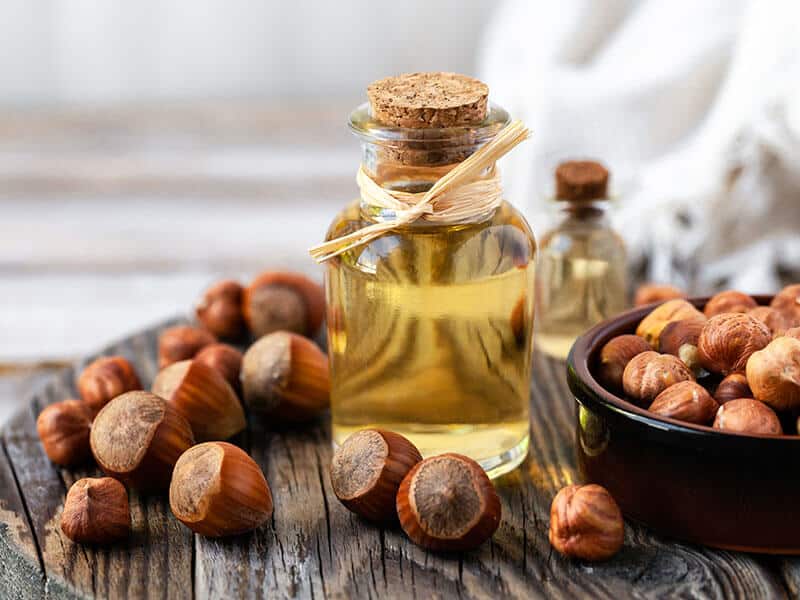 Hazelnut oil is a low-viscosity, high-permeability carrier oil extracted mainly from witch hazel seeds of Corylus avellana. This is another all-purpose oil that can be used as an alternative to safflower oil in cooking and beauty. It has a mildly sweet, nutty, and roasted taste.
It is rich in nutrients, including linoleic acid, protein, unsaturated fats, and vitamins E, A, K. With a high smoke point of 430F, close to safflower oil. You can use hazelnut oil to give it a boost—an attractive flavor for fried or grilled dishes.
The taste of hazelnut oil is not as mild as that of safflower oil, But you can take advantage of this to give a more prosperous and richer flavor to your dishes or salads. As far as health is concerned, this is definitely the ideal alternative to safflower oil.
7. Vegetable Oil
Vegetable oils are oils extracted, distilled, and refined from plants that are rich in essential oils. The main components of vegetable oils are unsaturated fatty acids, liquid at room temperature for easy absorption by our body.
Like safflower oil, vegetable oil has a mild and neutral flavor, so it won't affect the taste of any dish you put it in. With a smoke point of 400-450F, it can be used in place of safflower oil in baking, cooking, and sautéing.
In vegetable oils, cholesterol has a shallow dose that is negligible and is unlikely to cause harm to human health. Vegetable oils contain polyunsaturated and monounsaturated fats like safflower oil, which help reduce bad cholesterol.
However, many vegetable oils still contain significant amounts of trans fats, so you shouldn't take too much if you want to keep your heart healthy. Consider this oil only as an option to flavor dishes!
8. Canola Oil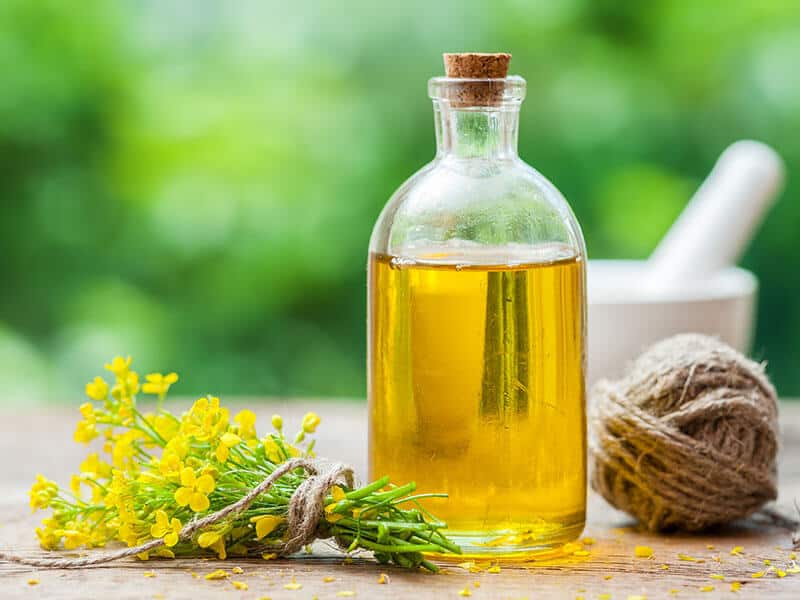 Recently, canola oil has been widely loved since it is exceptionally beneficial to health. Through the process of cleaning, pressing, and refining, canola oil is obtained, which has removed harmful compounds.
Canola oil contains many of the same healthy nutrients as safflower oil. It provides healthy fats for the body: low saturated fat content (about 7%). The rest are monounsaturated fats (64%) and polyunsaturated fats (28%).
One more reason canola oil is a good substitute for safflower oil is about taste. It has almost no specific flavor so that it won't affect your dish. The 400F smoke point makes it suitable for stir-fries, fried foods, baked goods, etc.
9. Grapeseed Oil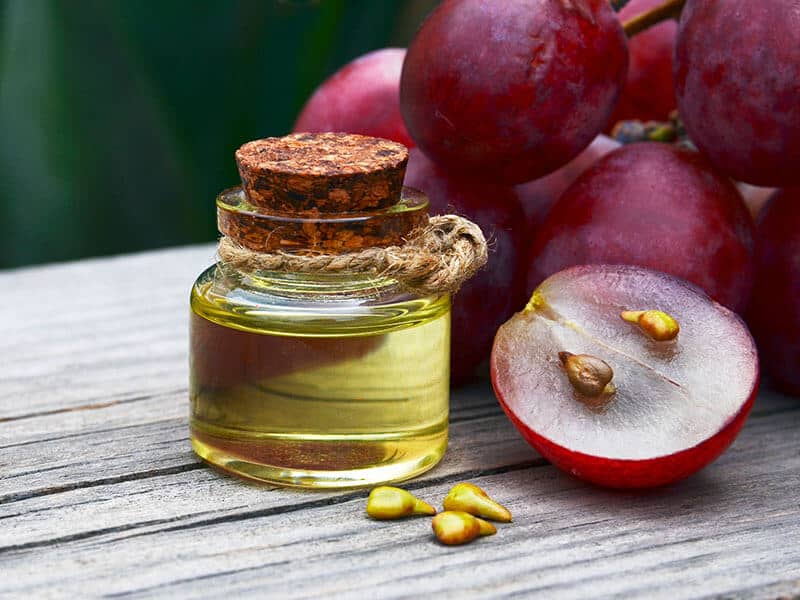 Besides safflower oil, grapeseed oil is also a popular product because of its many health and beauty benefits. This is a by-product of the winemaking process. After pressing the grapes to get the wine juice, the remaining seeds will be cold pressed to produce grape seed oil.
Grapeseed oil has been removed from the solvent during the production process, which is very safe for health. You can use this oil in cooking, beautiful skin, and hair care instead of safflower oil.
Compared to safflower oil, grapeseed oil has a slightly lower smoke point, around 420F. With this smoke point, this oil is also suitable for cooking at medium temperatures such as baking, pan-frying, or sauteing.
10. Extra-Virgin Olive Oil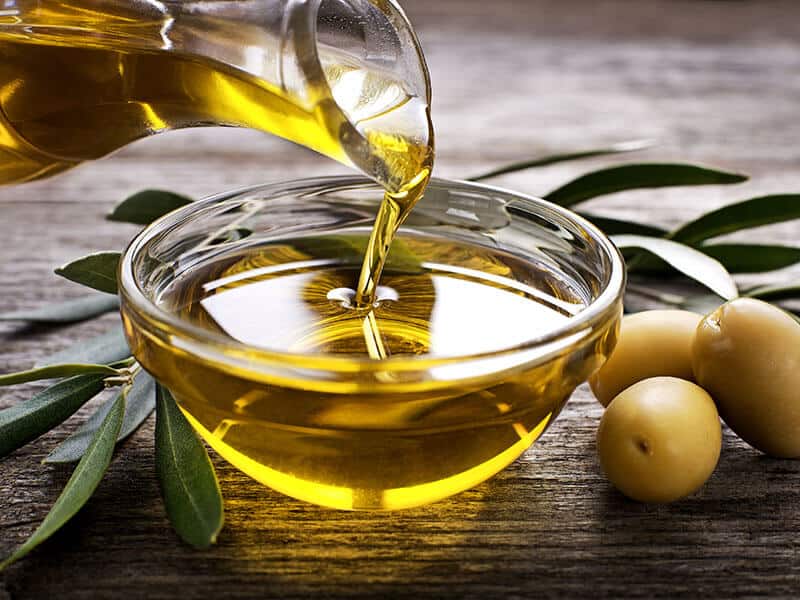 Olive oil is an oil extracted from olives that are native to the Mediterranean region. Among the types of olive oil, extra virgin olive oil is produced by natural methods, standardized in purity, ensuring the inherent odor and taste factors of the oil.
Nutritionists announce that olive oil is rich in omega-3 fatty acids – a type of polyunsaturated fat. In addition, olive oil also contains healthy monounsaturated fats similar to safflower oil. These fats have the effect of reducing bad cholesterol – the cause of the increased risk of cardiovascular diseases for the body.
Arguably the healthiest fat substitute for safflower oil out of all the oils. It offers a lot of health benefits. However, olive oil has a relatively low smoking point of about 374–405F, making it unsuitable for long-cooking dishes such as sautéing, sautéing, and deep-frying.
The best way to use olive oil in place of safflower oil is in salads. Other foods that do not use heat are also delicious when using olive oil to prepare, such as sauces, soups, and other healthy dishes.
11. Coconut Oil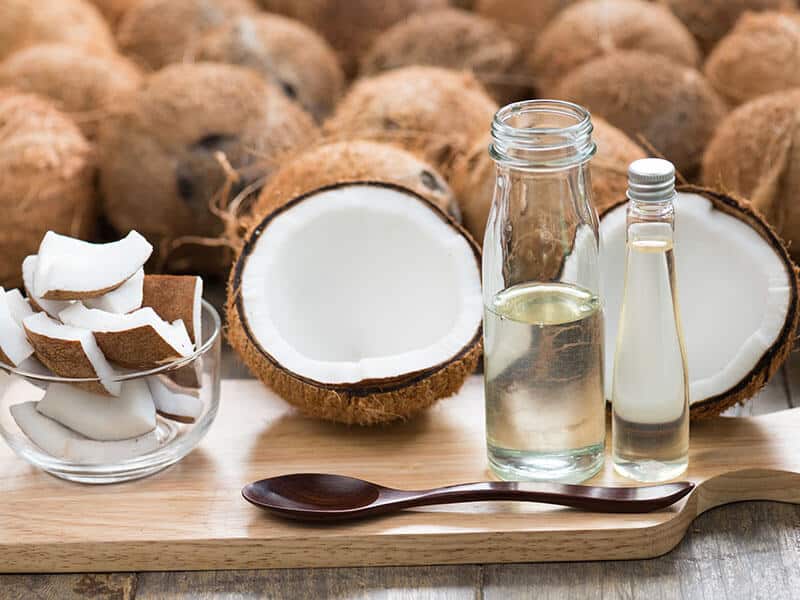 Coconut oil is used in many fields, including food, pharmaceuticals, industrial products, and home cooking. Refined coconut oil that has been deodorized and bleached. It is pressed in a hydraulic press (hot temperature) to extract coconut oil.
Refined coconut oil does not have a distinctive coconut taste and aroma, so you can use it instead of safflower oil without changing the dish's flavor. Because of its stable smoke point at 400F, coconut oil is suitable for medium-temperature cooking and baking.
If you want a slight coconut flavor in your dishes, try using unrefined oil. Moreover, coconut oil is less prone to oxidation due to its high saturated fat content. It is resistant to rancidity and has a long shelf life from 6 months to 24 months without spoiling. Just remember that it has a lower smoke point at 350F.
Let's see how to make coconut oil at home!
12. Wheat Germ Oil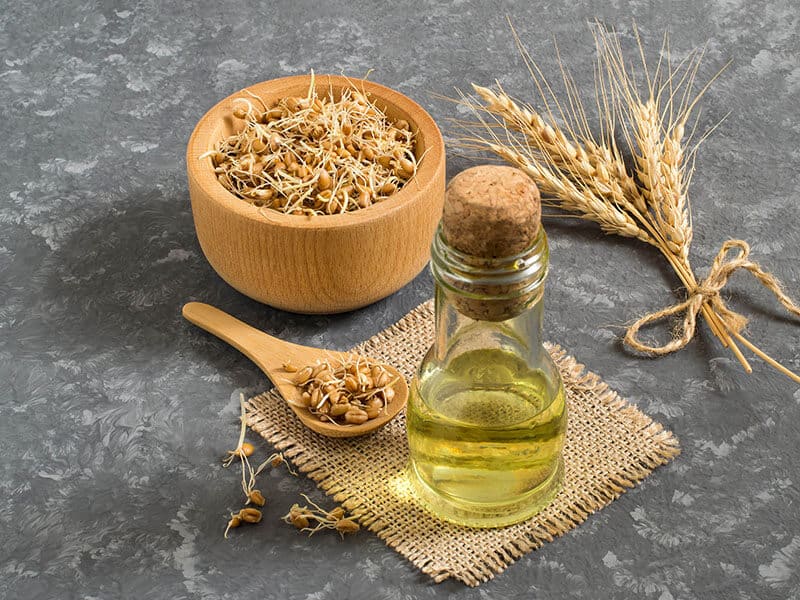 Wheat germ is considered a healthy grain as it is an excellent source of most of the B vitamins, riboflavin, pantothenic acid, etc. Wheat germ oil – the oil condensed from the germ of the wheat kernel – is packed with vitamins D, A, and E, proteins, and antioxidants.
That makes it a beneficial ingredient in making salads, as well as in skin and hair care. Here's another healthy fat that you can use in place of safflower oil in dishes that don't require heat (since its smoking point is only 225F) to prevent the oil from burning.
The content of good fats and vitamin E in wheat germ oil is exceptionally high. You also can use this oil to make salads, make sauces, dips, or some heat-free snacks for a more nutty flavor.
13. Apricot Kernel Oil
Apricot kernel oil is extracted from the seeds of apricots. This is a versatile alternative to safflower oil: both for cooking and for the skin. Yes, apricot kernel oil is a versatile oil with a very fine texture and a high smoke point of up to 495F to suit almost any recipe.
With this smoke point, you can use apricot kernel oil in pan-frying and sautéing recipes. It has a mild flavor and slight aroma like safflower oil, so it can be easily substituted without overpowering the flavor of the dish.
You can also use apricot kernel oil directly instead of safflower oil on your skin because it penetrates extremely well. This is a well-known emollient that is non-greasy and extremely rich in nutrients to nourish the skin.
Apricot kernel oil does a great job of soothing the skin, healing wounds, filling scars, and preventing breakouts, as well as hydrating the skin. It is also a popular oil for the eye that helps to reduce dark circles, puffiness and prevent wrinkles.
14. Borage Seed Oil
If you are looking for an alternative to safflower oil in your skincare routine, the borage seed oil is a great choice. It helps you take care of acne-prone skin thanks to its high linoleic acid content, similar to safflower oil. It also penetrates very well so that it is not sticky on the skin and hair.
However, you should not substitute this oil for safflower oil in cooking, even at low heat. Because the beneficial fatty acids in it will be decomposed immediately when exposed to heat. Therefore, you should only add this oil to the dish when it has cooled or use it to mix salads.
Health Benefits Of Safflower Oil
On average, each tablespoon of safflower oil provides 120 calories and 14 grams of fat. There are three types of fat: a little saturated fat, about 2 grams of polyunsaturated fat (good for the heart), and the rest is monounsaturated fat.
Safflower oil is virtually free of carbs and protein but does provide your body with about 4.6mg of vitamin E (equivalent to 23% of the RDI) (1) . Therefore, safflower oil offers several outstanding health benefits as follows:
Provide A Healthy Source Of Fatty Acids
Safflower oil is high in fatty acids, and a high-fat diet (found in this oil) helps hormone control and memory condition.
Not only that, but fat also supports the body to optimally absorb many fat-soluble vitamins such as vitamin A, vitamin D, vitamin K, and vitamin E.
Compared to avocado, sunflower, and olive oils, safflower oil contains fewer bad fats, reducing inflammation and supporting heart health if used correctly.
Stabilize Blood Sugar
According to some studies, a diet high in unsaturated fats can contribute to improved and well-controlled blood sugar.
In a study done in 2011, when consuming 8 grams of safflower oil daily for four months, the results showed an effect of reducing inflammation and improving blood sugar in women with type 2 diabetes and obese people.
Furthermore, replacing carbs with polyunsaturated fats positively affects many factors related to blood sugar, such as insulin regulation and insulin resistance.
Good For Heart Health
Blood cholesterol levels improved after four months of using safflower oil, thanks to the unsaturated fats in the oil that decrease bad cholesterol, thereby reducing the risk of cardiovascular disease (2) .
It has also been found that the unsaturated fats in safflower oil can thin the blood, make platelets less sticky, and prevent blood clotting – the cause of strokes and heart attacks.
At the same time, this oil also dilates blood vessels, thereby reducing blood pressure in people with high blood pressure.
Effective Anti-Inflammatory
According to the results of a study published in the journal Clinical Nutrition, the unsaturated fatty acids in safflower oil improve markers associated with inflammation, thereby supporting effective treatment of specific conditions such as heart disease and diabetes.
Safe To Cook At High Heat
High-oleic safflower oil has a higher smoke point than other oils such as corn, sesame, and olive oils, due to its high monounsaturated fat content.
Therefore, people use this oil for frying or in high-temperature cooking to minimize the creation of harmful compounds, including free radicals.
Good For Nourishing The Skin
Several studies have shown that safflower oil may provide pain-relieving, anti-inflammatory, and antioxidant effects.
Therefore, safflower oil is one of the ingredients in some skincare cosmetics with moisturizing, soothing effects, and other potential benefits for skin health.
FAQs
Safflower oil and its alternatives are an excellent source of nutrients for your health. Here are some helpful facts about these healthy oils that you may want to know:
Discover Your Best Safflower Substitute!
I believe the above list has brought you suitable alternatives to safflower oil. All of them are relatively beneficial to your health while enhancing the taste of your dishes.
Just be careful not to cook at temperatures above the smoke point, which will cause harmful transformations no matter what type of oil you are using. Finally, good luck with your cooking, and don't forget to share this post!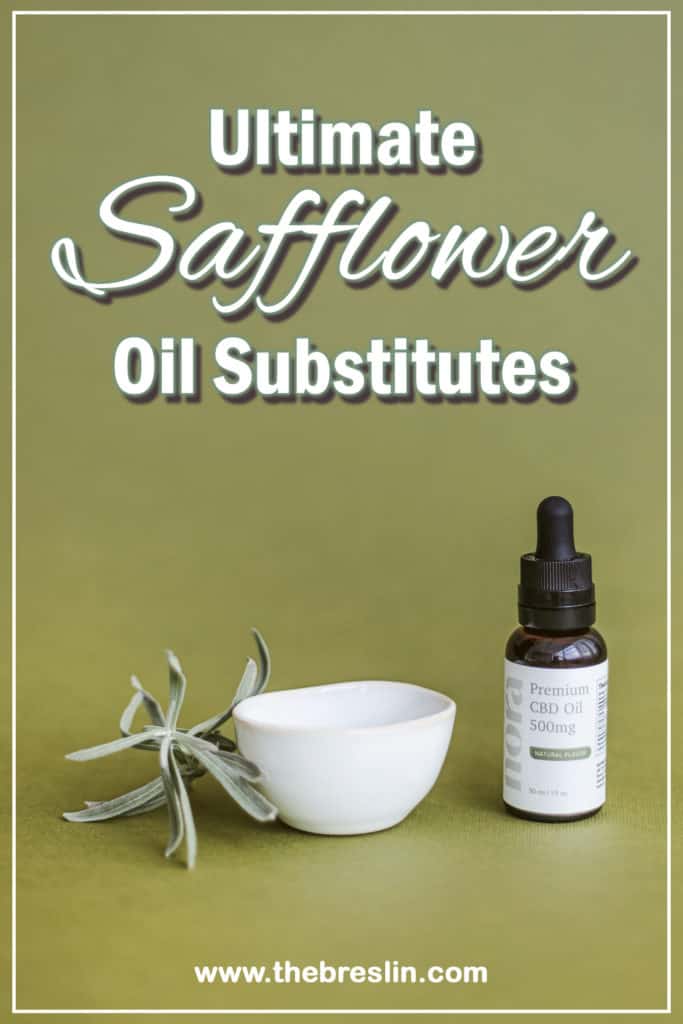 References
Frey, M., 2020. Why you should consume more Safflower Oil. Verywell Fit.
Carey, E., 2016. Safflower oil: A healthier cooking oil. Healthline.