There's nothing more exciting than searching around for some spelt flour substitutes. With baking, a minor change in the flour can lead to a significantly different result. That's why you need to choose carefully for the most reasonable alternatives to replace your spelt flour.
Besides that, you'll need to know about their appropriate conversion ratio, so your dishes won't end up too dry or too sloppy. All this knowledge will take tons of effort if you try to learn by yourself.
However, with this article, you don't have to spend that much time anymore. You'll find all the information you want here!
A Simple Lesson About Spelt Flour For All Bakers
Before learning about other alternatives, here is some essential information about spelt flour that you may find interesting, no matter if you are a beginner or a skilled baker.
Spelt flour is the production of spelt grains in Europe. Although spelt is also a wheat type, this flour doesn't contain much gluten like your regular all-purpose flour. That makes it a preferred choice for people with minor gluten sensitivity.
Spelt flour is appropriate for baked goods like bread, cakes, cookies, or even pasta. However, don't knead this flour too much, or else it'll crumble.
The only problem with spelt flour is it isn't available everywhere. And even if you find it, this flour will cost you lots of money. That's why many search for its substitutes. (1)
This wholemeal spelt bread can capture anyone's heart. See the video below:
12 Spelt Flour Substitutes For Your Beautiful Sweet Treats
You've been waiting long enough! It's time for you to find out all these great replacements for spelt flour and its characteristics. But first, let's glance at this proportion table below to know how much you should use to replace spelt flour.
| | |
| --- | --- |
| Spelt Flour Substitutes | Proportion (Spelt Flour: Substitutes) |
| Einkorn Flour | 1:1 ratio, with less water (1/3 cup less) |
| Kamut Flour | 1:1 ratio, with more water |
| Emmer Flour | Depending on your preferences |
| Amaranth Flour | 1:1 ratio (when used alone) 1:1/4 ratio (when mixed with other flours) |
| Barley Flour | 1: 1/2 ratio |
| Rice Flour | 1: 1/3 ratio |
| Brown Rice Flour | 1: 1/3 ratio |
| Oat Flour | Depending on your preferences |
| Buckwheat Flour | A bit less |
| Quinoa Flour | Depending on your preferences |
| Rye Flour | Depending on your preferences |
| Wheat Flour | 1:1 ratio |
Einkorn Flour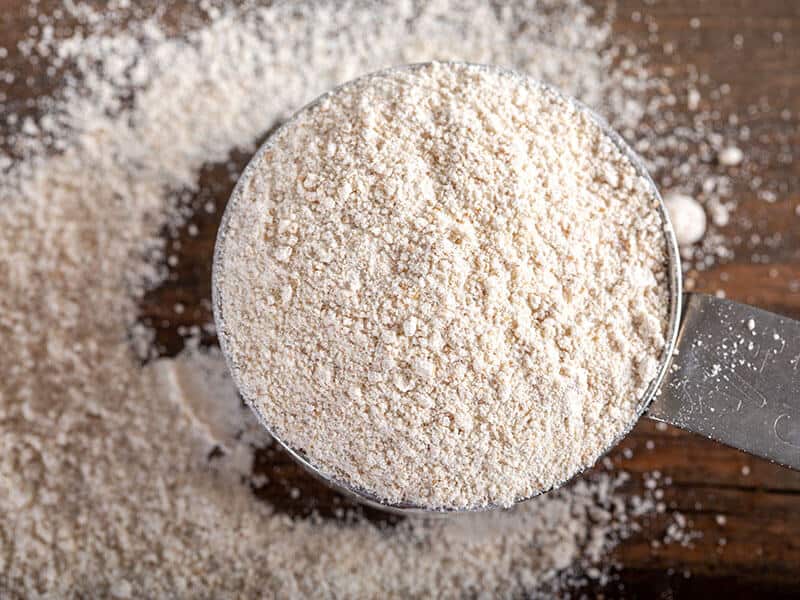 One of the most suitable replacements for spelt flour is einkorn due to its origin. Einkorn flour is the oldest kind of wheat. You may think of it as the father of later wheat. That feature makes finding it a bit challenging, and its price is slightly high compared to other flours.
However, I assure you that einkorn's flavor is worth its cost. It has 30% more protein and 15% less starch than regular wheat flour, not to mention all the nutrients in this flour: vitamin A and B6, potassium, and other minerals.
While einkorn flour's gluten content isn't lower than other flours, its molecular structure is somewhat different, making it easier to digest. You can substitute it with the same amount as spelt flour but with less water (about 1/3 cup less).
You don't even have to knead to make this einkorn bread. Video below should be able to help you:
Kamut Flour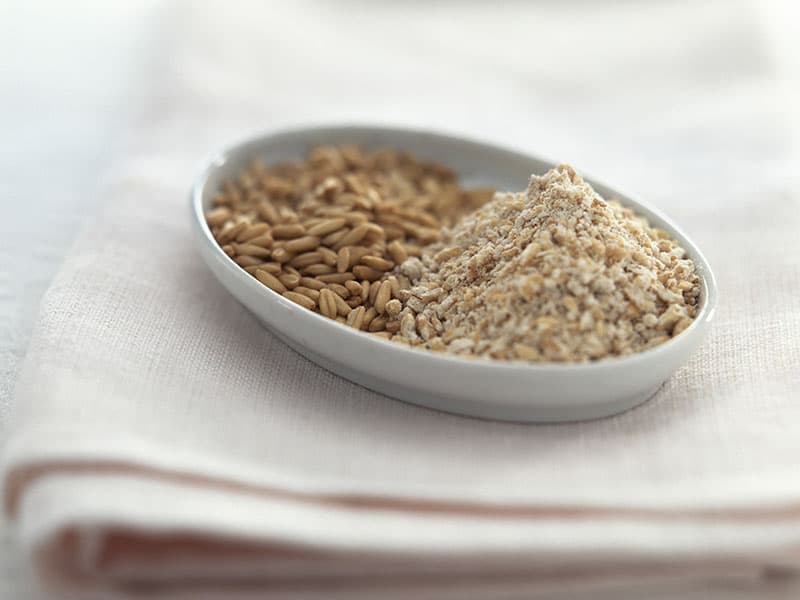 You may know Kamut flour with its different names: Khorasan or Oriental wheat. But all in all, it's still ancient wheat with lots of nutrients, just like einkorn flour.
However, since Kamut flour is higher in fiber than even spelt, when substituting, you need to use more water than required and knead it more thoroughly. Thanks to its buttery and sweet flavor, this flour matches well with any baked desserts: cakes, cookies, bread, etc.
Also, Kamut has a smaller amount of gluten with a different structure. So, it's more digestible for people with lower gluten tolerance. However, if you are allergic to gluten or follow a gluten-free diet, you should stay away from this alternative.
Emmer Flour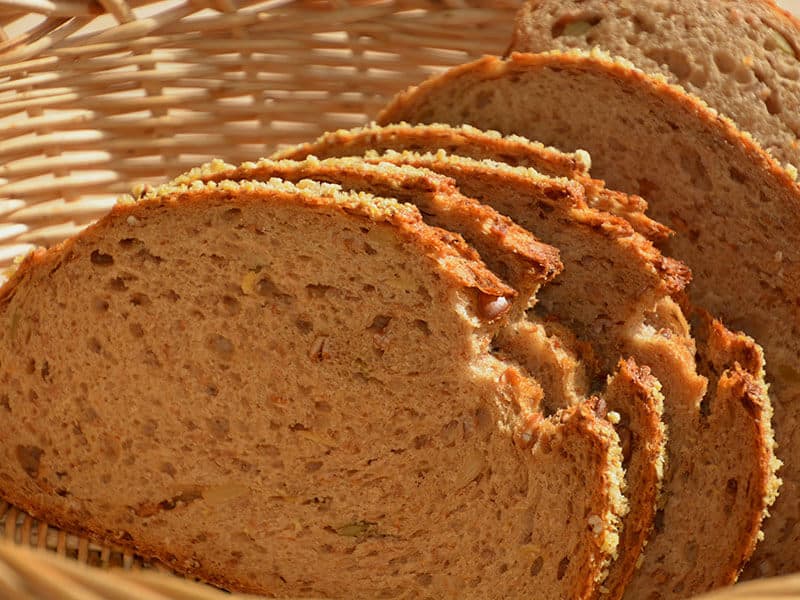 Just like einkorn, emmer flour is an ancient spelt flour's equivalent since it's also hulled wheat. Despite containing less gluten than the original, you still shouldn't serve dishes containing it for people allergic to gluten.
When it comes to baking bread or muffins, emmer flour will be your perfect choice due to its nutty flavor. You can even make pasta with this flour, but the texture will turn out a bit strange.
In terms of nutrients, emmer flour won't lose to other options as it is an excellent source of fiber and protein.
Amaranth Flour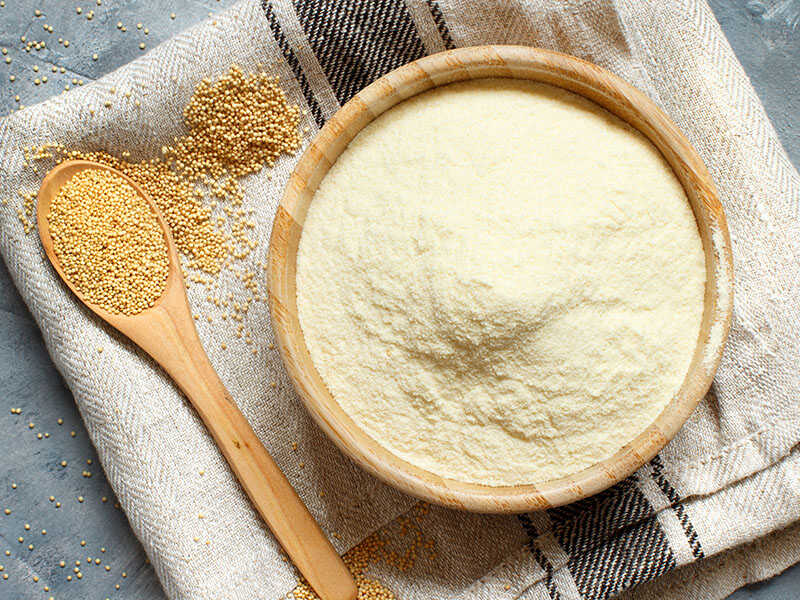 Here is some good news for people having a gluten allergy: I have this amaranth flour for you to use instead of spelt flour. Not only is it free of gluten, but this flour also contains lots of fibers, antioxidants, irons, and proteins.
Made from the seeds of amaranth plants, this flour is more suitable with non-rising recipes like pancakes, flatbread, and biscuits or as a thickening agent for your soups and sauces. Amaranth flour doesn't have a distinct flavor, but you can taste a nutty hint in it.
If you insist on using this flour for your baked desserts, try mixing it with other flours, such as wheat, almond, or even spelt flour. The ideal ratio for this mixture is 1:3, one part for amaranth flour and three parts for others.
Barley Flour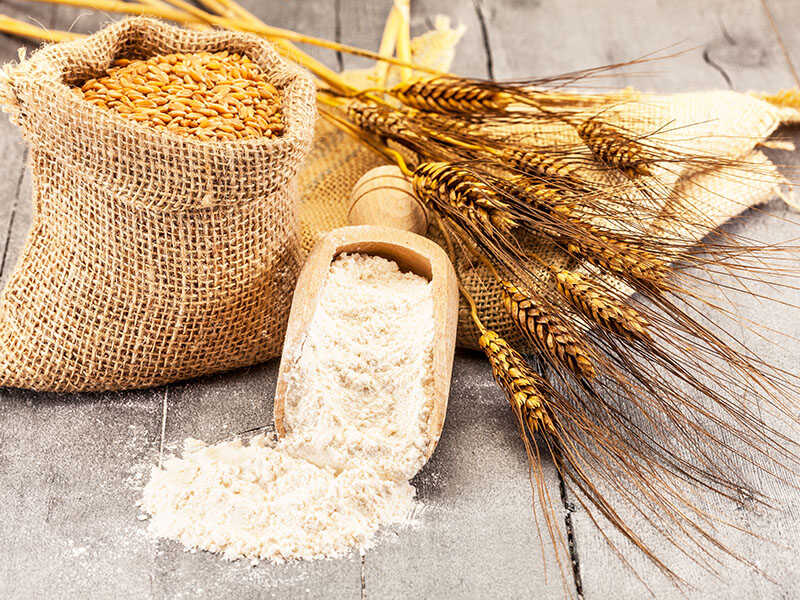 Containing only about 8% of gluten, barley flour is quite similar to spelt flour with its low gluten content. Thus, you should use it with recipes that need to be leavened.
Not to mention, barley flour comes with a robust nutty flavor that can easily overpower mild-flavored dishes. Therefore, I recommend you only use it with desserts having dried fruits, nuts, or seeds.
Moreover, barley flour is denser than spelt flour. You'd want to cut down the amount of it when using. With one cup of spelt flour, 1/2 cup of barley is enough. You can even mix it with some wheat flour to make it easier to handle.
Make these fluffy barley pancakes to start your day! Watch this video to know more:
Rice Flour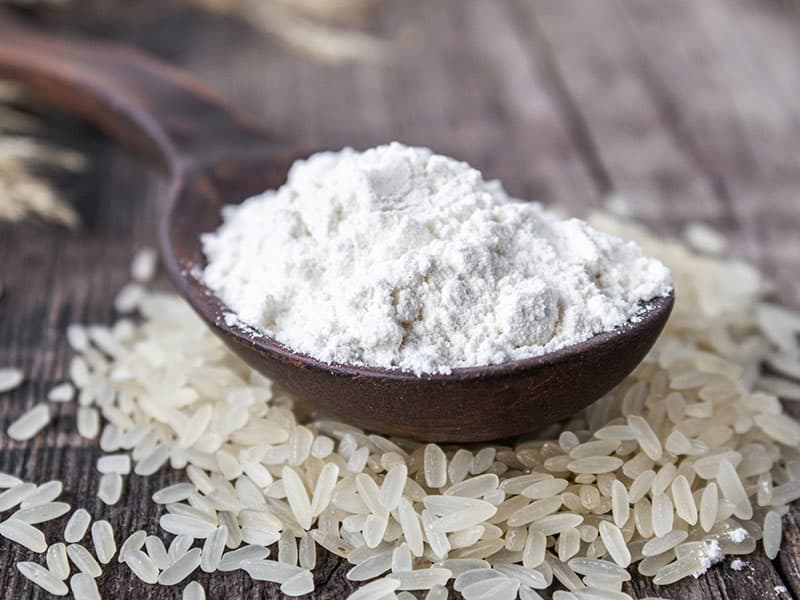 If you want another gluten-free choice at a reasonable price, rice flour should be on your list. While rice flour has two different types: white and brown, they mainly refer to the former type when people talk about this flour.
Since white rice flour gets processed, it doesn't have the bran – the outer layer of the rice, which means less nutrient than the brown flour. However, with its light texture and mild taste, this rice flour is suitable for almost any dessert: cakes, pancakes, cookies, or pancakes.
Compared to spelt flour, rice flour is much denser, so you should reduce the amount to only 1/3 cup of white rice flour for one cup of the original. If you want your dishes more flavorful, mix some groundnut powder with the flour.
Brown Rice Flour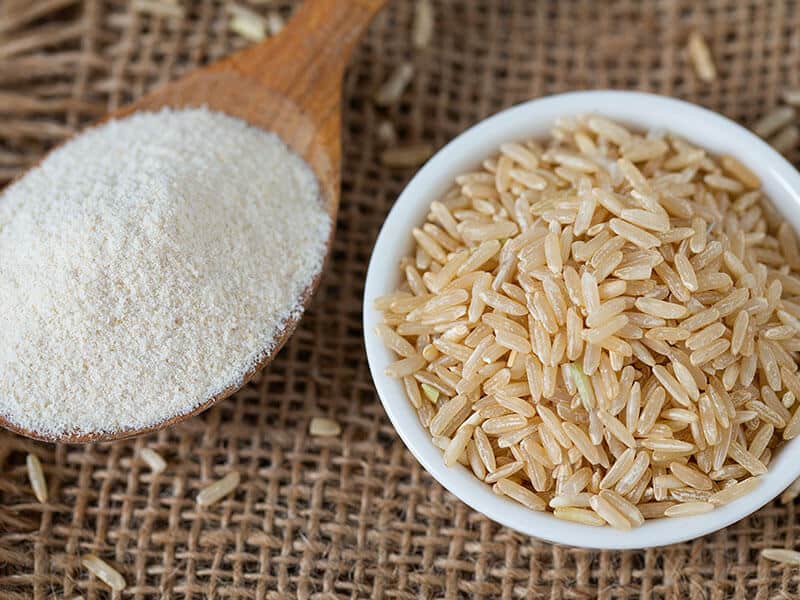 This one is another rice flour choice, but instead of white rice, it uses brown rice. This ingredient makes it nuttier and grainier than the white brother. It also contains more nutrients, perfect for people concerned about their well-being.
Since brown rice flour tastes more robust than spelt one, you should avoid using it in recipes with delicate flavors. Quick bread, energy bars, or any dish that doesn't concern texture and taste are more suitable for this flour.
One small note: You can hardly find brown rice flour in regular grocery stores. So, I suggest searching for it in some health food stores.
Now, you can make brown rice flour on your own. See the video below:
Oat Flour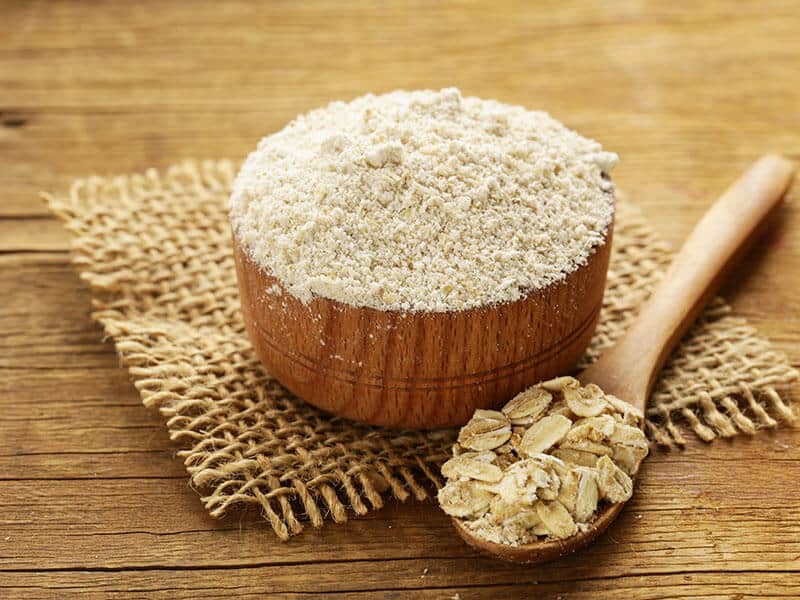 Most of you know about oat through oatmeals, but has anyone tried this oat flour? This one is made by grounding the whole oats until they turn fine enough. Thanks to this process, oat flour is an ideal option for those allergic to gluten.
Besides that, you can find a vital fiber type in oat flour. It's called beta-glucan, a helpful chemical to lower cholesterol and maintain heart health.
And don't think it'll taste boring. This oat flour is full of sweet and nutty flavor that goes so well with baked desserts like muffins, bread, pancakes, and cookies.
Buckwheat Flour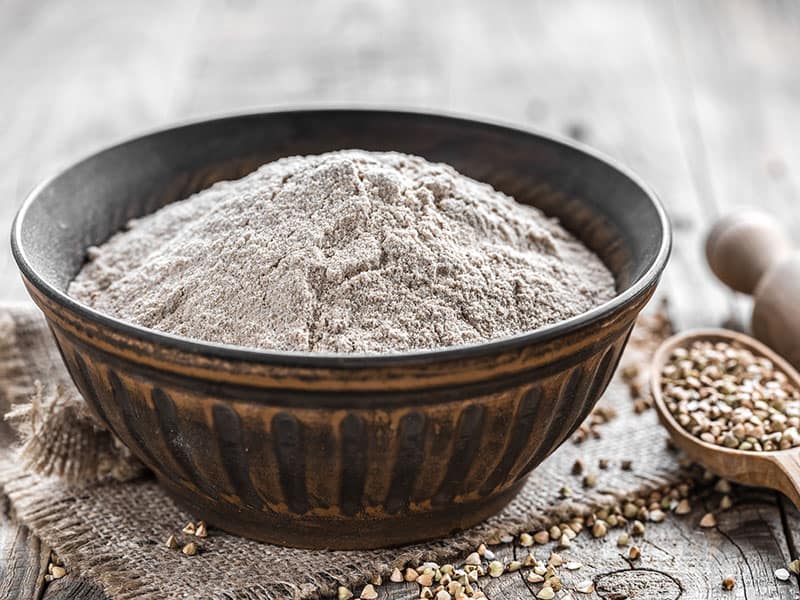 You can see the "wheat" in this flour's name, but surprisingly, it doesn't belong to the wheat family. Buckwheat is a plant relating to sorrel or rhubarb, and its seeds are used to make this flour.
Thus, buckwheat flour is free of gluten, fitting for people with severe gluten allergies. Since it's pretty dense, buckwheat flour often appears in simple recipes like pancakes, crepes, muffins, and bread.
With these dishes, you'll taste the sweetness and nuttiness of this flour clearly. And in Asian countries like China, Japan, or Korea, they even use this flour to make gluten-free noodles.
Let a Japanese chef teach you how to make their buckwheat noodles (soba).
Quinoa Flour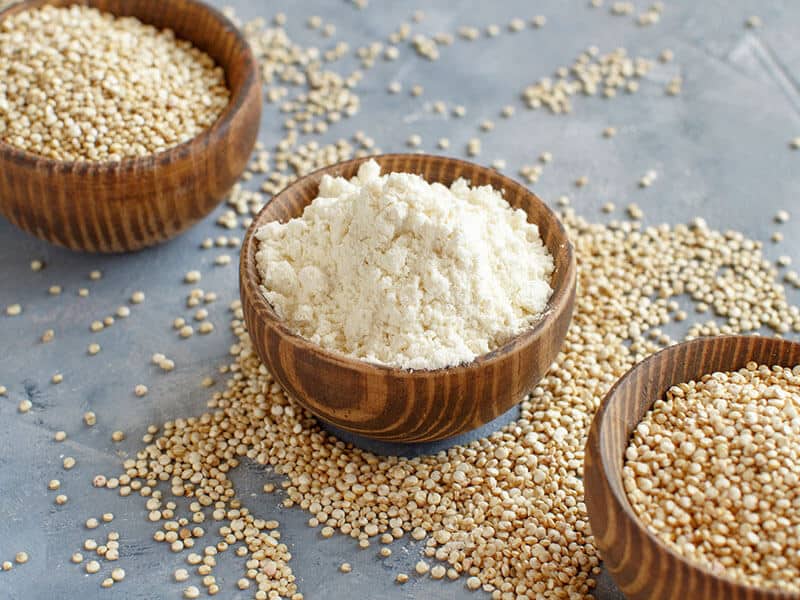 Do you know why some gluten-free flour isn't suitable for baking? That's because gluten is necessary to provide structure. Lacking it means your flour can't rise enough in baking. (2) But now, you can solve this problem with quinoa flour.
Since it's high in protein and fiber, this flour is suitable for any kind of baking like bread or cookies. More protein and fiber also mean it's a nutritious option for your family.
Compared to other alternatives, quinoa flour may taste a bit bitter, but this flavor will go away if you toast the flour for a short time. Then, all you taste is a grassy and nutty flavor.
Rye Flour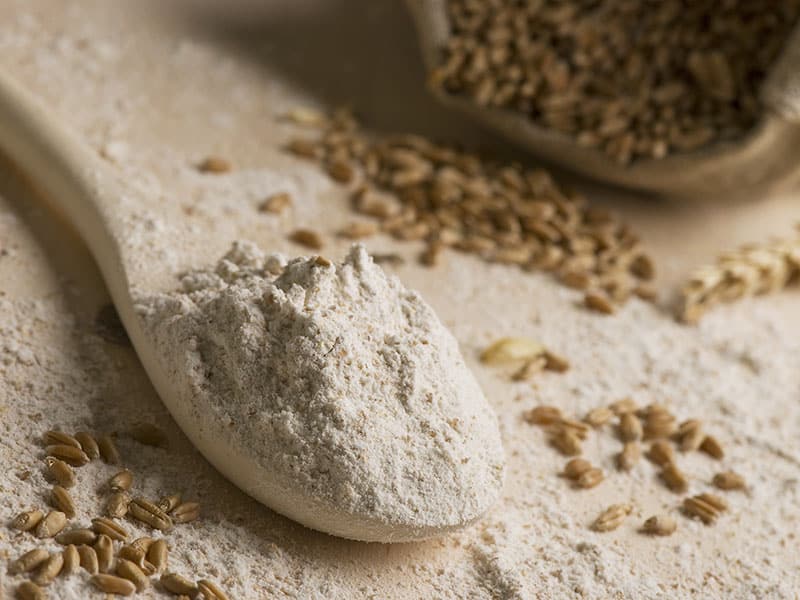 If you are a gym lover, you must have tried dishes with rye flour once or twice since it's a famous ingredient in the fitness world. That's because this flour is low in gluten yet high in gliadin and fiber.
Rye flour has three different types with slight differences among them. If you want to make desserts with a light and airy texture, white rye flour should be your priority.
However, if nutrients are your concern, the perfect one is whole rye flour, also known as pumpernickel flour. This one can only go with dense bread loaf.
This rye bread is better than anything I've eaten. Let's have a look at the following video!
Wheat Flour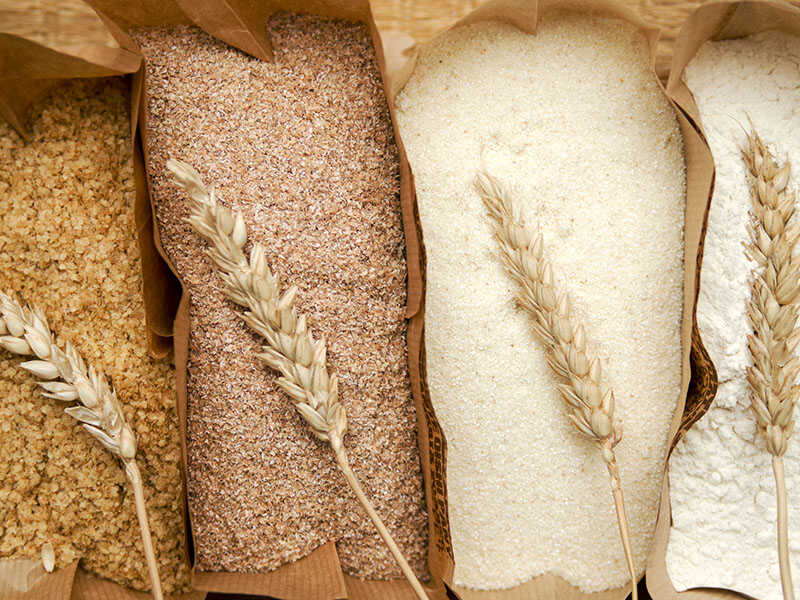 Yes, here is the most familiar one with all of you! You can just open your kitchen cabinet and find one package of it sitting right there, waiting for you. And while many people prefer spelt flour over this choice, it can work just fine when push comes to shove.
That's because wheat flour is also called "all-purpose flour", which means you can use it for any recipe, whether it's cooking or baking. Wheat flour is also easy to use, so you should start with this flour first if you are a baking beginner.
Some of you might still feel concerned about health issues, so you should opt for the whole wheat option. It's higher in nutrient content and tastes stronger. You can combine it with other white flours to enhance its texture.
Detailed Guide For The Most Suitable Spelt Flour Replacement
Other ingredients can be easily substituted without much thought. But with spelt flour, things get a little different since this flour has several complex features. So, here are some factors you should focus on for the most satisfying choice.
You'll know more about the differences between spelt flour and other flours with this instruction.
Gluten-Free Or Not?
This feature is more vital than you thought. Most people can't handle spelt flour because it still contains gluten. If you have a severe gluten allergy, you should choose flour without any gluten to replace spelt, like amaranth or quinoa flour. (3)
Flavor
Spelt flour tastes somewhat sweet and nutty at the same time, so you'd want to find some alternatives with the closest flavor to it. However, there's no harm in trying something with a different flavor for a fun change.
Availability And Price
These two are the reasons that many people stay away from spelt flour. It'd be best if you could find some easy-to-find alternatives at a reasonable price, like rice flour. However, depending on the two elements above, you shouldn't take this factor too seriously.
FAQs
Is this the end of this article? Well, don't rush, my friends! There is still some more information about spelt flour and its alternatives that I want to provide for you. Sit tight and read all the common questions below!
So, Which Are Your Favorite Spelt Flour Substitutes?
I know picking only one from this list is difficult for you. But you should consider your dietary requirements and preferences before choosing, so the outcome won't disappoint you. If you aren't gluten-free, you can combine several flours.
And don't forget to share this article with your baking fellows for your next dessert party! Let me know if you have other ideas regarding this topic via comment.
References
En.wikipedia.org. 2021. Spelt – Wikipedia.
Bakeinfo.co.nz. 2021. What role does gluten play in bread making?- BakeInfo (Baking Industry Research Trust).
Healthline. 2021. Is Spelt Gluten-Free?.