Swiss cheese substitutes are not that hard to find; some of them are actually popular around the world! If you're about to cook something with the Swiss cheese on the ingredient list, but it doesn't exist in your kitchen, what should you do now?
This article is here to help! It will provide you with a list of Swiss cheese alternatives that can save your dish immediately. Ready to discover all of them? Let's get started!
What Exactly Is Swiss Cheese?
Swiss cheese is not a particular name of cheese but is a special term. Learn more about the characteristics and varieties of Swiss cheese in order to find a suitable substitute for it!
Definition Of Swiss Cheese
Swiss cheese is a term indicating types of cheeses that originate around Emmental, Switzerland. It has a subtle, milky taste with plenty of big air holes called "eyes," making it a very popular processed cheese. (1)
Most types of Swiss cheese are medium-hard cheeses that are mainly made of raw cow's milk. They are so versatile that they can both be grated or melted and used in various dishes, such as casseroles, pizzas, pasta, sandwiches, etc.
Some Common Varieties Of Swiss Chess
There are thousands of types of Swiss cheese in the world, and here are some of the most typical varieties:
Emmentaler
Gruyere
Sbrinz
Vacherin Mont d'Or
Schabziger
L'Etivaz
Appenzeller
Swiss Tilsit
Tete de Moine
Belper Hirn
Those are some of the most typical varieties of Swiss cheese that people usually use. There are more and more of them in reality.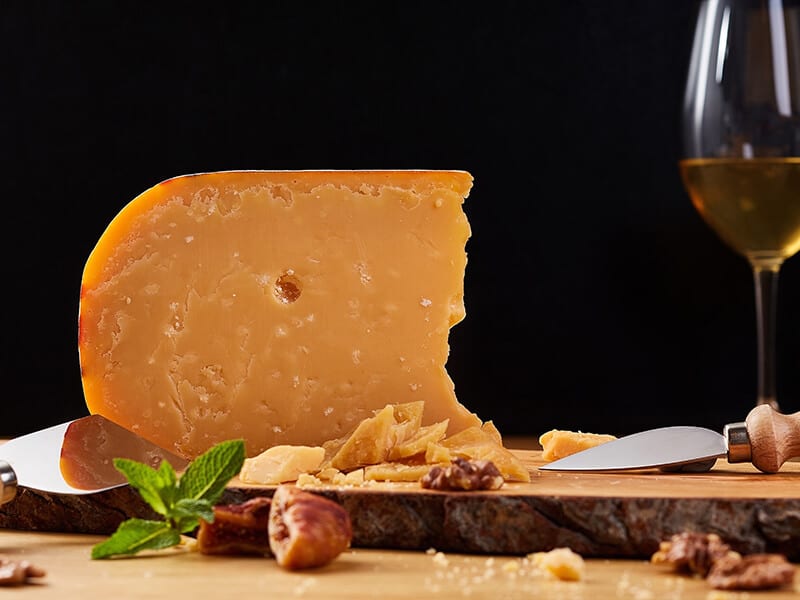 There are even more Swiss cheeses than you could imagine! Watch this video to know more:
8 Most Excellent Swiss Cheese Substitutes To Try
Here's what you are waiting for! A perfect list of Swiss cheese alternatives! I bet that some of them are very familiar to you and can even be available in your pantry right now. Check it out now!
| | |
| --- | --- |
| Swiss Cheese Substitutes | Best Use For |
| Cheddar | Sauces, soups, stews, pizzas, pasta, sandwiches, and casseroles |
| Mozzarella | Quiche, nachos, and sandwiches |
| Fontina | Sandwiches, and Italian dishes |
| Burrata | Pizzas and pasta |
| Jarlsberg | Sandwiches, quiches, and fondues |
| Provolone | Italian dishes |
| Non-Swiss Emmental | Almost any recipe calling for Swiss cheese |
| French Comte | Mac and cheese, and boiled eggs |
1. Cheddar
Cheddar is a worldwide famous English cheese, which is literally everywhere! Cheddar cheese consists of a hard, rigid, and smooth texture that is usually grated when using. It has a sharp, pungent flavor and tends to taste stronger than most Swiss cheese.
Cheddar is a very versatile cow's milk cheese that can be applied to many dishes. Maybe that's the reason why it's extremely popular! It is also packed with nutrients such as calcium, protein, and potassium that are really good for your health. (2)
Therefore, cheddar cheese is such an easy-to-find and excellent replacement when you don't have any Swiss cheese on hand. Cheddar ideally stands in for Swiss cheese in sauces, soups, stews, pizzas, pasta, sandwiches, casseroles, etc.
2. Mozzarella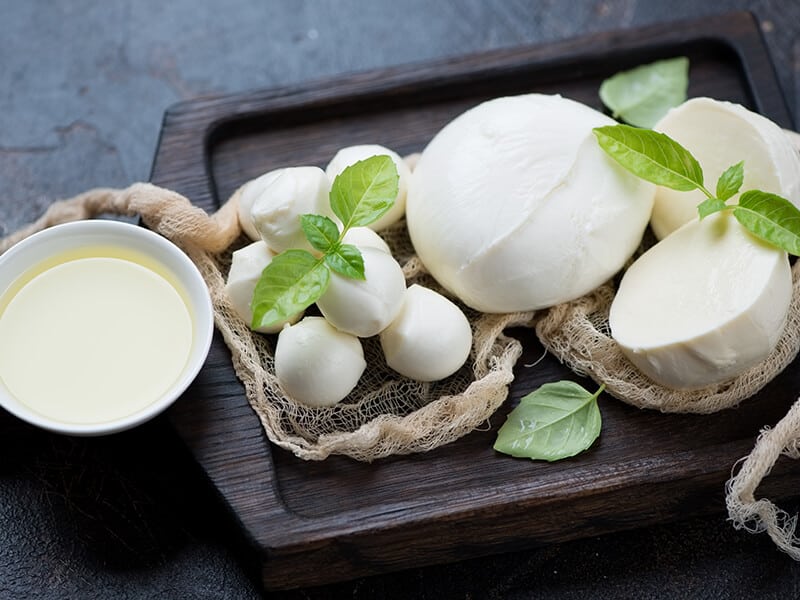 Mozzarella is a popular rindless cheese from Italy that maybe most of you all know about since it is usually used in pizzas. It is sometimes made of buffalo's milk, sometimes cow's milk, but the most widely available version today is still from cow's milk, like Swiss cheese.
Mozzarella is super easy to make at home and is often added to salads, meat, veggie recipes. It can also be consumed raw. Mozzarella has a beautiful pale white color with a soft, silky, and glossy texture. It tastes really bright and milky.
As a Swiss cheese alternative, you can use mozzarella in place of Swiss cheese in some dishes such as quiche, nachos, or sandwiches since it can melt really well. If you happen to have mozzarella in hand, don't be afraid to use it to replace the missing Swiss cheese!
With only 4 ingredients and 30 minutes, you can make yourself a superb mozzarella cheese!
3. Fontina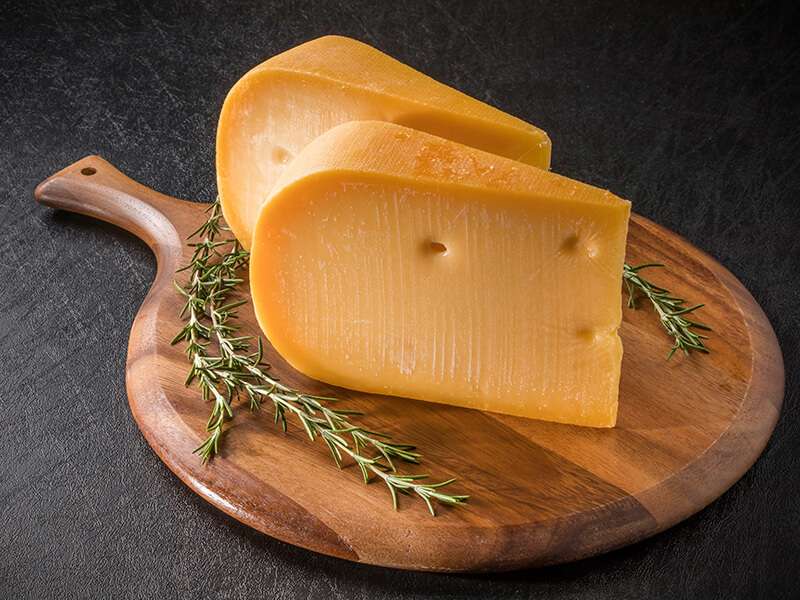 Fontina is an Italian cheese made of unpasteurized cow's milk. It tastes strong, buttery, and milky with a mushy, creamy texture. It also brings out an aftertaste of nut, honey, and mushroom when it is used in different dishes.
This adaptable Italian-style cheese also includes small air holes just like Swiss cheese. It can be an excellent replacement for Swiss cheese in almost every recipe, especially sandwiches and Italian dishes.
Fontina is undoubtedly a perfect substitute for Swiss cheese in a lot of recipes. It also has a special flavor to enhance your dish, so why not use it right now?
4. Burrata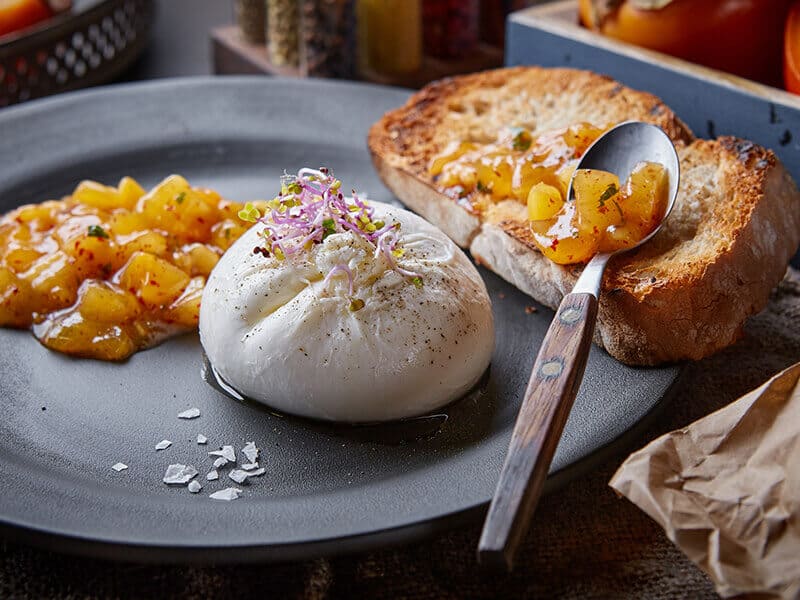 Burrata means "buttery" in Italian, is a unique combination between mozzarella and cream. It looks like a fluffy ball with a thin cover outside made of filata curd from mozzarella. The filling inside tastes super milky, soft, and fatty.
Burrata is usually put on top of a dish. When you cut it in half with a sharp knife, the curd-and-cream filling inside will burst out and spread all over the place of the dish, giving it an interesting texture. It is often used on pizzas, pasta, and many more dishes.
As a mixture of many things, burrata seems to taste tangier and more flavorful than Swiss cheese, so it might not be an ideal alternative. However, the taste of burrata can be versatile based on the way it's cooked, so just choose the suitable one to use.
Here are some genuine tips to make burrata at home from a real chef!
5. Jarlsberg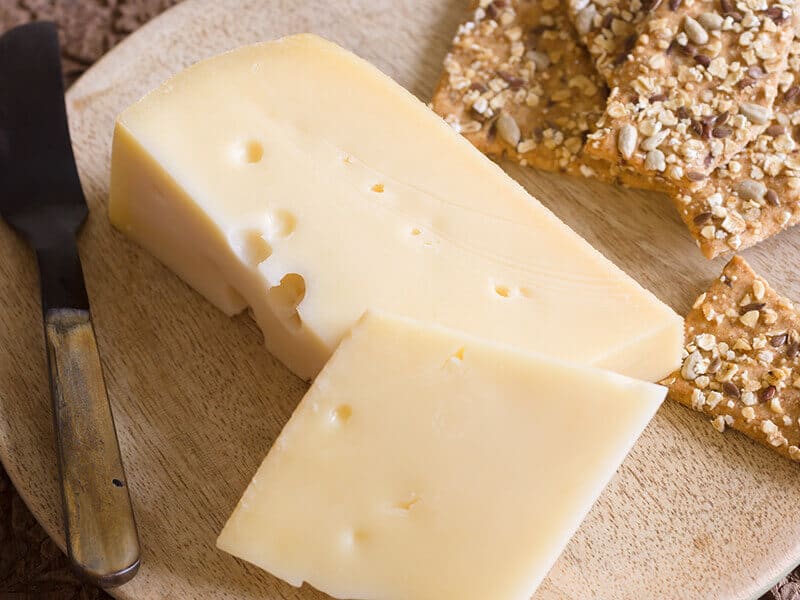 Jarlsberg is a cheese superstar, which has gained worldwide fame from its signature profile with yellowish color, round "eye" holes, supple, rich texture, and a nutty taste. It is from Norway and is a semi-soft species of cheese.
The high-quality flavor profile makes Jarlsberg different from those other cheeses. It's a mixture of mild, buttery, milky, savory flavors. It is also an all-purpose cheese with a high melting point that can work well in sandwiches, quiches, and fondues.
Jarlsberg is a promising candidate in the "Swiss cheese substitute" contest with a unique but versatile texture and taste. It can be adapted to many recipes calling for Swiss cheese.
6. Provolone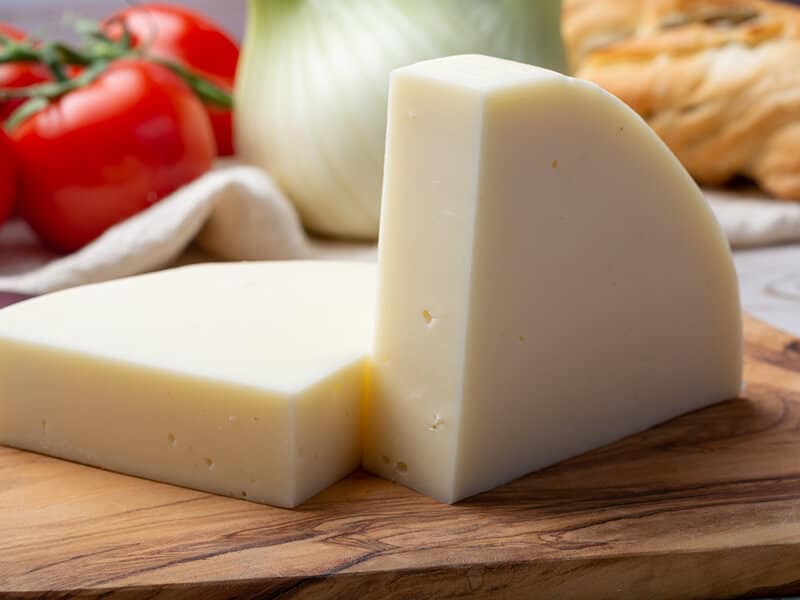 Provolone is an Italian semi-hard cheese made of cow's milk. Its taste is a bit hard to describe since it consists of an abundance of flavors inside. It is tangy, sweet, sharp, salty, buttery, spicy, creamy at the same time!
Provolone is usually divided into two different varieties, which are Dolce and Piccante. The Dolce one has a sweet taste and is aged up to 3 months, while the Piccante one is aged 4 months and tastes stronger.
Some of you who have tasted Provolone may think it's a little too sweet to be a Swiss cheese substitute, but it's actually not. The tangy taste will be balanced in ltalian dishes and with some red wines. So it's maybe the one that you're looking for!
7. Non-Swiss Emmental
Actually, Swiss cheese is Emmentaler cheese that originates from Switzerland, as you've already known. Nowadays, the "Emmentaler" name does not only refer to Swiss cheese anymore, but it also indicates many non-Swiss Emmental kinds of cheese out there.
Just like Swiss cheese, there are many varieties of non-Swiss Emmental. Leerdammer and Maasdam are highly recommended to stand in for Swiss cheese in a recipe because of their similar flavors. They both originate from the Netherlands.
In fact, the non-Swiss Emmental and Swiss cheese are pretty the same in taste and texture, just that their origins are different, so use it when you're in an emergency culinary situation. They can replace Swiss cheese in almost every recipe!
8. French Comte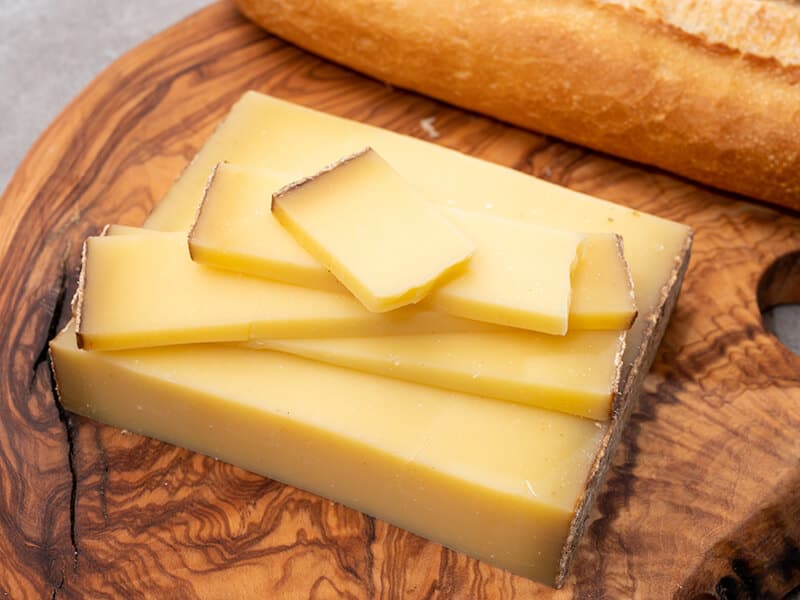 French Comte is another unique natural-rind cheese with a very flavorful taste. It is fruity, smokey, nutty, savory, and sweet. What a special taste! With a firm and supple texture, Comte can be grated or prepared as you wish.
French Comte is an all-purpose cheese that can add many flavors to your dish! It is usually used with mac and cheese, or boiled eggs. And it can also play an important role to be in place of Swiss cheese in some recipes, for similar characteristics.
Watch this video to know more:
FAQs
Here comes the frequently asked questions on this topic about Swiss cheese substitutes! If you have any more than these, just leave me a comment below this post!
Do You Have Any Swiss Cheese Substitutes At Home?
Hope that the substitution guide for Swiss cheese I have provided here is useful and instructive if you have to find a substitute for Swiss cheese. You can always mix these alternatives together based on the recipe to get the best result for your dish!
Don't forget to like, share this post if you find it helpful for yourself, family members, and friends! Or just save it so that you can reopen and use it someday in the future! Also, leave some words in the comment section so that I can hear your sharings or concerns!
References
En.wikipedia.org. 2021. Swiss cheese (North America) – Wikipedia.
WebMD. 2021. Cheddar Cheese: Are There Health Benefits?.