Not everyone can answer this question: "What does artichoke taste like?" Artichoke is a nutrient-rich vegetable that is widely used in cooking and making drinks.
You may come across artichoke in some recipes you want to try. Therefore, do not ignore this article. It provides you with the ultimate description of artichoke's taste. Also, since preparing artichoke is quite tricky, you can learn how to do it through a section here.
Let's jump right into the general knowledge about artichoke to understand more about this thistle!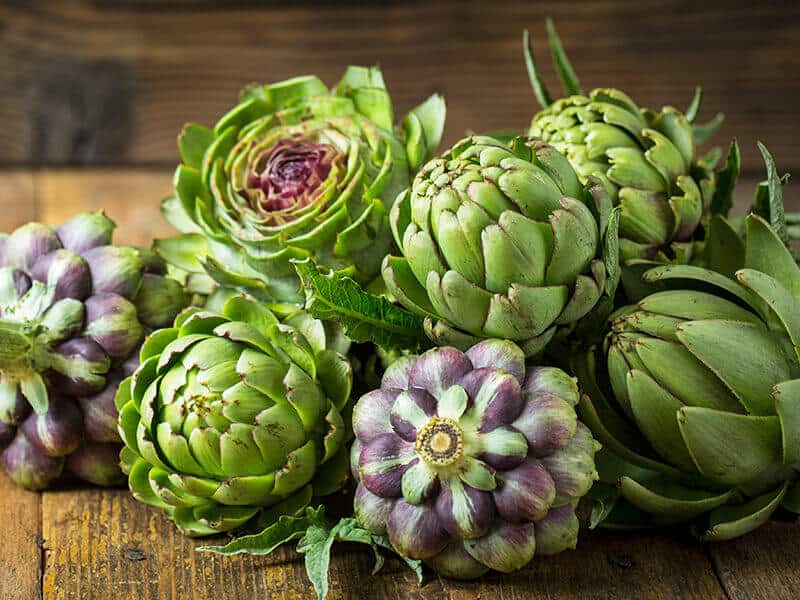 Fascinating Information About Artichoke You Shouldn't Miss!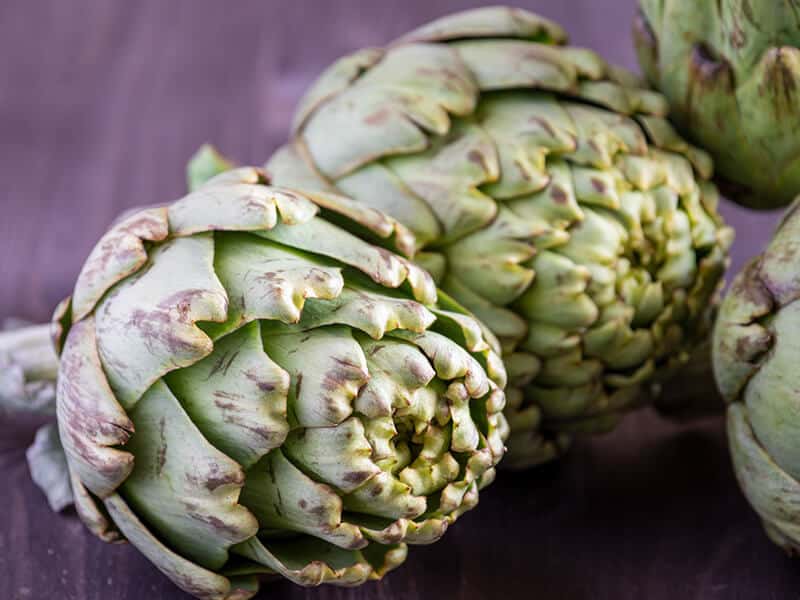 Artichoke is an immature flower bud of a thistle plant that is native to the Mediterranean region. It is mainly grown in Castroville, Texas, which occupies 80 percent of the domestic artichoke crop. The remaining numbers are grown in Spain, Italy, and France. (1)
Artichokes have spread around the world, and there are over 100 varieties of artichokes. Among these varieties, about 40 types of the artichoke are commercially available. However, the artichoke that you can easily find out there is globe artichoke – the most popular one.
You can recognize globe artichoke by its peculiar appearance. Globe artichoke is green. It has a hardy and global-shaped flower that is about the size of an adult's fist. The leaves of the artichoke are thorny, and they overlap to form a cabbage-like sprout.
Mind-Blowing With The Diverse Flavor Of Artichoke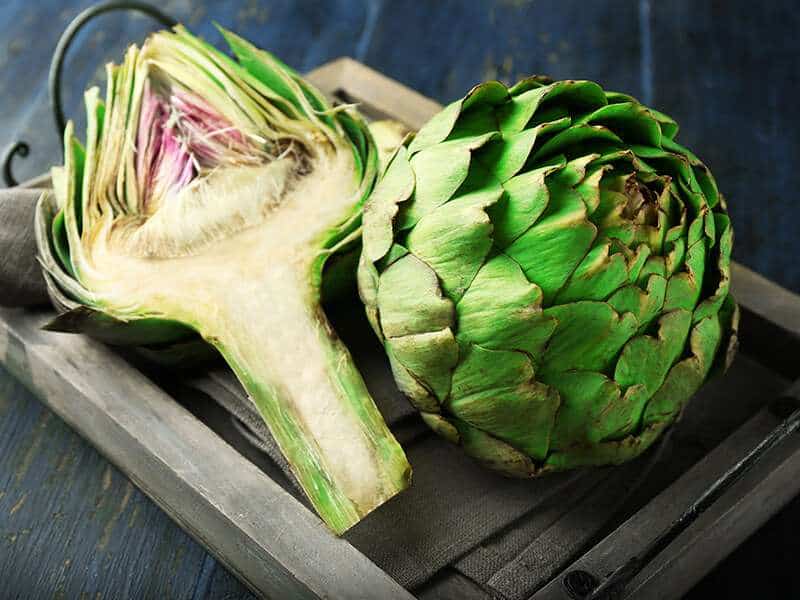 Generally, artichoke gives a robust and earthy flavor with hints of herbaceous and nutty undertones, which is reminiscent of asparagus and Brussel sprouts. Moreover, the texture and taste of artichoke resemble celery and celeriac.
People also say that some other types of artichoke share a similar flavor profile with turnips. Besides, some artichoke hearts have a lemon aftertaste that you can add to dips or soups containing lemon. The unflavored artichoke also tastes like fried egg whites.
The taste of artichoke varies from how it is cooked. Let's find out how people cook it and how it tastes with that cooking method to have the complete picture of this vegetable flavor through the table below!
| | |
| --- | --- |
| Ways to eat the artichoke | Flavor |
| Fresh artichoke | Light, nutty, and slightly bitter |
| Boiled artichoke | Slightly nutty, mildly sweet, bitter |
| Steamed artichoke | Mild, sweet, juicy, soft |
| Grilled artichoke | Sweet, smoky |
| Fried artichoke | Nutty, sweet |
Fresh Artichoke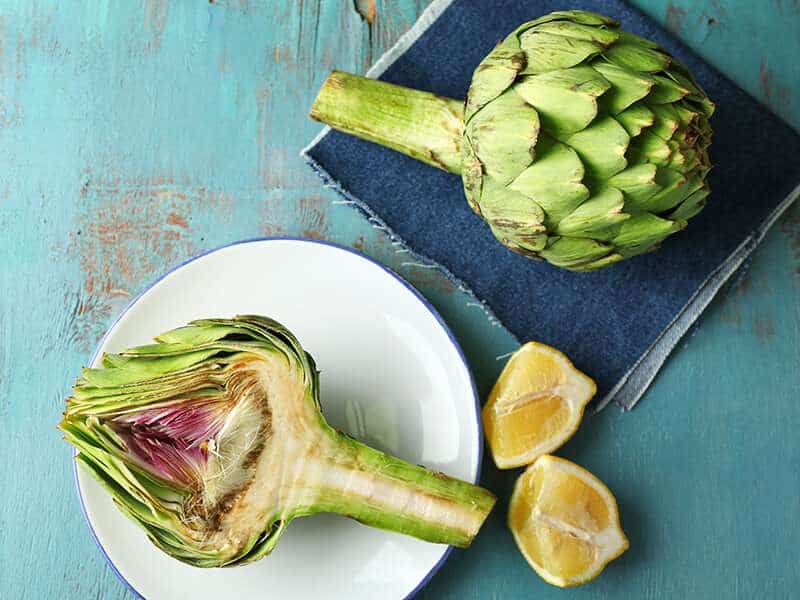 Artichoke is more beneficial if it is eaten raw. However, the taste of raw artichoke is more bitter than the cooked one. Instead of eating a cooked artichoke, some people may enjoy the fresh flavor of raw artichoke. Raw artichoke also tastes light and nutty.
It's time to give fresh artichoke a try since it is packed with various nutrients if you eat it raw. Remember to wash artichoke thoroughly to excess the impurities. You can eat fresh artichoke as a salad.
Boiled Artichoke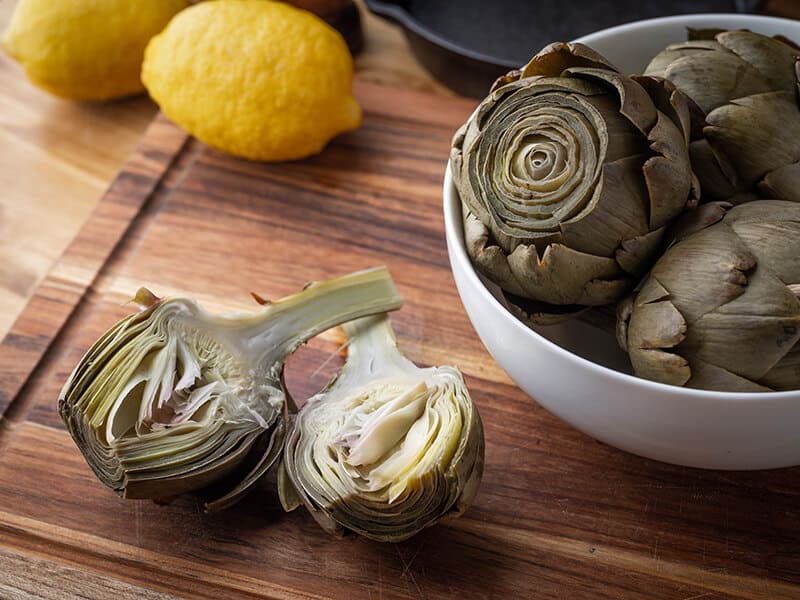 Bringing artichoke to a boil tastes quite mild, sweet, slightly nutty, and bitter. To enhance the flavor, you can add a pinch of salt to the boiling water. It takes about 30 minutes to boil artichoke. You can take it off when the petals start to separate from the bud.
People usually serve boiled artichoke with butter or mayonnaise. Also, you can eat it with any sauces that you are fond of to enjoy the savory and unique flavor.
Steamed Artichoke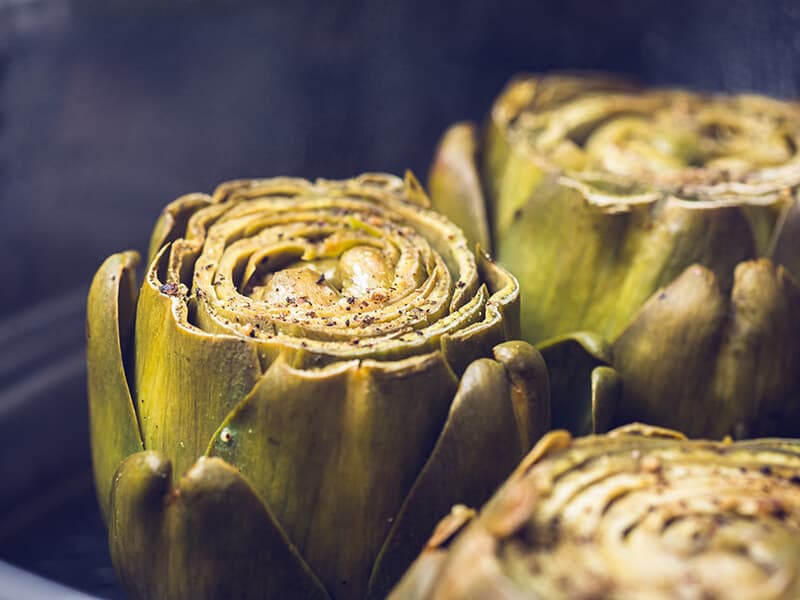 Steaming is the most popular artichoke cooking method. Besides being quick and easy to make, steaming vegetables also helps retain all of the beneficial nutrients.
The flavor of the steamed artichoke is pretty much like boiled artichoke. It is mild, sweet, juicy, and soft. You can steam artichoke with a steamer or rice cooker. You can also eat steamed artichoke with butter, mayonnaise, or sriracha sauce like boiled artichoke.
Grilled Artichoke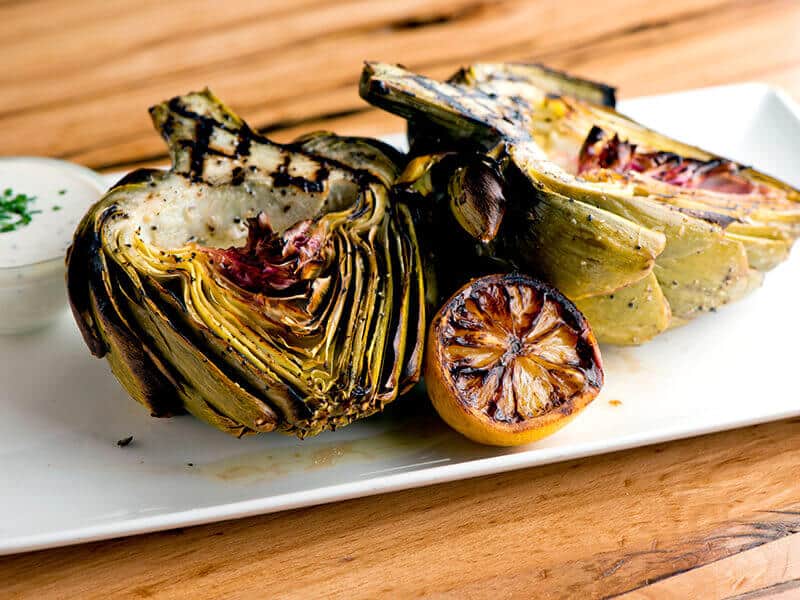 When thinking of the artichoke cooking methods, grilling may sound strange to you, but the outcoming result is surprisingly good. Cooking artichoke this way will lower the bitterness and increase the sweetness.
Besides the sweet taste, grilled artichoke also has a distinct and intense smoky flavor. You can steam artichoke before grilling it to shorten the cooking time. Extra virgin olive oil works very well with grilled artichoke, do not forget to add it.
Fried Artichoke
If you want some new flavor and texture to artichoke, you can fry it. Pan-fried artichoke shares a similar taste to fried asparagus, but it is more robust in the nutty and sweet flavor. Also, it somehow tastes like fried egg whites.
You can cut the artichoke in half or quarter to make it easier for frying. Butter and canola oil also plays a vital role in intensifying the fried artichoke taste.
Let's learn how to make a perfect Italian fried artichoke dish! Watch this video to know more:
Valuable Tips To Choose The High-Quality Artichoke
To have the best flavor experience, you have to pay attention to these identifying signs to pick out the excellent artichoke.
Buying artichoke during its peak season is a wise choice. Although artichoke is available almost all year round in any grocery store, you can find the excellent artichoke easier at a low price in the spring and fall seasons.
The high-quality artichoke displays a vibrant green color, and its petals are tightly packed together without any splits and blemishes. Moreover, choose the heavy one because it is meatier. A light artichoke has been dried out and not fresh.
Pinch the artichoke leaves together or slightly squeeze them. If this artichoke is fresh, the leaves will make a squeaking sound. Also, the artichoke tastes more delicious if it is frost-kissed, although the appearance is not too appealing.
Choose the artichoke that has a damp stem. In addition, check the artichoke carefully whether there is any wormhole on top or not, as the worms will significantly affect the artichoke heart flavor.
An Ultimate Guide On How To Prepare Artichoke Precisely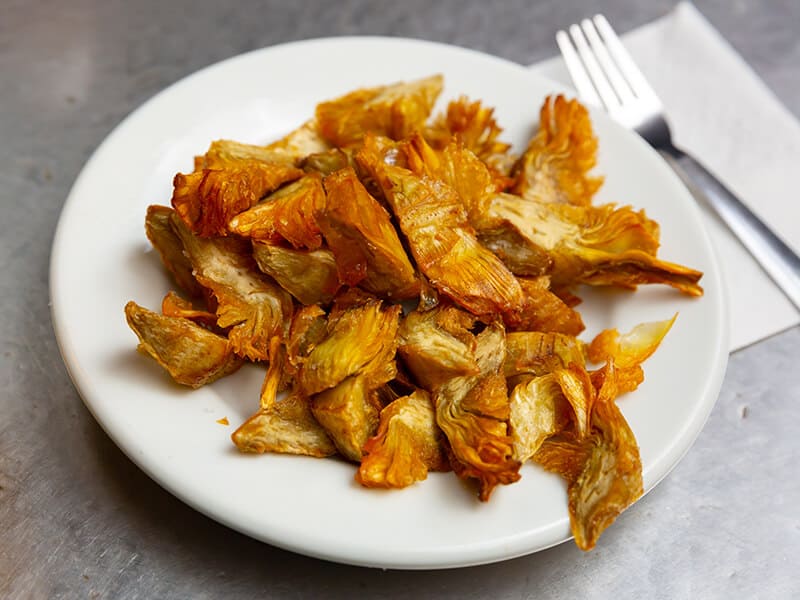 Before preparing an artichoke, you should know that it has 5 parts: the heart, outer leaves, inner leaves, stem, and choke. Among these 5 parts, only the heart and inner leaves are edible. However, some people do not like the taste of the inner leaves.
Many people may have no idea how to prepare artichoke before cooking it. There are various ways to prepare your artichoke, and they depend on what recipe you will make. Below is a detailed preparing artichoke guide for your consideration.
Step 1: Wash the artichoke thoroughly, peel off the outer leaves, also called petals or bracts, and clean the artichoke with a brush.
Step 2: Remove the top of the artichoke with a sharpened serrated knife and the bottom of the stem. You just need to cut about a quarter portion of the leaves or about 1 inch.
Step 3: Snip off the thorny tips of the artichoke leaves with the kitchen scissors because these thorns can prick you, and they are also inedible.
Step 4: Before cooking, rub the cutting surface with a lemon wedge to prevent browning.
Note: If you are going to make dip or sauce with artichoke, when you get right down to the heart, take it out carefully and meticulously. Moreover, to have the best result of fried artichoke, you should cut it in half or quarter to make it crunchier.
Instructions To Eat A Whole Steamed Globe Artichoke Effectively
For people who have never eaten an artichoke, I will give an overview of how to eat it after introducing steaming artichoke – the easiest way to cook it. You can eat steamed artichoke with any type of cream sauce. If you are a fan of spicy food, opt for sriracha sauce!
Step 1: Pull one artichoke leaf at a time and dip it in your favorite sauce.
Step 2: To get a full flavor, place the part dipped with sauce side down onto your tongue because it is where the taste buds are.
Step 3: Use your teeth to scrape the soft and delicious part of the leaf. It is right off of the base of the leaf. The remaining is inedible, so that you can discard it. You can eat the whole inner leaves as they tend to be thinner and tender.
Step 4: Use a knife or spoon to scoop out the thorny and inedible choke.
Step 5: After removing the choke, you will see the tender and meaty artichoke heart – the best bite of the entire artichoke. Slice and enjoy it!
Let's take a closer look on the way to enjoy the full flavor of artichoke! Watch this video to know more:
Do Not Miss These Delicious Recipes That Call For Artichoke
Although artichoke is not a very popular ingredient in cooking, it tastes beautiful when prepared well. You can add artichoke to salads, egg dishes, casseroles, pasta, dips, and sauces. Check these mouth-watering recipes that call for artichoke!
Greek artichoke stew is a perfectly flavorful dish with a thick and creamy sauce that you can not resist. This is also one of the best ways to cook artichokes. This recipe only calls for the best part of artichokes – the hearts!
It won't take a long time to make a delicious Greek artichoke stew. You can easily find all ingredients during spring, which is also the peak season of artichoke. This stew is suitable to serve the crowd, and you can eat it with crusty bread.
You will never fail to cook Greek artichoke stew if following this guide!
You can enjoy this flavorful Italian artichoke salad in the cold season or hot summer as a side dish. It is perfect for serving this salad at outdoor BBQ parties or gatherings. Also, the flavor of artichoke pairs very well with parmesan cheese.
The part of artichoke used to make Italian artichoke salad is the heart. To enjoy the full flavor, you should add a lot of cracked black pepper to it. The crispy lettuce immersed in the well-seasoned dressing will bring you the best flavor experience.
This casserole recipe is effortless and straightforward that you can make in a wink. You do not have to do anything without preparing raw ingredients, putting them together, and baking them.
Though it is easy and quick to make, it tastes surprisingly good. Spinach artichoke chicken casserole is very cheesy and creamy, making it a perfect dish for dinner. Also, you can make it advance and store it to serve later.
Spinach artichoke chicken casserole is also high-fat but low-carb, do not ignore this recipe!
Artichoke's Shelf Life And How To Prolong It
Look at the table below to know how long artichoke can last and be able to be consumed! Since spoiled vegetables have a terrible taste, they also damage your health. Therefore, pay attention to the artichoke's condition and discard the spoiled one right away.
| Storage methods of artichoke | Shelf life in the refrigerator | Shelf life in the freezer |
| --- | --- | --- |
| Fresh artichoke | 5 - 7 days | Not recommended |
| Cooked artichoke | 3 - 5 days | 10 - 12 months |
| Canned artichoke (Opened) | 3 - 4 days | 1 - 2 months |
Refrigerating Artichoke
To prolong the fresh artichoke's shelf life, do not wash it before refrigerating. You have to trim the bottom of the stem and sprinkle the stem end with water. Then, let's wrap it up in a plastic bag and place it in the refrigerator.
With cooked artichoke, you should place it in an airtight container or wrap it with plastic wrap or heavy-duty aluminum foil to extend its shelf life.
Freezing Artichoke
Since the raw artichoke tends to darken, mainly brown, due to the oxidation, most people prefer freezing cooked artichoke. After washing artichoke thoroughly and cooking it, do not forget to sprinkle the cooked artichoke with lemon juice to prevent browning.
The final step is wrapping it up in aluminum foil and placing it in a heavy-duty freezer bag or an airtight container. Remember to drain it carefully to prevent it from being soggy before freezing it.
Canning Artichoke
You can buy the canned artichoke at any grocery store easier than finding a fresh one. Once opened, you should refrigerate it right away. However, it can only last for 3 to 4 days.
The best way to keep the canned artichoke lasts longer is to freeze it. Drain the canning brine, transfer the artichoke to a freezer bag or an airtight container, and put it in your freezer.
How Can You Tell If An Artichoke Goes Bad?
Do you wonder about the identifying signs to point out the spoiled and unhealthy to be eaten artichoke? Like most other veggies, artichoke's quality will deteriorate as time goes by, even if stored thoroughly. Let's explore some ominous signs of it!
The artichoke is dried out: It is the most recognizable sign of an artichoke that goes bad. You will notice it is very light when you grab it. In addition, if it doesn't make a squeaking sound when squeezed, it is a sign of dried artichoke.
The artichoke's appearance is off: You can notice a discoloration of low-quality artichoke. It will lose its featured vibrant green color. Also, the leaves will be tougher to split out. The spoiled artichoke even develops mold.
The artichoke smells terrible: Discard your artichoke right away whenever you can sniff any bad odor. Artichoke that has gone bad gives a rotten and foul odor.
Artichoke Is Also A Nutrient-Rich Vegetable
Despite the exquisite flavor, artichoke is packed with various essential nutrients that are beneficial for your health. Below are some of the notable advantages of eating artichoke. Check them out!
Artichoke helps improve bone and cardiovascular health because of the high level of magnesium loaded in it. Magnesium is also beneficial for migraines, anxiety, and diabetes.
The dietary fiber in artichoke is good for your digestive system. It prevents diarrhea and constipation. It also helps stabilize blood sugar levels.
Artichoke is also rich in vitamins, such as vitamin K and vitamin D. These 2 vitamins are very good for your bones. Besides, vitamin K benefits your brain and nervous systems. (2)
FAQs
Perhaps after reading a lot of information above, you will have some confusion about artichoke. Keep reading to find whether these answers can help you or not!
It's A Huge Pity If You Don't Give Artichoke A Try!
Artichoke may sound straight to you before. After reading my post, I hope that you have gained specific knowledge about artichoke and its flavor. As it is delicious and nutrient-rich, do not hesitate to add it to your daily menu.
If the information provided in this article cleared all of your confusion about artichoke, give me a like and share. Remember to drop by and for more helpful and fascinating articles. Thanks for spending time reading my post.
References
En.wikipedia.org. 2021. Artichoke – Wikipedia.
Healthline. 2021. Top 8 Health Benefits of Artichokes and Artichoke Extract.