Basil is commonly used for medical and cooking purposes. But, what does basil taste like?
If you are finding the answer to this question, you have come to the right place. In this post, I will show you the exact taste of basil as well as some information about this herb.
I believe that you will be surprised by the in-depth information. Now, read the whole story below, and do not forget to share interesting things with your friends.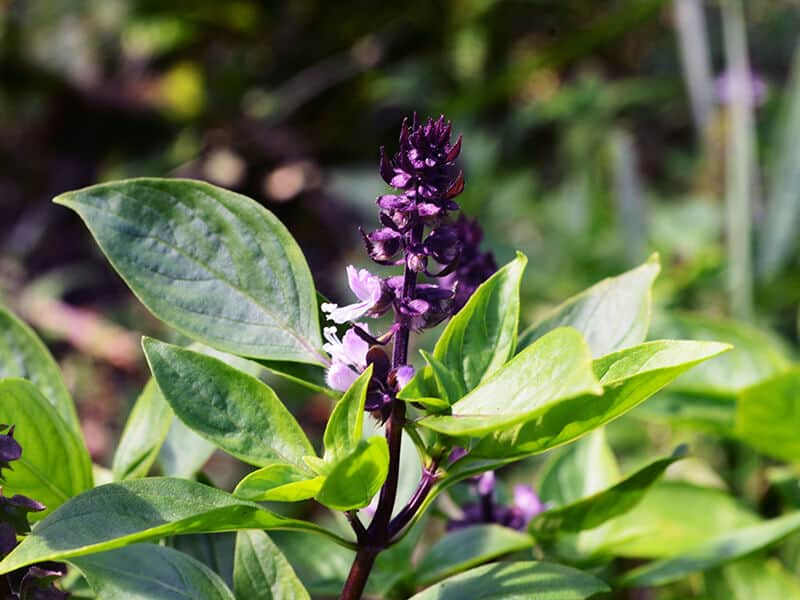 Everything About Basil That You Might Not Know
Basil (great basil) is a kind of herb grown from central Africa to Southeast Asia and other wild tropical, sub-tropical areas.
Its leaves are used as seasonings for many famous recipes throughout the world. You can also extract basil to create herbal oil that helps treat sores, wounds, and skin infections. That's why people call basil "king of herbs".
There are 12 common kinds of basil, and their tastes vary a little bit. If you need a better understanding of their tastes and how to use them in cooking, let's move on!
Is it hard to grow a basil plant at home? Find the answer right here!
Explore The Taste Of Basil – King Of Herbs
Generally, the taste of basil is very complicated, which is balanced between sweet and savory. As mentioned, each kind of basil has a separate flavor. Let's discover 12 types of this plant in this section.
| Name | Appearance | Aroma | Taste | Uses |
| --- | --- | --- | --- | --- |
| Sweet Basil | 12-18 inches tall, half-inch leaves | Strong, pungent, clove-like smell | Spicy, sweet taste with hints of black pepper, anise, and mint. Milder taste than Thai basil | Pizza, sauce, soups, salads, sandwiches, etc. |
| Bush Basil | 6 inches tall, smaller leaves | Strong mint aroma | Mild flavor, slightly peppery taste | Tomato sauce, salad, iced tea,... |
| Thai Basil | 12-18 inches tall, small and narrow leaves. Pink-purple flowers | Sweet and slight anise scent | Slightly spicy, a hint of licorice flavor | Curries, noodles, summer rolls, stir-fries,... |
| Cinnamon Basil | 18-30 inches tall. Purple stem and flower | Cinnamon-like, fragrant scent | A bit of cinnamon flavor, slightly spicy | Teas and baked goods |
| Lettuce Leaf Basil | 5 inches tall. Big leaves | Mild aroma like other basil | Peppery, a mild spicy taste | Sauce, salad, sandwiches,... |
| Boxwood Basil | 8-14 inches tall, smaller leaves than other basil | Strong odor, citrus, and mint scent | Peppery, sweet, light, and minty | Pasta sauce, pesto, salads,... |
| Dark Opal | Up to 20 inches. Purple leaves and pretty flowers | Intensely aromatic | The sweet, savory, earthy flavor | Drinks, soups, salad, stir-fries, and so on. |
| African Blue Basil | 6 feet tall, green leaves when grows with purple veins | Pungent, camphor-like aroma | Earthy, herbaceous, woodsy flavor. A hint of musk, cloves | Pesto, salad dressings, dips, soups |
| Lemon Basil | 8-20 inches tall, white flowers | The mild, lemony scent | Sweet with a lemony taste | Pesto, oil, grilled fish, or shrimps dishes |
| Purple Ruffles | Up to 24 inches tall, serrated leaves, glossy, crisp with dark purple color (sometimes green). | Sweet licorice, cinnamon aroma | Mild, herbaceous, spiced-filled taste | Salad, torn over soups, pasta, bruschetta |
| Cardinal Basil | 24-30 inches tall, purple, green leaves | Spicy, pungent scent | Strong anise-licorice flavor, spicer than other basil | Soups and stews, oil, vinegar,... |
| Italian Large Leaf | 24-30 inches tall, big green leaves (4 inches) | Sweet with a note of cinnamon | Sweet and mild | Italian cuisine: salad, pesto, etc. |
1. Sweet Basil
Sweet basil is one of the most popular types in America, and it is also commonly used in Italian dishes. You can see sweet basil with green to purple colors and round-shaped leaves.
Sweet basil is fancied because of its great flavor. In particular, it has a classic spicy taste with a strong aromatic smell. Its taste also features a hint of black pepper, anise, and mint.
When you are about to make pesto, salad, or sauce, do not forget to put some chopped sweet basil inside.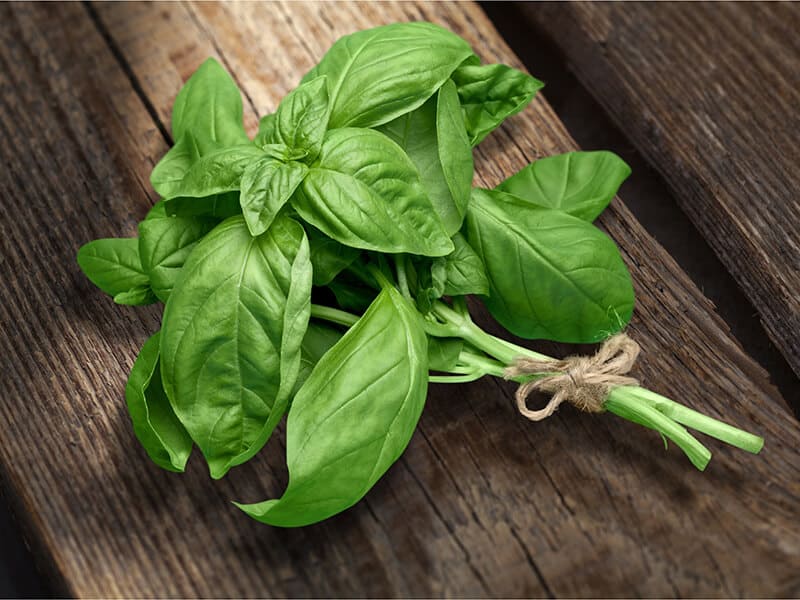 2. Bush Basil
Bush basil (dwarf basil, Greek basil) is a type of basil with the scientific name Ocimum minimum. It is one of the smallest varieties because it is just 6 inches when growing.
Unlike other basil, bush basil can grow stably during the winter months or in cold climates. You can use this basil for salads, spaghetti, pizza, marinade, etc.
It brings a spicy flavor but is milder than sweet basil. Plus, making cocktail drinks with bush basil like iced tea, lemonade is not a bad idea!
3. Thai Basil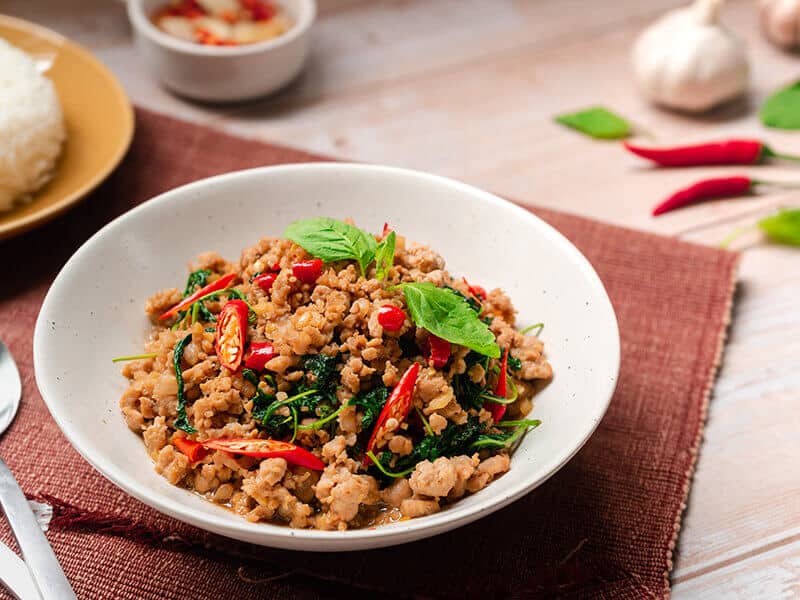 Having the origin from Southeast Asia, you can feel the taste of this spice in many cuisines in these regions. The leaves of this plant are small, narrow with purple stems.
If you grow Thai basil in your garden, it is easy to realize the beautiful pink-purple flower of this plant. Many people suppose this plant is a bit spicy with licorice flavor.
Some recipes that have Thai basil are pho, noodle dishes. Besides, you can use them to make cups of tea, eat along with other food, especially Asian cuisines.
People also take advantage of this basil to create therapeutic methods and reduce stress by bruising or inhaling its leaves.
4. Cinnamon Basil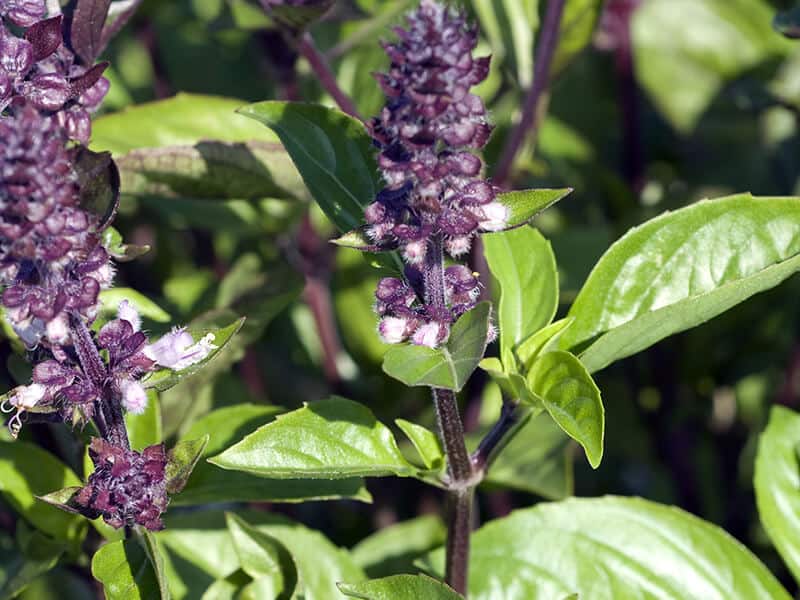 Another kind of basil is cinnamon basil, which comes from Mexico. When you taste its leaves, you will feel the flavor of cinnamon because of the methyl cinnamate content.
You can distinguish this basil by its flavor or dark green leaves. Moreover, cinnamon basil also comes with many lovely pink flowers. The flavor of this basil is described as a warm combination of cinnamon and mint taste. Thanks to its aroma, you can reduce stress when sniffing.
Cinnamon basil is an ingredient in tea and baked goods, such as cookies and pies. It is also a must-have spice in many savory recipes.
5. Lettuce Leaf Basil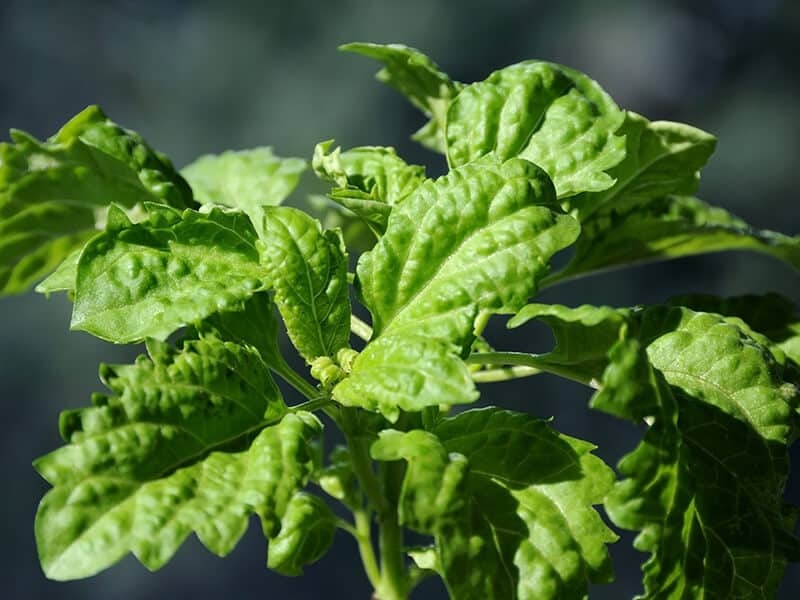 This basil type is a larger version of sweet basil with amazing size leaves. Different from the large ones, it develops to a short plant at around 5 inches.
Lettuce leaf basil has aromatic leaves like other basil. But, its flavor is milder than sweet basil. With peppery flavor, lettuce leaf basil brings a slightly spicy taste that makes the dishes more delicious.
This basil is used to make salads and sandwiches, or you can also add this spice to lasagna or a variety of pesto dishes.
6. Boxwood Basil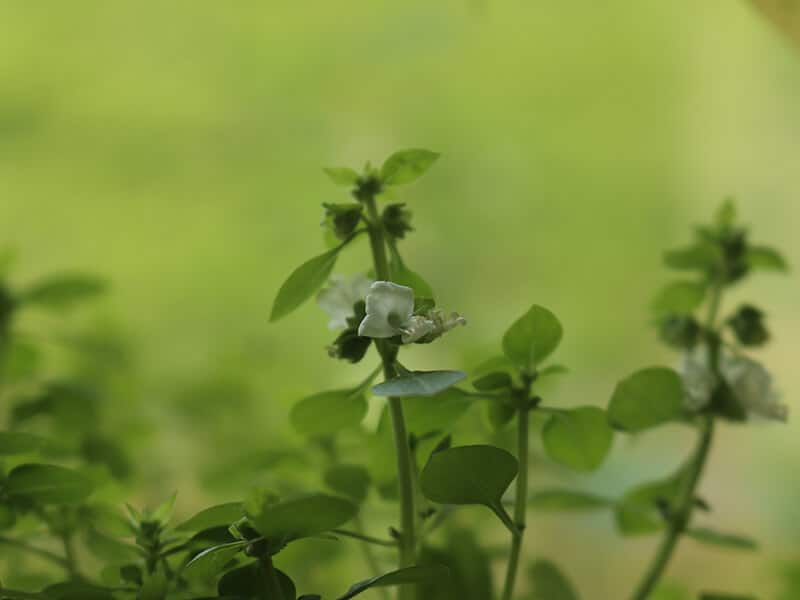 Boxwood basil (spicy basil) is a kind of basil that has spicier small leaves than other basil. People call it boxwood basil because it looks like boxwood plants.
When you grow them, they will develop up to 14 inches in height with a strong odor and citrus, mint-like scent. They bring a great taste to salad, pesto dishes described as sweet, peppery, and mint.
7. Dark Opal
Dark opal is an attractive herb that can enhance the flavor of dishes or garnish. They can grow up to 20 inches with lovely flowers in the same color as their leaves.
The flavor and aroma of dark opal are wonderful. They give off fragrant and strong scents. Plus, their taste is sweet, earthy, which can pair with savory dishes and drinks, such as salads, stir-fries, cocktails, etc.
8. African Blue Basil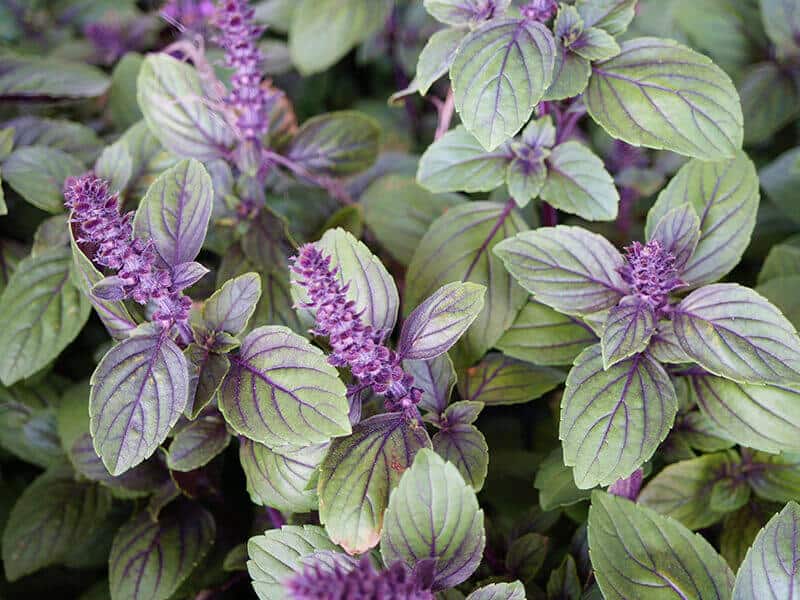 Another basil that has beautiful leaves is the African blue basil. As a hybrid basil type, its leaves are special. Their leaves will turn from purple to green with purple veins when they grow to full size.
Sniffing it, you will feel a pungent and somewhat camphor-like aroma. It is a great choice for pesto, salad, or dips because of its earthy, herbaceous, woodsy flavor. Plus, it also has a hint of musk, cloves in taste.
9. Lemon Basil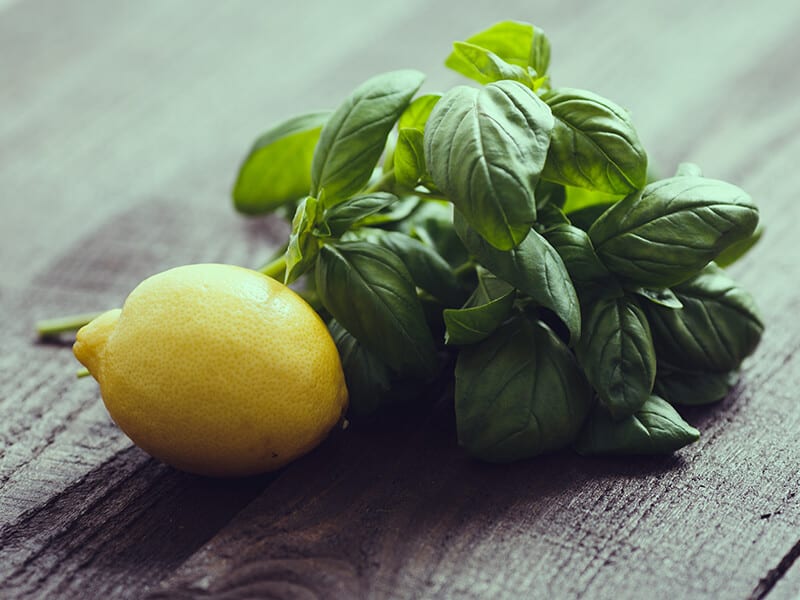 Like African blue basil, lemon is a hybrid variety of basil that has white flowers during summer. This basil is mainly cultivated in Africa, Asia and can grow up to 8-20 inches tall. Lemon basil is usually found in Asian cuisine.
The aroma of this basil is mild and lemony. Thanks to its sweet and lemony taste, you can make oil or add it to grilled fish and shrimp dishes.
10. Purple Ruffles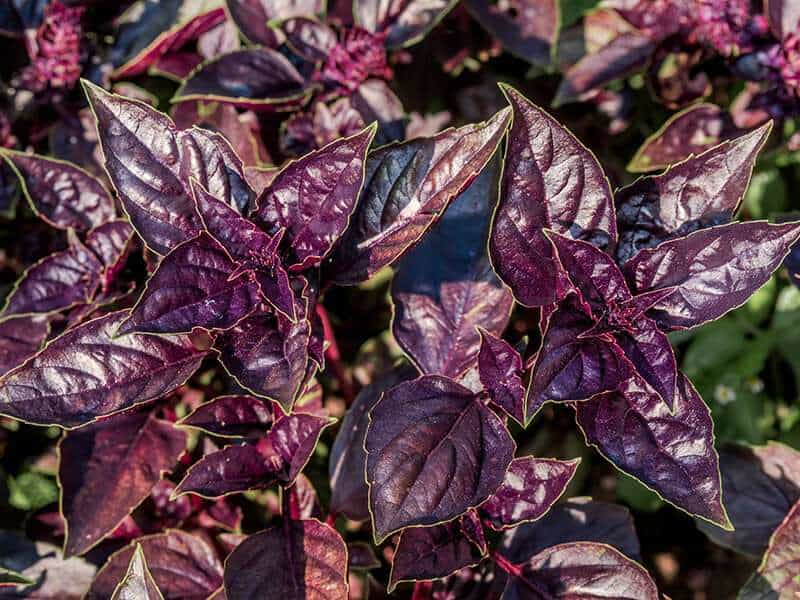 If you are looking for a basil variety that has a nice appearance and can be used for cooking purposes, do not miss the purple ruffles. It has glossy, crisp leaves with purple color or sometimes might be green.
They bring a sweet licorice, cinnamon aroma while decorating your home. Besides, the flavor is so considerable with a mild, herbaceous, spiced-filled taste. Add them to soups or salads to enhance the flavor.
11. Cardinal Basil
People suppose that cardinal basil is the most enchanting basil type in the world. Its thick leaves color is a combination of purple and red shades.
When cooking with them, you will feel the strong anise-licorice and spicy flavor. You can take advantage of their pungent scent in making oil or vinegar.
Basil and butter are should-have ingredients for your creamy salad dish. Watch this video to know more:
12. Italian Large Leaf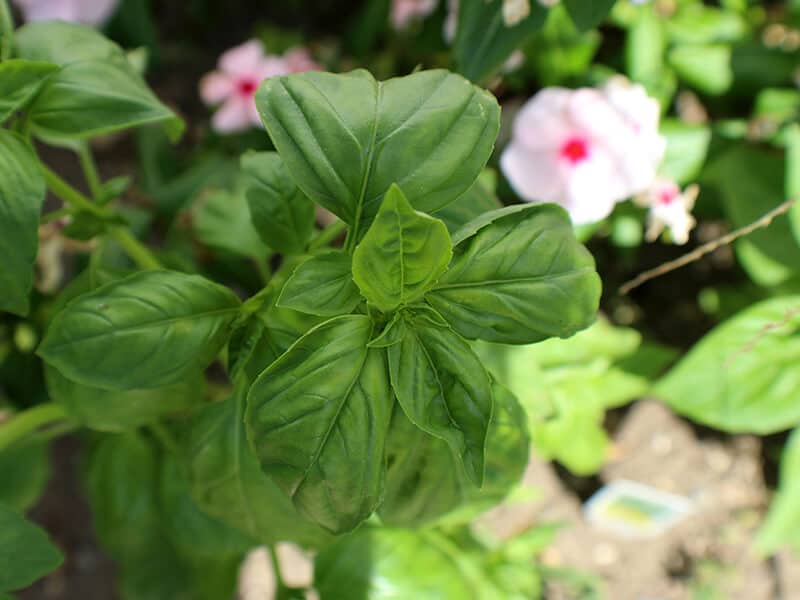 This basil is remarkable for its significant size of leaves at around 4 inches. Moreover, the Italian large leaf is one of the tallest basil plants at 24-30 inches tall.
It offers a sweet and mild flavor and is used as an ingredient in Italian cuisine. And, of course, it has a great aroma which is sweet with a note of cinnamon inside.
The Taste Of Fresh Basil And Dried Basil Is The Same Or Different?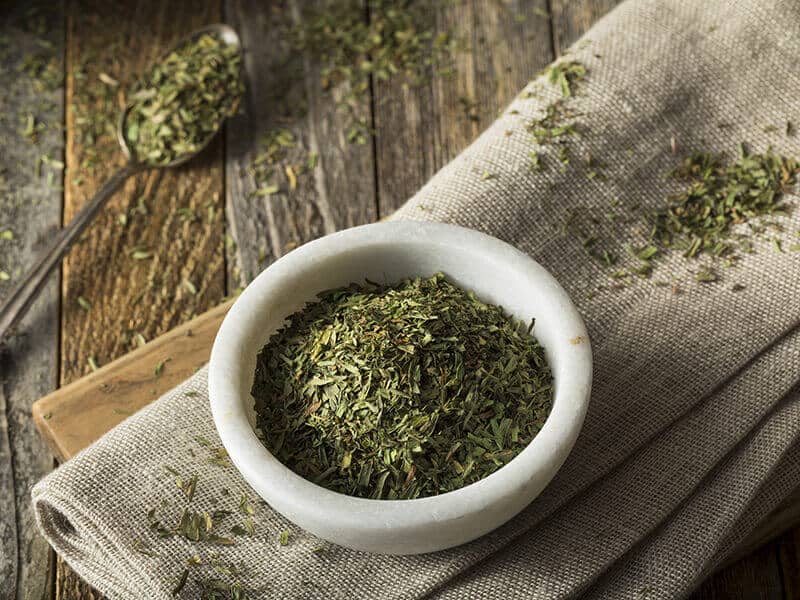 The flavor of dried and fresh basil is not the same. In detail, dried basil is supposedly more flavorful than fresh ones.
The reason to explain this difference is from the drying process. The fresh basil contains an amount of water inside, so its taste might be diluted in some ways.
After the drying process, basil is concentrated, which leads to a stronger, more minty flavor than untreated basil leaves. However, the taste of dried basil lacks anise hint and also freshness.
Another distinction between the two types of basil is the shelf-life. Dried basil can be kept for 2-3 years, while fresh one is easy to spoil after 3-5 days.
Both of them can be used for cooking and garnishing. When using, you should notice the ratio due to their concentration in taste. If you want to replace fresh basil with dried basil, you will need to add a larger amount of fresh basil than the recipe calls for.
Amazing Health Benefits Of Basil
There are so many potential benefits that basil can bring to you. According to experts, basil contains a significant amount of calcium, omega-3 fatty acids, or a lot of vitamins. Keep on reading to explore its amazing benefits.
A Great Source Of Antioxidants
Basil will bring you several antioxidants that help self-remove free radicals in your body. It means that basil can prevent some serious diseases like heart diseases, cancers, diabetes, etc.
Reducing Skin Aging
Cosmetic products which have extracted basil can improve the roughness and wrinkling of your skin. Besides, eating food with basil not only creates a varied diet but also boosts skin health.
Controlling Blood Sugar
You should use basil to combine with food cooking frequently because it helps to reduce blood sugar. Besides, some experts also recommend that people with diabetes consume basil to control their blood sugar.
Reducing Stress
Nothing better than the relaxing aroma of basil after a hard-working day. You can cook food with basil leaves to enjoy their flavor or simply sniff this herb plant.
If you are in depression or anxiety, you should try to use basil to overcome these problems. In some cases, basil helps prevent memory loss or enhance the quality of sleep.
Combating Inflammation, Swelling, And Infection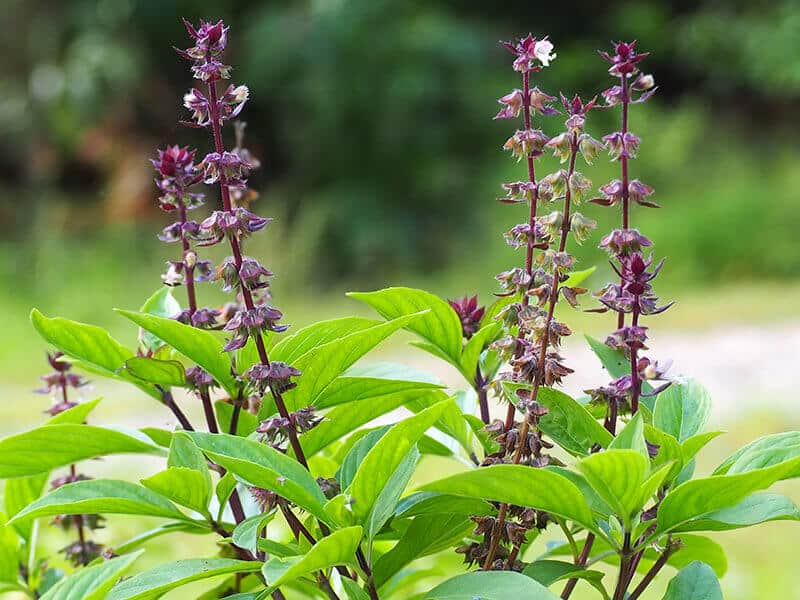 With antioxidants content, sweet basil oil is a product that reduces inflammation which is the main cause of cancer or type 2 diabetes.
This oil can be used to prevent infection and E.coli bacteria for those who meet respiratory, urinary, and so on. (1)
What Do Basil Flowers Taste Like? This Is The Answer!
You might be surprised after knowing basil flowers can not only be edible but also make more things than you thought. Basil flowers often grow during summer with a lovely white or pink-purple color.
Its flowers have the same aroma as the leaves, but the taste is milder. When you have some flowers, you can take advantage of them in these ideas below:
1. Eat Them Draw or Use For Garnishing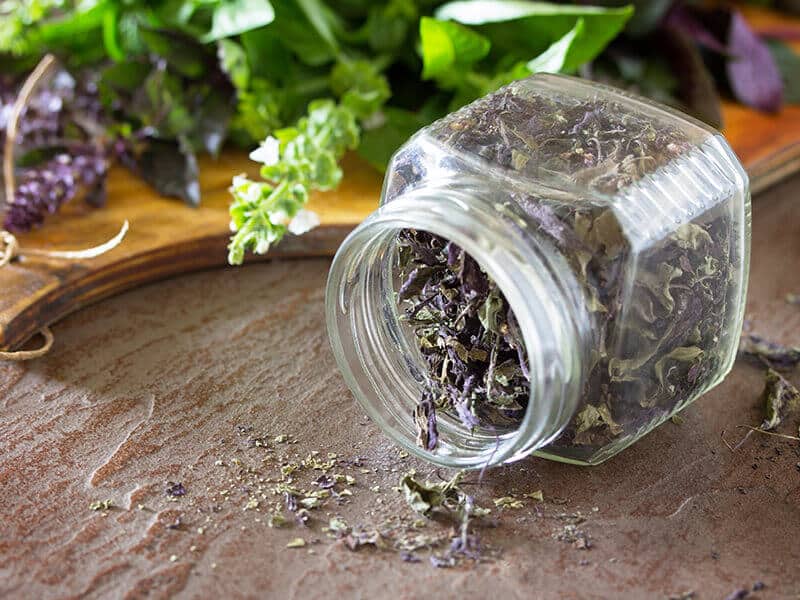 As I said, you can eat them raw. Some people like to eat their flowers rather than leaves due to the milder taste.
Besides, you can use them as a decoration for your food before eating. If you fall in love with its beautiful color, consider creating a bouquet and displaying them in every room in your house.
2. Basil Flower Tea
Not only the leaves but basil flowers are also a should-have ingredient to make great cups of tea. What do you need to do?
Step 1: Take the flowers out of the plant and cut them.
Step 2: Boil water in a teapot.
Step 3: Put them in the boiled water and wait for a few minutes.
Step 4: In case you do not have a teapot, use a strainer to filter the flowers.
3. Basil Flower Vinegar
Basil flower vinegar is very fragrant and can pair with sauce in salad dishes. It is easy to make and always levels up the flavor of the dish you use.
Step 1: Wash the flowers cleanly and cut them.
Step 2: Put them into a glass bottle or jar.
Step 3: Pour vinegar into the bottle.
Step 4: Cover the bottle with its lid or sealed bag.
Step 5: Keep them for a week before using them.
Useful Tips:
You can use white or red wine instead of vinegar.
4. Basil Flower Oil
Making oil from basil flowers is a good idea when you have a large number of its flowers. The flavor is a great combination of both sweetness and savoriness. It can be used as a skin and hair treatment.
Step 1: You can make it with cut, minced, or whole flowers. Wash them cleanly.
Step 2: Place them in a glass bottle.
Step 3: Add olive oil to the bottle
Step 4: Seal it tightly and store it in a pantry or cool, dark place for a month.
Useful Tips:
After using it, you need to cover it tightly to prevent mold.
If possible, filter the oil while taking it out.
Let's make a bottle of basil flowers oil to take care of your hair and skin! Watch this video to know more:
How To Store Fresh Basil For Next Time Using?
In case you buy a lot of basil, what should you do? You do not need to end up with the leftover if you know how to store it properly.
| Name | In the fridge | In the freezer |
| --- | --- | --- |
| Fresh basil | 3-5 days | 3 months - 1 year |
1. In The Fridge
There are two methods to make sure your basil is fresh in the fridge. You should write the day on the sealed or plastic bag with a permanent marker. Let's see how it works and whether this method is suitable for you!
Option 1: Storing In A Jar Or Bottle
It is supposed to be the most effective way that ensures basil leaves are usable next cooking time. This method is easy to carry with only 4 steps.
Step 1: Cut the branches of the basil to the length of your jar.
Step 2: Pour some water into the jar or bottle. Place all branches inside.
Step 3: Use a plastic bag to cover the jar.
Step 4: Keep them in the fridge.
Option 2: Storing With A Towel
If you do not prefer the first way, do not worry, I have another option. This way ensures basil leaves are still fresh and moist with a towel.
Step 1: Pick up the fresh leaves.
Step 2: Arrange them in a paper or clean towel.
Step 3: Roll the towel and put it into the sealed bag.
Step 4: Store in the fridge to use for 5 days.
2. In The Freezer
The best method to prolong the shelf-life of basil is to freeze them. Freezing this herb might take time, but it is worth considering because you can use it for up to 3 months.
Option 1: Freezing The Leaves
You can maintain the whole leaves and their flavor with this technique. Moreover, with my useful tip, the nice green color of basil leaves will be kept.
Step 1: Pick up the leaves and wash them with water.
Step 2: Let them dry and arrange them on a tray.
Step 3: Place them in the freezer. You should check every 30 minutes until its leaves freeze.
Step 4: Put the frozen leaves into the sealed bag.
Step 5: Store them in the freezer, and you can have basil ready to cook anytime you want.
Useful tip:
To keep the green color of the leaves, you should dip your basil in boiling salt water for 15 seconds and drain it before storing.
Option 2: Freezing The Leaves With Oil
Some people like to store basil with oil to use it longer. Besides, this technique is also convenient, especially cooking stir-fry food. You can take each basil mixture of ice from the ice cube whenever you need it.
Step 1: Pick up the leaves and wash them cleanly.
Step 2: Put them in the blender and add olive or other vegetable oil.
Step 3: After blending, you can put the mixture on an ice cube tray.
Step 4: Keep them in the freezer.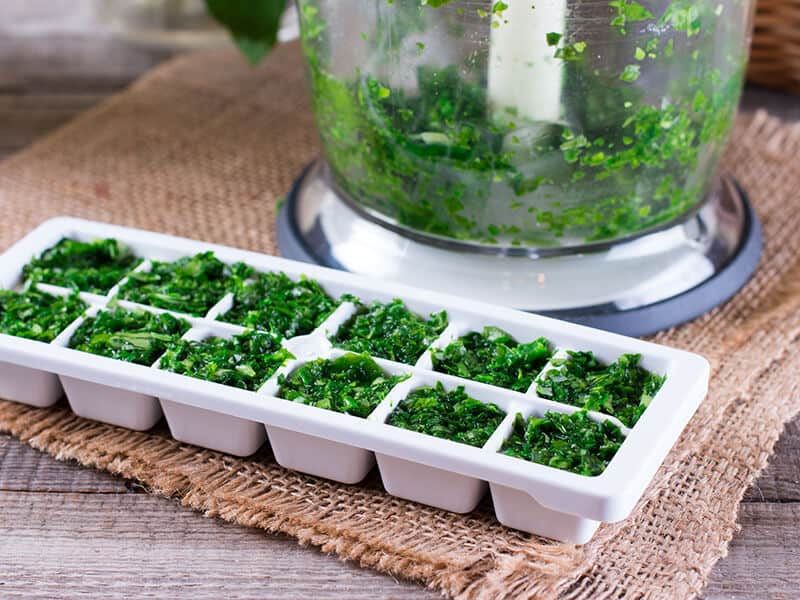 How Can You Know Basil Leaves Are Bad?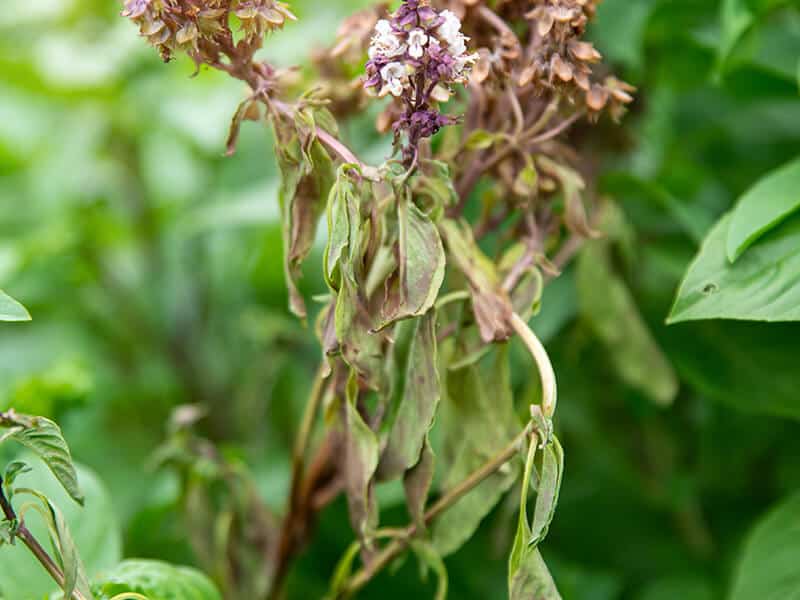 Like other herbs, I would not recommend you to consume the old ones. After a period of storage, you should check to determine that basils are still fresh or spoiled. Do not try to eat the rotten leaves because they might make you sick.
Keep reading to see some signs of spoiled basil leaves!
Discoloration: As usual, these plant leaves have a nice green color. When they turn to black or brown, you should give them a toss. Otherwise, it is easy to notice many brown spots on the leaves.
Texture: Usable leaves are smooth in texture with a series of veins. If there is a slimy or moist texture, it means that you can not use them anymore.
Smell: Unlike the perfumy of new herbs, bad basil is described as a rotten smell. You can recognize the smell after sniffing.
Best Tips To Choose Fresh Basil To Cook
Choosing fresh basil is essential before cooking any food. With the new leaves, you can take advantage of its flavor and nice color. Here are some tips and tricks when buying:
Buy the basil branches with light green or purple color and do not look wilted.
Do not choose the basil with brown spots on leaves.
Avoid the plants that are a strange color, such as yellow, black, etc.
If possible, sniff the basil and feel its aroma. In case of a bad smell, you should try to cook with it.
You can cook the best pesto dishes ever without any worries about flavor with fresh basil.
Enjoy New Taste With Delicious Basil Recipes
When mentioning basil, you will think about a tasty pesto dish or a creamy pizza with cheese. However, there are much more choices with the special taste of basil than that! Here are some recipes with basil that you should try tonight.
It is such a big mistake if you do not try the basil tomato tart. This recipe is inspired by pizza ideas with tomato and basil.
Its crust is very crispy with a creamy cheese filling. The flavor is so delicious, fresh, and complicated. Trust me, your family members, especially kids, can not be irresistible when they see this tart.
Do you lack the idea of cooking a family meal this weekend? Think about basil tomato tart!
Do you want some creative recipes for breakfast? Try this Italian cloud eggs idea!
The eggs resemble clouds with a fluffy, crispy texture of egg whites. The runny egg yolk brings a creamy feeling when eating. And, of course, the taste of basil makes it more special. You can eat them with toasted bread and a dish of salad. This is great, right?
This recipe will wow your friends and family because of its great taste. I assure you all ingredients are easy to find in your kitchen. Besides, do not forget to add basil that enhances the chicken flavor to a new level.
Moreover, it takes less time and effort to make at around 30 minutes for a delicious dish. I highly recommend you to give it a try!
Risotto is not an unfamiliar dish to many people. However, this is a suitable chance to create a new one with basil. You can display your dinner with risotto, fresh scallops, and basil leaves.
I have to say the taste of this food is better than you thought. The traditional taste of risotto and the sweet flavor of scallops are the two factors you can feel after a bite. Furthermore, thanks to the mild, spicy basil, it will satisfy your dinner effortlessly.
FAQs
It is time to ask and answer! I think you have gained new information and some recipes to cook with basil. This section will answer some common questions that people frequently ask about basil's taste.
The Unique Flavor Of Basil Is Difficult To Be Imitated
With all the information above, can you confidently answer when someone asks what does basil taste like? On my own, I always supposed every herb has its secret, and its taste will depend a lot on your feelings.
Once again, if you find my post useful, share it with your friends and make a connection between people who love to cook with the herb. Also, feel free to contact me via the comment section!
References
Rxlist.com. 2021.
eMedicineHealth. 2021. Basil: Uses, Side Effects, Dose, Health Benefits, Precautions & Warnings.