What does bee pollen taste like? Well, the first time I heard about bee pollen, I thought this might be a new invention in recent years. However, it is a fact that bee pollen has been associated with human history for a long time.
Though bee pollen is an unfamiliar name to many of you, it's still one of the favored ingredients of many cooks because of the unique flavor. In my post today, not only will I share with you the information related to bee pollen taste, but also other helpful knowledge!
Don't look any further. Just stick to this post right now!
Bee Pollen – Nutritious Package For Your Days
In this part, you can expect basic but useful insights about bee pollen. As this might be the first time you heard about it, I will try to provide you with the most precise and complete background.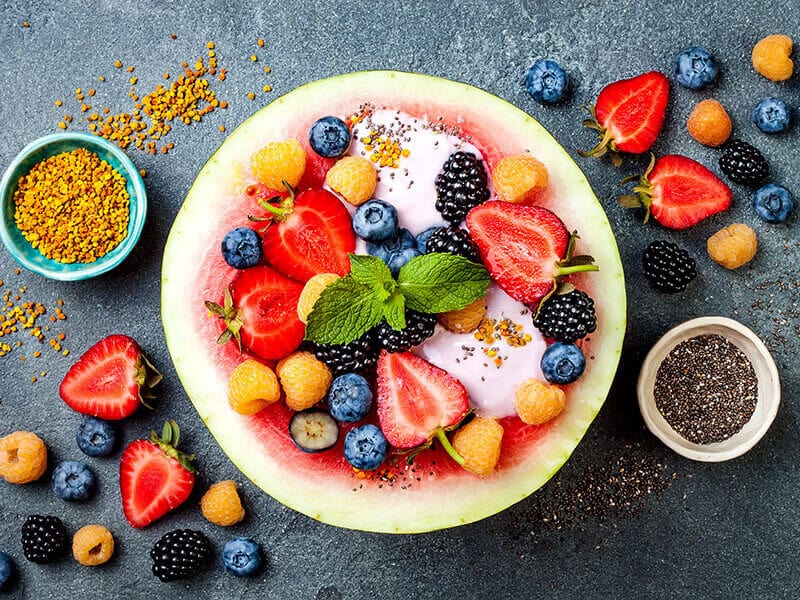 1. What Is Bee Pollen?
As its name suggests, bee pollen is the pollen from different flowers or plants collected by bees. When bees forage, they fly from plant to plant, flower to flower and get the pollen. Due to the specific body's structure, fine pollen grains will naturally be stuck into bees' bodies.
Until the bees are covered with full of pollen, the bees can easily use their legs to pack the pollen into small pellets, carry it to the hives, and store it in their little combs as a food source for the colony.
Bee pollen not simply includes flower pollen; it also contains nectar, honey, bees' digestive enzymes, and other various nutritious substances. As a result, except for honey, beekeepers will also harvest bee pollen and make a business from it.
In particular, they make pollen traps and set them up at the entrance of the beehives. In this way, when the bee brings the pollen to their hives, they will "accidentally" drop the pollen outside.
Fresh bee pollen is always the best form for any purpose. But to be stored longer for selling, it will be dried or frozen before being packaged. And while bee pollen can be found throughout the United States, China still leads the amount of annual bee pollen production.
Do you want to know how bees harvest pollen? You can see this video to know more:
2. The Most Prominent Uses Of Bee Pollen
Besides the culinary uses, bee pollen also can be applied in some other fields. Are you curious about them? Scroll down to get more detailed information!
In The Culinary World – Delicious Treats With Bee Pollen
You might not realize bee pollen's appearance around you. But yes, it really does! In the modern world, bee pollen is specialized mainly in the field of culinary applications. And I'm sure these humble little granules are more helpful than you thought.
The most prominent use of it is in smoothies. More exactly, chefs around the world often put bee pollen into their smoothies as a healthy addition. In addition, bee pollen can show its face up to various kinds of your favorite fruit juice too.
Pollen powder can be sprinkled over your favorite popcorn, oatmeal, yogurt, cereal, soups, and porridge. Moreover, your sugared almonds or hazelnuts may also need it as an attractive and tasty coating.
If you are going to make a salad, a bit of blended pollen can help you to make up a flavorful dressing. It is paired especially well with honey mustard, poppy seed, or vinaigrettes dressings. Depending on your preference, bee pollen can be added to your toast.
What's more? Well, even your dessert recipes, such as raw protein bars, chocolate barks, and cakes, will also require bee pollen. And I think you will not refuse these little sweethearts on your pancakes plates.
You may not believe, but bee pollen works excellently in baking recipes!
Medical Purposes – Ancient Pancera In Many Civilizations
So, what else can bee pollen be applied beyond culinary uses? Don't despise these tiny ingredients. Did you know they are also used in medicine? Yes, you don't hear it wrong. Bee pollen can be used for medical purposes!
Throughout human history, bee pollen has been valued and treated as a traditional medicine in many civilizations from Asia to Europe.
Among these countries, China is a typical example. In ancient times, bee pollen was an essential part of traditional treatment for digestive discomfort. On the other hand, it is also used as an aid in illness recovery and a useful method for lacking vitality.
Not only that but ancient Greeks and Egyptians also used bee pollen to increase soldiers' stamina before battles. In the ancient Egyptian view, bee pollen was considered "life-giving dust" that could strengthen their health.
In many other civilizations, these cute little granules are used to make rejuvenating blends and even named "Ambrosia," which is literally translated as "the Gods' food."
As An Brilliant Colorant In Bath And Body Products
Bee pollen mostly has a natural yellow color. Hence, it is used as a colorant in many bath and body products. To put it in other words, soap manufacturers normally will add it into their soap-making formula, particularly in those using natural bee ingredients.
These bee pollen-contained soaps are said to have inflammation reducing and skin-soothing properties.
Valentine's Day is coming. Save this chocolate recipe with bee pollen right now!
The True Experience: What Does Bee Pollen Taste Like?
The taste of bee pollen depends on different factors. So, do you want to know why the taste of bee pollen you buy sometimes is not totally the same as the one your friends buy? Read this part thoroughly to figure out the answer!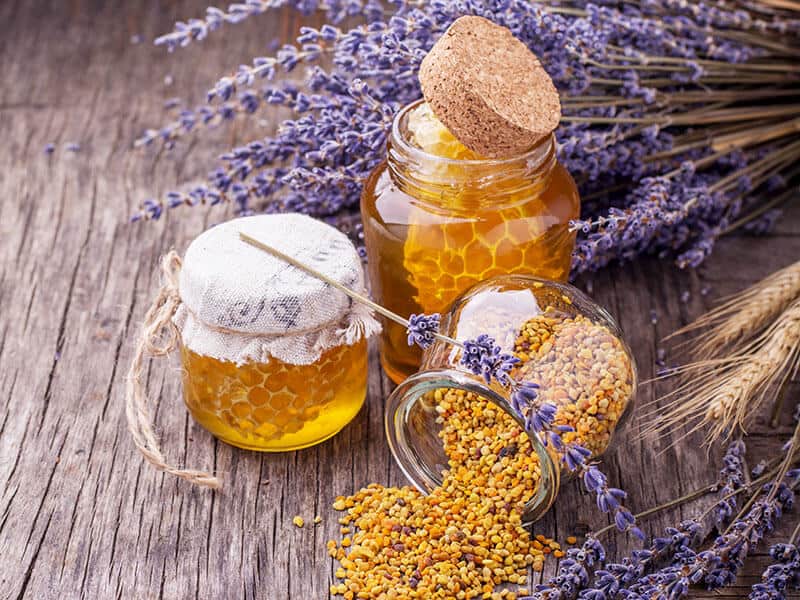 Get To Know Bee Pollen's Texture And Color
Since the bees get the pollen from many kinds of flowers and plants, the bee pollen sold in the current market is slightly different. Nonetheless, its color generally ranges from bright yellow or bright orange to grey or dark brown, which reflect the kind pollen is harvested.
In particular, the pollen of coneflower will have a deep brownish-black, while the pollen harvested near the clover and around raspberries will give a golden yellow and dark red-brown respectively.
When it comes to the texture, the way it is processed will decide what the consistency will be. Fresh (raw), dried, and frozen bee pollen often have a granule-like form but significantly different from the texture.
While fresh bee pollen is more likely to be softer due to the high water content from bees' enzymes and honey, dried and frozen bee pollen will possess a more tough and chewy texture.
Besides, in case you buy bee pollen under the powder form, of course, you will get a powdery, chalky, and smoother texture.
Bee Pollen Flavor Profile: It Is A Pleasant Reminiscent
It can be said that the taste of your bee pollen is affected by 3 main factors, including the plants or flowers the bees take the pollen from, the places you achieve it, and the season it is harvested.
The kinds and fresh level of the flowers/plants affect very much on your bee pollen flavor. If you are a regular bee pollen consumer, I'm sure you will find the differences among many kinds of bee pollen you have bought.
As the season changes, bee pollen will accordingly change too. For instance, maybe in the summer, the bee will get the pollen from the freshest sunflowers, whereas in the autumn, these flowers are starting to wilt, and other flowers will take control.
And you know, every place has its own native flowers/plants. As a result, you can not expect the same flavor in case your bee pollen has different places of origin.
Well, don't get confused. I just try to be as subjective as possible. But if you need me to sum up the basic taste of this ingredient, the important thing I want to emphasize is its sweetness. It is very light, pleasant and will not make you get overwhelmed when tasting.
Furthermore, the floral and honey notes are noticeable. The combination of various pollen from diversified flowers/plants makes it give off a very distinctive flavor. Plus, sometimes, you may realize a hint of earthiness and a bitter aftertaste when trying the new brands.
Note: Some people say that bee pollen reminds them of the flavor of honeycomb candy or some kinds of dried fruit but it is not as sweet as these ones.
Cooking Suggestions: 5 Must-Try Recipes With Bee Pollen
Don't worry in case you haven't found any good recipe yet for bee pollen. In this part, I will put my top-recommended recipes using this flavorful ingredient. You can try them respectively to figure out which ones belong to your taste.
If you ask me for a refreshing and healthy drink using bee pollen, it would be the bee pollen smoothie. The bee pollen amount does not dominate in this sweet treat, but it adds a very distinctive and savory flavor to the recipes.
I usually make it with mangoes, bananas, and oranges, but you can pick your favorite ones. Plus, the tropical kinds of fruits will work better with your bee pollen!
Make your blueberry smoothie more refreshing with bee pollen! You can see this video to know more:
Oats? Yes. Don't hurry to disappoint. Everyone knows it is the fastest solution for a nutritious breakfast. The problem people have lies in its dried and boring flavor. And here is your magic: overnight oats with bee pollen!
All you should do is combine your oats with other ingredients like nuts, milk, or fruits and put them into your fridge overnight. Before serving, add an expected amount of bee pollen to push up the flavor!
If you are a fan of this Amazonian superfruit – acai, don't ever skip out on this treat! And let your bee pollen show its face on your acai bowl. It will add extra sweetness to this recipe. Just like the smoothie, an acai bowl with bee pollen should always be on your list!
Are you still skeptical about my words? Make it now to discover the truth!
I honestly have a lot of mouth-watering treats for your bee pollen, but sadly I need to decide which one all of you will surely love. And yes, bee pollen with ice cream is one of the treats I want to introduce to you.
Whatever ice cream you have, don't hesitate to add some bee pollen granules or sprinkle a little bee pollen powder to the top of the ice cream. It is undoubtedly good for your health!
Every time you want to grab a delicious snack for an enjoyable movie night, granola bars with bee pollen absolutely can satisfy you. Depending on your preferences, the ingredients can be flexibly changed – dried fruit, nuts, coconut flakes, etc.
Well, you know, the perfect recipe is the one that fits your taste. The only thing you need to remember is bee pollen. Sprinkle it into the top of these little bars and leave them in your freezer for a few hours. And they can be stored for up to one week!
Health Benefits Offered: What Can Bee Pollen Do For You?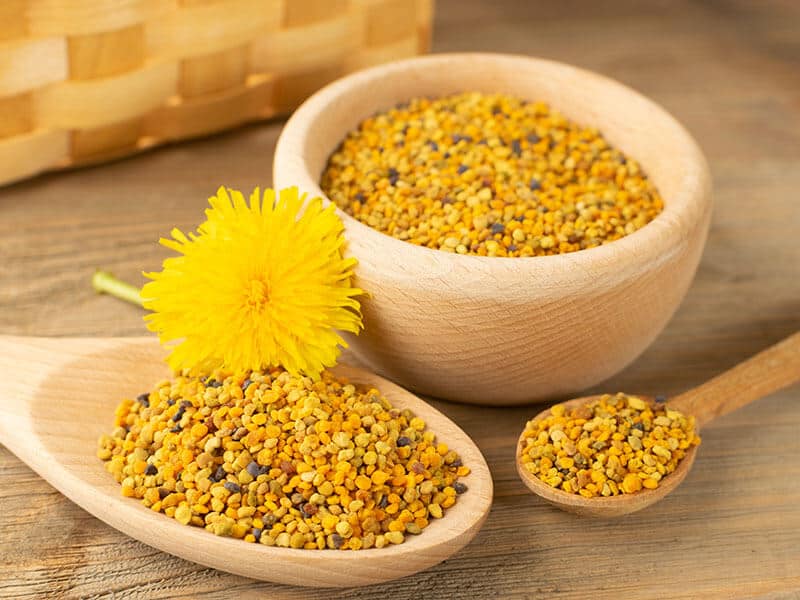 As I have mentioned before, bee pollen is a healthy product that is highly valued and used in medical treatment worldwide. In fact, bee pollen has been recognized as a medicine by the German Federal Ministry of Health.
As its effects have been verified in many research, here are some benefits you can gain from this magical ingredient.
1. Gaining A Nutrition Package From Bee Pollen
According to research implemented in 2018, honey bee pollen contains more than 250 different substances, consisting of many essential nutrients which your body calls for.(1)
Consuming bee pollen will provide your body with a significant amount of proteins, fatty acids, lipids, and various kinds of minerals, as well as vitamins. The quality and quantity of these substances will change based on the plants and season your bee pollen is harvested.
2. Chronic Diseases And Free Radical Damage Preventer
Thanks to the high content of antioxidants, such as flavonoids, carotenoids, etc., in its structure, bee pollen can help to protect your body from free radical damage, one of the leading causes of chronic diseases, including cancer and diabetes. (2) , (3)
Like its various substances, the antioxidant content can vary depending on the plants/flowers the bee pollen is taken from.
3. Improve Your Vision And Lower The Risk Of Heart Disease
According to the report from the study conducted in 2015, bee pollen helps to improve vision in patients with nearsightedness by lowering the cholesterol level.
On the other hand, the antioxidants also keep your body's lipids from clumping, restricting your blood vessels and obviously increasing the risk of heart diseases. (4) , (5)
4. Other Potential Health Benefits Bee Pollen Offered
For a long time, bee pollen has been considered a panacea in many civilizations. Therefore, it is not surprising that excluding these benefits above, bee pollen also brings you amazing health gifts.
It lowers the influence of allergies on your immune system, aids wound healing, and helps to fight against cancer cells. (6)
I bet you might want to know more benefits of bee pollen!
Contraindications When Consuming Bee Pollen
Before you buy bee pollen, don't forget to look at these contraindications below to avoid potential side effects that may be caused after eating bee pollen.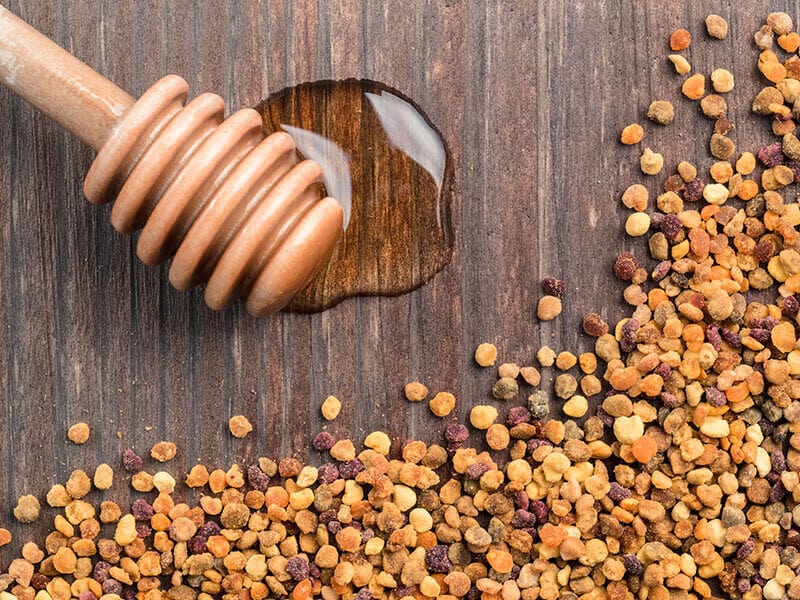 1. Not For People With Pollen And Honey Allergies
Despite being a healthy and nutritious supplement for the human body, not everyone can eat bee pollen. In nature, bee pollen is made up of the pollen of various kinds of unknown flowers and plants. Even the manufacturers cannot tell you its detailed ingredients.
You may suffer from itching initially. Then, these symptoms will get more severe with the signs of short breath, headache, and many other whole-body reactions. Hence, if you have pollen allergies, I recommend that you should consider carefully before eating bee pollen.
Also, it is the same when you get allergic to honey.
2. Not For Pregnant Women And Their Babies
There are several controversies around using bee pollen during pregnancy periods.
Since some side effects such as nausea, itching, breathlessness, etc., have been reported, pregnant women are suggested to avoid consuming bee pollen for the safety of themselves and their babies.
And to minimize the harm to zero, you should go to see doctors to get advice when breastfeeding currently. And remember: don't allow your under-1-year-old baby to use bee pollen as it may lead to botulism.
Storing Bee Pollen: Make It Available For 1 year!
Once you have paid your dollars to get bee pollen, don't waste it just because of your carelessness. Knowing how to store your bee pollen precisely will help you to retain its nutritional values as much as possible.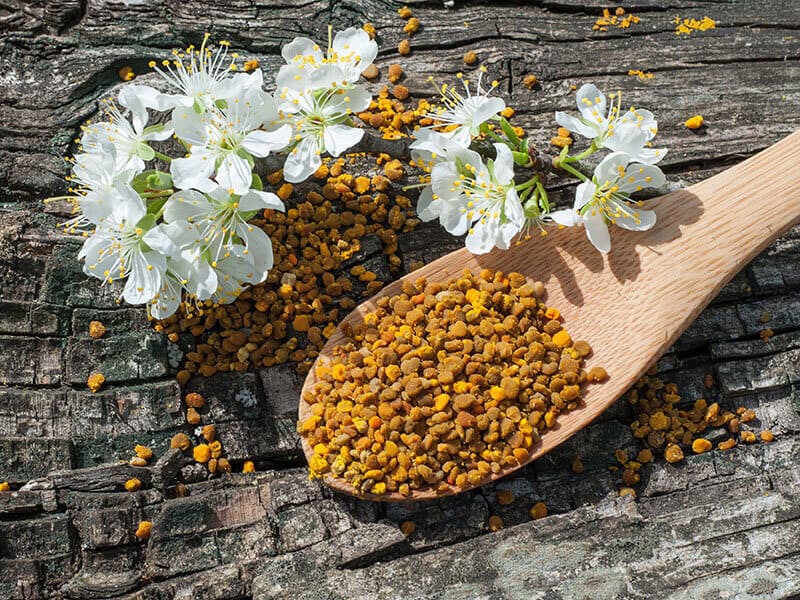 1. Keep Your Bee Pollen In A Cool And Dark Place
The most popular form you can find in your city supermarket is surely dried bee pollen. After bringing it home, you need to store it in a cool and dark place such as your pantry. Don't ever let it be under UV radiation since it can diminish your bee pollen nutritional values.
Note: Once you decide to store fresh bee pollen at room temperature, remember to use it for only a couple of weeks.
2. Fridge And Freezer Should Be Your Best Choices
Although dried bee pollen can be stored outside, it is necessary to put it into your fridge or freezer if you want to extend its longevity. Especially, storing in the freezer or fridge is a must for fresh bee pollen because the moisture from the air can shorten the available time.
To be more specific, if you can reach the fresh bee pollen, freeze it in the freezer for about 24-48 hours first. Then, take it out and store your bee pollen under normal refrigeration.
3. Stick Your Bee Pollen To Airtight Jars
Bee Pollen sold in the markets is usually packed in regular plastic or glass jar. However, once you open the jar, it will be better to move your bee pollen into an airtight jar. By this way, your bee pollen can be well-protected from moisture and cross-contamination.
4. Store Your Bee Pollen In 1 Year Maximum
Although bee pollen is said to be stored for up to 3 years, I recommend consuming it only within 1 year. 1-year stored bee pollen can retain most of its nutritional values, while the 3-year stored bee pollen tends to lose its values over time.
Also, the longer you store your bee pollen, the less flavorful it is.
FAQs
What else do you want to know about bee pollen? If you still have some questions about this healthy ingredient, these frequently asked questions below may give you a clue!
Bee Pollen Is Definitely A Healthy Ingredient!
I'm not sure whether bee pollen can be an indispensable item in your list after you taste it, but I'm sure these cute little granules now almost make my kitchen its home. You have tried it, but it didn't fit your taste buds? Come on, at least you will get some health benefits, right?
And regularly, you only need to use a small amount of bee pollen in almost all recipes. Therefore, don't worry that the taste will overwhelm your dishes. Take the right portion, and everything will be perfect!
Now, I'm really happy that you can reach this far on my post. Don't forget to tell me your opinion in case you have experienced the bee pollen tasting journey!
References
Kieliszek, M., Piwowarek, K., Kot, A. M., Błażejak, S., Chlebowska-Śmigiel, A., & Wolska, I. (2018).
Denisow, B., & Denisow‐Pietrzyk, M. (2016).
Khansari, N., Shakiba, Y., & Mahmoudi, M. (2009).
Komosinska-Vassev, K., Olczyk, P., Kaźmierczak, J., Mencner, L., & Olczyk, K. (2015).
Rzepecka-Stojko, A., Kabała-Dzik, A., Kubina, R., Jasik, K., Kajor, M., Wrześniok, D., & Stojko, J. (2018).
Jon Johnson. Bee pollen: Benefits, uses, side effects.