What does Blue Curaçao taste like is something every cocktail lover wants to know. It is one of the most famous liqueurs; thus, there is a myriad of delicious beverages created from it.
True to the name Blue Curaçao, this liqueur has a beautiful blue color and characteristic aroma with an eye-catching appearance used for grand parties.
In the following article, you and I will explain more clearly what Blue Curaçao liqueur is, where it comes from, how it tastes, as well as its remarkable uses and functions. You will also learn how to make delicious cocktails from this liqueur!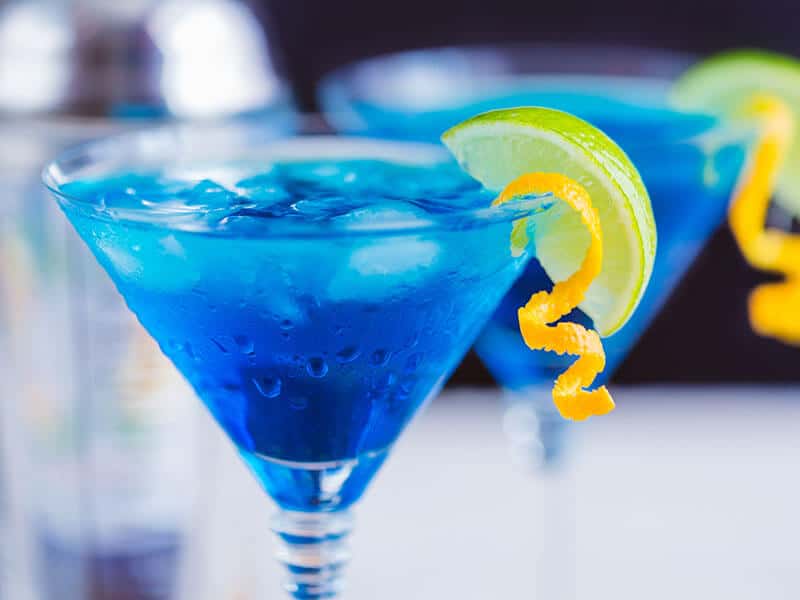 What Is Blue Curaçao?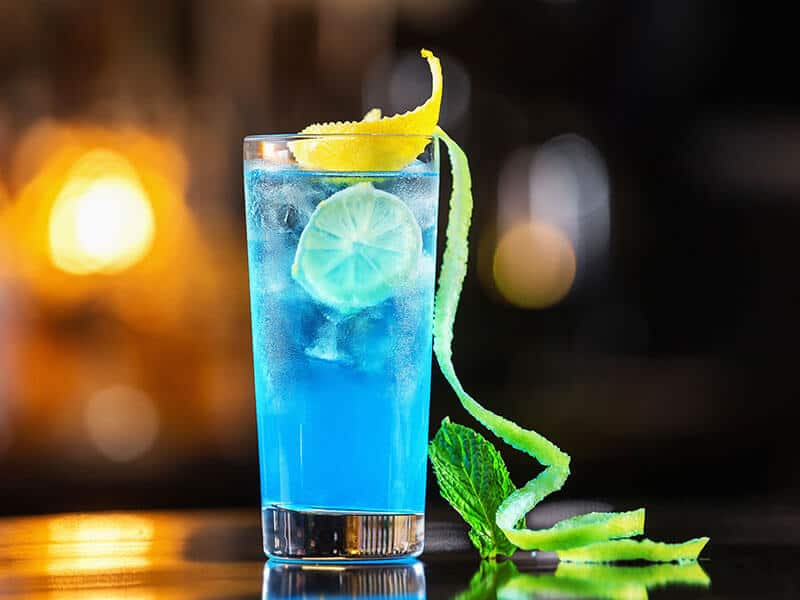 The name Blue Curaçao comes from the island of Curaçao, which is in the Netherlands Antilles. It is made from Laraha fruit, citrus from Curaçao.
Laraha is an orange brought by the Spaniards from Valencia to Curaçao. Because it is too bitter and fibrous, it cannot be eaten directly but used to produce liqueur.
On the market, Blue Curaçao liqueur is produced in several types (1) . In addition to Blue Curaçao, Curaçao generally comes in other colors such as orange, fawn, green or colorless.
Blue Curaçao is often mixed with blue E133, so it is called "Blue" Curaçao. This is a citrus liqueur with an alcohol concentration of 15 to 40 ABV. Today, the most popular Blue Curaçao syrup on the market are Blue Curaçao Torani, Blue Curaçao Monin, and Genuine Blue Curaçao.
What Does Blue Curaçao Taste Like?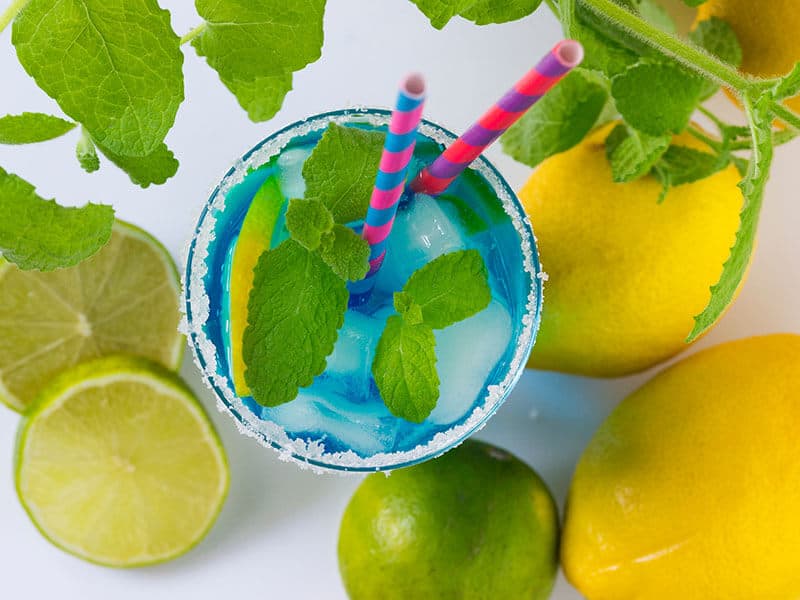 Blue Curaçao is made from Lahara orange peels, so it is influenced by this citrus taste a lot. Although Lahara is not the kind of orange that everyone wants to eat (the flesh is too bitter and fibrous), Blue Curaçao is definitely the liqueur everyone wants to drink.
This brilliant liqueur has a distinct taste of a tropical vacation. The primary flavor and aroma you immediately notice are of orange peels of the Lahara – a unique bittersweet taste. It is a delightful combination of a light sweet orange flavor and a subtle bitter aftertaste.
Do not worry; this is not an unpleasant bitter taste but a pleasurable bitter tinge typical of citrus peels. Blue Curaçao is quite similar to Triple Sec taste yet can have a more bitter touch than this and other liqueurs.
To overpower the bitterness, Blue Curaçao does have some added sugar. The resulting sweetness is exceptionally pleasant without any cloying. Although not sugary as a crème liqueur, just slightly sweet, it is still enough to enhance the orange flavors and offset the bitterness.
Furthermore, the sugar cane alcohol blends with the orange peels' oil generate a secretly characteristic taste of Blue Curaçao. You just need to notice the brands since the flavor can vary due to the orange-base type.
Yes, this liqueur is truly recognizable from the color to the taste. Although Blue Curaçao has artificial blue color, it is still worth enjoying at special parties to make a bright azure-tinted cocktail. The aroma is so refreshing with hints of fruitiness.
Blue Curaçao, Orange Liqueur and Triple Sec: What Are The Differences?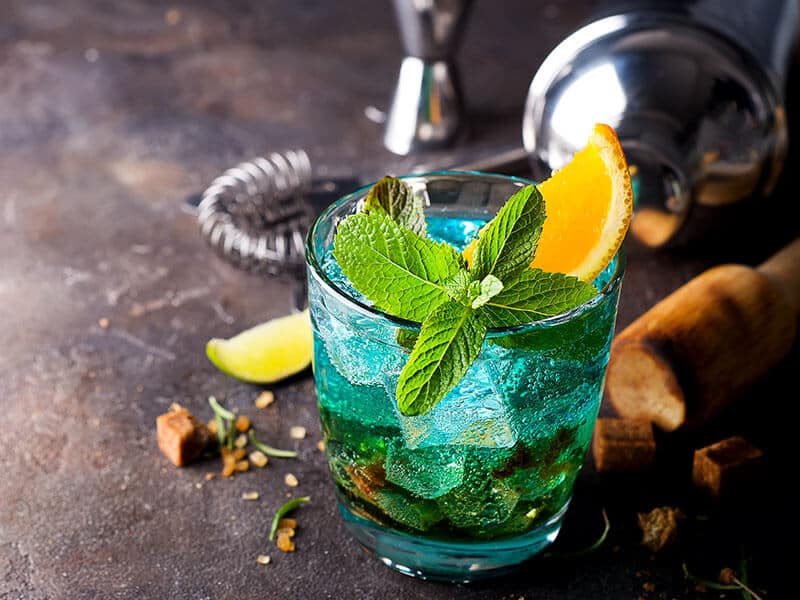 You can refer to some common differences in the chart below to better understand four types of the well-known liqueur: Blue Curaçao, Orange Liqueur, Triple Sec, and Cointreau.
| Featured | Blue Curaçao | Orange Liqueur | Triple Sec | Cointreau |
| --- | --- | --- | --- | --- |
| Color | Blue | Colored, brown, or clear | Clear | Colorless |
| Base Spirit | Cane spirit | Cane, neutral, brandy, or whisky | Cane or neutral spirit | Sugar beet |
| Taste | Bittersweet orange peel | Sweet, citrusy with different orange flavored | Citrusy, like orange-infused vodka | Crisp, smooth, orange-flavored |
Orange liqueur is a generic name for liqueurs made from different types of oranges with a characteristic sweet or bitter taste of citrus. Blue Curaçao, Triple Sec, (2) and Cointreau are dry orange liqueurs. However, not all orange liqueurs are Blue Curaçao, Triple Sec, or Cointreau.
Blue Curaçao and Triple Sec have an ABV of about 40%. On the other hand, orange liqueur can have a more decadent spirit, and ABV ranges from about 30 to 40%. Most orange liqueurs are sweet and citrusy with different orange flavors. They can be served in cocktails or shots.
Triple Sec belongs to the orange liqueur family with a straightforward citrusy flavor, just like dry oranges infusing vodka. You might feel just mildly bitter on the tip of your tongue. It can be drunk straight as a cocktail, or blended to be the classic Mojito.
Then again, Cointreau is actually a well-known brand of Triple Sec. Its flavor is a combination of sweet and bitter orange, balanced with some spices. The taste is really smooth and crisp with orange-flavored. You can serve Cointreau as an aperitif, a shot or blend it in several cocktails.
The Meticulous Process Of Making Blue Curaçao
The production process of Curaçao is as unique as its taste. It is all done with precision, expertise, and quality from the moment the Laraha is harvested to the time it is poured into the bottles:
Stage 1: Grow Laraha
The native Laraha growing plantations are usually located in the eastern part of Curaçao and comprise about 45 Laraha trees. Each tree will produce between 150 and 200 fruit, resulting in about 25 to 35 kg of dry bark.
Plants are harvested twice a year, but harvesting will not be as simple as you think. The Laraha tree is 3 meters long and to be able to get the fruit without crushing the bark requires a particular technique.
Stage 2: Get The Fruit
When the fruits are green, farmers here will have to use a long ladder to climb up to get the fruit from the tree before they ripen.
To preserve oranges for a longer time, when harvesting, farmers will not separate the fruits from trees by hand but use scissors and do not cut too close to the stem. This will help oranges retain more nutrients and be fresh for a longer time.
Stage 3: Cut The Peel
They cut the orange peel into four parts, shaped like triangles. For this process, the farmers use a stainless steel knife so as not to contaminate the peel. The rest of the fruit is also used as food for the goat.
Stage 4: Dry The Peel
The peel is then sun-dried in sunlight for five days. This will be done on a large concrete floor. In any case, the peel can get wet, so a tarp should be used to carefully cover it at night or if it rains.
Stage 5: Distill
The entire distillation and bottling process is done by hand and will take about 17 days. Orange peels are usually placed in jute woven bags containing spices and then heated in a copper distillation pot with kosher alcohol (derived from sugarcane) for three days.
After one day of cooling, water is added, and distillation takes place for another three days.
Stage 6: Filter
After completing the distillation stage, a suitable amount of sugar and water are added to the product. Then continue to filter for three days to create pure, colorless Curaçao.
Stage 7: Get The Finished Product
To create colored liqueurs, like the world-famous Orange and Blue Curaçao versions, they add food-approved food coloring. The final step is to bottle, label, and then seal them.
Most Fascinating Blue Curaçao Cocktails You Must Try
Blue Curaçao is often used in cocktail recipes to create a citrusy flavor. Its striking color also makes cocktails more appealing without changing the flavor of the cocktail too much. Here are some famous cocktails made with Blue Curaçao:
This is a stunning blend of flavors: Blue Curaçao, white vermouth, strong vodka, and orange bitters. This Martini is served cool with ice. The beautiful blue color will make you fall in love.
This blue margarita recipe has a bold citrus flavor from Blue Curaçao. Perfectly mild bitterness combined with strong Tequila provides excellent balance. It also has an attractive deep Caribbean blue color.
Blue Curaçao works well with the Tequila making this Blue Margarita specious to drink!
Not only blue, but you can also mix other ingredients with Blue Curaçao to create the beautiful green color of Blue Hawaiian Drink. The color of this drink is as bright as the ocean. It smells of vodka and rum with sweet flavors of pineapple juice and syrup.
Again, play with color by combining Blue Curaçao and red Grenadine. This Purple Rain has the citrus flavors of Curaçao, plus the sourness of lemon juice with a strong vodka and gin base.
Why don't you make this purple rain for a date night dinner?
Aqua Velva is made simply from soda and fresh lemon juice, creating a refreshing, bubbly sour drink. With a base of gin and vodka, all the ingredients combine perfectly with the mild bitter citrus of Blue Curaçao.
FAQs
This liqueur is such a unique drink for a holiday, right? Let's find some more exciting information about Blue Curaçao through the Q&A below!
Let's Make Some Blue Cocktails!
Together, you and I have learned about the distinctive taste of Blue Curaçao and all the characteristics of this liqueur. This cocktail is very suitable for drinking on a hot afternoon because it has a refreshing taste, helping to refresh the spirit.
In addition, at weekend parties with family and friends, this is the perfect choice to entertain everyone. The aroma and delicious taste of the cocktail mixed with Blue Curaçao, subtle scent, and a little intense will make anyone enjoy it.
Don't forget to share this post, so everyone knows Curaçao without even tasting it. You can follow me regularly to keep up to date with great news around your kitchen! Have an excellent cocktail time!
References
En.wikipedia.org. 2021. Curaçao (liqueur) – Wikipedia.
En.wikipedia.org. 2021. Triple sec – Wikipedia.