You will feel delighted when you know, "What does fondant taste like?" This is the feeling that I experienced after getting to experience the flavor of fondant. There is nothing better than knowing exactly what you are wondering.
This article was created to answer your doubts about the taste of fondant as well as provide you with a vast amount of fondant knowledge. Everything is ready for you to discover.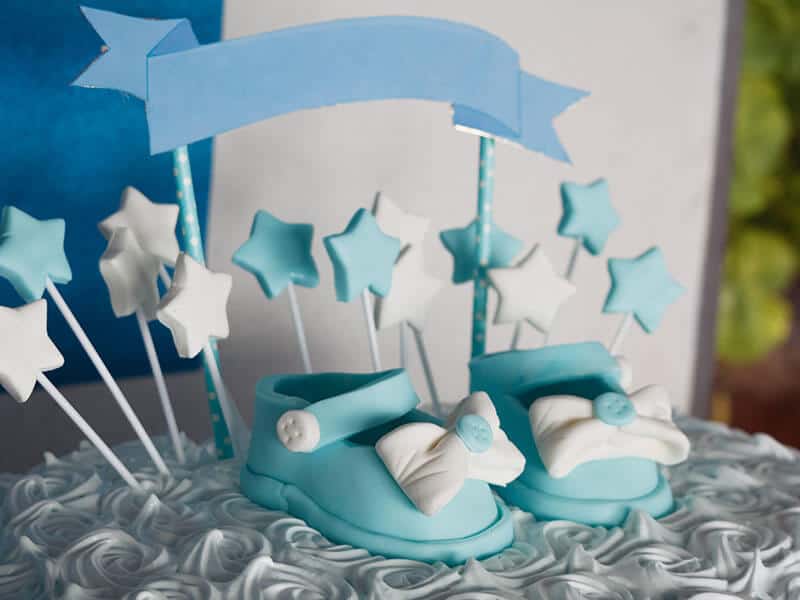 Enlarge Your Knowledge About Fondant By Reading This Section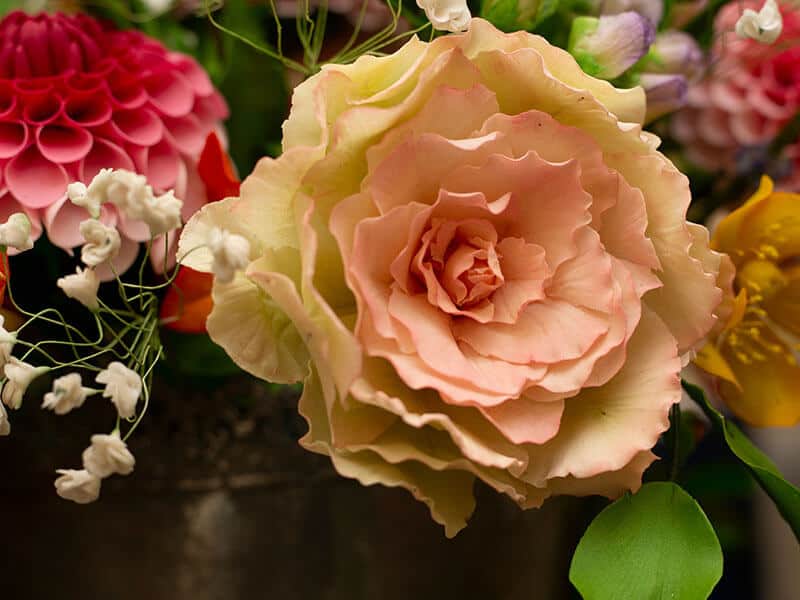 Fondant is a type of icing used to coat cakes or pastries for decoration. Typically, you can see fondant in cakes prepared for special occasions, such as weddings, anniversaries, birthdays, etc.
You can absolutely eat fondant as a dessert or cake filling. Fondant is the result of many components, such as sugar water, sugar, gelatin, corn syrup, and cornstarch. These ingredients are mixed together to form fondant dough.
Depending on the preference of the maker, fondant comes in a variety of colors, sizes, and shapes. You will have many options to decorate cakes for big occasions. There are various types of fondant made from different components that create new flavors and textures.
Poured and rolled fondants are the two basic kinds of fondant. In addition, there are many other variations, including chocolate-based fondant and marshmallow (1) . We will learn more about these types in the following fascinating section.
Listen to all answers to questions about fabulous fondant.
What Does Fondant Taste Like?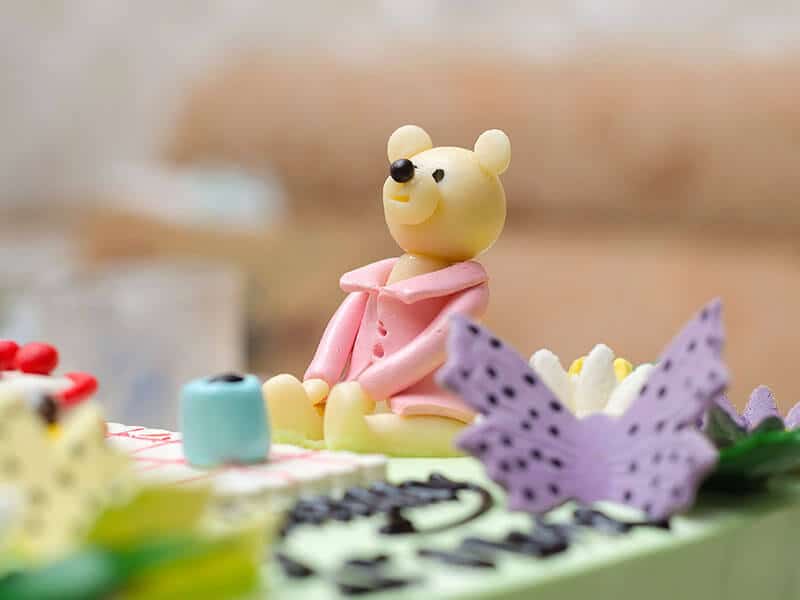 The first thing that I think of when mentioning the taste of fondant is its striking resemblance to marshmallows. The high sugar content results in the characteristic sweetness and sugary flavor of fondant. The flavor of fondant depends on the accompanying ingredients.
Besides the typical sweet taste, you can find the delightful taste of vanilla, orange, lemon, strawberry, or mint if you use one of them as an element in making fondant. Its flavor is not diverse, so you should use ganache or buttercream to enhance its taste.
Regarding texture, the creamy and soft texture of fondant is pretty similar to buttercream, but fondant will be slightly thicker than buttercream. Furthermore, it still contains some chewiness that comes with a rubbery texture.
The Taste And Relevant Information Of Different Fondant Varieties
For more detailed information, you and I will explore the outstanding features of different types of fondant together. These are the variations of two main fondant types, including poured and rolled fondants.
Types Of Fondant
Main Ingredients
Texture And Flavors
Pros
Cons
Cooked Poured Fondant
Sugar and water
Crunchy, glossy texture and sweet taste

Color and flavor your cakes with food coloring
Prepare it in advance, and reheat it when needed
Can be kept for 3 days in the fridge

It takes a lot of time and effort to make it with master technique
Quick Poured Fondant
Corn syrup, powdered sugar, flavoring, water, and might also contain candy coating and white chocolate
Smooth, diverse texture, and sweet taste

The quick preparation time and cheap ingredients
You can reheat, color, and flavor anytime

The sugar has not melted and fully cooked
The flavor is less delicate than the cooked version

Traditional Rolled Fondant
Oil, corn syrup, glycerine, sugar, and gelatin
Dried, firm texture and sweet flavor

You can color it easily
Use for covering the cake or shaping to decorate
Simple preservation in the pantry

There are many different recipes so it can be confusing for beginners
Chocolate-Based Rolled Fondant
Oil, corn syrup, sugar, glycerine, gelatin, and dark or white chocolate
Dried, firm texture with elastic consistency and fudgy flavors
It is difficult to crease and tear
Spoil faster than traditional rolled fondant
Marshmallow Fondant
Marshmallow, water, sugar, and shortening

Sweeter and more delicious than regular fondant
Smooth, soft, and less chewy

Easy-to-make and cheap
High commercial value

Spoil easily
Need a lot of practice to have the excellent texture
Poured fondant is used to give the cake a crispy and sweet sugary crust. Cooked poured fondant is a type of poured fondant with water and sugar as the main ingredients. This variety usually has a sweet taste and a uniquely soft, crunchy, and glossy texture.
You can prepare this in advance and simply reheat it when needed. However, you have to spend quite a lot of time and effort to have a master technique in making it. .
Quick poured fondant is made from the essential components to make fondant. In addition, chocolate or candy coating can be added to enhance the taste. The variety has a relatively diverse texture and characteristic sweet flavor.
You do not need to spend a lot of time and money to create it because its ingredients are pretty easy to find and cheap. It does not taste as great as cooked poured fondant since the sugar has not entirely dissolved.
Traditional rolled fondant comes in many different shapes, textures, and colors. However, this type will usually have a drier and stiffer texture. The ingredients to make this fondant are pretty simple to find.
You can preserve this in the pantry for a long time. It can be used for covering the cake or shaping to decorate. It will take you quite a while to choose a compatible recipe because of the variety of recipes for this kind of fondant.
To make chocolate-based rolled fondant, you only need to use the ingredients of the traditional version and add some chocolate. Besides sweetness, the chocolate flavor is a new highlight. When added with chocolate, the fondant will have a more elastic texture.
Marshmallows, water, sugar, and shortening are the main ingredients that make up this fondant. Compared to regular fondant, this one has a more nutty flavor, thanks to the sugar and vanilla in the marshmallows. Its texture is also less chewy.
You can simply make it at home, but it takes much time to achieve a great texture. Marshmallow fondant has a high commercial value at a low cost. It has a rather short shelf life.
You can see this video to know more:
The Differences Between Soft And Hard Fondants
Thanks to its versatile texture, fondant is a favorite choice of cake decorators. In terms of texture, you can categorize fondants into soft and hard fondants. These two types of fondants have different flavors and textures.
The names say all about their texture. The consistency of soft fondant will be softer and smoother. On the contrary, you will get firmness and crispiness from the hard one. Hard form is also thicker than soft fondant.
Their flavors mainly differ in the degree of sweetness. If you want your wedding cake to taste sweeter, you should use soft fondant. Compared to soft form, the sweetness of hard form is pretty mild.
| Features | Soft Fondant | Hard Fondant |
| --- | --- | --- |
| Flavor | Sweeter | Less sweet |
| Texture | Soft and smooth | Firm and crunchy |
The Comparison Between Fondant And Marzipan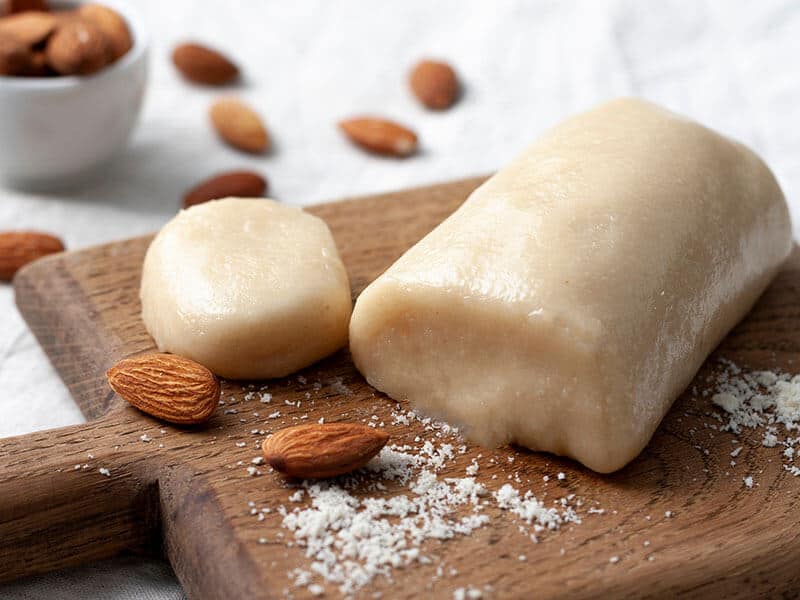 Like fondant, marzipan is also widely used to decorate cakes. There are many differences in taste, texture, color, and ingredients between them. You need to read this section to get the correct distinction.
Taste: While the taste of fondant is pretty simple with pure sweetness, the flavor of marzipan is diverse and complicated. You will feel the flavor of almonds when you taste the marzipan.
Color: The primary color of fondant is white. However, you can color it depending on your wishes when decorating the cake. Almond paste gives marzipan the signature cream color, and you can dye it in a different color as well.
Ingredients and texture: Marzipan is a type of confection containing almond meal, honey, and water, resulting in its solid texture (2) . The texture of fondant is soft, smooth, and chewy.
| Features | Fondant | Marzipan |
| --- | --- | --- |
| Taste | Simple flavor with sweetness | Diverse and complex taste with the flavor of almond |
| Color | White color and can be colored with different colors | Cream color and can be dyed with various colors except for white |
| Texture | Smooth, soft, and chewy like a thick liquid | Solid texture |
| Ingredients | Corn syrup, sugar, and water | Almond paste and water |
| Coverage | Cover whole cake | Cover whole cake |
The Different Properties Between Fondant And Buttercream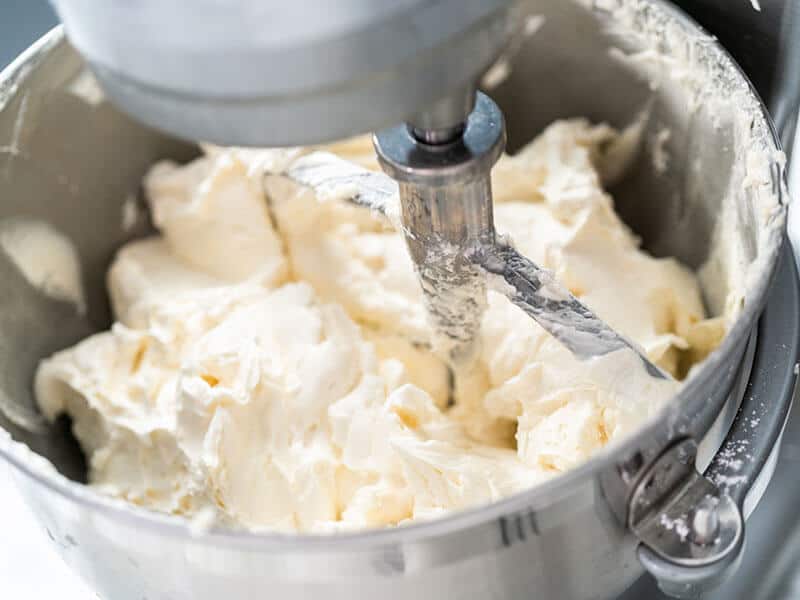 Buttercream is a kind of frosting made from butter and shortening. These ingredients will be whisked until they have a spongy, creamy, and cloud-like texture. Fondant is a product that combines many elements, such as sugar, cornstarch, etc to create a soft and silky texture.
The sweetness is the characteristic flavor of fondant with its high sugar content. When enjoying buttercream, you will feel the rich flavor and creaminess emanating from it.
| Features | Fondant | Buttercream |
| --- | --- | --- |
| Tastes | Sweetness and sugary taste | Rich and creamy flavors |
| Color | White color and you can color it with different colors | White color and you can add coloring agents to create other colors to it |
| Texture | Spongy, creamy, fluffy, and cloud-like texture | Soft, silky, and smooth |
| Ingredients | Sugar, cornstarch, water, corn syrup | Butters and shortening |
| Coverage | Cover entire cake | Cover entire cake |
Fundamental Differences Between Fondant And Royal Icing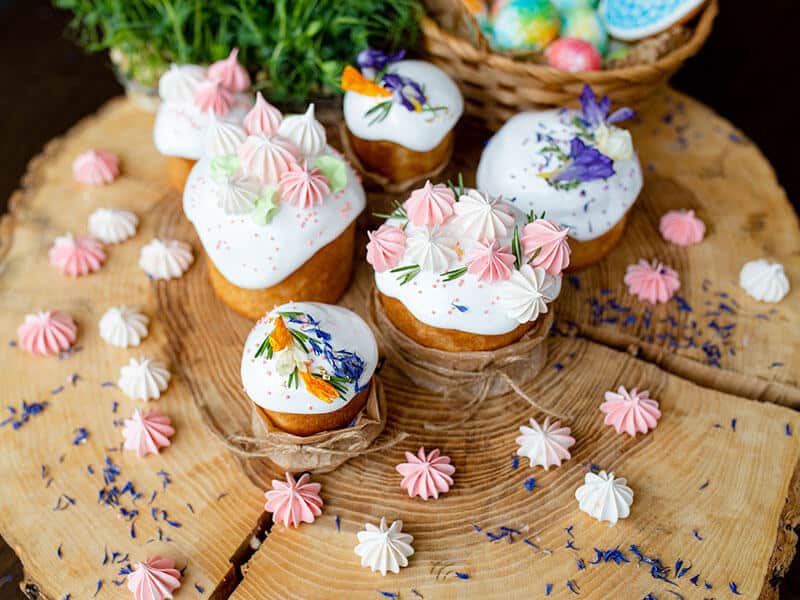 The ingredients for making royal icing are different from the fondant. To make royal icing, you need icing sugar and egg whites. Both have the same characteristic sweetness, thanks to the sugar content used in the making process.
While fondant gives a soft and silky texture when used for decoration, icing has a firmer and drier texture. You often see fondant covering the entire cake, but this does not happen with icing. You can use icing for piping, but you should not with fondant.
| Features | Fondant | Royal Icing |
| --- | --- | --- |
| Taste | Sweetness | Sweet and creamy flavor |
| Color | Various colors | Various colors |
| Texture | Soft and silky texture and difficult to dry out | Firmer and drier texture |
| Ingredients | Sugar, water, corn syrup, cornstarch | Icing sugar and egg whites |
| Coverage | Cover entire cake | Not cover the whole cake |
How To Create Fondant At Home?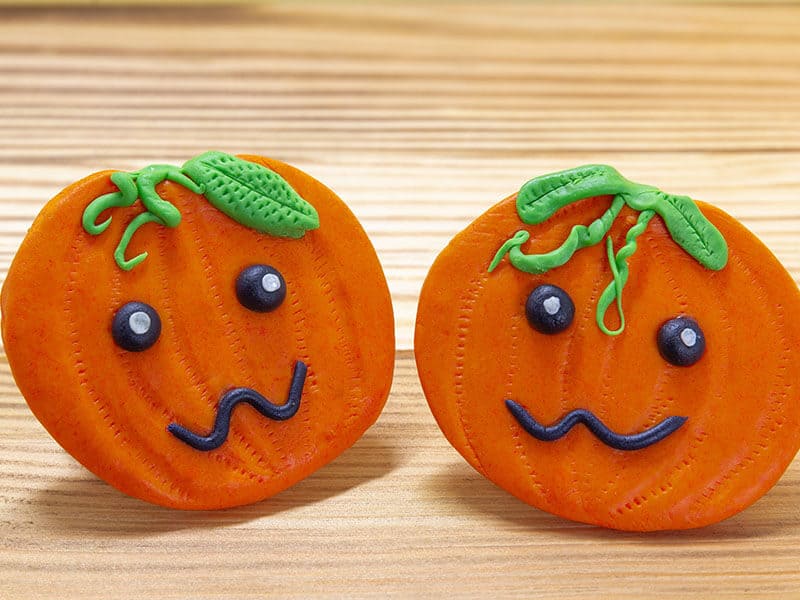 When you cannot buy fondant, you can make it at home with a few easy-to-find ingredients and simple steps. Components such as gelatin, corn syrup, water, glycerin, vanilla, shortening, and confectioner's sugar should be available when making fondant.
Step 1: Put water and gelatin in a pot to bring to a boil. Cook until the mixture thickens and blends completely.
Step 2: Continue to add glycerin and corn syrup to the pot and mix together.
Step 3: Add shortening into the mixture and stir.
Step 4: Turn off the heat and stir with vanilla.
Step 5: Wait until the mixture cools to become lukewarm.
Step 6: Pour the confectioner's sugar into a bowl.
Step 7: Stir the lukewarm mixture with the confectioner's sugar.
Step 8: Add a little sugar to the mixture and stir until it has a sticky texture.
Step 9: Use your hands to knead until the fondant dough is silky and not sticky. You can increase the sugar when the fondant is so soft or add more water if it is firm.
Let's jump into the kitchen to make homemade fondant. You can see this video to know more:
It Is Simple To Enhance The Flavor Of Homemade Fondant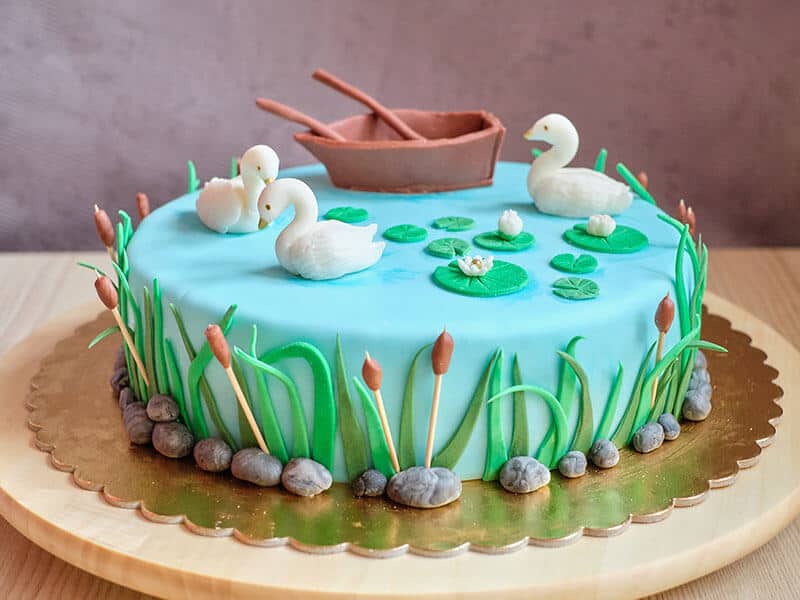 You can spice up fondant with a few simple tips. These tips should be applied when you make fondant at home. Besides the flavor, the color and texture of the fondant are also improved.
One of the simplest methods you can apply is adding a bit of flavoring agent to make the taste more varied and rich. You should not use too much at one time. You need to use a small amount and adjust after tasting.
Vanilla bean paste is a fantastic addition to fondant. I recommend using a teaspoon of vanilla for more vibrant color and a subtle and creamy taste to the fondant. Alternatively, powdered sugar or flavored sugar are other great choices.
Add fruit flavors to the fondant with powdered fruit flavors. There are many fruit tastes, and you can choose from strawberry, passion fruit, lemon, and cherry. Try combining passion fruit, lemon, and raspberry for a mock-tail flavor.
The Secrets To Use Fondant Effectively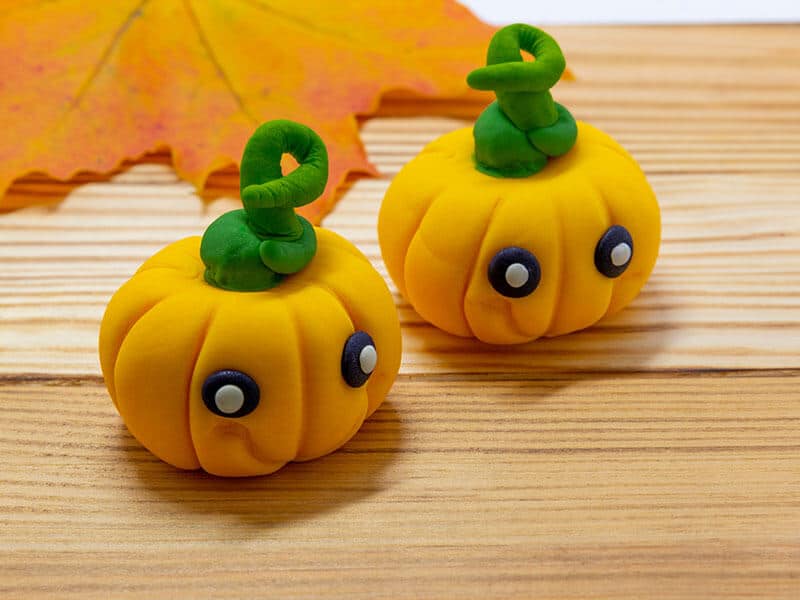 Fondant is known as an ingredient used to decorate cakes. Alternatively, you can use fondant to cover the entire cake. This use is often applied with wedding cakes. You can also use it as candy or a dessert.
1. How To Cover The Cake With Fondant?
To cover the cake with fondant, the decorator needs to be careful and have good technique. You need to roll the fondant evenly to get the excellent thickness. The fondant dough needs to be kneaded by hand to get a smooth texture.
Step 1: Spread a layer of icing about ¼ to ½ inch thick on top of the cake to make it easier for the fondant to stick.
Step 2: Knead fondant to achieve softness and smoothness.
Step 3: Use a rolling pin to roll the fondant to about ¾ inch thick.
Step 4: Put fondant on the rolling pin.
Step 5: Spread fondant on the surface of the cake.
Step 6: Make the fondant stick to the cream with a smoother and your hands.
Step 7: Use a knife to cut off the excess fondant at the bottom of the cake.
Chef will teach you how to roll out fondant properly.
2. Use Fondant For Decoration
Another prominent use of fondant is for decoration. Fondant is molded into various shapes, such as hearts, stars, flowers, animals, and trees. In addition, you can create unique 3D shapes from fondant.
You can put fondant in the mold. Use a light force to press into the fondant. If there is excess fondant dough, you just need to use a knife to discard it. Tap the outside of the mold to remove the fondant from the mold.
Listen to 6 effective methods to use silicone molds for fondant. You can see this video to know more:
Fantastic Guides To Preserve Fondant At Home
Fondants, when placed at room temperature, can last about 2 to 4 days. To extend its shelf life, you need to apply specialized storage methods. The best way to store fondant is to use an airtight container and keep it in a cool and dark place.
Simple Directions To Keep Fondant Cake Fresh
If you are not going to use the fondant cake right away, you should follow the steps below to preserve it. Indeed, this method is both simple and highly effective. When you use this method, the maximum shelf life of fondant is about 2 to 4 days.
Step 1: Prevent air attack by covering fondant cake with plastic wrap.
Step 2: Place fondant cake on a plate.
Step 3: Cover the fondant cake with another layer of plastic wrap.
Step 4: Place fondant cake in an airtight container.
Step 5: Close the container tightly.
Step 6: Place the container in a sealed bag.
Step 7: Place the bag in a dark and cool area for storage.
How To Preserve Fondant Decorations Correctly?
Fondant decorations need to be stored carefully to avoid spoilage. In particular, you need to keep the softness, color, and shape of the fondant decorations. There are 2 effective ways to preserve fondant.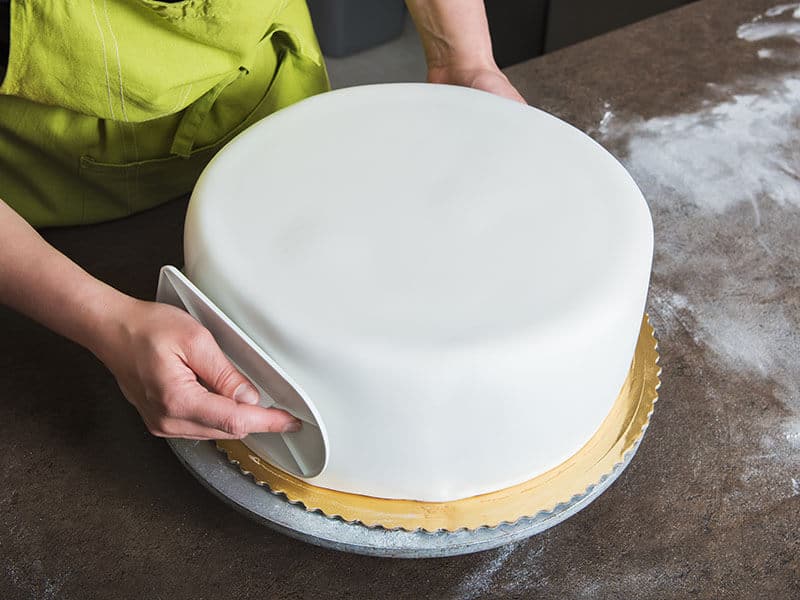 1. Using Container To Store Them
An airtight container is an optimal way to store fondant decorations. They can last 1 to 2 months when using this way to store. You do not need to go through complicated steps when using this method for preservation.
Step 1: Cover the fondant with a layer of shortening to prevent moisture.
Step 2: Use plastic wrap to wrap fondant decorations.
Step 3: Put the decorations in the airtight container.
Step 4: Place the airtight container in a cool, dark place and out of direct sunlight.
2. Drying Fondant Decorations
This method helps preserve fondant longer, but fondant will not retain its softness. So you should consider not using this method if you do not want the fondant texture to be altered. You can keep decorations for about 3 to 4 months if you apply this method.
Step 1: Place parchment paper on top of a tray.
Step 2: Sprinkle cornstarch on top of parchment paper to prevent sticking.
Step 3: Arrange fondant decorations on top of parchment paper.
Step 4: Wait about 1 to 2 days until the decorations are dry and hard.
Step 5: Put fondants in the container.
Step 6: Place a layer of parchment paper on top.
Step 7: Continue to place decorations on top of the paper. Repeat until there are no fondants left.
Step 8: Place the container in a dark and cool place.
FAQs
Let's answer exciting questions about the taste of fondant with me. You will reap even more valuable things in this section. Please take a look to see what they are.
It Is Time To Take Action!
Information about flavors, as well as other related knowledge about fondant, is quite diverse. However, I have brought you almost all the valuable and exciting news on this topic through this article.
Please use this knowledge effectively to make your life more interesting and better. Let's comment to share more exciting information about the flavor of it. I am honored to receive a like and share this post from you.
References
En.wikipedia.org. 2021. Fondant – Wikipedia.
En.wikipedia.org. 2021. Marzipan – Wikipedia.