You're probably wondering, "What does Havarti cheese taste like?" if you're new to this famous Danish delight. Created in the 1800s, the cheese quickly rose to fame in the Denmark and Wisconsin region of America.
Buttery, creamy, and semi-soft, no wonder Havarti is beloved by both children and adults alike. Not only is it a great addition to your cheese platter, but it's also well-suited for tons of recipes.
The truth is, I can't tell you how Havarti cheese has captured the hearts of cheese lovers around the world. However, I can help you understand the story behind Havarti, its glorious flavors, and some interesting facts on this beloved cheese.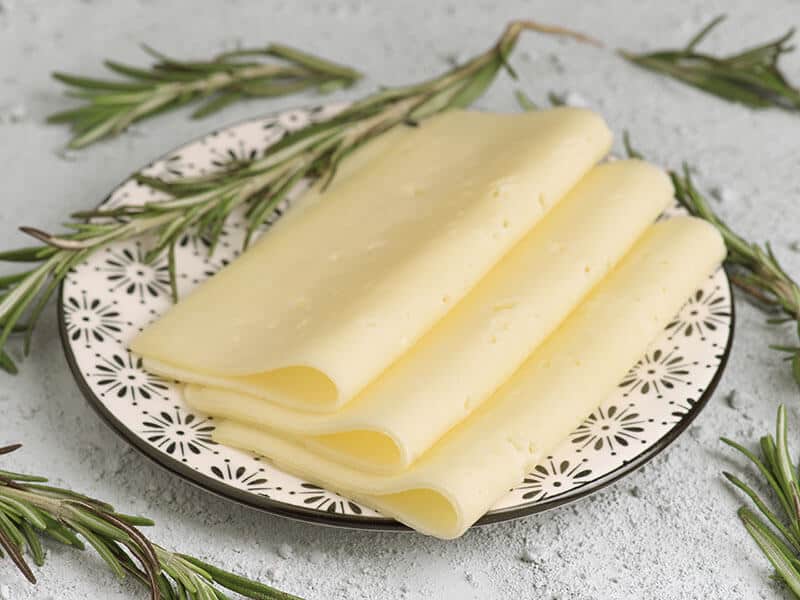 What Is Havarti Cheese?
Hailing from Denmark, Havarti is essentially a semi-soft cow's milk cheese. Ever since it was invented hundreds of years ago, Havarti has slowly become a Danish delight at its finest.
It was first produced by Hanne Nielsen, a Danish farmer all the way back in the 1900s (1) . Legend has it that she traveled across Europe to accumulate the art of cheese making. Her finest creation, a washed-rind cheese, was Havarti.
Hanne Nielsen named this signature cheese after the farm where it was first developed, Havarthigaard, north of Copenhagen.
Appearance-wise, the cheese has a smooth, rindless surface with very small and irregular "eyes." As you slice, you'll also figure it's interior-ripened. The color ranges from creamy to pale yellow, depending on the specific type.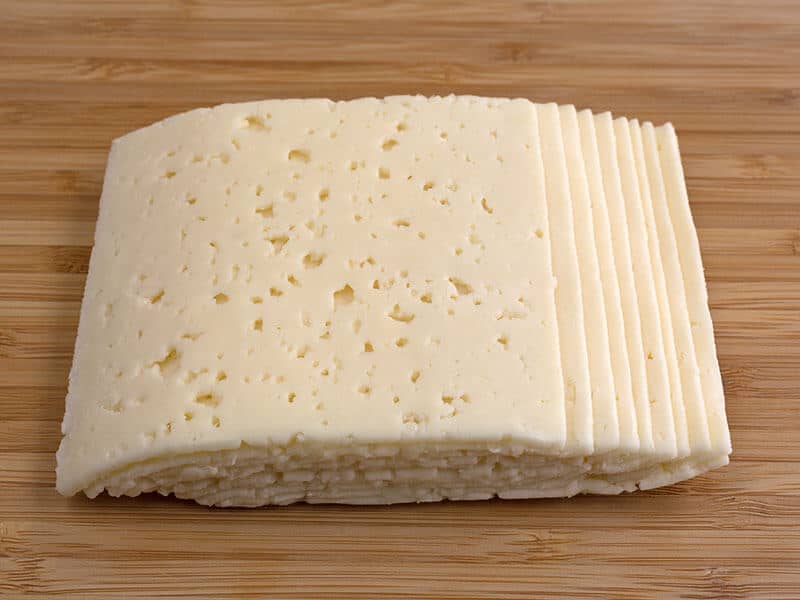 Let's dive closer into Havarti's characteristics in this insightful information!
Everything You Need To Know About Havarti Cheese's Taste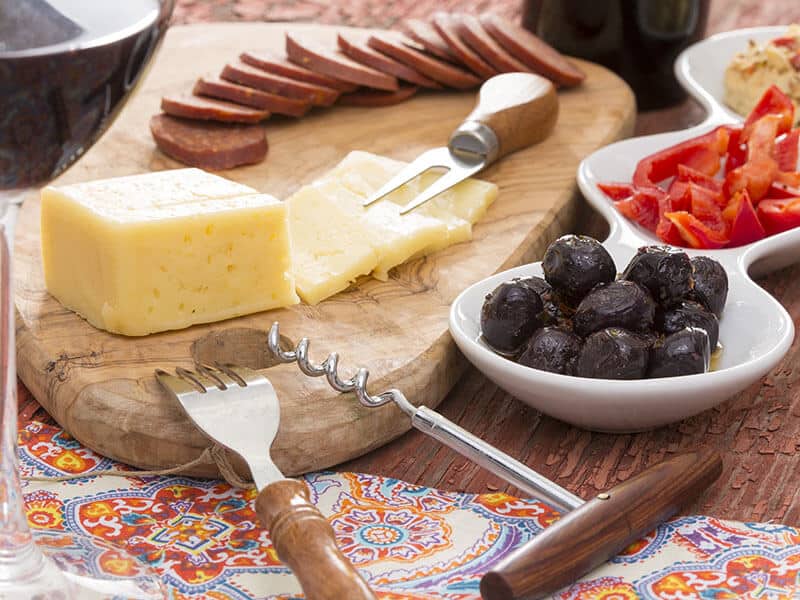 There are good reasons why Havarti is a top-tier cheese that earns a special place in the hearts of most cheese aficionados. If you haven't had it just yet, you're missing out!
First, the cheese has a buttery aroma that tends to be sharper and nuttier in stronger varieties, which is somewhat similar to that of the crowd-pleasing, tasty Swiss cheese.
As a washed-curd cheese, Havarti boasts traits of mild and subtle flavors. The best way to properly describe its flavor is the perfect balance between tartness and sharpness. It also gives off a buttery, sweet taste with a slight hint of acidity.
While the original Havarti is mild, it doesn't get boring, and you'll probably gobble it down to the last bite. If the popular cheddar cheese seems too sharp and blue cheese is too moldy for you, Havarti is surely your best bet.
Some might say that the taste of Havarti is somewhere close to butter cheese, Monster Jack, and Muenster cheese. It's also buttery, with slight hints of acidity. So if you haven't tried it, you'll know what to expect after taking the first bite.
On a side note, thanks to its delicate mildness, Havarti is a great canvas for experimenting with different flavors and recipes.
The rich, incredibly buttery texture makes it a breeze to slice through the block. The cheese is well-suited for grilling, melting, or simply enjoying independently. No doubt, this is the ultimate treat for cheese lovers.
How Havarti Cheese Is Made
As with most types of cheese, Havarti is created by introducing rennet to cow's milk, which causes curdling. After adding the rennet, the cheese is pressed into cheese molds, drained, and finally left for aging.
Let's make the procedure more concrete for you! Traditionally, Havarti combines pasteurized raw milk and essential cultures for the milk to coagulate. When the curd reaches its correct consistency, it's separated, drained of whey, and pressed into cheese molds.
The cheese is then compressed, set to cold, and finally brine. Its aging process can last between several months and a year, based on the desired texture and flavor. The longer it ages, the sharper, saltier, and more intense its taste will be, developing grounded hazelnut tones.
In this traditional cheesemaking method, Havarti is a cheese completely pure in flavor and ingredient. Plus, with its rennet often being vegetarian, the cheese is free of gluten, and suitable for vegetarians.
However, this doesn't apply to every Havarti brand. So if you're strict on a gluten-free diet, always check the label before purchasing.
See a quick tutorial on how to make Havarti cheese in your kitchen!
Types Of Havarti Cheese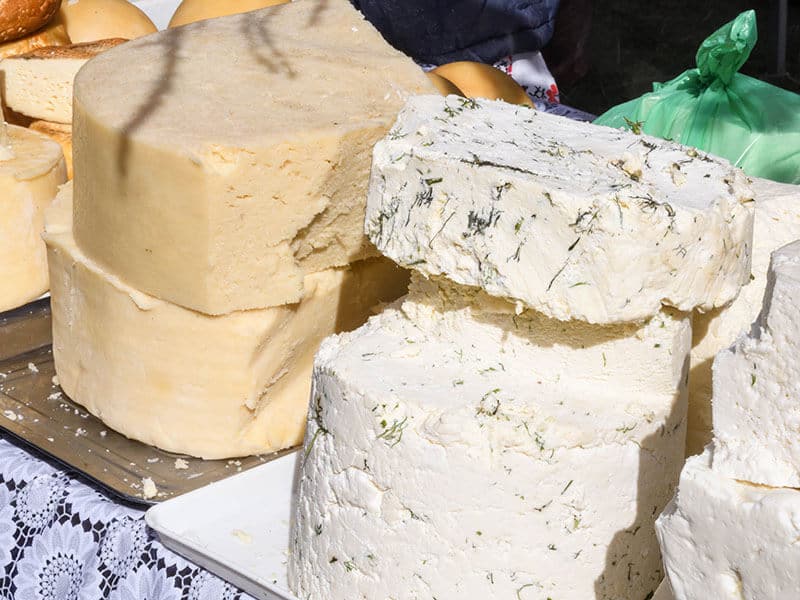 Generally speaking, there are two main types of Havarti: the original version and the cream version (flødehavarti.) Based on the traditional recipe, the original Havarti contains almost no other element than pasteurized milk, making it pure in taste.
On the other hand, cream Havarti is enriched with additional cream before curdling. This makes it a 60% butterfat cheese, referred to as "double cream" by the French.
Cream Havarti also comes in a diversity of flavors such as dill, garlic, caraway, cranberry, and red peppers. Another less popular variety is smoked Havarti. It holds the smoke quite well. It adds an extra dimension of flavor without overtaking the cheese.
How To Tell If Havarti Cheese Is Bad?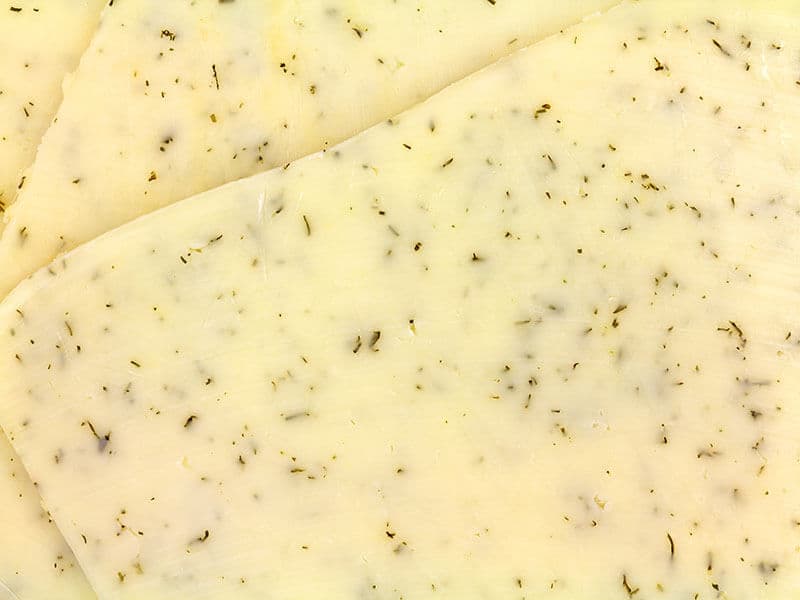 The truth is, Havarti will go bad. As with other types of cheese, Havarti also has a limited shelf-life. Stick around for more tips that help you know when your cheese has gone bad.
The Shelf-Life Of Havarti Cheese
Eventually, your slices of Havarti will lose their moisture and deteriorate over time. So yes, it does go bad. As with most semi-soft cheeses, Havarti is firm yet has more moisture than hard cheeses, which means you have less time with it than with hard cheeses.
Approximately, your slices of Havarti should be consumed within 2-3 weeks sitting in the fridge. While in the pantry, this time is about half a month after the cheese is received by the purchaser.
Its shelf-life also depends on various elements such as packaging date, exposure to heat, preparing strategy, and storing method. In many cases, it only lasts for 3-4 days. Freezing the cheese is the most appropriate way to preserve its premium quality for up to 2 months.
On a side note, Havarti cheese is a dairy product. So if you buy it from the grocery store, you'll often find a "Best By" date on its label. Any consumption after this date can pose risks of bad experiences and even health issues.
Signs Of Spoiled Havarti Cheese
Sniffing a questionable slice isn't the same as sniffing spoiled milk; it might be tricky to tell if something's off. Jot down these signs to ensure the cheese you eat is always fresh and safe.
1. Expiration Date
The first step is to check the expiry date. Though the cheese may still be good after some time, it's always recommended not to eat something past its expiry date for maximum safety.
If you're handling a block of Havarti that's been sitting in the back of your fridge for god-knows-how-long, make sure to practice proper food-handling procedures to avoid unwanted wellbeing dangers.
2. Bad Odors
Fresh Havarti is supposed to give a pleasant buttery aroma, so if there's a strong smell going on or if the smell has changed from what it was before, it likely has gone off. When you first take out the cheese, give it a quick sniff to determine if it's good to eat.
3. Appearance
In the case of Havarti cheese, you can tell it's off when detecting mold spots across its surface. Some of these molds stand a chance of delivering hazardous poisons. Also, if several formations of blue or green form on it, it's time to discard the whole thing.
Expert Tips And Tricks For Storing Havarti Cheese
Not only for retaining its greatest flavors, but proper storage procedures also ensure that your block of cheese doesn't pose any risks to you and your family's health.
It's noteworthy that Havarti, as a semi-delicate cheese, will look flaccid and unappetizingly greasy after two hours of sitting outside. Therefore, the best place to keep your Havarti at its best quality is in the fridge.
In The Pantry
Typically, Havarti can be stored in your pantry or cabinet as a whole. However, when you cut through the wheel, it's exposed to heat and moisture, thus losing its flavor faster and causing spoilage.
Similar to other types of cheese, heat, and moisture can take their toll on Havarti. A golden tip is to keep the pantry closed all the time and away from damaging factors such as heat and sunlight. This way, your Havarti should be good for approximately half a month.
In The Refrigerator
Havarti keeps well for at least two weeks when stored in your fridge. What most folks don't know is that the best section to place it in the warmest section, which is often the cabinets.
This is because Havarti, like all cheeses, is best stored somewhere between 40 and 50 degrees F. Once opened, the block needs to be wrapped up with plastic wrap or aluminum foil.
In The Freezer
If you plan to keep your block of Havarti for longer, the freezer is the way to go. Under proper storage conditions, the cheese will last at its best quality for two months. After that, it'll still be protected against spoilage.
To freeze your Havarti, cut the block into pieces. Each piece shouldn't be heavier than ½ pound. Then, put it in a freezer airtight container bag or wrap it tightly in aluminum foil. Keep your cheese at 0 degree F, and you're good to go!
If you thaw Havarti cheese in the fridge, you can keep it for an additional 3-4 days before consuming it.
Is Havarti Cheese Healthy?
As a dairy product, Havarti is not only a palatable and versatile food but also offers many health benefits; some of those are surprising. Consuming this cheese in moderation can help to avoid various health issues in the long haul.
Healthy Weight Loss
If you're counting calories on a daily weight-loss diet, cheeses like Havarti are of good help. Its fat content can satisfy your food cravings, creating a filled feeling to stop you from overconsuming food.
Improves Dental Health
No doubt, dental professionals everywhere have been praising cheeses, including Havarti, as a super-performer for preserving long-lasting dental health. The presence of calcium plays a key role in tooth formation and dental cavity prevention.
Protects Blood Vessels
Havarti cheese contains a healthy amount of sodium and calcium, both of which are proven to aid the functions of blood vessels. Plus, it also improves blood flow, hence improving your cardiovascular health and circulation system.
Promotes Healthy Bones
Loaded with calcium, all kinds of cheese, including Havarti, do a great job growing strong bones and maintaining them as a person ages. Adding this cheese to your diet can help avoid bone-related issues in the long run.
Improves Circulatory System
The traditional Danish Havarti has a low-fat content. (2) Therefore, its moderate sodium and calcium levels are great for maintaining stable blood pressure. So if you're specifically prone to hypertension, Havarti might be the next staple in your regular meal rotation.
Havarti Cheese Substitutes – 9 Ideas To Try Right Now
There's nothing much that you can compare to a good Havarti. But if you have just run out and have to finish your recipe, here are some of the most delicious substitutes for Havarti cheese.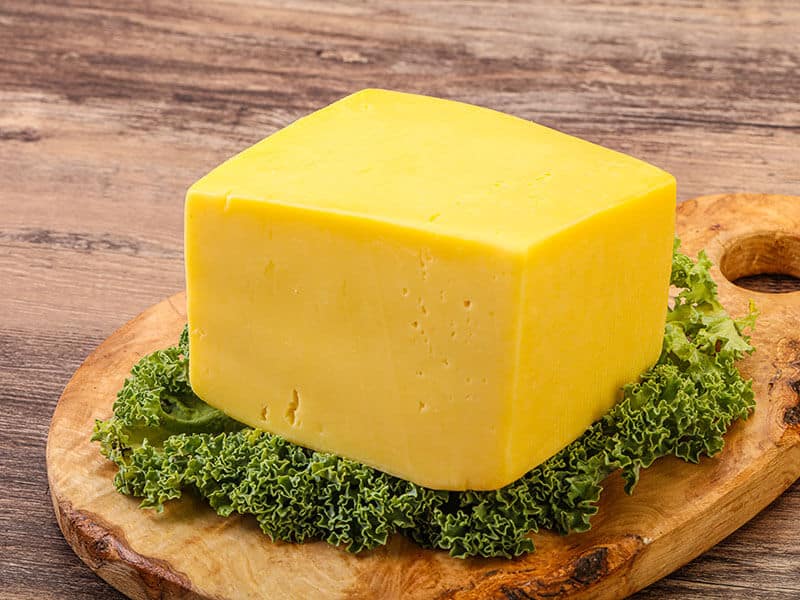 | Substitutes | Flavor Profile | Texture |
| --- | --- | --- |
| Tilsit Cheese | Buttery, slightly fruity, and mild | Semi-hard texture with small, irregular gaps |
| Young Cheddar Cheese | Mild, smooth, and creamy | Slightly moist, buttery, and a little melty |
| Esrom Cheese (Danish Port Salut) | Full, sweet flavor and large, pungent aroma | Semi-soft, supple, and porous |
| Emmental Cheese | Aromatic, intricate, and sweet flavor with tones of hazelnuts and ripe fruit | Semi-hard texture with interspersed cherry-sized eyes |
| Edam Cheese | Light, slightly nutty, and salty | Smooth and firm |
| Saint-Paulin Cheese | Subtly sweet flavor of walnut and butter with a mild, milky taste | Creamy, semi-soft, and butter-like |
| Gouda Cheese | Aromatic, caramel-like, and nutty | Dense, springy |
| Monterey Jack Cheese | Mild buttery, slightly sweet, and nutty | Semi-hard, smooth |
| Colby Cheese | Mild, creamy, sweet | Firm, springy, and open |
Super-Tasty Recipes With Havarti Cheese For Cheese Geeks
Fingers crossed, Havarti is the perfect type of cheese for a daily indulgence. When that intense craving hits, I've got all the ooey-gooey cheesiness that you need!
Bacon and Havarti team up to create a flavorful and crazy easy recipe. These bite-sized egg cups take 30 minutes to come together. Pop one in your mouth, and it'll instantly melt across your tongue. That's how good it is!
One thing that I love about these delicious puffs is that they keep well in the fridge. If you're trying to keep up with a healthy diet on a busy schedule, it's the perfect make-ahead meal that you can grab for a quick breakfast.
In this ultra-creamy, mesmerizing mac and cheese recipe, Havarti is truly the star of the show. A touch of spinach creates that exotic pop of color on top. Ready in half an hour, this is an excellent recipe for a delicious time-saving Thursday night dinner.
As always, mac and cheese make up a wonderful blank canvas for an experiment. Whether it's protein, extra greens, and veggies, or a lighter sauce, you can cater the recipe to suit your liking.
No family gatherings or parties are completed without a tray of mouth-watering ham and cheese roll sliders. Who knew honey ham and Havarti cheese are such a match made in heaven? Lay these on some Hawaiian rolls with a brush of garlic butter, and bake it away!
Cheesy, gooey, and filled to the brim with flavors, these sliders are meant to satisfy your taste buds with every bite. Serve these fun bite-sized bits at a party, and you can be sure to watch people gobble them up in minutes.
With this tutorial, ham, and cheese Hawaiian roll sliders have never been made easier!
If you're unfamiliar with queso, it's a Tex-Mex appetizer or side dish consisting of creamy and thick melted cheese. The cheese melts to mouth-watering perfection, creating a crazy addictive flavor that anyone can indulge.
This particular recipe uses Roth original Havarti, but feel free to use any type of Havarti at your disposal. Have it as a versatile dip for tortilla chips, tacos, or even crackers. With a shortlist of ingredients, it's surprisingly easy to make at home.
A side dish beloved by most, this mashed cauliflower recipe is as delicious and healthy. The dish gets its luxurious creaminess from Havarti. Meanwhile, the main attraction, cauliflower, is super low-calorie, so that you can enjoy it guilt-free.
With such a simple recipe, the trick is not to be shy about the seasoning. Garnishing the platter with some dill weed, pepper, and salt doesn't only enhance the flavors but also makes it more appealing to the eyes.
If you're looking for a classic recipe that's suitable for serving breakfast, lunch, and tasty summer dinner, this should be it. With its perfectly braided crust and light, fluffy filling, the quiche hits the spot every time.
The hallmark of an exquisite quiche is the custardy texture that you'd get when it's baked just enough, and there's still a bit of wobble in the center as you shake. For busy cooks, you can make it up to three days ahead and reheat it when it's time to serve.
FAQs
Are you still curious about Havarti and its famous characteristics? Stick around to discover more facts about this Danish delight as follows.
Reward Yourself With Havarti Today…Or Really Any Day!
Fingers crossed, Havarti cheese claims its throne as the most famous cheese in Denmark for good reasons. With its mild and buttery flavor profile, it's the perfect canvas for home cooks to experiment with their favorite ingredients like a breeze.
But there's more to this wonderful cheese than its flavor. Havarti offers tons of health benefits for both children and adults so that you can add it to your meal rotation in moderation with peace of mind.
Are you ready for a cheese party featuring Havarti? Pizza, sandwich, and pasta, have you tried them all with it? If you have questions about this delight, let me know in the comment box. Don't forget to share these insider secrets and top tips with your loved ones!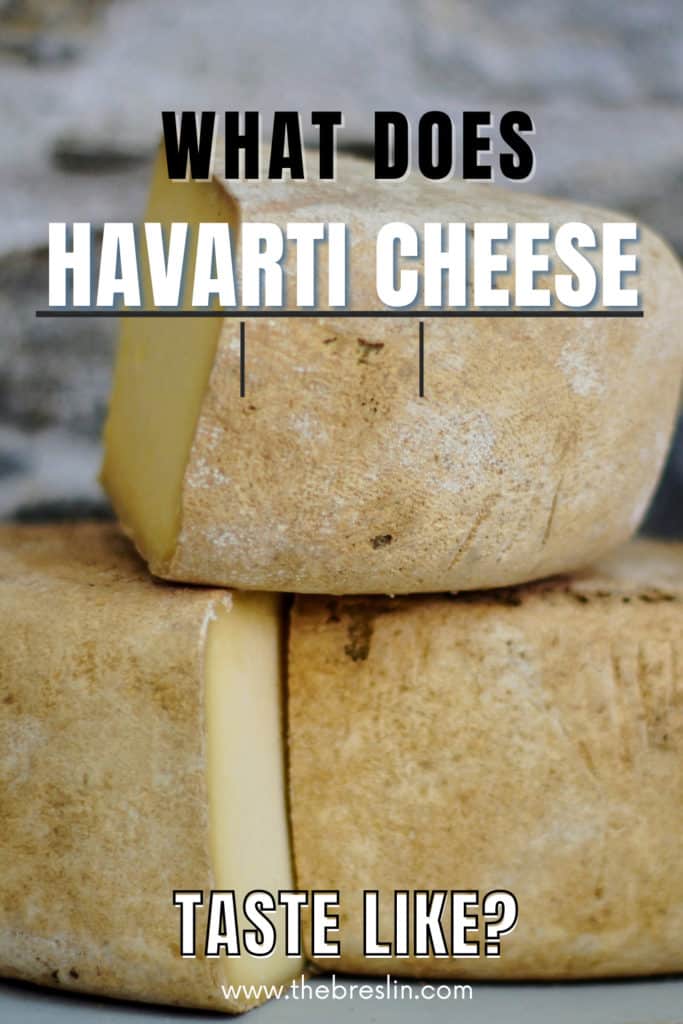 References
En.wikipedia.org. 2021. Havarti – Wikipedia.
https://fdc.nal.usda.gov/fdc-app.html#/food-details/721898/nutrients