Not everyone has tried hummus before, so they might wonder, 'what does hummus taste like?'. And if you have the same question, this post is totally for you.
Hummus is a famous dip in Middle Eastern cuisine. You can either make hummus at home or buy them from stores as there are numerous hummus brands on the market. However, I will mainly highlight the flavor of the basic and original hummus in this article.
So stick around and learn not only about hummus taste but also everything about this dip.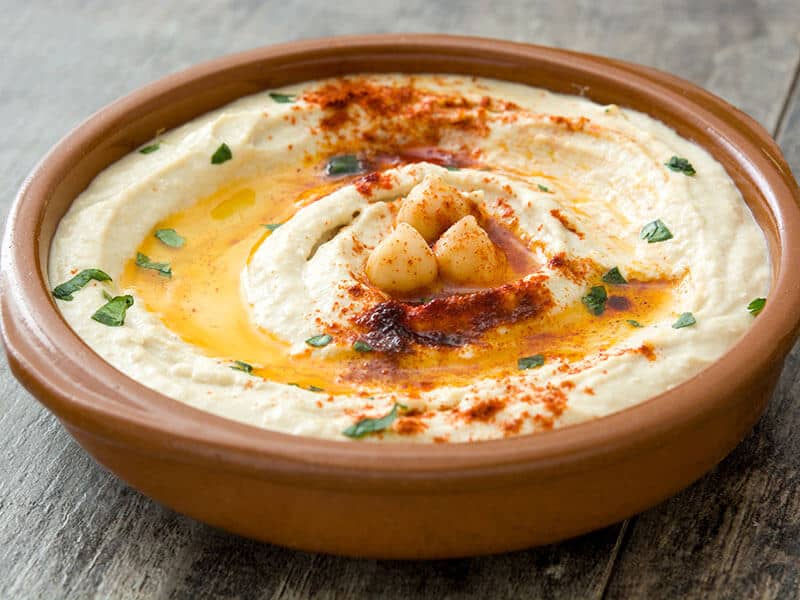 Hummus – An Iconic Middle Eastern Cuisine
As usual, let's warm up with the basic knowledge of hummus, particularly its origin and how people make hummus.
The Origin Of Hummus Dish
Hummus is a well-known dip, spread, or savory dish itself in Middle East regions. In Arabic, hummus means chickpeas, which indicates the main ingredient to make this dish.
The exact time and origin of hummus emergence are still unknown. But people believe the first form of this dish is 'hummus bi tahina', which was found in the 13th century (1).
Besides the Middle East, hummus's popularity in the Mediterranean and North Africa is undoubted. And today, hummus has been spread to various Western countries, like Canada and the USA.
The Middle East usually eat hummus with pita bread as a dip, whereas the Westers like to enjoy it as a snack and serve it along with crackers.
Step-By-Step Guide To Make A Perfect Hummus
Nothing tastes better than homemade food. So if you are free this weekend, you should definitely try to make hummus.
Original hummus version's ingredients are easy to buy, like chickpeas (and their liquid), tahini, lemon juice, garlic, olive oil, cumin, and salt. You can use canned chickpeas (for quick hummus) or raw chickpeas.
Moreover, for those who do not know what tahini is, it is a thick paste made from toasted sesame that you can buy at stores, especially in the Middle East-themed markets.
Ah, you also need a food processor or a blender to make this dish. And here are 4 easy steps to create an amazing authentic hummus.
Step 1: If you start from scratch with raw chickpeas, you should soak for at least 4 hours or overnight. Then simmer them for around 1.5 to 2 hours.
Step 2: If you use canned pre-cooked chickpeas, you will start from this step by putting all ingredients into a blender or food processor.
Step 3: Let the machine work in around 30 seconds or more if you want your hummus smoother, creamier, and thicker. But if you want it softer or less thick, you can add chickpea liquid (or called aquafaba) to the mixture.
Step 4: Garnish it with olive oil or herbs if desired before serving.
A healthy dip, snack, spread – Hummus is so easy to make.
Hummus Flavor – Does It Taste Good Or Bland?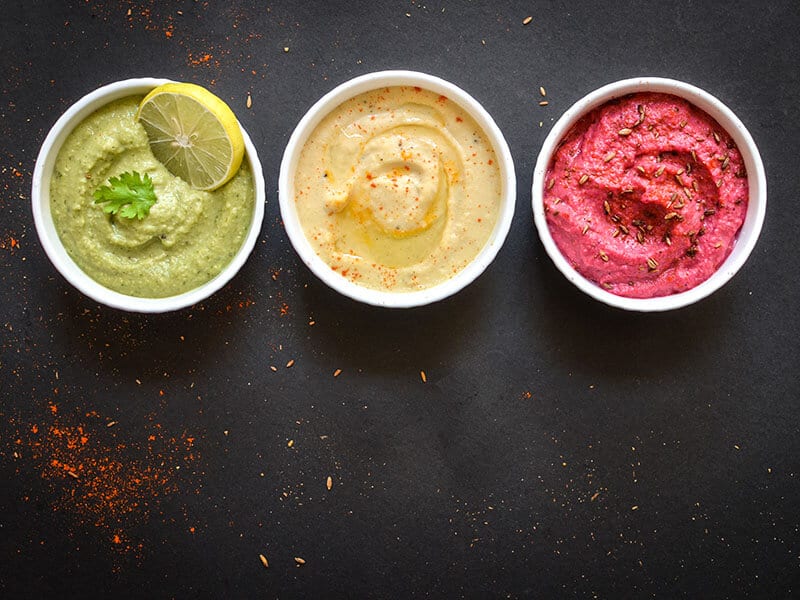 Alright, let's dig in to explore the real flavor of hummus. Basically, hummus' tastes depend on their ingredients as there are numerous hummus versions worldwide with varied recipes. So what I am presenting here is the most original and standard one.
Hummus is a thick dip with a creamy, rich, umami, and savory flavor that makes them so unique. Though hummus is mainly made from chickpeas, it tastes nothing like chickpeas because it also includes other ingredients like spices or vegetables.
Overall, the standard hummus has garlicky (from garlic) and tangy (from lemon juice) flavor with nutty undertones.
And thanks to their smooth texture, hummus can literally melt in your mouth. That's why they can pair perfectly with other food like bread, chips, crackers, or veggies.
You can add peppers, tomatoes, spinach, olive, etc., into your hummus, which will create other flavors. Also, you can make sweet hummus with peanut butter or chocolate.
So, in general, hummus's flavor can range from savory to sweet. Regardless of their taste, all hummus varieties still have the same texture as smooth and creamy.
Enhance Store-bought Hummus Flavor With Other Ingredients
I know not everyone has time to make hummus from scratch. They normally choose ready-to-eat hummus in the supermarkets. So I have some ideas to make the plain store-bought hummus more delicious, with just a few more components such as:
Salt, Cumin, Peppers, and Lemon Juice: You can use paprika and cayenne peppers to increase the heat in your hummus. These flavorings should be added slowly so you can taste and regulate to fit your taste buds.
Tahini: This thick condiment will boost the nutty and creamy flavor of your dip. But make sure the tart from lemon juice and the savory from salt can balance tahini's richness.
Yogurt: Yogurt can make the hummus creamier, tangier, and lighter. So if you think your dip is quite thick and heavy, try with some tablespoons of yogurt.
Mashed Roasted Garlic (or Peppers): Add more mashed garlic (or peppers definitely makes the hummus enhance its sweetness and aroma. You should roast them first until soft, then mash and add to hummus.
Mashed Chickpeas: If you do not want too-smooth hummus, you can mash some chickpeas (but still in coarse) and top it on your dips.
Spices and Nuts with Oil: Za'atar and some nuts (e.g., almonds, walnuts, pine nuts, or pistachios, etc.) cooked in olive oil is another way to add flavor to your bland hummus.
Herb Oil: Mix your favorite green herbs in oil and drizzle them over hummus.
Chili Oil: To increase the spiciness, you can mix olive oil, chili flakes, some herbs (if desired), lemon peel, and other spices and simmer for around 10 minutes until all flavors can blend well. Wait for the mixture to cool down before drizzling over hummus.
Olives (or Capers): Chop your olives (or capers) into smaller pieces so you can top on your hummus to add the crunchiness.
Marinated or Roasted Tomatoes: Cut tomatoes and season them with salt and oil. Or you can roast them in the oven for about 30 minutes. Then add them to your hummus as toppings.
Best Ways To Enjoy Hummus With Some Twisty Ideas
In this section, I will give you a closer look at how to eat and enjoy hummus at its finest with several other foods. And after reading it, you will realize how versatile hummus is.
What To Eat With Hummus
There are a few popular and easy ways to make sure your hummus so enjoyable, such as:
With Crispy Food: Serve your hummus with tortillas, crackers, chips, pretzels, or bread to add a contrasting texture to your meal.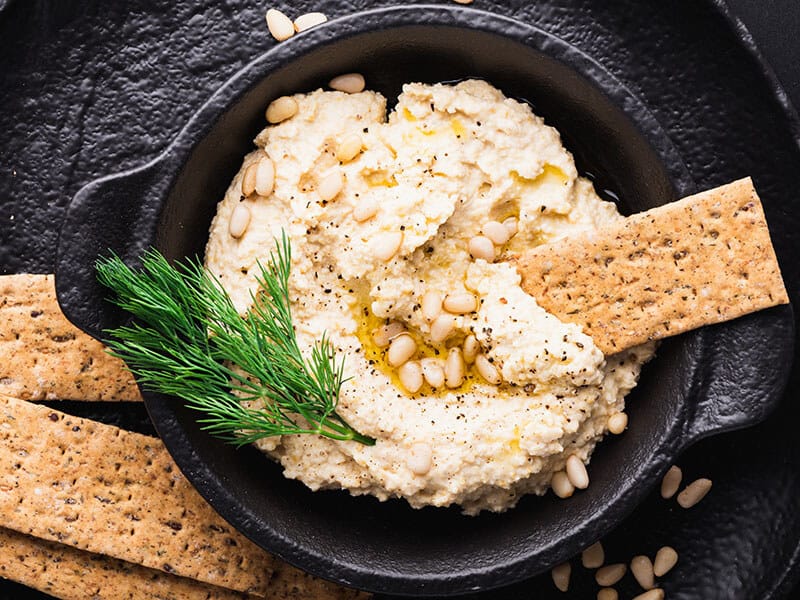 With Vegetables: Eating hummus with sliced carrots, broccoli, bell peppers, cucumbers, radishes, celery, or any crunchy veggies are another excellent way to enjoy the dip.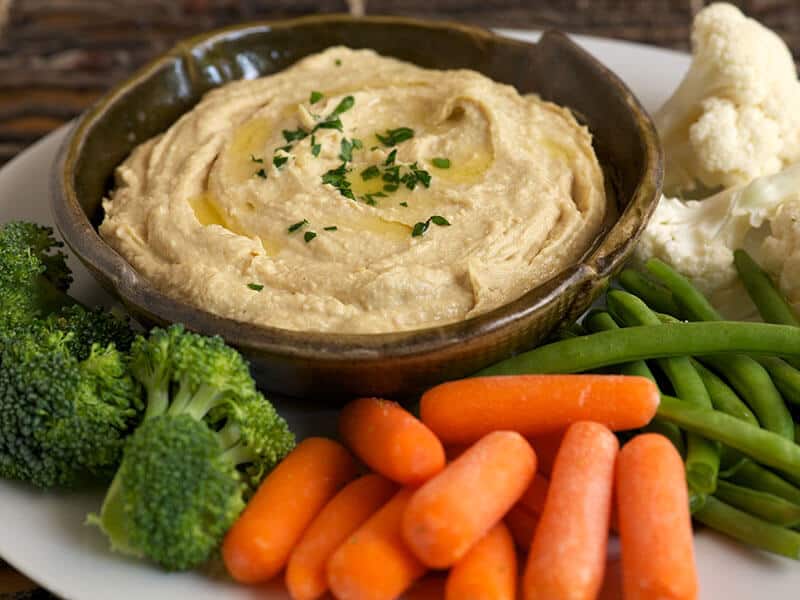 With Fruits and Nuts: Apples, pears, strawberries, avocado, or almonds, cashews will make your hummus more pleasant to enjoy, no matter if it is sweet or savory hummus.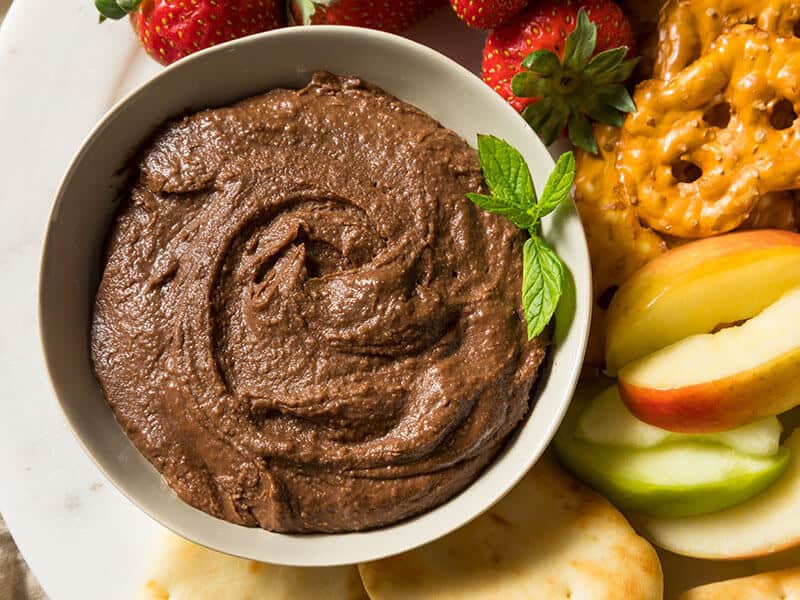 And Other Ways: You can enjoy hummus as pasta (or pizza) sauce or salad dressings.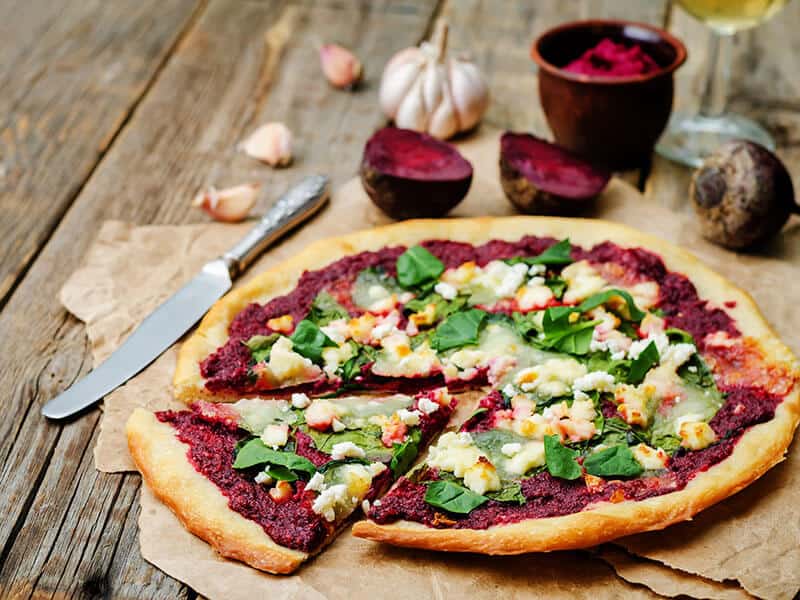 Transform Chickpeas And Other Components Into Tasty Dishes
For a better demonstration, I would like to share some yummy recipes of hummus with a little twist from other ingredients. Some are sweet; some are savory, so feel free to choose which one will be this weekend treat.
Let's paint a little pale yellow and orange into your hummus with red bell peppers. And I guarantee you will never find any store-bought hummus that can taste that good.
You can use either jarred roasted bell pepper or a fresh one and toast it at home; they all enhance the smoky sweetness taste in your hummus.
And similar to the original version, you just combine everything and puree in a food processor until smooth and creamy. Do not forget to top it with some chopped peppers to make your dip more attractive.
If you have a bad day, this yummy hummus with red peppers will make you feel better.
This is another example of hummus to prove how flexible they are. Spinach and artichoke will be the new companions to chickpeas. And even if you do not like these veggies, this recipe might amaze your taste buds.
If you like your hummus more coarse, you can chop spinach and artichoke without pureeing them in a blender. Serve them with any crunchy chips or veggies that you like as a simple snack or appetizer.
Chocolate Brownie Batter Hummus
Sick of pastry desserts? Just give this sweet hummus a shot. Who knows, it would be your new favorite dessert idea. And for those who still do not believe hummus can be a sweet dessert, this recipe will be a fantastic example as it is so tasty.
Besides chickpeas, the key ingredient is cocoa powder in this recipe. With only 10 minutes to prep, this dark brown hummus is such a quick and healthy treat to refresh your day.
Serve it with some apples, strawberries, pears, pineapples, etc., for the most pleasant dessert.
Ah, pumpkin – an autumn symbol that is a famous ingredient for pies, tarts, and cakes. But let's change the dessert tones a little bit with this pumpkin pie hummus.
Apart from basic components, you will need pumpkin (canned is preferred), pumpkin spice, syrup, and vanilla to make this delicious treat. This is a perfect gluten-free and vegan dessert that I am sure no one can refuse.
Pumpkin pie hummus is a dessert that you can make and celebrate autumn.
Hummus Shelf Life In Difference Conditions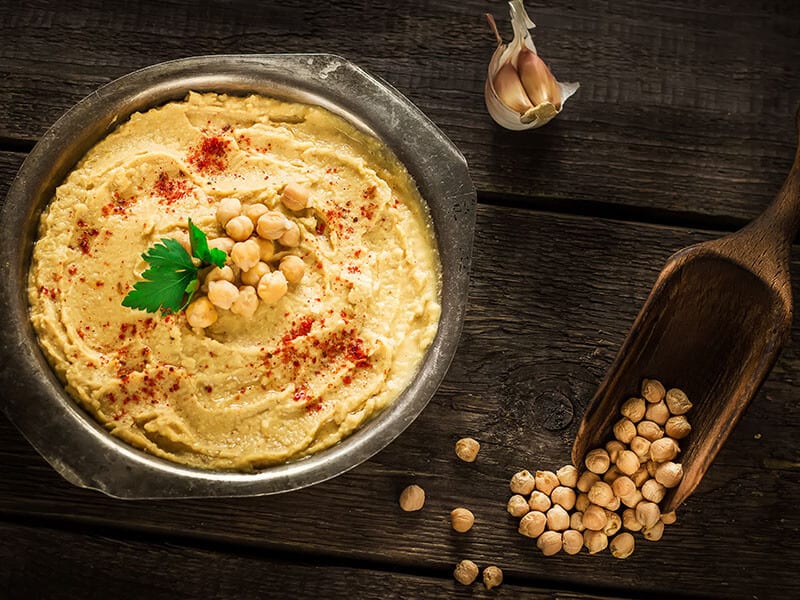 Hummus can be homemade and store-bought. And based on its conditions, the shelf life varies.
For store-bought hummus, you can find both refrigerated and unrefrigerated types (e.g., canned hummus). So, if you buy refrigerated hummus, you must store them in the fridge at home.
Unopened hummus can last up to 7 days after the best-by date. But once you open it, you must finish it within 7 days, even if you store it in the fridge.
Unrefrigerated and unopened hummus has a longer shelf life so that you can store it at room temperature. It would last up to 3 months after the best-by date. Similarly, opened unrefrigerated hummus should be kept in the fridge, which is only safe to eat for up to 1 week.
However, homemade hummus is another story. They have the shortest shelf life compared to other hummus types. 5 days is the maximum time that you can store them in the fridge.
| Types | At Room Temperature | In The Fridge |
| --- | --- | --- |
| Hummus (Store-bought, Unrefrigerated, Unopened) | Best-by Date + up to 3 months | - |
| Hummus (Store-bought, Unrefrigerated, Opened) | Not Recommended | Up to 7 days |
| Hummus (Store-bought, Refrigerated, Unopened) | Not Recommended | Best-by Date + up to 7 days |
| Hummus (Store-bought, Refrigerated, Opened) | Not Recommended | Up to 7 days |
| Homemade Hummus | Not Recommended | Up to 5 days |
You can freeze hummus as well, in case you do not mind their texture afterward. Frozen hummus can last up to 4 months or 6 months (but their taste will be altered). So personally, try to consume it as soon as possible for the best flavor and texture.
How Can I Tell If My Hummus Is Spoiled?
Determining whether hummus is spoiled or not is pretty straightforward. You can sense it by your eyes, nose, and mouth.
The safest way to know it is to search for any mold or weird spots on the hummus surface or whether it is discolored. If any, it means the bacteria already attack your food, so discarding it is the only choice.
In case you do not spot any suspicious signs, you can give it a quick sniff. Bad hummus has a sour or off smell that makes you feel sick.
The last method to check your food is to taste it. Grab a tiny amount and let your stomach tell you what to do. But remember, spoiled hummus also tastes sour unpleasantly.
Top 6 Benefits You Can Get From Hummus
Hummus can be seen as a healthy dish that you can treat to yourself. Packed with many nutrients, hummus will help you:
Improve Digestive System: The main ingredient is chickpeas, which contain a high fiber level, making them ideal for your stomach. Besides, chickpeas can promote the development of good bacteria and reduce the risk of dangerous bacteria (2).
Control Your Blood Sugar: Chickpea contains a low glycemic index (GI) that can regulate blood sugar at an appropriate level.
Prevent Heart Diseases: Chickpea and olive oil in hummus are 2 ideal sources to promote your heart function. Therefore, proper hummus consumption will lower any risk relating to cardiovascular illnesses.
Keep Fit: Regular hummus consumption is one of many ways to enhance your healthy lifestyle. Chickpeas have also been proven as an excellent food for weight loss.
Forget Allergies From Food: Hummus is safe for almost everyone. As it is a gluten-free, plant-based dish, you can safely eat hummus without worrying about food allergies.
Promote General Health: The proteins in hummus are rich. It will improve your skin, muscle, or bone conditions.
If you still doubt how healthy hummus is, this short interview will make it clearer.
FAQs
Last but not least, you should not skip some related questions about the hummus flavor or hummus in general. With its short answers, you can remember the information quickly.
Hummus Is Such A Tasty And Healthy Dish
Honestly, I don't think there is any reason that you should not eat hummus. They are so easy to make, and their health benefits are undeniable.
Hummus is also an affordable dish with a few components. You can enjoy them as a savory or sweet dish based on your preference. But overall, no matter what kind of hummus you will make, I bet they are delicious and unique.
So, do you love hummus? Please leave your ideas in the comment part. And if you find this post deserves to be spread, do not hesitate to click share and introduce it to your friends. I appreciate your support.
References
En.wikipedia.org. 2021. Hummus – Wikipedia.
Fernando, W.M. et al. 2010.