"What does mahi mahi taste like" comes up to your mind when you find this strange name on the menu of the restaurant you step in for the first time. And it is even more confusing when you see the name "dolphinfish" appear in parentheses. Do they really serve dolphins' flesh?
Of course not! Mahi mahi is another completely different kind of fish. Many people believe that it tastes like swordfish, but others say its flavor is much more like other white fishes. However, that's all general and individual-depended opinions.
This post here is to give a more detailed answer to this question. In addition, you can expect more helpful information about this interesting fish.
What Does Mahi Mahi Taste Like?
Well, this colorful creature called mahi mahi is described as having a fishy taste like other kinds of fish. Many people don't know how to tell about this fish flavor exactly, so they often describe it as swordfish, cod, or halibut.
In fact, mahi mahi still tastes really different from all of the fishes mentioned above. A little bit of swordfish, a little bit of halibut, and a little bit of cod is the most exact taste of this kind of fish since its flavor is a mixture of these fishes.
Don't be confused. I'm not trying to get you around. If you need a short answer, this is the most precise one. In case you are curious more about the specific information, scroll down right now! It doesn't take so much of your time.
Mahi Mahi – Dolphin's Fish Version
I bet you are new to mahi mahi, so now I will give a short introduction about this fish first. You will find some valuable things to learn as there are many interesting facts behind mahi mahi. So, let's go for now!
1. What Is Mahi Mahi?
It's quite fun that once a friend told me he used to eat dolphins, but actually what he has tried is mahi mahi.
Mahi mahi, also called common dolphinfish, is one of the two members in the Coryphaenidae family (the other member is pompano dolphinfish). These fish are found mostly in tropical, subtropical, or off-shore waters.
In the 1980s, when many diners were freaking out to think they were served the cute dolphin, the name mahi mahi was born to avoid further misunderstandings. In other words, mahi mahi is a fish, while dolphins are mammals.
This fish has an impressive, vibrant, and eye-catching appearance with a dark blue back and fading to bright vivid green or yellow in the belly. It can reach a length of 2m and weigh up to 44 kg.(1)
Mahi mahi is often caught for commercial purposes. It's served as a delicacy in many countries worldwide, especially Hawaii and other east Asian countries like Japan and Taiwan.
A newbie to mahi mahi? This video is all you need!
2. Mahi Mahi – What Are They Used In Cooking?
Along with salmon, tuna, swordfish, and cod, mahi mahi is regularly used as an ingredient for making savory dishes. From grilling, stir-frying to steaming and baking, there are a ton of amazing recipes you can find with this fish.
In many American supermarkets, mahi mahi is found to be cut into average fillets in the fish section with other kinds of fish. And they can be fresh or frozen. However, in the countries in which outdoor markets are dominant, you can see they offer the whole ones.
In Hawaii, mahi mahi are especially welcomed because of their flavorful tastes. They are blackened, grilled, made into salad, roasted, added into paella or even ceviche. Therefore, once you visit beautiful beaches here, mahi mahi-based dishes are delicacies you can enjoy.
What Does Mahi Mahi – The World Dolphinfish Taste Like?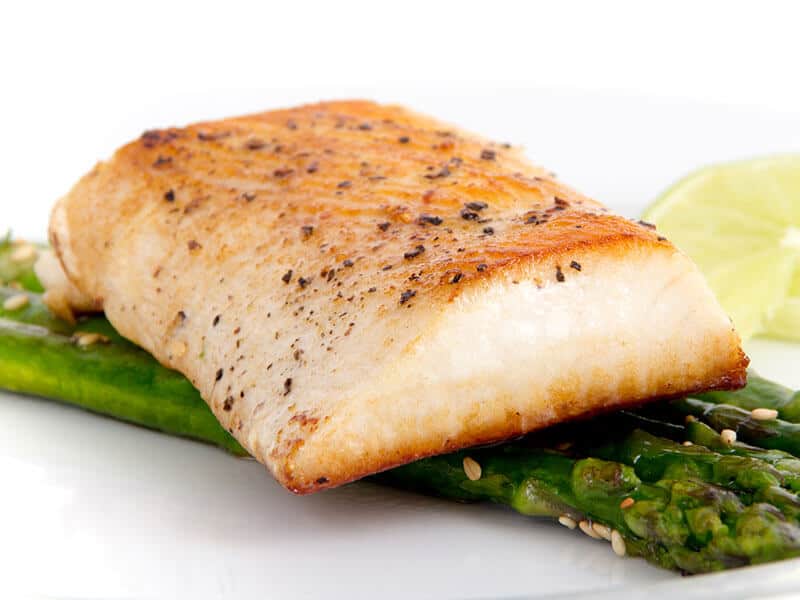 Now, let's get to the main point: What does mahi mahi taste like? Well, the answer is quite complex, but I will give you the most decent and full imagination.
1. The Flavor Profile Descriptions
Swordfish-like, halibut-like, and cod-like are the closest comparisons you can find regarding mahi mahi's tastes. More exactly, mahi mahi has a similar fishy taste to swordfish, but it is milder or more pleasant in smell.
On the other hand, their flavor will seem stronger than halibut, cod, or any other kind of white fish. And it's a surprise that although mahi mahi is a type of sea fish, you can immediately find a slight sweetness coming up when the flesh touches your tongue.
Moreover, mahi mahi' flavors also depend on their maturity. Many gourmets said that older mahi mahi taste stronger and sharper than younger ones. That can be said, if you want a less fishy taste, go for the smaller.
2. The Precise Answer On Mahi Mahi's Texture
Mahi mahi has a firm texture since this fish contains higher proteins than fat content. They are not categorized in the range of oily fish. As a result, you don't need to worry about your weight when eating this fish.
Like almost all kinds of sea fish, mahi mahi has the flake texture as well. If carefully observed, you can realize small white waveforms-like patterns stretching across the fish flesh.
In raw form, mahi mahi have a chewy texture, but they are tender and still keep certain moisture inside when cooked. All of those properties make mahi mahi the most famous guests in the barbecue and outdoor gatherings.
Publix and caught mahi mahi: Are the tastes different? You can see this video to know more:
3 Prominent Nutritional Values Mahi Mahi Can Offer
You are hesitant to try this fish and might think that mahi mahi is harmful to your body? Don't worry, as long as you don't consume too much, mahi mahi is really good for your health. Below, I will show what this sea fish can offer your body.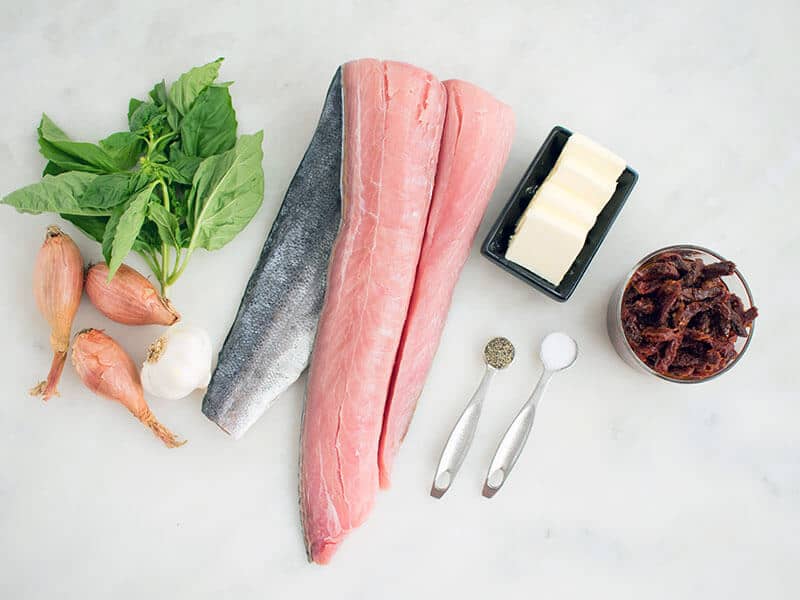 1. A Rich Source Of Protein
Mahi mahi is extremely rich in protein. According to the report from USDA FoodData Central, each 100g of mahi mahi contains 23.7g of protein, which accounts for almost 25%.(2)
To be more specific, protein is essential for your body as it helps to build muscle and regulate the immune system by providing amino acids.
2. It's Packed With Full Of Calcium
If you are finding a rich source of calcium in the fish you eat, mahi mahi can take the throne. In particular, these fish provide you 19mg of calcium in every 100g. .(2)
It can be said that calcium is a part of your body's functions, which help to control blood circulation, muscle movement, and hormone release. In addition, of course, everyone knows that it is beneficial in building a healthy bone.(3)
3. Vitamins And Minerals Are The Strength
Not only does it contain a lot of protein and calcium, but mahi mahi is also rich in vitamins. You can get vitamin A, B6, B12, and B9 from eating mahi mahi. Not only that, the minerals this fish feeds your body is also significant (such as selenium, potassium, and iron, etc.) .(2)
For a more detailed description of what nutrients mahi mahi can offer for your body, I will put a summary table below, which is referred to from the USDA FoodData Central's report in each 100g portion of cooked mahi mahi.(2)
| | |
| --- | --- |
| Nutrients | Amount |
| Calories | 109 kcal |
| Protein | 23.7 g |
| Lipit | 0.9 g |
| Carbohydrate | 0 g |
| Fiber | 0 g |
| Magnesium | 38 mg |
| Manganese | 0.019 mg |
| Selenium | 46.8 µg |
| Vitamin A | 62 µg |
| Vitamin B6 | 0.462 mg |
| Vitamin B12 | 0.69 µg |
| Vitamin B9 (Folate) | 6 µg |
| Sodium | 113 mg |
Mahi Mahi – How To Choose & Store Probably?
When you decide to give mahi mahi a try, I'm sure you will want to know how to buy the freshest ones. This section below is written to meet your needs. Furthermore, I will also give you some tricks on storing this beautiful cute fish!
1. Buying The Best Mahi Mahi For Better Tasting Experience
First, it's essential to have tasty flavors from the freshest mahi mahi. You need to know some basic knowledge to figure out the best ones. So, take a quick look to gain more information.
Look For The Pinkish Fillets
As soon as you come to the fish section in your city supermarket, look for a good quality fillet of mahi mahi by observing the color of their flesh. A fresh fillet of mahi mahi will have a pinkish color that is almost translucent.
On the other hand, their bloodline should appear bright red. In case the flesh has turned milky and slightly dark with the brownish bloodline, leave the counter or choose another kind of fish for your meal.
Notice To The Color Of Their Skin
In case you buy a whole fish in the outdoor market, look at the skin. It needs to be shiny and moist. And a typical fresh mahi mahi will own the blue green or dark gray color on the upper half of the body with the signature of black dots.
Moreover, their belly needs to have light yellow streaks too. The brighter the yellow belly, the fresher the fish are.
Overwhelming Fishy Smell Is The Bad Indication
A fresh mahi mahi should not have an overwhelming fishy smell. You should choose the ones that have an ordinary and average fishy smell.
If the fillets smell fishy that closely resembles the smell of the oxidized steel, step away from them immediately. It could be a sign that mahi mahi has been caught and stored for months.
2. Storing Mahi Mahi Properly For Longer Longevity
Storing is also a crucial thing you need to do when you can not consume all of the fish you buy. As a result, look down two tips in this section below for more detailed instructions.
Storing With The Fridge For Within-Day Using
Almost all kinds of fish need to be stored at a low temperature. Mahi mahi is no exception. After coming back from the supermarket, put them into your fridge right away. Remember not to break down the original package and stay the same until you use the fish.
Note: The fillets only can stay fresh within 4 days. Therefore, you should cook the fish as soon as possible.
Freezer Is The Best Option For Long-Term Storage
Freezing method should always be a priority for long-term storage. If you buy a large portion of mahi mahi, end up in your freezer. By this way, you can store them for up to 3 – 6 months.
Most importantly, move your fish into an airtight container to avoid smell contaminating as well as bacteria developing.
Need-To-Know Cooking Tricks For Your Mahi Mahi
Although this dolphin fish is not demanding when it comes to cooking, you still need to know some common techniques to keep the best flavors.
Avoiding Overcooking Your Fish
Since mahi mahi is a kind of lean fish with low-fat content, make sure you will not overcook them. The overcooked mahi mahi fillets will taste dry and discrete. Based on the flesh's thickness, you will need to adjust the fire and cook time accordingly.
Removing The Skin Before Cooking
As mahi mahi has thick and chewy skin, it is necessary to remove it if you want a tender texture. Make a long, fluid cut with a short paring knife or a jagged serrated knife to prevent the flesh from tearing.
Additionally, skinning the fish also makes the marinating process become faster.
Got a whole dolphin fish? Fillet it like a master! You can see this video to know more:
Defrosting The Fish Before Cooking
When you plan to cook frozen mahi mahi (and any other fishes), you should defrost them before cooking; especially for a fried recipe. Since the frozen fish will release a certain level of water when directly cooked, cooking oil will be diluted, which results in a non-crispy crust.
How To Eat: Worth-A-Try Recipes For Your Mahi Mahi
This is a bonus for all of you. Once you decide to try mahi mahi, find a good recipe for a good beginning. Here are my top 4 recommended recipes for you.
Mahi mahi tacos is the first recipe that comes to my mind every time I need to make something for my family dinner. These tacos are incredibly amazing with the crispy crust and flavorful fillings.
Seasoned skinless mahi mahi fillets will be cooked or blackened then mixed with other ingredients. Don't forget the sauce. Your tacos can not be completed without it.
Ginger glazing is a very popular cooking method in Asian countries. With this method, you can have soft and comforting dishes. Ginger glazed baked mahi mahi is one of these dishes too.
This delicacy is especially suitable for your kid. It's tender and has enough moisture. And it is better to serve ginger glazed baked mahi mahi with steamed white rice. Simple but make sense.
Note: Make sure to remove all the fish born before feeding it to your children.
Air fried mahi mahi will definitely be the winner in the most brilliant appetizer contest. The shining golden brown crispy crust will pique your appetite.
Along with the creamy dipping sauce, this dish is too satisfying for a warm and bustling gathering.
If you are a fan of grilled cooking, then grilled mahi mahi with salsa belongs to you. This recipe can make the pickiest diners fall in love. The tender, smoky grilled mahi mahi, the fresh salsa is the most dangerous double kill ever.
And you can have this tasty treat for less than 30 minutes as it is easy to prepare and easy to make.
This grilled mahi mahi with grape and corn salsa is just a flavor explosion! You can see this video to know more:
Fun Facts – What You Maybe Interested In The Common Dolphinfish
For a more relaxing conclusion, I will reveal some funny facts about this gorgeous fish. You can tell these interesting facts below to your wild world-curious child. It would be a happy time to be together.
In the Hawaiian language, mahi mahi means "strong strong." It is believed that mahi mahi is one of the fastest and strongest sea fish.
Mahi mahi has a high fertility rate. On average, a female mahi mahi can spawn from 80,000 to 1,000,000 eggs each year. Baby mahi mahi mature very quickly, which helps them out of the danger of extinction due to overfishing.
The mahi mahi found on September 25th, 1976, is the largest one, with a recorded weight of 87 pounds (approximately 39.5 kilograms).
Male mahi mahi can usually be bigger than female mahi mahi. And while male mahi mahi has a round head, the female mahi mahi's head often slopes down to the mouth.
All baby mahi mahi are not raised and protected by their parents. Once they are born, the adult mahi mahi quickly groups their young in schools for a better chance of survival.
FAQs
I'm sure you still have some other questions about this dolphinfish. Jump to these frequently asked questions below to get all the questions solved!
Have You Got Your Mahi Mahi Tasting Experience?
Mahi mahi is not the dolphin as you may have ever thought. This is a kind of sea fish with a mild, tender, and savory flavor. On the other hand, the sweetness and soft texture make them the best candidate for your outdoor barbecue.
If salmon is too boring for dinner, give mahi mahi a try. Try to cook them at home and let all of your family members participate in the cooking time. It is super fun to have memorable moments together.
Now, that's all for today. If you find my post helpful, don't forget to leave a comment below. I would love to read all of them and answer all your questions as soon as possible!
References
Common Dolphinfish – Oceana. 2021.
Fish, mahimahi, cooked, dry heat – FoodData Central Search Results. 2021.
Natalie Butler. Calcium: 8 Fast Facts You Should Know – Healthline. 2021.
Mercury Levels in Commercial Fish and Shellfish (1990-2012) – U.S. Food and Drug Administration.