Have you ever stood in front of a coffee counter and asked yourself, "what does mocha taste like" as you are unsure what drink you should order?
Apparently, there are various coffee-based beverages, and it might confuse you sometimes. Expresso, latte, cappuccino, mocha, etc., which one is the right one for you? But if you are more curious about mocha and its flavor, this post will broaden your horizons regarding this beverage.
So why don't you spend less than 5 minutes reading and learning new things about mocha? I guarantee you will like it.
What Is Mocha, Anyway?
You might have seen a lot of mocha on the coffee shop's menu. But do you know the term 'mocha' can be used to indicate 2 things:
A Coffee Bean: Mocha, in fact, is the name of a port in Yemen, where the coffee bean had shipped from. Mocha coffee bean is cultivated and collected from Coffea arabica species which have a small, firm, and uneven shape (1).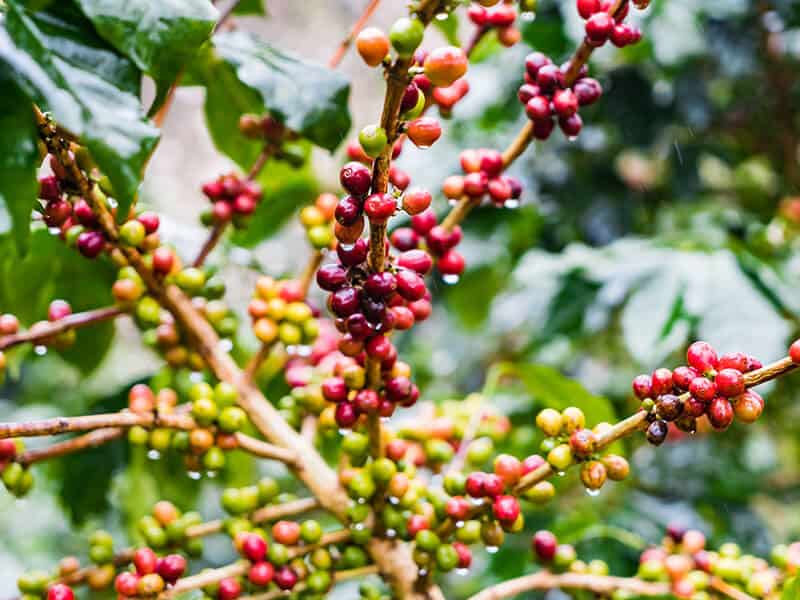 A Beverage: Caffè mocha (mochaccino, mocha, or mocha latte) is a coffee-based drink with espresso, steamed milk, chocolate, and cream top. Mocha is mainly served hot, but you can find cold versions in any shop.
People can also use Yemen's coffee beans or other varieties to make this drink. Regarding the chocolate ingredient, it can be chocolate syrup, cocoa powder, ganache, or melted chocolate chips in espresso.
Besides using mocha to make beverages, it is also an excellent ingredient for baking to bring out the coffee flavor for your desserts, for example, mocha cheesecake.
However, I will focus on analyzing and describing the flavor of mocha coffee in this post. So keep reading for more information.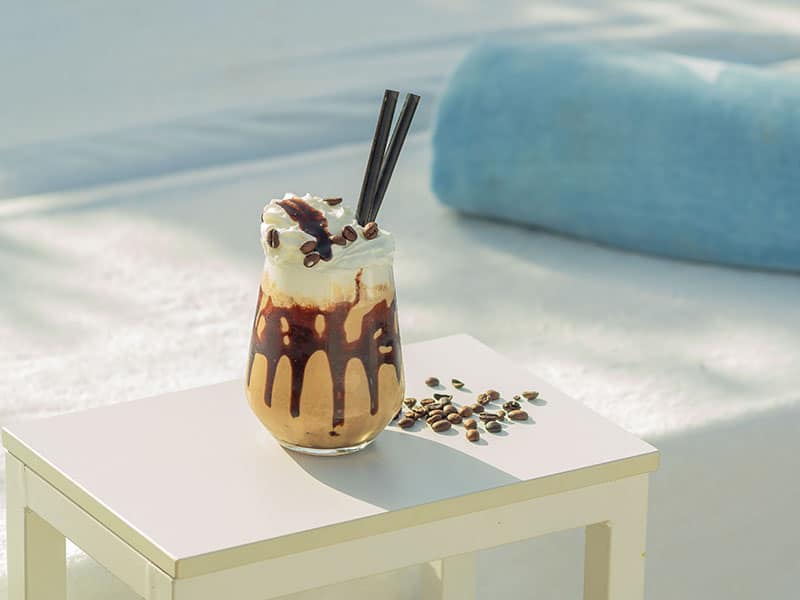 Mocha Tastes Like Chocolate Or Coffee?
As mentioned above, mocha contains espresso and chocolate, so does it taste bitter like coffee or has a sweet hint of chocolate?
Mocha flavor is the balance between chocolate and espresso, so it is described as sweet, nutty, chocolatey, and roasty like coffee. Mocha is sweeter compared to regular espresso, but it is not as sweet as a chocolate bar or sugar, apparently.
It is typically finished with whipped cream, cinnamon, or cocoa powder to boost the flavor. And though mocha might not contain caffeine as much as other coffee drinks, like latte, they still have a very nice aroma as a cup of coffee.
Overall, mocha taste also depends on the chocolate, sweetening agents, or other ingredients, making it more challenging to capture the exact taste of mocha.
In reality, there are other 5 popular mocha types that you can easily find in coffee shops. So let's take a look at the summarized table of mocha varieties and their specific flavors before I get to their details.
| | |
| --- | --- |
| Type | Flavors |
| Traditional Mocha | Sweet, nutty, chocolatey, and roasty coffee-hint |
| White Mocha | Tangy, sweeter, and less chocolatey compared to traditional mocha |
| Peppermint Mocha | Quite rich with minty hints from peppermint |
| Hazelnut Mocha | Chocolatey and nutty notes from dark chocolate and hazelnut |
| Mocha Frappuccino | Sweet, creamy, and less coffee flavor |
| Raspberry Mocha | Sweet and fruity |
White Mocha
This beverage is also made from espresso, hot milk, and white chocolate syrup instead of dark ones. So white mocha might not taste as chocolatey as traditional mocha.
White mocha also has the tanginess of coffee that blends in sweetness similar to sweetened condensed milk, so if you like something sweeter than a regular mocha, this drink might satisfy you.
Peppermint Mocha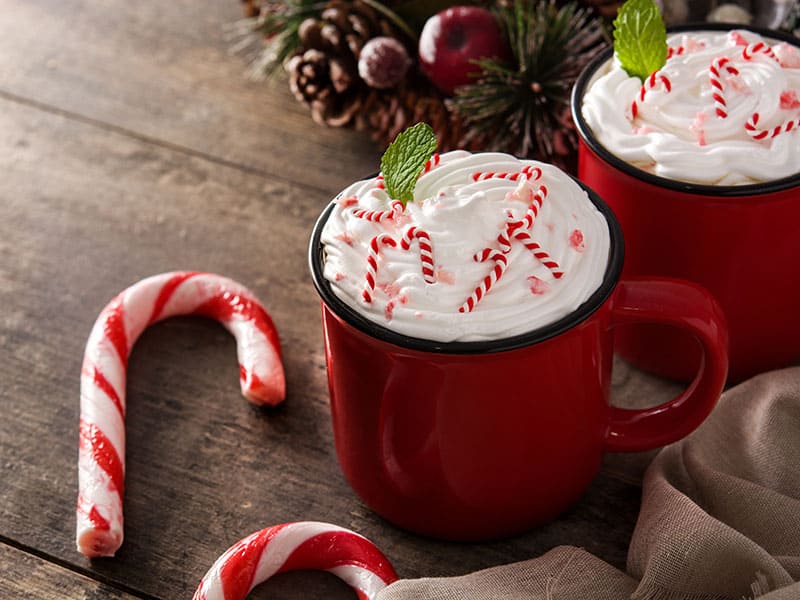 Peppermint mocha can be seen as a holiday mocha and become everyone's favorite drink in the US. They also have the same ingredients as regular mocha and a touch of peppermint-flavored syrup.
Peppermint mocha is quite rich, which balances the mintiness of peppermint syrup, the strong flavor of chocolate mocha, and the natural sweetness of steamed milk. Overall, you might feel like you are drinking hot chocolate rather than coffee in this case.
Hazelnut Mocha
By adding roasted hazelnut into mocha, this drink will give a strong flavor of dark chocolate and hazelnut.
This drink's flavor is mixed with chocolatey and nutty notes. You can enjoy hazelnut mocha hot or cold (with ice). Either way is so delicious.
Mocha Frappuccino
Made from milk, mocha chocolate syrup, coffee, sugar, and ice, this mocha frappuccino tastes like a dark chocolate shake.
Their flavor is primarily sweet without a very strong coffee flavor. This drink is typically topped with cream, making it so creamy as well.
Raspberry Mocha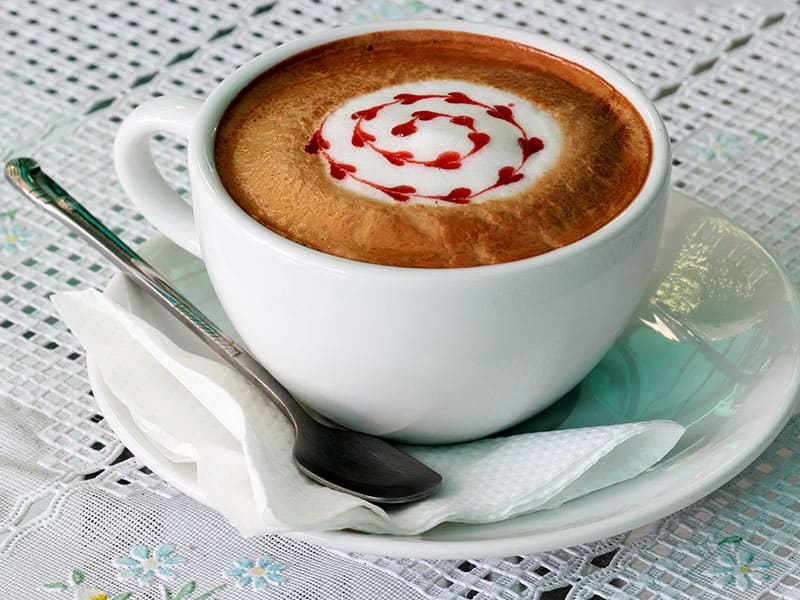 If you love raspberries, you should not miss this mocha variety. With a chocolate hint and robust raspberry taste, this sweet and fruity drink is truly a decadent treat.
You still sense the richness of espresso in raspberry mocha. And with its caffeine, this beverage can keep you up all time.
To sum up the mocha flavor, it is hard to conclude if it is bitter or sweet because it all depends on what type of mocha you pick.
How To Create A Perfect Cup of Mocha At Home
I know it might be costly to spend a few bucks every day for a cup of mocha, so why don't you upgrade your coffee skill now by learning how to make the best mocha at home? Who knows, you can write it in your resume to apply for a barista job.
I also provide 2 solutions to make mocha with and without an espresso machine so you can have more options.
With An Espresso Machine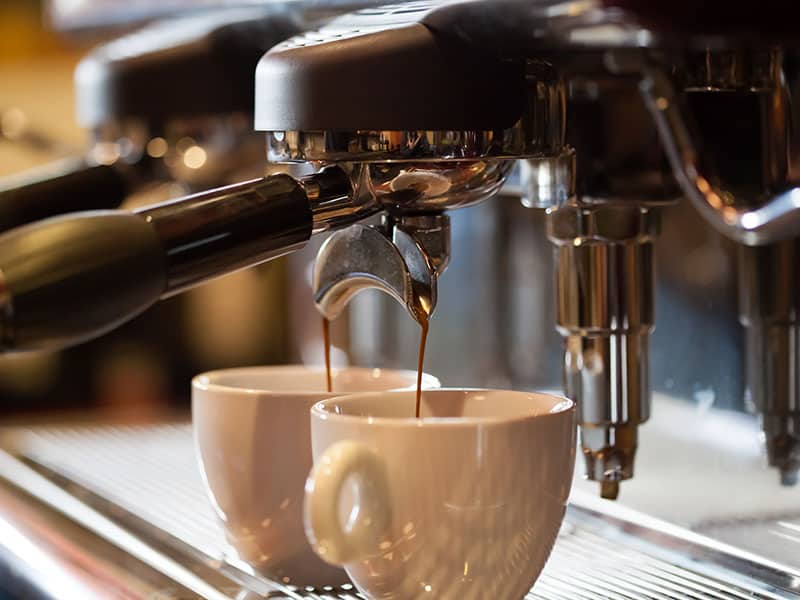 If you own a coffee machine at home, it is perfect and better to brew coffee. But you also need a metal milk pitcher, coffee cup, and some ingredients like:
16.5 grams espresso beans (or any fine ground roasted coffee bean)
1 to 3 teaspoons of chocolate syrup (or chocolate powder) based on your preference
8 ounces of hot milk
Whipped cream, cinnamon, cocoa powder, etc. (optional)
Step 1: Grind espresso beans and scoop them into your coffee machine's portafilter to brew espresso.
Step 2: Add the chocolate syrup (or powder) into the cup, then place this cup under the machine to extract the espresso into the cup. After that, stir them well to blend the syrup (or powder) and espresso together.
Step 3: Pour the milk into a metal pitcher and use a machine to steam. The appropriate temperature for steamed milk is 165 degrees, so stop the steaming process whenever you feel your milk is hot enough.
Step 4: Slowly pour milk into the mixture of espresso and chocolate syrup to create a thin layer on top.
Step 5: If desired, top your mocha with whipped cream and/or sprinkle cinnamon or cocoa powder.
You do need a barista certificate to make a perfect cup of mocha. See the video below:
Without An Espresso Machine
The recipe for this one is pretty similar in terms of ingredients but different in its amount than the above method. Moreover, as I do not use a coffee machine, I will need to use the stovetop (or microwave) to heat the milk. But first, let's prepare:
1 tablespoon of instant coffee
1 teaspoon of sugar
1 tablespoon of cocoa powder (or chocolate syrup)
2 to 3 tablespoons of hot water
1 cup of milk
Whipped cream, cinnamon, etc. (optional)
Hot water
Clean glass jar with lid
1 coffee cup
Step 1: Mix sugar, cocoa powder, and instant coffee in a cup. You can adjust the level of sugar as your preference. Then pour hot water and stir them to dissolve the mixture.
Step 2: Heat the milk in 3 minutes but do not boil them. Or you can use a microwave to heat it in 1.5 minutes.
Step 3: Pour the milk in a clean jar and close it by a lid thoroughly, and give it a good shake in 15 to 20 seconds until you see them frothy.
Step 4: Pour the milk into the mixture slowly.
Step 5: Decorate it with cream, cinnamon, chocolate syrup, or cocoa powder.
No espresso machine, no problem, as you can still easily create a pleasant mocha at home.
Tips To Choose Milk and Chocolate For Mocha
Besides espresso, milk and chocolate are 2 essential components in mocha. So do not skip this part to know what milk and chocolate that you should use.
For The Best Milk
Milk also plays a vital role in mocha. So if you want to make sure your mocha is the best, go with full cream milk as it can be steamed and frothed perfectly.
Other options like low-fat or dairy-free also work well in mocha if you think full cream milk is too heavy for you.
For The Best Chocolate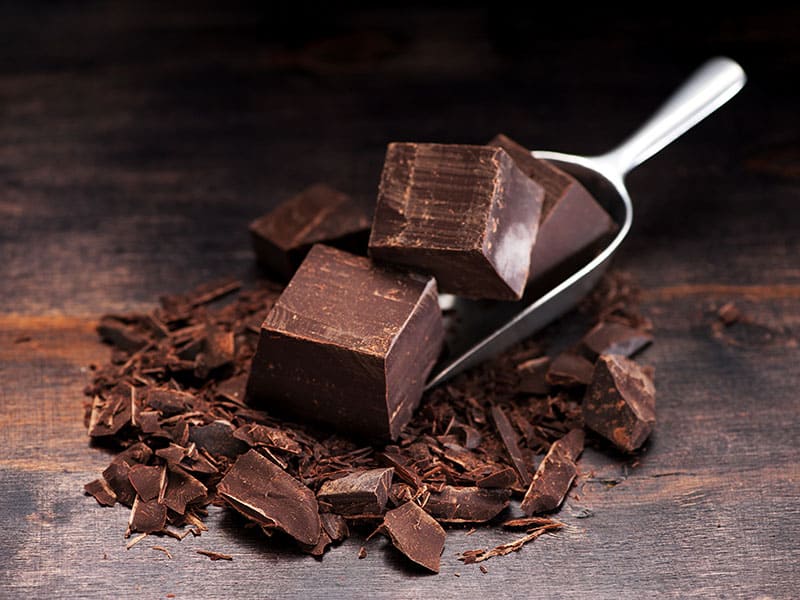 There are 3 typical chocolate types based on their flavor such as:
Dark chocolate: If you want your drink bitter and less sweet, dark chocolate is the best candidate. Dark chocolate is made with roasted cocoa powder without any milk, making it more bitter than other chocolate varieties.
Semisweet or bitter chocolate: This one is also less sweet as they contain high levels of cocoa with less sugar content.
Milk chocolate: This chocolate type consists of more milk solid than the 2 above chocolate. It is also sweeter due to the high amount of sugar. So if you like sweet mocha, you should choose milk chocolate.
Differences Between Mocha and Other Caffeine Drinks
You just knew about mocha, but how is it different from other espresso-based drinks when you are not a coffeeholic? Trust me, every section in this post is important to make you become a coffee expert.
Mocha vs. Latte: The biggest difference between them is there is no chocolate ingredient in the latte. Latte's 2 components are steamed milk and espresso. And the amount of milk in mocha is often less than in latte.
Mocha vs. Cappuccino: Cappuccino is well-known for its thick milk foam on top. Compared to mocha, the cappuccino flavor is stronger with a dense texture. Cappuccino is also less sweet than mocha as they are made with steamed milk, milk foam, and espresso.
Mocha vs. Macchiato: Macchiato has a strong espresso taste as they contain milk foam and espresso only, making them less sweet than mocha. So if you want to feel the authentic flavor of coffee beans, macchiato is your better choice.
Here is a short introduction to tell mocha and latte apart.
And More Fun Facts About Mocha
Following are 7 short mocha interesting facts that you might not know.
29th September is National Mocha day.
'Chocolat chaud' or 'moka' is the French term to mention this drink.
Many people describe mocha as a chocolate-flavored latte.
People in some areas of Europe also add liquor to mocha for a more robust taste.
If you ask for a cup of mocha in Italy, you might receive a cup of chocolate milk.
Mocha port in Yemen – the origin of mocha is one of the first international ports for exporting coffee beans.
Mocha – a combination of chocolate and caffeine can boost your mood, concentration, motivation better than consuming caffeine alone (2).
FAQs
Before wrapping up this article, here are 5 related questions about mocha that I believe some of you might wonder about right now. So keep rolling down to find out.
Mocha – A Heaven-sent Concoction Between Coffee and Chocolate
Do you want to get a glass of mocha right after reading this post? I think you would. Indeed, mocha is a perfect balance between chocolate and coffee. That's why they are so special and well-loved.
Mocha can help you promote alertness and improve your mood. So it would be perfect to start a new day with a cup of mocha or enjoy it during your lunch break to increase productivity.
And finally, if you think this post just showed you a whole picture about mocha and its taste, please click like and share. Your support is my motivation to compose more and more valuable articles like this. Thank you.
References
En.wikipedia.org. 2021. Mocha Coffee Bean – Wikipedia.
Boolani, A. et al. 2017.