The question: "What does Muenster cheese taste like?" comes to your mind when the recipe you want to try calls for it, but you have no idea about its taste. Do not be distressed! This article provides comprehensive knowledge about Muenster cheese for newbies.
Out of the many, Muenster cheese is loved by most people because of its outstanding and unique taste. Also, it can pair well with various foods and beverages.
Are you curious about its flavor? The information in this post is not just that. You can explore other fascinating details about Muenster cheese, including accompanies, recipes, and precise ways to eat it. Stay tuned and have a better understanding of Muenster now!
What Is Muenster Cheese, And Where Does It Come From?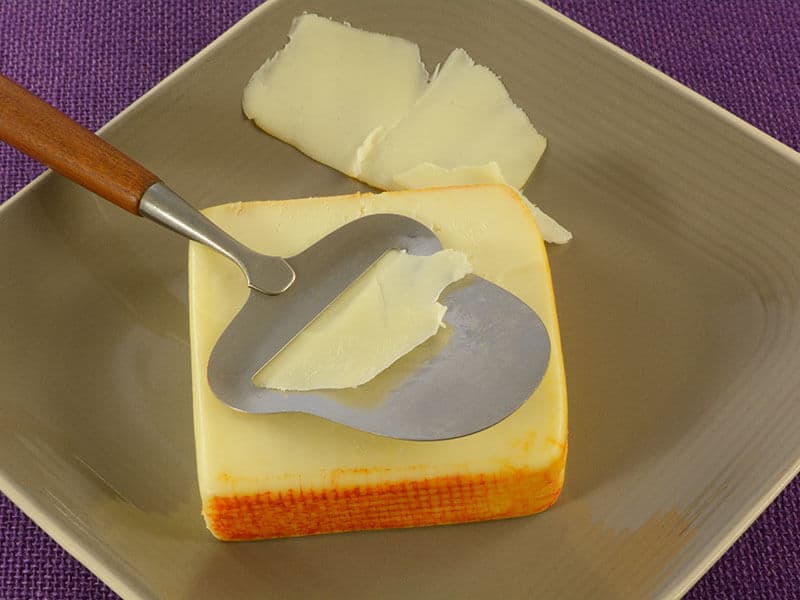 Muenster cheese is a semi-soft cheese that first appeared in the ancient monastic Alsace, France, and was brought to the USA. People say that it is the American version of Munster cheese, but their flavor is significantly different.
It is highly valued for its fantastic melting properties. You can recognize Muenster cheese by its square-shaped, and the pale color can vary from white to yellowish-orange or reddish-orange.(1)
Also, it is easy to identify Muenster cheese by the orange rind. Have you ever wondered why it has an orange peel? It is usually made from the annatto spice that is sweet and nutty. Its main function is adding flavor and color to Muenster cheese, and it is edible.
Besides the satisfying flavor, Munster cheese is also known as a great source of nutrients. The high level of protein loaded in it benefits your bone health and strengthens muscles. Also, it contains other essential minerals that help maintain good health. (2)
A Comprehensive Guide On Muenster Cheese's Flavor
The flavor of Muenster cheese depends on the date it is produced. Muenster cheese has a mild and creamy taste. However, its flavor tends to be stronger and sharper when it is aged. Aged Muenster cheese also has a hint of tanginess and a salty kick.
People prefer consuming young Muenster cheese because of its mellowness. Its flavor is compared to a mild cheddar and mozzarella. Moreover, the cheese produced in the US tastes lighter and more fragrant than European Muenster cheese.
There are 3 variations of Muenster cheese, and they are slightly different due to the production process. Let's check them out!
American Muenster Cheese
American Muenster cheese does not give a funky smell because it is not a washed-rind cheese and is mainly used when it's young. American Muenster cheese tastes mild and salty.
Alsatian Munster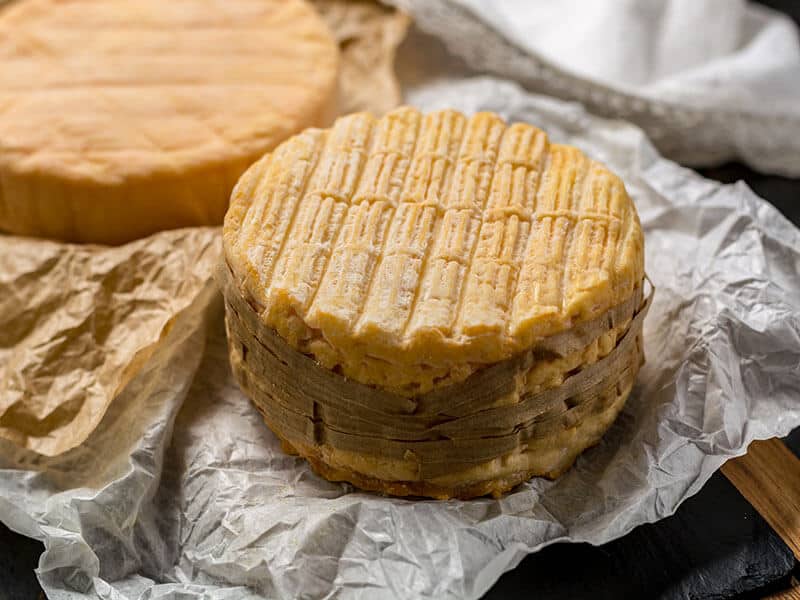 Alsatian Munster has a creamy texture, and it is coated with a sticky reddish-orange rind. It is the origin of American Muenster cheese, and they share a very mild flavor. However, you will notice the funky smell of it.
French Munster-Gerome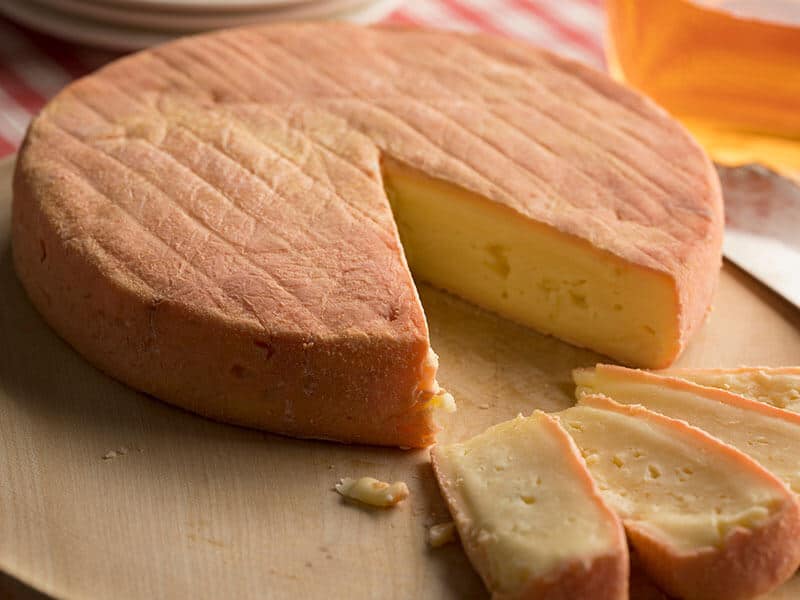 French Munster-Gerome is a soft wash-rind cheese that is very similar to Alsatian Munster. However, the anise, cumin seeds, and caraway seeds in French Munster-Gerome bring it an aroma and make it taste slightly different.
Precise Ways To Enjoy The Full Flavor Of Muenster Cheese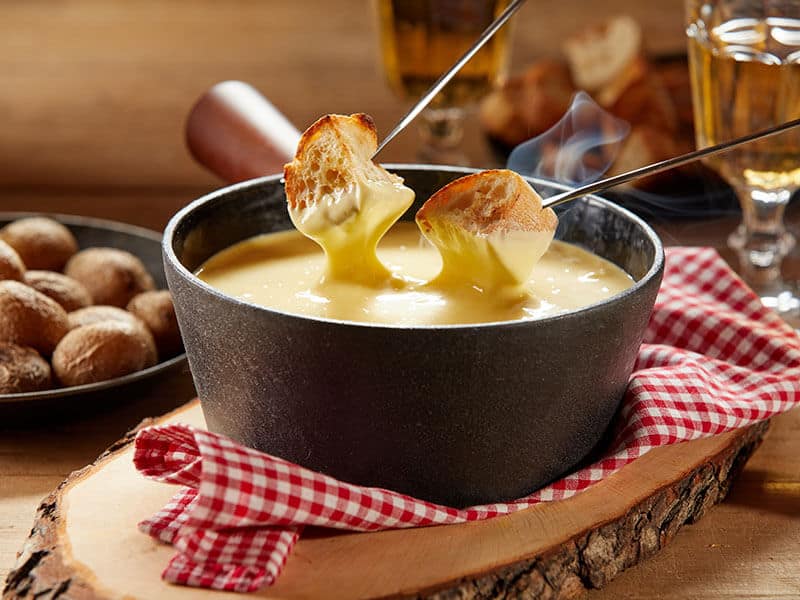 The use of Muenster cheese in cooking is versatile. It tastes good in various types of dishes.
You can serve Muenster cheese with ham, pastries, or fruits such as grapes and apples.
Because Muenster cheese is smooth and mellow, it can melt very well. You can add some slices of it to your grilled sandwich or hamburger.
Muenster cheese also helps enhance the fondue flavor.
Also, you can combine Muenster cheese with pizza or mac and cheese as its mild flavor is very suitable for those dishes.
For an extra cheesy bite, you can also cut it into cubes and serve at a part of the cheeseboard.
Muenster cheese also tastes good on potato, chicken, beef, and many other ingredients.
Making a grilled sandwich without Muenster cheese is a significant shortcoming!
Excellent Muenster Cheese Accompaniments
Besides being added in many mouth-watering recipes, you can also experience some whole new flavors of the combinations of Munster cheese and its accompaniments.
Beer is always a go-to pairing of Muenster cheese. You can find it served with various beers. Some of the beers that pair well with Muenster cheese you should not miss are Belgian ales, lagers, porters, pale ales, brown ales, and pilsners.
Cheese and wine are considered a standard combination that the people who are fond of them should not miss. Also, Muenster cheese pairs well with dry and semi-dry white wines, such as Chardonnay, Riesling, and Pinot Gris.
If you don't have white wines on hand, here are some red wines to pair with Muenster cheese: Pinot Noir, Merlot, Zinfandel, or Beaujolais.
Thanks to the salty taste of Muenster cheese, it tastes beautiful when eating with fruits, especially watery fruits like pears, grapes, and apples.
Don't Miss These Recommended Muenster Cheese Recipes!
Because of the melted property of Muenster cheese, it is usually used in grilled cheese sandwiches. Muenster cheese tastes good with fresh avocado and other seasonings and ingredients in this recipe, creating a flavor explosion.
The best sandwich to make a perfect Muenster and avocado grilled cheese is sourdough bread. Moreover, you should choose the ripe avocado for a better result. The sauce made with mayonnaise and other aromatic spices also plays a vital role.
If you are a fan of cheese spread, do not miss out on this great Muenster cheese spread. It is a perfect and flavorful spread consisting of nutty and smooth cheese, bacon, cream cheese, aromatic garlic powder, and chives.
You can spread it on some slices of rye bread and enjoy. Also, you can eat it with crackers or chips.
The mild Muenster cheese also tastes well when added with mac and cheese. Since typical mac and cheese contains cheddar cheese, you can add a new flavor to it with this delicious grated Muenster cheese.
Baked mac and cheese will be the ideal breakfast for every member of your family. It also does not take much time and effort to do. Consider adding Muenster cheese to your baked mac and cheese for a new flavor.
You can make delicious baked mac and cheese with Muenster by following this guide!
Here is a Muenster dip recipe that you will be irresistible after trying. The flavor of sausage, sour cream, Muenster cheese, and other fragrant seasonings will satisfy your taste buds.
Moreover, you can also make Hissy Fit Dip in advance to save time. All you have to do is bake it before using it. You may think that this dip can only be eaten with chips. Try to dip your favorite boiled or grilled vegetables in it. You will be surprised!
It is time to try another type of bread beside the typical bland ones. Muenster cheese brings a featured flavor to make the bread taste different. Also, the ingredients required are simple and easy to find.
What Can You Use To Substitute Muenster Cheese?
What should you do when you don't have any Muenster cheese on hand and cannot find one? Do not worry! I've saved your back! There are some excellent substitutes that share a similar flavor and texture with Muenster cheese for your consideration!
| Name | Origin | Texture | Flavor | Best Use For |
| --- | --- | --- | --- | --- |
| Port Salut | French | Semi-soft | Savory and sweet | Fondue, grilled cheese, pasta, veggies, meat, and baked dishes |
| Monterey Jack | American | Semi-soft | Mild and slightly buttery | Baked dishes, grilled sandwiches, and quesadillas |
| Provolone | Italian | Semi-soft | Mild to strong and somewhat sweet at the end | Salad dressings, soups, sandwiches, pasta, and baked dishes |
| Gouda Cheese | The Netherlands | Soft | Mild and subtly sweet | Vegetables, grilled cheese sandwiches, fondues, salads, and sauces. |
| Edam Cheese | The Netherlands | Semi-hard | Mild and subtly salty | Fruits, wines, pasta, sauces, salads, and baked dishes. |
| Havarti | Denmark | Semi-soft | Mild, slightly sweet, nutty | Baked dishes, salads, sandwiches, fruits, and wines |
1. Port Salut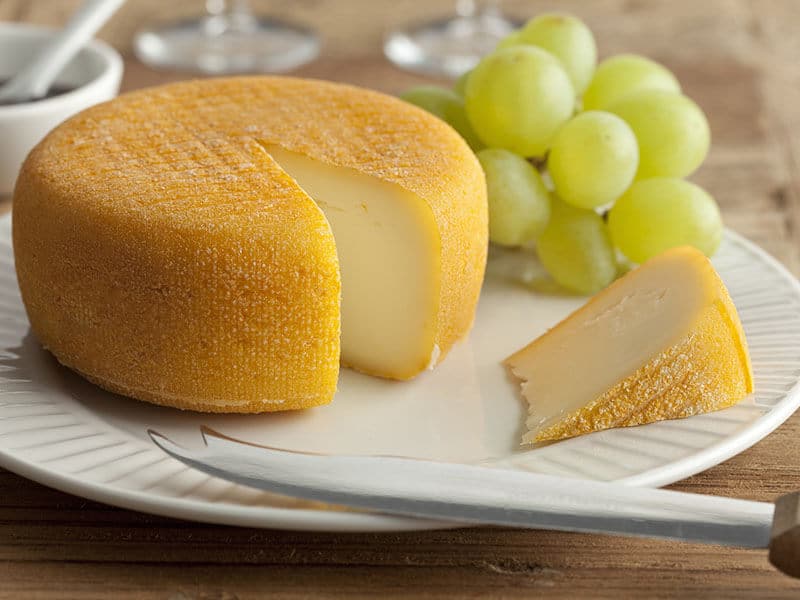 Port Salut is one of the oldest cheeses that originated in France. It is made from partially skimmed and pasteurized cow's milk. Also, it is aged in a short time, just about 3 – 6 weeks.
You can replace Muenster cheese with Port Salut since it is also a semi-soft cheese with a savory and sweet taste. In addition, it can melt well like Muenster. Port Salut can work well in place of Munster in grilled cheese, fondue, veggies, pasta, meat, and baked dishes.
2. Monterey Jack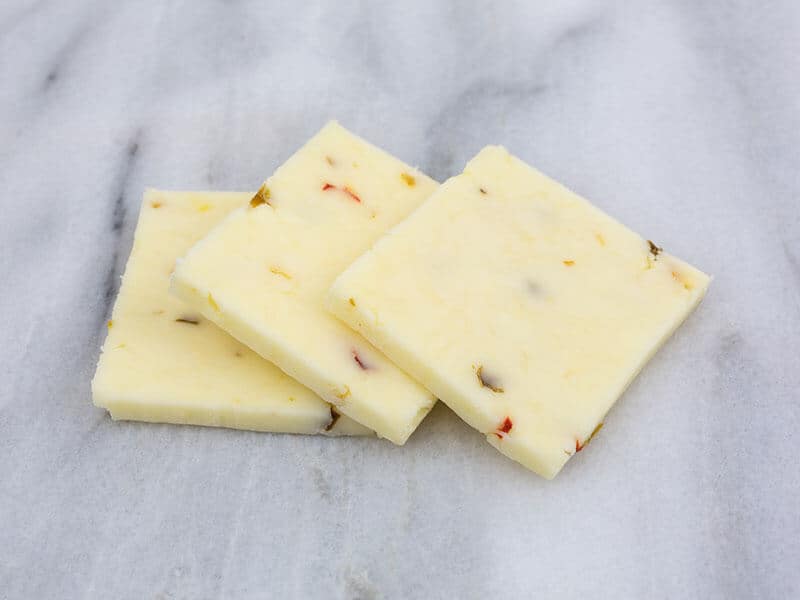 Monterey Jack cheese comes from America, but it frequently appears in Mexican and Spanish cuisine. You can recognize Monterey Jack cheese by its vivid red rind and pale yellow inside.
Young Monterey Jack shares a similar flavor profile with Muenster, which is mild and slightly buttery. Also, you should choose the semi-soft type to melt, shred, or grate it easier. You can substitute it for Muenster cheese in various baked dishes, grilled sandwiches, or quesadillas.
3. Provolone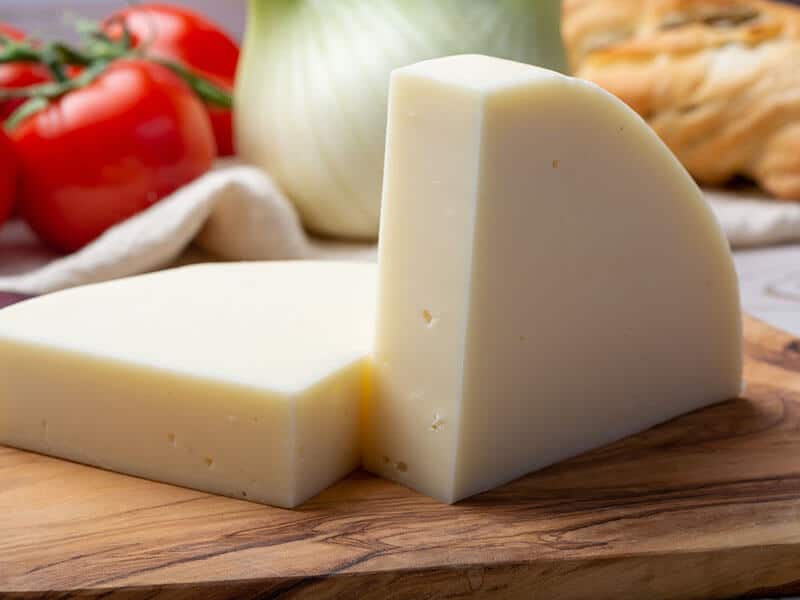 Provolone is another perfect Muenster cheese substitute for your consideration since its texture can mimic Muenster cheeses' texture well. It is semi-firm, and you can shred or melt easily.
Provolone has a complex and sharp taste in terms of flavor, which is mild to intense and slightly sweet at the end. Instead of Muenster cheese, you can add Provolone to salad dressings, soups, sandwiches, pasta, and baked dishes.
4. Gouda Cheese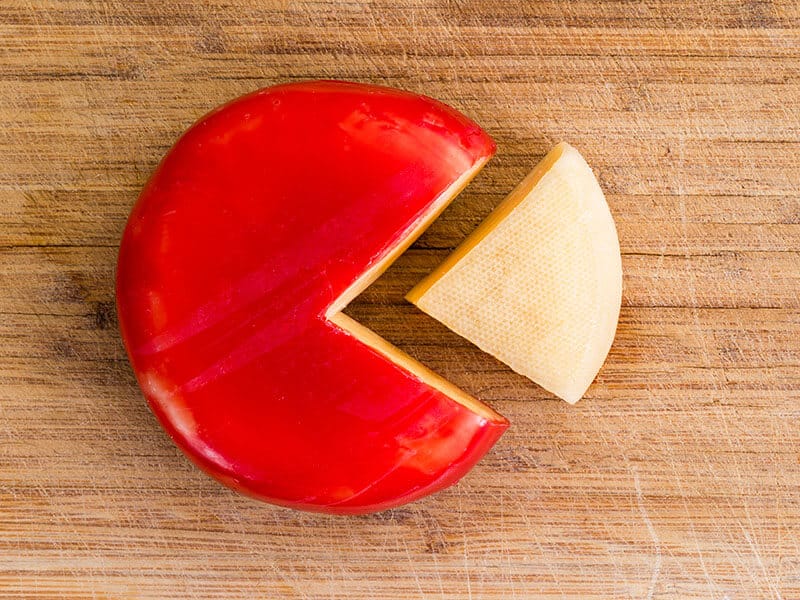 Gouda cheese comes from the Netherlands, and it is one of the most popular cheeses all over the world. You can opt for young Gouda cheese to replace Muenster cheese well because it tastes mild and subtly sweet with a soft texture.
You can use it in place of Muenster cheese in various dishes, including vegetables, grilled cheese sandwiches, fondues, salads, and sauces.
5. Edam Cheese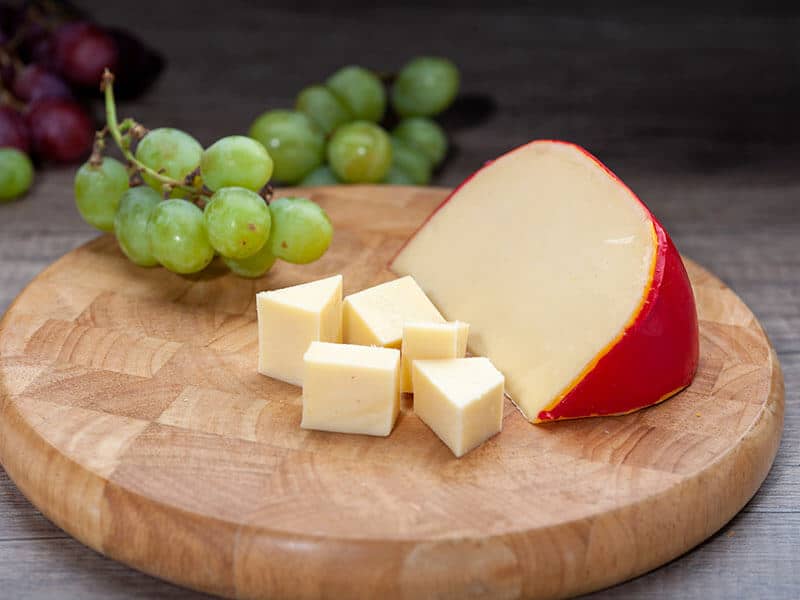 Edam cheese also originated in the Netherlands, like Gouda cheese. Edam cheese features a mild and subtly salty flavor. Its texture is semi-hard. Since its texture tends to be harder, and its taste will be more intense when aged, you should choose the younger one.
You can eat Edam cheese alone with fruits or wines instead of Muenster cheese. Moreover, it is also used in pasta, sauces, salads, and baked dishes.
6. Havarti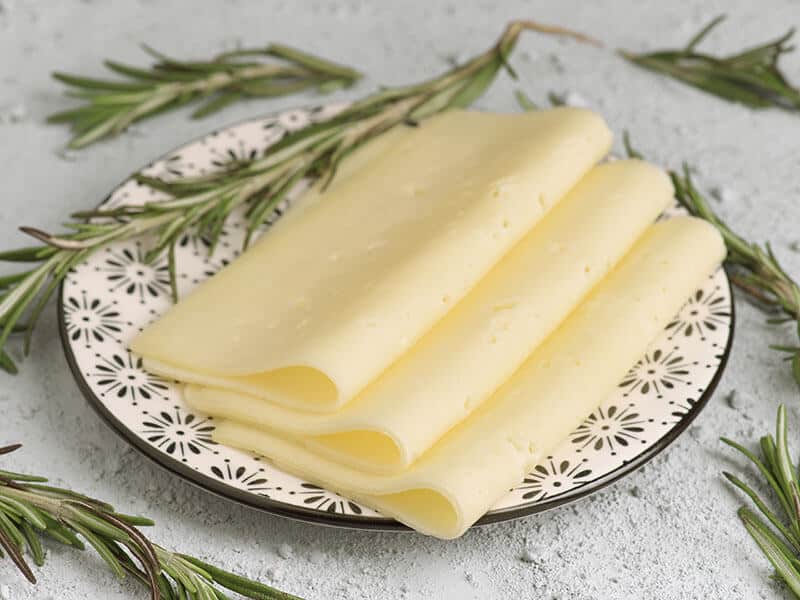 Last but not least, among all else, Havarti cheese is considered the best substitute for Muenster cheese. Havarti shares the same flavor profile with Muenster, which is mild, somewhat sweet, and slightly nutty. Also, it has a semi-soft texture like Muenster.
Havarti can work the best as a Muenster cheese alternative in baked dishes if you melt it. Also, you can add it to your favorite salads and sandwiches. Or it can also be eaten with fruits and wines.
A General Knowledge About Muenster Cheese Shelf Life
After understanding Muenster cheese well, it is necessary to know how long it can last and precise methods to extend its shelf life. Furthermore, this section will provide you with valuable tips to identify whether your Muenster cheese goes bad or not.
How Long Does Muenster Cheese Last?
Because you usually buy Muenster cheese sold in slices, it tends to be spoiled faster than the cheeses in blocks. If stored effectively, you can keep Muenster cheese for 2 to 3 weeks if it is sold in slices and more than 3 weeks if it is in the block in the refrigerator.
Another storage way is freezing. Muenster cheese can stay at its best quality for up to 2 months. Moreover, you should know that the shelf life of Muenster cheese can be shorter after you open it.
Valuable Tips To Store Muenster Cheese Thoroughly
Since the shelf life of Muenster cheese is not long, you have to store it properly to keep it as the best quality as long as possible. Moreover, you should only open Muenster cheese's package right before using it.
Refrigerating: After opening Muenster cheese, you should wrap it tightly with plastic wrap or aluminum foil. Another choice is wrapping it with parchment or wax paper before covering it with plastic. This way will give a better result.
Freezing: If you just use Muenster cheese occasionally, you should freeze it to extend its shelf life. To freeze Muenster cheese, you have to wrap it tightly in heavy-duty aluminum foil and place it in heavy-duty freezer bags or containers.
Note: If your Muenster cheese is sold in the block, you should cut it into ½ pound portions to freeze it effectively.
Identifying Signs Of Spoiled And Inedible Muenster Cheese
The signs of spoiled Muenster cheese are apparent. You will know your cheese is no longer be eaten if it develops these symptoms:
Texture: When Muenster cheese starts to go bad, its texture will turn to be harder gradually. And the slices of Muenster cheese will crack around the edges.
Color: There is a discoloration in spoiled Muenster cheese. The color tends to be darker.
Appearance: It will start to grow mold outside the cheese block or slices.
Smell: The inedible cheese gives an off odor, which is described as the smell of spoiled and sour milk.
How People Usually Make Muenster Cheese?
The production process of American Muenster cheese is very similar to that of the traditional Alsatian Muenster cheese. However, some differences in the production process make them don't taste like each other. Let's take a look at how Muenster cheese is made!
Muenster cheese is mainly made from pasteurized cow's milk. But there are still some manufacturers who use goat milk. However, the flavor is not too different.
Step 1: The cheesemakers pour the cow's milk into huge containers or large vats.
Step 2: Then, they heat the milk to 90 degrees Fahrenheit (or 32 degrees Celsius). This is the crucial step to develop lactic acid, rennet enzymes, and make the cheese curd.
Step 3: They cut the curds into small squares (about 1cm) and cook them at 100 degrees Fahrenheit (38 degrees Celsius).
Step 4: Next, they put the curds into molds and use light pressure to form their shape and drain the liquid.
Step 5: From now on, the cheese starts to age. The cheesemakers age Muenster cheese in a humid and cold environment.
Step 6: When the cheese reaches the desired age, people will spray it with salt, annatto, and other solutions.
Note: It usually takes 2 – 3 weeks to age small cheeses, and the larger ones are aged up to 3 months.
FAQs
I'm so glad that you are still here. Below are some questions people may have when reading about Muenster cheese, and I have answered them. Keep on reading to be no more confused.
Will You Add Muenster Cheese To Your Favorite Cheese List?
Adding a small amount of Muenster cheese to your typical and boring dishes to create a whole new flavor to them will be a great idea. The Muenster cheese can help enhance your dish's taste, texture, and aroma. It is also a great source of nutrients that you shouldn't miss.
I hope the information provided in this article has given you a better understanding of Muenster cheese. If you have any further questions, feel free to leave a comment in the box below. I am always willing to help.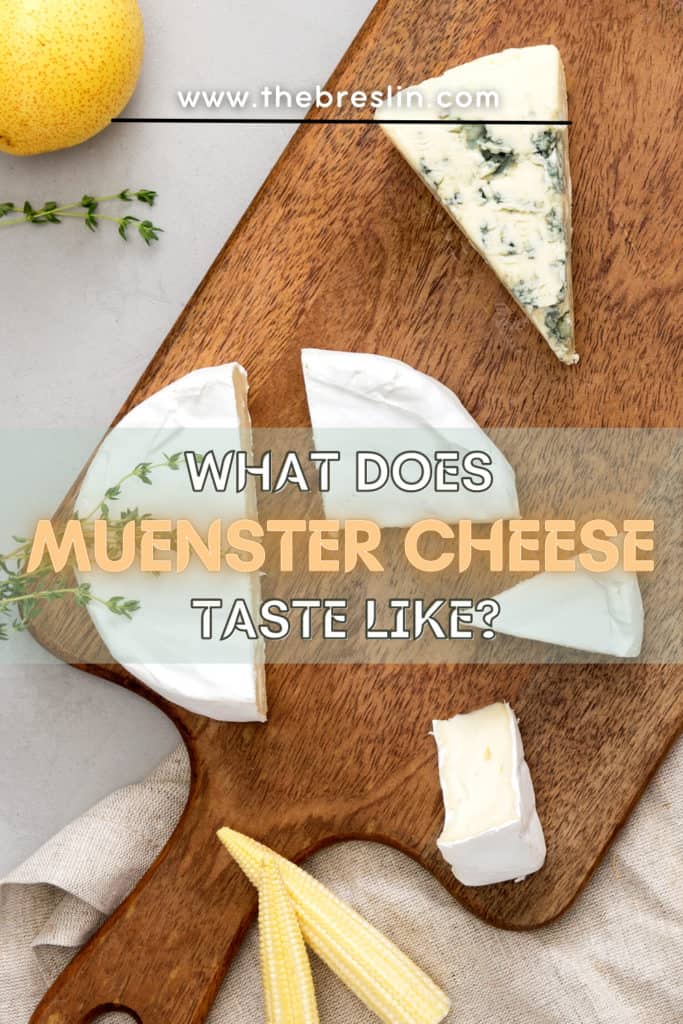 References
En.wikipedia.org. 2021. Muenster cheese – Wikipedia.
FoodData Central. 2021. MUENSTER CHEESE.