What does nutmeg taste like? Before answering, let me ask you a question "Are you a fan of eggnog lattes and pumpkin spice seasoning?".
If you take "Yes" as an answer, you undoubtedly already know about nutmeg and can vaguely recall its taste.
This article is dedicated to interpreting nutmeg's flavor profile so that you can quickly grab the essence of this versatile spice and start cooking with great confidence.
In my opinion, it might be challenging to describe precisely the broad range of scents, but I will try my best to make this article useful for you, so read on.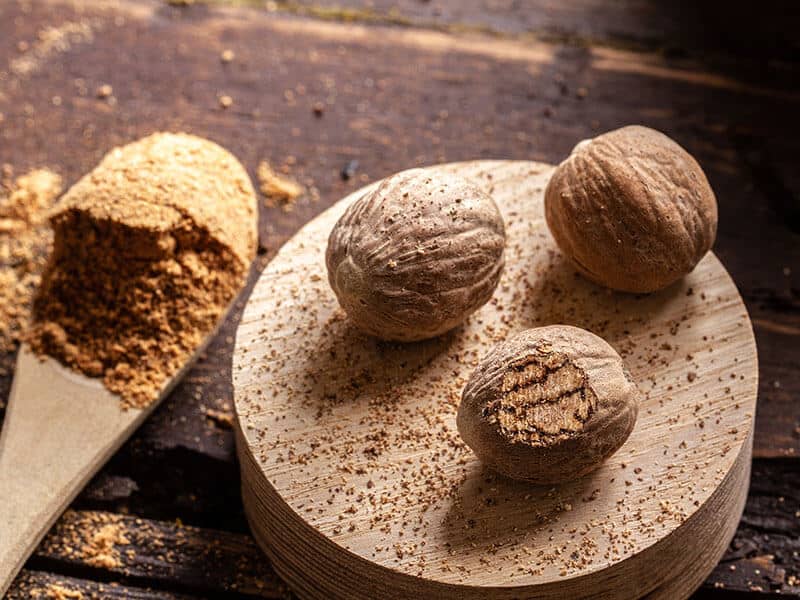 What Is Nutmeg?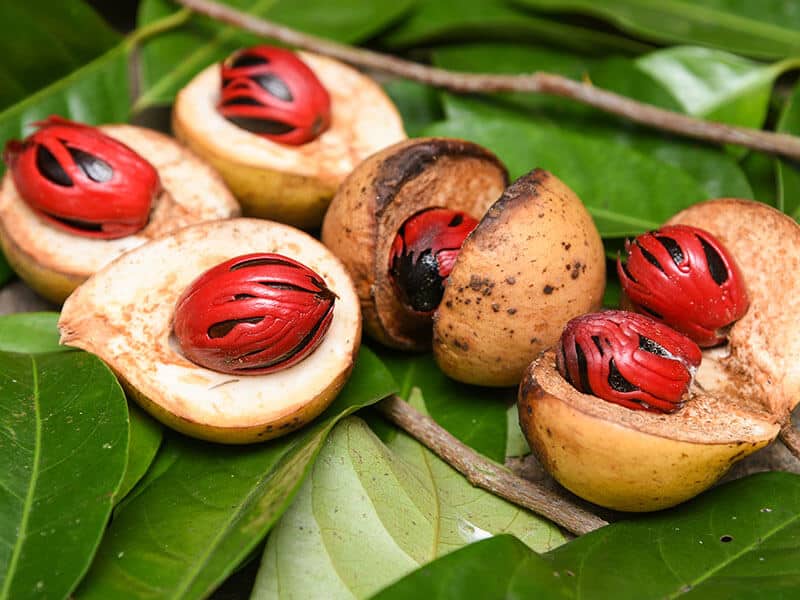 Nutmeg is a seed of a tropical evergreen tree that originates in the Banda islands of Indonesia. This common spice can be found easily in the grocery store in both whole and ground form.
A nutmeg seed looks like a hybrid of almond and walnut and consists of a reddish outer layer called mace and hard inner seed. It should be kept dry under the sun for about 6 to 8 weeks right after harvesting.
It has a great reputation for its unique flavor and tremendous uses. I highly recommend that you should stock it in your kitchen because you might need it more regularly than you imagine in both sweet and savory recipes.
Nutmeg is popularly used in baking recipes for cakes and cookies and makes them taste incredibly impressive.
It is also used as seasonings for mashed vegetables, soups, porridge, and sausages.
Not to mention, this spice could genuinely give a kick of flavor to dishes with pumpkin, potatoes, curries, and meats.
People, even chefs and bakers like to add a pinch of nutmeg into food to increase the deliciousness and attractiveness of the dish.
Whole Vs. Ground Nutmeg
If you're looking for nutmeg for coming fall recipes and have to choose between whole nutmeg and ground nutmeg from the supermarket aisle, then this section is for you.
Whole Nutmeg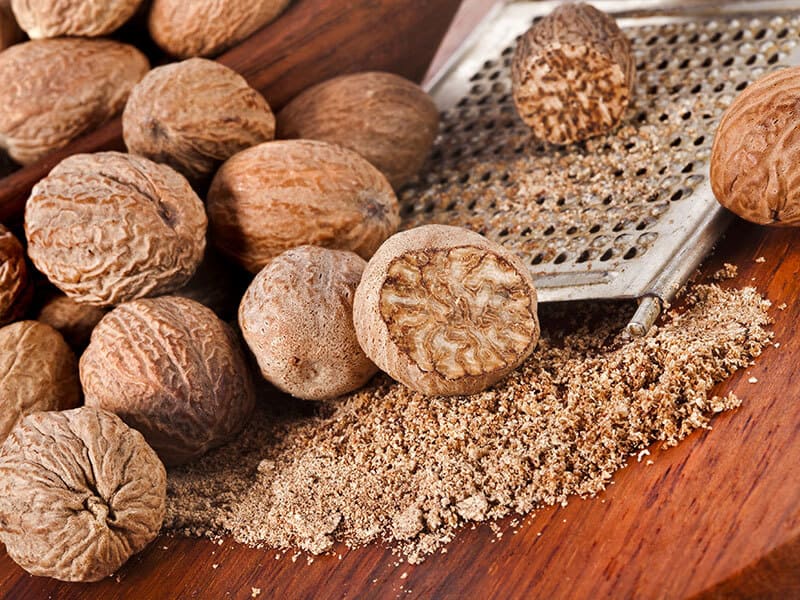 The whole nutmeg or dried seed of the nutmeg tree can retain its aroma for an extended period. If stored properly, it can stay almost forever in your kitchen cabinet.
As you might not know, a pinch of freshly grated nutmeg can provide much more flavor than a pinch of ground nutmeg. It means the whole nutmeg has a more potent aroma than the powdered form.
Often a jar of the whole nutmeg includes about 6 to 10 seeds, so it's sure to keep you supplied for days.
Discover how to cut, slice, crush & grind whole nutmeg in less than 5 minutes.
Ground Nutmeg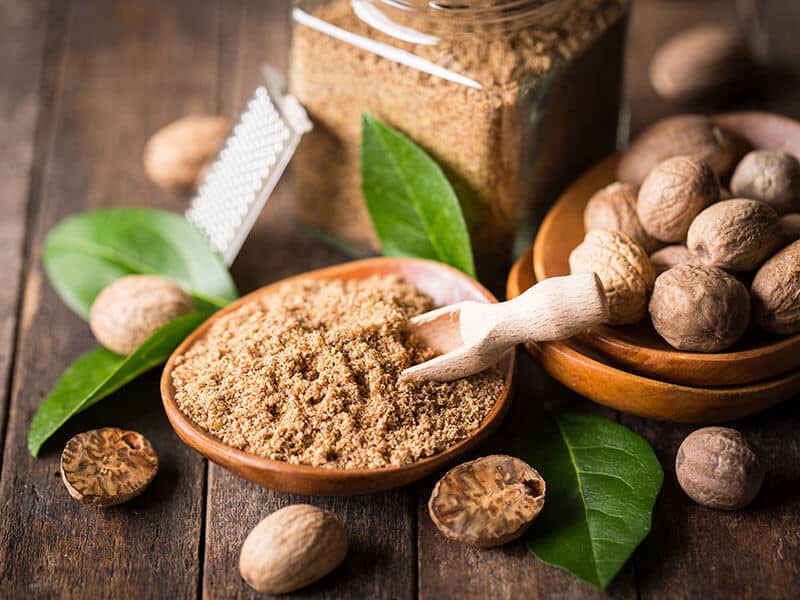 Ground nutmeg is often referred to as pre-ground nutmeg and presented as a fine powder that is definitely ready to use. If you don't have any nutmeg grater or grinder in your kitchen, you might opt for this product.
Moreover, ground nutmeg is also suitable for novice bakers because it's quick and easy to use and doesn't require extra steps.
Despite its convenience, one disadvantage of ground nutmeg is that it can lose its flavor rather quickly once opened. So, you might need to purchase more than one jar of it to make sure you get the degree of fragrance you ask for.
What Does Nutmeg Taste Like?
Get to know about nutmeg flavor so that you don't get overwhelmed when making a few first attempts with it
Suppose you're new to the spice world; it would be better if you start with a popular and versatile ingredient, like nutmeg. The reason is that you might encounter it in many recipes, especially in fall and winter desserts.
At first glance, nutmeg can be perceived as a nutty, earthy, slightly sweet, and pungent spice. When freshly ground, nutmeg releases a warm and fragrant flavor with a hint of cloves.
For those who wonder, nutmeg contains a high content of essential oil, which is responsible for how it tastes.
Pre-ground nutmeg also has the same flavor as the whole nutmeg. It comes with a fresh, woody, and bittersweet scent.
Super Easy Way To Store Nutmeg
It seems to be easy to store nutmeg if you bear in mind some of the following things:
Both whole nutmeg and sealed ground nutmeg can stay fresh in the kitchen cabinet or spice drawers as long as their storage places are cool, dark, and away from heat.
Once you've opened a jar of pre-ground nutmeg, it would be best if you transfer it in an airtight container or jar so that it can avoid moisture in the kitchen.
This way, the whole nutmeg can maintain its flavor for up to 5 years while ground nutmeg could stay fresh for about 3 years.
How Do You Know If Nutmeg Is Bad?
Nutmeg is a staple spice, so it's important for you to learn how to realize if nutmeg goes bad before adding to food items:
If nutmeg smells less potent and weak, feel free to discard it because it can't create the flavor you want in the recipe.
If your nutmeg becomes moldy or has bugs, there's a sure sign that you should throw it away.
For store-bought products, checking the expiry date and plan to use before the indicated day to guarantee the quality.
If water gets into the nutmeg powder or whole nutmeg, it's likely to develop mold soon, so separate it from other spices and keep track of it.
What Do You Do When You Add Too Much Nutmeg?
Too much nutmeg can make the food impossible to eat. So, what should you do now? Here are some suggestions:
Add more water or liquid to dilute the mixture and reduce the potent flavor of nutmeg to some extent.
Use a spoon to remove the excessive amount of nutmeg right after you have put it into the dish before it dissolves completely.
Try adding dairy.
If possible, add cinnamon and garlic.
Nutmeg Substitutes
If you can't find any nutmeg in your pantry, you can replace it with some of my suggestions below. Let's find out their substitute ratios so that you know how to use them effectively in your recipes.
| | |
| --- | --- |
| Nutmeg Substitute | Proportion |
| Mace | 1 teaspoon of nutmeg = ½ teaspoon of mace |
| Allspice | 1 teaspoon of nutmeg = 1 teaspoon of allspice |
| Pumpkin Pie Spice | 1 teaspoon of nutmeg = 1 teaspoon of pumpkin pie spice |
| Cinnamon | 1 teaspoon of nutmeg = ½ teaspoon of cinnamon |
| Cloves | 1 teaspoon of nutmeg = ½ teaspoon of cloves |
| Ginger | 1 teaspoon of nutmeg = 1 teaspoon of chopped ginger |
| Cardamom | 1 teaspoon of nutmeg = 1 teaspoon of cardamom |
| Apple Pie Spice | 1 teaspoon of nutmeg = ½ teaspoon of apple pie spice |
| Garam Masala | 1 teaspoon of nutmeg = 1 teaspoon of garam masala |
Wonderful Nutmeg Recipe Ideas You'll Make Again and Again
Want a kick of flavor in your dish? Nutmeg can lend you a helping hand. Let's try this miracle spice in the following recipes:
Jamaican jerk chicken is my family's new favorite chicken recipe, thanks to its super intense and aromatic flavor. Let me tell you; you can't stop until there are none left on the table.
For me, this dish features a perfect balance of spicy and sweet taste and surely satisfies your taste buds.
To get a juicy and tender grilled chicken, it needs to be soaked in a jerk marinade the day before, and nutmeg is one of many essential ingredients contributing to the overall flavor.
This Jamaican jerk chicken tastes super amazing. Let's make it again now!
Bechamel or Salsa Besciamella is a sauce that originated in France and was inspired by the name of the chief steward next to King Louis XIV – Sir. Louis de Béchamel.(1)
In my opinion, it's a simple yet delicious sauce everyone should know how to make at home.
This white, medium-thick, and aromatic sauce is made from butter, flour, milk, nutmeg, and other spices and is often used as a base of various sauces.
Let's drizzle it on top of lasagna, macaroni cheese, fish pie, chicken pie, or vegetable bake, and enjoy!
Try homemade candied pecans with nutmeg, and you will soon get addicted to this mouthwatering and flavorful snack.
The best part? You can make it right away with just a few simple ingredients in your pantry, and it will be ready in less than a dozen minutes.
Candied pecans have a crunchy texture and aromatic, sweet, nutty flavor that everyone loves.
Make sure to bring it up next time you need a housewarming gift, salad toppings, or a party snack.
I'm ready to make some pumpkin pies for my family and friends this fall. This recipe indeed screams fall to me and is packed with flavors from pumpkin pie spices, including cinnamon, nutmeg, ginger, cloves, and allspice.
If you are new to it, don't panic because pumpkin pie is easy to make, and you will be successful anyway. It consists of a crust and pumpkin pie filling and is often topped with whipping cream.
Its bright orange color makes it perfect for Thanksgiving, besides other holiday recipes.
Let's prepare for Thanksgiving with this amazing pumpkin pie.
Health Benefits Of Nutmeg You Wish To Know Soon
Nutmeg can increase appetite. It is generally accepted that the particular chemical composition of the spice stimulates the desire to eat, improves digestion, and lubricates the esophagus walls.
Therefore, food is absorbed quickly, and all metabolic processes are accelerated.
The spice helps in recovery from prolonged depression and stress. Myristicin and elemicin in nutmeg activate the neurotransmitters serotonin and dopamine in the brain, which in turn help calm and reduce anxiety.
In addition, these substances also help the body and mind cope better with stress.
Nutmeg helps prevent tooth decay. (2) The antibacterial components in nutmeg have the ability to kill the bacteria that cause bad breath, support healthy gums and teeth, and avoid bad breath.
What's more, nutmeg contains eugenol oil, which can help relieve toothache.
Chinese people still use nutmeg as an aphrodisiac. It's said that a pinch of nutmeg with milk has been an ancient remedy to improve sex drive.
Women can use nutmeg to regulate menstrual cycles and relieve spasms during menstruation.
FAQs
It's time for questions, and I am more than happy to walk you through some popularly asked ones in this section. Let's start!
Nutmeg Can Spark Your Love With Spice
Spices can be essential to a recipe if you appreciate the delicacy of food taste. For me, choosing a combination of spices could make or break a dish.
I have started with nutmeg and have experimented with many recipes, both traditional and contemporary food items. I find working with this spice is extremely interesting and rewarding.
Nutmeg is a powerful ingredient that can pair well with many things and creates excellent results.
Let me know which nutmeg recipes you most prefer and your favorite spice. For me, it is always interesting to learn how others use spices in their own recipes.
Reference
CHEFIN Australia. 2021. Bechamel Sauce is a white sauce made with milk, thickened with a roux.
Facty. 2021. 10 Health Benefits of Nutmeg – Facty Health.