You have the question, "What does oatmeal taste like?" since this is the first time you try to add a healthy ingredient into your diet.
Changing your diet sometimes to be healthier is definitely good. What is bad if you want to take care of yourself more, right? But if you have heard somewhere that oatmeal tastes bad and is hard to eat, don't worry now; I will help you out!
Now, let's find out the taste and how to make your oatmeal taste better in this article!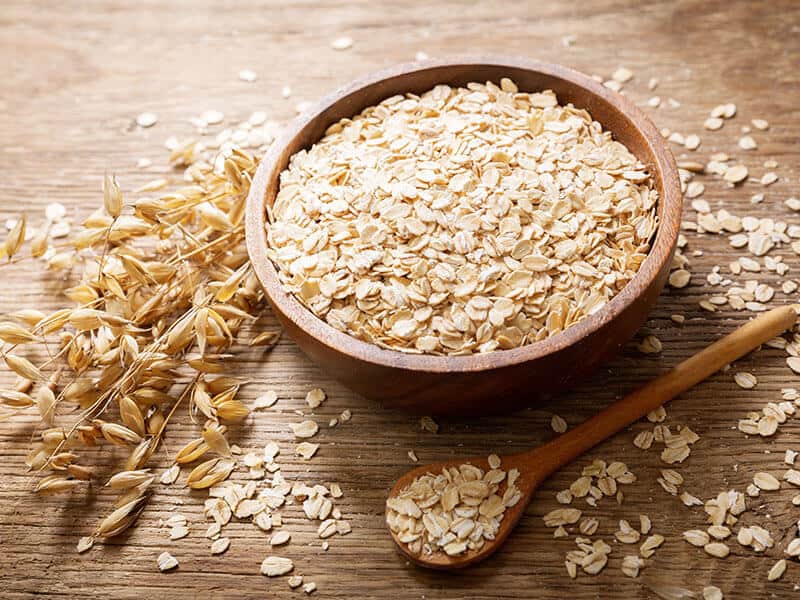 Oatmeal 101 – Things About Oatmeal
Going back to its origin, oatmeal is processed oat grains that are dehusked, steamed, steel-cut, rolled, flattened, or milled. The oat plants belong to the Avena sativa – cereal plant family and are a distant relative of the grass family.
Some might wonder if oats and wheat are the same, but they are not. Besides the fact that they come from different plant families, oats are whole grains, gluten-free, and wheat is not. That is the reason why adding oats into your meals is beneficial.
People initially understand oatmeal as oat porridge that is made of ground or rolled oats. Due to the market change and awareness of the customers, things have changed a bit now.
You might now be able to find four main types of oatmeal in the market: steel-cut oats(coarse oatmeal/Irish oatmeal/pinhead oatmeal), old-fashioned oats(regular rolled oats); quick or 1-minute oats, and instant oats.
There are a few differences between these types of oatmeal, and I think you need to look at the table here.
Types Of Oatmeal
Processed Methods
Notes
Applications
Steel-Cut Oats
Steel-blade cut them into coarse nubs, not being rolled

Have the most robust flavor
Chewy texture
Longer cooking time
Absorb less water when cooked

Best used for stews, soups, or meatloaf
Old-Fashioned Oats (Regular Rolled Oats)
Whole grain oats steamed, flattened with a roller, and then flaked

Have milder flavor
Softer than steel-cut

Best used for baked goods, oatmeal, coating meats
Quick-Cooking Oats (One-Minute Oats)
Cooked, dried, cut, and rolled until completely thin

Faster cooking time
Provides a mild flavor
Very soft
Can be mushy

Most suitable for making cookies, muffins, quick bread, meatloaf, and oatmeal
Instant Oats
Cooked, dried, cut, and rolled until completely thin, added with some other ingredient like sugar, salt

Fastest cooking time
Sometimes can be mushy and gummy

Best for instant oatmeal porridge
Let's learn how to differentiate the types of oatmeal you should not overlook!
The Flavor Profile Of Oatmeal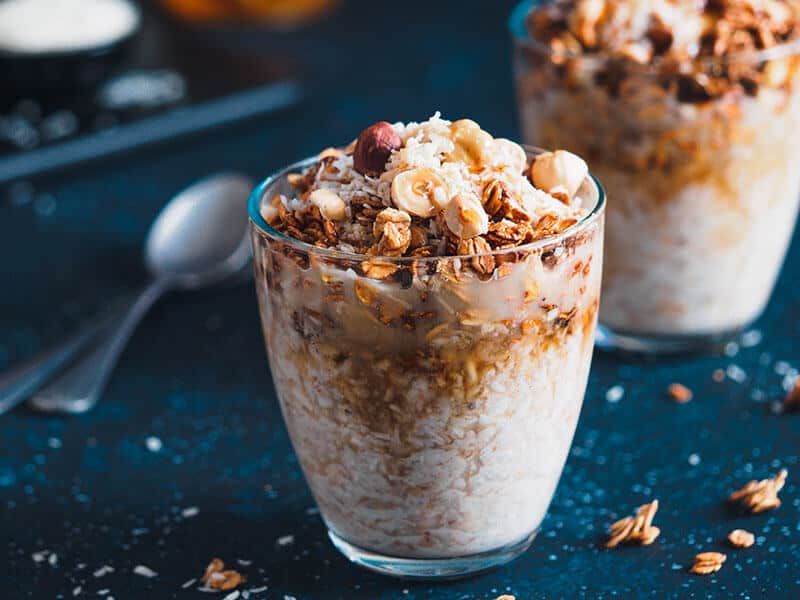 Oatmeal itself has nothing special but bland and earthy notes in the taste. There is still a slight difference when the taste of the steel-cut oats will provide a more robust flavor than the other rolled oatmeal, and you can sense a note of nuttiness.
The flavor will change much if you put it in liquid and cook. It is a type of food that can absorb water well and the taste of the other toppings you put or mix with it.
It can be a perfect, healthy plain base for fruits, veggies, or spices. And because of that, you should not eat the oatmeal alone; adding more other things can bring up the flavor and provide more nutrients.
Is Oatmeal Only Mushy?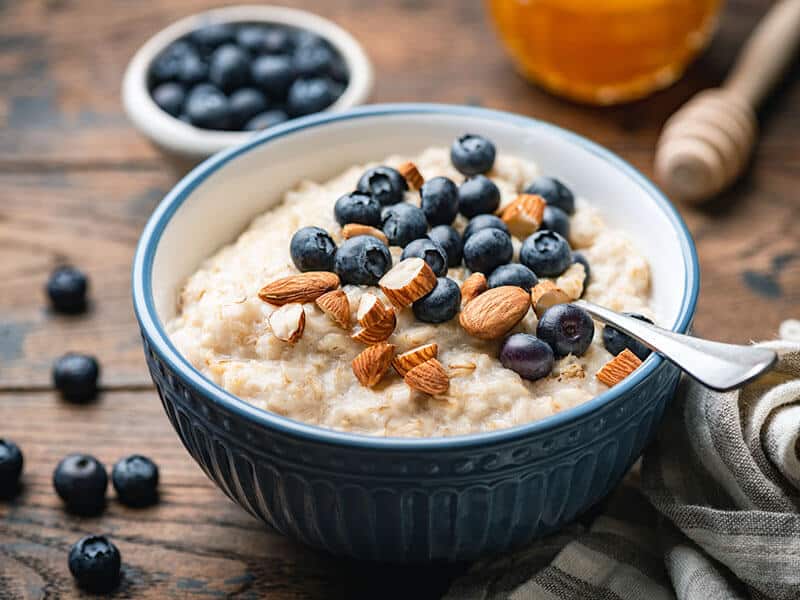 Touching the raw oatmeal and you can feel that it is like touching a rough paper surface. But that texture will change when you cook it. There are various ways to cook your oatmeal, baking, toasting, or making porridge; each way can affect the final texture.
Actually, people are more familiar with oatmeal porridge, and they usually assume that it is mushy. When you cook your oatmeal with any liquid, milk, grain milk, water, it will all become soft and have a porridge-like texture because it absorbs moisture divinely.
I have to admit making porridge is the quickest way to prepare oatmeal for your meals, but if you don't like the mushy texture, try to bake it up to have a much crunchier and crispier texture.
It is also good to toast it with nutritious grains like granolas or cashews to make an excellent snack.
Consider Some Ways To Make Oatmeal Taste Better
Oatmeal doesn't offer you any particular taste, so you should flavor it by using and cooking it with other food. You can also try different ways to process it, like baking or toasting. I will suggest to you some ways you should try once.
Eating It Raw With Milk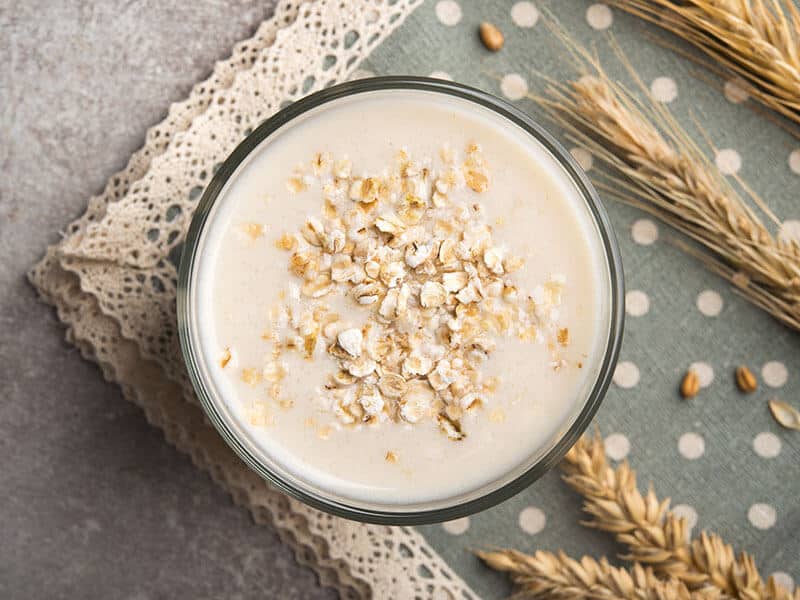 There is no need to cook; you can consider eating it raw and don't need to worry about the mushy texture. Put your oatmeal into a bowl, pour in any milk type you wish for, and simply eat it like that.
If the meal is still too bland, some other toppings I suggest below, like fruits and nuts, will help.
Furthermore, eating raw oats helps preserve the beneficial soluble fiber, aiding weight loss, controlling your blood sugar and cholesterol, and improving heart health. (1)
But you cannot eat them dry as is; remember to soak them in water to be softer. Oats usually require around 12 hours to be softer, but 24 hours is recommended to reach the perfect texture.
Adding Fresh Fruits
The natural sweetness of fresh fruits is the perfect companion with bland oatmeal, and it is also a way to have a quick, easy-to-eat breakfast for any age group since there is no artificial or processed sugar in your bowl.
All fruits with a naturally sweet flavor can pair well with oatmeal, bananas, apples, pears, peaches, mangos, melons, and so on.
I also love the freshness of fruits, their tastes are varied from tard, nectarous to honey-like, and the texture can be crunchy, soft, or juicy. Many options to try so you will not be bored.
Dried Berries
Putting some dried berries and preparing a healthy breakfast bowl is also a good idea. Dried berries usually have a chewier texture and are also sweeter than fresh or frozen ones. Topping them on your oatmeal can create a gorgeous effect when eating.
Adding Nuts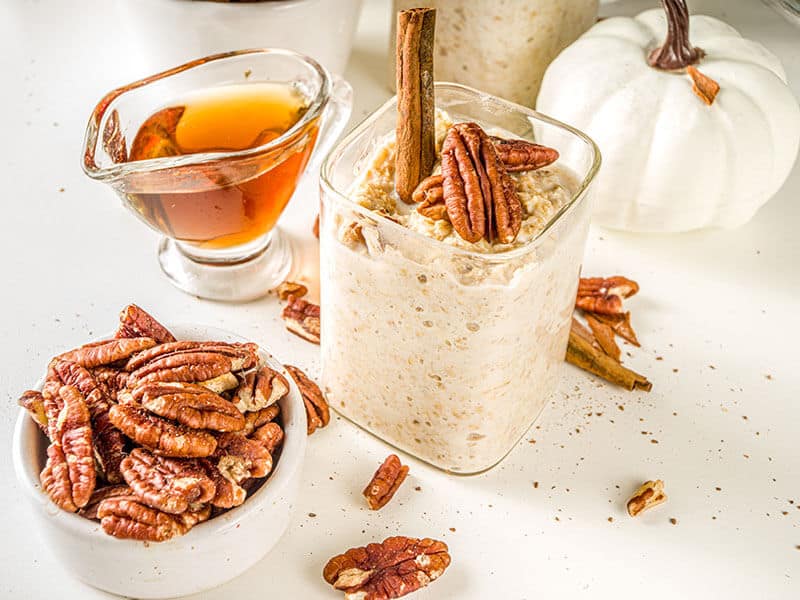 Nothing can beat the effect of chewing something soft with crunchier things. It is exciting and also good for your health. Nuts and grains are packed with nutrients together with a flavorsome taste.
Some kinds of nuts or grains you can consider are cashews, nuts, walnuts, or chia seeds.
A guilty but good combination for a super delicious oatmeal bowl is banana, walnuts, and brown sugar. Believe me, put the mixture into the microwave, and your dish will taste like banana bread.
Adding Spices
Treat your oatmeal like a type of porridge and add more spices into the pot. Oatmeal can reflect the flavor of the spices well and make your dish more enjoyable. Some spices you can consider adding to it are cinnamon, nutmeg, Ras el Hanout, turmeric, and so on.
Chocolate Chips Or Butter
It will never go wrong with chocolate. I recommend chocolate chips since their smaller size will be more convenient when you eat them with oatmeal. Some nut butter is also lovely with oatmeal if you want more fragrance and nuttiness.
Adding Vegetables Or Beans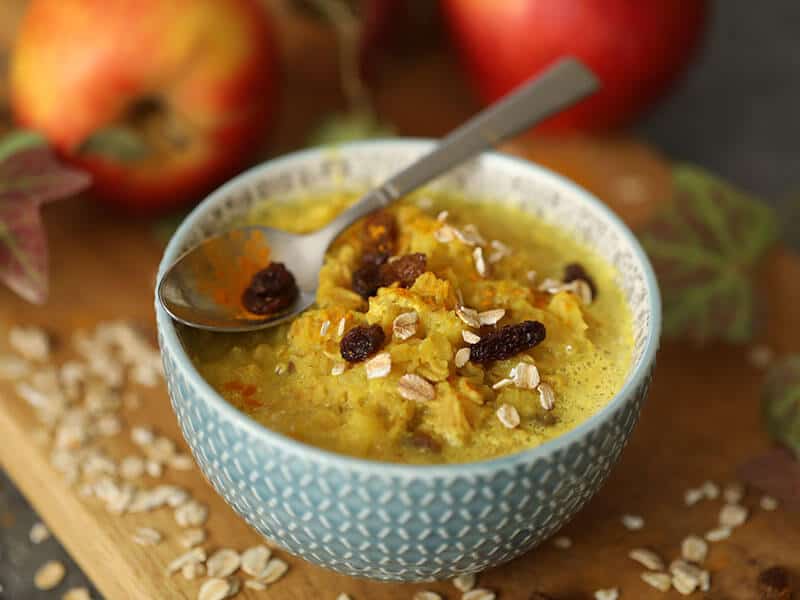 Another option if you don't want to eat oatmeal with fruits and sweets or milk today. Some veggies are also great to complement with your starchy, plain base.
Instead of using milk or water for cooking your oatmeal, you can change to veggie stock or chicken stock for more flavor.
Try Oatmeal With Meat
Have you ever tried to top oatmeal with meat? It's actually toothsome since oatmeal can be an excellent base like porridge, and meat can provide good protein to your meal. If you want a healthier option, try them with lean meat like chicken breast or pork loin. Perfect!
Delicious Recipes With Oatmeal To Change Your Thought
It is hard to start if you don't have any ideas to prepare your oatmeal, then you can consider these ideas below to make your first-ever oatmeal bowl taste titillating.
Banana and nuts are the classical pair for oatmeal. The natural tard-sweetness, soft texture of banana go with the nutty, rich taste and crunchiness of nuts that can satisfy your palate.
On the other hand, bananas and nuts are also packed with nutrients and vitamins, which can help you to have a palatable, healthy breakfast.
This is how to make your banana nut oatmeal taste like heaven.
This recipe is another quick oatmeal breakfast idea with coffee, chia seeds, and any milk you like. Thinking about the lovely fruity, nutty and refreshing scent of coffee makes me feel awake already.
There is no doubt about the nutrient content of superfoods like chia seeds, so this combination of overnight soaked oatmeal and chia is super nutritious and provides enough energy to start a day.
Making savory oats is also a tasty idea. This oats upma recipe is an Indian-inspired dish that will be perfect for regular rolled oats or instant oats. Using only veggie ingredients, this bowl of oats upma is full of fresh, earthy, and nutty taste.
And of course, it is effortless to make, and you can prepare the dish no longer than 30 minutes.
Quick and easy guidance on how to make your toothful oats upma.
Suppose you need a twist to make your oats even better; what about toasting them with almonds? Adding some maple syrup can deliver gorgeous honey-coated grains and irresistible luscious taste and crunchiness.
These maple toasted oats and almonds can become a snack or a topping on your oatmeal porridge bowl.
If you love meatloaf but are a bit worried about its calories profile, use oatmeal instead of bread crumbs and create a gluten-free version. The meaty, hot, steamy, and healthy meatloaf for your dinner can be served with not much effort and skill required.
Know more about how to accomplish your healthy meatloaf with oatmeal here!
What You Are Doing Wrong With Your Oatmeal
If you have a question like "Why does my oatmeal never taste good?" or "What did I do wrong with my oatmeal?" you should definitely read this section! There are some mistakes that you might have made that affect your experiences with oats.
Cook Your Oats With Only Plain Water
There is nothing wrong if you cook your oatmeal with water; the consistency might not be very different from cooking with milk or veggie broth. But the taste is different. Milk, dairy milk, or nuts milk provide a rich milky taste to your oats, which water cannot do.
On the other hand, milk or broths can add more nutrients (like proteins) to your meals and help you feel full and stay energetic longer.
Forget To Season
Oatmeal itself doesn't provide much particular flavor, maybe there is a bit of nutty and earthy hint, but they are not enough to create a tasteful dish. You can have many ways to upgrade the dish's taste by using some of my suggestions above.
If you prefer the oatmeal-only dish, you should at least add some salt or pepper.
Wrong Time Management
Either putting your oatmeal in the pot at the wrong time or undercooking them can affect your dish's quality. This problem mostly happens when you cook it on the stove.
If you prefer to have porridge-like consistency, add the oats when the liquids start simmering. And if you like oats to retain grain-shaped, add them to your pot since beginning with your cold liquids.
You also need to remember that rolled oats or instant oats require a shorter cooking time than the steel-cut. Rolled oats need about 10 to 20 minutes in the pot, quick oats need 1 to 5 minutes, and instant oats require 2-3 minutes.
Steel-cut oats require the longest time on the stove, they need at least 20 minutes to be cooked but up to 30 or 40 minutes to have the creamier texture.
Using The Wrong Size Of Pot
Don't "underestimate" your oats; their volume can be small when uncooked, but they can form big bubbles when cooking that might spill over if you use a small pot. Similarly, if you decide to use a microwave to deal with your oat, use a bigger and deeper bowl.
Stirring, Stirring And Don't Forget To Stir
Stirring is necessary if you don't want a messy counter because of the spillover. When you frequently stir, the bubbles in the pot can be broken and help your oatmeal release starch, become creamier and cook evenly.
If you use a microwave, take them out after every 45 seconds and stir a bit.
Pros And Cons Of Oatmeal
Oatmeal provides many health benefits, a super grain that can help you with your healthier diet. Does it bring any side effects when you overuse it? Now you can find out in the below sections.
Nutrition Facts Of Oatmeal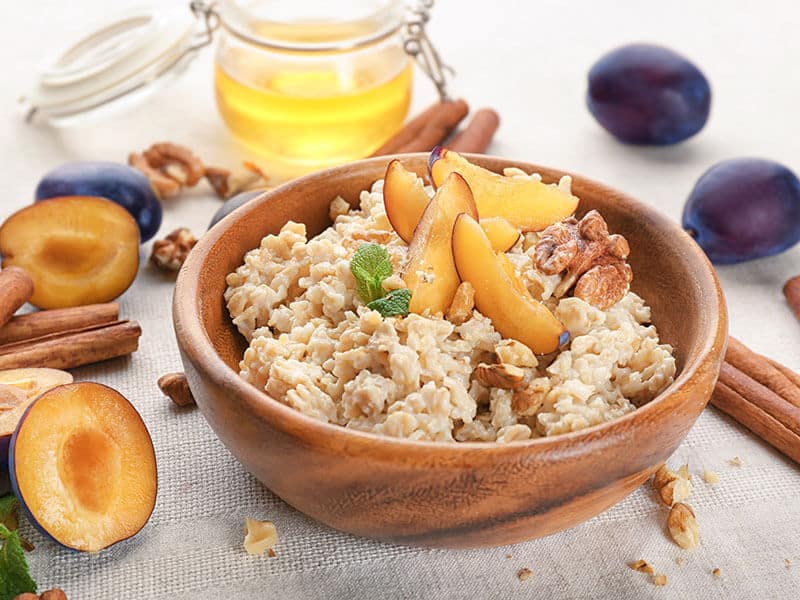 Oatmeal provides much more nutrition than you expect because of its small size. It is a good source of fibers, vitamins like A, D, E, K, good lipid components, and minerals such as manganese, iron, magnesium, etc. (2)
The nutrient table below might help you to have a quick look at that. The data below is based on the ½ cup (78g) of dried oatmeal, uncooked. The percentage is based on the RDI. (3)
| | |
| --- | --- |
| Name | Nutrient Values |
| Calories | 303 |
| Protein | 13g |
| Carbohydrates | 51g |
| Sodium | 0mg |
| Sugars | 0g |
| Fiber | 8g |
| Fat | 5g |
| Vitamin B1 | 39% |
| Vitamin B5 | 10% |
| Manganese | 191% |
| Magnesium | 34% |
| Iron | 20% |
The nutrition facts above prove that you should add oatmeal to your diet! The percentage of nutrients can be more or less a bit dependent on their types. I suggest using steel-cut oats since it preserves the nutrients and fibers better.
Various Of Health Benefits You Might Have
Thanks to the nutrients loaded inside the humble grain, oatmeal can offer you various health benefits. (4)
Support To Manage Your Weight
The fact is oatmeal absorbs the water quite well, increases the volume when cooked, and quickly leads to the filling feel. Beta-glucan also helps to increase the full feeling in your stomach for longer. And as a result, it allows you to manage your diet and lose weight.
Promote Heart Health
Oats are a good source of soluble fibers which help to control cholesterol levels in your blood. Therefore, they can help to protect your heart, promote blood pressure and prevent inflammation in arteries.
Control Blood Sugar Level And Help With Type 2 Diabetes
The beta-glucan compounds in oatmeal can help you to improve hormone insulin, insulin sensitivity, support the digestive system, and therefore, become a great help for people who have type 2 diabetes or have problems with digesting and are overweight.
Prevent Cancer
Especially colorectal cancer, consuming a good source of fiber every day can reduce the risk of colorectal cancer. Furthermore, fiber can also help to improve annoying constipation.
Provides Antioxidants
Oatmeal contains the signature avenanthramides compounds and ferulic acid that are beneficial antioxidants. So, eating oatmeal frequently can help you to reduce inflammatory and itching effects.
Protect Your Skin
The FDA has approved powdered oatmeal containing promising skin-protective compounds that can be used to treat itching and irritation. It can also support rejuvenation.
Some Things You Should Notice
There are various health benefits you can receive when adding oatmeal to your diet. Now, let's see something that you should notice when using the super grain.
Intestinal Gas Or Bloating
The first thing you should notice when eating oatmeal is that it can cause bloating and intestinal gas. This is because oatmeal has high fiber content. But it will be totally fine when you drink some water while you eat oatmeal. Water intake can ease the situation.
Don't Eat Oatmeal If You Cannot Chew It
If you have a problem with swallowing and chewing, you should not eat oatmeal. When eating oatmeal, you should chew it carefully; if not, it can lead to an intestine block.
Consult Your Doctor If You Have These Problems
If you have a problem with the digestive system, high cholesterol, and type 2 diabetes, you need to consult the doctor to add oatmeal into your diet.
Although oatmeal supports controlling them, it can cause risk in this situation. So, ask your doctor to have advice for the appropriate intake amount.
FAQs
Oatmeal is now becoming a lifestyle trend worldwide, leading to mass attention on this type of processed grains. Below are some frequently asked questions that you can refer to.
It's Time To Have Oatmeal More Frequently
I hope you have found the answer to your question about oatmeal taste, making them taste more palatable, and what you should do when cooking it.
Oatmeal brings massive beneficial health effects and helps you take better care of your body, don't hesitate to use them more frequently. I hope that the information I give you today is helpful.
If you have any other questions, feel free to leave a comment below. Your supportive words and actions can motivate me a lot.
References
Healthline. 2021. 9 Health Benefits of Eating Oats and Oatmeal.
fdc.nal.usda.gov 2021
fdc.nal.usda.gov 2021
Medicalnewstoday.com. 2021. Oats: Health benefits, facts, research.
Studentaffairs.duke.edu. 2021.
Healthline. 2021. Almond Milk vs. Cow's Milk vs. Soy Milk vs. Rice Milk.