What does octopus taste like? This aquatic creature is a mystery not only for scientists but also for those who love seafood. Octopus is usually depicted as a creepy monster that could be a nightmare for any fisherman, but is it true?
In certain countries, such as Korea, octopus plays an essential role in the culinary background. Korea forms and spreads a beautiful way to enjoy raw octopus worldwide.
So, I guess it's time to start discovering the taste of this famous eight-limbed creature.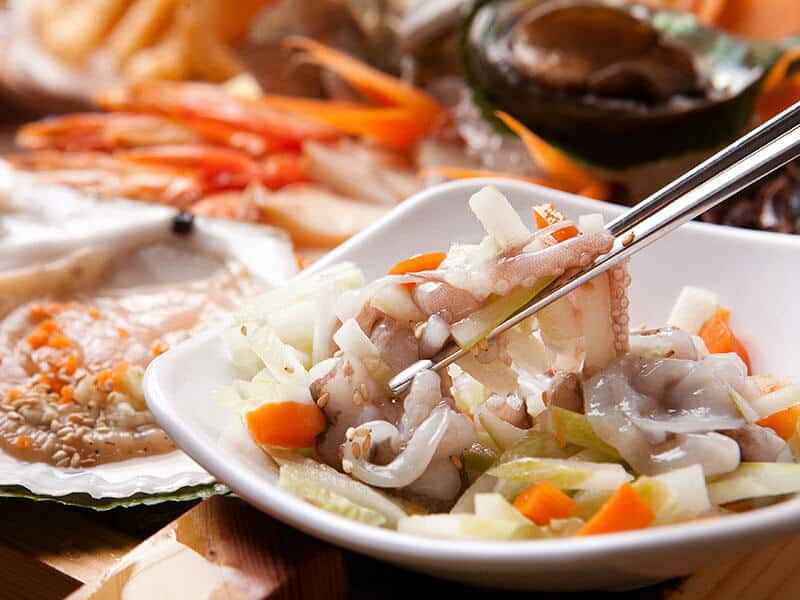 Do You Really Know About Octopus?
You might think the octopus is so famous that you comprehend all the information about it; however, there are tons of mysteries about an octopus that you properly haven't heard before.
Octopus is an invertebrate that appeared on earth thousands of years ago. This mollusk appears in almost every ocean of the world with hundreds of species (1) . The diversity in species contributes to various choices for culinary purposes in each region.
Most octopuses live quietly and do not harm humans, but some variants of octopus have deadly poison, such as the Blue Ringed Octopus in Australia.
After being eviscerated, you can eat all parts of this creature from the head to its tentacles; the ink and beak should be removed before cooking.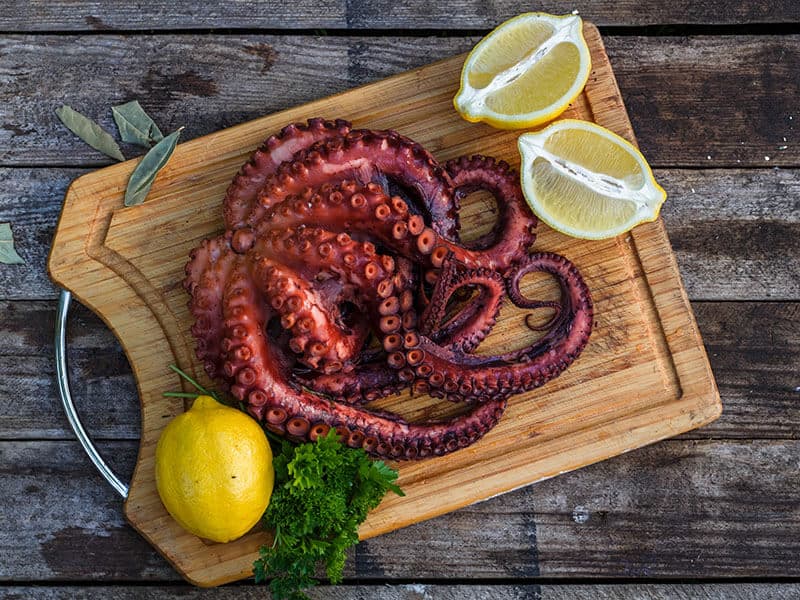 Some Common Types Of Octopus For Culinary Purpose
Each region provides different species of octopus that are absolutely yummy. Hop on, and let's discover some of the most familiar types of edible octopus around the globe.
Spanish Octopus: This octopus is harvested in the Mediterranean sea and is famous for its soft texture. Usually, the Canary islands region provides the best Spanish octopus with a light and tender texture.
Chilean Octopus: Mainly comes from the Pacific and Southern Atlantic oceans. This type of octopus is also famous for a smaller variety called "baby octopus". The meat texture is a little firmer Spanish octopus.
Galician Octopus: Another treat from the Atlantic ocean, Galician octopus, is well-known for their bouncy meat and a bit of hard texture from their skin.
African Octopus: Africa, especially South Africa, is famous for the common octopus (octopus Vulgaris) with a soft texture. The tentacles of this common octopus are also great for many grilled dishes.
Now, let's explore deeper to understand the taste of this fascinating creature.
Unfold The Taste Of Octopus
Octopus meat will have a slightly different taste while cooking. The texture ranges from soft to chewy depending on the time you cook it. Now, let's join me on this expedition to explore the taste of the deep ocean.
In general, a fresh octopus has a rubbery texture and a subtle sea-like smell. While cooking, this smell is overwhelmed by other ingredients' scents. The texture can turn chewy if you over-cooked the meat, well-cooked octopus is tender and soft.
You should notice that the skin of an octopus can be a bit slimy, but it is fine. After being cleaned precisely, the octopus will no longer have this unpleasant texture.
Raw Octopus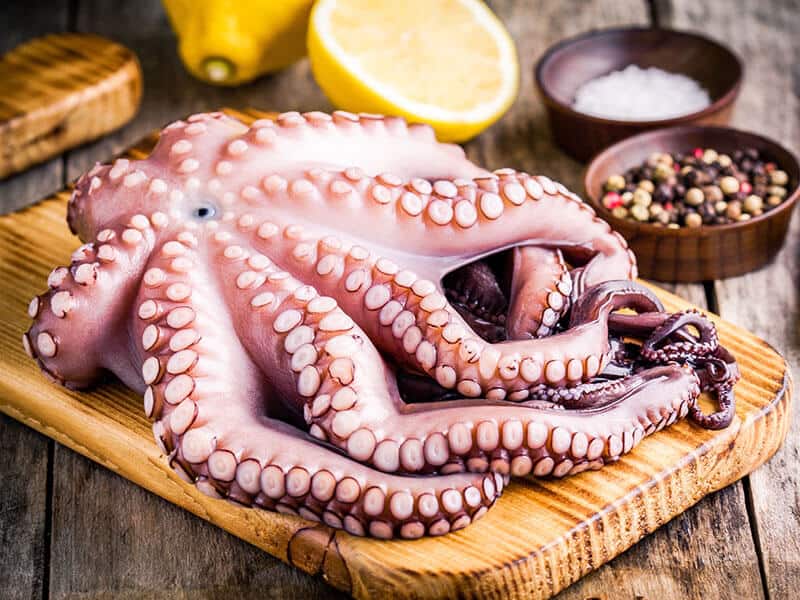 Octopus is one of many sea creatures that you can enjoy raw. After being processed precisely, this eight-limbed mollusk is ready to serve immediately. Fresh octopus is a bit rubbery with a refreshing sweet taste.
Sannakji is a unique dish made from raw octopus in Korea. This dish is a national delicacy of this country with a bizarre way of enjoying raw octopus. Along with a beautifully fresh and sweet flavor, you can also feel the taste of the sauce or spices added to the dish.
You can eat an alive octopus or its new-cut flesh like sashimi in Japan. However, with a living octopus, tiny variants of octopus are usually used. They have a gentle and mild smell with a hint of ocean flavor.
Most of the time, raw octopus is served with different sauces and spices, depending on each country and region. So, you will taste the flavor of the added ingredient rather than the mild and subtle taste from this creature.
Cooked Octopus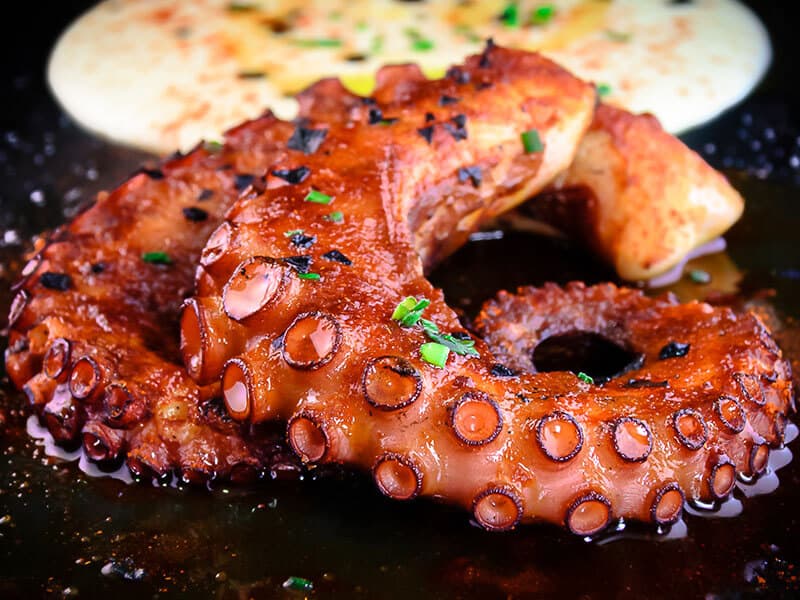 Cooking does not impact much on the taste of octopus but changes their texture significantly (unless the process involves strong seasoning). Cooked octopus have a firmer texture and succulent meat with a gentle, pleasant sweetness from the sea.
Steaming or boiling octopus even makes the meat juicier due to the large amount of water added in the process. The dish is commonly served with a special dipping sauce (depending on each country) to enhance the taste and compliment the exquisite flavor of octopus meat.
Frying or grilling will generate a bit of crunchiness to the edge of the octopus. When you eat the meat, the bouncy texture will pleasure your savor.
Seafood is believed to deliver the best flavor if it is done under the simplest cooking method. Without any pungent or robust ingredients added, you will enjoy the natural flavor of octopus better.
Due to its mild and unnoticeable flavor, the octopus can pair with various ingredients without overwhelming the whole dish. The result from this is a ton of dazzling recipes with an octopus that will give you an outstanding experience.
What Do Octopus Eggs Taste Like?
Though octopus eggs are not as popular as the meat is, some countries serve these eggs as a specialty of the country. Octopus eggs are rich and sweet with a rice-like texture when cooked properly.
In Japan, the eggs are usually served as a whole sac. Once you bite or cut the sac, which is a bit chewy, the tiny creamy eggs inside will flow out. In Hokkaido, octopus eggs can be eaten raw or fried to make other dishes like tempura.
Eggs from big octopuses can be used as meat or topping for sushi. Traditionally, the eggs will be served along with the octopus.
Tips For Choosing The Freshest Octopus
The quality of the octopus you choose will dramatically impact the flavor and texture of the whole dish. So here are some quick tips for choosing a fresh and delicious octopus in the market.
In the local market or supermarket, octopuses are usually displayed on the fish tank. You can ask the fisherman to pick some for you, and you can then check the following features.
One interesting fact is that the frozen octopus meat will be softer after defrosting. So if you are a fan of tender meat, consider choosing the frozen one.
The Look
First, you should check the skin, and the fresh octopus has smooth and slippery skin. The texture will give you a nice and firm touch.
Then, look at the suckers' side. This side will have a bright white color for a new-catch octopus. If stored for a long time, the octopus will turn to an ivory white color.
The Flexibility
Another aspect you can check is the movement of the octopus; the new and fresh one tends to be more energetic and moves around aggressively. The weak one will not move a lot and due to long storage and lack of oxygen.
The suckers on the octopus limbs are also an important feature telling you if it is the fresh one. The harder the suckers attach, the better the octopus status, which signifies a tasty octopus.
The Smell
Unlike fish, the fresh octopus does not have a strong fishy smell; you can find a bit of sea flavor. If there is a heavy smell around the octopus, they must have been there for quite a long time. As a result, consuming the octopus at this time might harm your digestion.
A quick tip: You should buy a larger quantity of octopus meat required in your recipe because the meat will shrink during the cooking process and give you a smaller amount of meat.
How To Cook A Yummy Octopus?
After having a nice, fresh, and cleaned octopus, all you need to think about is how to turn it into a delicious dish. Each cooking method brings a different nuance that compliments your octopus flavor.
| Method | Taste | Texture | Smell |
| --- | --- | --- | --- |
| Raw | Fresh and sweet | A bit chewy | Mild ocean-like smell |
| Boiled | Juicy and sweet | Firm and bouncy | Mild |
| Grilled | Delicate sweet | Crispy edges, rubbery | Smoky |
| Fried | Sweet | Crispy | Mild smell or the smell of added ingredients |
| Stir-Fried | Sweet and flavorful | Soft | - |
Grill
Grilling gives your octopus a smoky smell with crispy burnt edges that will charm you at first sight. The final product is bouncy sweet octopus meat, along with a crunchy texture in every bite.
Technically, every edible part of an octopus can be grilled to create a dazzling meal. Tentacles, surprisingly, are commonly grilled to form the best quality out of this yummy part. Grilled tentacles are a bit rubbery, which are perfect for serving as drinking baits in a BBQ party.
Remember that you should cut your octopus into smaller pieces to let the heat reach the inside and cook the flesh. Also, you can marinate the octopus with spicy BBQ sauce or simply dip the grilled octopus into a sweet and sour green pepper sauce for a yummy experience.
Let's learn how to grill a yummy and juicy octopus.
Boil
This is the most famous way to cook your octopus. The octopus meat is firm and bouncy after being boiled. Also, the meat maintains its juiciness and subtle sweetness.
Before putting the whole octopus into the pot, you will need to dunk its tentacles with boiled water. Dunk the tentacles three to four times, and it only takes approximately two seconds each time. Finally, you will have gorgeous, rolled-up octopus arms.
Depending on the size of your octopus, the spoiling duration can range from around 7 minutes to 70 minutes. You have to make sure the octopus are simmered in the pot for the right amount of time. You don't want the meat to be too chewy or not cooked properly.
Boiling Time Suggestion:
Here is my recommendation for the boiling duration for each type of octopus.
| | |
| --- | --- |
| Octopus size | Time |
| More than 3 kg | 70 minutes |
| Around 1 kg | 30 minutes |
| Smaller than 1 kg | 10 minutes |
| Only the tentacles | 7 minutes |
Boiling octopus is so simple which delivers a succulent dish. You can see this video to know more:
Fry & Stir-Fry
These two cooking methods will bring a whole new flavor to your octopus. Let's start with fried octopus. Similar to grilled octopus, this kind of cooking will create a crispy cover for your octopus.
To enhance the crispy texture, you can add frying powder to cover the soft and tender octopus flesh with a melty-crunchy powder layer. Chili sauce or mayonnaise is a perfect dipping for this fried octopus recipe.
Stir-fried dishes, on the other hand, have a flavorful taste from different ingredients added. It can have a refreshing taste and a crunchy texture from veggies. You can expect a touch of sweetness from the special sauce that is generated during cooking.
Let's learn how to make this stunning stir-fry octopus.
Served Fresh
These eight-limbed mollusks can be eaten raw if you provide enough preparation. You might find eating a living octopus a bit strange, but it is a mesmerizing savory experience once you try it.
Fresh octopus is really popular, from Asian countries like Japan and Korea to Western regions such as Spain and Turkey, each region has its own magnificent octopus dishes.
Raw octopus is usually served with a special sauce to boost the flavor. In Korea, sesame oil and seeds are added with fresh octopus to compliment the ocean flavor of octopus. Chili paste is an additional option if you want some scorching touch for the Sannakji dish.
In Japanese cuisine, wasabi is an ideal choice to highlight the octopus sashimi with soy sauce. If you love the natural sea aroma, fresh octopus or alive octopus is a must-have option.
You should notice that the fresh octopus flesh still has some active nerves that make the arms move. Therefore, you need to chew carefully with just a tiny proportion to avoid choking while having this wonderful dish.
I have never seen such beautiful slices of octopus sashimi. You can see this video to know more:
How To Clean Octopus?
Cleaning a living octopus is not a simple practice. It requires skillful techniques that you should take note of. However, if you follow my following instructions carefully, you can prepare a flawless octopus for your upcoming meals.
Step 1: Wash Your Octopus.
Wash your octopus with tap water to clean all the sand from the ocean and some dirt from transportation. Carefully wash all the dirt from the suckers to avoid unpleasant texture from sand stuck inside these parts.
Step 2: Apply Salt to Your Octopus
To get rid of the slime of the octopus, you need salt in this step. Rub salt all over the surface of the octopus, focus on each arm clean all the slimy liquid
Step 3: Remove the Organs And the Beak
Most octopus organs are located under its head, so remove all of them. You don't want to break the ink sack because it will be really messy. Next is the beak of the octopus, this part is hard, and you properly want to withdraw it.
Step 4 (Optional) : Cut Your Octopus
Depending on the purpose of cooking, you can cut and separate each part of this animal for different usages. Cut the head, then cut the arms to have wonderful parts of a delightful octopus.
This chef makes the preparation of octopus so simple! You can see this video to know more:
Health Benefits Of Octopus
Octopus is a great creature from the sea, bringing various tasty dishes worldwide. Do you know that this amazing cephalopod also provides many benefits to our health?
A Rich Source Of Protein
Four ounces (113.40 g) of raw octopus has around 17 grams of protein with one gram of fat and zero gram of sugar (3). So if you are on a diet and need to find an alternative source for protein, try octopus meat; it will bring a refreshing ocean flavor to your recipes.
Provide Significant Amount Of Omega 3
Besides fish, octopuses have high omega 3 content, which is great for your eye's health and helps release anxiety. Unlike fish, the octopus doesn't have a fishy smell, so it is considered to be more friendly to taste, especially for kids.
Due to the rich amount of omega 3, eating octopus can help you to reduce blood pressure and lower the risk of some heart diseases.
Bring Essential Minerals And Vitamin To Your Body
Octopus has a noticeable amount of iron and potassium, which can help reduce fatigue and boost your immunity. Also, vitamin B12 in octopus is one of the key vitamins to reduce the risk of having breast cancer.
Fantastic Octopus Alternatives To Diversify Your Choice
Octopus is great, but if you have trouble finding octopus in the nearby area, what substitutes can you use to replace this refreshing meat? Let's look at some of the recommendations below.
Calamari (Squid)
Calamari is a type of squid, both calamari and octopus are invertebrates, and they share some similarities in taste. Calamari taste is also mild and slightly sweet, but this squid has a harder and firmer texture compared to octopus.
Calamari is great for using grilled, boiled, or steamed recipes without creating any dramatic change in the taste of the whole dish. You can tenderize calamari meat by cooking the meat at a high temperature with a short duration or low heat with a longer cooking time.
Chicken Or Pork
These common meats can replace octopus in certain cases. Chicken and pork are not too strong in flavor. Without any seasonings, they have a subtle smell and a pleasant sweetness. However, the texture is not as bouncy as octopus meat.
Prawn
You can use prawn meat to substitute octopus meat. Both of these meats share a mild flavor and a rubbery texture. Prawn meat, on the other hand, has a stronger fishy smell.
Prawn meat is suitable to replace octopus in a salad or stir-fried recipes with a beautiful sweetness aftertaste.
Vegan Choice
There are various types of vegan squid packages on the market that you can use. Usually, it is made with mushroom or tofu with a nice and bouncy texture. Fried vegan squid has a crispy texture with a delicate sweetness that can enchant you.
Although these alternatives can not replicate 100% the flavor of octopus, you will have a chance to discover new ingredients and expand your recipes.
Amazing Octopus Recipes For Refreshing Ocean Meals
In case you are looking for some ideas to make an octopus dish for your family dinner, here are the best recipes for you. Stay tuned!
This recipe makes your octopus dish even fresher than before. Imagine crunchy veggies like tomatoes and cucumbers mixed with juicy and bouncy octopus meat. Fascinating, right?
Onions, parsley, and oregano will bring a delightful aroma to the whole salad. You will also feel a gentle note of sourness from vinegar, which will trigger your savor and help you enjoy this wonderful dish.
Try this colorful and refreshing octopus salad right now!
It is not an exploding BBQ party without yummy grilled octopus's tentacles. This recipe makes the meat so tender that it could enchant anyone who takes the first bite.
The star of this recipe is the marinade sauce. It is made from herbs and veggies with a beautiful floral aroma like thyme, parsley, and oregano. Pour this fragrant marinade on your grilled octopus to increase the meat flavor.
Boiled octopus is the simplest method that maintains the natural flavor of your octopus. This recipe only needs a few ingredients to tenderize the meat, such as vinegar and salt.
Boiled octopus can be utilized for making salad or dip with pepper sauce. You can save the leftovers for later usage in the refrigerator.
If you want to try a brand new crispy dish other than the ordinary fried chicken, this crunchy fried octopus recipe is a must-try. Mollusks like octopuses have no bones, so you don't have to worry about sorting out all the bones.
After enjoying the yummy cover, you will be well-treated with the juicy octopus flesh. I bet you want to save thí recipe right away, right?
This is how you make a delicious crispy fried octopus dish.
Octopus carpaccio is like an Italian style of sashimi. Slices of raw octopus are nicely displayed on the dish and dreamy dressing. The sauce will also give you a touch of sourness from the lemon.
Chopped vegetables such as tomatoes and cucumbers add incredible texture to this carpaccio. If you love fresh octopus, octopus carpaccio will satisfy your desire.
A super creative way to make octopus carpaccio. You can see this video to know more:
FAQs
This magnificent creature still has some mysteries that need to unfold. Follow me, and I will answer these frequently asked questions for you.
Octopus – A Refreshing And Tasty Treat
Ocean provides various resources for human beings. From seafood to gas, these resources are essential for daily life. Octopus is a delicacy from the deep and mysterious ocean.
For culinary purposes, octopus contributes lots of delicious meals with an outstanding refreshing ocean-like flavor. Don't miss this wonderful natural ingredient and give it a try, and I bet you will fall in love with this dish.
If you have any interesting information about octopuses, share it with me in the comment section. I love learning about this fascinating creature. Thank you for your time, and take care!
Reference
En.wikipedia.org. 2021. Octopus – Wikipedia.
Healthline. 2021. What Is Squid Ink, and Should You Eat It?.
Health, E., 2021. Are There Health Benefits to Eating Octopus?.
American Pregnancy Association. 2021. Foods to Avoid When Pregnant.