What does paprika taste like? There are not many people who can answer this question precisely. Paprika made from different peppers also has different flavors. Also, paprika is widely added to various nations' cuisines.
If you come across a recipe that calls for paprika, you want to try but do not know whether it is spicy or not or how exactly it tastes. I am writing this article to help you find out more about this spice, especially its flavor.
Are you curious now? Let's dive into this exciting topic!
What Does Paprika Taste Like? Is It Sweet Or Spicy?
Paprika is divided into three different types. Each type of paprika brings a distinct flavor. However, the general tastes of this ground spice are sweet, spicy, and bitter. The level of sweetness, spiciness, and bitterness depends on what peppers are used to make paprika.
Since paprika is various in spices, read this post carefully to choose the exact type of paprika that your recipe calls for.
A General Knowledge About Paprika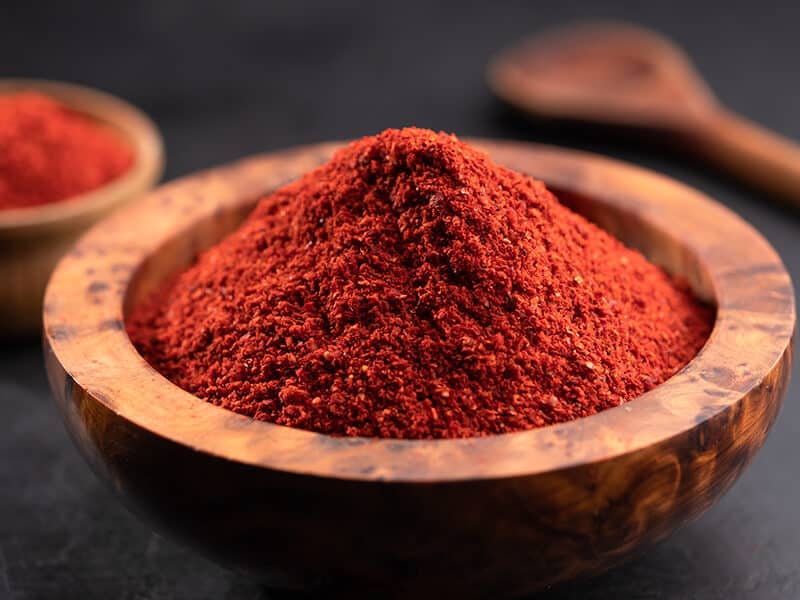 The peppers used to make paprika originate from North America, mainly from Mexico. Then, it was brought to Spain and became an indispensable spice in various Spanish recipes until now.
Paprika appears in numerous dishes with unstoppable ingredients all over the world. Some notable dishes are rice, stew, and soup. Spanish also add it in their chorizo. In addition, it is used to season Hungarian's Goulash, paprikash, meat stew, and many other cuisines.
Paprika is primarily recognizable by its fine texture with vibrant orange-red color; some paprika even has a yellow color. Besides adding paprika to enhance a slight spiciness, it also has a coloring-food usage. (1)
Are You Ready To Be Mind-Blown With Paprika's Flavors?
Depending on the type of peppers (Capsicum annuum variations) used to make paprika, ranging from sweet to fiery peppers, paprika is divided into three main categories: sweet, hot, and smoked paprika. They are different from each other in color and level of heat.
Due to the differences, the usages of each type are also different. While the sweet variety is just a food coloring to make the dishes look tastier, the others can add spiciness. Let's take a closer look at each type of paprika to understand more through this table!
| Features | Sweet paprika | Hot paprika | Smoked paprika |
| --- | --- | --- | --- |
| Type of peppers | Sweet peppers like bell peppers | Hot peppers like Aleppo peppers or Bonnet peppers | Both sweet and hot peppers are acceptable |
| Scoville Heat Units | 12000 | 590 SV | 33000 |
| Flavor | Mild, subtly sweet | Stronger taste compared to sweet paprika, spicy | Mildly sweet, spicy, smoky flavor with bitter undertones. |
| Dishes | Salads, stews, curries, roasts, stir-fries | Hungarian cuisine (curries, soups, stews), steamed veggies | Smoked dishes, roasted meat, and vegetables, vegetable stews |
Sweet Paprika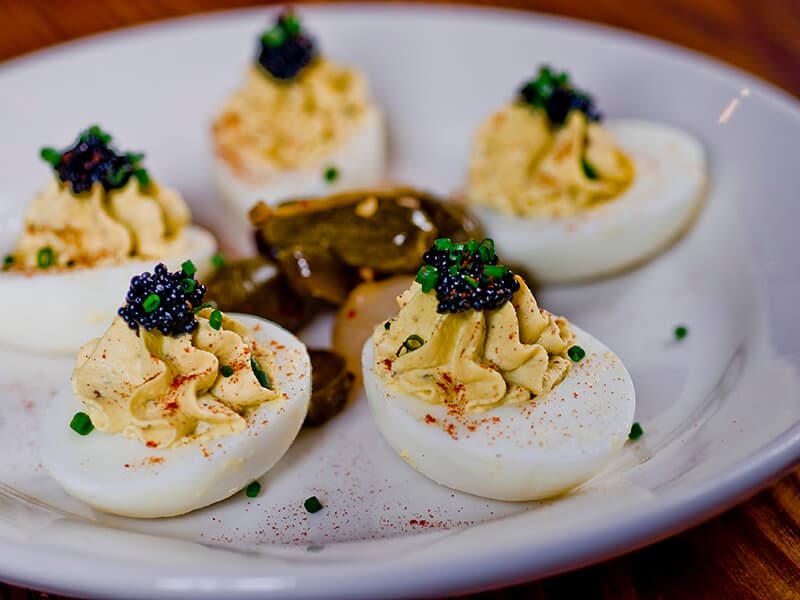 Sweet paprika is mainly made from sweet bell peppers. As an obvious result, it does not contain any heat. Sweet paprika has a mildly sweet and peppery taste, and people tend to use it to add vibrant color to their dishes.
People also use paprika to balance other robust spices. The subtle flavor of paprika goes well with other spices' earthy, brine, and tangy flavors. Sweet paprika plays a vital role in many stews, roasts, stir-fries, and curries.
You can use paprika as a garnish or seasoning to bring a tangy spiciness to your dishes. For people who can not eat spicy food, using sweet paprika to substitute for other hot spices is also an excellent idea since it measures 12000 SHU on the Scoville scale.
Let's go to the kitchen and make your own homemade sweet paprika powder!
Hot Paprika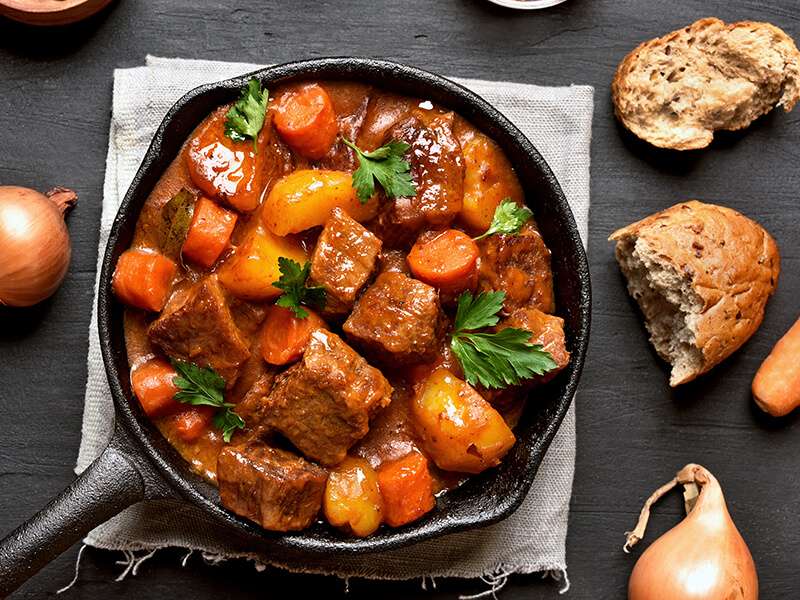 Hot paprika is the most popular Hungarian paprika and is usually made from Aleppo peppers or Bonnet peppers. Due to being made from thicker and spicier flesh of chilies, it has a strong spicy taste, and its heat can go up to 590 SV on the Scoville scale.
Hungarians use hot paprika to flavor their cuisine and add color to their foods. You can find it in various stews, curries, and soups. The hot paprika brings a tangy, peppery, and spicy kick that will satisfy your eating spicy foods habits.
Remember to add hot paprika at almost the end of the cooking process to prevent it from degrading its flavor and color. Hot paprika is also used to garnish or season the deviled eggs and steamed vegetables. Sprinkle hot paprika on popcorn is also exciting creativity.
Smoked Paprika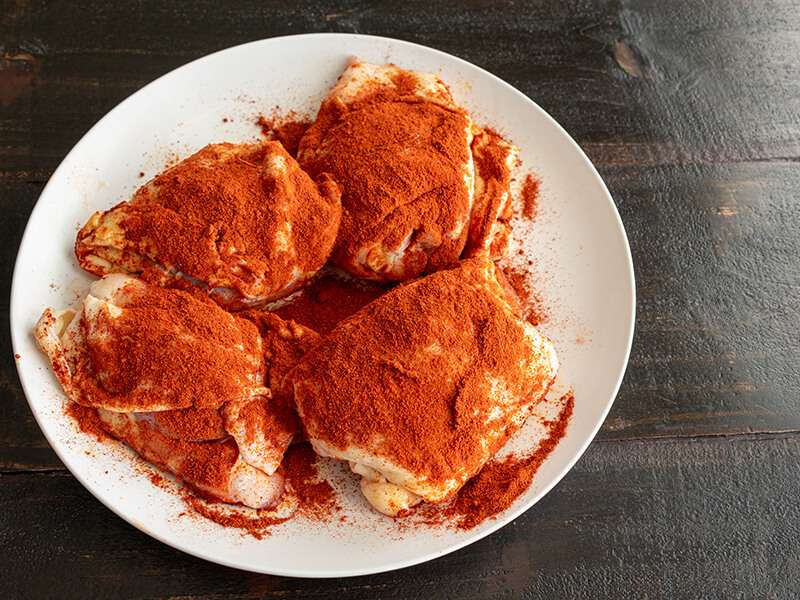 People also recognize smoked paprika by the name pimentón or smoked Spanish paprika. Smoked paprika is made from smoked peppers (both sweet and hot peppers are acceptable). The unique point here is that smoked peppers are dehydrated over oak fires.
Since it is made from different peppers, both sweet and hot, the flavor can vary from mildly sweet to hot and extremely hot. Smoked paprika's level of spiciness measures up to 33000 Scoville Heat Units.
Smoked paprika offers bright red color and mildly spicy, smoky flavor to the dishes, including meat rubs and roasted vegetables. It is also an indispensable ingredient in paella and Hungarian chorizo and other sauces, stews, and curries.
The ultimate guide to make homemade smoked paprika effectively is waiting for you!
Some Ultimate Storage Methods To Extend Paprika's Shelf Life
Whether your paprika powder is store-bought or homemade, it will degrade in appearance, flavor, and smell over time. Paprika even clumps together. So, it's time to explore some effective ways to store your paprika.
The factors that affect paprika's shelf life and quality faster are air, humidity, heat sources, and sunshine. You should avoid these environmental conditions to prolong the shelf life of your favorite spice.
Storage Containers: The containers chosen to store paprika have to be of extremely high quality. The thing is, there should be no break or leak in the containers and the lids.
Storage Places: The pantry and kitchen cupboard at room temperature are ideal for storing paprika powder. Those places should be dry, cool, and dark. Furthermore, you have to clean the storage places often to avoid humidity.
Avoiding Heat Sources And Sunshine: Paprika placed in hot places or under direct sunlight will lose its flavor and aroma. What's more? Heat and sunshine also cause the paprika powder to fade its vibrant color.
The Shelf Life Of Paprika And Its Bad Signs You Should Know
It is essential and valuable for you to know more about paprika's shelf life to consume the best quality paprika and know precisely when you shouldn't use it.
How Long Can Paprika Keep Its Best Quality?
As I have said already, although you store your paprika thoroughly, it still deteriorates due to the environmental conditions and time flying.
If your paprika is store-bought, pay attention to the best-by date labeled on the packaging. How about the shelf life of homemade paprika powder? It can stay at its best quality for up to 3 to 4 years. Refrigerated and frozen paprika also last the same amount of time.
Some Bad Signs To Tell You Paprika Can No Longer Be Used
Although paprika powder can keep for a pretty long time, it will also be spoiled due to the poor storage condition. You should pay attention to these signs to avoid eating low-quality paprika powder, which is not good for your health.
Appearance: You should consider throwing your paprika if there is any discoloration, such as the color turns deeper or becomes dull. Moreover, paprika stored in humid areas will become moist and clump together.
You can also notice bugs or pests in the container. Bugs such as cigarette or drugstore beetles cause bug infestation and affect paprika's quality. Besides, it is worst if the paprika starts to grow mold.
Flavor: Poor-quality paprika tastes very mild, and it does not give any sweet or spicy taste at all.
Smell: Paprika is an aromatic and robust spice; if it is no longer aromatic, it is spoiled.
Consider eliminating all of the bad paprika powder to protect yourself from food poisoning and other dangerous illnesses.
Surprisingly Health Benefits That Paprika Brings To You
Paprika adds vibrant color to the dishes to enhance their flavors, appearances. Besides, it also provides various health benefits. Sort on to see how paprika benefits your health! (2)
Paprika powder is packed with several essential vitamins, minerals, and antioxidants. Particularly, vitamin E and A can help improve your vision. Vitamin E combined with iron is also beneficial for blood health.
Paprika also contains a carotenoid that helps decrease cholesterol levels and lower the risk of heart diseases.
The capsaicin in vitamin E can reduce inflammation and muscle pain.
There are several other advantages of paprika you must know!
5 Mouth-Watering Recipes That Call For Paprika You Must Try!
I'm sure that after knowing about those fantastic health benefits of paprika, and it makes the dishes tastier, you should add it to your foods regularly. Are you curious about the detailed recipes? Scroll down to explore!
Hungarian Goulash is a traditional slow-cooked stew made with beef or pork and vegetables. People often cut the meat into medium-sized cubes and cook for a long time, so they are tender and absorb the hearty and intense flavor of the broth.
The soup is also rich and warm as it is added with smoked paprika and other aromatic spices. Hungarian Goulash soup will be the best idea to welcome a cold season.
Cooking Hungarian Goulash is easy, although it requires an extended amount of time to make the meat tender.
Chicken paprikash is a popular and beloved Hungarian dish. The dish contains chicken meat cooked till tender and simmered in a rich and flavorful sauce. The sauce is made with cream and sweet Hungarian paprika powder.
The chicken paprikash is mainly served with Hungarian noodles named Nokledi (similar to German späzle scraper). However, you can also eat it with egg noodles without any significant difference in flavor.
It is time for a smoked appetizer you should try since the recipe is a piece of cake. Deviled eggs are the hard-boiled eggs served with the yorks stuffing with other ingredients like mayonnaise and fragrant fresh herbs or spices.
Although deviled eggs taste good while eating alone, added smoked paprika and bacon bring them a delicious smoky flavor as well as enhance the odor of the dish.
Consider serving this dish as an appetizer for the upcoming party. You won't regret it!
Do not ignore this healthy but scrumptious appetizer to surprise your guests!
Potato and egg salad is a perfect side dish in summer – the season of salads. The recipe is easy and quick, with straightforward ingredients required. The three main ingredients to create its creamy flavor are potatoes, eggs, and mayo.
You can sprinkle some celery salt and onion to bring a good smell to your salad. Also, flavor potato and egg salad with sweet or smoked paprika will make the dish more colorful and tastier.
This is maybe one of the easiest soup recipes recorded all over the world. The ingredients are simple, and you do not have to spend much time cooking this roasted red pepper and butter squash soup. The plus point is this soup is dairy-free and vegan.
This hearty soup is made of coconut milk and smoked paprika. Roasted red pepper and butternut squash soup can be served as an appetizer or side dish. With the people who are on their diet, it can be a main dish that is yummy and healthy.
FAQs
Five frequently asked questions about paprika and its flavor in case there are some unclarified points. I hope you will find your answer after reading my answers below!
Upgrade Your Dishes To The Next Level With Paprika Powder!
You will find your dishes taste significantly different from the norm after seasoning them with paprika powder. Paprika does add not only fruity and sweet, slightly spicy to the dishes but also brings vibrant color to them.
There is caution while using paprika powder. Because it is a ground spice, you should not place it near the fan or your eyes to protect your eyes from being hurt by the hot and tiny dust.
If my sharings in this article are fascinating and helpful, please like and share to support me to come back productively with other exciting topics. By the way, I would love to hear some words about your feelings or experiences with paprika. Comment below to share with me!
References
En.wikipedia.org. 2021. Paprika – Wikipedia.
2021. [online] Available at: <https://fdc.nal.usda.gov/fdc-app.html#/food-details/171329/nutrients>.