What does squid ink taste like? "Intimidated," "afraid," or "hesitant" are the most popular reactions you will get from almost all dinners when being introduced to squid ink delicacies. But hey! This ingredient does not taste as horrible as you might think!
With the distinctive taste and beautiful silky black color, squid ink makes the food look so vibrant, elegant, and desirable. Still skeptical? Check this post out to figure out the truth about this ingredient's taste! I have many things to share with you!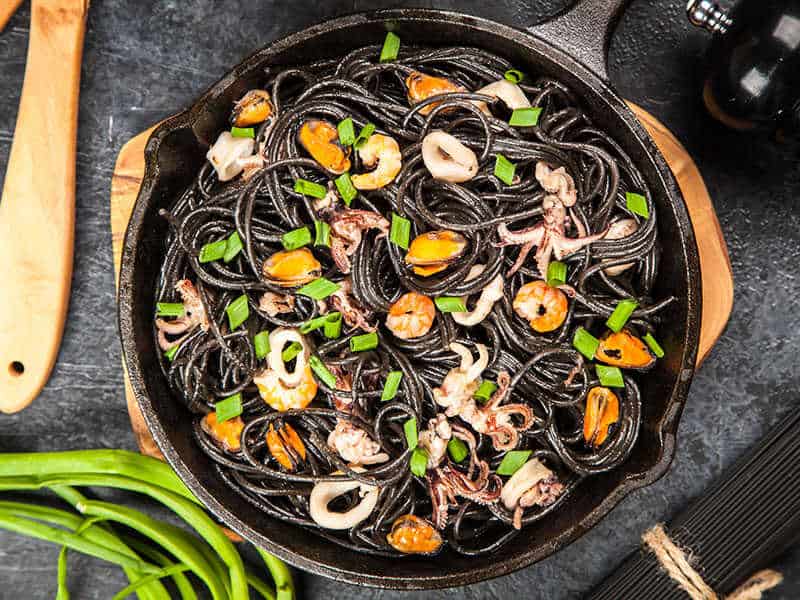 Squid Ink – Fascinating Ingredient Of The World
I'm sure that this first section will give you some short but useful information about squid ink. This ingredient absolutely is an interesting thing you will want to discover.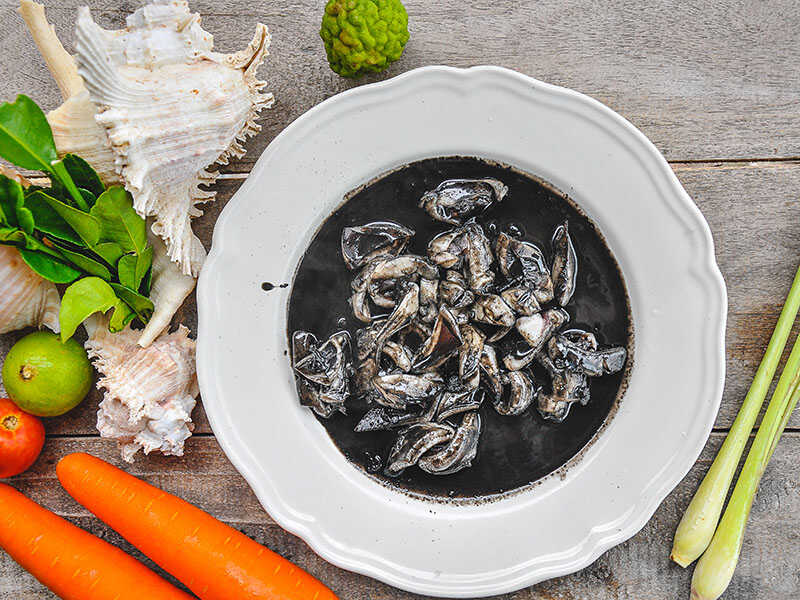 1. What Is Squid Ink?
Squid ink, or actually called cephalopod ink, is a term used to indicate a dark liquid substance released by Cephalopod species, including squid, octopus, cuttlefish, etc. This substance is their weapon, protecting them from the predators under the ocean.
By spitting out squid ink while being hunted, Cephalopod species can distract the predators for a while to have the time for running and hiding. Squid ink typically is not just black. It will range from black-blue to black-brown depending on the species.
But in general, it will be hard to find the differences.
You may wonder why this substance has a black color, right? This is because melanin – a pigment that determines human skin, hair, and eye color also makes squid ink its home. Excluding melanin, squid ink also contains many other compounds.
Squid ink is thought to be a new idea in the modern world. However, it has been used for centuries with various applications, such as food coloring, pen's ink production, painting, etc.
There are more intriguing facts about squid ink you might want to know. Let's have a look at the following video!
2. Squid Ink And Various Surprising Uses
In this section, not only will I introduce you to some common uses of squid ink in the culinary world, but also other surprising applications as well!
How Is Squid Ink Utilized For Culinary Purposes?
Squid ink may be strange to many of you. However, for those who are a huge fan of Italian cuisine, squid ink comes up as a flavorful ingredient that helps to create elegant black color.
The most famous recipes calling for squid ink as a food flavoring and coloring are Italian pasta and risotto. You can almost find them popular here as a savory and dedicated treat.
On the other hand, squid ink also shows its face up in arroz negro – the Spanish paella, which is made from squid ink, rice, and various kinds of seafood. It helps to add the sea flavor into the rice.
Not only that, in Japanese cuisine, squid ink is also used as a food coloring and flavoring too. It is added into sauces and creates a natural black color for maki. In China, squid ink is sometimes used to dye the dumplings dough.
Other Uses – Squid Ink Applications Are Far Beyond Cooking
Beyond the culinary applications, squid ink, as its name suggests, can be used to make ink for pens and quills.
In ancient times, the Greeks used squid ink to produce Sepia ink – a kind of pen ink made of cuttlefish ink, which is said to be used for writing, drawing by the genius Leonardo da Vinci.
Furthermore, this substance is also used in cosmetics, art, dying, and medicine, and biomedical applications (1). In general, the use of squid ink is much more versatile than you ever thought.
3. Things You Might Want To Know About Squid Ink
There are a few things you might want to know about this interesting ingredient. Relax with the information here before going to the central part.
Besides using ink as a self-defense mechanism when confronting predators, cephalopod species, cuttlefish in particular, also cover their eggs with ink to camouflage from their enemies.
If you have an allergy to shellfish or seafood, you may suffer from a serious allergic reaction when you ingest squid ink too. Consider carefully before consuming.
You may need to throw out your clothes if they accidentally get squid-inked. Since squid ink can be extremely stubborn, it is better to be careful when cooking or preparing this ingredient.
Squids (or any other Cephalopod species) are categorized into the seafood section. The ink produced from them doesn't contain animal cells. It can be considered as a good ingredient if you are a vegetarian.
What Does Squid Ink Taste Like? The Most Detailed Answer!
I know you are in a hurry now. Now, it's time to discuss the taste of this special ingredient. Not only that, but I will also answer some questions relating to the taste of food cooked with squid ink many of you have asked me!
1. Flavors Description – Squid Ink Is Not Smelly At All!
When it comes to squid ink flavor, you might automatically label it as fishy since this ingredient belongs to the seafood section. It's right, but in a positive way. More exactly, squid ink tastes like the ocean – the flavor you get from sea salt but much more pleasant.
That being said, squid ink has a unique brininess that can add a salty flavor to your recipes. Some gourmets said that the salinity of squid ink is quite similar to oysters and sea urchins. However, squid ink's origin sets its taste apart from all of these sea creatures.
It may sound weird but some people also say that squid ink reminds them of the taste of truffles as well.
Note: The amount of squid ink you use can affect the general flavor of your dish. Too much squid ink added can make your food overwhelmed.
Watch this video to know more:
2. Texture And Color – The Magic Of Black
Squid ink has a silky, syrup texture. Because of this property, they easily help you color your pasta, rice, or any other dish that needs them as a coloring agent. Personally, the density of its texture is quite similar to thick soy sauce, but the color is much darker.
Squid ink color depends on the species they are. For example, the ink of cuttlefish will tend to have a shade of brown color while the squids release blue-black ink. In terms of octopuses, they produce an authentic dark black color.
3. What Does Some Common Food Cooked With Squid Ink Taste Like?
This is the flavor description part of dishes cooked with squid ink that many of you have wondered about. Let's check them out to get the answers.
Squid Ink Pasta – Elegant Delicacy From Italia
When squid ink is added to pasta, the taste turns quite neutral, as long as you don't add an excess amount of squid ink into your pasta. When you use the right amount of squid ink, your pasta flavor will not be affected.
It allows your pasta to have a pleasant and mild briny taste with a note of saltiness from the ocean. In addition, the characteristic black color will make your pasta look incredibly glossy and scrumptious. Italians always know how to make their food as delicate as possible.
Squid Ink Ice Cream – A New Experience With Squid Ink
If you like discovering new things, squid ink ice cream absolutely should not be out of your list. With the shocking black color, this ice cream is considered to be one of the craziest ice cream ever.
The first taste is the slight fishy but not uncomfortable taste you can find right when it melts in your mouth. It has a little bit of saltiness also. On the other hand, some people say that squid ink ice cream also has a chocolate-like flavor.
Squid Ink Bread – Extra Saltiness With Squid Ink
Similar to other bread, the spongy texture is not changed. But yes, like squid ink pasta, squid ink ice cream, squid bread also have a characteristic black color. Depending on the amount of squid ink in the recipe, the color can be light or dark.
The flavor is quite neutral. Squid ink adds almost no flavor into the bread. All you can receive is an extra salty flavor, but in a very subtle way. The saltiness will not bother your taste buds and the fishy taste does not find its way to squid ink bread as well.
Health Offerings: Stay Healthy With Squid Ink
For a long time, squid ink has been used in medicine to develop drugs (1). If you are curious, here are some of the outstanding health benefits that squid ink can offer.
1. Containing Antioxidants Properties.
A study conducted in 2017 has shown that squid ink possesses antioxidant properties – They consist of various useful compounds that inhibit the activity of free radicals – a leading cause of chronic illnesses, such as cancer, diabetes, and cardiovascular diseases. (2)
2. Having Antimicrobial Effects
According to a test-tube study, squid ink helped to neutralize bacteria such as Streptococcus mutans, Candida albicans, etc., which build and develop dental plaques. Moreover, this ink also gives a hand in fighting fungal infections, inactivate harmful bacteria and viruses. (3), (4)
3. Other Potential Offered Benefits
Aside from the two notable benefits above, squid ink also helps to inhibit the spread of cancer cells, regulate blood pressure, fight against stomach ulcers by reducing acid levels, and facilitate the growth of immune cells, improving the human immune system. (5)
Achieving High-Quality Homemade Squid Ink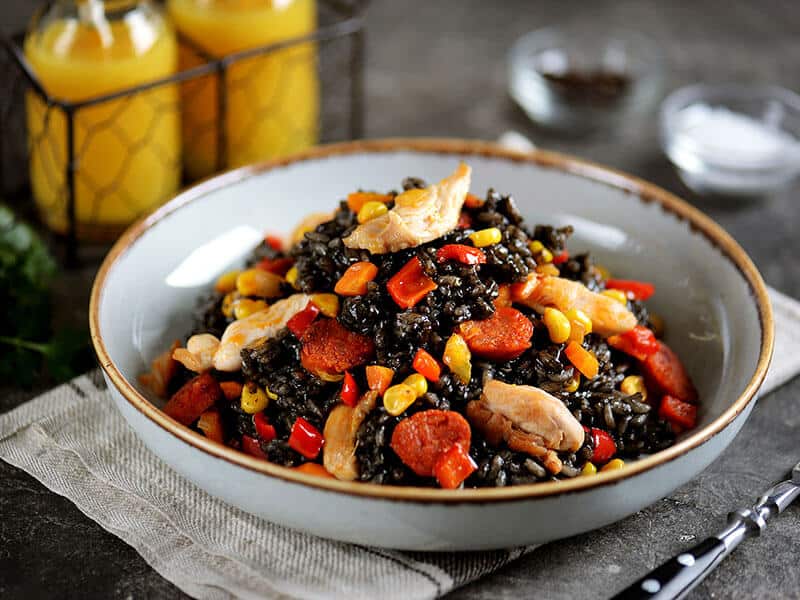 Currently, squid ink has been packaged and sold in some shopping centers.
However, in case you cannot find the packaged one, you can prepare it yourself. Look at the section below. I will show you how to harvest squid ink from squids (or other Cephalopod species) and also the choosing and storing tips as well!
1. Before Harvesting: Best Squid – Best Ink!
All you need to do before harvesting squid ink is to choose the qualified squids. The fresher your squids are, the more flavorful your squid ink would be.
It would be greater if you could catch the freshest squid in the sea yourself. In case you buy squid in a supermarket, choose the ones with white flesh and the reddish-brown spots in their body. Step away if the flesh turns pink and smelly.
Frozen squid can be acceptable. Keep in mind to pick the frozen ones with the full and unbroken package without any sign of freeze-thawing. On the other hand, I recommend that you should pick the large squids for a higher amount of ink.
Note: Purchase the whole squids. The pre-cleaned squids have no ink left in their body.
2. Harvesting Secrets: Be Slow And Be Gentle
The harvesting job needs to be treated slowly and gently. Patience is the key that can help you to have the best quality squid ink!
What You Need To Prepare
Squids
Chopping board
Knife
Non-porous container (to avoid staining)
What You Need To Do
Step 1: After buying, rinse your squids with water but remember to be slow and gentle. If not, their ink sac can be broken from the inside before you harvest.
Step 2: Put your squids on the chopping board. Then, take out their head and tentacles.
Step 3: The guts which contain the ink sac will come up along with the squid head. Therefore, observe carefully to find out the ink sac. Look for a thin silvery sac halfway along.
Step 4: Remove it gradually and gently to make sure it will not be broken.
Step 5: To avoid ink sac stains in your clothes. Put the ink sac into the bowl and puncture with your knife.
Step 6: After the ink is no longer dripping, discard the empty sac.
Step 7: There is still a little ink behind the squid's eyes. Pull the eyes out and carefully cut around them.
Step 8: Use your knife, stick in the dark silver bits of the squid's eyes. Next, squeeze out all the ink and throw away the remaining.
You should see the video below
3. Bonus Tips: Storing Properly To Have The Longer Shelf Life
In the previous part, I have shown you how to harvest squid ink at home. So, can you store your squid ink for longer longevity?
Yes, of course!
Upon harvesting squid ink, it is better to use it within some hours. Nevertheless, you can still put it in your fridge to keep it for 1-2 days. After that period, throw it away because they no longer retain the original flavorful taste.
For an extended time, freezing is not a bad idea. Seal your squid ink meticulously in an airtight jar and put the jar into your fridge. Consuming your frozen squid ink within 3-5 months as you do when storing your squids.
Cooking Advice: Squid Ink And Delicacies
I'm sure you may be curious about what things can pair well with your squid ink. Here are some popular treats you can do with squid ink!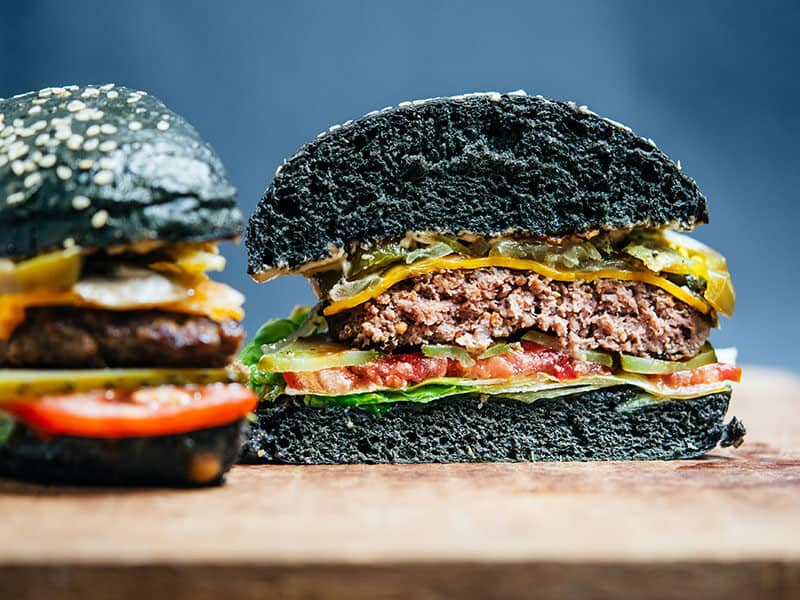 Pasta: Pasta is always the classic treat when it comes to squid ink recipes. With simple ingredients and condiments, a flavorful plate of pasta is never out of your league.
Risotto: Squid risotto also deserves one of the top ranks in your squid ink menu. It is an iconic item of every Italian restaurant specializing in this ingredient.
Lasagna: Let's make magic on this Italian old-style pasta into the most modern and luxurious dishes by coloring it with your beautiful dark squid ink.
Burgers: I bet that some of you have seen black burgers before, right? These burgers probably used squid ink as a coloring agent. In addition, squid ink also helps to add some distinctive notes to the burgers.
Mari: Squid ink mari is a kind of rice roll with the addition of squid ink for obtaining a distinctive and notable appearance.
Rice: Similar to risotto, you can add dye to your rice by dripping some squid ink into it at the beginning of cooking.
Squid Ink Recipes: 4 Impressive Options For You
Although squid ink has been applied in the culinary field for a long time, it is still not considered a popular ingredient globally. Hence, finding ideal recipes may be quite difficult. Well… Don't worry! I have some delicious, detailed recipes to share with you!
I have fallen in love with squid ink pasta at first sight, in a sea-by Italian restaurant. This delicacy is incredibly fascinating, elegant, and tasty, with a very light hint of brininess.
Let's upgrade your squid ink pasta with some other diversified toppings. They will make the plate even more desirable and appetizing.
Don't ever skip out on this classic Italian treat with squid ink! Let's have a look at the following video!
Arroz negro is a dish you can make for your family on a weekend evening when all family members get together. Make a large size of arroz negro. You know, it will be one of the most sought-after items in your family dinner.
Remember: The flavor will be richer with several kinds of seafood on the top.
On boring Sunday mornings, I used to try to get myself involved in cooking to boost the mood. And I just found this interesting recipe while lazily scrolling in my cozy blanket. The black dough makes every topping on the pizza look viral. Flavor? The flavor is outstanding!
Octopus, squid, shrimp, salmon,… Come on. I know you understand what I mean! Seafood is definitely the perfect companion for your squid ink risotto.
Don't let this iconic Italian item become tedious. Making your own version of squid ink pasta will allow your imagination to become visual.
FAQs
Ting ting ting!!! It's time for frequently asked questions. Don't hesitate to jump into this part to gain more information. I'm sure you may need them in the near future.
Amazing Tasting Experience With Squid Ink
Squid ink is mostly unfamiliar to all of you, but you definitely should give it a try if you have a chance in the future. With a light saltiness and a note of the ocean, squid ink may be an excellent ingredient for many of your recipes.
Have any of you tried this special substance before? Sharing is caring. Whatever you feel, please share with me. Squid ink needs more discovery and evaluation.
That's all for now. Please leave a comment here to let me know your opinions. I really hope that my little post can be beneficial for you.
References
Derby, C. D. (2014). Cephalopod ink.
Nadarajah, S. K., Vijayaraj, R., & Mani, J. (2017).
Girija, A. S., Suba, K. P., Hariprasad, G., & Raghuraman, R. (2014).
Fahmy, S. R., Soliman, A. M., & Ali, E. M. (2014).
Ryan Raman. What Is Squid Ink, and Should You Eat It – Healthline. 2019.