What does venison taste like? Any ideas? Unlike some common types of meat such as beef, pork, or chicken, venison is likely to be less consumed by many people. It is somehow harder to find and may not be available in every region in the world.
If you question venison's taste a lot, just scroll down and read this whole article! There is more information about venison in this post, such as storing them properly or delectable recipes to deal with it. Are you ready to discover?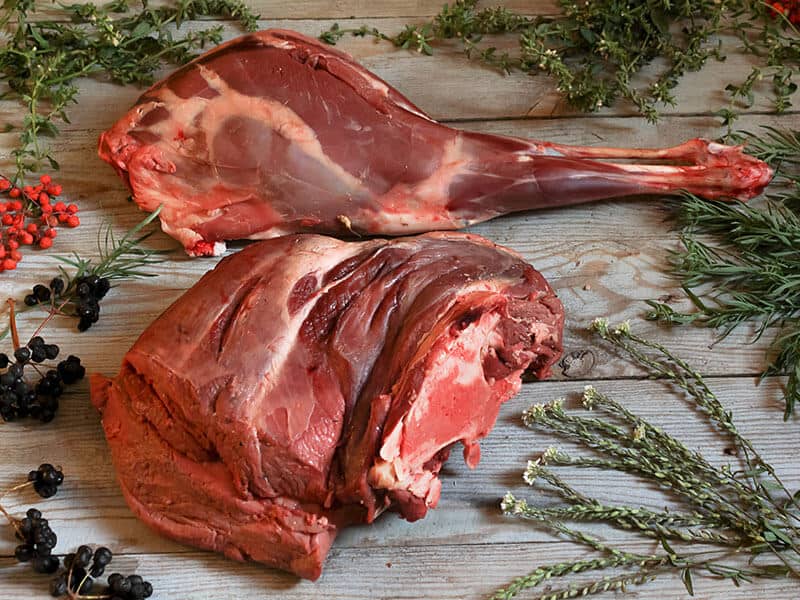 Introducing Venison
So, what is called venison? "Venison" is a term from Latin words used to indicate any game animal species. However, this term is usually referred to any part of wild, hunted deer or antelope meat nowadays. If someone mentions venison, it's probably deer meat.
Slices from different parts of venison are suitable for various purposes in cooking. For instance, its leg and loin parts are used to make steaks; while ribs and shoulder can be minced or marinated. Venison is also divided into cut categories like roast, ribs, and sirloin.
Venison is processed with some light methods before being used for further culinary purposes. After this stage, venison's taste, texture, and tenderness enhance a lot and can be more flavorful to cook in a dish.
In America, most New Zealand and Tasmanian venison offered at retail comes from commercial hunting operations; while non-retail venison is from hunting or self-processing. Venison is made into burgers or sandwiches in the United States and they're so popular! (1)
These men are curing and aging their venison for dinner! You can see this video to know more:
The Special "Gamey" Taste Of Venison
Venison's taste is usually described as "gamey." This word is usually used for wildly-hunted animal meat, which means more pungent, robust, and concentrated in taste than farm-raised meat. This gamey taste of venison can be eliminated with seasonings and marinades.
In general, venison tastes natural, earthy, grassy and rich, due to its wilder portion, including acorns, browse, herbs and sage. Venison meat is red meat, which includes a wide range of flavors. All of those make venison's taste a distinctive one to tell.
Venison consists of a leaner, firmer, tougher and drier texture, not as juicy and succulent as the usual farm-raised meat. Since deer are usually hunted in autumn, the spicy, minty, and autumnal taste also perform in its meat.
As I mentioned, venison is usually treated with many light methods before joining in a dish. The different cooking methods such as curing, mincing, marinating make a big impact on the flavor of venison. Therefore, I will specifically describe some treated venison types.
Canned Venison
Venison canned and stored in glass jars can last a pretty long time. You can serve canned venison right away since it is cooked before. You don't have to defrost it or put it in the microwave before serving.
Canned venison tastes juicy, flavorful, fresh, and somehow like tender beef tips. It may not look very nice at first because it is soaked in liquids, but the flavor is delicious. You can purchase canned venison in stores or you can make it yourself.
Venison Mince
Venison mince is leaner, gamier, a bit drier, and lower in fat than the ordinary mince. It is usually used in burgers, faggots, and meatballs. The most famous dish with venison mince is burgers with a mushroom risotto.
Venison Jerky
Venison is a great meat to make into jerky. Jerky is strips of lean meat that are dried or dehydrated to avoid spoilage. Venison jerky is dry, lean, a bit gamey, and tender. It is also chewy and flavorful since it is seasoned during the making process. It's a fun snack!
Venison Sausage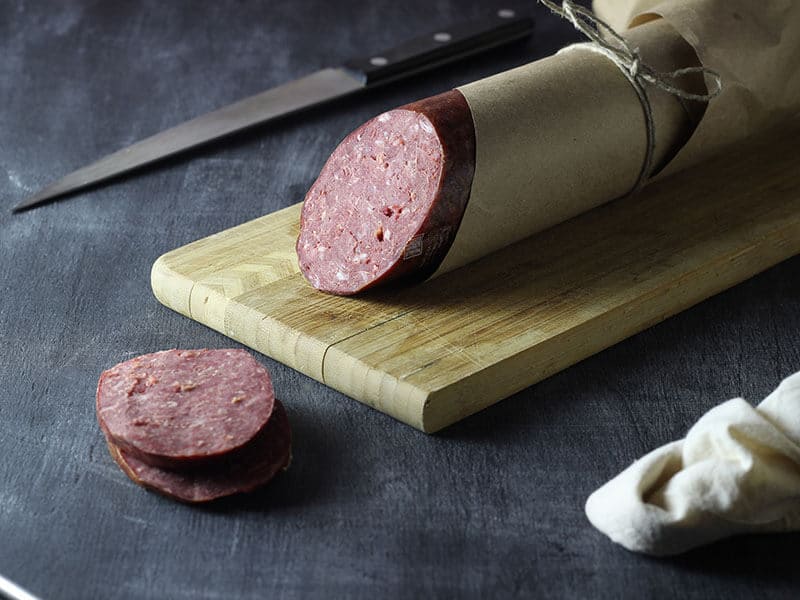 Sausages made of venison don't taste gamey. They are sometimes processed from a mixture of venison and beef. It is fully cooked and tastes smoky and fatty like most other sausages. This is an excellent sausage to eat raw or join in your pasta dish!
Venison Vs. Beef: A Challenging Battle
When it comes to the taste of venison, most people may think of the taste of beef. They are so similar in taste that a lot of people cannot differentiate between them! In fact, they do share some characteristics in common, but they are not the same. Read on to find out!
Aspect
Venison
Beef
Lifestyle

Live in the wild.
Eat leaves, acorns, herbs, and sage.
Run and hunt a lot.

Raised by human beings.
Mainly eat grass, hay, silage.
Don't move much.

Taste
Earthier and richer
Fattier, more tender, and juicy
Texture
Leaner, tougher, finer, versatile
Softer, versatile
Nutritional value
Healthier, lower in fat and calories
Higher in fat and calories
Lifestyle
Cows and deer have obviously different lifestyles. Cows are a kind of cattle that are often raised by human beings, while deer are in the wild and hunted for meat. Cows' diet mostly consists of grass, hay, silage; deer usually eat leaves, acorns, herbs, and sage.
About the physical activities, deer run and hunt a lot in the wild, while cows don't move much since they don't have to find the food themselves. Being more active than cows, deer develop more muscles, that's why their meat is stronger than beef.
Taste
Their tastes are somehow similar, with some slight differences: venison tastes earthier and richer, while in general, beef is fattier, more tender, and juicy. This can be considered as a result of the daily portions that I have mentioned earlier.
However, in some cases, venison is used to replace beef. When they are cooked with many other ingredients in a recipe, it's difficult to tell them apart just by tasting!
Texture
Cuts of venison are much leaner and tougher than beef cuts. They also contain a finer texture than cuts of beef. However, they both have versatile textures to apply in many dishes.
Nutritional Value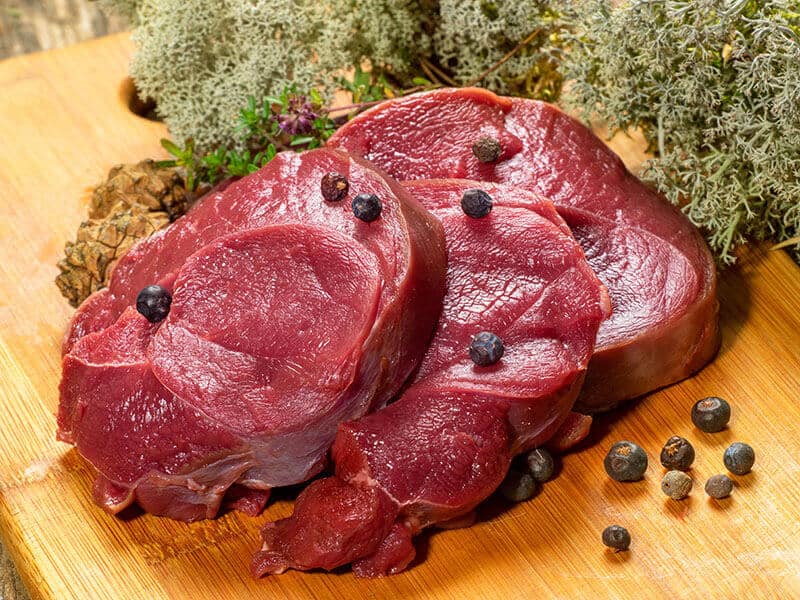 Eating venison is healthier than eating beef. Compared to beef, it is lower in both fat and calories. It also consists of more vitamins, minerals, and proteins. In fact, a typical venison cut has half the calories and a sixth of the saturated fats of a comparable-sized beef cut.
After learning about the differences between venison and beef, I hope that you can somehow imagine the taste of venison compared to that of beef! Let's move to the next section on cooking venison!
Delicious Recipes With Venison
You can make various dishes with venison. It is a versatile meat, which can fit in most dishes calling for tender, juicy meat. Here are some of the most common recipes with venison! Save them and try them someday when you get some venison on hand!
A venison burger is the most typical dish to make with the ground or minced venison. The juicy and delicious venison burger will be ready in a minute with some simple ingredients and steps.
You can also serve a whole venison burger with cheesesteak and French fries, just like the Venison Cheesesteak Sloppy Joes recipe!
These burgers with venison are crazily delicious in just one bite! They are so tender, and flavorful that you will want to eat more and more! Some people even like venison burgers more than the traditional burgers with beef or turkey.
This is how to make the best venison burger from scratch! You can see this video to know more:
Venison taco ring is a special taco recipe with ground venison. The meat is covered in cheese and put into a big roll ring. Then, it is baked as a whole until it reaches the beautiful golden brown color, with a little burn at the sides.
You can serve this dish with some of your favorite toppings and dipping sauce. It is great to be served at small parties or get-togethers of your family. I'm sure they will love it!
Smoked venison meatballs are full of flavor! They look mouth-watering with a sweet, spicy, tangy flavor. Ground venison is mixed with some other ingredients and spices then rolled into medium-sized balls and slow-cooked in smokers.
These smoked venison meatballs are served as an appetizer at parties or as a fun snack on movie nights! Enjoy it with your beloved ones!
How To Preserve Raw Venison In The Right Way?
Let's learn how to store your fresh, raw venison properly for a long time before you are ready to cook them. Here are some efficient ways!
Aging Venison
Aging is a great way to store your venison, though it may take some time, about 7 to 10 days. You should not age it at room temperature, but between 32 to 35oF. The utensils to age venison should be completely clean beforehand to avoid an easy-to-spoil outcome.
The proper aging process helps reduce the gamey flavor of venison and firms the meat well to support better slicing. Cuts of venison within a day after the kill is acceptable for aging.
Don't know how to age your venison? A proper method is included in this video!
Refrigerating Venison
Storing fresh, raw venison in the fridge is also a good idea! You should store it at around 40oF or less to maintain the best quality for a few days. The version stored in the fridge should be kept separately with other foods having strong odors and used up within 3 days.
Freezing Venison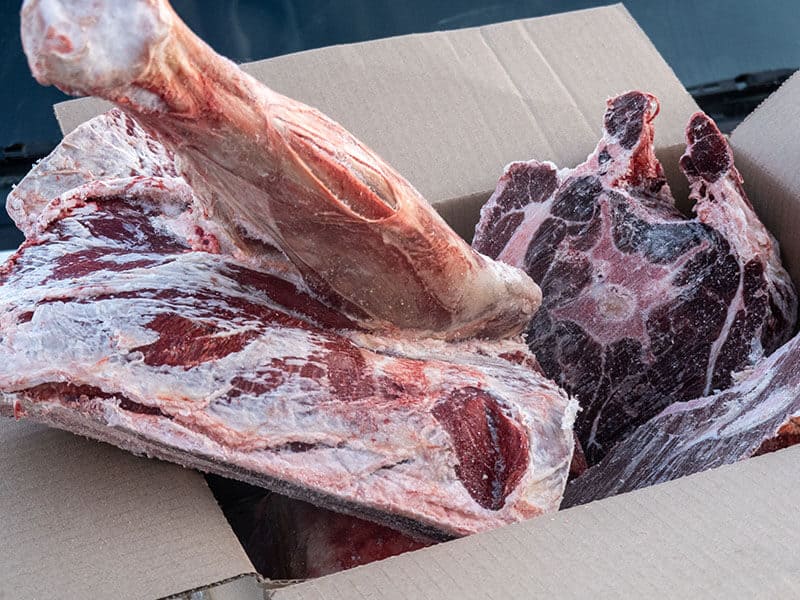 Freezing is one of the best ways to preserve venison for long-term storage. The fat in venison is easy to go rancid, but by freezing it, this process may happen slower than usual and help your venison last longer.
First, wrap the prepared venison tightly in a freezer-safe plastic bag. Try to eliminate the air out as much as possible. You can use a vacuum sealer to support this process. After that, store the bags containing venison in the freezer at 0oF or colder.
Frozen venison can last for about 3 to 5 months. After this time, it may not be safe to use anymore. When you want to use it, take it out from the freezer and thaw it in a microwave on the defrost mode. You should not let it melt at room temperature since it can lose its taste.
Noticeable Health Benefits Of Venison
As a kind of red meat, venison is super healthy with many nutritional values and a lot of vitamins and minerals. Let's see how they specifically benefit your health!
Low fat and calorie content: Venison is super low in fat and calories, even lower than beef! A three-ounce serving of venison has only 7 grams of fat and 159 calories, with 22.5 grams of protein. (2)
Super high in minerals: You always need an essential daily intake of some important minerals! Venison is packed with iron and calcium, which support your healthy blood cells and are nutritious and beneficial for your diet!
High amino-acid profile: A person needs to consume 9 amino acids in his daily meals. Venison contains a lot of high-quality protein that has a wide range of amino acids, therefore it can help add more of these acids to your diet!
As you can see, venison provides a lot of nutrients and minerals to your body if you consume it with a modest amount. You should always purchase venison at trustworthy providers to maintain safety as well as the original flavors and nutrients!
FAQs
I have listed some commonly asked questions about venison and its taste with brief answers for you. I hope that I can somehow solve some of your problems around venison – a wonderful type of meat!
Do You Want To Taste Venison Now?
With all the information about venison I provided, I'm sure that venison is not as hard to eat as you may think. It is a bit gamey but still a tender and delicious meat to consume. It is even healthier than beef with lower calories content, which is really good for your diet!
If more questions on this incredible meat cross your mind, please don't hesitate to leave me some comments below this post, and I will answer you as soon as possible! Remember to like, share this article too if you find it helpful to others!
References
En.wikipedia.org. 2021. Venison – Wikipedia.
LIVESTRONG.COM. 2021. Consider Venison the Leaner Alternative to Beef