Are you looking for the best goat cheese substitutes? Goat cheese gathers a substantial fanbase for its distinguishable tangy, tart, and goaty flavor, which pairs well with many ingredients.
However, not everyone gives this cheese a nod. It can be the intense and exotic taste of goat cheese to blame, or in other cases, your dietary conditions, and many other reasons.
Whatever the reason, you can rest assured that you're here to figure out the right alternative to goat cheese that speaks to your culinary purposes. Let's scroll down!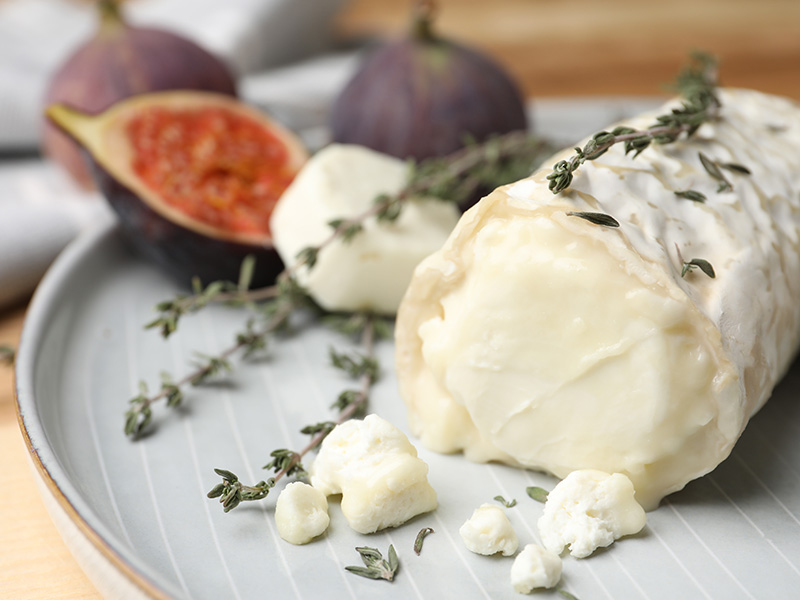 What Is Goat Cheese?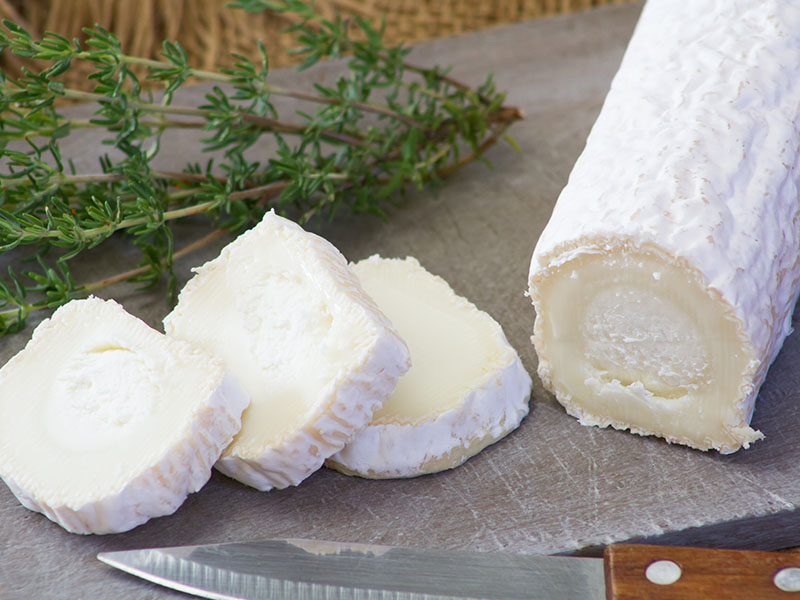 Also known by its widely-used French name, chevre, goat cheese is any cheese made from goats' milk. It's among the world's oldest cheeses, and its manufacturing started not long after the domestication of goats, which started around 10,000 to 11,000 years ago (1).
The production of goat cheese is not restricted to one region but scatters worldwide from French, Italy, Spain, and more. This results in different recipes and techniques and, therefore, an array of different flavor and texture cheese styles.
Goat cheese is recognized for its soft and tangy flavor. Depending on the ripening duration, the texture varies from soft, smooth, and spreadable, crumbly to hard. If you are wondering about the shelf life of goat cheese, different varieties come with their own time.
Compared to cow's milk, this type of cheese contains a higher amount of fat and minerals but a lower content of lactose, vitamin D, and riboflavin.
This video gives a sneak peek into the art of making soft goat cheese or chevre.
Health Benefits Of Goat Cheese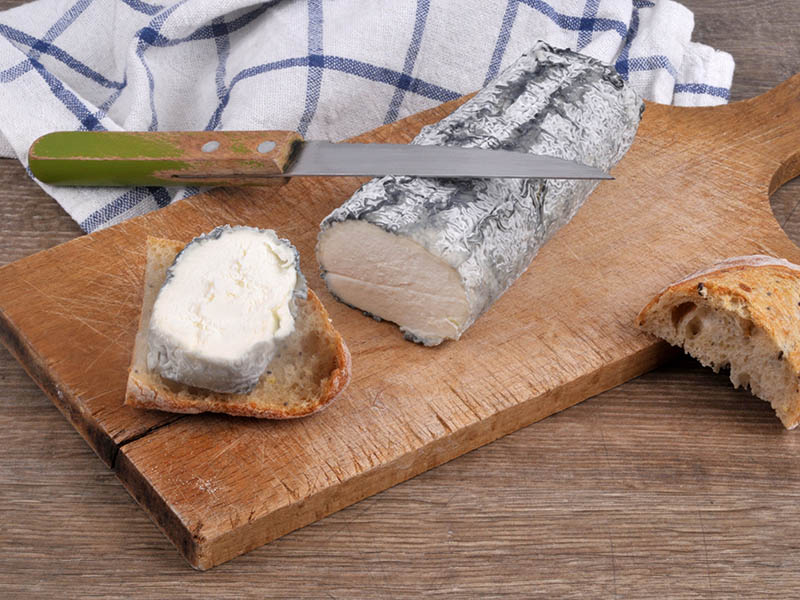 Goat cheese is a "take it or leave it" option in some cases. This means that it all comes down to your preferences and whether to omit the food from your grocery bag.
If you're still in two minds about it, let's look at several health benefits of goat cheese and see if they can change your mind.
Beneficial Probiotics
Chevre comes with a wide range of useful bacteria, including L. acidophilus and L. Plantarum (3). Thus, goat cheese can help facilitate digestion, prevent inflammation, and strengthen immunity.
Useful For Your Digestive System
Goat cheese mainly contains A2 beta-casein, which is known as easier to digest. The fat molecules in goat cheese are also smaller, which won't strain the digestive system as much as cow's milk.
Packed With Protein And Calcium
Like many dairy products, goat cheese contains a whopping amount of calcium. This mineral promotes bone formation, regulates muscle functions, and helps oral health.
Why Would You Need Substitutes For Goat Cheese?
Many people can't live without goat cheese after getting the first bite of it; others have grown to love it, whereas the rest want to give it a pass in their recipes. If you belong to the last league, I understand that there is a good reason why goat cheese is not your choice.
Goat cheese is made from animal ingredients – gastric rennet – so it would be a resounding no to vegans.
Although the cheese contains a lower lactose content, it's also unlikely to be an option for people intolerant to lactose (2). Allergic reactions or digestive system problems can also keep some people from indulging in goat cheese.
Most importantly, there is also quite a significant crowd who don't like goat cheese's strong, tangy, and goaty taste. So, the last thing they want to include in a dish is probably goat cheese.
Whatever your situation, choosing the right substitute for the goat cheese is key to nailing the recipe without experiencing any discomfort accompanied by eating the cheese.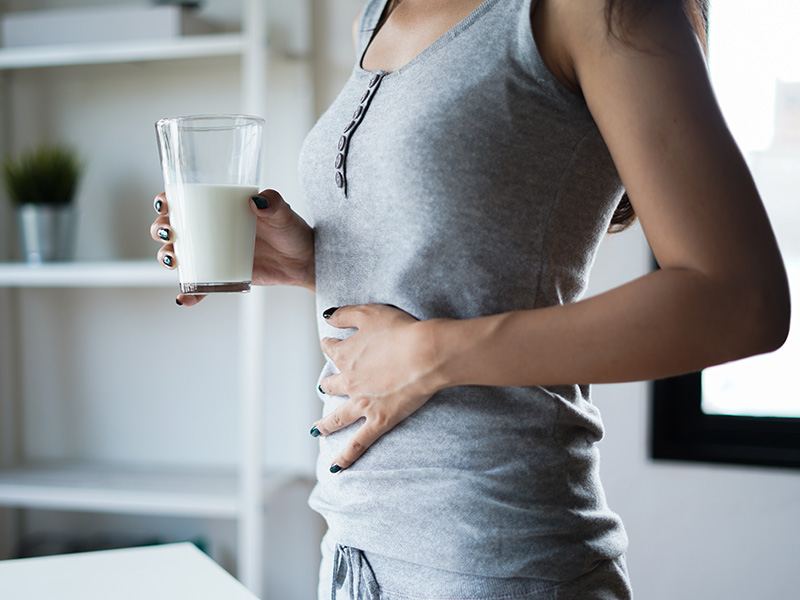 How Should You Replace Goat Cheese With Those Substitutes?
Before checking the options you have, here is a brief summary of goat cheese substitutes and their corresponding recommended ratio. Remember that these figures are not straight, and for the best result, you should just according to your recipes and preferences.
| Substitutes | Substitute Ratio |
| --- | --- |
| Feta cheese | 1 cup of goat cheese = 1 cup of feta cheese |
| Parmesan | 1 cup of goat cheese = 1 cup of Parmesan |
| Blue cheese | 1 cup of goat cheese = 1 cup of Blue cheese |
| Halloumi | 1 cup of goat cheese = 1 cup of Halloumi |
| Fromage Blanc | 1 cup of goat cheese = 1 cup of Fromage Blanc |
| Gruyere cheese | 1 cup of goat cheese = 1 cup of Gruyere cheese |
| Manchego | 1 cup of goat cheese = 1 cup of Manchego |
| Cashew cheese | 1 cup of goat cheese = 1 cup of cashew cheese |
| Cotija | 1 cup of goat cheese = 1 cup of Cotija cheese |
| Queso Anejo | 1 cup of goat cheese = 1 cup of Queso Anejo |
| Emmental cheese | 1 cup of goat cheese = 1 cup of Emmental cheese |
| Cream cheese | 1 cup of goat cheese = 1 cup of cream cheese |
| Ricotta cheese | 1 cup of goat cheese = ¾ cup of Ricotta |
| Mascarpone | 1 cup of goat cheese = 1 cup of Mascarpone |
| Cottage cheese | 1 cup of goat cheese = 1 cup of cottage cheese |
| Greek yogurt | 1 cup of goat cheese = 1 cup of cottage cheese |
| Boursin | 1 cup of goat cheese = 1 cup of Boursin |
| Labneh | 1 tbsp of goat cheese = 1 cup of Labneh |
| Paneer | 1 tbsp of goat cheese = 1 cup of Paneer |
| Tofu | 1 cup of goat cheese = 1 cup of tofu |
| Queso Fresco | 1 cup of goat cheese = 1 cup of Queso Fresco |
Goat Cheese's Substitutes That Have Close Taste And Flavor
Goat cheese is quite diverse, both in terms of flavor and texture. The number of goat cheese varieties is mind-blowing. This means that many choices on this list are only suitable alternatives for either for flavor or texture, and a few can offer the best of both worlds.
In general, goat cheese has a characteristic tang and tart flavor. It's hard to figure out a universal substitute for it as different varieties vary hugely in taste.
For this reason, to pinpoint the best alternative that you can use in your dish, it's best to know what it is asking for!
1. Feta Cheese
Feta cheese originates in Greece, which can be made using sheep, goat, or cow milk. It is a nice substitute for firm goat cheese in salads. The cheese crumbles nicely, while the flavor is sharp, tangy, and salty.
This substitute is packed with calcium, thiamine, riboflavin, and vitamins B6 and B12. The antioxidant properties and fewer calories in feta also aid in weight loss, making it an ideal option for those keeping their pounds in check.
There is one difference that is worth mentioning. Feta cheese is either made from 100% sheep milk or a slight mixture of goat's milk. This results in differences between feta cheese and goat cheese. For example the former is richer, saltier, and more buttery in taste than the latter.
That's why you should be mindful of the amount of feta you use in your recipes to achieve the same taste as you would with goat cheese.
Here's an easy-to-make and refreshing salad recipe with feta cheese.
2. Parmesan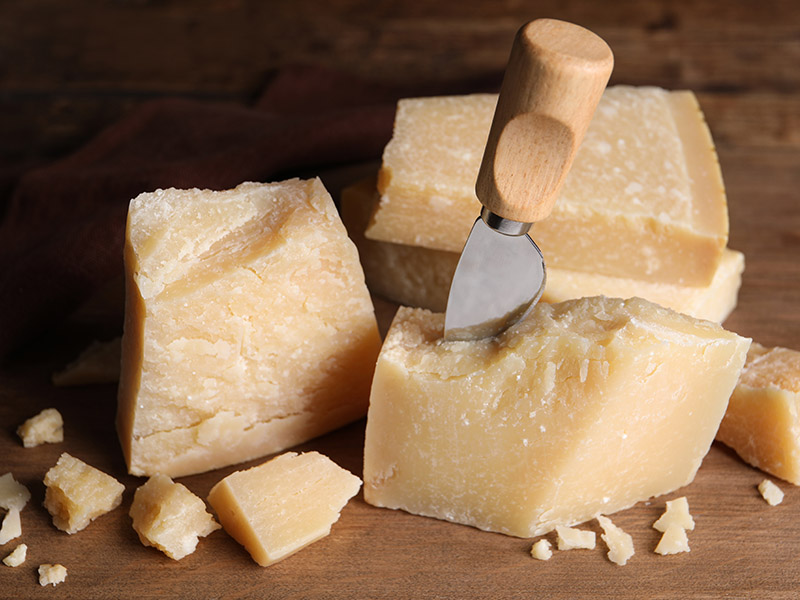 Parmesan, better known as Parmigiano Reggiano in Italy, is crowned as the the emperor of cheeses by the cheese industry.
Primarily made from cow's milk, Parmesan is a staple in cooking and baking recipes. Due to the firm texture, the cheese should be sliced or shredded into small chunks for cooking.
Parmesan's firm texture is comparable to aged goat cheese. In addition, this cheese is also used in place of goat cheese in recipes that require a salty and nutty flavor.
3. Blue Cheese
Blue cheese's name indicates its bluish hue (sometimes with hints of gray or blue). The cheese is produced using edible mold called Penicillium, which lends the bluish veins or spots running through the cheese. This unique feature sets Blue cheese from the crowd.
Penicillium also determines the indistinguishable flavor and scent of the cheese. Blue cheese has a distinctive pungent smell and a sharp taste that might challenge some palates. The creamy and salty flavor of this cheese makes it a good alternative to goat cheese.
However, not every blue cheese can successfully mimic the taste of goat cheese. The freshly-made varieties' taste is quite comparable, but the aged ones bring out a richer flavor than what you would expect from goat cheese.
Like goat cheese, blue cheese can be a nice pairing with fruits, crackers, and wine.
4. Halloumi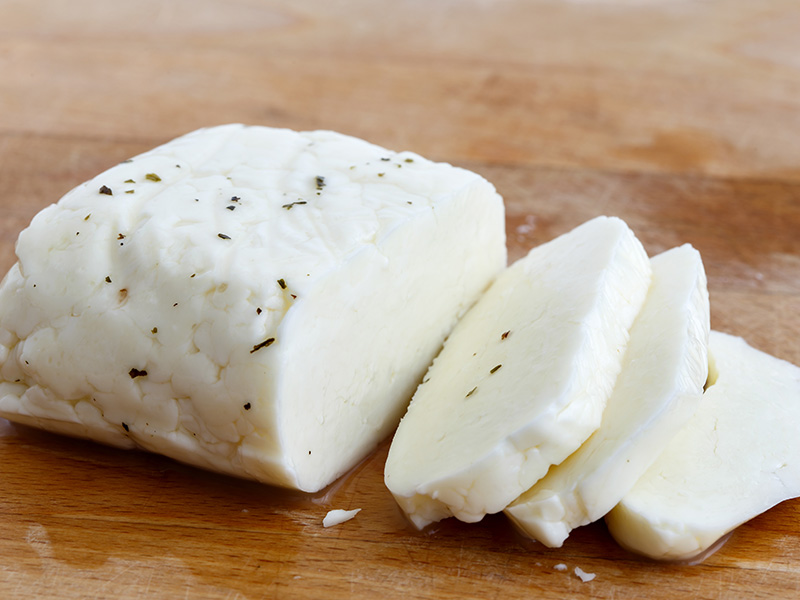 Originating from Cyprus, Halloumi is a semi-firm cheese produced from cow's, sheep's, or even goat's milk. For this reason, the cheese might share some characteristics with goat cheese.
The firm and chewy, rubber-like texture of Halloumi is far from what you're looking for in a goat cheese substitute. Yet, the tart and briny taste is exactly like goat cheese.
In general, I prefer Halloumi in various recipes that call for goat cheese, thanks to its complementary taste. When swapping with goat cheese, it's best in the same quantity.
Halloumi works best in warm goat cheese (also known as chèvre chaud) or as a pairing with fresh vegetables. If you want to make a twist to these recipes, you can grill the cheese first.
5. Fromage Blanc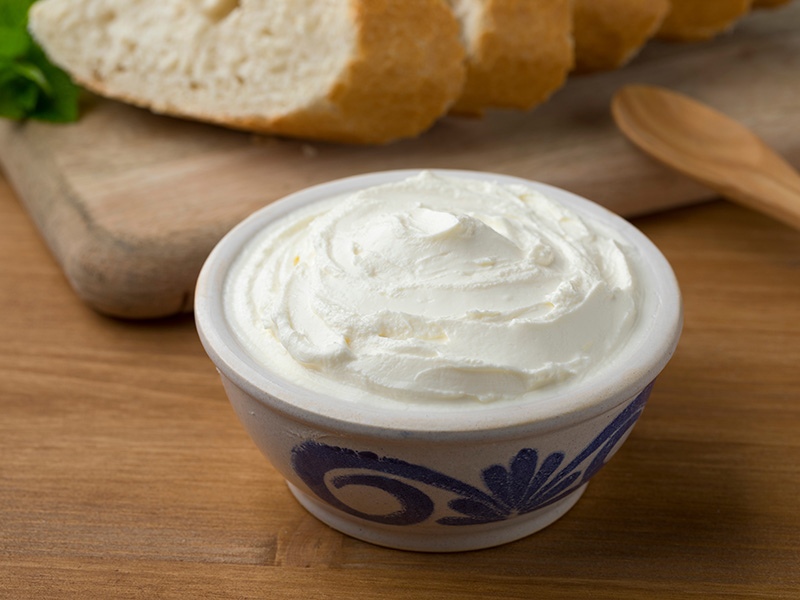 This fresh French cheese reminds me of cream cheese, but its French touch sets it apart from the crowd. Both texture and taste of this cheese are quite similar to goat cheese.
Thanks to the light, fluffy and spreadable texture, Fromage Blanc can fill in the place of goat cheese on toasted bread exceedingly well. Like Halloumi, you can use the same amount to substitute goat cheese with Fromage Blanc.
The only downside is that Fromage Blanc is usually expensive and not widely available, so you might struggle to spot it on the shelves of your local store.
6. Gruyere Cheese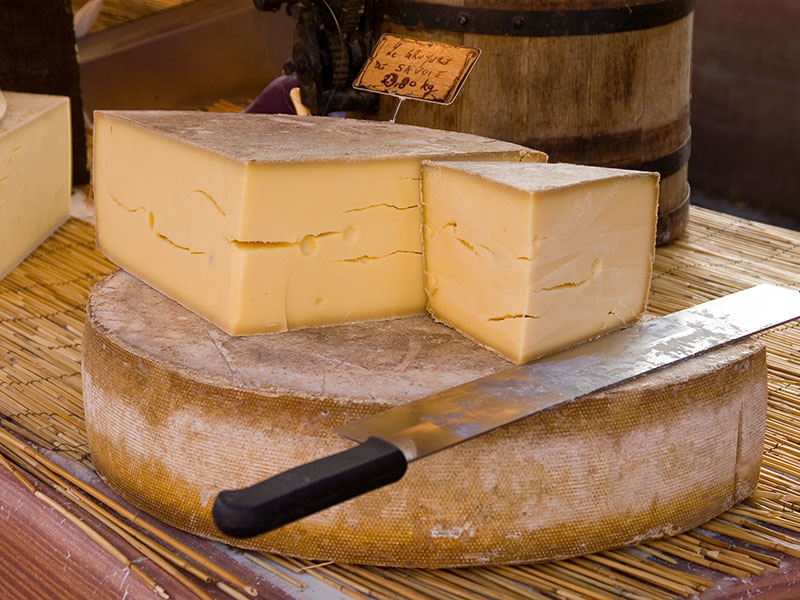 Gruyere is an incredibly versatile cheese that serves various cooking purposes. Yet, this cheese shines when it comes to making baked goods. Its flavor is nice yet does not overpower other ingredients.
Gruyere falls into the category of hard cheese. The cheese has a firm texture comparable to that of aged goat cheese. Plus, you can easily notice the slight saltiness and mild scent, similar to goat cheese.
This Swiss cheese shares the same minus point as Fromage Blanc, which is the limited availability. The ripening process calls for the proper humidity level similar to the conditions of natural caves. Gruyere Cheese is the most popular Swiss cheese variety in the world.
7. Manchego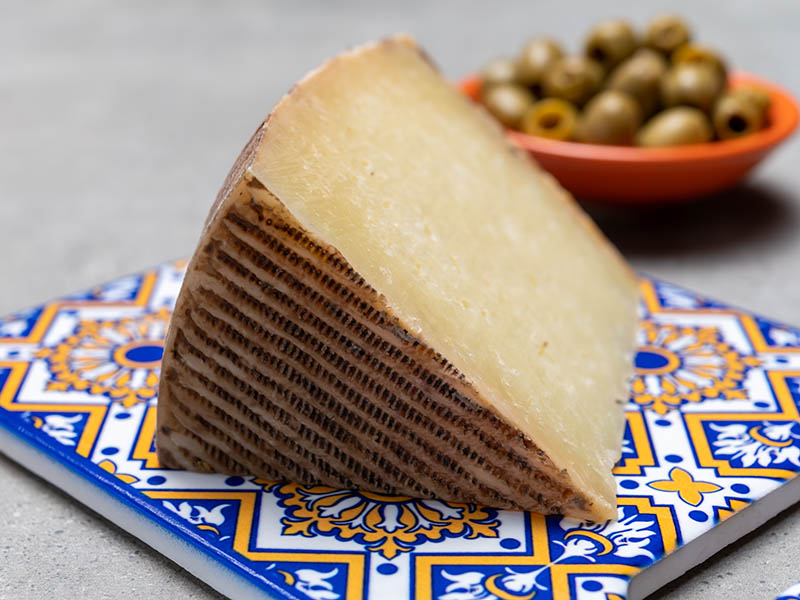 Manchego might take from 1 month to 2 years to ripen, which lends it the buttery texture and the hard and compact consistency.
The Spanish cheese is produced using the tangy milk of local Manchego sheep. This results in a flavor that is more or less close to goat cheese. It's nutty and fruity, which you'll find similar to some goat cheese varieties.
Texture-wise, the hard texture of manchego is an ideal alternative to aged, semi-hard to hard goat cheeses. But it is not an option in recipes with soft, creamy varieties.
8. Cashew Cheese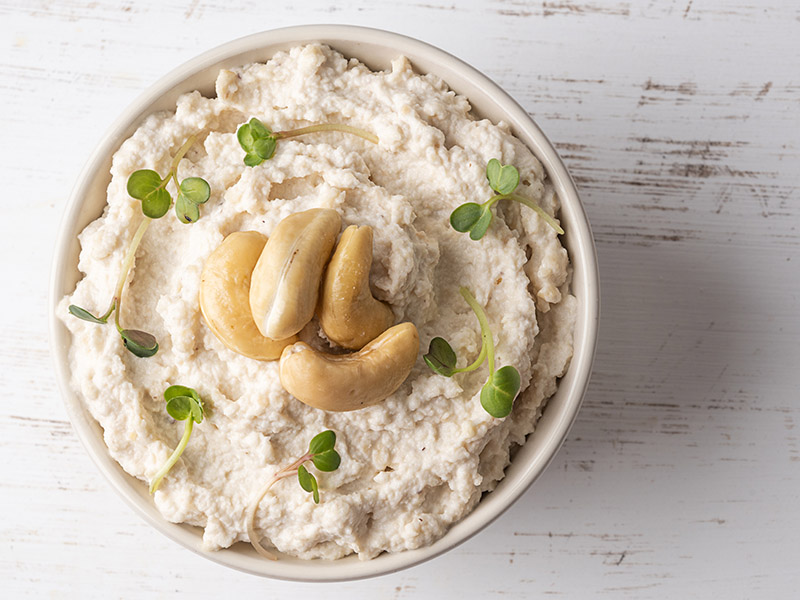 Cashew cheese tastes slightly salty and nutty, which some chevre types are known for. It also exudes a funky tang, like goat cheese or other dairy products.
This white cheese also has a smooth, buttery, and spreadable texture. Therefore, it performs nicely as a spread on your morning toast, just like goat cheese.
Alternatively, this vegan cheese can go into classic goat cheese recipes such as roasted beet salads, creamy whipped dip with roasted pepper, or vegan cheese on fig crisps.
Another nice plus of this substitute is that it's vegan. So, it's your best bet if you're looking for a dairy-free alternative to goat cheese.
If you want to make your own cashew cheese at home, here's the vegan recipe that you'll need.
9. Cotija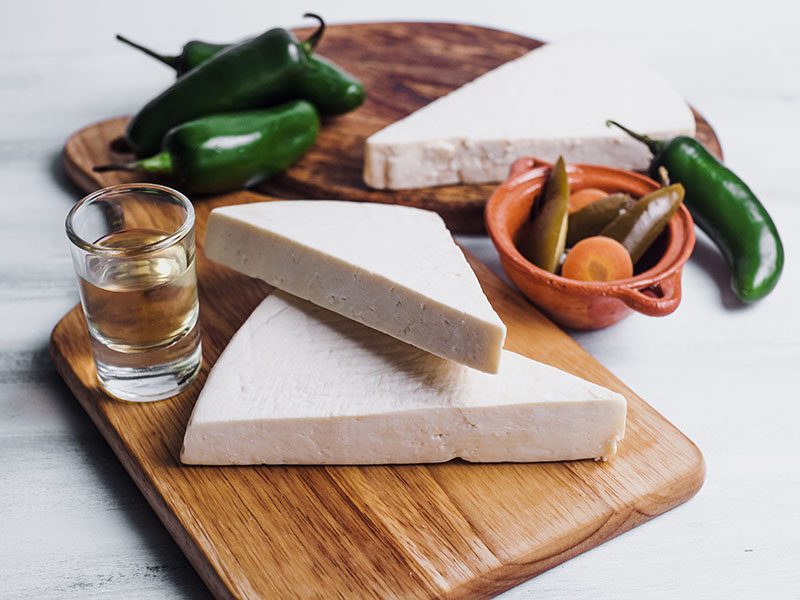 If your recipes need the salty, milky, sharp, and strong taste, you can swap out goat cheese with Cotija. This cow cheese is the key ingredient in Mexican recipes such as enchiladas, posoles, or nachos.
Therefore, if you can't go without the strong flavor in your Mexican dishes, this is a wonderful substitute for chevre. Just be aware that the cheese becomes drier and firmer if mixed with other veggies or meat.
That said, if you want to make a twist to the recipes and try something fresh, you may want to throw in Cotija atop your salads. The solid and crumbly, dry, and firm texture can offer a refreshing addition to the dish.
10. Queso Añejo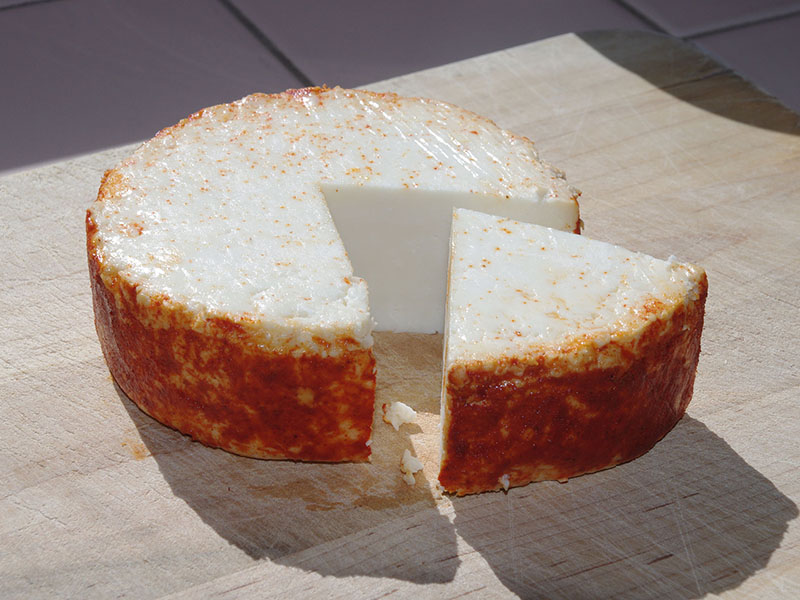 The word Queso Añejo literally means "aged cheese" in Spanish. This Mexican cheese can be either made from cow's or goat's milk and packs a flavorful punch.
Queso Añejo's firm texture is nowhere near goat cheese (which needs to be shredded and grated for cooking). However, it can compare to goat cheese in terms of taste. Typically, it has brighter and milkier notes.
You can put this alternative into good use in various goat cheese recipes. Queso Añejo can be crumbled over salads, just like goat cheese does. Cooked dishes such as hearty soups or stews can become more awesome with Queso Añejo in place of goat cheese.
11. Emmental Cheese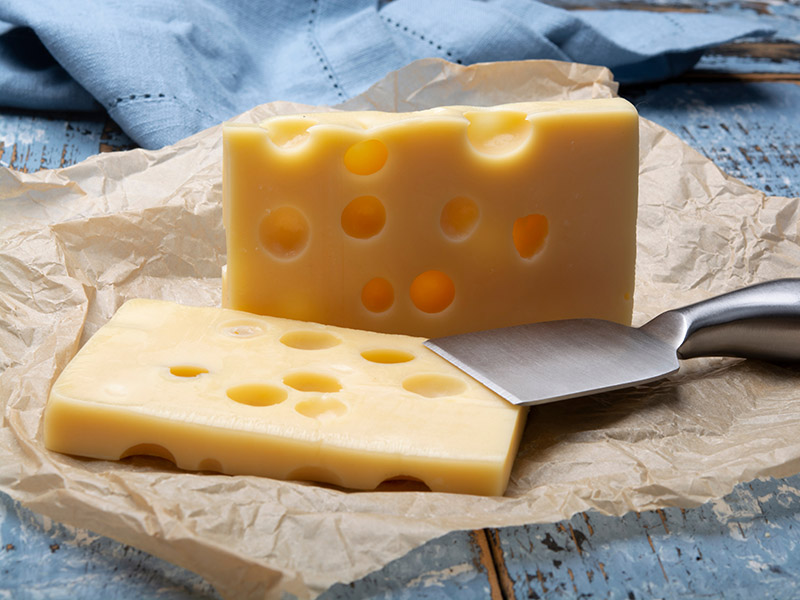 If Emmental is famous for anything as a cheese, it must be the holes or "eyes" of walnut size resulting from the fermentation stage. The cheese can replace goat cheese in some recipes when you're after a salty, mild, and flavorful taste.
However, the texture of this medium-hard cheese is far from goat cheese's texture. It gravitates towards a harder and more chewy side. Yet, you're free to incorporate it into any cooked dish if you want something fresh and exciting.
Use These Options If You're After The Texture And Consistency
Depending on the ripening duration, goat cheese texture can range from soft, creamy, and spreadable to crumbly, semi-hard, and hard. So, check out these options and choose the right one for your recipes.
12. Cream Cheese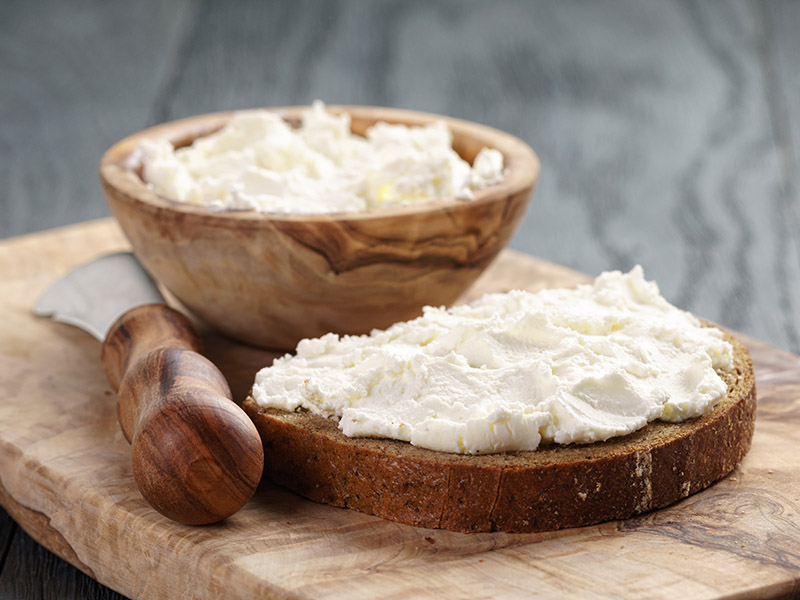 In terms of texture, cream cheese is a universal, commonly used alternative to chevre.
With its smooth, creamy texture, cream cheese can replace goat cheese in a long list of recipes. However, this substitute is richer and, most importantly, firmer than goat cheese. Therefore, this cheese is not a one-size-fits-all option.
While the texture might match your expectation well, cream cheese does lack the tangy flavor associated with chevre. You may want a smidge of Greek yogurt for the tang.
Doing so also slightly softens the cream cheese's texture, making cream cheese an all-rounded alternative to goat cheese.
13. Ricotta Cheese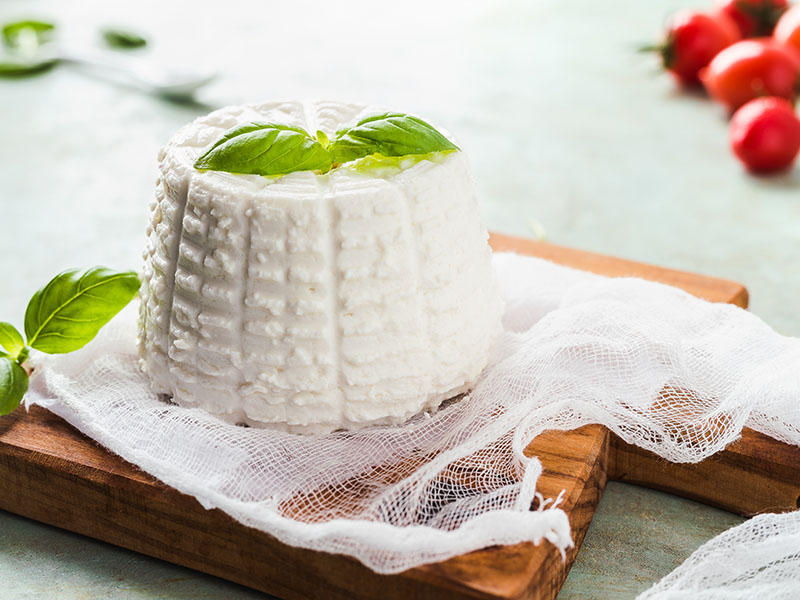 Ricotta is produced from sheep's or cow's milk. It originates in Italy and is commonly used in Italian desserts, cheesecake, or cookies. Ricotta cheese is a nice goat cheese substitute for stuffed shells, lasagna, and many other pasta dishes.
In essence, this type of cheese results from the by-products of making other cheeses. The texture of this Italian original is not similar to goat cheese. It feels firmer and more solid than goat cheese, making it only appropriate in recipes that prefer a strong cheese feel.
14. Mascarpone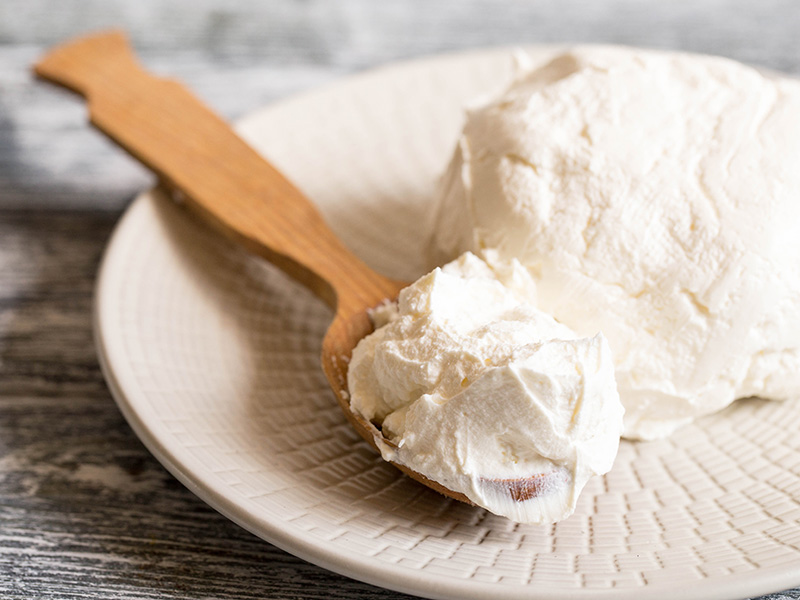 You can enjoy the star in Italian Tiramisu cake – Mascarpone – if you're running out of goat cheese. Known for a signature loose, creamy, and rich mouthfeel, this cheese works nicely in dessert recipes in place of goat cheese.
In addition, if what you're after is the texture, Mascarpone and goat cheese can be used interchangeably to pair with fruits, baguettes, crackers, or cookies, depending on your personal preferences.
Mascarpone is readily available in most cheese or dairy sections in stores. Yet, you should expect the difference in taste between these two cheese types. Mascarpone is on the sweeter side and goes without the goatiness or tang that goat cheese is familiar with.
This homemade Mascarpone recipe only includes two ingredients, check it out now.
15. Cottage Cheese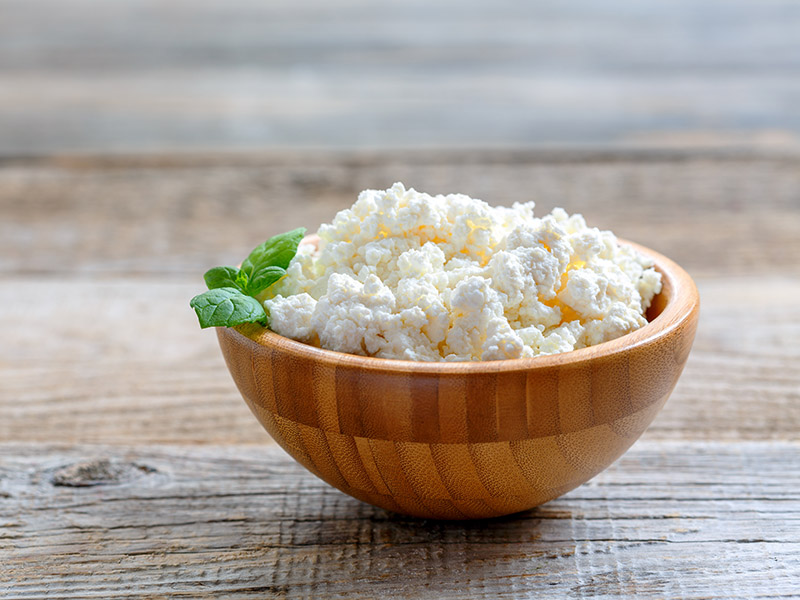 Cottage cheese is another common alternative to goat cheese and is beloved for its high nutritional value.
This fresh cheese does not go through the ripening process and thus, has a soft, creamy, yet lumpy texture. Use similar amounts of this cheese as you would with goat cheese in your recipes.
As a substitute to chevre, cottage cheese is an amazing accompaniment with toast, fruits, vegetables, or whatever with soft goat cheese in the recipe. The thing is, cottage cheese is not comparable to goat cheese in its original form (with all the lumpiness).
It is necessary to smoothen the texture out by blending it in a food processor before storing it in the fridge overnight and waiting for it to solidify. Then voila! You get what you want – a goat cheese-like texture.
16. Greek Yogurt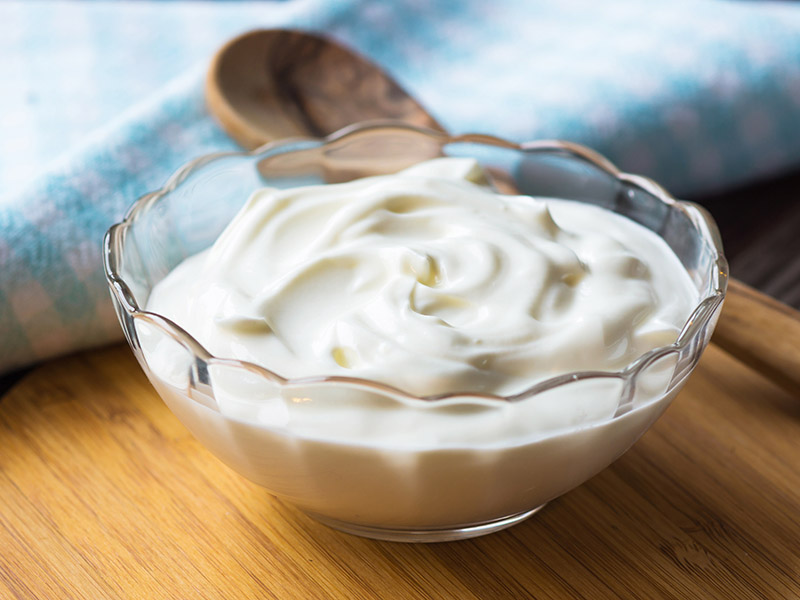 Greek yogurt offers a similar texture to goat cheese but has fewer calories. So, it would be a nice choice if you want to shred some pounds.
Greek yogurt works just as amazingly as goat cheeses in various recipes with a smooth, thick consistency and creamy texture.
You'll also get the tangy taste, which is more or less similar to goat cheese's characteristic. To use it as a substitute, simply scoop out the same portion as you would with chevre.
Greek yogurt easily wins the hearts of health-conscious people as a goat cheese substitute. Besides helping with weight loss, it's also rich in protein (twice the amount in regular yogurt) and lactose-free.
17. Boursin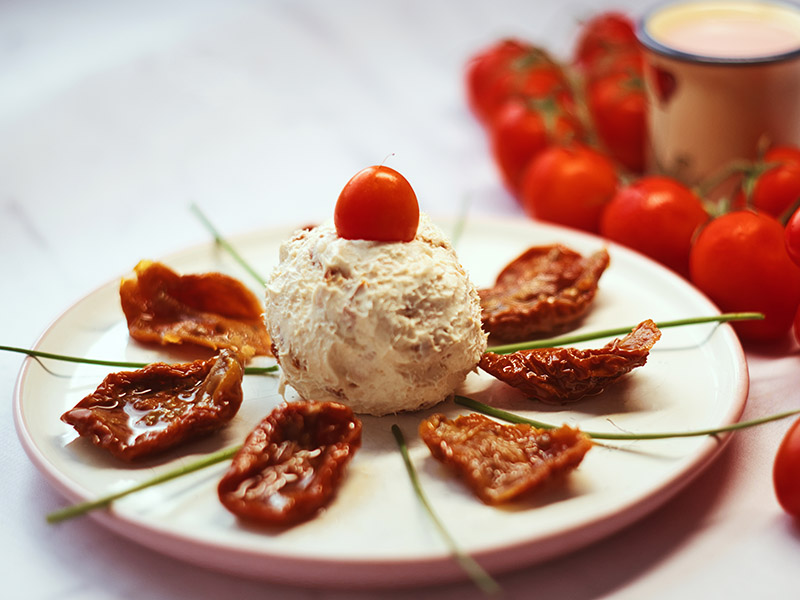 Boursin is a brand-named cow's milk cheese originally from the region of Normandy, France. Its flavors are diverse but without the pungent taste and aroma associated with goat cheese. For this reason, if you're shy away from the chevre's flavor, Boursin is the way to go!
Boursin's softness, creaminess, and crumbles easily imitate the goat cheese's texture. It makes for a luscious, flavorful spread on French bread or crackers. The creamy texture is also nice enough to scoop up with sliced veggies.
18. Labneh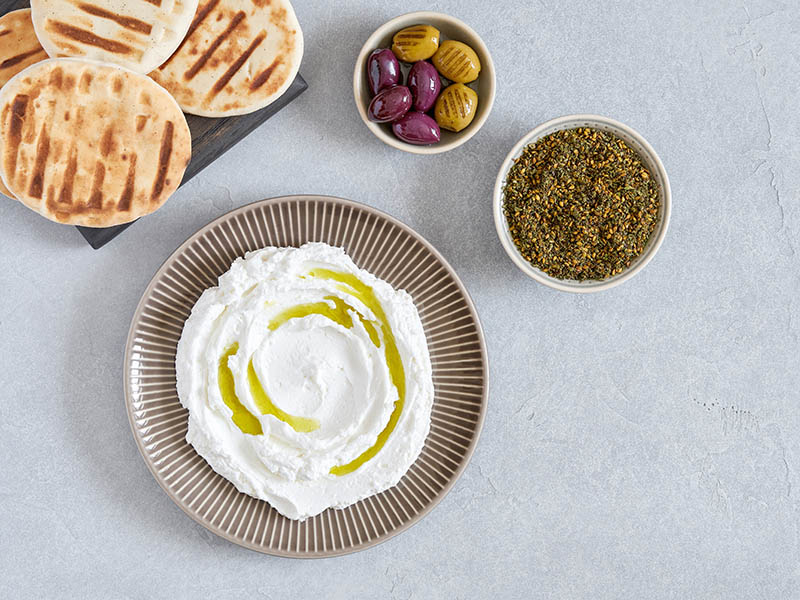 Here's come another healthy alternative that you can savor! Labneh yogurt is a thick, creamy Middle Eastern cheese with high spreadability, similar in texture to goat cheese. Interestingly, it is also a common ingredient in Mediterranean cuisine.
With the presence of the yogurt base, Labneh's flavor is rich and tangy, which can remind you of goat cheese. Another nice plus is the yogurt is well-strained to eliminate the lactose-containing whey. So it's a friendlier option for those with lactose intolerance.
Labneh is preferably used as a spread when goat cheese is absent. For example, smooth, creamy Labneh on Bruschetta or Crostini is bound to delight any palate.
If Labneh cheese is not available in your place, you can create your own homemade version with this recipe.
19. Paneer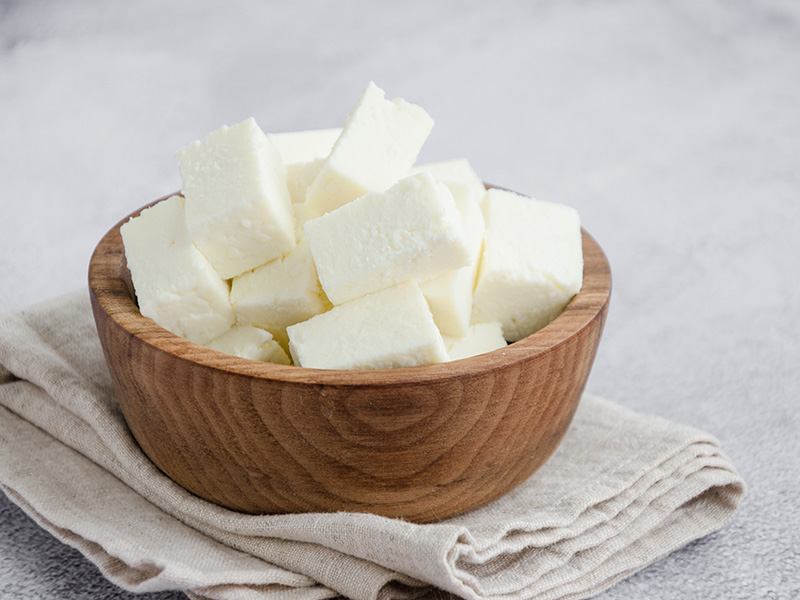 This Indian soft cheese can be a decent backup plan if you don't have any goat cheese in stock. Panneer provides a similar consistency to aged goat cheese varieties. Nevertheless, the texture is somewhat chewy and close-knit compared to goat cheese.
The sweetest-acidic-nutty flavors of paneer are somewhat similar to goat cheese, although it features fresher and brighter notes.
Paneer can be used in pizzas or sandwiches in place of goat cheese. Grilled paneer salads are also an interesting recipe to try. The flavor of the cheese when combined with veggies is perfect for enjoying in warmer weather.
20. Tofu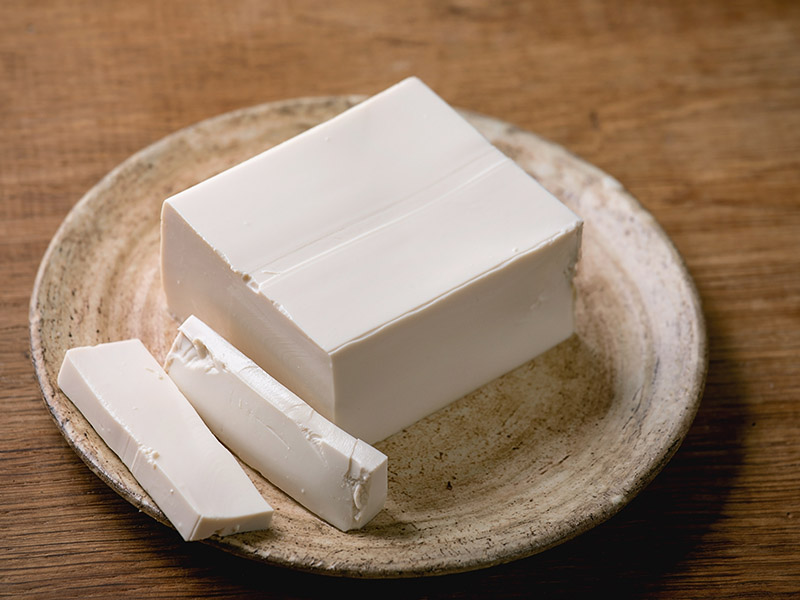 If you bypass goat cheese because you can't consume dairy or animal products, tofu is worth considering. This food is also gluten-free unless it's seasoned with ingredients containing gluten.
Made with soybean, tofu carries a nutty and sweet taste, which is somewhat similar to goat cheese. Yet, it is generally considered bland by many people and goes without the milky notes like goat cheese.
However, many people turn to tofu when they want to replicate the texture. The white square boxes are crumbly textured, making them an acceptable substitute in aged goat cheese recipes.
21. Queso Fresco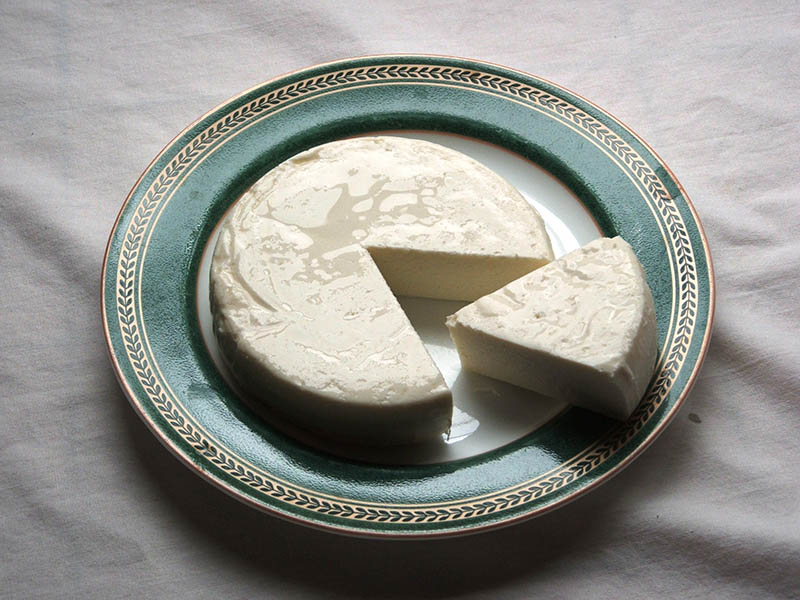 Because the cheese does not age, it comes with a soft, creamy, moist texture very similar to goat cheese. Plus, Queso Fresco also shares the crumbly side with the texture of many goat cheese variants, thanks to having the milled curd salted during the cheese-making process.
Queso Fresco is a fresh cheese, so it does not develop a strong taste. Therefore, it works best as a substitute for fresh goat cheese with a milder flavor. Queso Fresco can ideally replace goat cheese in Mexican recipes.
If you're interested in making Queso Fresco at home, check out this simple recipe which uses only 3 ingredients.
Interesting Recipes That You Can Try
If all of the above substitutes do not fit the bill, you can try to make your goat cheese at home with easy-to-find ingredients and simple techniques. Here are two options for vegans and non-vegans to try:
This rennet-free recipe with simple store-bought ingredients such as white vinegar, lemon juice, salt, and herbs. Normally, homemade goat cheese only calls for the acidity from lemon or cultured buttermilk alone.
In this recipe, however, vinegar is used in addition to lemon, which creates a sharper flavor and firmer curd. This results in more cheese being made from the same quantity of milk.
This vegan goat cheese recipe with cashew is straightforward to prepare. There is no rennet needed, and you'll only need to use homemade ingredients such as vinegar and lemon juice. The cheese is ready to eat for as little as 20 minutes.
FAQs
I bet that there are many questions about goat cheese and its substitutes that leave you wondering. Here are some of the most common ones, so be sure to check out for more useful info about this cheese.
You Have Plenty Of Options, But Choose Wisely!
You've probably been spoiled for choice with this long list of goat cheese substitutes. However, it's best to pause and think about what you will need in the recipes – the chevre-like texture or flavor.
It also depends on the availability of the alternative, as some options listed here are only quite hard to obtain. Another point to remember: while you can go ahead and throw in the same amount for some options, others require some adjustment for the perfect taste.
If you have any questions about this topic, I'm glad to discuss them with you. So, feel free to drop them in the comment section right below! And share this post to your fellow cheese lovers in life!
References
en.wikipedia.org. 2022. Goat cheese.
hopkinsmedicine.org. 2022. Lactose Intolerance.
healthline.com. 2020. Goat Cheese: Nutrition, Benefits and Recipe Ideas.