You have never tasted goat cheese, so what does goat cheese taste like? Are you curious? Because there are so many kinds of goat cheese globally, its taste is hard to describe. This post will provide you with the specific flavors of the most common goat cheese types.
Besides the taste, I will also tell you about the nutrient values of goat cheese and some delicious recipes you can make with goat cheese to enhance its taste! Sounds interesting, huh? Let's get started!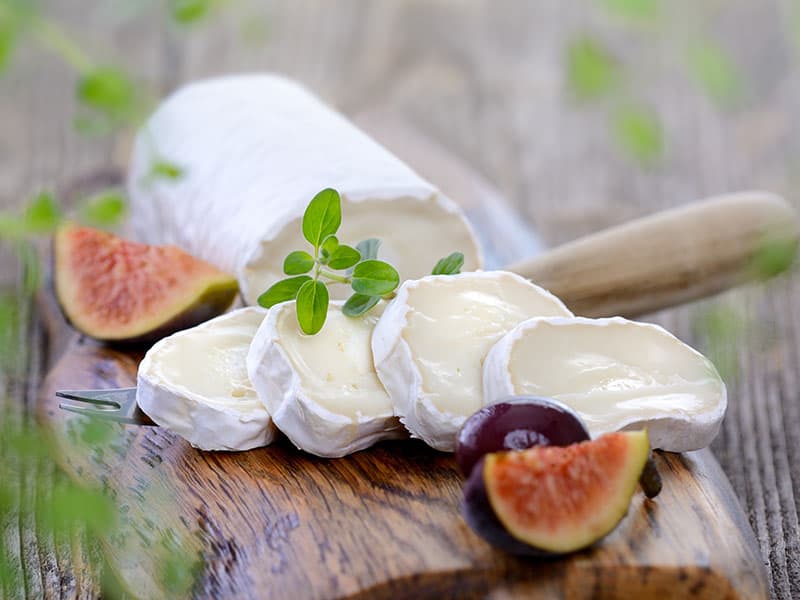 Goat Cheese Introduction 101
Goat cheese, also called "chèvre," is made of goat's milk. It appears in hundreds of different sizes and shapes including aged cheddar, cheese logs. It also comes from many countries of the world, such as Italy, France, Greece, Netherlands, Belgium, Portugal, Spain, etc. (1)
There is a long history behind goat cheese. It is said to have originated in Ancient Greece thousands of years ago. Unlike some other cheeses made of cow's milk, goat cheese is usually white or beige in color, not yellow. It has a buttery and very silky texture.
To make goat cheese, people need to get goat's milk first. Goats are well-raised on farms and the milk is collected at the right time. The milk is then boiled and added some bacterial cultures and rennet for fermentation. Wait for them to create curds and drain the whey out.
Goat cheese can be easily made at home, but only when you are lucky enough to find all the essential ingredients. But it's fun to make, so why not?
Let's find out how to make goat cheese with only goat's milk and lemon juice!
The Tastes Of Some Famous Goat Cheese Type
Goat milk's cheese tastes different from cow milk's cheese. It's generally tarter because of its higher proportion of fatty acids. But of course, different types of goat cheese will have specific flavors to boast, and there are plenty of them.
Here I show you the table of some most famous goat cheeses! They originate from around the world and have different characteristics, so this table will help you compare them closely. Consider their raw flavors before getting them in your dish.
| Goat Cheese Name | Origin | Category | Texture | Taste & Aroma |
| --- | --- | --- | --- | --- |
| Goat Brie | France, Canada | Bloom rind | Gooey, runny | Taste: Sweet, creamy, a bit sour, and tangy; Aroma: Almost no noticeable aroma at all. |
| Garrotxa | Spain | Natural rind | Rough skin, moist, flaky, slightly chewy, melting in the mouth | Taste: Hazelnut-like, earthy; Aroma: Musty |
| Nababbo | Italy | Natural rind | Soft, silky, supple | Taste: Powdery, fruity with a subtle hint of yeast; Aroma: Like bread dough |
| Le Chevrot | France | Natural rind | Creamy, velvety, dense | Taste: Fragrant, tart; Aroma: Milky, hay-like |
| Ticklemore | England | Bloomy rind | Powdery, moist, firm | Taste: Aromatic with herbs; Aroma: Delicate |
| Verde Capra | Italy | Natural rind | Buttery, firm, supple | Taste: Tangy, sour; Aroma: Buttery, milky |
| Crottin | America | Natural rind | Creamy, soft | Taste: Tangy, nut-like; Aroma: Milky, pleasant |
| Bonne Bouche | America | Natural rind | Creamy, slippery | Taste: Milky, sour; Aroma: Hint of yeast |
| Queso de Murcia al Vino PDO | Spain | Natural rind | Chalky inside | Taste: Silky, juicy; Aroma: Fragrant, grape-like |
| Humboldt Fog | America | Bloom rind | Friable, powdery | Taste: Sour, citrus-like; Aroma: Yogurt-like |
| Aged Goat Gouda | The Netherlands | Aged | Solid, firm, very smooth | Taste: Like burnt caramel; Aroma: Juicy, buttery |
| Tomme de Chevre Onetik | France | Natural rind | Firm, supple | Taste: Mild, milky; Aroma: Earthy, umami-like |
1. Goat Brie
Goat brie originates from France and Canada. It is made using the same process that is applied to cow milk's cheese. This brie cheese tastes tangy, creamy, and a little sour for the lemon juice used in the making process. Its texture is sticky and slippery.
Goat brie rind is surprisingly thin and edible. Compared to cow brie, it is more subtle and less fragrant than cow brie cheese. Goat brie usually goes with a baguette and some sour fruits like grapes for a lovely snack at an outdoor picnic or small party.
2. Garrotxa
Garrotxa is the name of a place in Northern Spain. This traditional cheese is made there so it is named after the place. Garrotxa has a tough rind and soft filling. Its texture is flaky outside and really moist, creamy inside.
Garrotxa cheese tastes earthy and somewhat like hazelnut. With the herbal extracts, it is also very aromatic. It is often served for breakfast with a crusty baguette and white wine.
3. Nababbo
The Italian Nababbo cheese has a semi-soft and supple texture with a chalky, meaty taste and a hint of yeast. It has a light pink rind, not bright white like other types of goat cheese. Nababbo's aftertaste is mild and buttery, just like some other goat cheese.
Once you leave Nababbo at room temperature for a while, its texture will be from semi-soft to very soft that can melt right on your tongue! You can always combine it with a slice of toasted ​​ciabatta and some prosciutto. It will be a simple but delectable dish to serve.
4. Le Chevrot
Le Chevrot is a cheese from France that uses raw goat's milk in the making process. It consists of wrinkly rind and velvety, dense texture inside. It tastes really tart and sweet overall, with a nutty aftertaste.
Fresh Le Chevrot has a beige color, yeasty flavor, and moist texture. When it starts to age more and more, the inside part becomes softer and begins to have an apparent nutty taste. Once it has ripened to the peak, the texture is dense and creamy with a juicy taste.
You can enjoy Le Chevrot on a slice of crusty baguette, together with a glass of beautiful Rosé wine! This food-and-drink combination is superb as a treat after an exhausting workday.
5. Ticklemore
Ticklemore is the type of goat cheese that includes a firm but moist texture with an aromatic taste. It has a distinctive flat shape because it is pressed tightly by hand in the making process. It is also salt-cured for ten weeks before being ready to use.
Ticklemore cheese contains a lot of green herbs inside so its taste is a little bit hard to describe. It is somehow fresh, natural, and earthy like mushrooms and grass. You may not get used to it at first, but you will gradually like it after one or two more attempts.
6. Verde Capra
Verde Capra is a fascinating blue cheese made of goat's milk. It originates from the Lombardy area of Italy. It includes a buttery but firm, supple texture and tangy, sour flavor. This cheese's sourness is really unique, outstanding from many other types.
The delicious and powdery paste can make you want to eat Verde Capra cheese more and more!
7. Crottin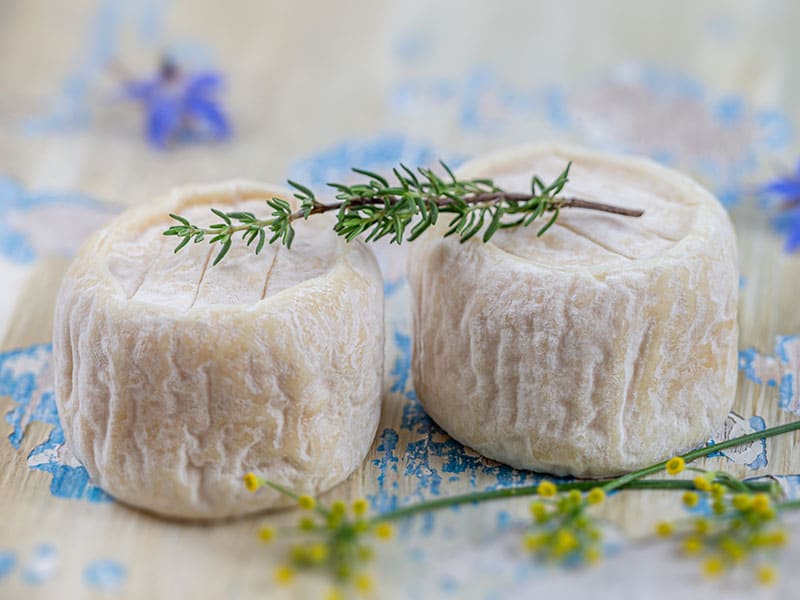 Crottin is a popular goat cheese from California, United States. It tastes pleasant and mild at the beginning. When it is completely aged for around 4 weeks, the texture becomes harder like marble and the taste is tangier with a nutty aftertaste.
You can have some crottin with a glass of white Burgundy. These two might be the best combination of cheese and wine!
8. Bonne Bouche
Bonne Bouche, which means "good mouthful" in French, also originates from the United States. It has a special rind made of a specific mild yeast called "geotrichum candidum", which creates a crumbly grey texture that looks foggy.
Bonne Bouche tastes like bread dough at first with a fresh yeasty fragrance. As it starts aging, the flavor becomes more robust and tangy. The inside texture is creamy and milky in every way. It also tastes a bit sour because of the lemon juice in the making process.
9. Queso de Murcia al Vino PDO
This Spanish cheese is famous for its unique wine-like taste and dark violet rind. This is because, in the ripening process, the cheese is sunk and washed in Murcian red wine, so the final product consists of both the flavor and color of the wine.
The taste is also affected by the wine. It has a juicy and grape-like taste, with a chalky texture inside. The natural sourness differentiates Queso de Murcia al Vino PDO from other goat cheeses, making it a unique and all-time favorite one.
10. Humboldt Fog
Another typical goat cheese comes from the United States. Humboldt Fog has a foggy appearance as the name with a crumbly outer side. It smells sour with a yogurt-like aroma and mold. The flavor is full of citrus with a natural and creamy taste.
Compared to Brie, Humboldt Fog is not as gooey as Brie, but less sour and saltier than Brie. It is also more special when being coated with veggie ash in the making process.
11. Aged Goat Gouda
Aged goat gouda cheese is the only candidate from the Netherlands on this list. It has a beautiful golden color and a texture that can be described as crayons.
However, what makes aged goat gouda special is that it has a signature caramel-burnt taste of full-ripen cheese. Unlike many other types of cheese, aged gouda can please most of its consumers by the crunchy, smooth texture and sweet, buttery taste.
12. Tomme de Chevre Onetik
Tomme de Chevre Onetik is a traditional cheese from France. It is usually homemade and pressed by hand. The texture is very silky just by watching, and the flavor is earthy and pretty mild.
The French cheese can be best served with France white. A highly recommended white wine to use with Tomme de Chevre Onetik cheese is Muscadet wine. Amaze yourself by tasting these two together!
Don't miss these amazing tips on how to choose goat cheese as well as their flavor descriptions!
What Can Be Served With Your Goat Cheese?
Wondering what to eat with goat cheese? There are some basic wines and foods for you to serve along with goat cheese. Check them out!
The Best Wine To Pair With Goat Cheese
There's nothing better than having goat cheese with a glass of wine! Don't you think so?
Sauvignon Blanc: This is by far the best wine option to serve with goat cheese. It has a refreshing, subtle, and juicy taste that can suit really well with most of the creamy and tangy goat cheeses.
Cabernet Franc: It is a lovely choice if you are a fan of red wine. This wine includes a special taste like bell peppers and moderate acidity. It can be a perfect goat cheese pairing.
Malbec: Malbec can be best combined with the simplest form of goat cheese, such as Le Chevrot. It has a plummy flavor with a silky texture.
Vermentino: Vermentino wine is more affordable than most noble wines. It is often served with herbed goat cheese. The slightly bitter undertone of Vermentino goes well with a slice of herbed chèvre.
Amazing Foods To Go With Goat Cheese
There are also some simple sides to serve with goat cheese, including:
Egg: Eggs have a subtle taste that can balance the flavor of some aromatic types of goat cheese. You can prepare the eggs by scrambling or boiling them and serving with your goat cheese.
Corn: Sweet corn is the best to pair with some goat feta cheese. The sweetness of the corn and the savory taste of feta cheese can blend together and create an exploding taste in your mouth.
Spinach: To combine with spinach, the goat cheese adds a salty and acidic boost to the robust spinach leaves. This can be a great mixture to enjoy!
Watermelon: It's great to have goat cheese, watermelon, black olives, and lemon juice joining together to create a nice bowl of salad. This can be served on an outdoor picnic.
Can Your Goat Cheese Go Bad?
Some types of cheeses last for a very long time, but this is usually not the case for goat cheese. Notice if your goat cheese has been staying in the fridge for too long!
Here is the shelf life of some goat cheeses based on their textures:
Soft and fresh goat cheeses can be stored in the fridge for 2 to 3 weeks after the expiration date if they are still sealed as they are. Otherwise, if they are opened, they can only last up to 1 week.
Soft-ripened goat cheeses continue to ripen whether you open them or not. If adequately stored in the fridge, these cheeses may generally last for about one week beyond their due day.
Semi-hard to semi-soft goat cheeses are still fine if they have passed the day printed on the packaging for a couple of weeks, only if they are sealed. Once they are unsealed, the quality will decrease quickly from the very first week.
Hard goat cheeses last longest with about 1 month past the expiration date when sealed. If they are opened, they can last for a month or more.
| Type of goat cheese | Unopened | Opened |
| --- | --- | --- |
| Soft and fresh | Expiration date + 2-3 weeks | 1 week |
| Soft-ripened | Due day + 1 week | - |
| Semi-hard to semi-soft | Expiration date + a few weeks | 1 week |
| Hard | Expiration date + 1 month | 1 month or more |
If you want to extend their shelf life, try to freeze them in a freezer! They may last up to a few months or even years!
Indications Showing Your Goat Cheese Has Gone Bad
As for the appearance, search for molds or discolorations that didn't appear on your cheese at the beginning. If there are some molds and green fuzz on the rind, the goat cheese must be rotten.
The smell is also an apparent sign. Because soft-ripened cheeses will continuously ripe in the fridge, it may gradually change the smell. If your cheese smells weird and unusual with a foul odor, you may want to discard it as soon as possible.
Another thing you need to look out for is a change in texture. Your cheese will dry out quickly if you don't store and cover it well, and it may go bad faster. To avoid this sign, check out the cheese in the fridge regularly.
Spoiled cheese may have an awful taste, which can even get your tongue burned! If it tastes somehow awkward and stinky, just spit it out and toss the cheese away immediately!
These expiration dates and rotten signs are just for some common types of goat cheese. As I said, there are many kinds of cheese made of goat's milk, so-called "goat cheese," so the shelf life and methods to store each of them may vary.
The Brilliant Health Advantages Of Goat Cheese
Because it has many variations, goat cheese's nutritional benefits vary depending on different types of cheese and what brand they are. But in general, goat cheese contains the following health benefits:
Goat cheese is packed with vitamins and minerals. It consists of protein, fat, calcium, phosphorus, copper, iron, vitamins A and B2, etc.
Goat cheese is easier to digest than cow's milk cheese. Goat milk has fewer calories and lactose than cow milk, which is why it improves your digestive health! It also includes high-probiotics content, so it is better for your stomach.
Goat cheese has a unique fatty acid content. These fatty acids are perfect for your health since it provides a significant amount of energy to your body. (2)
Some Exciting Recipes To Go With Your Goat Cheese
I'm about to provide you with some stunning recipes that call for goat cheese in the ingredient list! So you can follow these and make yourself the best dishes ever with your available goat cheese! Are you ready?
This salad recipe is one of the most delightful side dishes to go with this type of cheese. It is a flavorful mixture that includes a lot of different veggies. It also has chopped chicken as the ground meat to get more protein for the salad.
You can serve this dish on a BBQ night or a warm family dinner. I'm pretty sure that everyone will love it because it is super fresh, light, and creamy with goat cheese inside. A perfect side to join the table!
Goat cheese is usually served with figs since their flavors are best friends! So, why don't you combine the two to make a delectable crostini dish? This recipe is an excellent idea for an appetizer at a buffet party or even a wedding.
Crunchy bread, fruity fig jam, and creamy goat cheese all together create a beautiful and yummy dish! You will get yourself tons of wows when making this crostini recipe!
Save a place in your cooking notebook for this lovely dessert! The cute appearance of these tiny little cupcakes will make you fall in love with them right at first glance! These creamy, buttery cakes with fruity jam on top will be a fantastic snack!
How about making these cheesecakes for your lover on Valentine's Day? Or on your parents' wedding anniversary? Or maybe just bake some cakes for your ordinary weekends!
If those recipes are not what you're looking for, how about these ones?
FAQs
I believe that my post has somehow fulfilled your concern about the flavor of goat cheese. However, I cannot cover them all. This topic is wide-ranging and there is always something to ask. So here you are, the quick questions and answers about goat cheese!
Is Goat Cheese Your Favorite Cheese Now?
So what do you think of goat cheese now? Is it worth your attempt to taste once? Just grab some types of goat cheese at any cheese store, then do something like cooking them with my suggested recipes, and eat them right away! I bet that you'll love it.
Do you happen to know any secrets or information about goat cheese? Tell me all about it in the comment section! It won't waste your time, just leave some words! I hope that you like my article and share it with your buddies!
References
En.wikipedia.org. 2021. Goat cheese – Wikipedia.
LIVESTRONG.COM. 2021.
Healthline. 2021. Goat Cheese: Nutrition, Benefits and Recipe Ideas.