What does rambutan taste like and how do you eat it? This is the most popular question people ask about this fruit. If rambutan is new to you, you should sit down and read this article! All information about its taste is here.
But that's not everything you should know about rambutan. I will also provide you with its benefits, varieties, storage facts and tips, and some dessert recipes that will help you to enjoy its best taste.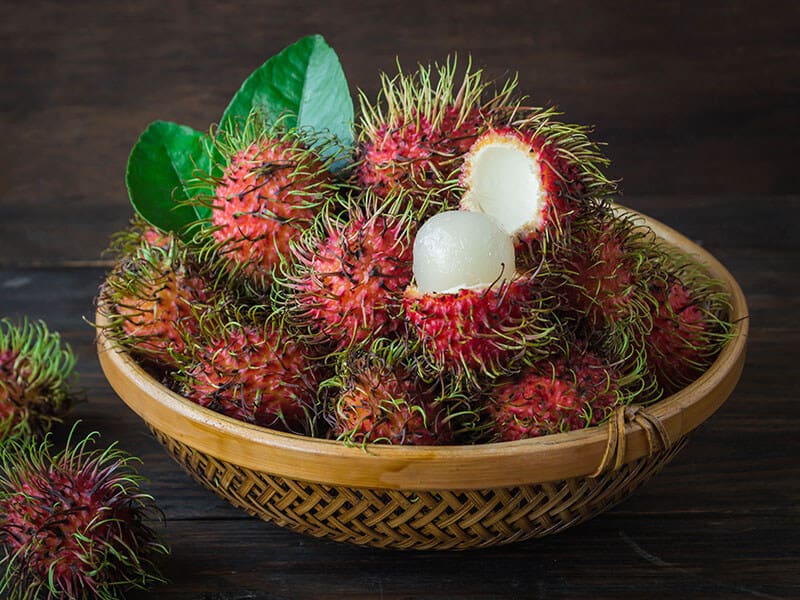 Rambutan's Background Information
Before learning about rambutan's taste, I want to share with you some background information about it, including its origin, notable characteristics, and health benefits to find out why it is loved all around the world.
Origins And Characteristics
Rambutan is a tropical fruit that takes root in Southeast Asia. It is widely grown in the Philippines, Thailand, Malaysia, Vietnam, Indonesia, and Singapore for commercial purposes. In western regions, it is also planted in Australia and Hawaii.
This fruit has a medium oval or round shape and a deep red or yellow hue when ripened. The skin is quite hairy, which is the reason why people call it "rambutan". The hairs are thin, small, short, floppy and are red or green in color.
When you peel rambutan, the flesh inside will surprise you. It is totally opposite from the hairy skin. Instead, the white flesh is extremely smooth, glossy, jelly-like, and quite elastic. The seeds are also oval in shape. They have a woody exterior. However, you cannot eat it.
Health Benefits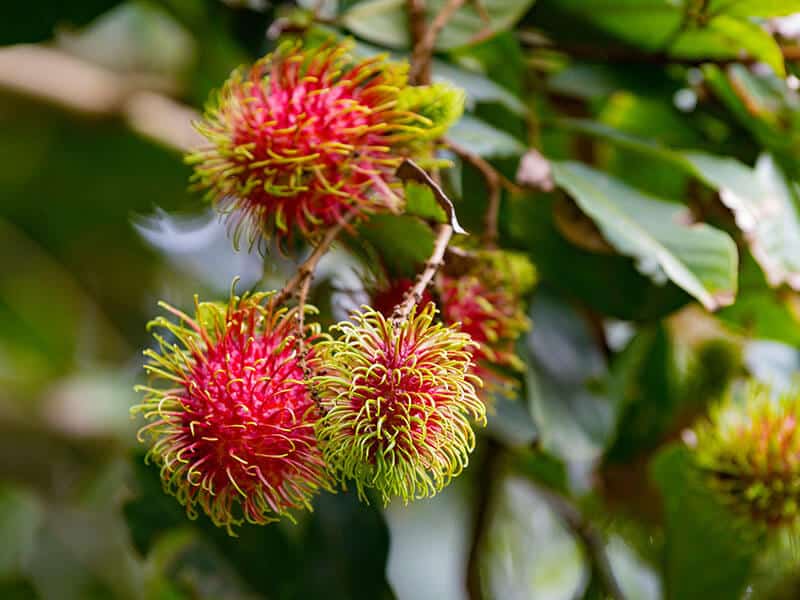 Rambutan is packed with a lot of beneficial nutrients that will boost your health. First, it is a rich source of vitamin C, which is an essential antioxidant for your body. Fiber is another nutrition that this tropical fruit provides you. In 100g of rambutan, there is 1.2-3g of fiber. (1)
It also contains copper, which can promote your brain and heart health. What else? It is low in calories. You don't have to be concerned about the chance of gaining weight once you choose rambutan.
What Does Rambutan Taste Like?
Let's get straight to the main topic right now. I think that you are very curious about its taste so I won't let you wait anymore.
General Taste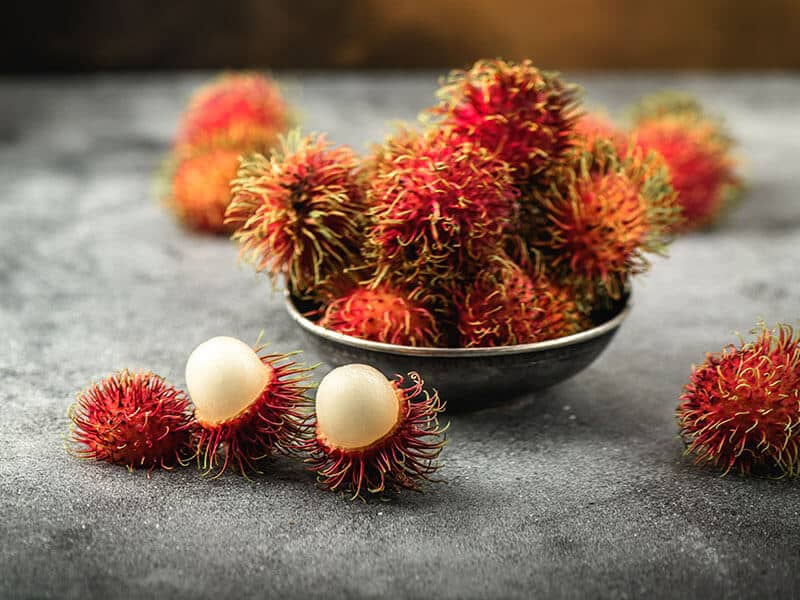 On their own, rambutans have a sweet taste that is comparable to lychee, longan, and grapes. It is less sweet than lychee and grapes.
Rambutans also have some sour and floral notes, especially when they are unripe. They are even sourer than lychee. The more they ripen, the sweeter they will be. Sometimes, they are described to be crispy, yet it is just a feature of some varieties.
The texture of rambutans is much thicker than longan, but not as thick as lychee and grapes. They are also firm and juicy when you bite. The flesh and the seed are separated by a thin woody layer. This layer is completely edible.
You will also find rambutan in the canned form. Only the white flesh is kept. It tastes way sweeter than fresh rambutan because a high amount of sugar is added. Its texture is also not as firm as the other. Instead, it is quite soft and mushy.
Taste Of Different Varieties
Rambutans have many varieties. But they form two main categories, namely red rambutan and yellow rambutans (2). For a detailed comparison of the characteristics between the two, see the table below.
| Varieties | Red Rambutans | Yellow Rambutans |
| --- | --- | --- |
| Subvarieties | Ferreras, Queen Laurel, Sr., Ponderosa, Zaida, Princess Caroline, and Roxas | Zamora, Quirino, Victoria, and Santo Tomas |
| Skin Color | Ranging from orange to deep red | Bright yellow |
| Flesh Color | Translucent white | Translucent white |
| Taste | Sweet, a little bit sour when unripe | Sweet, a little bit sour when unripe |
| Size | Medium | Quite smaller |
Red Rambutans
Most rambutans come in red peels and white fleshes. The peel color changes from orange, bright red to a deep red over the course of the ripening process.
They are considered a medium-sized fruit. Specifically, fully ripe red rambutans are up to 7 cm long and 5 cm wide. They have the signature sweet and sour taste.
Yellow Rambutans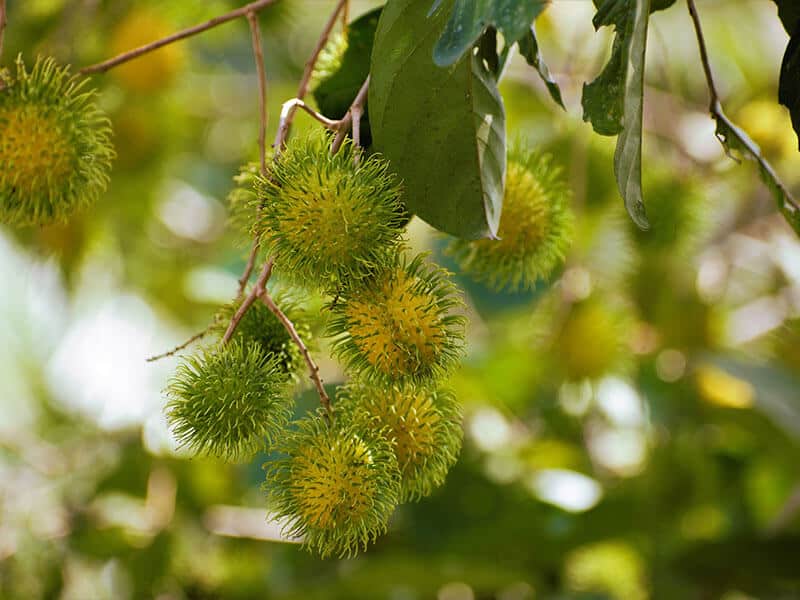 There is another variety of rambutans. That is yellow rambutan. This variety grows mostly in Malaysia. The differences between yellow rambutans and their red counterpart are the peel color and size.
Their flesh color and taste are pretty much the same. Both have translucent white flesh and a sweet taste. As the name suggests, this variety has a bright yellow peel. It is also smaller in size compared to red rambutan.
How Rambutan Is Used In Culinary?
Eating raw is not the only way to enjoy rambutans. They are also used to make drinks, such as smoothies, cocktails, juices, and sorbets. They taste slightly different than usual. But still, rambutans are very delicate no matter which way you choose to eat them.
Rambutan is regularly used in making sweet desserts. You can add it to pie, cake, or ice cream. You can also use rambutan in salads, especially fruit salads. Also, people often add it to curry to reduce the level of spiciness.
Two Ways To Peel And Enjoy Fresh Rambutan
Apply this instruction when you eat rambutan raw. There are two ways that you can peel rambutan. Read on and choose your preferred method. You may want to try both to find which one works best for you.
Use A Knife
The easiest way to peel rambutan is to use a sharp knife. It works best if the rambutan is still unripe. Here is the step-by-step guide.
Step 1: Pick a ripe rambutan and put it on a cutting board
Step 2: Place the knife in the middle of the rambutan and gently cut around its skin.
Step 3: Use your hand to split the skin into two halves and take the flesh out by squeezing the halve with two of your fingers.
Step 4: Enjoy! You can keep the seed and remove it while eating or just eliminate it beforehand using your hand.
Peeling rambutan by knife is much simpler with this instruction.
Use Your Hand
This is the traditional way to peel rambutans. You can use your hand to peel them if their peels are thin, which is when it is fully ripe.
Step 1: Similar to the previous method, you should choose your favorite rambutan.
Step 2: Hold the rambutan with your hands. Place your thumbs in the same place in the middle of the fruit.
Step 3: Use your fingernail to press the skin until it splits and you see the flesh inside.
Step 4: Move the thumb far away from the others to separate the rambutan into two halves and squeeze the flesh out with your fingers.
Step 5: Considering taking out the seeds.
You can see this video to know more:
The Handy Guide On Rambutan Shelflife And Storage
As a fruit, rambutan has its own shelf life. First, look at this table to learn about how long different forms of rambutan last.
| Type | Pantry | Fridge | Freezer |
| --- | --- | --- | --- |
| Unpeel Rambutan | 1-2 days | 1-2 weeks | Not recommended |
| Peeled Rambutan | 1-2 hours | 1-2 weeks | 2-3 months |
| Canned Rambutan | 1 year after the expiration day | 1 year after the expiration day | Not recommended |
Pantry
Room temperature is an ideal environment to store rambutan. It can stay edible for at most two days. So if you plan to eat it in a short amount of time, just put them in a paper bag and leave it somewhere dark and cool in your house.
For canned rambutan, just leave it in your cellar. It can stay edible for 1 year after the expiration day. Remember to keep rambutan away from any heat source and sunlight because it will be ruined rapidly.
Fridge
The fridge is always a great way to store fruit, and rambutan is no exception. The cold temperature will keep it fresh for up to 2 weeks. It is best to put it in the crisper drawer since the high level of humidity is good for maintaining its freshness.
You can peel rambutans before storing them. Once you peel it, make sure you put it in an airtight container to prevent it from turning brown. You can just leave it in the fridge without doing anything. But to extend its shelf life, wrap it in a plastic layer.
Canned rambutan is also good after it expires once you refrigerate it.
Freezer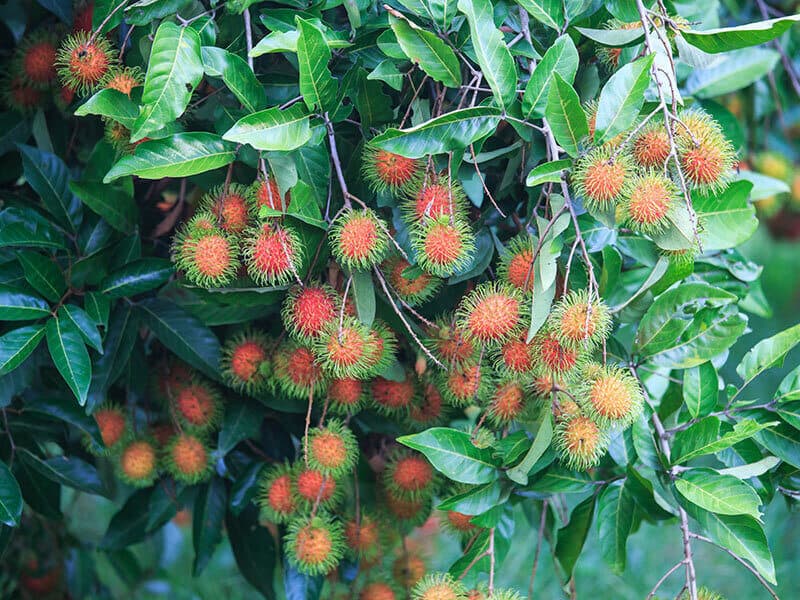 Rambutan can retain its freshness for 3 months in the freezer. You can feel free to buy plenty of it and just freeze it to use in months. But first, you have to peel it or its texture will be damaged while freezing.
When you peel it, remember to eliminate the seeds, too. You will not eat it anyway so there is no point in keeping it. After you're done, put the rambutan flesh in a baking tray to flash freeze it. After 30 minutes, put the frozen rambutan in an air-tight container and freeze it.
When Does Rambutan Ripe?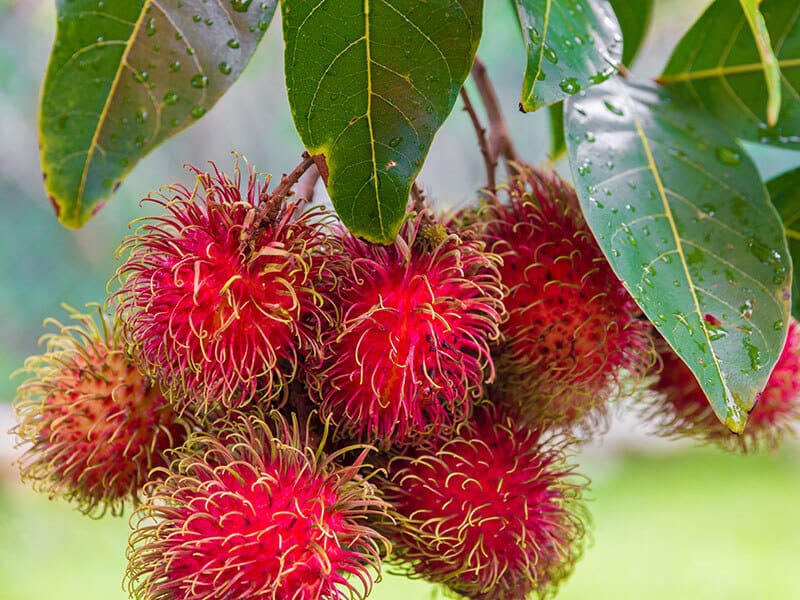 You will see rambutans in various sizes and colors in the grocery store. But how to pick the sweetest and most delicious one? Read on! You will know right away.
Rambutan comes in different colors, depending on the level of ripeness. Unripe rambutans have both green shells and hair. When ripe, they will turn bright red or yellow, depending on the varieties.
When you pick rambutans at the grocery store or supermarket, go for those that have a bright red or bright yellow peel, that's when they taste best. Their firmness and sweetness will definitely satisfy you. Avoid buying those that are brown since they may be overripe.
Unripe rambutans are often green or orange. You can buy the orange ones if you intend to store it for several days before eating.
Take a look at the beautiful color of ripe rambutan now!
The Signs Of Spoiled Rambutan
When you store rambutans for a relatively long amount of time, they will start to spoil. Spoiled rambutans do not taste good. They can also cause foodborne illnesses. Read the spoilage signs below carefully. Do not eat rambutan with any of these symptoms.
Appearance
Rambutan peels should always have a red or deep red hue. Whenever it is darkened, wrinkled, splitted, or has some black areas, it is probably spoiled. You should toss it immediately. If the peel is fine, check the flesh. It should be white in color. The yellowish flesh is not safe to eat.
More importantly, once mold appears, get rid of it right away.
Smell
The sweet and pleasant aroma of rambutans is the feature that indicates that they are fresh. Once your rambutan lose its iconic smell and develop an alcoholic odor, it is likely to be spoiled
Texture
Fresh rambutans are firm to the touch. When you see that the whole rambutan is soft and mushy and the flesh is too juicy, it is not tasty anymore. However, it hasn't spoiled, only its texture has been lost.
Taste
Although I don't recommend you test rambutan by tasting it, you should know that when spoiled, rambutan has a strong sour and acidic taste. If you accidentally eat it, stop eating and throw it away.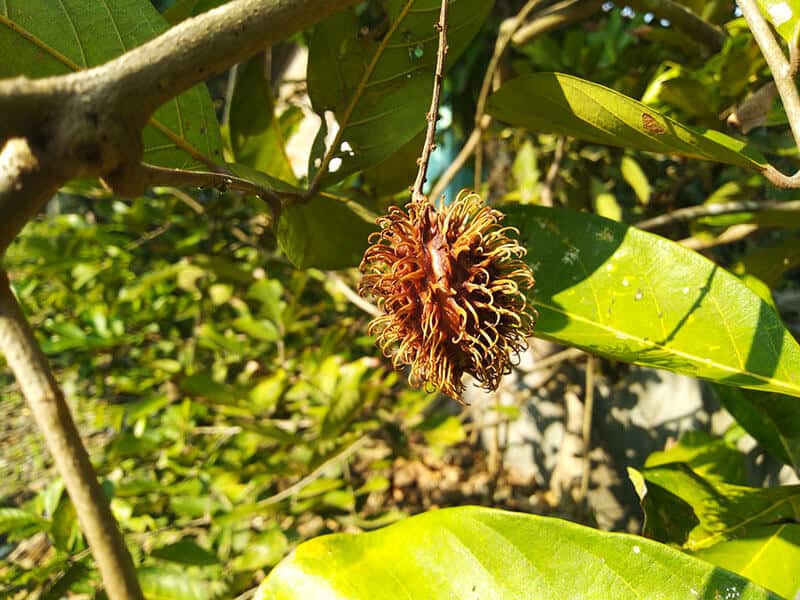 4 Delicate Rambutan Recipes To Bring Joy To Your Summer
Rambutan is not only eaten raw, it is also used to make various foods and drinks that will brighten up your day. These 4 tasty rambutan recipes will give you its taste.
A fresh smoothie is a must-have dessert for summertime. And this rambutan smoothie recipe is a great choice if you love this Asian fruit. But I am sure that you love it already.
This creamy, sweet, and smooth drink is suitable to enjoy at any time of the day. Drink it for breakfast to start an energetic day or enjoy it at the end of the day to relieve stress. I love to have a glass at noon to wipe away the summer heat.
Rambutan Mojito is another fancy drink that you can make with rambutans. This drink is sweet, acidic, light, and has some minty undertones.
Choose rambutan mojito if you're looking for a refreshing and festive drink that can beat the terrible heat of summer.
Of course, rambutan cocktails should never be absent from my recommendation. It tastes so good and invigorating. Once you go for it, you cannot come back.
Its sweet, spicy, and somewhat salty, and tangy taste can never go wrong. This cocktail can be made with both fresh rambutans and canned rambutans.
Rambutan martini is like nothing you have tasted before. It has a unique sweetness provided by this exotic Asian fruit. The combination of this sweetness with the fermented flavor of Vodka will make you feel great. I promise!
This sparkling drink is out-of-this-world good. Buy some rambutans and make a martini to enjoy tonight!
FAQs
I've shown you almost everything about rambutan. But if you still have other questions, I am glad to give you some further information. Stay for another minute and read this section. I am sure that you'll find what you need.
Rambutan Tastes So Delicious! Try It Today!
What does rambutan taste like? It's so sweet and refreshing. This tropical fruit will definitely make your hot summer more lively and exciting. Now you know everything about rambutan. Do you want to rush to the grocery store and pick some to enjoy? I hope that you do.
What do you like best about rambutan? What is your favorite rambutan recipe? I am happy to receive your ideas in the comment section.
References
Healthline. 2021. Rambutan Fruit: Nutrition, Health Benefits and How to Eat It.
Producebluebook.com. 2021. Rambutan – Produce Blue Book.