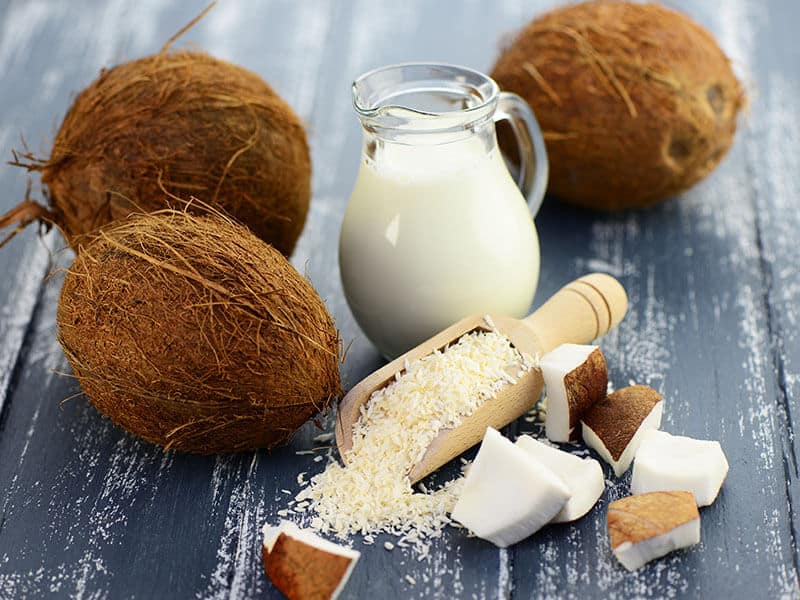 "What does coconut milk taste like" has been an interesting topic to many people recently. If you are one of them, this article is exactly where you belong. You will be provided with exciting and specific information about the taste of coconut milk.
The information that I bring is not only about the taste but also about the different types of coconut milk and other knowledge you need to know about it. Procrastination is a big mistake now. Let's taste coconut milk right away!
Some Related Facts About Coconut Milk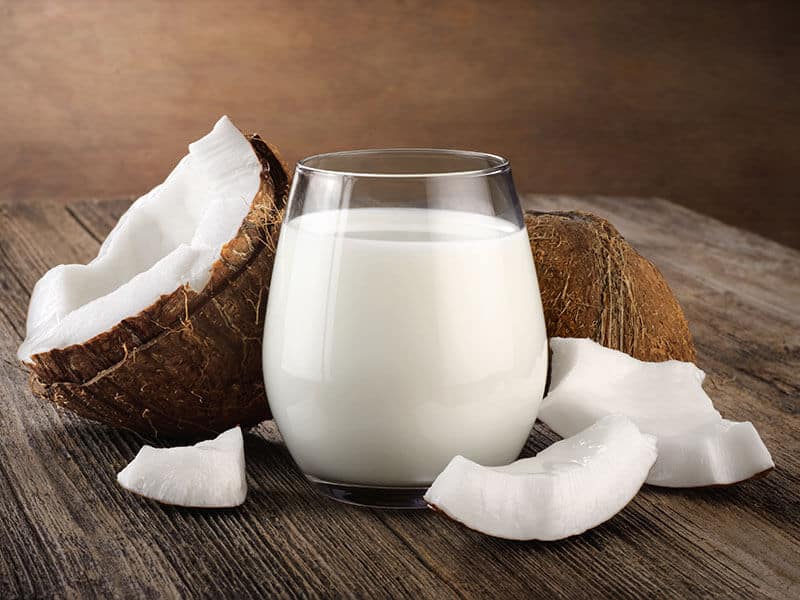 Coconut milk is a product extracted from the flesh of the coconut(1). Unlike coconut water, the water content in coconut milk is only about 50 percent. Based on the fat content of coconut milk, it is divided into thin and dense coconut milk.
For thick coconut milk, its fat content ranges from 20 to 50 percent. Meanwhile, this index of thin coconut milk ranges from 5 to 20 percent. They are created from 2 different processes.
Coconut milk obtained from the first pressing of grated coconut flesh is thick coconut milk. You can add a little water to thick coconut milk, but do not add sugar. Coconut flesh that has just been pressed will be soaked in hot water and further pressed to make a thin version.
You will find coconut milk in countries in South Asia, Southeast Asia, Africa, and Oceania. In addition, coconut milk appears quite commonly in the cuisines of the Caribbean, West Africa, and Latin America.
What Will You Taste From Coconut Milk?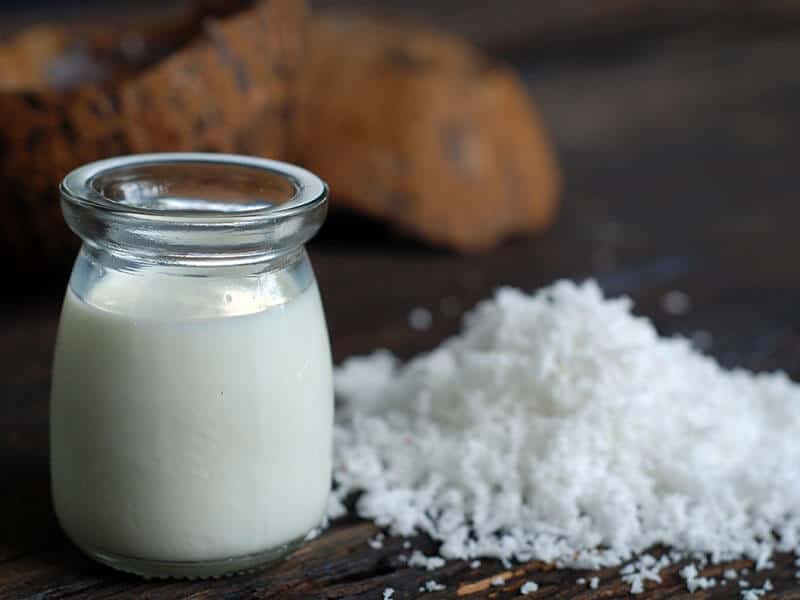 Of course, because it is made from coconut, the coconut flavor is typical of coconut milk. The rich flavor of coconut milk will melt your heart, thanks to the high oil content of coconut flesh. The nutty flavor with a hint of sweetness and saltiness will entice you.
You can also notice a floral flavor mixed with fruit tastes. If you use coconut milk in toasted dishes, coconut milk exudes woody and vanilla flavors.
The taste of thick coconut milk will be richer and creamier than that of thin coconut milk. You will feel the flavor of coconut flesh more clearly from it. Meanwhile, the taste of the thin version is relatively mild.
Thick coconut milk usually exists as a liquid with a smooth, creamy, and dense texture. The consistency of coconut milk is determined by the amount of water that you add to make it.
Coconut milk is an ingredient adding rich flavor to dishes. You can add coconut milk to your coffee, cakes, smoothies, ice cream, cocktails, and other desserts to bring out their signature coconut taste.
Its flavor also goes well with savory recipes. Curries will not achieve their most explosive taste without coconut milk. Its dense texture and full of coconut taste make it a suitable addition to soups.
Nowadays, you can find many different types of coconut milk. These types of coconut milk carry distinctive characteristics in terms of flavor and use. Let's find out what they are right now!
Coconut Milk Variations
Taste And Texture
Common Uses
Other Properties
Cream Of Coconut

Thick, creamy, and smooth texture
Intense coconut taste with rich, sweet, and buttery tastes

Suitable for desserts and cocktails
It is not good to use it in baked goods

Packed in a can and bottle
It is different from full-fat coconut milk

Lite Coconut Milk

Mild flavor with a light coconut taste
Tastes like the flavor of coconut water
Thin texture

Use in soups, baked goods, and smoothies without whipping

A product of diluted full-fat coconut milk
Packed in a can and carton

Full-Fat Coconut Milk

Rich flavor with the nutty, sweet, and floral tastes of coconut meat
Thick texture

It is good for cooking and bad for drinking
Use in sauces, desserts, curry, and soups

Packed in a can
High calorie and vitamin content
Shake well before opening the can

Refrigerated Coconut Milk

Rich flavor with sweet taste or not
Thick texture

Use in smoothies or substitute for milk in dishes

Packed in carton or can
Include emulsifiers and thickeners
1. Cream Of Coconut Milk
You can find cans or bottles of cream of coconut milk at stores. It gives a smooth, creamy, and thick texture. The rich flavor combined with the sweetness and buttery taste of coconut gives it a whole tremendous taste.
It is suitable for desserts, cocktails such as classic pina colada coconut cocktails and not good for baked goods.
2. Lite Coconut Milk
If you want a type of coconut milk with a mild flavor for soups, smoothies, and baked goods, you can choose lite coconut milk. This type is made from diluting full-fat coconut milk with a fat content less than 60 percent so its texture is pretty thin. It does not whip.
3. Full-Fat Coconut Milk
It is the most potent flavored coconut milk. Its rich taste is a blend of sweetness, nutty, and floral flavors of coconut flesh. Its thick texture is only suitable for cooking. You can use it instead of cream to add to sauces or desserts.
With cans of full-fat coconut milk without an emulsifier, the cream will be at the top of the can so you should shake the can before opening. You do not have to enjoy the hardened cream separately from the top.
Otherwise, the hardened cream can be whipped to replace whipping cream or heavy cream in baking goods.
You should not drink it because its strong taste will make you uncomfortable. Curries and soups are much better with full-fat coconut milk.
4. Refrigerated Coconut Milk
It is also known as a coconut beverage. Its taste is pretty special because you can feel its slight sweetness, or you cannot feel it. Thickeners are added to give it consistency. Smoothies often contain it, and you can use it instead of milk in many recipes.
Comparison Between Coconut Milk And Coconut Cream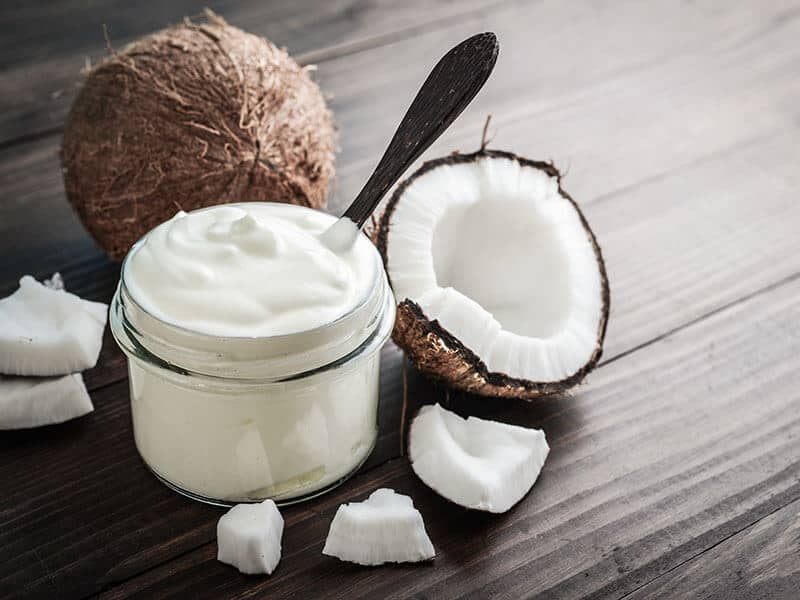 Coconut milk and coconut cream are the result of coconut flesh. However, there are still some differences in texture and taste between them. The differences are the result of the ratio of water and coconut in each.
Coconut Milk
The consistency of coconut milk is pretty similar to cow's milk. To make coconut milk, you need to go through the process of boiling and simmering a mixture of 1 part grated coconut and 1 part water. Coconut milk has a sweet and rich taste of coconut flesh.
In some cases, you may find coconut cream floating on the top of coconut milk products. Coconut milk is a good ingredient for curry, soups, and desserts.
Coconut Cream
Compared to coconut milk, the texture of coconut cream will be thicker and creamier. The ratio of water and coconut is also different because you need to use 1 part water and 4 parts coconut. Therefore, its flavor is more robust and richer with characteristic sweetness.
| Features | Coconut Milk | Coconut Cream |
| --- | --- | --- |
| Texture | Thick texture like cow's milk | Thicker and creamier |
| Flavors | The sweet and rich taste of coconut flesh | Sweeter and richer |
| Ratio Of Water And Coconut | 1 part of water + 1 part of the coconut | 1 part of water + 4 parts of coconut |
Listen to the detailed comparison between coconut milk and coconut cream.
Straightforward Instructions To Make Coconut Milk At Home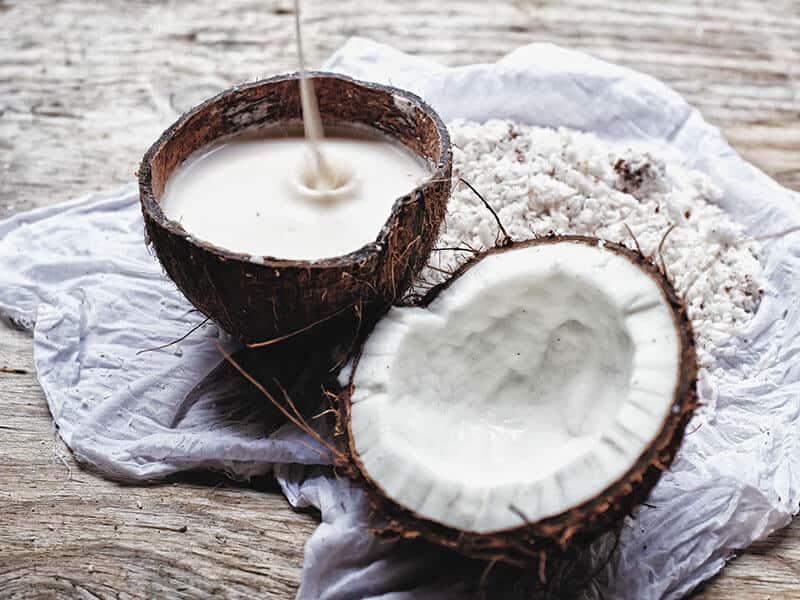 You should learn how to make coconut milk at home when you cannot buy coconut milk at the supermarkets. You do not need to worry because the steps to make coconut milk are pretty simple and easy to make.
Step 1: Put water, salt, and coconut flesh in the blender.
Step 2: Blend the ingredients to form a thick and smooth mixture.
Step 3: Place a thin towel on top of a bowl.
Step 4: Pour the blended mixture on a thin towel to let the liquid pass through and keep the solids.
Step 5: Squeeze to get all juice from the solid part.
Step 6: The result you obtain is coconut milk.
Do not miss the helpful instructions to make coconut milk at home.
Preserve Coconut Milk Effectively With Fantastic Methods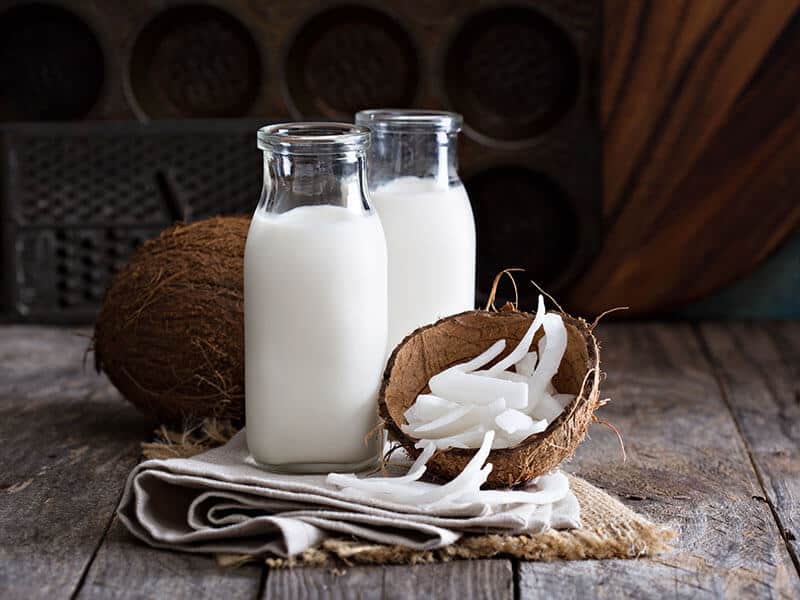 For food like coconut milk, I would suggest the 2 most effective ways you can use to extend its shelf life. Refrigerators will help you solve this problem quickly and easily. You can also freeze it.
Store Coconut Milk By Refrigerating It
You can extend the shelf lift of fresh-made and canned coconut milk by storing them in the refrigerator. See instructions for storing each type now!
How To Store Fresh-Made Coconut Milk In The Fridge?
This is the method that I believe you will think of first. The ability of the refrigerator to preserve food should be taken advantage of in this situation. You only need to prepare a jar or an airtight container when storing this way.
Step 1: Pour coconut milk into a jar or an airtight container.
Step 2: Close the jar and airtight container tightly.
Step 3: Place the container and jar in the refrigerator to store coconut milk.
Preserve Canned Coconut Milk In The Fridge
Canned coconut milk is pretty simple to store in the refrigerator. Because it is canned, it will prevent the impact from the outside air and bacteria. You just need to prepare foil or plastic wrap before storing it.
Step 1: Wrap a layer of foil or plastic wrap over the canned coconut milk.
Step 2: Place canned coconut milk in the refrigerator to preserve.
Note: The shelf life of unopened can coconut can last for several years without refrigeration. However, you should check its expiration date to use within that period.
Enlarge The Shelf Life Of Coconut Milk By Freezing
Coconut milk has a longer shelf life when frozen. You should not use this method when you want to use coconut milk right away. It is recommended to use an ice cube tray to freeze coconut milk more efficiently.
Step 1: Pour coconut milk into the ice cube tray.
Step 2: Put the ice cube tray in the freezer.
Step 3: Wait about 3 to 5 hours or overnight for the coconut milk to solidify.
Step 4: Take out the ice cube tray.
Step 5: Take the coconut milk cubes out of the tray.
Step 6: Put coconut milk cubes in a freezer bag.
Step 7: Close the freezer bag tightly.
Step 8: You should stick a label and write down the storing date to use within proper time. Place the freezer bag in the freezer.
How Long Does Coconut Milk Last?
Unopened coconut milk will have a shelf life of about 2 to 5 years. When stored in the refrigerator, its shelf life can be extended by 3 to 4 weeks beyond the expiration date. When opened, it keeps for about 7 to 10 days in the fridge and up to 3 months in the freezer.
Homemade fresh coconut milk can be stored for about 3 to 4 days in the refrigerator. You can also put it in the freezer for a few months.
| Coconut Milk | In The Refrigerator | In the Freezer | At Room Temperature |
| --- | --- | --- | --- |
| Unopened Coconut Milk | 3 to 4 weeks after the expiration date | Not recommend | 2 to 5 years |
| Opened Coconut Milk | 7 to 10 days | up to 3 months | Not recommend |
| Fresh-Made Coconut Milk | 3 to 4 days | A few months | Not recommend |
The Signs Of Spoiled Coconut Milk
After the expiry date, coconut milk will show signs of spoilage. It will have metallic and sour flavors. In addition, the appearance of a sour smell also signals that you should throw away coconut milk.
Regarding the external signs, damaged coconut milk often has a layer of mold that is easily noticeable when observed on the surface of coconut milk. You can also observe chunks from bad coconut milk.
It is sad when the coconut milk turns dark, you need to get rid of it because it has already spoiled.
Modify Your Menu With Yummy Recipes With Coconut Milk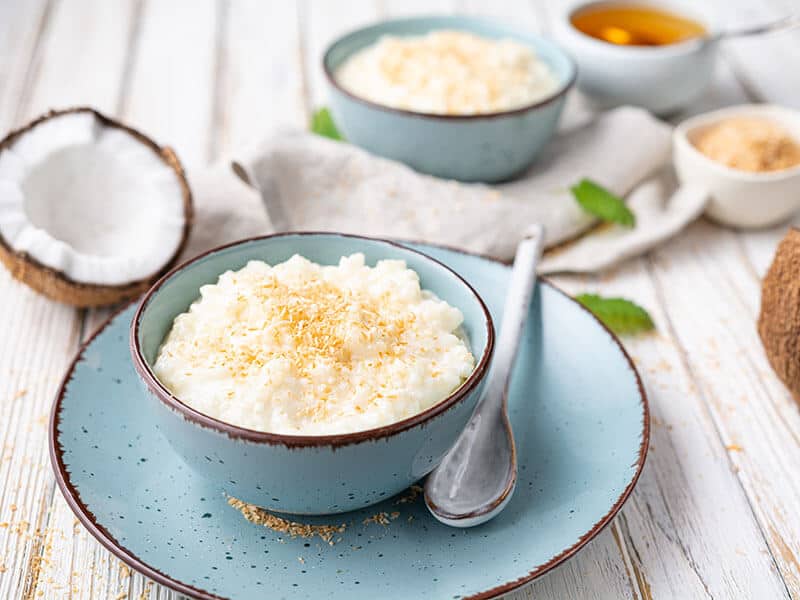 Experiencing the rich and natural flavors of dishes with coconut milk will make you love this ingredient even more. The recipes with coconut milk are not too fancy and complicated, so you should make them right away.
Coconut milk combined with French toast is an excellent choice for you to add to the menu. Rich flavor with a hint of sweetness and the aroma of coconut mixed with the crispness and characteristic scent of toast will make you fall in love.
Thai cuisine has a highly delicious chicken curry cooked with coconut milk. The curry must have coconut milk to add a rich flavor to it. Thoroughly cooked chicken will be moderately tender and fully absorbed.
The soup is the perfect combination of sweet, salty, and spicy tastes. You will find natural sweetness from sweet potatoes. The appearance of coconut milk makes the taste of the soup richer and sweeter. The creamy texture of coconut milk also goes well with this recipe.
Make fantastic sweet potato coconut milk curry soup to treat your family.
If you come to Thailand, you should not miss this wonderful dish. The recipe has a stunning color and a silky texture. The gentle sweetness of the pumpkin mixed with the aroma and smooth taste of coconut milk will leave an unforgettable impression.
Here is a great dessert recipe for your party tonight. The rich, sweet taste and smooth texture are what you will get when you enjoy this wonderful dish. Cocomilk milk is added to enrich the flavor and add sweetness to the pudding.
Let's create yummy coconut rice pudding with mango. You can see this video to know more:
FAQs
It is time for you to answer interesting questions about the flavor of coconut milk. Your knowledge will be enlarged after reading the helpful answers below. Check them out!
Enjoy The Fascinating Flavor Of Coconut Milk Immediately
The rich flavor and aroma of coconut are the essential additions to many different dishes. Using coconut milk is a wise choice to add flavor to recipes, but you need to use it in the proper dosage and combine it with the right ingredients.
This post has compiled all the knowledge about the taste of coconut milk for you. The information was presented in a concise and easy-to-understand manner. I hope you will get a lot of valuable things from this article. Let's like and share this post. Thanks a lot!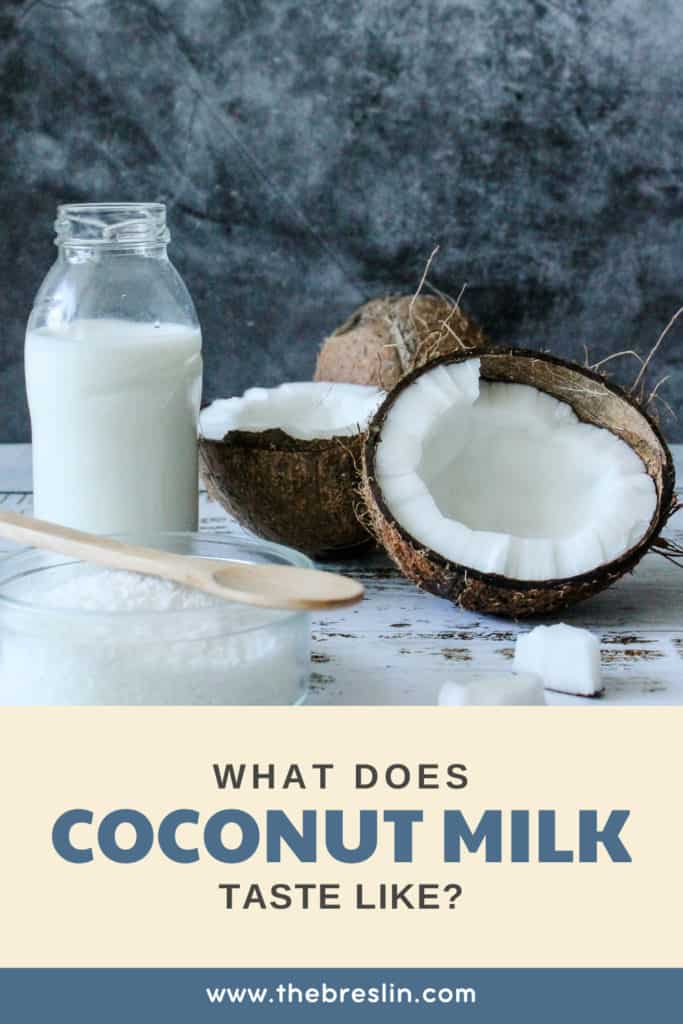 References
En.wikipedia.org. 2021. Coconut milk – Wikipedia.
Mayo Clinic. 2021. Coconut oil for weight loss: Does it work?.