Have you ever asked yourself "what does falafel taste like?" They are fried chickpea balls or patties that are so famous worldwide, especially Western countries. But some people may not have the chance to taste falafel yet since it's not available everywhere.
Let's discover and learn more about this amazing and delicious dish! You may be surprised by what you will read!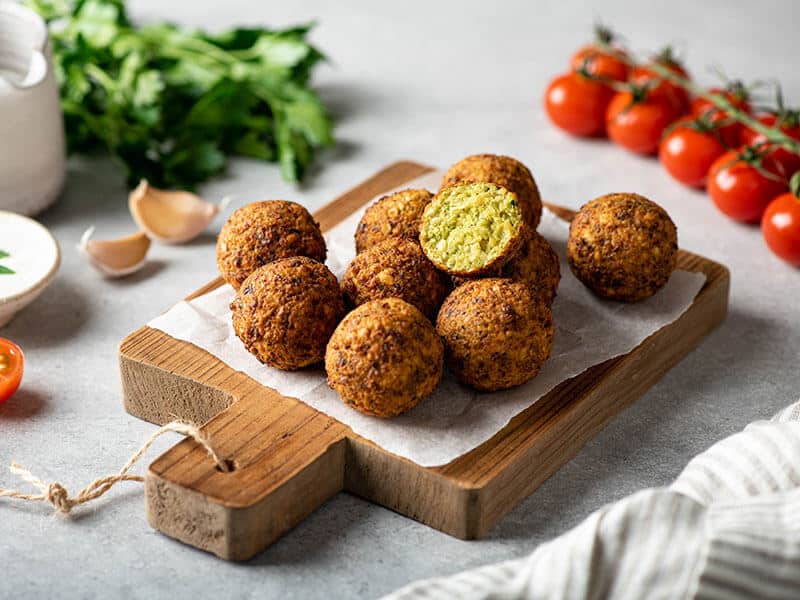 What Is Falafel?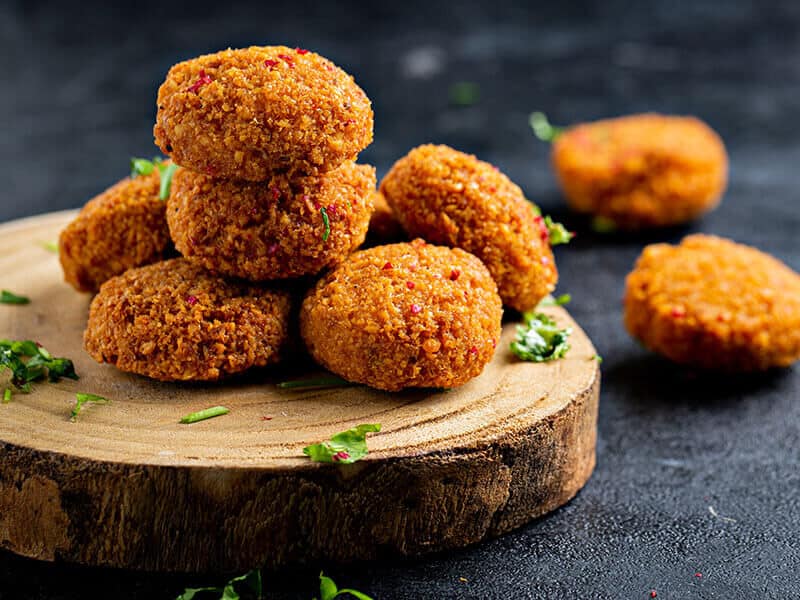 Falafel is a traditional dish from Middle Eastern cuisine. It appears in deep-fried crunchy balls or patties. The main ingredients inside falafel are ground chickpeas and fava beans, with many herbs and spices as seasonings. It is medium-sized and larger than meatballs.
The name "falafel" is from the word "filfil" in Arabic, which literally means "pepper." In Egypt and Sudan, it is called ta'miya. It is nowadays popular in Western countries. It can be eaten as it is with some dip sauces or is traditionally served by stuffing inside a pita sandwich. (1)
Falafel is easy to make at home with some basic ingredients and culinary equipment. It is deep-fried in a hot pan, baked in an oven, or made by using an air fryer or toaster oven! The outcome of falafel has a bright green color or whatever color based on the components.
Ingredients Of Traditional Falafel
The components are what form up the falafel, so they are really important. Here are what may appear in the most basic type of falafel.
The Base For Falafel Can Be Made With:
Chickpeas
Fava beans
Onion
Garlic
Lemon juice
Spices
Herbs
Frying Or Baking Oil
Avocado oil
Canola oil
Sunflower oil
Vegetable oil
If the oil has a strong flavor and a low smoke point, such as olive oil, it's not a suitable choice for frying since the taste will overpower the falafel, and it won't crisp up as usual.
What Does Falafel Taste Like?
There are thousands of falafel variations in the world with many different recipes, so the taste of falafel also varies based on the ingredients inside. But I'm gonna describe the most familiar type, which is the traditional falafel, to you.
Most falafel is deep-fried, so if it is fried perfectly, the crunchy outer layer will amaze you at the first bite! Then you will feel the soft, dense, and flavorful filling inside. Falafel contains a mixture of beans, herbs, and spices, so it's really savory, grainy, and herbaceous.
The more herbs are added to falafel, the brighter, herbier and greener it becomes. If there are fewer herbs joined in, falafel will get the richer and more savory flavor from the beans. The beans may not add any intense taste, but they do build up the overall flavor content.
Falafel is usually compared to a savory donut for the similarities in flavor and texture. The patty-shaped falafel looks and tastes pretty like a small yummy donut. When it is served as itself, the dipping sauce coming with it is usually the tahini sauce.
Onion and garlic are also the two key ingredients bringing a strong taste to falafel. The onion makes the balls fresh, sweet, and aromatic, while the garlic provides a garlicky, slightly spicy, and intense taste. They both join hands in building up the original flavor of falafel.
The herbs and spices are also essential when it comes to describing the flavor of this dish. The coriander and pepper give off the depth-filled and peppery note. The mint, cilantro, and parsley add a more intense and herbaceous taste to falafel crispy balls.
The Unfamiliar Smell Of Falafel
Some people may find that the falafel's smell is somehow smelly and unpleasant. Its aroma depends mostly on the ingredients inside, and some of the herbs have a strong and stinky odor, such as cumin and garlic.
However, others say that they like the smoky, herby and spicy smell of the traditional falafel. The black pepper is often added to the mixture, so you may feel the spicy and sharp smell from the falafel by doing the sniff test!
The Pleasant Texture Of Falafel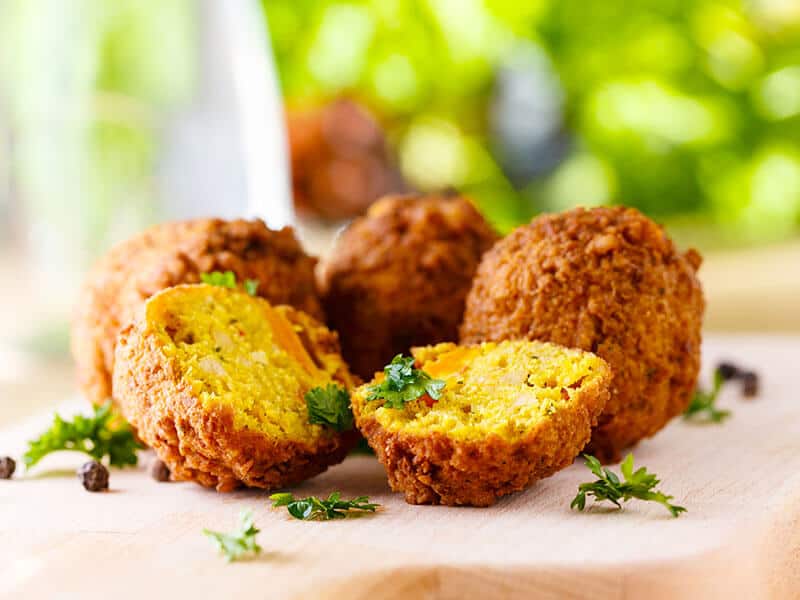 The texture is what your tongue first touches when you eat falafel, so it may make a big impact on the overall flavor. You've known about the crunchy outside and soft inside of falafel, but that is actually not all.
Falafel's outer side is not really crunchy outside as the expectation that people usually give to deep-fried products. The cover is thin and just slightly crispy. When you start to chew more, the filling inside will become the main texture of falafel – soft, supple, and firm.
Once you break or cut the falafel balls in half, they turn to a fluffy, airy, pleasant texture that you can not find anywhere! It will also add a flavorful taste to your mouth.
The cooking method is also a sign to anticipate the texture of falafel. If the oil is not heated properly while deep frying, your falafel will be so soggy, greasy, oily, and heavy that you don't want to taste it anymore just by looking at it!
The texture of falafel also depends on its main ingredients, which are beans. Falafel made from chickpeas has a softer texture than falafel made from fava beans, which are firmer and denser.
A Genuine Traditional Falafel Recipe
If you have decided to taste these beanballs, here is an authentic traditional recipe to make falafel, just for you! Make them for your next dish!
Ingredients
2 cups dried chickpeas or fava beans
1 small onion, quartered
8-10 garlic cloves, peeled
1 cup of fresh parsley leaves
¾ cup of fresh cilantro leaves
½ cup of fresh dill
1 tablespoon of black pepper
1 tablespoon of cumin
1 tablespoon of coriander
1 teaspoon cayenne pepper (optional)
2 tablespoon toasted sesame seeds
Baking powder
Basic spices (salt, sugar, etc.)
Frying oil (avocado oil, canola oil, sunflower oil, vegetable oil, etc.)
Instructions
Step 1: Soak the dried chickpeas or fava beans or both. Put them in a large bowl or container with plain water and leave it for around 18-20 hours or ideally overnight. Watch them regularly, and when they are a bit soft, take them out of the water and make them dry.
Step 2: After you get the soaked beans, start to make the falafel mixture by putting the beans, garlic, onions, herbs, and spices in a food blender. Let it blend your mixture in about 40 to 50 seconds.
Step 3: Move all the falafel mixture to a container or a bowl. Cover them carefully with a lid or nylon food wrap in case it doesn't have a lid. Put the mixture in the refrigerator for about 1 hour.
Step 4: When your mixture is ready, take it out of the fridge and let it cool down a bit. Before frying, add sesame seeds and baking powder to the mixture and gently mix them up until well blended.
Step 5: Form the mixture into balls or patties to your likings. You can use your bare hands or a scoop to support. Each ball or patty should be around 0.5 inches in thickness.
Step 6: Put your saucepan for deep frying on the stovetop. Pour the prepared oil into the pan until it reaches half of the pan. Turn up the stovetop and heat the oil to medium temperature, at about 350 – 375oF.
Step 7: Gently place your formed falafel into the hot boiling pan. Wait for them to be fully fried for 3 to 5 minutes. When you can observe the yellow-brown coat of the falafel, and it turns crispy outside, it's time to take them out.
Step 8: Prepare a plate or a flat container with paper towels on top. Take the beautifully fried falafel out, then put them in a container for draining out the oil.
Step 9: Serve your falafel as it is with some dipping sauces to your likings or stuff them in some bread or sandwiches. Bon appetit!
Tip: Always use dried chickpeas or fava beans to start with this recipe. You should not use canned or leftover beans since they won't guarantee the fresh taste of falafel.
The traditional falafel balls are so easy to make at home with this detailed instruction!
That's how you can make yourself a delectable dish of falafel to enjoy with your family members at a party or simply a movie night!
Some Delectable Recipes To Deal With Your Falafel
Here are some falafel recipes that can help add more diverse dishes to your daily menu. Note down these in your cooking notebook and make them someday when you can't find any dish to serve!
Falafel is traditionally served with pita bread, veggies, and a dipping sauce. Try to add some fresh herbs, such as cilantro or parsley to boost the taste more. You may find this special version of the sandwich is really pleasant to your taste!
The dipping sauce may vary due to your likings, but typically falafel goes well with tahini or hummus sauces. They are great flavor enhancers for falafel.
If you want to make a falafel pita sandwich from scratch, these instructions may help!
You can use last night's falafel to make a refreshing salad dish, with all the veggies you like. This recipe is so healthy and packed with protein that can benefit your health a lot. Just with some veggies and herbs or spices in your pantry, you can easily make this delicious salad!
It can be served as a side dish on the table on holidays or just simply at a family dinner. I'm sure that this delightful dish will please even the grumpiest consumer!
This special falafel recipe replaces the traditional beans (chickpeas and fava beans) with black beans and sweet potatoes. These two ingredients taste more robust and aromatic than the original beans, and their colors provide the falafels with an eye-catching appearance.
Try this recipe for a fun snack or a beautiful and delectable appetizer at your dinner table! These falafels are also safe for vegan individuals at a big party!
This falafel burger recipe is so easy to prepare that you can finish it in just 30 minutes! Its filling is a combination of the fluffiness from the herby falafel patty and the natural crunch from other veggies such as tomatoes, onions, and lettuce.
This can be the dairy-free, egg-free vegan burger that will surely please the grumpiest vegetarian! Amaze yourself with this amazing falafel recipe!
See how they make a perfect vegan falafel burger from the simplest components!
Also, if you want to serve falafel as the main dish, it can go perfectly with some side dishes such as Korean kimchi, tzatziki, rice pilaf, olive salad, hummus, avocado sauce, etc. But after all, I still love to enjoy the falafel as it is, crunchy outside and soft inside, with some dips.
Some Surprising Health Benefits Of Falafel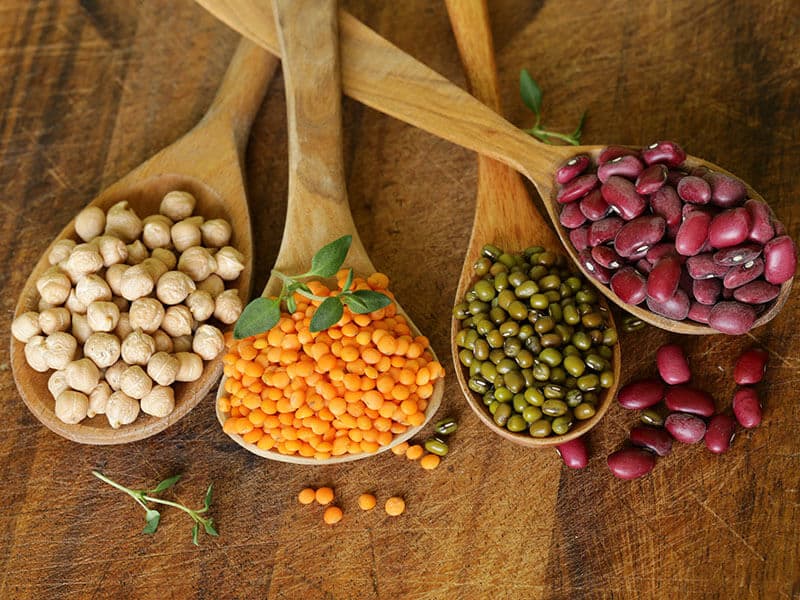 Falafel is not only delectable but also a healthy food even though it is deep-fried. The main ingredients, which are chickpeas and fava beans, bring nutritional value to this dish. They are legumes that benefit your health a lot.
They consist of low-fat content. Legumes are plant-based, so it's understandable that they are very low in trans and saturated fat, which are unhealthy fats.
They are packed with protein. Like many other types of beans, chickpeas and fava beans have a high amount of protein. They are also low in bad cholesterol.
They are an excellent source of fiber. Fiber is undoubtedly a necessary mineral to your body, with 25 to 38 grams of daily intake. It's better to get fiber from foods, not supplements; therefore, eating these legumes also helps increase fiber in your body.
However, keep in mind that since falafel is deep-fried, it still has the potential to be harmful to your health if eaten in excess. (2)
FAQs
The taste and more information of falafel have been revealed! Does it satisfy your curiosity? If the answer is "not yet," take a quick look at some commonly asked questions and my short answers about falafel!
Make Yourself Some Falafel To Enjoy At Home!
Now that you have read all about falafel, do you want to taste this fellow food? It is delectable and easy to make in every way! If you are going to experience eating falafel for the first time, don't forget to tell me how your feelings are by commenting below this post!
Also, if you find this post interesting and helpful, share it with your family and friends in case they have also yet tasted this delicious dish. Hope that you enjoy it and please have a beautiful day!
References
En.wikipedia.org. 2021. Falafel – Wikipedia.
WebMD. 2021. Are There Health Benefits of Falafel?.
Centers for Disease Control and Prevention. 2021. Food Poisoning Symptoms.