What does nutritional yeast taste like exactly? What am I supposed to do with it in a recipe? If you are curious about the answers to these 2 questions, this post is perfect for you.
Because I will go over every aspect of this ingredient extensively, so stay here and broaden your horizons just within a few minutes. You will not regret it.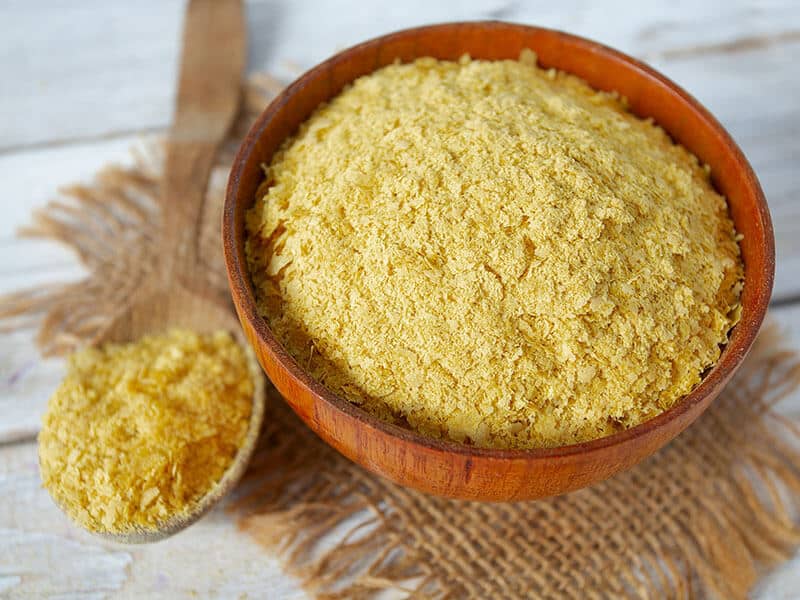 Nutritional yeast (aka nooch) is deactivated yeast. It is not like other baker's yeast or brewer's yeast (as activated varieties) that can make the dough rise and expand. So just remember: do not ever put nutritional yeast on your bread loaf.
Besides, nutritional yeast is a product of Saccharomyces cerevisiae species. People produce this ingredient by culturing Saccharomyces cerevisiae in a sugar-rich environment (e.g., molasses or beet sugar) for many days (1).
After that, they will deactivate it by heat, harvest, wash, dry, and pack the yeast to sell commercially. The product you receive has a pale yellow color that can be in flakes, powder, or granules packed in a jar or plastic bag.
But if you live in other countries, for example, you can find it as a 'savory yeast flake' ingredient in Australia, as 'Brufax' in New Zealand, or under the Engevita brand name in the UK.
Moreover, nutritional yeast can be found in 2 types, unfortified and fortified. The main difference between these 2 is that the unfortified type does not have added vitamins or minerals, while synthetic vitamins will be added during the producing process of fortified variety.
The popular one that you can find at stores easily is fortified nutritional yeast. Today, this ingredient is a trendy food for vegans and vegetarians. You can add it to many cooking recipes or use nutritional yeast as a condiment.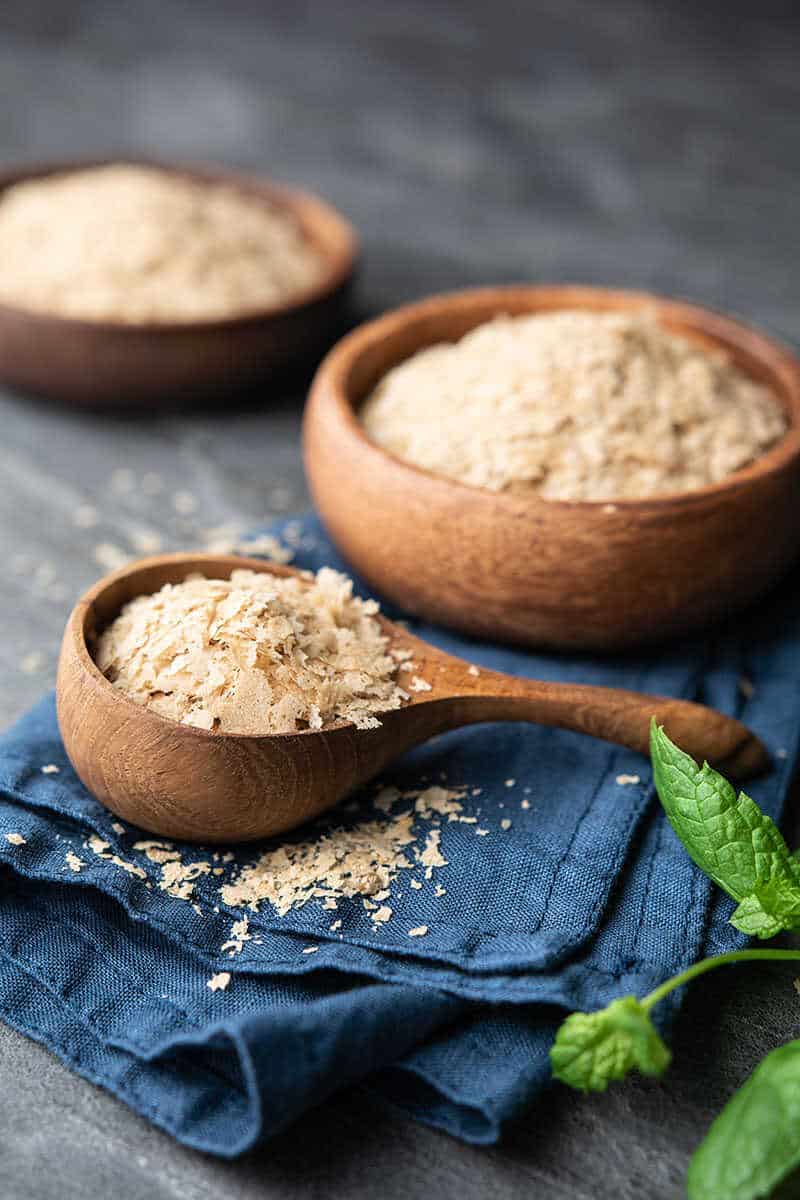 The Illustration Of Nutritional Yeast Taste And Smell For Beginners
The key topic in this article is nutritional yeast taste. In addition, I also dispel a common misconception concerning its odor for those who are just getting started with this ingredient. So let's see what I have here.
Nutritional Yeast Taste – Bland, Salty, or Flavorful?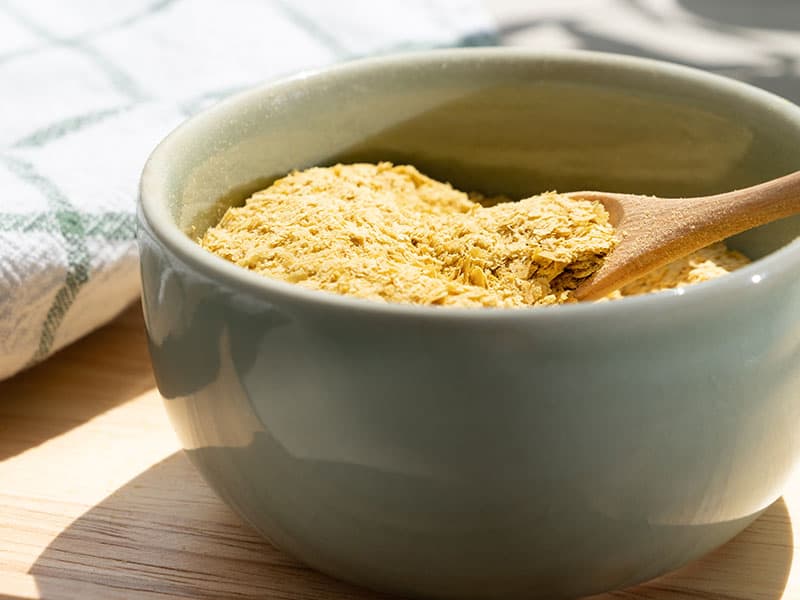 So, nutritional yeast, unlike its names, does not taste like yeast. It has a cheesy, nutty, savory, umami, and amazingly creamy flavor that can remind you of cheese. That's why many claim it has a relevant taste of their favorite cheese – parmesan.
Generally, many people use this ingredient in place of cheese. Or, if you want to switch to a vegan diet and search for some cheesy tastes in your dish, what else can be better than nutritional yeast?
But remember: it does not taste exactly the same flavor as cheese. It just resembles the cheesy flavor instead. The reason for that is that nutritional yeast contains a low sodium level, whereas cheese is high in salt.
Overall, nutritional yeast can add more flavors to your foods, make hot dishes creamier, and give cold treats a different texture.
A real taste test of 2 nutritional yeast varieties will give you a closer view regarding their flavors.
How About Its Smell?
This seasoning has a mild aroma. However, those who have not tried it before might assume nutritional yeast comes in an unpleasant smell at first. And if you are a 'super smeller', you might think it has an off-odor.
Plus, their smell is varied as it depends on its brands and what culture they use to make nutritional yeast. So it would be better to start with a small amount first, then you will get used to it shortly because they taste amazing in many dishes. I guarantee.
But if you are totally fine with the cheese smell, you will love nutritional yeast. This yellowish powder has a nutty, cheesy, and earthy aroma in general.
How Nutritional Yeast Complement Your Food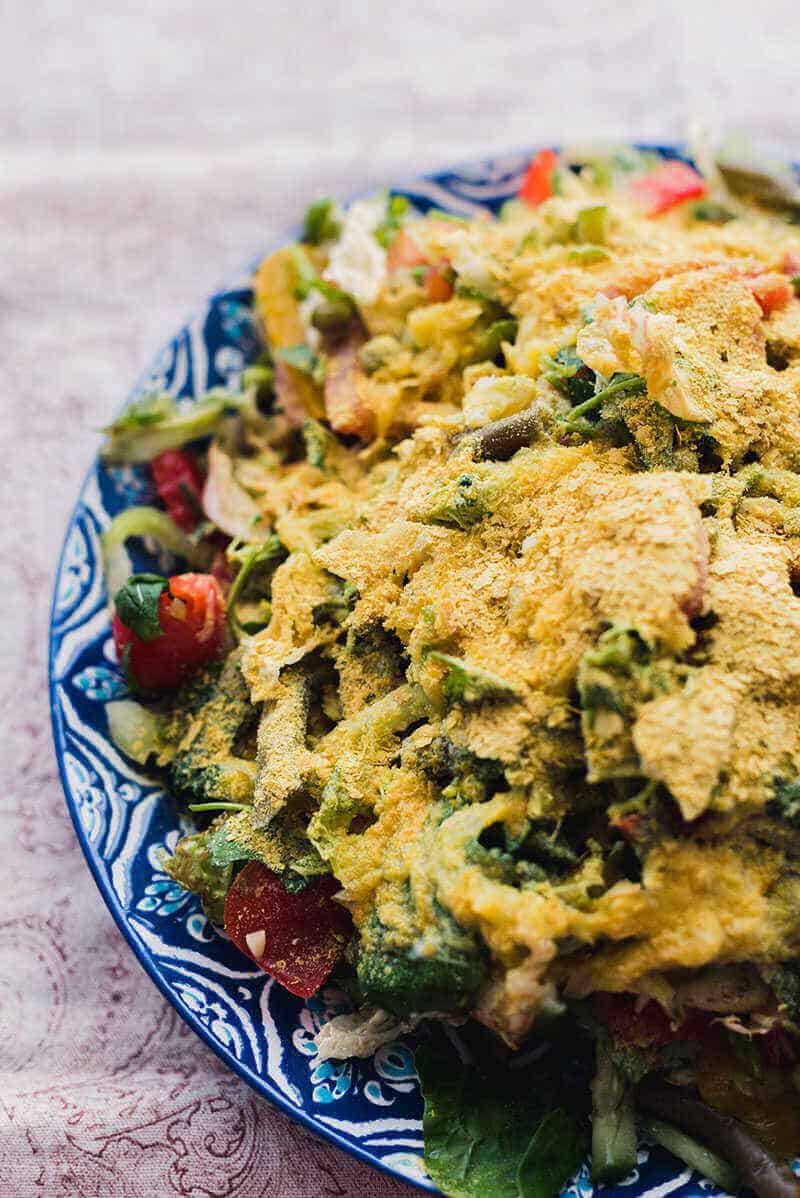 So what food does nutritional yeast pair well with? Apparently, it will add extra flavor (as I mentioned above) to your recipes. However, what recipes can nutritional yeast be a superstar?
The most distinctive feature of this component is they are vegan-friendly, so if your plant-based ideas miss a cheesy flavor, nutritional yeast meets your desire for sure.
There are also several ways to enjoy nutritional yeast, but below are some highly recommended ways to use nutritional yeast in cooking.
Sprinkle it on salads, roasted veggies, pasta, rice dishes, etc., like the way you use grated cheese.
Add to soups as a creamy and thickening agent and for umami taste.
Add to the broth to reduplicate a meaty flavor.
Combine olive oil, salt, nutritional yeast and toss in on popcorn for a cheesy and earthy snack.
Use in vegan pesto, mac, and cheese, enchiladas, or risotto.
Make cheese sauces, pasta sauces, veggie dressings for extra cheesiness and saltiness.
Replace breadcrumbs in baked goods.
Mix it on scrambled eggs, tofu, or mashed vegetables.
Make vegan cream cheese by combining it with dairy-free milk.
Specific Mouth-Watering Examples Of Nutritional Yeast Uses
For a better understanding of how amazing nutritional yeast works in recipes, I would like to introduce some simple and tasty vegan-friendly ideas that you can make with this component.
Nothing can stop you from making this pasta dish since it only takes around half an hour to prepare and cook with straightforward instructions.
Let's begin with boiling the pasta. The major factor that decides whether your pasta dish is perfect or not depends on the sauce. And this is where nutritional yeast glows.
Mix it with other plant-based ingredients to have a creamy sauce. In case you do not think the sauce is not smooth enough, use a hand blender to puree them. By the way, even though this recipe is about fettuccine, feel free to use other kinds of pasta that you like.
What can complement your meal as great as a sauce does, right? So let's make a cheese sauce without using cheese.
With a few ingredients and around 5 minutes, this sauce is a truly heaven-sent food to make pizzas, machos, toast, baked goods, etc., more delicious.
In fact, you can use whatever vegan components to make this sauce, as long as you add nutritional yeast to increase the cheesy flavor. So do not limit your creativity.
What should I do to have a spectacular vegan cheese sauce? Let's follow this guidance.
If you are no longer interested in non-vegan mac and cheese, give this one a shot with nutritional yeast.
And with the light spiciness from jalapeno peppers and creamy flavor from cashew, you just have added a little twist to the regular mac and cheese, making it so unique and unforgettable.
You can also bake or cook your dish, as long as the final result is soft pasta, thicken cheese sauce, and tender vegetables.
If you own a high-speed blender, try making this hearty soup this weekend. Your kids, those who do not like broccoli, might devour it immediately.
Indeed, broccoli might be not a child-friendly veggie, but there are so many ways to make them love it. That's why I present this recipe. Do not fret by a long list of ingredients; you will feel it is worth it after tasting this cheesy soup.
The cooking part is simple as you combine vegetables and broth in a pot, simmer them until tender. Then add the remaining ingredients into a pot and blend them together for a smooth texture soup. Sprinkle a little bit of salt and crushed pepper before serving.
Do not think eating vegan might make you weaker as the lack of protein. This recipe will show the opposite.
Tofu and nutritional yeast is an incredible combo to make sure you are always packed with vitamins and protein. And do you know what is even better? It only takes around 20 minutes to have this healthy dish.
Start with draining and crumbling the tofu. Use the extra-firm tofu for the best texture scramble dish. You can either mix the spices with tofu first, cook them later, or add seasonings afterward. Both ways are all good.
Tofu scramble is an easy and tasty treat for your vegan ideas. Let's have a look at the following video!
Can Nutritional Yeast Go Bad?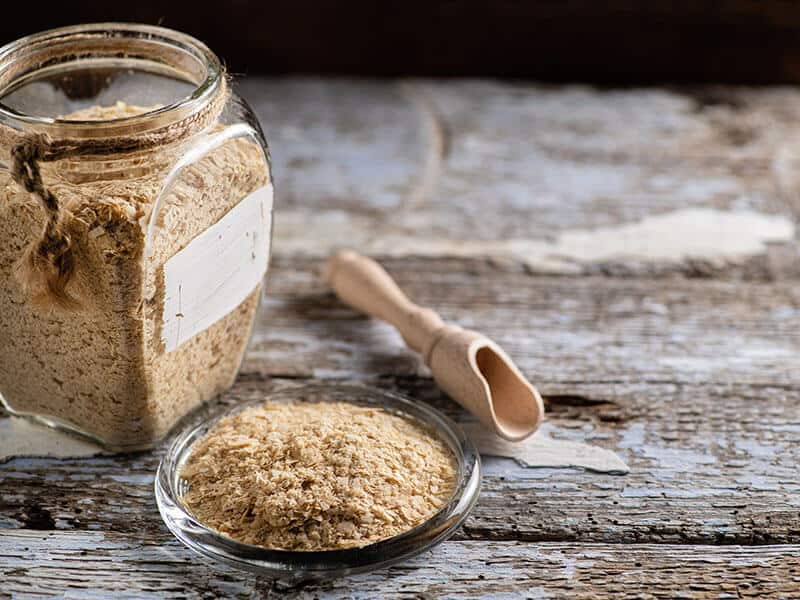 Like all other foods, nutritional yeast can still go bad or expire. So with simple tricks as below, you can determine its condition for safe consumption.
Color: Nutritional yeast will alter its color when it is spoiled. It might turn from yellow to a brown or darker color.
Texture: Bad nutritional yeast tends to clump together.
Taste or Smell: It might have an unpleasant smell or bitter taste.
Why You Should Consume Nutritional Yeast
They are called nutritional yeast for a reason. Yes, it is full of nutrients with various health benefits. Let's look at the following table to see what nutrients are in 100 grams of nutritional yeast.
| | |
| --- | --- |
| Nutrients | Level |
| Calories | 281 |
| Carbohydrate | 31.3 g |
| Total Fat | 3.1 g |
| Dietary Fiber | 25 g |
| Sugars | 6.3 g |
| Protein | 50 g |
| Vitamin B12 | 48.7 mcg |
| Vitamin B6 | 60 mg |
| Folate | 1500 mcg |
| Thiamin | 60 mcg |
| Riboflavin | 60.6 mcg |
| Niacin | 350 mg |
| Sodium | 31.3 mg |
| Zinc | 18.8 mg |
You can see this component is a superfood rich in protein, trace minerals, and vitamins, particularly vitamin B.
Fortified might contain more vitamin B than unfortified ones, but it does not mean unfortified nutritional yeast does not have vitamin B. They can still produce vitamins when the yeast grows.
In general, you will get these benefits from consuming nutritional yeast such as:
Enhance Energy: Nutritional yeast can prevent the deficiency of vitamin B12 for many people, especially those who are vegetarians and vegans. In reality, B12 is mainly found in dairy products, but nutritional yeast is exceptional.
Improve Immunity: S. cerevisiae strain in this seasoning is perfect for your immune system and lowers the chances of inflammation or infection (2).
High Level of Antioxidants: This means it can protect your cells from damages and help your body get rid of toxins. Moreover, this compound can reduce the risks of cardiovascular diseases, cancer, or degeneration in the macular.
Might Control Cholesterol and Blood Glucose: People think nutritional yeast is ideal for type 2 diabetes or those who need to lower the cholesterol in their bodies. However, it needs more research on this benefit.
Good For Your Skin, Hair, Nail: People also believe nutritional yeast can prevent nail and hair problems. It also decreases the acne appearance for teenagers.
However, the level of nutrients can vary based on the manufacturers. So make sure you read the label carefully before making a purchase decision.
Here is a quick overview of how nutritional yeast might benefit your health.
FAQs
Are you ready to try some nutritional yeast? If not, here are some short questions and answers concerning other aspects of this ingredient. So keep reading for more surprises.
How Is Your Experience With Nutritional Yeast?
I know some of you might not like them from the first look or taste. But believe me! Be patient and try it with a small quantity first; then, you might want to keep a jar of nutritional yeast in your pantry all the time.
So, what do you think about this ingredient? Do you like it or not? Please do not hesitate to leave your thoughts and opinions about it in the comment section. Also, your likes and shares are my huge motivations. I appreciate your support and see you in the next article.
References
En.wikipedia.org. 2021. Nutritional Yeast – Wikipedia.
Moslehi-Jenabian, S., Pedersen, L.L., Jespersen, L.. 2010.