I am here to help you have more garam masala substitutes since it is not easy to find garam masala in non-Indian countries. Do not rush when you are craving a warm and fiery Indian dish, but there is no garam masala left in your pantry.
In addition, if you can not find these substitutes, there is a fantastic recipe to make your garam masala at home. Does it sound so exciting? Stay tuned and figure out some excellent alternatives for garam masala.
First and foremost, let's start the article with the big question below to understand more about garam masala before finding out its best replacements!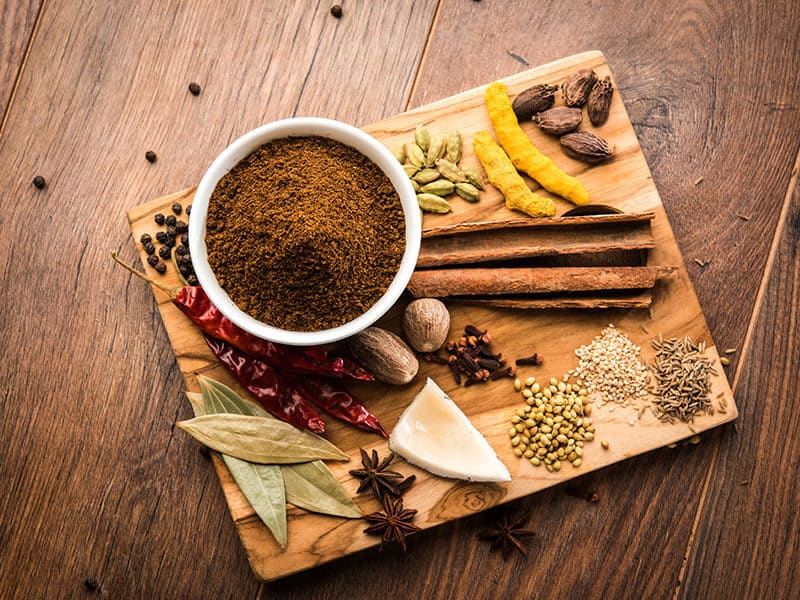 An Introduction To Garam Masala And Its Distinct Flavor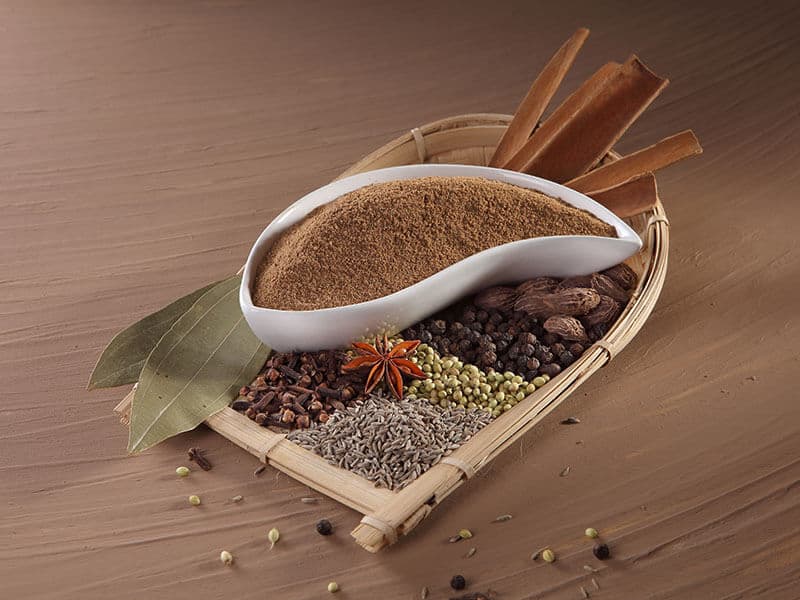 Garam masala is a blended spice that originates in South Asia. It appears in various cuisines, such as Indian, Pakistan, and Bangladeshi. On top of that, people use garam masala mostly in Indian cooking, including Indian curries, lentil dishes, and soups. (1)
Also, it is a great source of beneficial nutrients. Garam masala is beneficial for boosting the digestive system and metabolism. Besides, it can help fight bad breath, bloating, and flatulence. Garam masala is also packed with a high amount of antioxidants.(2)
Although garam masala is becoming more popular these days, it is still not easy to find it in some countries. Also, making garam masala is labor-intensive. That's why you should consider some garam masala replacements when you are in need.
Garam masala is made from a large number of aromatic ground seeds and spices. Some of them are cinnamon, coriander seeds, cumin seeds, and peppercorns. The ingredients added in garam masala are versatile.
Garam masala has a flavorful taste. It is aromatic, warm, sweet, subtly earthy, and not too spicy enough to burn your mouth. Since there are a lot of types of garam masala, each type may have a slight difference. Some varieties are hot, and the others are zesty.
These 13 Garam Masala Best Replacements Will Amaze You!
After getting to know deeply about garam masala, it's time to explore these 13 alternatives that you can use when there is no garam masala available! I divided them into 2 parts: a mixture of spices and sauces. This table will give you a brief overview of them.
Garam masala substitutes
Proportion
Chaat masala
Start with the haft amount first before adding more
Sambhar masala
Start with the haft amount first before adding more
Curry powder
1 part garam masala = 1 part curry powder
Cumin and allspice
1 part garam masala = 1 part cumin and allspice
Ras el hanout
Start with a tiny quantity first before adding more
Vadouvan
Start with a small amount first before adding more
Pumpkin pie spice
1 part garam masala = 1 part pumpkin pie spice
Mustard seeds, curry leaves, and coconut
12 curry leaves

1 teaspoon of mustard seeds

1 teaspoon of shredded coconut

Start with a tiny amount first before adding more
Cinnamon, fenugreek, and cloves
Start with a tiny amount first before adding more
Cumin, coriander, and cardamom
1 teaspoon of cumin

2 teaspoons of coriander seeds

1/2 teaspoon of green cardamom pods

Start with a tiny dose first before adding more
The extra mixture of spices
½ part cumin and black peppercorns

1 part toasted coriander

¼ part ground cardamom, cinnamon, nutmeg, and cloves

Start with a tiny dose first before adding more
Indian butter chicken
Start with a small dose first before adding more
Chicken tikka masala
Start with a little dose first before adding more
Let's discuss one by one and find out your favorite one!
Mind-Blowing With These Spices To Substitute Garam Masala!
Since garam masala is also a blend of spices, some other spice mixtures can be substituted. Stick around and explore these fantastic alternatives!
1. Chaat Masala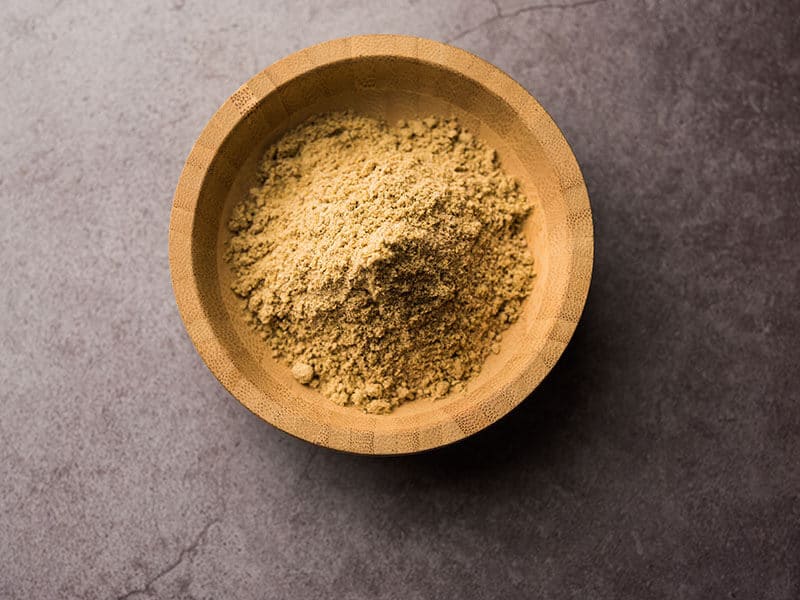 Chaat masala is also a spice blend that comes from India. Although it does not offer the unmistakable aroma and flavor as garam masala, it is also a suitable alternative.
Amchoor, cumin, coriander, ginger, black pepper, etc., are the ingredients of chaat masala. Chaat masala tastes zingy, sour, sweet, and salty, but less umami and hot. Therefore, you should use half the amount and work your way up.
You can substitute garam masala with chaat masala in vegetable stews and spicy sauces. Depending on what dish you cook, it requires different quantities of chaat masala. Make sure you add it slowly to control the amount of chaat masala.
2. Sambhar Masala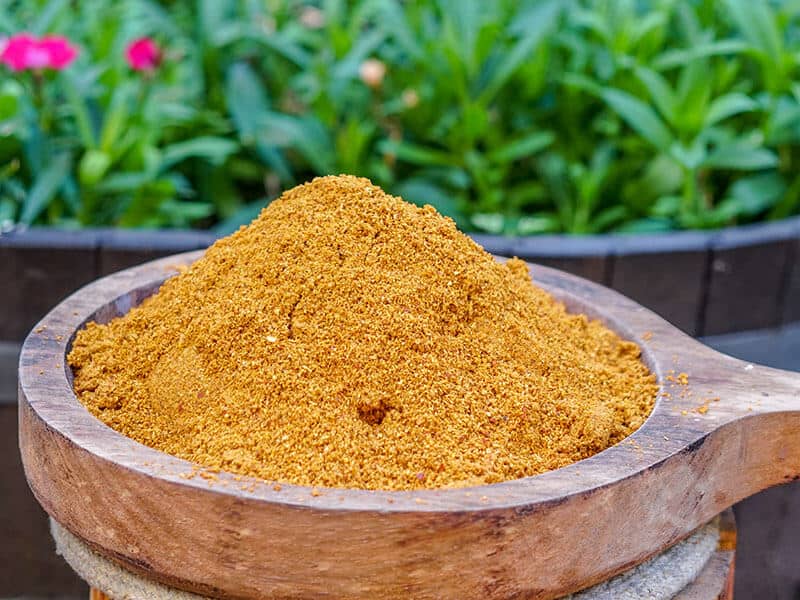 People also call it Sambar masala. Sambhar masala appears mainly in South Indian cuisine. Indians often add sambhar masala to their traditional food, including idli (savory rice cake), dosa (thin pancake or crepe), or vada (savory fried snacks).
The main ingredients in this spice blend are coriander seeds, cumin, mustard seeds, and other aromatic spices. You can make it at home for later uses or buy it at an affordable price.
Sambhar masala brings a soulful aroma and flavor to the foods. Consider using half the amount of sambhar masala replacing garam masala. You add more later, depending on your taste and the types of dishes.
3. Curry Powder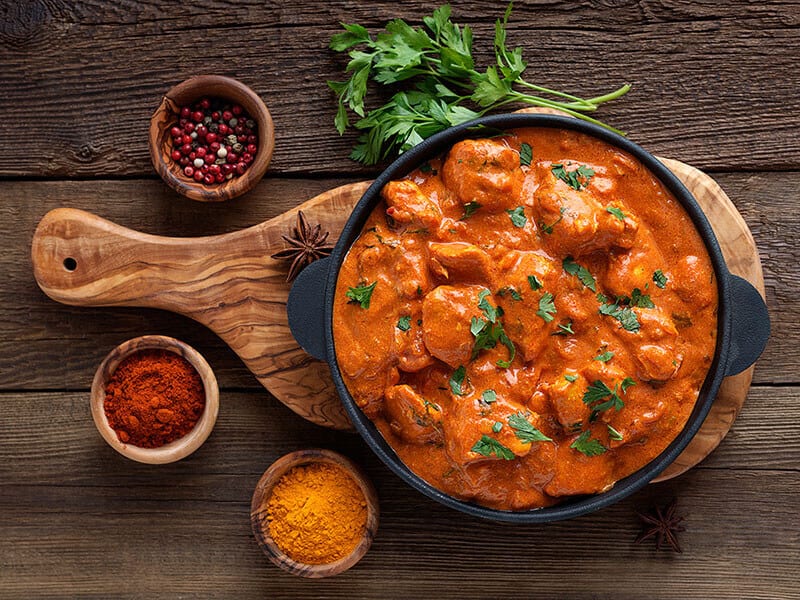 Curry powder is one of the most popular and widely used spices in India. Since the curry powder can not bring the same warmth of garam masala to your dishes, it still works well with various dishes that call for garam masala.
There are various types of curry powder, do not choose the hot one to substitute for garam masala because it is not a fiery spice blend. Consider choosing mild or medium curry powder and use the same amount not to overwhelm your foods.
Moreover, curry powder yields a more vivid yellow color than garam masala, and it may change the color of your dishes. Curry powder works well with soups, stews, sauces, meat rubs, and marinades.
A quick and easy chicken curry that you should not miss.
4. Cumin And Allspice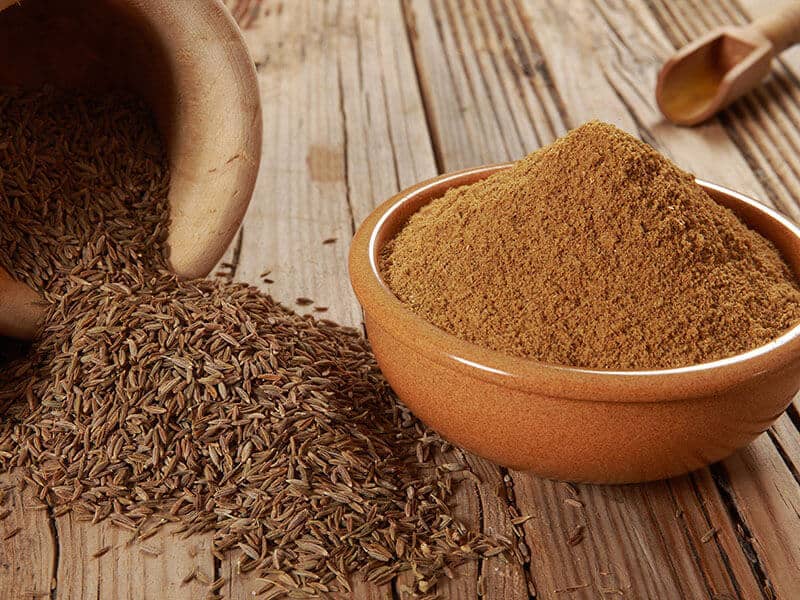 The recommended ratio when blind cumin and allspice is 2:1, which means you should use 2 tbsp cumin and 1 tbsp allspice and use the same amount of this when replacing garam masala.
Do you wonder what allspice is? Allspice is made of dried berries from the Pimenta dioica tree. It appears mainly in Caribbean, Middle Eastern, and Latin American cuisine. The blend of cumin and allspice can remind you of the garam masala flavor.
Allspice brings a similar flavor of all of its elements, including clove, nutmeg, and cinnamon, to the dishes. The sweet and warm allspice combined with aromatic cumin creates the best alternative for garam masala.
5. Ras El Hanout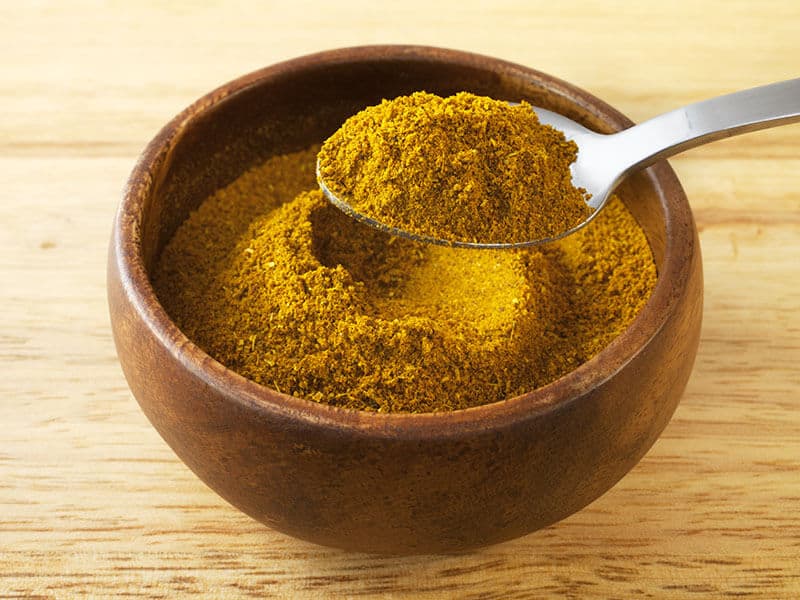 Ras el hanout is an Arabic spice blend, and it is widely used in South African and Moroccan. The traditional one can be made from up to 30 different ingredients. Some core ingredients of it are cardamom, cinnamon, coriander, cumin, nutmeg, and clove.
Because of the diverse ingredients to make ras el hanout, it has slightly different tastes from region to region. Some may contain rose petals or lavender that will bring a subtle floral aroma to the foods.
Ras el hanout has a unique woody, intense, and bitter taste with vivid dark yellow to orange color. It is hotter than garam masala, so you should add it slowly. You can add it to season tagines, meats, vegetables, and stews.
6. Vadouvan
Vadouvan is also an Indian curry powder but originated from French colonial. It grew in popularity outside India. Western people also made their vadouvan for cooking. The Indian and Western vadouvan have slightly different ingredients.
Since it is a type of curry powder, vadouvan has a dark yellow color. Vadouvan shares the same sweet taste as garam masala but with a smoky note. You should add vadouvan a little by little until your dish reaches the desired flavor.
The best way to enjoy its flavor is by adding it to meat rubs, soups, vegetables, and grains. Sprinkling vadouvan on popcorn to enhance the sweetness and slightly spicy for a movie night is also a must-try.
7. Pumpkin Pie Spice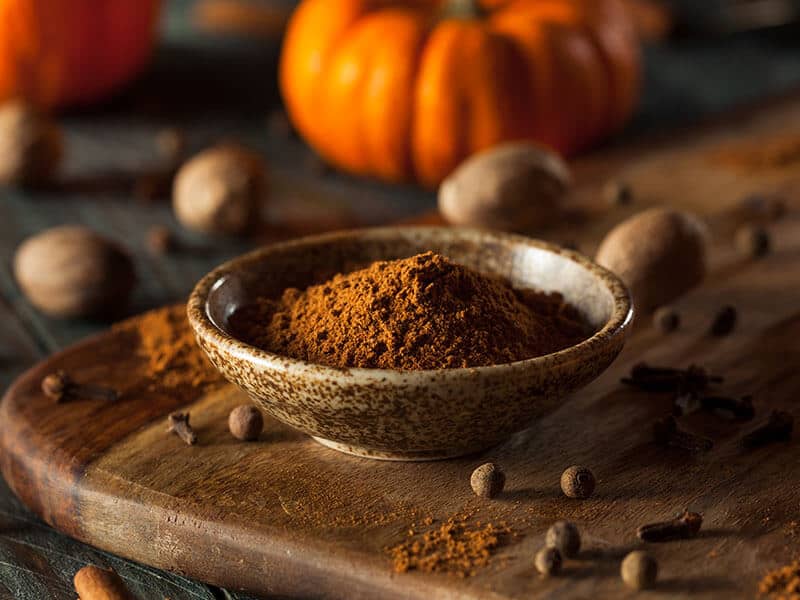 Although pumpkin pie spice may add a few changes to your dishes, it is still a decent substitute when you have no choice. The recommended substituting ratio is 1:1, meaning that you use 1 tbsp of pumpkin pie spice for 1 tbsp of garam masala.
Pumpkin pie spice is warm like garam masala, but it does not contain coriander, cumin, and black pepper. The best way to duplicate garam masala flavor is by adding those missed elements to the pumpkin pie spice.
You can use pumpkin pie spice in baking desserts, such as pies, muffins, cakes, or cookies. But it still tastes good in lattes, cream, yogurt, roasted vegetables, etc. Pumpkin pie spice also has a featured orange color of pumpkin.
Welcome the autumn with this delicious pumpkin pie spice latte!
8. Mustard Seeds, Curry Leaves, And Coconut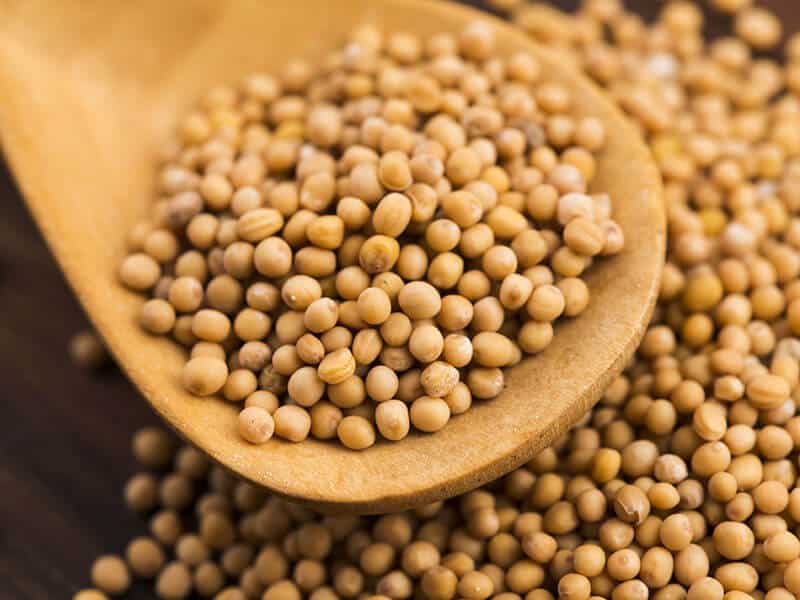 The mixture of mustard seeds, curry leaves, and coconut will bring a similar taste of garam masala to your dishes. Here is the portion of each ingredient to make this spice mix, but you can change it to suit your taste.
People often use 12 curry leaves, a teaspoon of mustard seeds, and a teaspoon of shredded coconut to the duplicated spice blend of garam masala.
Stir all ingredients in a saucepan on low heat and pulse them in the processor to make the best-blended spice to substitute for garam masala. This mixture of spices tastes good in fish, sauces, salad dressing, and other recipes call for garam masala.
9. Cinnamon, Fenugreek, And Cloves
This spice mixture will be the best substitute for garam masala if you are a huge fan of cinnamon.
The warm, woody and slightly spicy taste of cinnamon and fenugreek are the best garam masala replacements combined with nutty and sweet fenugreek.
This mixture of spices gives a unique aromatic smell, and it tastes perfect with every dish called for garam masala, for example, vegetables, chicken, stews.
11. Cumin, Coriander, And Cardamom
Although cumin, coriander, and cardamom work best when using alone, the combination of them provides an excellent garam masala flavor.
You can add cumin, coriander, and cardamom spice blend to vegetable stews or marinated meat.
The ultimate recipe to make the garam masala alternative, use a 1:2:½ ratio; it means that you should add a teaspoon of cumin, 2 teaspoons of coriander seeds, and a half spoon of green cardamom pods.
12. Extra Mixture Of Spices
Besides the 10 excellent mixtures of blend spices above, you can still combine herbs to replace garam masala while cooking.
There is a tip for you. You should toast all the spices before grinding them to make them flavorful and delicious. Below are the ingredients and the specific amount of them.
½ part cumin and black peppercorns
1 part toasted coriander
¼ part ground cardamom, cinnamon, nutmeg, and cloves
Here is the easy and quick instruction for you to follow:
Step 1: Grind all ground seeds above on a skillet over medium heat to strengthen their aroma and flavor.
Step 2: After toasting them, take off and allow them to cool down completely.
Step 3: Blitz the toasted ground seeds in a coffee grinder or other equipment like a processor or a pestle.
2 Fantastic Sauces That To Use Instead Of Garam Masala
In case you do not have any dried herbs and seeds to make your spice substitute or can not find to buy one, these sauces can also be an alternative for garam masala.
13. Indian Butter Chicken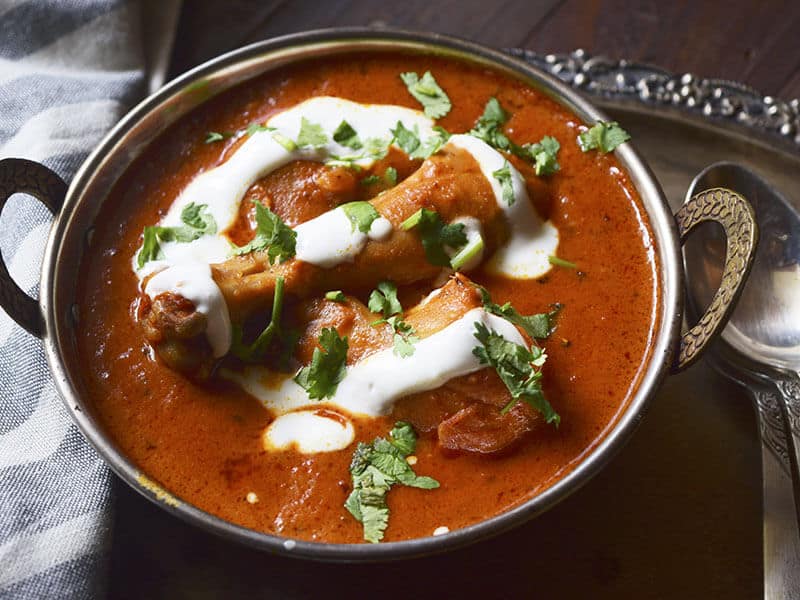 Indian butter chicken is also called murgh makhani – one of the most popular Indian curries worldwide.
Indian butter chicken is made from juicy and tender chicken infused in spicy yogurt marinade that is silky and rich. It tastes slightly tangy, creamy, and aromatic.
Although it is in a liquid texture, that is not the best choice. It can be combined with other ingredients instead of garam masala. The aroma and flavor are not too different.
14. Chicken Tikka Masala
Another not less popular than Indian butter chicken – Chicken tikka masala. The sauces of chicken tikka masala contain garam masala, which is why it can be a substitute.
Chicken tikka masala sauce is rich and flavorful which consists of aromatic spices like cumin, garam masala, coriander, and turmeric, with yogurt, garlic, and ginger.
Are you curious about its taste? Chicken tikka masala is mouth-watering with a sweet and subtle earthy flavor. People prefer eating it with warm cooked white rice or naan bread.
Make Your Own Homemade Garam Masala With This Recipe!
If all of the suggested substitutes still do not satisfy you, I highly recommend making your own perfect homemade garam masala. Although garam masala ingredients are versatile, below is one of the easy and simple guides for you to follow.
First, prepare these seeds and equipment:
Equipment
A pan
A pestle (mortar, processor, coffee grinder are acceptable)
Seeds
Coriander: 3 parts
Cinnamon: 3 parts
Cumin: 1 part
Cloves: 1 part
Nutmeg: ½ part
Black pepper: ½ part
Cardamom: ½ part
Mace: 3 petals
Fennel seeds: ½ part
Let's jump right into the instructions!
Step 1: To enrich the deep flavor with a hint of the smokiness of garam masala, you should roast all of these seeds before making a blended spice. Toast the seeds on medium heat by using a pan. Do it quickly as it is easy to get burnt.
Step 2: Turn the heat off when those seeds start to pop and give out an aromatic smell. Then, allow them to cool.
Step 3: You can grind them with a pestle, a mortar, or a coffee grinder. For more quick and straightforward, you can also pulse the roasted seeds in a processor.
If you do not have any mentioned equipment, store the toasted seeds in a plastic bag and use a rolling pin to crush them finely.
Step 4: Store your garam masala fine powder in a tight jar and place it in a dark, cool, dry place. Try to avoid humid areas or direct heat and sunlight.
Let's make your garam masala with available ingredients. It is quick and straightforward.
Seek For Garam Masala Recipes? Here You Are!
Use the amazing garam masala you have just made in these recipes. You won't regret it!
Garam masala chicken curry with coconut milk recipe is a cinch to make, even if you are a curries newbie. Nonetheless, it has a bold, intense, rich, and flavorful sauce with a fragrant aroma from the spices. Also, it is not too spicy so that you can serve all of the family members.
Garam masala chicken curry is perfect when served with warm cooked grain rice. The rice soaks up all the flavor of the curry sauce. You can consider it as a flavor explosion in your mouth.
The recipe for a beautiful dish like garam masala chicken curry is never like a piece of cake like this!
The ingredients of bhagari jhinga are versatile, including beans, lentils, chilies, garlic, and other tasty and aromatic elements. Although the recipe requires quite many ingredients, it is effortless to make. Indian stir-fried shrimp in tomato cream sauce taste beautifully spicy.
Bhagari jhinga is at its best flavor when you serve it on top of warm cooked rice. It is perfect to have this warm and mouth-watering dish for dinner in the cold season.
Baked sweet potatoes with garam masala chickpeas is a comfortable and filling dinner for eating healthy. The recipe is quick and easy to do, but it is also full of nutrition. Furthermore, you can make it in advance to save time.
The chickpeas soak up all the delicious flavor of the sauces. They are also very tender as they are slow-cooked for hours. You should choose the thinner sweet potatoes for this dish to make sure that all of the potatoes are hot and caramelized.
Do not miss this straightforward recipe for your dinner menu!
FAQs
It is time to clarify some misunderstanding or curiosity you may have!
Which Of The Garam Masala Substitutes Above You Want To Try?
I hope you won't find it hard to seek garam masala replacements after reading this post. Nonetheless, because each alternative brings a slightly different taste, some types may be more robust while others are lighter, and pay attention to the amount of them while using.
Stay tuned! I will be back with other helpful and versatile information than this. Do not forget to like, share, and comment in the comment section below.
References
En.wikipedia.org. 2021. Garam masala – Wikipedia.
Food, G., 2021. Garam Masala Benefits: 5 Reasons The Indian Spice Mix Is Healthy For You.