What if your recipe calls for stewed tomatoes, but you can't come up with any substitute for stewed tomatoes in your head? There are many other tomato-based foods, but just a few of them can stand in for this stewed dish.
Do you want to know what those stewed tomato replacements are? What characteristics do they contain to be a good substitute? Keep reading this article to explore all of them!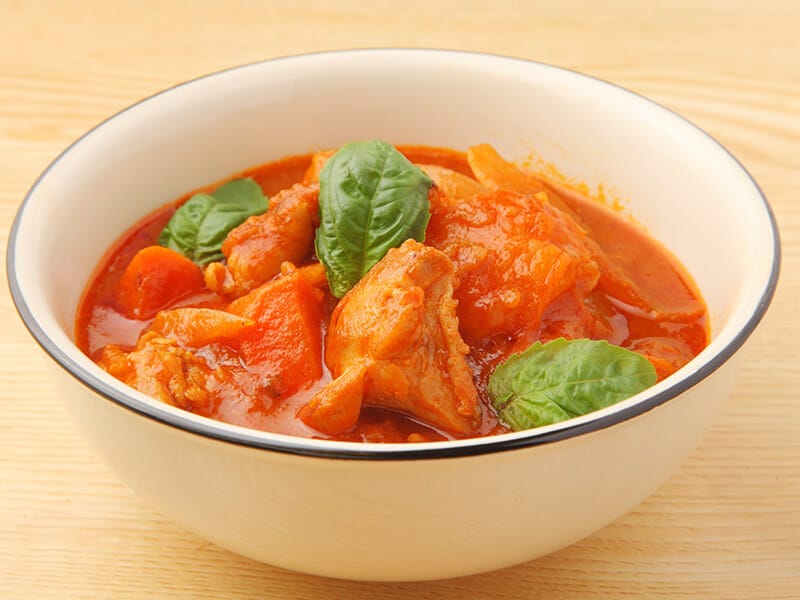 What Are Stewed Tomatoes?
Stewed tomatoes are definitely not a stranger. They are fresh tomatoes that have been stewed with some basic spices such as salt and pepper. There are various variations of stewed tomatoes including some other ingredients like onions and bell peppers.
Because they mainly contain tomatoes, most stewed tomato versions have a signature umami flavor. The taste also depends on how they are seasoned with different spices and herbs. But overall, they are flavorful and intense in taste.
People usually use stewed tomatoes in soups, stews, dressings, and sauces. These tomatoes can also help enhance the taste in recipes requiring the signature umami taste. You can find canned stewed tomatoes in most grocery stores and supermarkets.
Stewed tomatoes have carved out a particular position in American cuisine both as a main dish or a side dish. Americans often serve stewed tomatoes during some of their important holidays, such as Thanksgiving.
Surprisingly, stewed tomatoes are so healthy with nutrients, minerals, and vitamins, such as vitamin A and vitamin C. They also consist of many other veggies so the nutritional value becomes much higher. (1)
Observe how to store your stewed tomatoes properly at home!
Top 9 Substitutes For Stewed Tomatoes Right Next To You
The most wanted part is here! Take a look at these stewed tomato alternatives so see whether they happen to show up in your kitchen or not!
| | |
| --- | --- |
| Stewed Tomatoes Substitute | Estimated Ratio |
| Crushed tomatoes | 1 cup of stewed tomatoes = 1 cup crushed tomatoes |
| Diced tomatoes | 1 cup of stewed tomatoes = 1 cup diced tomatoes |
| Rotel diced tomatoes | 1 cup of stewed tomatoes = 1 cup Rotel diced tomatoes |
| Canned whole tomatoes | 1 cup of stewed tomatoes = 1 cup canned whole tomatoes |
| Fresh tomatoes | 1 cup of stewed tomatoes = 1 cup cooked fresh tomatoes with seasonings |
| Tomato sauce | 1 cup of stewed tomatoes = ¾ cup tomato sauce |
| Tomato paste | 1 cup of stewed tomato = ⅓ cup of tomato paste with water and seasonings |
| Tomato purée | 1 cup of stewed tomatoes = ⅔ cup of tomato purée |
| Ketchup | 1 cup of stewed tomatoes = less ketchup |
* These ratios are not perfect and should be modified based on your recipe and tastes.
1. Crushed Tomatoes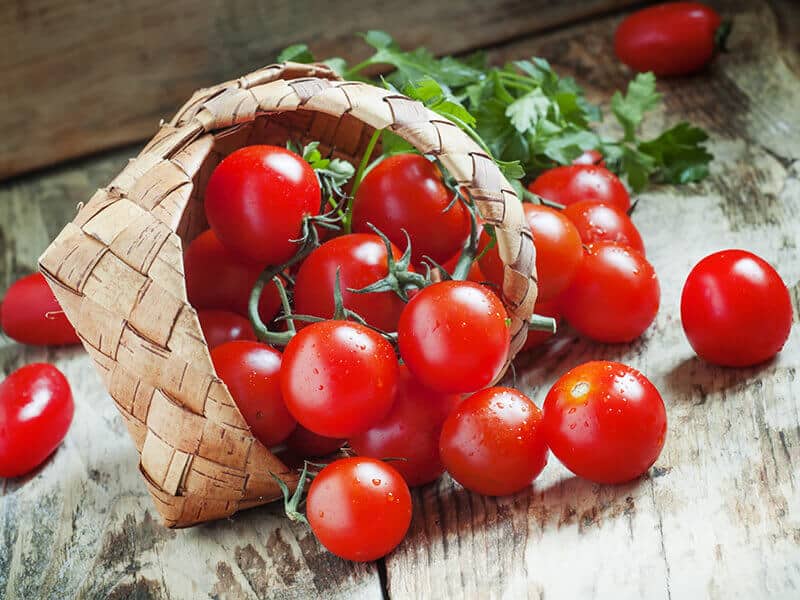 Like their apparent name, crushed tomatoes are fresh tomatoes crushed into a smooth, pourable, and dense liquid with small tomato chunks. You can purchase canned crushed tomatoes at the supermarkets or make them right at home.
Crushed tomatoes taste slightly sweet and bright. It might sound mild but they are robust enough to star in pasta sauces, silky soups, and stews. They can also be the dipping sauce for your pizza and ravioli lasagna.
By replacing stewed tomatoes in a recipe, crushed tomatoes can provide almost the same thick texture and a delightful taste to your dish. The ratio 1:1 can be used in this case.
2. Diced Tomatoes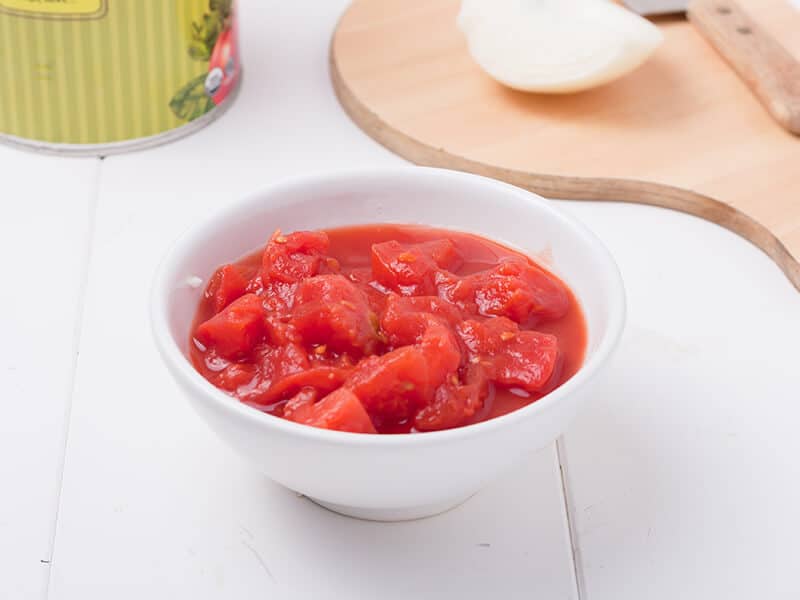 Diced tomatoes are fresh tomatoes that are sliced into small square pieces. The tomato chunks inside diced tomatoes are very small compared to those of stewed tomatoes with large and soft chucks. They also taste brighter and fresher than stewed ones.
Diced tomatoes are not simmered as the stewed ones. Sometimes, they are just cooked or stirred a bit or even roasted to get a smoky flavor. Therefore, if you want to use them in place of stewed tomatoes, you have to prepare with some more steps.
First, cook your diced tomatoes for a few more minutes. This can help you get a softer texture for the diced tomatoes. After that, you may want to add more veggies and herbs like those in stewed tomatoes to get all the flavors. Slightly season the tomato mixture.
After that short instruction, you can totally use your diced tomatoes to replace the stewed tomatoes in any recipe, 1 to 1! Stews, soups, and pasta are highly recommended.
Do you know that dicing tomatoes also requires knife-using skill? See how this man slices them!
3. Rotel Diced Tomatoes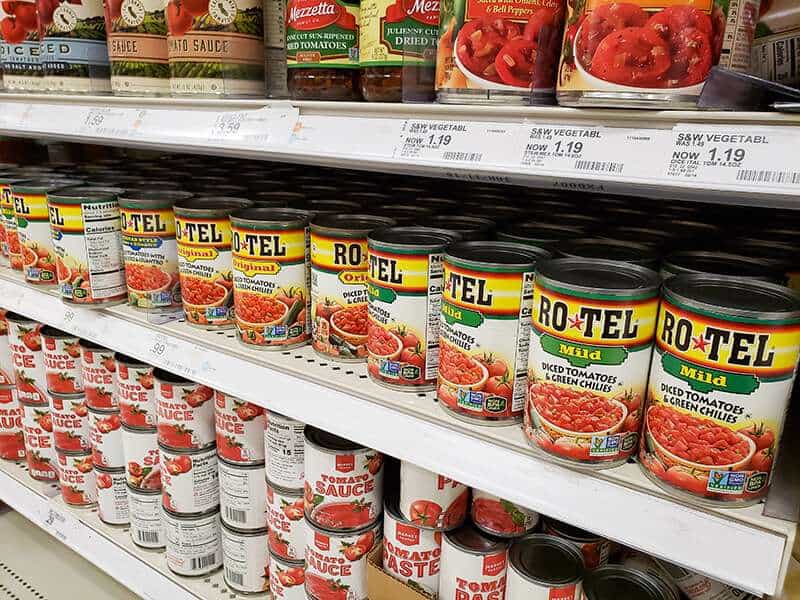 Rotel diced tomatoes are a combination of diced fresh tomatoes and green chilies. They are canned and sold in many stores as well as supermarkets. The tomatoes and green chilies bring out an intense umami flavor with a slightly spicy and peppery note.
Rotel diced tomatoes may taste a little bit different from stewed tomatoes because the pepper taste can be too spicy to some people. Therefore, consider this substitute carefully; if your consumers cannot eat spicy and peppery dishes, you should not use them.
Besides that concern, Rotel diced tomatoes are a perfect replacement for stewed tomatoes since their ingredient lists are almost identical! Try this substitute with a 1:1 ratio to get the best result!
4. Canned Whole Tomatoes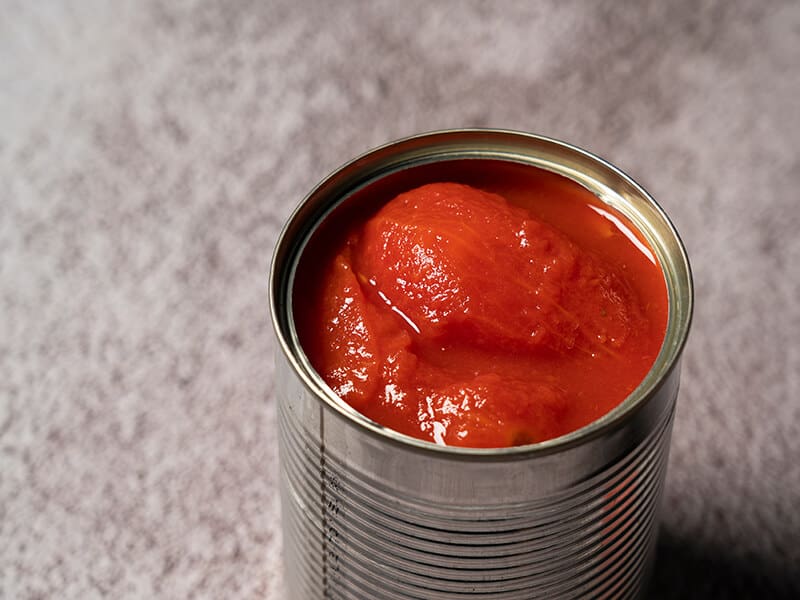 Just as described in the name, canned whole tomatoes are basically whole peeled tomatoes in a sealed can. They are unseasoned tomatoes with a pretty bland taste, so you can adjust the flavorings while cooking to create a unique taste to your likings.
Whole tomatoes packed with tomato juice can be used in a wide variety of dishes, from pasta to pizza to casserole. They can get along well with dishes that need simmering for a long time, such as tomato sauces, soups, and stews.
With all those versatile characteristics, canned whole tomatoes deserve to be an alternative to stewed tomatoes in every recipe! You can turn them into what you need by crushing them, slicing them into diced tomatoes, mashing them using bare hands, etc.
For a better replacement, you can cook canned whole tomatoes with ¼ cup of chopped bell pepper and another ¼ cup of chopped onion. By adding more ingredients, this mixture can bring out the fresh and savory taste of tomato and easily replace stewed tomatoes, 1 to 1.
5. Fresh Tomatoes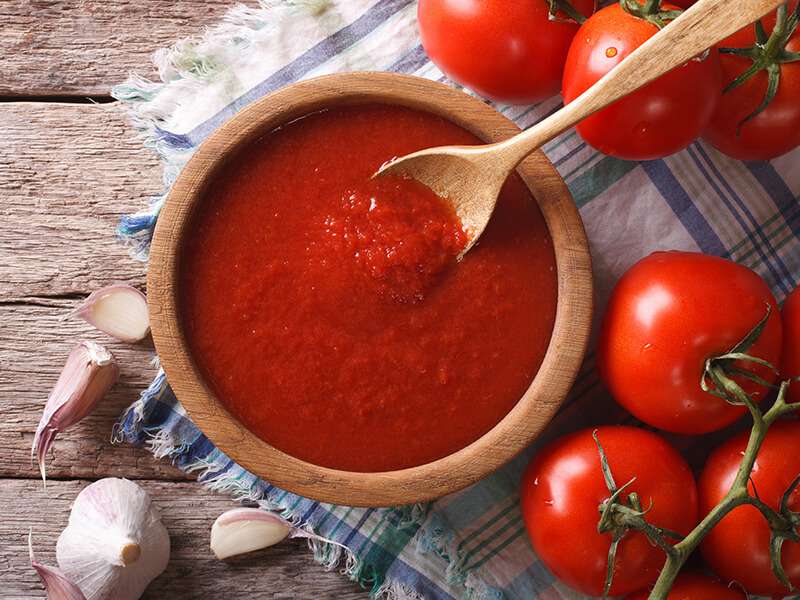 Fresh tomatoes are one of the most common foods that are available in your refrigerator! You can make yourself stewed tomatoes with the fresh, ripe tomatoes in some simple steps. The outcome will be fascinating!
It's cost-saving and easy to make, too. But it may take you some time, around 30 to 60 minutes to make stewed tomatoes from totally fresh tomatoes. You'll be super surprised at how simple it is to prepare these and how delicious they turn out!
If you don't have much time and need a quick substitute, fresh tomatoes can also help. You can always cook fresh tomatoes with some proper seasonings, then it's good to stand in place of stewed tomatoes in your recipe, with the golden 1:1 ratio.
Learn to make stewed tomatoes from scratch with fresh ripe tomatoes! Watch this video:
6. Tomato Sauce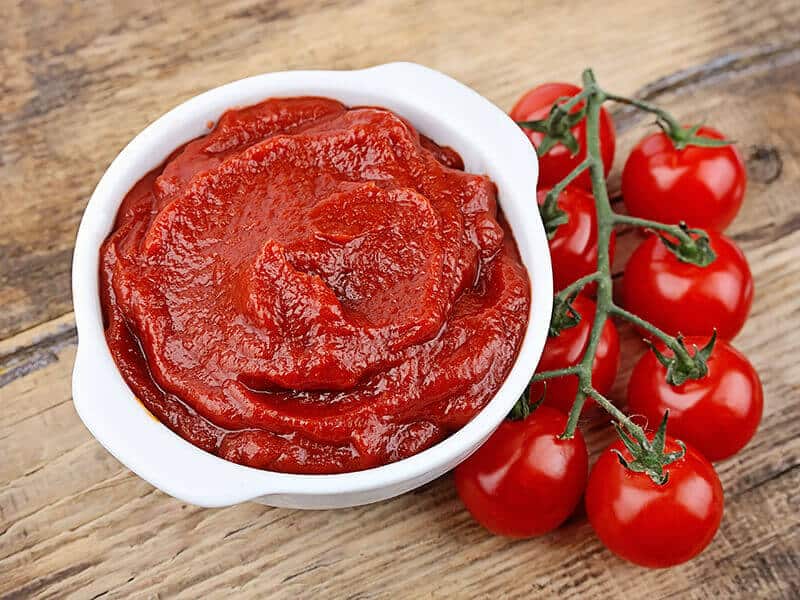 Tomato sauce includes tomatoes that have been thoroughly cooked and blended to become a very silky, dense texture. It is thicker than the stewed tomatoes, with a more intense and smooth taste. This sauce can show its talent in creamy pasta, pizza toppings, and stews.
Tomato sauce is warmly welcomed to be a genuine equivalent of stewed tomatoes in many recipes. Since it is more solid than stewed tomatoes, it should be used less than them. Three-quarters of a tomato sauce cup should stand in for a cup of stewed tomatoes.
You can also add more veggies and herbs to get a more duplicate taste from the original stewed tomatoes. Don't hesitate to use tomato sauce in place of the missing stew in your upcoming dish!
7. Tomato Paste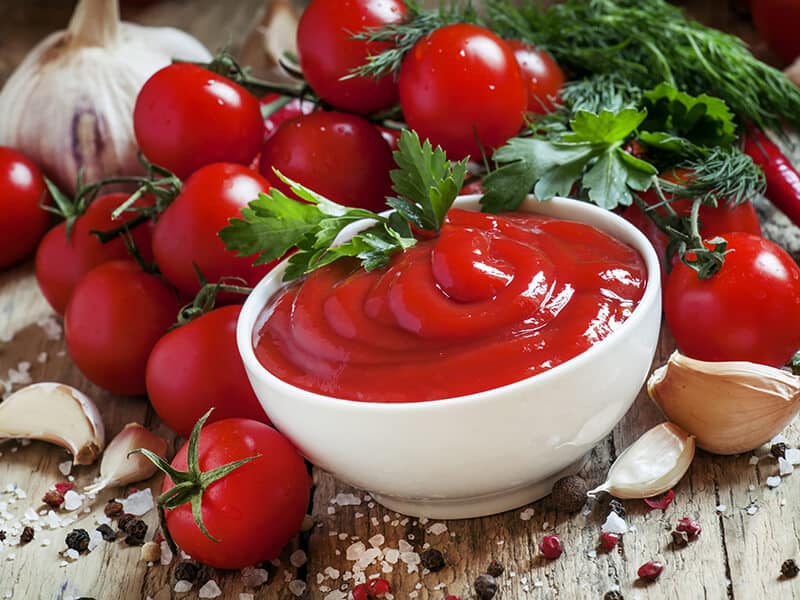 Tomato paste is a must-have item in every house's kitchen! Tomato paste is made by slow-simmering until it gets a super dense and deep red texture. It is well-known for adding depth to a dish because of its uniquely thick texture.
Tomato paste can also enhance the flavors and brighten the main color of some dishes, such as lecho, soup, stew, marinade, and dipping sauces. It has a really robust, strong, and deep taste of umami in tomatoes; thereby can be a good substitute for stewed tomatoes.
However, tomato paste is so thick that it should only replace one cup of stewed tomatoes with one-thirds of a tomato paste cup. You can add more plain water or some veggies like onions and celery to reduce the intense taste and make it more like stewed tomatoes.
Tomato paste has never been easier to make at home with this instruction video!
8. Tomato Purée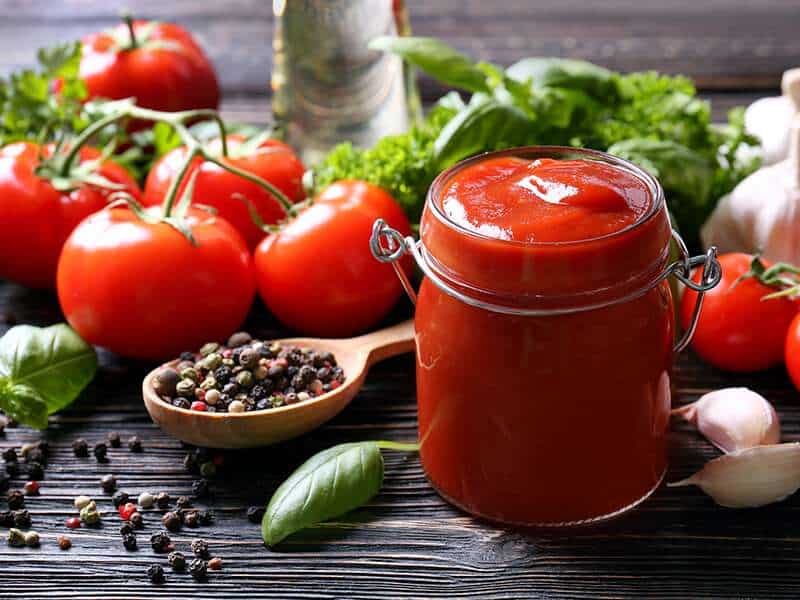 Tomato purée is a heavy tomato liquid produced by boiling tomatoes that have been drained of their seeds and skins. Its texture is a little bit denser than that of tomato sauce, while the robust taste is much more like tomato paste's flavor. In other words, it's a mixture of them.
Tomato purée is an excellent flavor enhancer that can be a favorable replacement for stewed tomatoes. It can do its best in pasta sauces, pizza toppings, and tomato soups. Like other substitutes, you can add more veggies, herbs, and spices to get the best result.
The suitable ratio for this equivalent is 1 to ⅔, with one cup of stewed tomatoes in place of a two-thirds cup of tomato purée. Make sure that you're following the guided measurements to receive a sweet treat.
9. Ketchup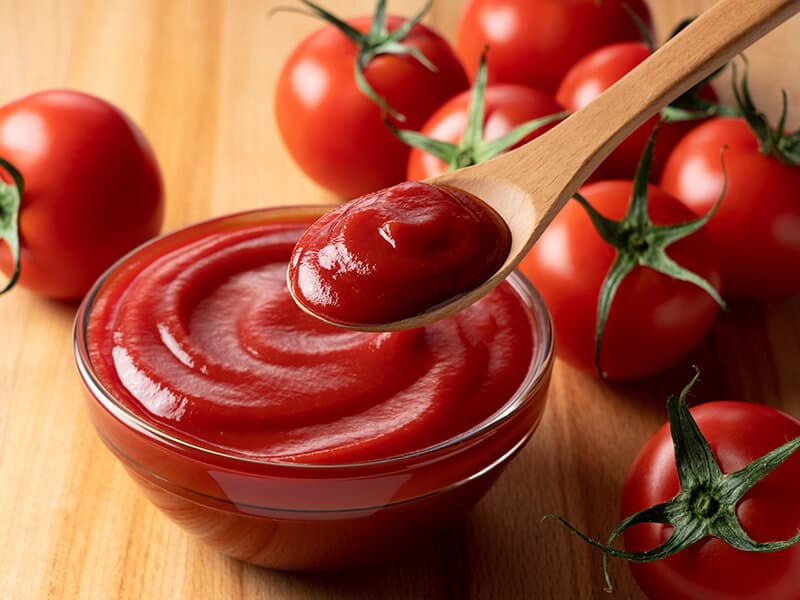 Ketchup is not recommended at first when it comes to substituting for stewed tomatoes. However, since it has worldwide popularity, it can be an acceptable replacement for what's missing in your kitchen.
Ketchup is usually bottled up and sold everywhere on the planet. The manufactured ketchup is different from brand to brand. But it normally consists of tomato extract, sugar, vinegar, and additives. It generally tastes sweet and a bit sour.
Ketchup can help pull you out of fire when you can't find any stewed tomatoes for the next dish. Because it contains a lot of sugar, it may make your dish overwhelming with sweetness. Use less ketchup than the required amount of stewed tomatoes.
FAQs
How do you feel after reading the above list? Interesting, huh? But there might be more questions on this topic about stewed tomatoes, so here comes the quick Q&A section to solve some of your concerns! If there's more, feel free to ask me under this post!
Have Your Stewed Tomato Substitute Star Shown Up?
Above is my ultimate list of some tomato-based ingredients that can easily replace stewed tomatoes in most recipes. Have you found yourself the most suitable one for your next dish? If it actually works, don't be afraid to tell me under this post!
And if you happen to have any more ideas about the equivalent of stewed tomatoes, also leave some comments in the comment sections below so others can learn from you! You know, sharing is caring!
References
En.wikipedia.org. 2021. Stewed tomatoes – Wikipedia.
Centers for Disease Control and Prevention. 2021. Food Poisoning Symptoms.