What does Fenugreek taste like? For people that are not well-versed in Indian or Mediterranean cuisine, this is a very common question. While it's true that Fenugreek is similar to maple syrup in a way, there are still lots of fascinating things about this ingredient.
In this article, let's discover all the essential information about Fenugreek, what it actually tastes like, and some simple ways to turn it into tasty dishes!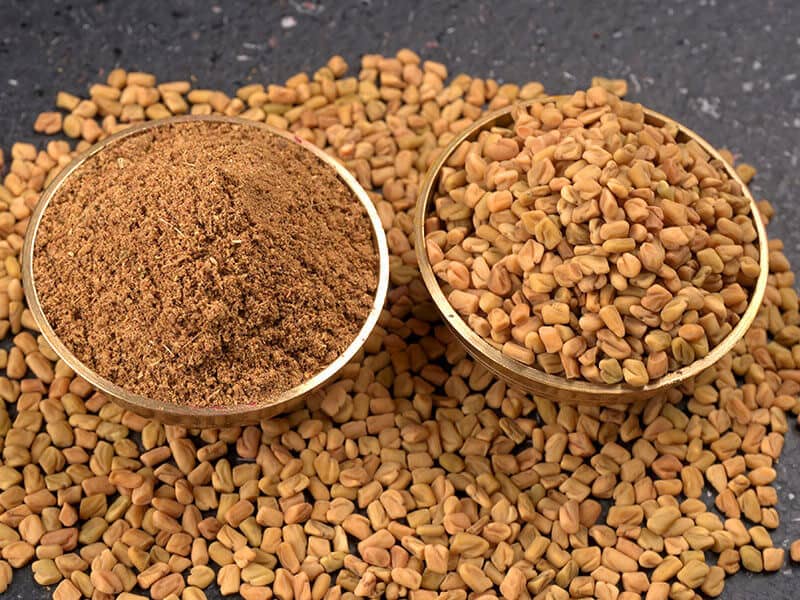 A Thing Or Two About Fenugreek
Fenugreek (also called Greek Clover, Bird's Foot, Hu Lu Ba, or Methi) is an annual plant native to western Asia, the Mediterranean region, and southern Europe.
Fenugreek plays a vital role in Indian cuisine and, as a result, is widely grown and harvested in India. In cooking, both the leaves (fresh or dried) and seeds of Fenugreek can be utilized to make flavorful dishes.(1)
In addition, it is also consumed as a dietary supplement and traditional medicine. Although many believe that fenugreek can help with weight loss, high cholesterol, and dietary problems, there has been no solid scientific proof of its medical effectiveness.
Fun fact: Fenugreek is one of the oldest plants to be of human use as researchers have found traces of this plant that goes back to as far as 4,000 BC.
A brief and easy-to-understand explanation about Fenugreek.
The Unforgettable Taste Of Fenugreek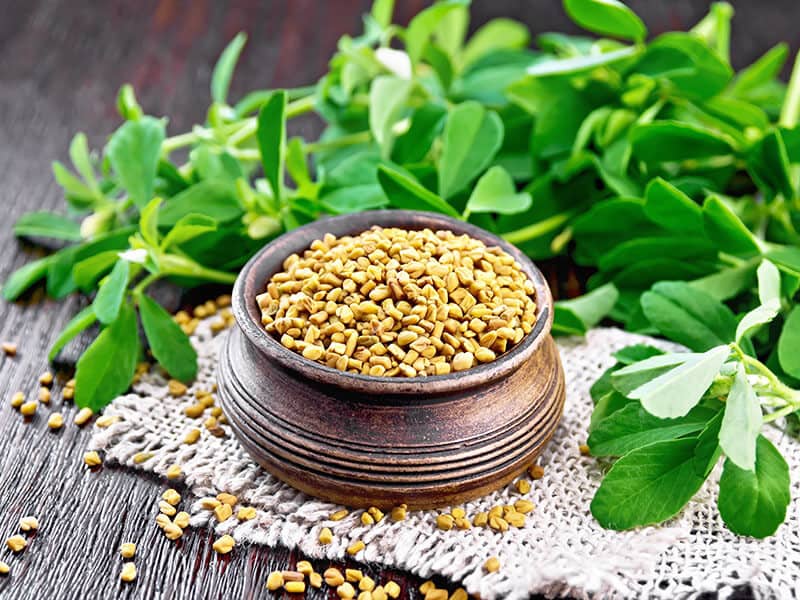 As mentioned above, both the seeds and leaves of Fenugreek are used in cooking. Although they all come from the Fenugreek plant, there are some differences between the two in terms of flavor.
In general, Fenugreek seeds are nutty, bitter with hints of maple syrup and burnt brown sugar sweetness. Thanks to this clear resemblance to maple, Fenugreek extract is often used in making artificial maple syrup.
When combined with other powerful spices like paprika, cumin, or coriander, the bitterness of Fenugreek will be replaced by a rich, complex, and pleasantly sweet taste.
One important thing to keep in mind about Fenugreek seeds is that they can be overly bitter if used inappropriately.
To avoid this, it is recommended to pan-roast or fry these seeds before adding them to your cooking. Doing so will enhance the natural sweetness and, at the same time reducing the unpleasant astringent taste of Fenugreek seeds.
That said, you'll need to be careful not to overcook or burn the seeds while roasting since this will cause Fenugreek to become unbearably bitter. If you're too busy to go through these steps, you can simply buy Fenugreek seeds in powder form.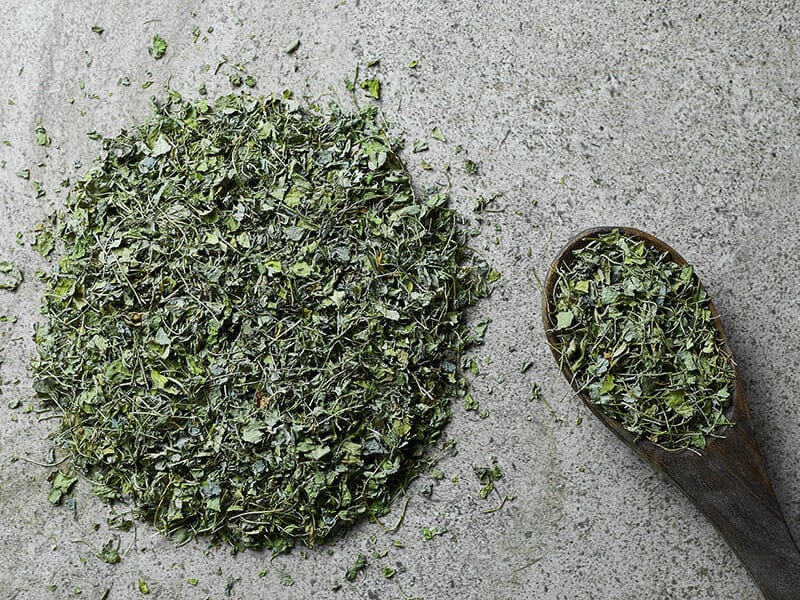 Fenugreek leaves, on the other hand, are incredibly aromatic, fresh, and mildly sweet in flavor with very little bitterness. There are two types of Fenugreek leaves on the market, fresh and dried, with the latter being more robust in terms of taste.
Fresh fenugreek leaves contain all the traits that this ingredient is known and loved for.
Their flavor is mild, grassy, with a touch of bitterness combined with hints of maple syrup, celery, and fennel. Wrapped around the leaves is a sweet and pleasant fragrance.
For dried Fenugreek leaves, many agree that their taste can be described as a fusion between the earthy, bitter flavor of celery and the rich sweetness of maple syrup.
Typically, you can substitute dried leaves with about three times the amount of fresh ones.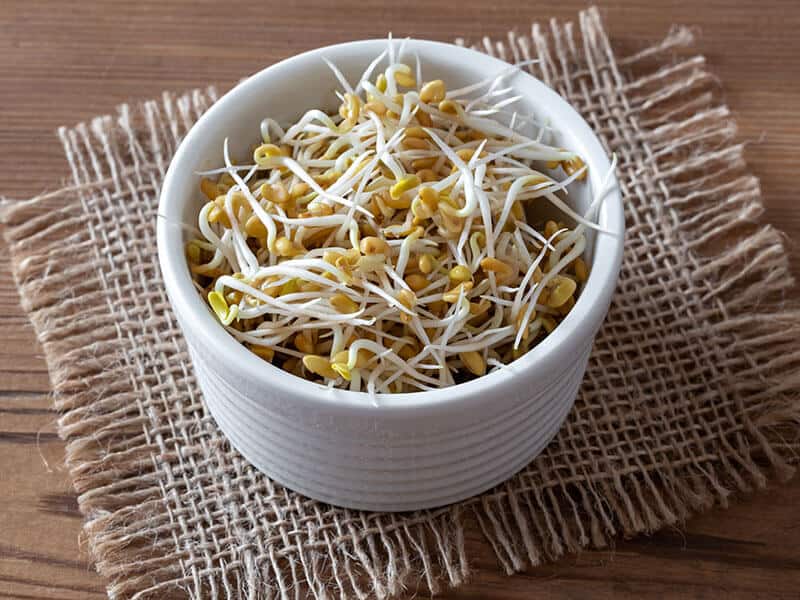 Last but not least, you might sometimes come across Fenugreek sprouts. These sprouts are half-sweet, half-bitter in flavor, and bear a remarkable resemblance to curry taste. They will also leave a pleasing sweet aftertaste on your tongue.
However, some people will find the sprouts' bitterness a bit unbearable. If you feel the same, then it's better to use them in mixes or dishes where their naturally bitter taste will make a welcome addition.
I will leave some delicious recipe recommendations below, so make sure to check them out!
If you grow your own Fenugreek, you can harvest the sprouts before their color turns green to reduce the bitterness.
Fenugreek – The Secret Ingredient For Tasty Curries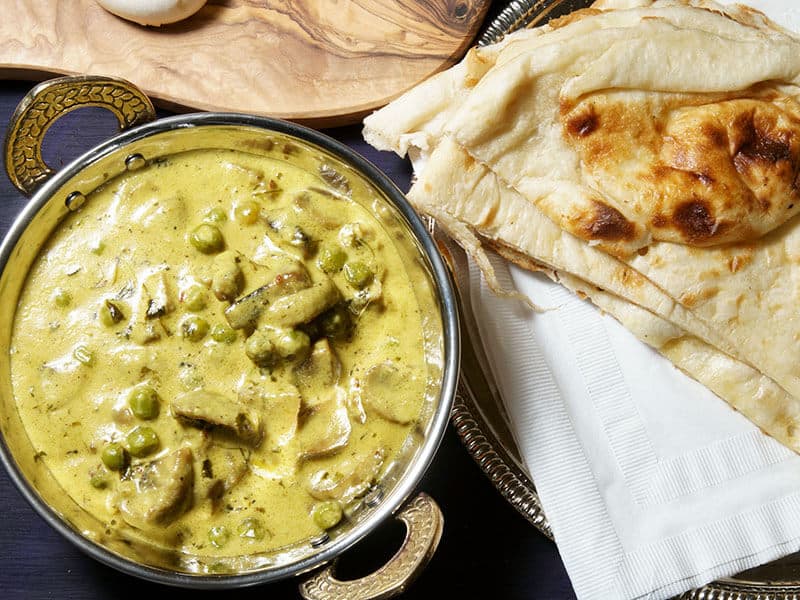 As the leaves and seeds of Fenugreek are not entirely similar in terms of taste, they fit in different roles when it comes to cooking applications.
Fenugreek's golden seeds are often used as a spice to add an extra kick of aromatic fragrance and rich flavor to curries, soups, or condiments.
Similar to its seeds, Fenugreek leaves can also be used to add flavor to curries. However, thanks to their less intense taste, they can be served as vegetables (fresh ones only), mixed with butter to make a paste, or used for garnishing.
When dried, Fenugreek leaves act more like a herb rather than a vegetable. Dried Fenugreek leaves work exceptionally in soups, curries, stews, stocks and are added right at the end of the cooking process for an instant boost in flavor.
Get The Best Out Of Fenugreek With These Tips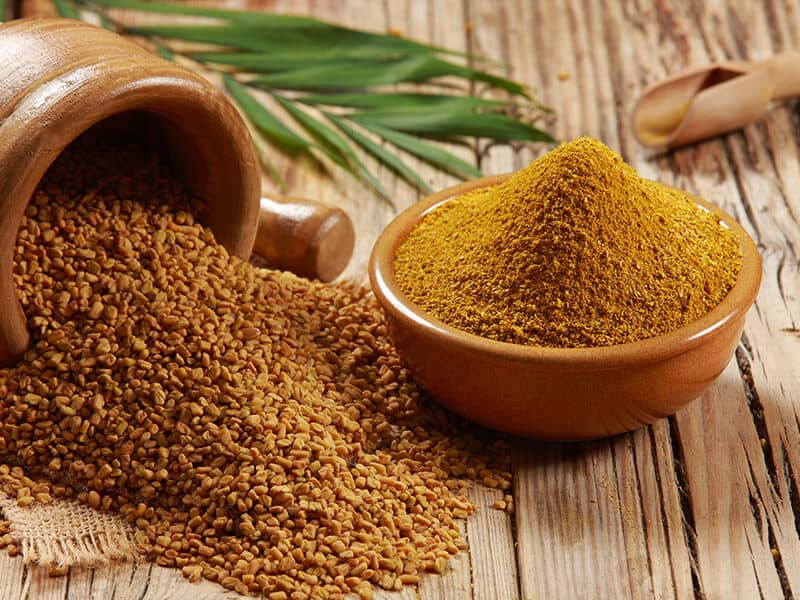 Everyone wants to bring the best out of their delicious Fenugreek, and in this section, I'll give you several great tips to utilize this wonderful ingredient.
Find Fenugreek In The Right Place
Fenugreek is a must-have in Indian, Mediterranean, and southern European cuisine. That said, it can be a bit tricky to find some in a normal Western grocery store.
If you couldn't find any in the nearby supermarket, my suggestion would be to look for it in an Indian store or purchase it online. After all, Fenugreek is one of the most cultivated plants in India!
Always Purchase In Moderation
Now when you've finally been able to get your hands on some Fenugreek, remember to purchase in moderate amounts. This way, your Fenugreek will always be in its best condition when you're ready to use it for your meal.
Remember To Roast, Toast, Or Fry The Fenugreek Before Using
Fenugreek seeds can be unpleasantly bitter if consumed as raw, so always remember to give them a little toasting, roasting, or frying beforehand. Not only will this reduce the bitterness, but it'll also elevate the sweetness and aroma of the seeds.
Do be careful not to overcook or burn the seeds as this will cause Fenugreek to become even more bitter.
Combine Fenugreek With Other Spices For The Best Flavor
Fenugreek will taste even better when paired with other flavorful spices. If you've got experience playing with oriental spices and herbs, feel free to "mix and match" however you like.
Otherwise, mace, cinnamon, cardamom, cumin, bay leaves, black pepper, coriander, and cloves are some great choices that you should definitely try.
Be Mindful With The Amount You Use
As great as Fenugreek is, it can easily overwhelm other flavors in the dish if you go overboard with how much you use. So always be mindful of the amount and remember to balance its intense flavor with other spices.
If You Have The Time, Grind Fenugreek Yourself
Pre-ground Fenugreek powder is certainly convenient. However, Fenugreek will be able to retain its taste for much longer in seed or leaf form. So if you have the time and a spice blender at home, I'd recommend grinding them yourself for the best longevity.
How To Store Fenugreek
Like many other ingredients, Fenugreek will decrease in quality over time and eventually will go bad. In order to prevent this from happening, here are some methods to effectively store your Fenugreek.
Storing Fenugreek Seeds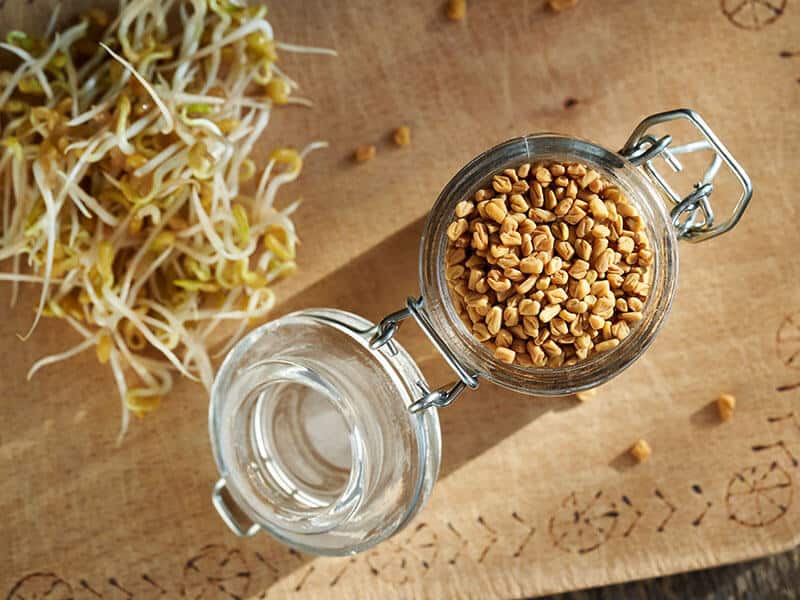 Fenugreek seeds are straightforward to store and don't require much care. Simply put your Fenugreek seeds in an air-protected container of any sort, then keep them somewhere cool, dry, and dark (preferably your pantry).
This way, your tasty seeds will keep their flavor for up to a year. Past this time, and you can still use your seeds for up to 5 years. However, they will start to lose some flavors and nutritions after the 12-month mark.
Storing Ground Fenugreek
Ground Fenugreek powder can be stored the same way as Fenugreek seeds: in an airtight container, in a cool, dark, and dry place. However, it only has a shelf life of 6 months.
Storing Fresh Fenugreek Leaves
It'll take a little more effort to keep fresh Fenugreek leaves. You can choose to follow one of the 3 methods.
Storing Fresh Fenugreek Leaves Without Cooking
Step 1: Remove the leaves from the stems
Step 2: Wash the leaves thoroughly under tap water.
Step 3: Dry the leaves by patting.
Step 4: When there's no more liquid on the leaves, wrap them in paper and put them in an airtight container or Ziploc bag.
Step 5: Keep the container in the fridge. Your fresh Fenugreek will last for about a week.
Storing Fresh Fenugreek After Sauteing
Step 1: Remove the leaves from the stems
Step 2: Add a tablespoon of salt into a bowl of water.
Step 3: Put the leaves in the water for 5-10 minutes.
Step 4: Wash the leaves under tap water.
Step 5: Use a filter to strain all the liquid out of the leaves.
Step 6: Pat the leaves dry and place them on a kitchen towel for 5-6 minutes.
Step 7: Heat up a pan with 1 tablespoon of oil for 1 bunch of Methi leaves.
Step 8: Saute the leaves at medium-low heat until the leaves shrink.
Step 9: Turn off the heat and let the leaves cool.
Step 10: Put the cooled and dried leaves into an airtight container.
Step 11: Store them in a fridge. The leaves should last for about 3 months this way.
Learn how to easily store fresh Fenugreek by sauteing.
Storing Fresh Fenugreek By Drying
Step 1: Remove the leaves from the stems
Step 2: Wash the leaves thoroughly under tap water.
Step 3: Dry the leaves by patting.
Step 4: Chop the leaves.
Step 5: Put the leaves on a microwave-safe tray and microwave them for 3 minutes on high.
Step 6: After 3 minutes, take the tray out and flip the leaves
Step 7: Microwave for another 3 minutes on high.
Step 8: Turn the leaves again and microwave them for another 2 minutes.
Step 9: Put the dried Fenugreek leaves in an air-protected container and keep them somewhere cool, dry, and dark for 6 months.
Alternatively, you can sun dry the leaves instead of using the microwave.
Step 1: Repeat the first 4 steps above.
Step 2: Use a clean cotton cloth to cover a tray, then place the leaves evenly on the cloth
Step 3: Place another thin cloth on top of the leaves to cover them up
Step 4: Sundry the tray by leaving it under sunlight. 2-3 days of intense sunlight is the ideal time for leaves to dry completely.
Step 5: If you want a more powder-like texture, you can rub the dried leaves with your hands.
Step 6: Put the dried Fenugreek leaves in an air-protected container and keep them somewhere cool, dry, and dark for 6 months.
This storage method is also applicable to store-bought dried Fenugreek leaves. All you need to do is skip all the preparation steps and get straight to the storing part.
You can store pre-dried Fenugreek leaves for 6 months by putting them in an air-sealed container and keeping the container in a cool, dry, and dark place.
Storing Fenugreek Sprouts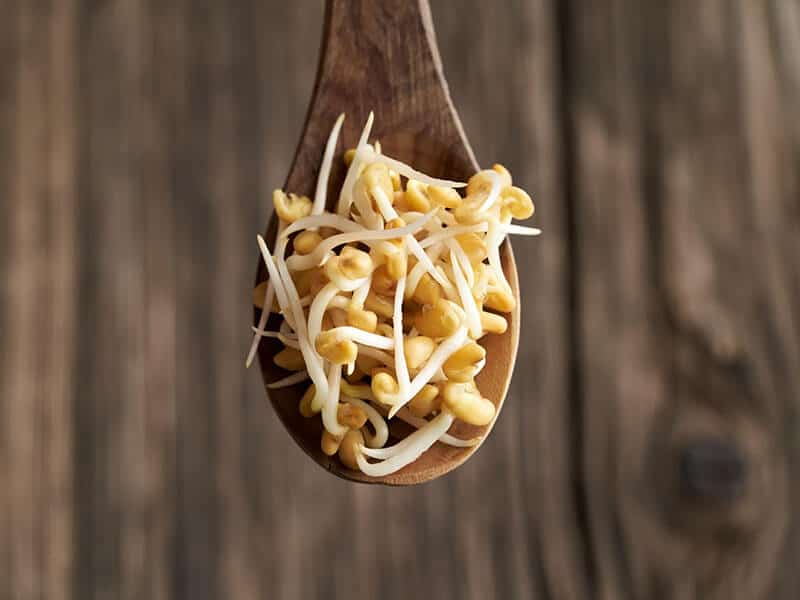 Fenugreek seeds will grow to sprout in about 2 to 6 days. As mentioned above, their bitterness will change depending on the picking time. To store Methi sprouts, follow these steps.
Step 1: Rinse the sprouts.
Step 2: Prepare an airtight container with a paper towel at the bottom to absorb the excessive liquid.
Step 3: Place the sprouts in the container on top of the paper towel.
Step 4: Store them in the refrigerator for up to a month.
If You See These Signs, Your Fenugreek Has Gone Bad
Fenugreek will go bad eventually, no matter how careful you are with the storing method. Here are some signs that it's time to say goodbye to your Methi.
The Fenugreek Has Lost Its Color
Fenugreek comes with a dark green color, but this color will fade away over time. This is an indication that your Fenugreek has lost some (or all) of its nutritional content, and it's best that you throw it away.
There Is Mold Or Any Other Living Forms Inside The Container
The container of your Methi should only be for one purpose, and that is keeping the Methi safe and sound. If there are signs of any other living forms growing in there, you wouldn't want to eat that Fenugreek anymore.
If you can't find any of these two signs on your Fenugreek, then it's finally safe to give it a little taste test.
Some Similar Tasting Alternatives In A Pinch
As mentioned in the previous section, Fenugreek can be hard to find. In cases when you are too busy to go get some at an Indian store, you can turn to these great substitutes.
Maple Syrup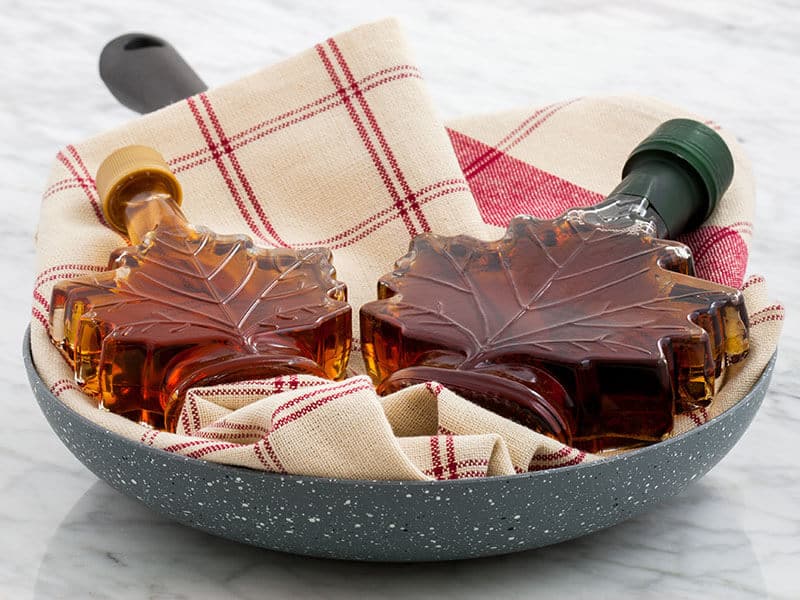 Lots of people know Fenugreek for its similarity with maple syrup, so it's obvious that maple syrup would be the first choice.
Both Methi and maple syrup have the same combination of bitter and sweet for flavor. Thanks to this, most people won't even realize that you have swapped one for another.
One more big plus for this alternative is that it's much easier to obtain than Fenugreek. You can use half the amount of syrup in place of Methi.
Fennel Seeds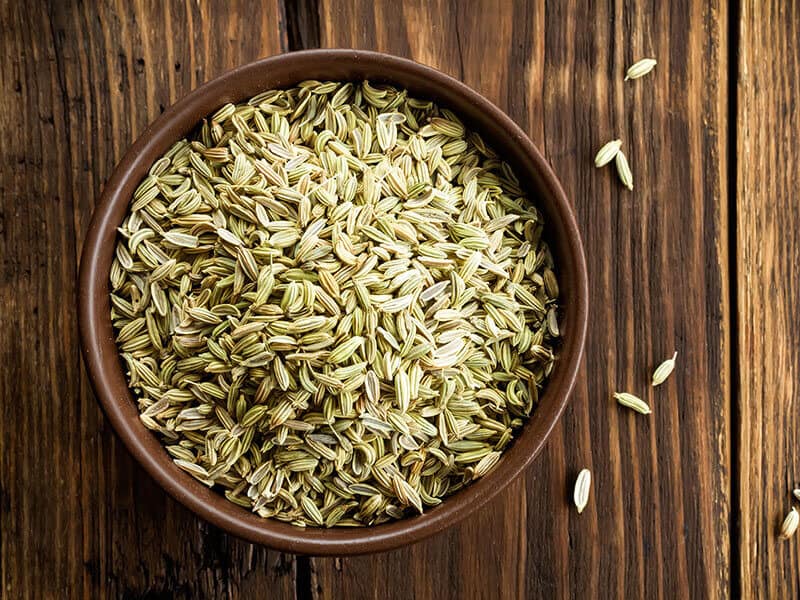 Another great alternative to Fenugreek is fennel seeds since their taste is also comparable to that of maple syrup.
However, because fennel seeds are typically sweeter than Fenugreek, I'd recommend using a bit less than you normally would. An ideal ratio would be 1:2. In other words, if the recipe calls for 2 tablespoons of Fenugreek, replace that with 1 tablespoon of fennel seeds.
Celery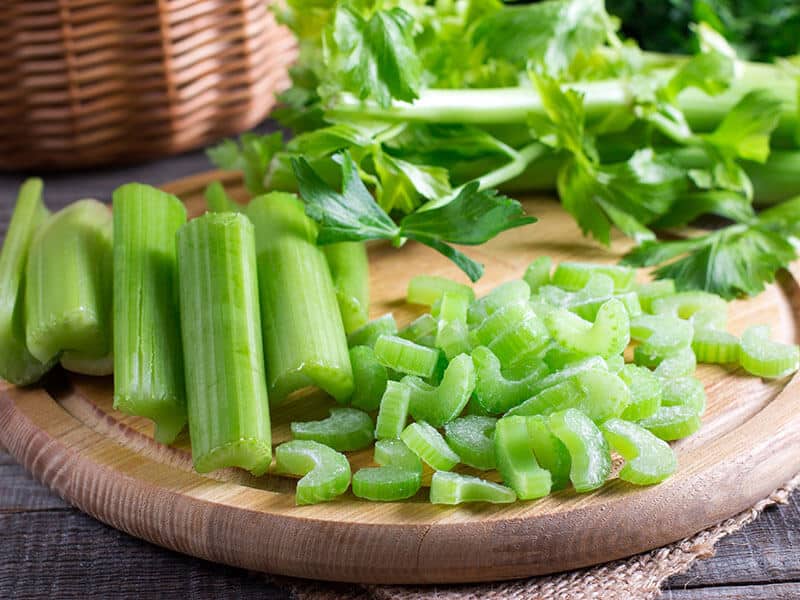 Celery is widely available and has the same tart and nutty taste as Methi. The only downside of this vegetable is that it lacks the maple-like sweetness that people adore about Fenugreek. To make up for this, you can add an extra tablespoon of sugar.
For celery leaves, you'll need to use only half the amount of Fenugreek leaves required. The ratio goes to 1:1 if you use celery seeds, though.
Curry Powder Or Masala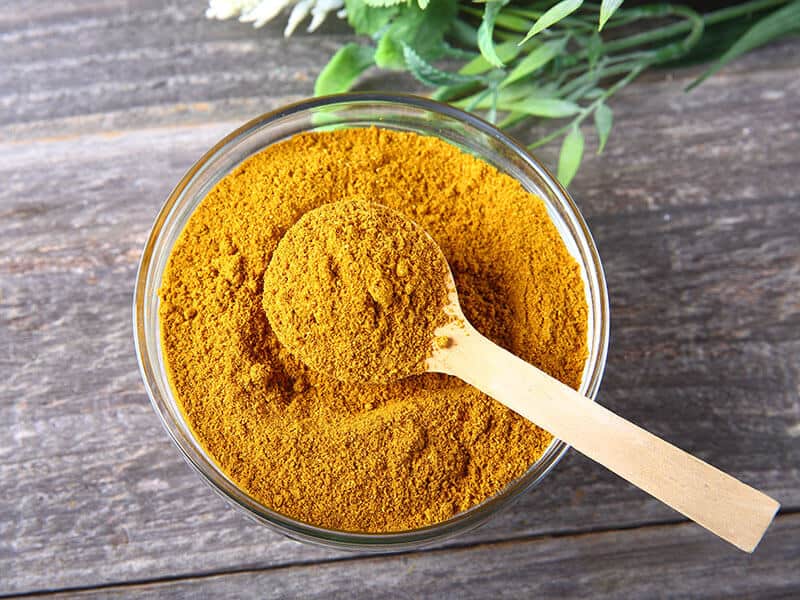 Many types of curry powder also include Fenugreek powder in their ingredients, so you can easily swap these two with each other. If you want to go full Indian cuisine, you can choose a masala blend instead. Note that masala is generally spicier than curry powder, though.
You can substitute Fenugreek for curry powder in a 1 to 1 fashion.
Mustard Seeds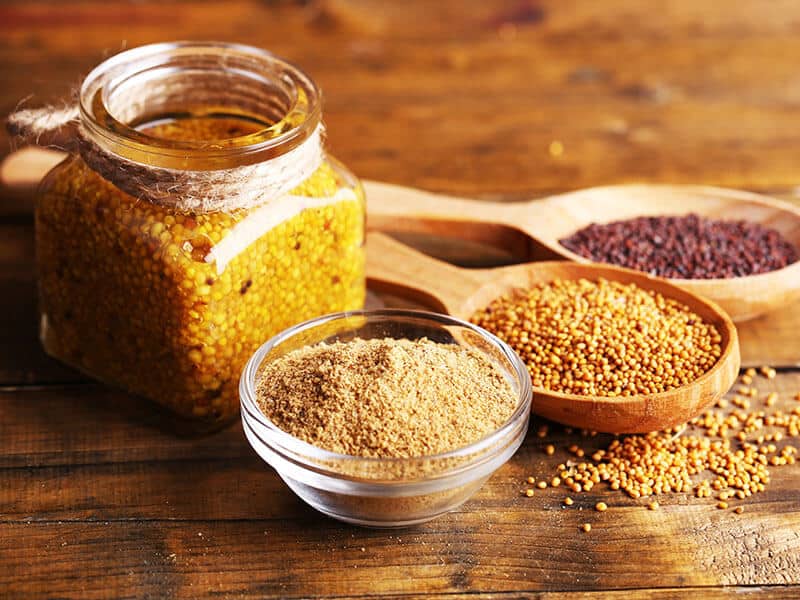 The final candidate for a Fenugreek stand-in is mustard seeds. You can replace Fenugreek seeds with yellow mustard seeds while using the green type for Fenugreek leaves. As for Fenugreek powder, you can use mustard powder as an alternative.
If you have both mustard seeds and maple syrup at hand, you can also combine these two for a perfect Fenugreek substitute.
The same amount of mustard seeds should work well as a Fenugreek alternative most of the time.
If You Want To Try Fenugreek, Don't Miss These Recipes!
I know that I speak highly of Fenugreek, and, understandably, you might have your doubts. After all, no matter how fancy-sounding they are, words are just words. So how about some tasty Fenugreek recipes to prove that I'm not just boasting.
This traditional Indian side dish is a must-try if you want to get a feel for Fenugreek. Not only is this potato-Fenugreek dish packed full of flavor, but it also doesn't require much preparation and will take you only about 25 minutes to make.
You've got your delicious potato side dish above, so I guess it's time for the mouth-watering main dish – the Murg Makhani (Indian butter chicken). Juicy chicken bathed in a rich, buttery sauce will certainly take you to another level of gastronomy.
Fenugreek is known to be a famous curry ingredient, so it would be a crime not to include a curry recipe in this list.
The mixture of flavorful herbs and spices like Fenugreek, paneer, garlic, and cashew nuts gives this curry a remarkably rich and complex taste. Simply speaking, methi paneer is a prime example of a perfect Fenugreek dish.
To fully understand why Fenugreek is such a beloved ingredient in spice blends, you need to give this classic recipe a try. By combining Fenugreek with a bundle of powerful spices, you'll be rewarded with a one-of-a-kind tasting blend that can be utilized in many other dishes such as stews, meats, pasta, and even pineapples.
If you want something light and healthy but will still leave you wanting more after the final bite, sprouted Fenugreek salad is the choice for you.
Don't even start to worry about the bitterness of Fenugreek since the other veggies will be able to balance it out, thus creating a refreshing and unique flavor.
FAQs
There are some really interesting questions in this section, so don't skip it if you still want to learn more about Fenugreek.
Fenugreek Will Be An Awesome Addition To Your Dish
So how do you feel about Fenugreek after reading all this information? Do you like it and can't wait to integrate its bittersweet flavor into your cooking? Don't hesitate to share your thoughts in the comment below.
If you enjoy the content, please give this post a like, and don't forget to share it with anyone that has the same question!
References
Contributors to Wikimedia projects, (2003). Fenugreek – Wikipedia
Huizen, J., (2019). Fenugreek: Benefits and effects [online]. Medical and health information.
Fenugreek [online]. NCCIH.