What does sumac taste like? You wonder about sumac flavor when it appears in your going-to-try recipes. The answer in this post will satisfy you. Further, I will also provide other information related to sumac and some tips to use sumac effectively.
Sumac can vary from various types; some types are even poisonous. Therefore, it is essential to understand deeply about sumac before adding it to your dishes. Get ready to be mind-blown by the upcoming exciting information!
Do not hesitate to scroll down and get to know all about sumac! First and foremost, let's answer this big question.
What Is Sumac? Where Is It From?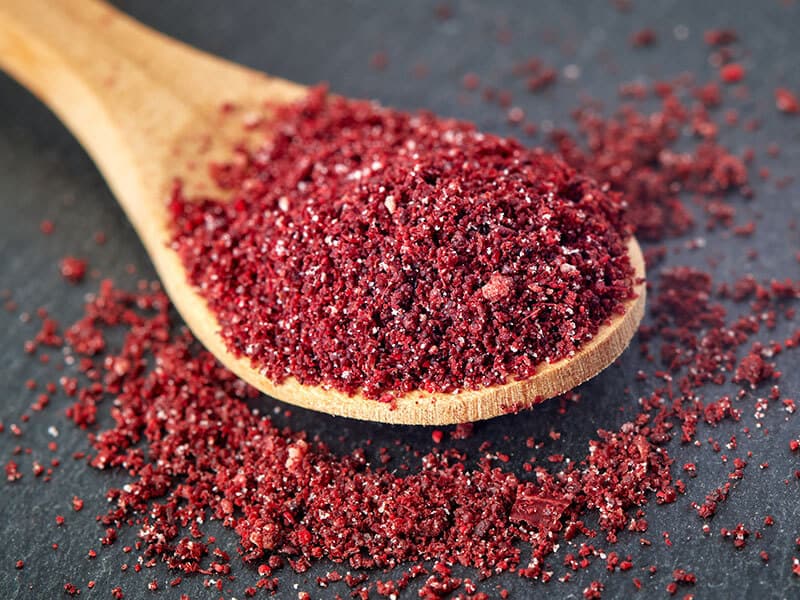 Sumac is a ground spice made from dried berries of the Rhus coriaria shrub. It grows mainly in the Middle East and the Mediterranean. Although a small number of whole berries are still sold in some regions, they are mostly dried and ground to make sumac powder.
You can recognize sumac as a coarse grind powder with brick red to dark purple color. The place where the sumac grows will affect its color. There are about 150 varieties of sumac plants.
The most common sumac powders widely used in cooking are fragrant sumac (lemon sumac) and smooth sumac (Scarlet sumac). While fragrant sumac has an orange-brown color and fruity smell, smooth sumac is reddish-purple to dark purple.(1)
A detailed guide on how to make a perfect sumac powder for your consideration!
Mind-Blowing With Amazing Health Benefits That Sumac Offers
Besides being an excellent culinary spice, sumac also offers surprising health benefits. Since a hundred years ago, people have used sumac to make traditional herbal medicines because of its potential benefits.
First of all, sumac is packed with a high-level anti-inflammatory. The antioxidants loaded in sumac can prevent certain cancers, cardiovascular diseases, and different inflammatory illnesses.
Sumac also helps in managing blood sugar, which is beneficial for people who have type 2 diabetes.
The nutrients and antioxidants contained in sumac can help in alleviating muscle pain.(2)
The Distinct Flavor Of Sumac You Should Not Miss!
There are two types of sumac: whole sumac and sumac powder. The whole sumac is not easy to find outside Middle Eastern nations and a few countries, whereas it is widely sold in powder form.
The whole sumac gives a resin-like and more tangy and citrusy flavor than sumac powder. People prefer adding the whole sumac in condiments and marinades.
Sumac powder has a tart, tangy, berry-like, zesty, and a bit earthy taste reminiscent of aromatic citrus fruits and vinegar flavor. Sumac has been used in various dishes to add an acidic flavor for centuries, even before lemons.
Both the whole sumac and sumac powder give out a fruity, citrusy, and fragrant smell.
How Do People Use Sumac In Their Dishes?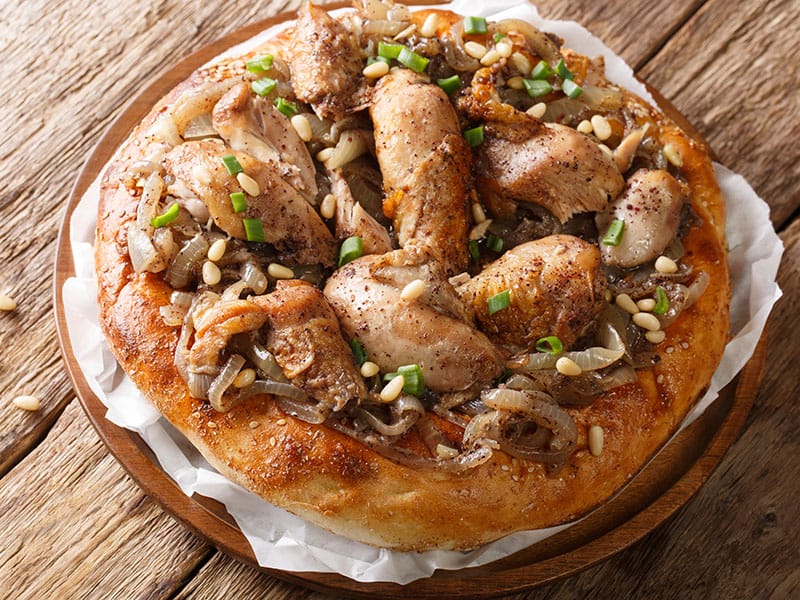 Sumac frequently appears in Middle Eastern cuisine and many other dishes. Sumac can be a condiment or an ingredient. Let's take a look at their versatile uses in cooking!
An indispensable ingredient of Za'atar: Za'atar is a popular Mediterranean spice that is usually used to flavor meat and vegetables. It is a combination of dried thyme, oregano, marjoram, sesame seeds, and last but not least, sumac!
Sumac is used in Middle Eastern cuisine: People use sumac as a spice for the rubs, dressings, and marinades to enhance the flavor and vivid color of the dishes.
Used as a substitute: You can substitute vinegar, lemon juice with sumac to bring a less intense and overpowering flavor.
They are used as a marinade: Adding sumac in yogurt sauces and vinaigrettes to enrich the tartness of those dipping sauces.
Other foods that call for sumac: Grilled chicken, roasted eggplant, lentils, chickpeas, green salads, etc., all of them can pair well with sumac. Sumac also enriches the flavor of store-bought bread and chips or fish rubs and poultry.
A Guide On What To Use When You Run Out Of Sumac
Hmm, do not rush if you run out of sumac or can not find it anywhere. Here is a trick to imitate the sumac flavor.
Since sumac carries a hint of citrusy flavor, using lemon zest or orange zest to substitute sumac is one of the best ideas. To have a more great taste, consider adding salt and black pepper.
You can also use za'atar as an alternative because it contains sumac. It will still upgrade the dish with a more bright color.
Vinegar, particularly apple cider vinegar or lime juice, can also be a wise choice as you do not mind adding some liquid to your foods. It will work well while making salad dressings or adding to the soups.
A General Knowledge About How To Prolong Sumac's Shelf Life
There is some information about sumac that you should know in order not to consume the low-quality sumac. As you know, eating foods that are low in quality is never good for your health. So, short on reading to understand more!
How Long Does Sumac Last?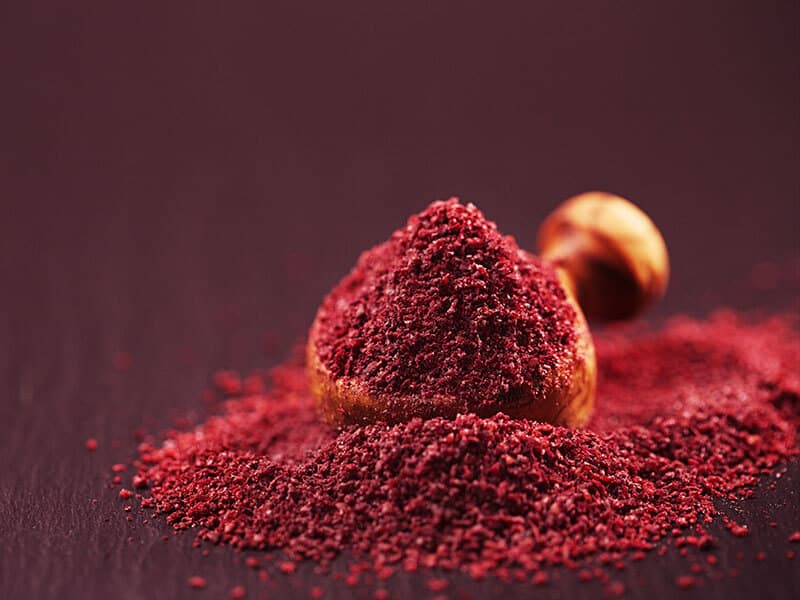 Just like other ground spices, sumac does not have an exact expiry date. Even if your sumac is store-bought, it still does not go bad immediately after the labeled best by date.
Some people are convinced that sumac and other ground spices can last several years. However, it is better to consume sumac as soon as possible after its best-by-date.
Nevertheless, sumac will deteriorate in color, flavor, and texture as time flies, even if stored at the ideal place (a cool and dry place). Generally, the whole sumac can last for several years, and sumac powder can keep the best quality for up to 2 years.
The whole sumac is also used to make juice and stored in the freezer. The sumac under juice form can last for a year.
Identifying Signs Of Low-Quality Sumac
It is hard to tell if sumac is bad, unlike other foods and vegetables that are spoiled in a wink with apparent rotten signs. Also, sumac is not easy to spoil but low in tangy flavor and texture. Consider not using sumac if it has the symptoms below:
Flavor: It is not recommended to use sumac when it does not give its unique tangy and lemony flavor. Sumac that starts to go bad will taste mild.
Texture: When you do not use sumac for a long time, the humidity can cause sumac to clump together, and clusters are formed. You can add moist sumac to soups, stews, but do not use it to top or sprinkle on salads and other dishes.
Moreover, when sumac develops a bad texture, try to consume it as soon as possible, although it won't go bad in a wink.
Smell: Sumac powder smells slightly tart and lemony due to the malic acid contained in sumac berries. If sumac loses its smell or gives any unpleasant odor, it is not suitable to consume.
Color: Sumac is famous for its vibrant red-burgundy to dark purple color. Sumac that is not recommended to use will have discoloration. If the color turns more profound or dull, do not use it.
Effective Ways To Keep Sumac's Best Quality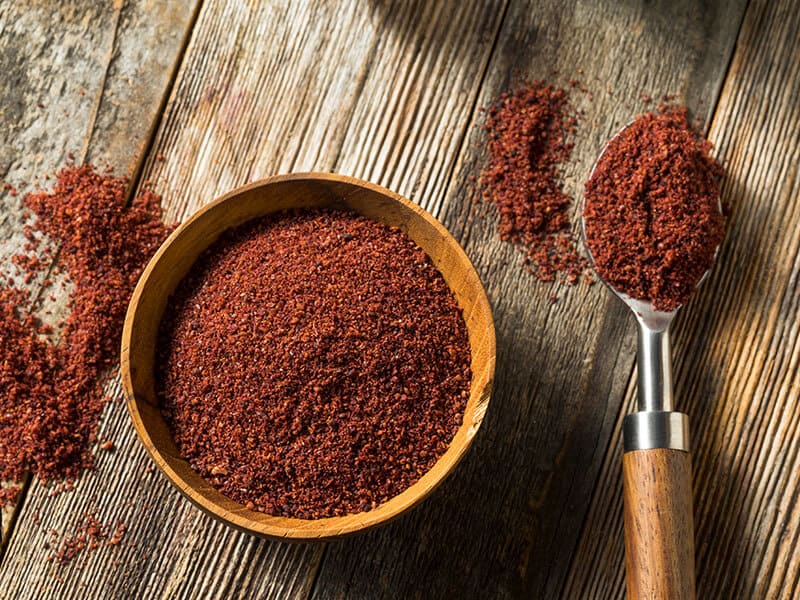 Do you want to keep sumac at its high quality to use for a long time? Follow the guidance and do it thoroughly!
The best way to store sumac is to keep it at room temperature in your kitchen cupboard or pantry. Remember to clean your cupboard or pantry on a regular basis to keep the storage place clean and dry. Avoid storing ground spice in a humid and dark place.
You should place sumac powder in an airtight container with a pretty tight lid. The tight container helps not to let any air or pest go through. Air and pests will affect sumac's quality and make it spoil faster.
Must-Try Recipes That Call For Sumac
There are a diversity of dishes that incorporate sumac for its unique flavor and vibrant color. In case you have no idea about those recipes and want to try some famous and delicious dishes that call for sumac, here are my suggestions!
Hummus is a famous Middle East dip or spread made from cooked and mashed chickpeas, come along with tahini, lemon juice, and garlic. People tend to use extra virgin olive oil, dried herbs, and sumac as garnishes for sumac Hummus.
Sumac Hummus has a creamy texture, and it tastes garlicky, slightly tart. Also, sumac Hummus is rich in umami flavor. Adding sumac makes Hummus have a vivid color on top and boosts the tart flavor.
I have never seen any wonderful recipe but so easy and quick like this sumac Hummus before!
Have you ever tried musakhan before? It is a Palestinian dish made from grilled chicken flavored with sumac and other ingredients on a flatbread, usually Taboon bread.
Since it is hard to find Taboon bread, you should make it your own or substitute it with flat Middle Eastern bread, pita, tortilla, or naan. The tart and lemony flavor take center stage in this dish.
Hmm, time to try a flavorful side dish! Though olive oil roasted salmon is typical, sumac brings a whole new, amazingly mouth-watering flavor combination. Try to add sumac to your fried fish, and you won't be able to resist!
Since the salmon tastes mild and very fatty itself, with the flavor of olive oil, sumac adds a tart and citrusy kick to the dish and makes it perfect. Serve sumac and olive oil roasted salmon on a special occasion and impress everyone!
Fattoush salad originates in Northern Lebanon. It is just a typical green salad, but the outstanding point is the added roasted pita bread. The ingredients of Fattoush salad are versatile, but lettuce and tomatoes are indispensable.
Those diverse ingredients combined with chopped fresh aromatic herbs and a perfect salad dressing would make it an ideal salad for dinner. Do not forget to sprinkle sumac on top to upgrade the salad's look and flavor.
Adding sumac to the Fattoush salad dressing to have a perfect side dish for the day!
Are you a vegan? This excellent sumac roasted potatoes recipe is for you! Besides being a light and healthy side dish, sumac roasted potatoes are also gluten-free. The roasted potatoes are incredibly crispy and go well with the citrus tang of sumac.
The best dipping sauces to pair with sumac roasted potatoes are the creamy but tart and aroma sauces. I recommend you try lemon cream sauce or tahini sauce. The warm and crispy roasted potatoes are perfect for a cold dinner.
Do you have any idea about an appetizer that is easy and quick to carry out? Turkish sumac onion salad would be the most suitable one for you. This salad is usually made from red onions with other simple ingredients.
The salad consists of crunchy red onions, aromatic parsley, with a perfect tart dressing made from lemon juice and extra virgin olive oil. Sumac's fruity and tart flavor is a focus point in this salad dressing.
Having Turkish sumac onions for an appetizer in under 5 minutes! Why not?
FAQs
In case some curiosities have been raised through the reading process, I am here to answer some of the questions about sumac and its flavor. Keep on reading to clarify your curiosities.
A Little Reminder When Using Sumac You Should Know
At the end of the post, keep in mind some further reminders and tips for enjoying sumac's best taste. The first thing you should pay attention to is not to mistake sumac made from red berries with wild white berries. They are a poisonous form of sumac plants.
You should know that store-bought sumac usually contains salt in its ingredients. So, consider reducing the amount of salt if you plan to add sumac to your foods to prevent the foods from being too salty.
If all of the information I bring to you in the sections above is helpful and exciting to read, do not hesitate to like and share it. Also, leave a comment below to express your feelings after trying sumac powder with your food.
References
En.wikipedia.org. 2021. Sumac – Wikipedia.
Healthline. 2021. Sumac: Benefits, Uses, and Forms.