What does acorn squash taste like? What do you eat acorn squash with? Is it good for your health? These questions can be all covered in my article below so that you can gain more knowledge about this tiny yet delicious starchy vegetable.
It's a sure thing that you have eaten acorn squash at least 2-3 times in your life because it's so readily available in the grocery store. Moreover, there're a lot of delectable recipes using it as a main ingredient. Am I right?
Acorn squash has a long shelf life. That's why you can stock them in the pantry and spend time learning how to work with them.
But first, let's find out as much information about it as you want, especially its taste.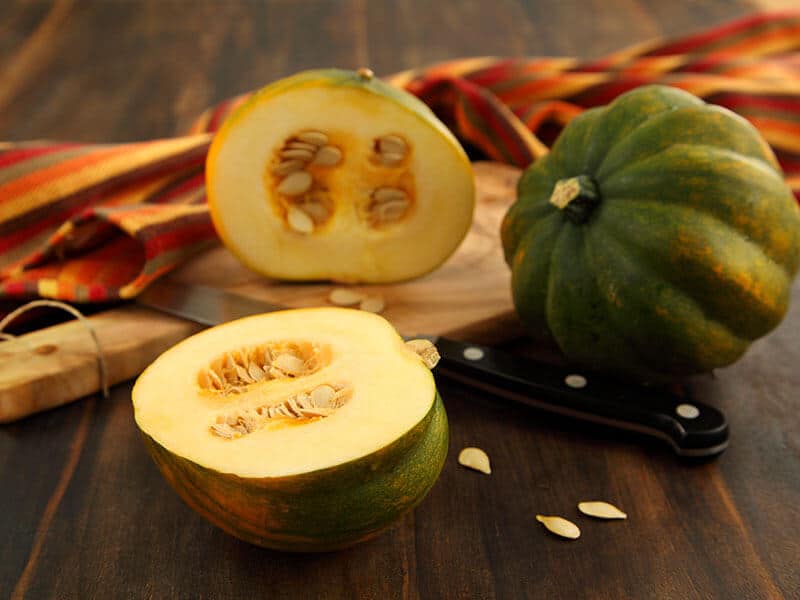 What Is Acorn Squash?
Acorn squash, also known under other names such as pepper squash or Des Moines squash, is a type of winter squash in the Cucurbitaceae family, including pumpkin, butternut squash, and zucchini.(1)
Despite the fact that it's botanically a fruit, people often consider it a healthy starchy vegetable.
It's native to the USA and has been widely used as a staple food. It's suitable for many modern cooking methods and can be steamed, baked, pureed, broiled, roasted, sautéed, stuffed, and more.
The reason why it's categorized as winter squash is that it's harvested in the fall and can be stocked for quite a long time.
It's easy to identify acorn squash in the supermarket among many other types of squash because it looks like an acorn, except it has a hard, thick, and deep green exterior with prominent ridges. It appears smaller than other members of the squash family.
Sometimes, you might encounter orange or white acorn squash varieties. But all of them share a common thing: their yellow-orange flesh.
Simple Tips To Choose The Best Acorn Squash
If you want to choose the best acorn squash for your dinner, you might need to consult some of the following tips:
Opt for acorn squash which weighs a maximum 3 pounds because the larger they are, the more stringy they become.
A good quality squash should feel heavy for its size.
Pay attention to the outer skin and pick the deep green color with just a few orange spots. A large orange shade indicates that it has been too ripe and will not taste good.
The rind of acorn squash is hard, smooth, and there are no soft spots or visible cracks on the surface.
Moreover, the skin should look dull but not glossy.
Check the stem to get the exact information about whether it's ripe or not. If the stem has withered and turned to a brown color, it should be collected.
What Does Acorn Squash Taste Like?
Acorn squash is well-known for its light, mild, and slightly sweet flavor. If you taste it when it's cooked, you will notice the nutty and buttery fragrance, making it a fantastic choice for various dishes.
If you have never tried acorn squash, you should know that it has quite the same taste as zucchini, butternut squash, and pumpkin. However, it indeed doesn't taste as bold as pumpkin, sometimes even bland.
Many people perceive its flavor as something between sweet potato and pumpkin.
The flavor of acorn squash is not overpowering, so it can pair well with other flavorful ingredients and make oh-so-good food.
In terms of texture, acorn squash has a meaty feel. It might appear more fibrous than other squash. If overripe, it can become stringy and not great for smooth soups.
It's easy to pair acorn squash with both sweet and savory ingredients when cooking. Often, it's sweetened with maple syrup or brown sugar.
Butter or spices can be added to the dish to balance the overall flavor, especially for soups.
Acorn squash goes well with rich flavors like meats, onions, or peppers. This way, it can easily absorb the aroma from other foods and become tastier.
Proper Way To Store The Acorn Squash
For whole and raw acorn squash, it's suggested that you will keep it in a cool, dry place with a temperature ranging from 50 to 55 degrees F. Thanks to its thick skin, acorn squash might stay well for up to 2 months.
If you put it in the fridge, there are many chances that it can only last for 1-2 weeks. After that, it starts deteriorating due to chill damage.
For slices of raw acorn squash, you need to carefully cover them with plastic wrap before storing them in the fridge for less than 4 days.
When it comes to cooked acorn squash, it will also last for 3-4 days in the fridge.
It's worth noting that if you wish to keep it for the longest time, you should learn how to freeze it properly. Frozen mashed acorn squash can last for up to a year without losing its texture and flavor.
As far as I know, acorn squash should be cooked first, then mashed or pureed before storing in the freezer.
You can see this video to know more:
Let's Cut An Acorn Squash!
There's no fuss about preparing acorn squash for cooking because it's effortless to deal with.
It depends on your recipe; you will know what you need to do with whole acorn squash.
Generally, the most challenging task, especially if you're new to acorns, is that you need to cut it in half.
Make sure that you use the sharpest knife in your kitchen to cut through its hard and thick outer skin easily.
Then, with a spoon, you scoop out all of the seeds inside.
The next step will involve cleaning and cutting it into cubes or slices.
You can see this video to know more:
Mouthwatering Acorn Squash Recipes You Should Learn To Cook
Let's start cooking with this little squash and see how amazing it is in each recipe I've listed below. Happy cooking!
This recipe shows you an easy and quick way to cook acorn squash. As the name suggests, it only calls for butter, sugar, maple syrup, and salt besides a good acorn squash. I think this fantastic dish is perfect for any day of the year, especially holiday family dinners.
Baked acorn squash has a mouthwatering and natural buttery taste which has been elevated by butter and brown sugar. The texture becomes super creamy.
It's up to you to enjoy it in halves, or you can scoop the flesh out and serve it on the plate.
Let's bake a batch of acorn squash with butter and brown sugar!
Quinoa stuffed acorn squash is an interesting dish you can add to your weeknight dinner rotation. It's an all-in-one bowl that is suitable for all family members and packed with numerous nutrients.
This recipe is also made for a vegetarian diet, and it's filled with veggies that are totally gluten-free.
Quinoa stuffed acorn squash is a combination of many delicious flavors. It's savory, rich, and balanced, which makes you want to eat more.
In terms of texture, quinoa is a star because it plays a vital role in creating a chewy yet fluffy bowl of goodness.
This comforting and delightful acorn squash soup is not only eye-catching with bright orange color but also tastes amazing. Cinnamon and ginger are incorporated to make it full of fall flavors which I crave very much.
Known for its buttery and creamy texture and slightly nutty and caramelized aroma, roasted acorn squash alone can make for a satisfying bowl of soup.
Adding other ingredients such as celery, sage, yellow onions, or shallots makes the soup taste richer and undoubtedly better.
This recipe is one of my family's favorite soups, which is essential every fall.
This comforting and delightful soup is super tasty and simple to cook!
This recipe is protein-rich, savory, low-carb, and comforting, so you should definitely cook it someday, especially on Thanksgiving occasions. Your family and friends will be more than happy to share it around the holiday dining table.
To bake it, you might need to prepare acorn squash, Italian sausages, apples, spices, and herbs.
Don't be panicked if it's the first time you cook this dish; it's pretty easy to resemble, and you can't go wrong with it.
The caramelized baked acorn is filled with fragrant ingredients and results in a great-tasting dish that everyone loves.
Impressive Health Benefits of Acorn Squash
Acorn squash might be small, but it is packed with a lot of nutrients that your body needs. Let's discover now!
Provide Antioxidants
The good news about squash is that it has a remarkably high level of antioxidants that are important for maintaining optimal functions in the body.
The most impressive thing is the carotenoids found in just one serving of squash. This type of antioxidant is well known for helping to prevent and fight different types of cancer, including skin, breast, lung, and prostate cancers.
Improve Eye Health
Beta-carotene, in particular, is found in large amounts in raw squash. Beta carotene is a precursor of vitamin A, which helps the body to prevent vitamin A deficiency and prevent blindness.
Improve Your Skin
Eating squash regularly can also have an impact on skin health. Vitamin C promotes collagen production, which helps brighten skin and smooth wrinkles.
The potassium found in squash nutrition is known for reducing the appearance of cellulite in the skin by treating water retention, which is common in a high sodium lifestyle.
Lower Your Blood Pressure
Acorn squash is one of 10 potassium-rich foods available, which plays a vital role in managing blood pressure levels. Magnesium found in this squash controls potassium intake and increases its positive effects.
FAQs
When cooking with acorn squash, there might be a lot of questions popping out of your mind. Let them all answer in this section.
Tiny Acorn Squash With Mighty Usage
Acorn squash is well-known as one of the most petite squash in its family. However, it brings many health benefits that you can gain simply by incorporating it into your diet.
In addition, it's super easy to cook and can be a mighty ingredient of various delectable dishes, as I have mentioned below.
The best part? It can perform well in vegetarian and non-vegetarian recipes and can go hand in hand with sweet and savory foods.
Thanks to its versatility, more yummy recipes would be created, and you can surely benefit from them.
What's your favorite acorn squash dish? I hope you can share with me what you think, and I'd love to discuss with you more in the future.
Reference
En.wikipedia.org. 2021. Acorn squash – Wikipedia.
Goss, T., 2021. What You Need To Know About Toxic Squash Syndrome.