What does tempeh taste like? I guess many people out there have the same question because they've heard a lot about tempeh and are curious about this ingredient.
Tempeh is increasingly gaining popularity in health-conscious and vegetarian communities. More and more people add it into their daily diets and learn to cook numerous tempeh recipes.
So, does it taste good? Is it good for your health?
If you want to get to know more about tempeh based on some of my mentioned thoughts, keep scrolling, and you won't be disappointed.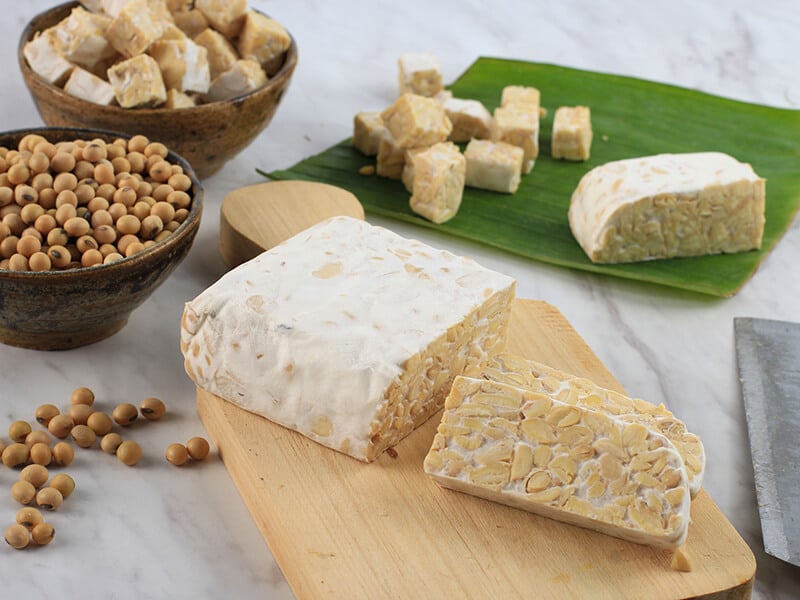 What Is Tempeh?
Tempeh is a traditional Indonesian whole soybean product made by fermenting cooked beans with the fungus Rhizopus.(1)
For this reason, tempeh has a distinctive flavor and texture which has been familiar with vegetarians across the world.
From the outside, tempeh looks like beans that have been pressed so tightly that they form a white and beige cake with a thickness of 1 inch.
For your information, tempeh has been used as one of the primary food ingredients in Indonesian diets for a long time.
You might have known about tempeh as a meat alternative in vegan and vegetarian diets due to its chewy texture and unique flavor.
Generally, tempeh is made from soybeans, but you can get creative and replace it with various beans or grains and add different flavors you like.
Let's make a batch of tempeh in the comfort of your house!
Tempeh Vs. Tofu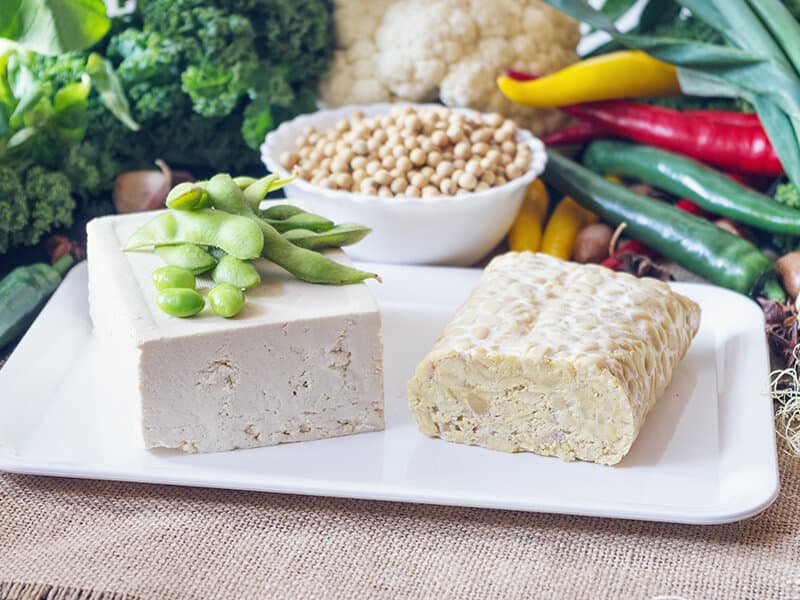 You might be familiar with the flavor of tofu and tempeh when incorporating more plant-based proteins into your diet because of health and environmental concerns. So what's the difference between them?
Both tempeh and tofu are a great alternative for meat if you want to cut animal proteins from your meal or just find more health-giving ingredients to add to your rotation. They tend to absorb the flavor of foods they're cooked with.
Tofu is basically made from curdled soy milk, which is then pressed into white blocks, while tempeh is made from fermented soybeans.Tempeh might also consist of brown rice, quinoa, flaxseed, barley millet, sesame seeds, and spices.
Thanks to its various ingredients, tempeh has a mildly nutty fragrance while tofu tastes completely bland.
Based on how each soybean product is made, tempeh seems to be less processed than tofu; therefore, it might retain more nutrition you can find in tofu, such as fibers and vitamins.
In a nutshell, let's see the table below to grab all information you need about tofu and tempeh:
| Feature | Tofu | Tempeh |
| --- | --- | --- |
| Ingredients | Curdled soy milk | Fermented soybeans |
| Flavor | Mild and neutral | Nutty |
| Flavor once cooked | Absorbs flavors of what it's cooked with | Absorbs flavors of what it's cooked with |
| Texture | Soft, silky | Chewy, grainy |
| Nutrition | Lose many nutrients through making process | Contains more fibers and vitamins |
What Does Tempeh Taste Like?
Tempeh features a strong, nutty, earthy, and somewhat mushroomy flavor. Moreover, tempeh taste can vary based on its maturity ranging from mild to strong savor.
This plant-based ingredient tends to absorb the flavors of the foods or sauce it's cooked with. Hence, it can have various aromas and can be adjusted easily depending on your taste preference. Tempeh is said to be a versatile option for many dishes.
At first glance, tempeh bears a firm and coarse texture. It's said to be less chewy than seitan – a popular vegetarian product from wheat flour and water.
This Indonesian food can be a great meat substitute in numerous recipes, thanks to its dense, meaty texture and umami flavors.
If you wonder about how raw tempeh tastes like, bear in mind that it isn't meant to be eaten raw because it will be tasteless and harmful, so cooking tempeh is a must.
Incredible Health Benefits Of Tempeh
Tempeh can be an abundant source of proteins and other nutrients. No wonder it's a fundamental part of Indonesian diets. Let's explore more about its health benefits below.
Provides Antioxidants
The isoflavones in tempeh have antioxidant properties. They can reduce oxidative stress, thereby reducing the accumulation of harmful free radicals that are linked to many diseases, including diabetes, heart disease, and cancer.
Keep Your Digestive System Healthy
Tempeh is rich in prebiotics – a type of fiber that promotes the growth of beneficial probiotic bacteria in the digestive system. For this reason, it also promotes overall health, fights against inflammation, and improves memory.
Promote Bone Health
High calcium content in tempeh helps strengthen bones and decreases the risk of osteoporosis, which is essential to your overall health.
Lower Cholesterol Levels
Tempeh contains isoflavones, which help lower blood cholesterol and protects the liver by reversing liver cell damage and reducing triglycerides. (2)
Support Weight Loss
Tempeh is an incredible source of fiber and protein, so it's a perfect food to lose weight. These nutrients help increase the feeling of fullness, reduce hunger, thereby increasing the effectiveness of weight loss.
Quick Tips To Store Tempeh Properly
If you're not ready to use tempeh right after bringing it home from the grocery store, you could store it in the refrigerator for about 7-10 days.
To keep the leftover fresh, make sure to wrap it in wax paper and put it in the fridge. For people who might not know, tempeh continues to age and become richer throughout time.
In case you want to keep it longer, I highly recommend that you store it in the freezer for up to 12 months. The secret is that you need to dip the tempeh in the boiling water for about 30 seconds before freezing.
4 Correct Ways to Prepare Tempeh
Here are several ways to help you prepare tempeh correctly and enhance the flavor and texture of the dish
Steaming
It would be best if you steam tempeh before cooking with it. It takes only about 15 minutes and clearly helps reduce bitterness. This steaming step makes tempeh softer and easier to soak up marinades and sauces.
Marinating
Like tofu, tempeh needs to be marinated to get a flavorful aroma and appealing color. For the ultimate result, you can let it sit in the marinade for about 30 minutes or even overnight.
This way, tempeh can slowly absorb all fragrances from spices, herbs, and sauces. After that, it's ready to grill or bake.
Crumbling And Grating
Cubed, grated, and crumbled tempeh is suitable to toss into salads, stews, curries, and more. It's a perfect way to add crunchiness and nutrition to your daily meal.
Slicing
It's advised that you cut tempeh into small pieces about 1/4 inch thick according to the width of the temper cake so that they can be used for many different dishes.
In this condition, it could be crispy enough outside to enjoy and still maintain its chewy texture inside.
There are more valuable tips for you to prepare and cook with tempeh! You can see this video to know more:
Let's Cook Some Delicious Dishes with Tempeh
Feel like you need to give tempeh a try right away? If that is the case, you need to check out these delicious and simple tempeh recipes. I can guarantee that you'll fall in love with these amazing dishes at the very first bite.
The first recipe I'd like to introduce is chipotle tempeh taco. This dish is one of my favorite weeknight tacos using crumbled tempeh as a filling.
After sauteing with seasonings, tempeh becomes flavorful and mimics the aroma and texture of meat successfully. Adobo sauce from chipotle is added to enhance the overall taste.
Wrap the filling in tortillas and toss any vegetables you like to complete the dish.
Keep in mind that you should steam the tempeh beforehand so that
Teriyaki sauce might not be strange to you when it comes to grilling meats, but how about using it to flavor tempeh. The result is surprisingly tasty, and you definitely want to share it with your family.
To begin, you need tamari or soy sauce, fresh ginger, garlic, maple syrup, sesame oil, and the hot sauce of your choice.
The best part? You can add this sweet and savory tempeh to almost anything you want, from salads to soups. The option is limitless.
Moreover, it's possible for you to make a large batch and store it in the freezer for up to 3 months.
Tempeh bacon is a vegan bacon alternative that you can make easily at home. It has a smoky, salty, umami flavor with a crispy texture. As far as I know, tempeh bacon is an ideal option for brunch or lunch.
The star of this recipe is the marinade which consists of soy sauce, apple cider vinegar, maple syrup, liquid smoke, and cumin.
You can choose to bake or pan fry, but I think pan-fried tempeh tastes much like real bacon.
Let's serve tempeh bacon alongside tofu, toasted avocado, scrambled eggs, or vegetarian BLT.
FAQs
You might have a lot of questions about tempeh. Here are some of the most common ones I've found. Let's answer them one by one.
Tempeh – A Favorite Food Of Health-Conscious People
Tempeh has become more and more popular thanks to its versatility and nourishing properties.
This vegan protein can be a perfect substitute for tofu if you feel you have had enough of it recently. Although tempeh requires some extra steps to cook compared to several other vegetarian ingredients, it is well worth the effort.
Tempeh can perform well in many dishes and guarantees to bring you a filling and satisfying meal.
So, if you're a health-conscious person, you might give tempeh a chance and see how it can contribute to your health journey.
Share with me what you think and I'd like to discuss further about this healthy, vegan food with all of you!
Reference
En.wikipedia.org. 2021. Tempeh – Wikipedia.
En. pubmed.ncbi.nlm.nih.gov.