What is tripe? What does tripe taste like? If you are curious about tripe and its flavor or how to prepare and cook it, this post is for you! Although its appearance is not too appealing, some people even do not dare to eat it; the flavor it brings will amaze you!
Besides, people do not want to eat it because they are not fond of its smell. Do not worry! I have got your back! In this post, excluding the detailed information about tripe, I will give you some tips and tricks to get the smell out of it so you will have the best flavor experience.
Are you excited now? Let's jump right into the article!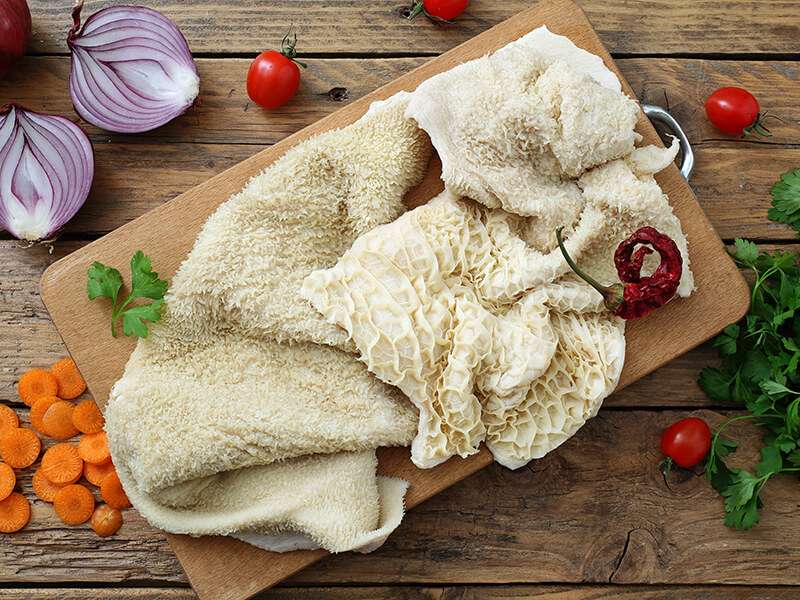 Let's Get To Know More About Tripe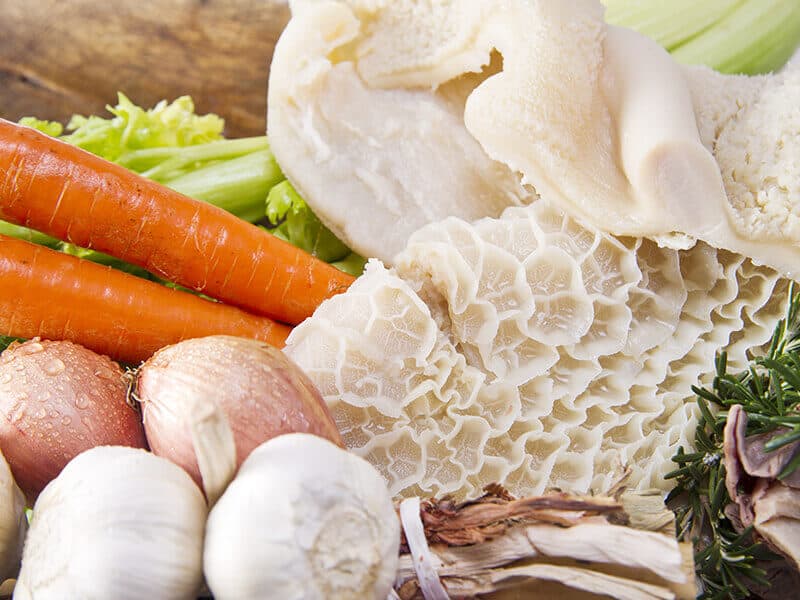 Tripe is an offal or organ meat in farm animals' inner stomach linings or walls, such as sheep, cows, oxen, goats, or pigs. The most consumed type is beef tripe. The texture of the tripe is chewy, not tough, and it is tender and succulent after cooking. (1)
The term tripe is used for beef, and it can vary for other animals. For instance, people call the inner stomach of pigs paunch, hog maw, or pig bag. Depending on the stomach chambers, people classify tripe into 4 types of tripe taken from cows:
Blanket tripe: It also appears under different names, such as flat tripe, thick-seam tripe, plain tripe, or ridged tripe. It is taken from the first stomach chamber, also known as rumen, the largest compartment.
Although it has a tender texture, people do not prefer cooking it as it is considered the worst type of tripe.
Honeycomb tripe: Honeycomb tripe is the softest and most delicious tripe and the most consumed tripe. It comes from the cow's second chamber (reticulum).
Book tripe: This type of tripe also has another name is omasum tripe, leaf tripe, or bible tripe. It comes from the third stomach compartment (omasum or psalterium).
Its flavor is the combination of blanket and honeycomb tripe. Due to its flavor and texture, people tend to use it to make sausages.
Reed tripe: Obviously, reed tripe is found in the fourth stomach chamber, also known as abomasum. Due to its flavor, it is the least commonly used in cooking.
A Detailed Description About The Tripe's Flavor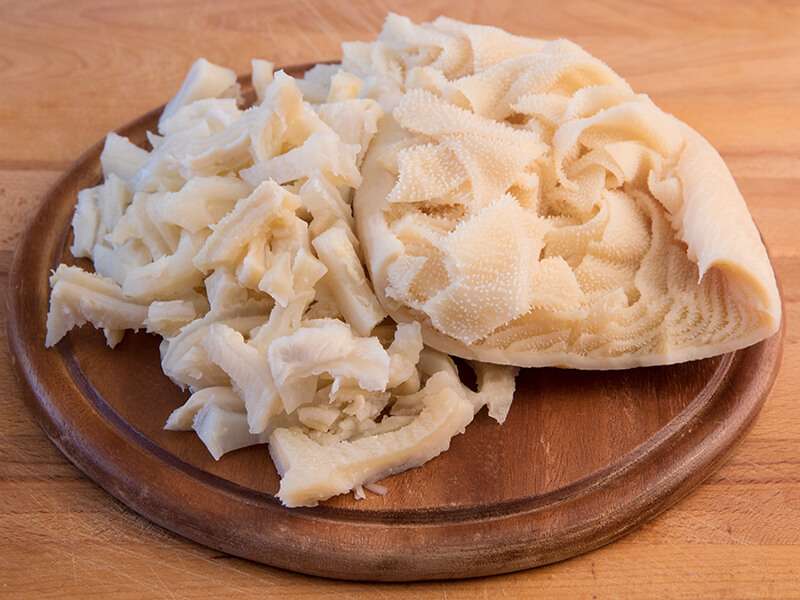 Tripe does not give any strong flavor. It provides a mild-liver flavor when well-dressed and well-cooked. People enhance its mild flavor by combining it with other aromatic ingredients, including garlic, onion, or other herbs and spices.
Like mushrooms or tofu, the mild flavor of tripe allows it to absorb the flavor of other ingredients or sauces that it is cooked with. People who love to eat innards and organs consider tripe more mouth-watering than the fleshy part of the meat.
On the contrary, some types of tripe may offer a significant strong flavor that people do not want to use for cooking.
Ultimate Instructions To Clean And Prepare Tripe Effectively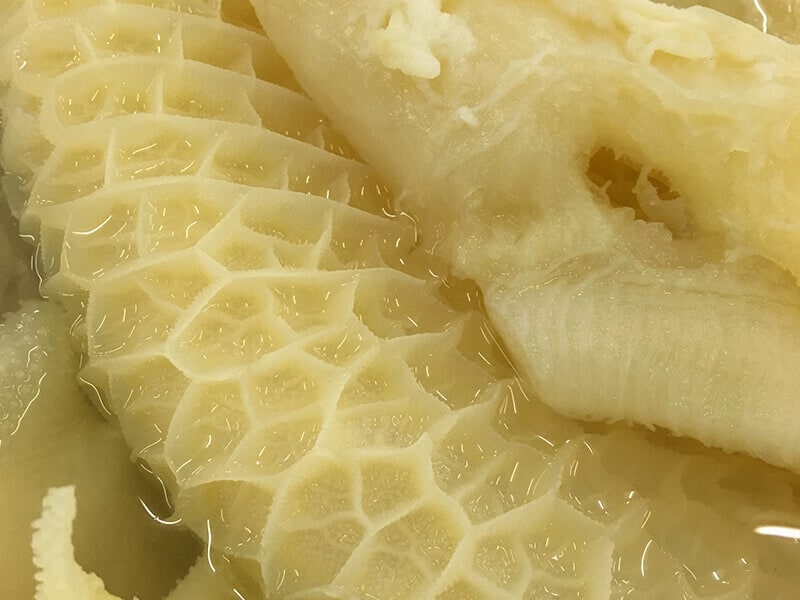 It is essential to learn how to clean tripe precisely before adding it to your recipes so you can enjoy the best taste and remove its unwanted smell.
Unblanched Vs. Blanched Tripe
When you buy tripe, it is usually well-dressed by the butcher, which means the butcher parboiled and bleached it in a chloride solution, and you have to rinse it thoroughly. Otherwise, the remaining chloride flavor will ruin your food.
To be easier to recognize, the blanched ripe has a white color, while the unbleached tripe is yellow or green. The green tripe is dogs' and cats' food. It is not suitable for human consumption.
How To Clean Unblanched Tripe?
Below are the step-by-step instructions for you to clean and prepare the undressed tripe thoroughly to not contain any lousy odor before cooking it.
Step 1: You need to remove all of the impurities of the tripe by scrubbing it with salt and vinegar.
Step 2: Soak the tripe thoroughly in cold water for 5 to 10 minutes and rinse it carefully.
Step 3: Pat it to dry and cut it into the size you desire
Step 4: Cook it in a large pot filled with water until tender
How About Balanced Tripe's Preparation?
With the well-dressed tripe, you just need to wash it in water carefully to get rid of the chloride so as it will not affect the full flavor of your dish. Wash it as many times as you can or until the water runs clear, and no gritty appears before cooking it.
Other ways to clean raw tripe effectively without any strong odor remaining.
How Do People All Around The World Cook Tripe?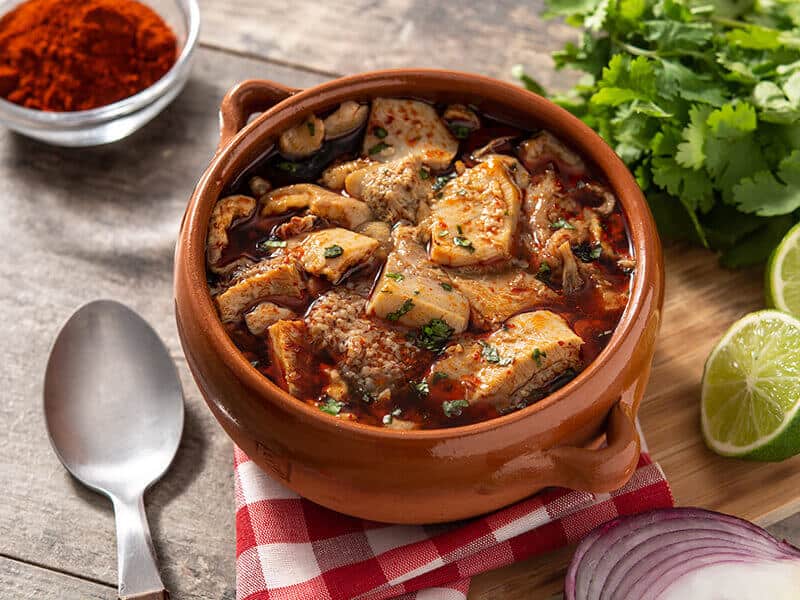 Tripe appears in the dishes of many countries all over the world, ranging from soups, stews to salads and other different types of cooking. Some featured dishes consist of tripe in the world are:
Trippa Alla Fiorentina: This is a popular Italian dish made from tripe simmered in tomato sauce.
Sausages: Belgium people make tripe sausages that are enclosed in large intestines. The famous French Andouille sausage and Colombian butifarra also consist of tripe.
Fried tripe: Fried tripe is a favorite dish of Asian and African people. Tripe is also deep-fried in buttermilk batter and widely served in the Southern United States.
Tripe soup and stew: Many countries are fond of tripe soup and stew as it is cooked until tender and absorbs other ingredients' flavor well. Some of them are Latin America's Mondongo, Peru's Cau Cau, and Mexico's Menudo.
Pancita de barbacoa: This flavorful dish is made from sheep's stomachs and other fragrant herbs and spices. People also add ancita de barbacoa to tacos.
3 Mouth-Watering Tripe Recipes You Should Not Miss!
After knowing how to prepare raw tripe precisely to get rid of its foul smell and impurities, it is time to discover some tasty recipes that call for tripe and give them a try! You won't regret it!
You can find this mouth-watering dish in a large number of Chinese dim sum restaurants. The tripe used to braise is mainly the honeycomb tripe as it is tender and delicious. This dish has a savory-sweet taste with a bit of chewy and springy tripe.
The critical thing that makes this dish delicious is the fragrant and sweet sauce. Braised beef tripe requires hours to cook, but it is worth your time! You can reheat and consume it a few days later, and its flavor is even tastier and more robust.
Are you looking for an ultimate braised beef tripe recipe? Here you are!
Perhaps you have never heard of Mondongo, but it is a famous tripe stew in Dominica. It is also called Menudo in Mexican cuisine. This stew consists of beef tripe, vegetables like carrots and potatoes, and herbs such as coriander.
People tend to cook this warm and comforting stew to serve a crowd in holiday gatherings. You will impress your friends and family with this rich and flavorful stew. You can serve it with warm cooked white rice or some slices of bread.
I'm sure you will never see any recipe that is easy to make but tastes satisfying like this! You need to know that the tripe used to deep-fry has to be cooked well before, usually the honeycomb tripe.
Slice the cooked honeycomb tripe and coat the slices with flavorful powder, like salt and cayenne pepper powder. The cooking result turns out crispy with an eye-catching golden brown that you can not resist.
If you get fed up with typically stewed or braised tripe, try this crispy deep-fried tripe recipe!
Let's Understand More About Tripe's Shelf Life!
Pay attention to how long the tripe can keep its best quality to avoid eating spoiled organs. As you know, spoiled foods, particularly organs, will damage your health badly. Let's see the amount of time you can keep your tripe safe to eat through this table!
| Type | Refrigerating | Freezing | Pickling | Canning |
| --- | --- | --- | --- | --- |
| Raw tripe | 1 - 2 days | 3 - 4 months | 2 -3 days | Up to a year |
| Cooked tripe | up to 4 days | 3 - 4 months | 2 - 3 days | Up to a year |
What Storage Methods Do People Use To Keep Tripe?
According to the table above, there are 4 most common ways to store tripe: refrigerating, freezing, pickling, and canning.
Refrigerating: Although you buy the well-dressed tripe in a pale or off-white color, it still does not last long in the refrigerator. On top of that, you can not keep the cooked tripe for too long in the refrigerator. It just lasts for up to 4 days.
Freezing: To extend tripe's shelf life and keep its flavor, freezing it is a wise choice. You can freeze both fresh and cooked tripe. Nonetheless, remember to place your tripe in an airtight container or heavy-duty freezer bag for a more successful result.
Pickling: The most suitable storage method when you have a surplus of tripe is pickling. Pickling tripe requires a significant amount of time and effort. It will take you 5 to 6 days to complete making pickled tripe for occasional uses.
Canning: You can easily find canned tripe in any supermarket or grocery store. It is added with a specific amount of food additives and preservatives, and it can last the longest compared to other storage methods.
Amazing Health Benefits That Tripe Brings To You
Tripe is low in calories, but it is packed with a lot of essential nutrients and minerals. Every 5 ounces of tripe provides 131 calories. Stick around to explore the advantages it brings to your health. (2)
The high-quality protein loaded in tripe is beneficial for your immune system. It also helps balance the fluid, repair and maintain the tissue, and boost cellular communication.
Consuming tripe is also good for maintaining a healthy weight as it helps excess body fat, reduces hunger, and prevents the risk of overeating.
The vitamins and minerals concluded in tripe can boost energy and blood cell production. They are also crucial for DNA production and carbohydrate metabolism. (3)
There are still diverse health advantages that tripe brings to you. Do not hesitate to grab one and taste it!
FAQs
You may have some questions related to tripe and other surrounding information about it. Scroll down to read my answers to some frequently asked questions. Maybe some of them can clarify your curiosity.
A Tip To Enjoy The Full Flavor Of Tripe
To enjoy the best tripe flavor without any unpleasant odor, you should pay attention to choosing the high-quality tripe before carrying out any other preparation and cleaning methods. Avoid buying brown and green tripe. The partially cooked tripe is the best choice.
Although tripe offers various health benefits, it is also high in cholesterol. Therefore, you have to eat tripe in moderation to avoid the risk of cardiovascular disease and other harmfulnesses.
Before leaving the site, do not forget to like and share this article if all information in the sections above is helpful and exciting to read. By the way, share with me your cooking tripe result and flavor experience in the comment box.
References
En.wikipedia.org. 2021. Tripe – Wikipedia.
Fdc.nal.usda.gov. 2021. Food – Details.
Healthline. 2021. Tripe: Nutrition, Benefits and Uses.