'What does conch taste like' is the commonly asked question in many websites, particularly traveling ones. So have you ever seen or tasted a conch before?
If you are not familiar with conch, let me walk you through this article to learn about its tastes, origins, features, and other interesting information.
And after reading these insights, you can confidently say, 'Hey! I know this one' whenever somebody is concerned about this creature.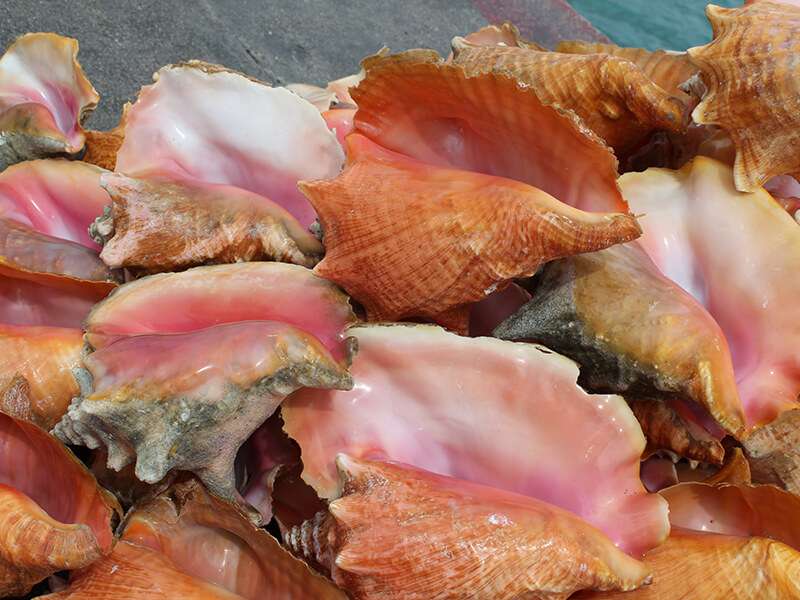 Conch – The Beauty Of Ocean That You Might Not Know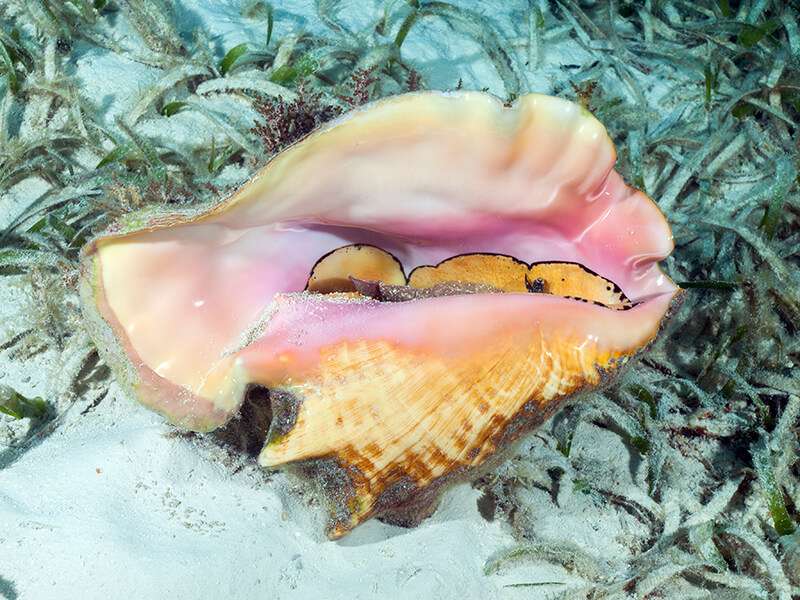 Fishes, crabs, lobsters, oysters, etc., are the miracles of the sea, so does conch. But as its popularity is limited, many people have not known or eaten conch before. So what is a conch anyway?
Conch (pronounced as konk) is the name to indicate various medium to large-sized snails that live in the ocean's shallow water. Moreover, people in North America use the term 'conch' for queen conch – a Caribbean-native sea snail.
Conchs are marine gastropods. In fact, there are various gastropods called conchs, but they are not 'true conchs' which belong to the Strombidae family. So be noted that queen conch and dog conch are some of these true conches (1).
For easier capture, a conch I am talking about has a hard, heavy shell with a protruding spire. The mature queen conch (scientific name is Lobatus gigas) has a pink or orange-colored shell that is long from 6 to 12 inches and weighs around 2 pounds (2).
Conch meat is edible. It has been the favorite seafood in Italy, East Asia, the Caribbean, especially the Bahamas. Indeed, conch dishes are specialties of Bahamian. So whenever you have a vacation to the Bahamas, do not miss any conch dishes here.
Sadly, because of the overfishing conch for increasing demand, queen conch is recently classified on the endangered species list. In Florida waters, fishing conchs is prohibited.
The beauty of the Caribbean is not only about the beach but also about conchs. Watch this video to know more:
What Does Conch Meat Taste Like?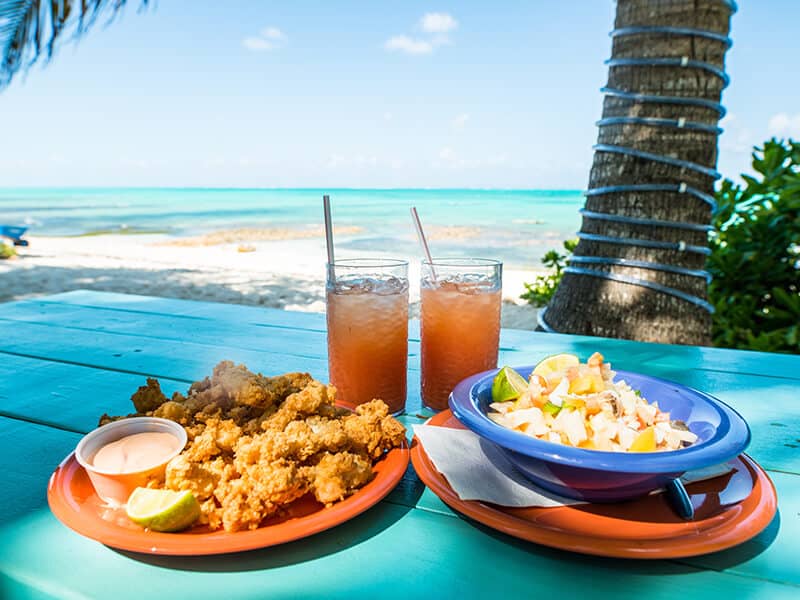 Sea snails are not a popular food choice for many people. I guess some of you are not interested in this seafood, or "yuck" might be the first reaction to the idea of eating sea snails. But trust me! It will be a huge miss if you do not give it a shot.
Similar to other varieties of seafood, conch has a hint of the sea. It tastes salty and pretty bland. They do not have a robust fishy smell either. If you are not a seafood lover, or this is the first time you have tried it, you might think the conch's taste is quite weird.
In reality, many people think its taste is relevant to clams but without a fishy aroma. Some also claim the conch's flavor is between salmon and crab, like escargot, scallops, and crayfish taste.
However, the flavor of conch is mainly based on the way you prepare or cook. It can be consumed fresh, raw, or cooked. Conch texture, overall, is quite chewy and rubbery, but it will be softer after tenderizing or when you chew them.
But what should you do to make sure your conch is high-quality and how to prepare it? Read on for more information.
Easy Tricks To Choose and Prepare Conch Perfectly
As conch is not a popular seafood that you can easily find anywhere, you might not be familiar with picking and preparing conch properly. And here are 3 important parts to make sure you can enjoy it at the finest.
How To Choose Perfect Conchs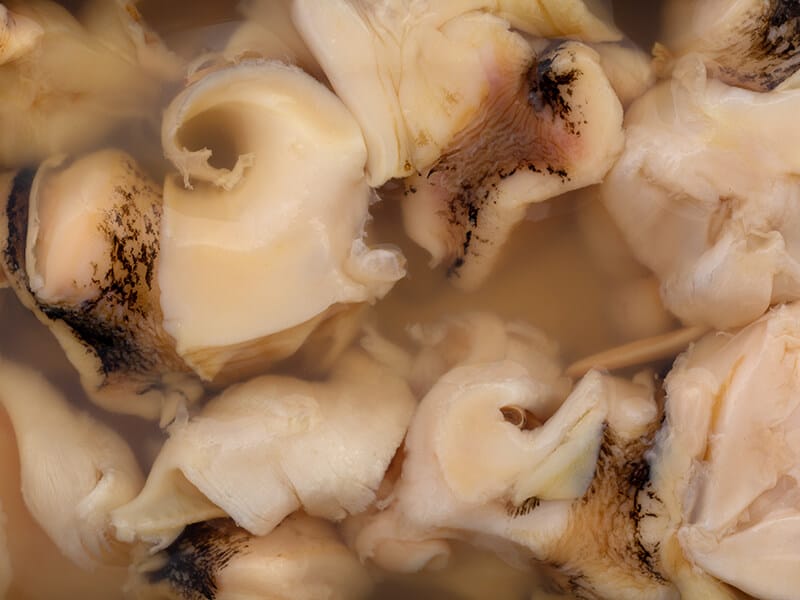 Let's begin with the buying conch. If they are already shell-off and pre-cleaned, make sure your conch meat meet 2 conditions, which are:
Fresh conch meat is firm and white with some parts in pink and orange colors. Avoid those that have grey color.
It does not have a strong 'sea' smell either.
If you bought just-harvested conchs from the ocean, it would be better to soak the meat in water and vinegar for 1 hour or more. But if it is a precooked conch, there is nothing much to prepare.
What To Know In Preparing Fresh Conch With Shell
In case you catch it by yourself on a trip to the Caribbean, here are some simple steps to remove the conch shell. You will need:
A goggles
Rubber gloves (as its shell is sharp)
Salt (iodized or kosher)
Water
Step 1: Soak Conch Shell
You should soak it in salt water to force a snail out of its shell. You also need to prepare 3 saltwater tubs, which are from the least to the saltiest.
For the least salty tub, the ratio of saltwater is 1/8 cup of salt in 1 gallon of water. In the medium tub, try 1/4 cup of salt in 1 gallon of water. And the last one is 1/2 cup salt with the same amount of water.
Soak them from the saltiest to the least ones in around 1 hour. So it might take 3 hours in total. After that, rewash them with tap water.
Step 2: Remove The Shell
Now, wear your gloves to ensure your safety. When the shell is open, try to grab the snail inside. Pull them hard so the snail can get out of its shell completely.
But if it is too tight, you can drill a small hole on the upper shell. Remember to wear goggles at this point to protect your eye from the broken shell. By drilling, you can reduce the suction inside the shell, allowing you to pull them off easier.
Once you can remove it from the shell, check for any pearl inside the snail. Yes! Conch can produce pearls.
Step 3: Remove The Covering
Conch still has a shell-like covering after you have already removed their shell. But with this second shell, you can quickly pull it off. Be noted to cut out their digestive gland before eating or cooking as it contains toxins.
Got a hammer? Try this method to get the snail out of its shell.
Do Not Forget To Tenderize Your Conch Before Enjoying
As raw conch is rubbery, it requires some tricks to tenderize the meat in most recipes, regardless of eating raw or cooked. So here are 3 tips to ensure your conch is softer and less chewy.
Tip Number 1: Using Meat Hammer (Or Rolling Pin)
If you have a meat tenderizer at home, use it to pound the meat but avoid overdoing it as your seafood might fall apart. You can wrap snail meat in a plastic cover before beating. A rolling pin is also ideal for making it tender.
Tip Number 2: Boiling Conch Meat
Simmering conchs in saltwater on the stovetop for around 1 hour can also make it softer. Feel free to add more flavors with onions, garlic, herbs, or peppers.
However, be noted that your conch meat might be tougher in hot water, but it will be softened when boiling. You can apply this method to roasted conch recipes.
Tip Number 3: Long-period Cooking
You might skip the tenderizing process if your recipe is slow-cooking, like soups or stews. But you should cut the meat into even and thinner pieces so they can be tenderized easily.
Alright! You just know how to pre-prep conchs. It is time to learn what delicacies that you can create with them in the next part.
Let's Turn Conch Into Mind-Blowing Delicacies
There are many ways to enjoy conch. With raw ones, you can use them to make a fresh salad dish with other veggies. Or you can cook them in your stews, soups, curries, etc.
But when I talk about conch recipes, I want to praise the Bahamians as they had created so many delicacies from this mysterious seafood. So here are some authentic and popular ideas to turn them into wonderful treats. Check it out now!
If you have not been to the Bahamas, let me show you how to eat like the Bahamians right in your kitchen. Cracked conch is an island food that has enchanted many visitors.
They are simply deep-fried conchs covered by flour, eggs, and other seasonings. They have an attractive golden and crispy outside. For the most fulfilled and tastiest dish, you can serve it with other ingredients like rice, fries, beans, veggies, etc., for most fulfilled and delectable dish.
How Bahamians cook cracked conch? This instruction will show you.
Well, you might need to shop a lot of things to cook this dish, but they will come out perfectly with tender conch and veggies.
Conch chowder is another classic treat derived from Caribbean areas. It is a hearty dish with simmered conch, bacon, sauces, spices, and vegetables like celery, carrot, tomatoes, bell peppers, potatoes, herbs, etc.
The cooking process is pretty easy yet time-taking. But come on! It is chowder. It is worth the wait.
Conch fritters are like a 'more flavorful' version of cracked conchs. Similarly, you will deep fry them for a golden exterior. But the list of ingredients in this recipe is longer.
Chopped bell peppers, onions, celery, spices, herbs, flour, milk, and eggs are mixed with conch. If you can wait, let the mixture sit in the fridge for at least 1 hour to better flavor absorption. But it is still acceptable if you cook them right after that.
Pay attention to the oil temperature. The perfect one is 350 degrees F, so if you have a thermometer at home, use it to ensure your conch fritter is cooked and looks amazing.
If you are willing to try raw conch, this recipe is made for you. With conch salad, they are a perfect combination of conch, fresh veggies, and citrus juice.
And like other salads, it is a hassle-free dish with only 10 to 15 minutes to prep. But it would be much better if you let them chill in the fridge before serving. At this time, your salad flavor is mind-blowing.
Forget shrimp salad! This fresh and tropical treat will make your summer more enjoyable.
Is There Any Benefit From Eating Conch?
If you wonder whether conchs are good for your health, this section will answer it. But first, let's check the nutrient information below.
| | |
| --- | --- |
| Nutrient | Conch (100 grams) |
| Calories | 130 |
| Carbohydrate | 1.7 g |
| Protein | 26.3 g |
| Cholesterol | 65 mg |
| Total Fat | 1.2 g |
| Fatty Acids | 0.37 g |
| Sugar | 0 g |
| Sodium | 153 mg |
| Selenium | 40.3 mcg |
As you can see, conch is rich in lean protein and low in fat. Besides, they are high in minerals like iron, calcium, selenium, magnesium, folate, vitamin E, and B12.
And as they contain a high level of these nutrients, conch is claimed as a natural aphrodisiac that can improve your sexual health.
FAQs
If you still hesitate in giving conchs a shot or have other concerns about eating them, these questions will offer a better look.
Do Not Miss Out On All The Fun From Conch!
I hope after reading you will have a little interest in conch even if you are not a fan of sea snails. And suppose you have a chance to visit the Caribbean; try these conch dishes out there.
Finally, if you love this post, please click like and rate it on the below part. Please feel free to share your experience with conch. I guess they are fun and unforgettable experiences, right?
Thanks for reading.
References
Wikipedia. [Online]. Available at: https://en.wikipedia.org/wiki/Conch.
Wikipedia. [Online]. Available at: https://en.wikipedia.org/wiki/Aliger_gigas.