Keeping dry mustard substitutes in your pantry can be an excellent way to make sure your cooking process goes smoothly.
As you're well aware that mustard is one of the most versatile yet oldest staples when it comes to dry tables and cooking condiments. Among many types of commercial and homemade mustard products you have tasted in your life, dry mustard seems to be commonly used at home and in restaurants worldwide.
Although it's pretty challenging to find a perfect dry mustard substitute, there's no need to worry about it because I've prepared a list of alternatives that work well with dry mustard recipes.
All of these substitutes will guarantee to satisfy your taste. All you have to do is scroll down and take what's available in your pantry right now.
List Of Dry Mustard Substitutes (9 Of The Best Substitutes)
What herbs and spices should you look for if you run short on dry mustard? Let's figure it out by checking the following list!
Prepared Mustard
Turmeric Powder
Mustard Seeds
Wasabi Powder
Horseradish Powder
Arugula
Dijon Mustard
English Yellow Mustard
Mayonnaise
What Is Dry Mustard?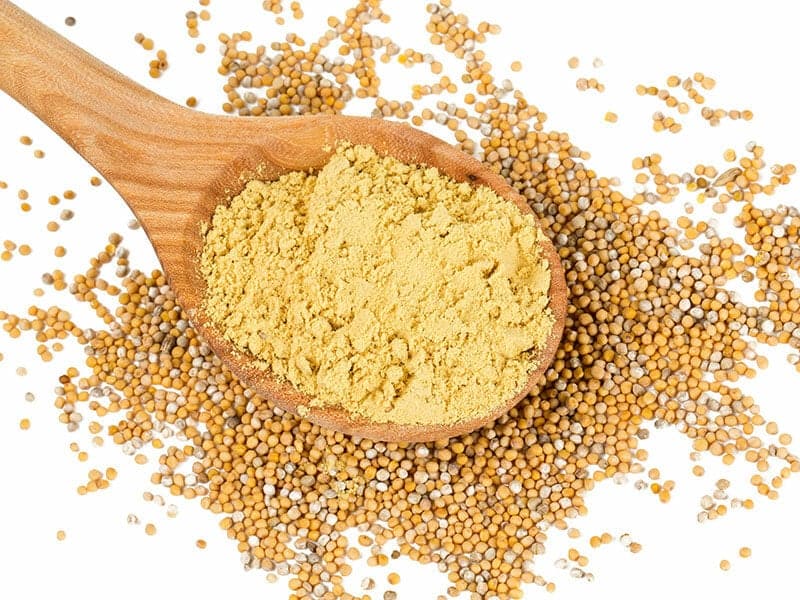 Dry mustard is ground mustard seeds that are collected from mustard plants. Some people might call it English mustard.
Featuring an earthy and bitter aroma, it's often used to add flavor to salads, sauces, meats, dressings, and vegetables.
There are three varieties of mustard plants corresponding to the white, black, and yellow ones. That's why you can easily find dry mustard in these three colors in the grocery store. Among them, white mustard is the one with the most potent flavor.
What Does Dry Mustard Do In A Recipe?
In addition to enhancing the flavor, dry mustard is a food emulsifier and stabilizer that might be essential to complete the dish. If the texture tends to a bit thin down, this ingredient can be helpful.
It can be said that dry mustard possesses an intensive aroma that might be stronger than other mustards. Typically, dry mustard contains 100% mustard, while wet mustard will include other ingredients such as salt, vinegar, spices, and water.
To boost up the flavor of cheese-based recipes, adding dry mustard is one of the ideal options.
Dry Mustard Substitutes Ratio
Cast a quick glance at the table of substituting ratio so that you can be more confident when using these herbs and spices:
| | |
| --- | --- |
| Mustard Substitutes Ratio | Dry Mustard |
| Prepared Mustard | 1 tsp: 1tbsp |
| Turmeric Powder | 1 tbsp: 1tbsp |
| Mustard Seeds | 1 tbsp: ½ tbsp |
| Wasabi Powder | 1 tbsp: ½ tbsp |
| Horseradish Powder | 1 tbsp: 1tbsp |
| Arugula | 1tsp : 1 tbsp |
| Dijon Mustard | 1tsp : 1 tbsp |
| English Yellow Mustard | – |
| Mayonnaise | – |
Best Substitutes For Dry Mustard
Below is a list of dry mustard substitutes that give you quick access if you're running out of this staple.
Prepared Mustard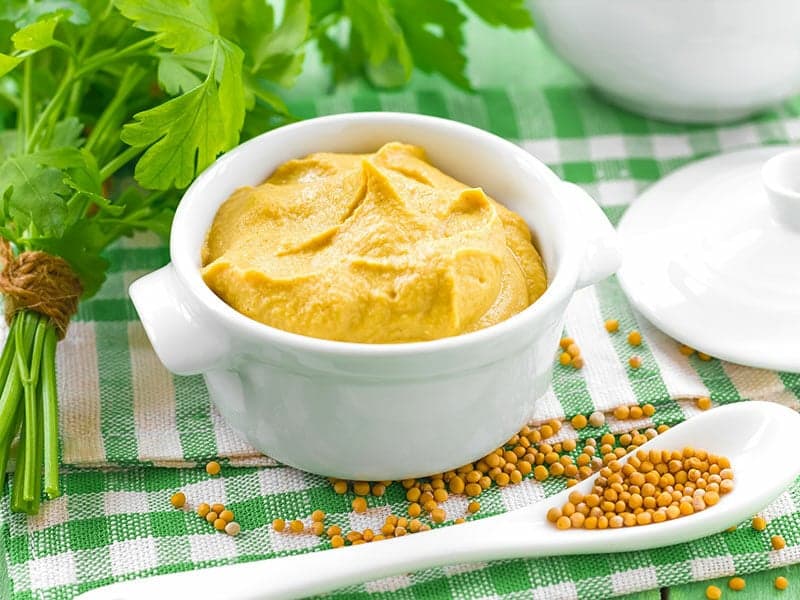 The convenient prepared mustard bottle which you often use can be a perfect replacement for dry mustard if you run out of this ingredient. As you might know, prepared mustard is made from dry mustard, vinegar, and water (1). For this reason, it can infuse the expected flavor to your dish.
There are four types of prepared mustard: yellow mustard, Dijon mustard, spicy brown mustard, and Chinese mustard.
To achieve the best result, I highly recommend that you follow the 1:1 ratio. However, because prepared mustard is likely to thin down the dish, you should reduce the liquid amount to maintain the original texture.
Prepared mustard saves you quite a lot of time when cooking because it has been readily prepared and can easily be mixed with other ingredients.
Turmeric Powder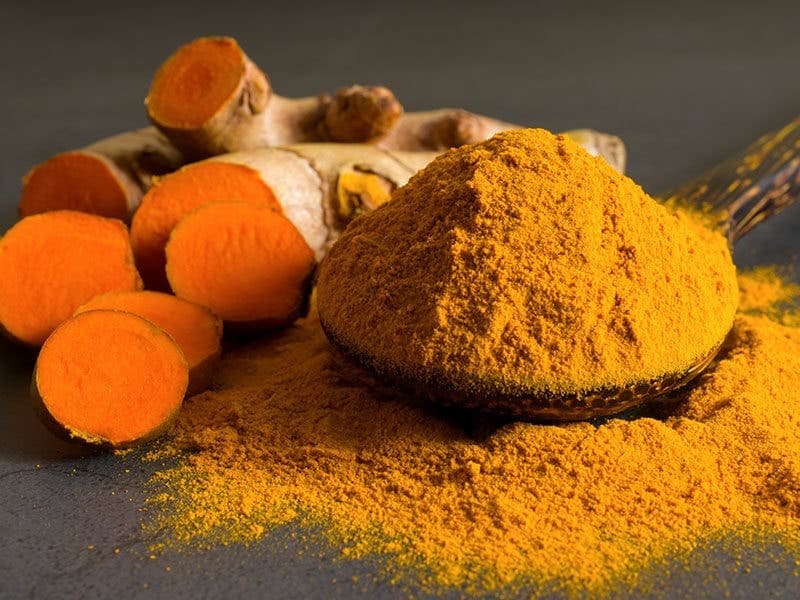 Turmeric powder is an excellent alternative for dry mustard, both in appearance and taste. This kitchen staple is derived from the turmeric plant and is extensively used in India and South Asian countries because of its warm and peppery aroma.
It can replace dry mustard in various dishes, especially making dry rubs for poultry, seafood, meat, and seasoning curries and soups.
This spice not only adds vibrant yellowish color to your foods and makes them look more palatable but also brings numerous health benefits to your dish.
You can stick to the same ratio and use one tablespoon of turmeric for one tablespoon of dry mustard.
Mustard Seeds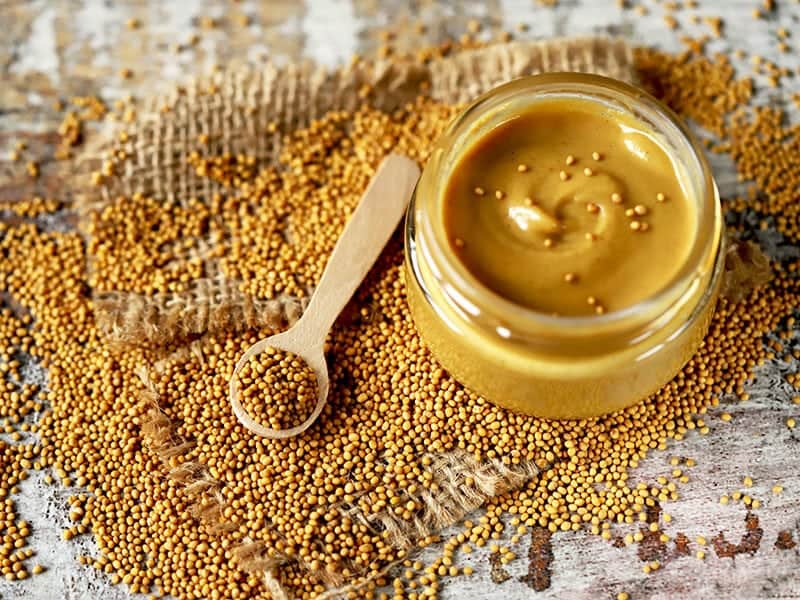 The next option on my list is mustard seeds which you can always go for if you don't have any dry mustard at reach.
To use this seasoning, you need to crush it first then add it to your dish with the ratio of 1:2. This means one tablespoon of mustard seeds for two tablespoons of dry mustard.
When it comes to flavor, mustard seeds could compensate for dry mustard in many recipes, especially in your salads, soups, stews, sauces, or spice rubs. This ingredient tends to elevate the taste of whatever you put it in, so your foods will turn out delicious as you expect.
If you don't mind grinding mustard seeds every time you need them, this staple could be the perfect alternative that you're looking for.
Wasabi Powder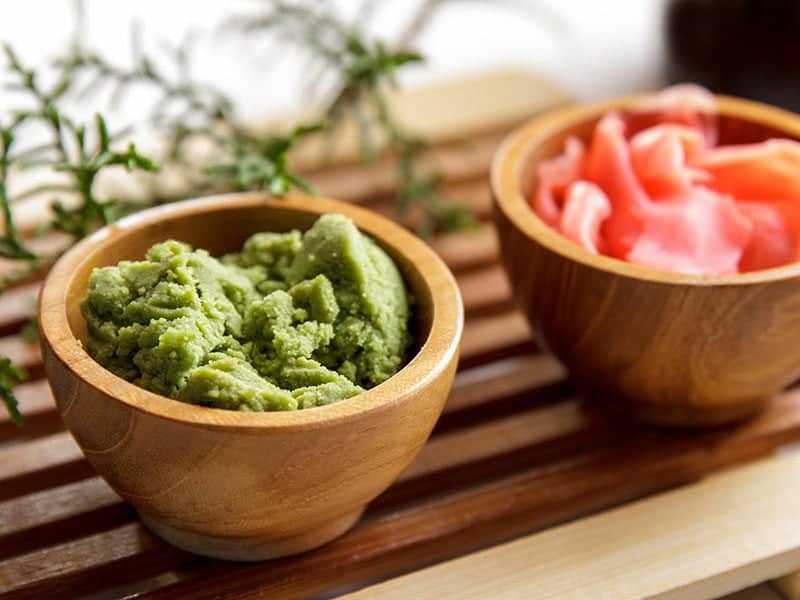 Wasabi powder is derived from the wasabi plant's root, which is known as Japanese horseradish. If you're a fan of sushi and sashimi, you might be familiar with this spice because it's used to make wasabi paste which is essential to enhance the flavor of Japanese cuisine in the sushi restaurant.
Many people perceive it hotter and spicier than dry mustard and need to be carefully used when acting as a replacement for this seasoning. You should add much less than you would add dry mustard in a recipe so that you can maintain the original flavor of the dish.
Due to its strong aroma, it might not be favored by numerous homemakers; however, besides heat, it can also add a distinct flavor to your dish.
Horseradish Powder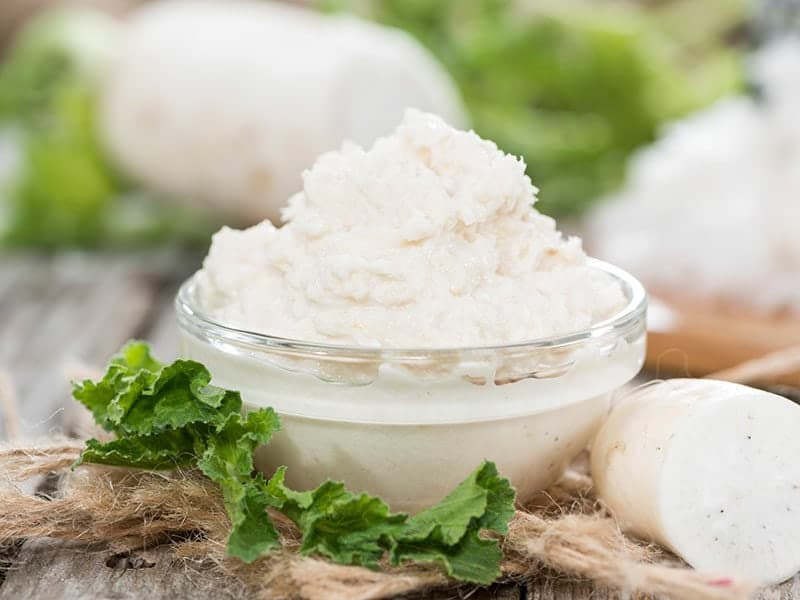 Horseradish powder appears milder than wasabi powder; therefore, it might be suitable for people who want to reduce the spiciness of the recipe. It's recommended that you should replace one part of dry mustard with one part of horseradish powder.
The application of this dry mustard substitute is endless; for example, you can add it to your dips, marinade sauce, soups, salad dressings, and glaze.
Its intense, hot, and mustard-like flavor will go well with beef and roasted vegetables. For horseradish sauce, use 1 part of horseradish powder and 1 part of water. You can also create a simple sauce by adding horseradish powder to sour cream or plain yogurt.
Arugula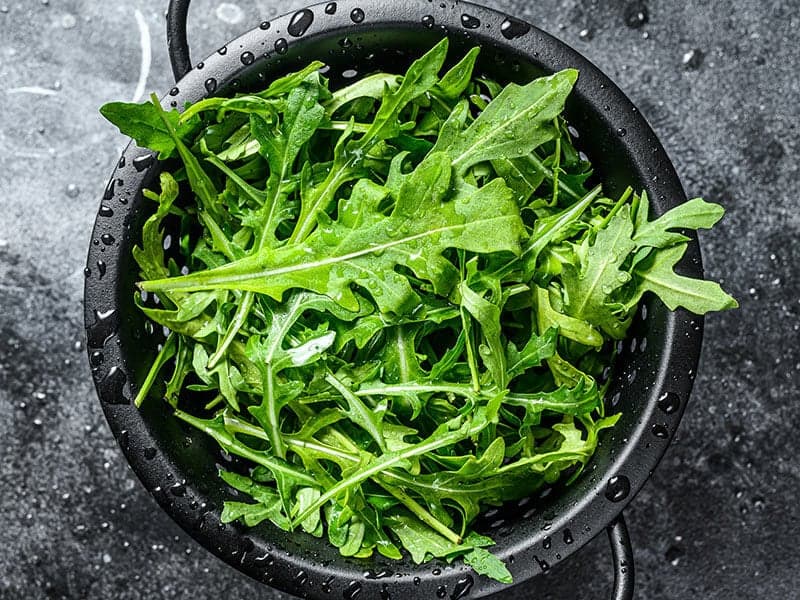 You might be surprised by my next suggestion because you probably only know it as a healthy vegetable, not a dry mustard substitute. If you give it a try, you can realize that arugula works in some specific recipes, especially salad dressings and dips.
Arugula features peppery and slightly spicy notes, which can mimic the flavor of dry mustard. (2) To start using this leafy vegetable, you need to chop it finely, or you can use mortar and pestle to grind it into a paste.
Typically, one tablespoon of arugula can exchange for one teaspoon of dry mustard. This vegetable will offer you a ton of health benefits which you hardly find in other spices.
Arugula doesn't bring a yellow hue to your foods, but it also doesn't change the color of your dish considerably.
Dijon Mustard
If your recipe calls for dry mustard, but you're running out of it, Dijon mustard will be a good candidate you can find in your pantry.
The best part? It might be suitable for most of your recipes and infuse much the same flavor as dry mustard to your dish. However, it doesn't work with spice blend and dry rub recipes.
Adding how much of this seasoning will be up to your taste, but you'd better replace one teaspoon of dry mustard for one tablespoon of Dijon mustard to get the desired result.
Dijon is ideal for making glazes, marinades, and sauces and can combine excellently with chicken, meat, carrot, and broccoli.
It's important to note that this mustard is a bit sweeter than dry mustard; therefore, you can consider reducing the amount of sugar in your food.
Are you looking for a recipe with Dijon mustard? Let's check it out:
Yellow English Mustard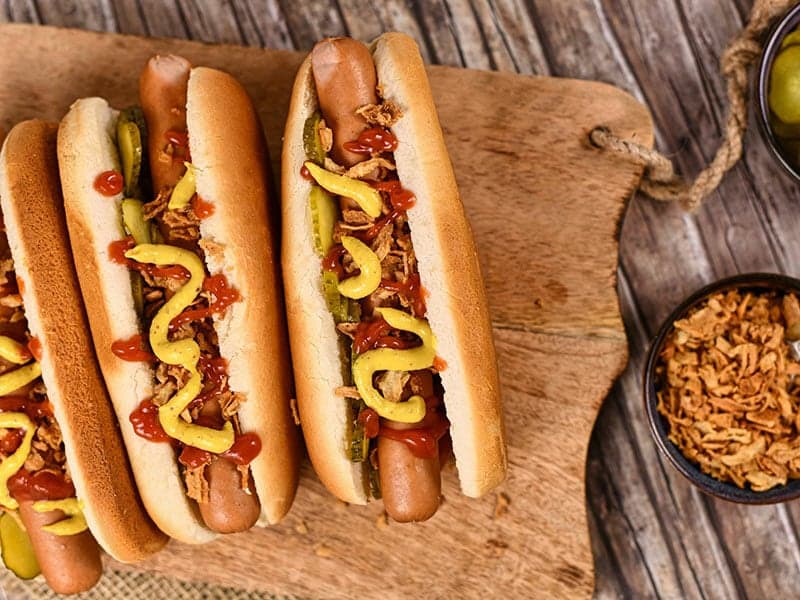 Another option that I would recommend is yellow English mustard. This type of mustard can be easily recognized by its bright yellow color and thick texture. It's mixed with yellow and brown mustard seeds with other ingredients such as vinegar, salt, turmeric, and wheat flour.
It owns a more robust and sharper aroma than other types of mustard and is excellent for people who love hot and spicy dishes.
Yellow English mustard often comes in a ready-prepared squeeze bottle and appears quite convenient to serve.
This seasoning is made to give your dishes a boost of flavor, whether they are sauces, sandwiches, or roasts. Chefs tend to add it in the cheese sauce and the like because this is a good chance for it to work its magic.
Mayonnaise
An easily found staple that is regularly used in your kitchen is mayonnaise due to its versatility. What about using mayonnaise instead of dry mustard in some instances?
What makes it a good-enough substitute here is how it's made. As you might not know, most mayonnaise recipes contain dry mustard.
For this reason, you might be able to use mayonnaise to create sauces, dips, and dressings if dry mustard is not on hand.
How Do You Make Dry Mustard At Home?
There is nothing more straightforward than making dry mustard because all you need to do is to prepare mustard seeds and follow my step-by-step instruction below:
Step 1: Toast mustard seeds in a pan for about 20 seconds
Step 2: Let them cool down in 15-20 minutes
Step 3: Use a spice grinder or coffee grinder to turn them into powder. You can also grind them by hand, but it might involve some elbow grease
Step 4: Store your dry mustard in an airtight container for later use. Keep it in a dry and dark place!
FAQs
Dry mustard substitutes might be a well-discussed topic among cooking lovers. Understanding that, I've listed some questions you might bear in mind and also provided corresponding answers to all of them.
What Is Your Choice?
Many people are fans of mustard because this seasoning is able to add distinct and unforgettable flavor to any dish you create. Therefore, I always store many types of mustard around my pantry, especially mustard seeds.
For me, making dry mustard from seeds is quite rewarding, and I feel satisfied when cooking with this homemade spice.
I hope my list could help you feel rest assured if you don't find any dry mustard on hand. Sometimes, if I couldn't find a suitable substitute, I will omit it from the recipe and go on. After all, how bad can the food get without a spice?
How about you? What is your favorite option? Let me know in the comment section, and we'll discuss more.
References:
Joseph, M., 2021. What Is Prepared Mustard? A Complete Guide.
Spoon University. 2021. What Does Arugula Taste Like, and Why Should You Try It.