It is time for you to jump into the journey to find the answer to the "what does veal taste like" question. Veal is a dominant ingredient in cooking, so it is essential to clearly understand veals' taste to have the perfect flavor combination when cooking.
This article will be a fantastic destination on your explored journey as it contains everything you are seeking related to this mysterious topic. Your culinary knowledge will be extended after reading this post.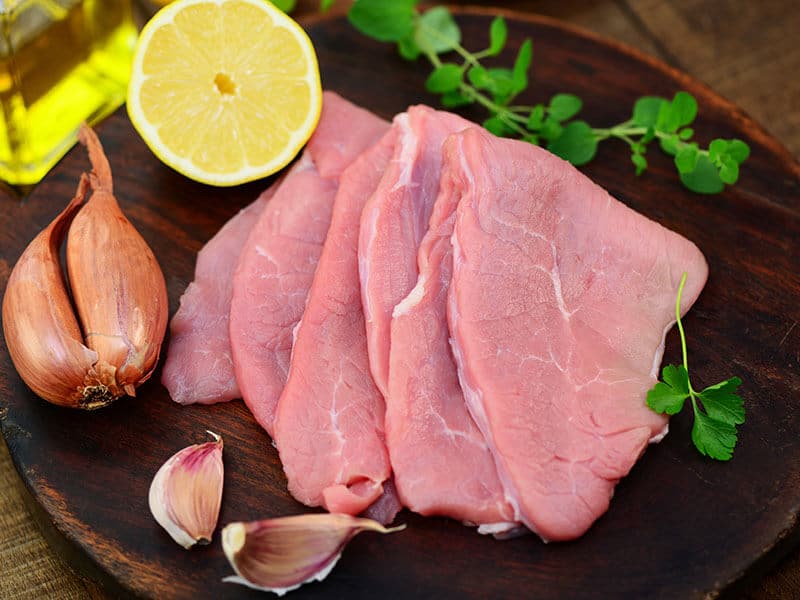 Fundamental Knowledge About Veal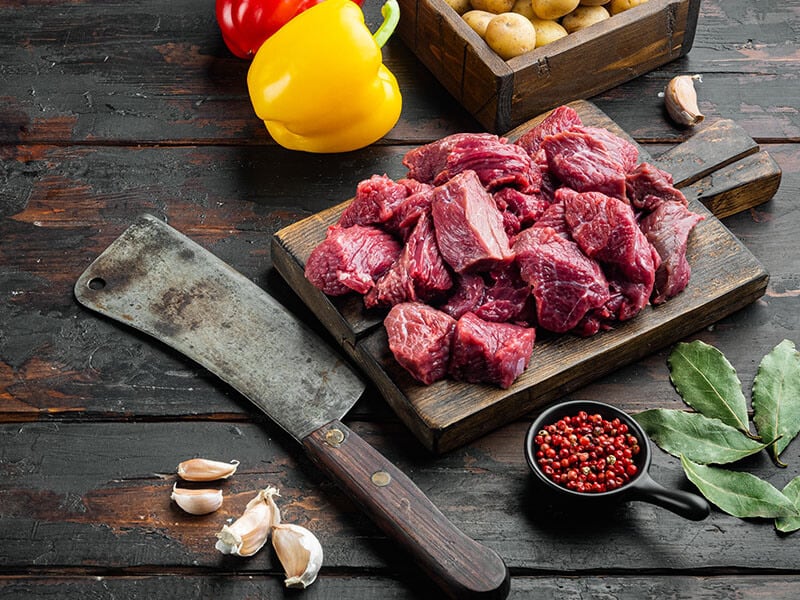 Veal is a famous and loved food in many parts of the world. Veal is obtained from the meat of calves (1) . Any type of calf can be used for veal. However, male calves are still preferred because they are not used for milk.
Veal has its origins in the time of the ancient Romans. There are many objections to the production of veal because they consider it cruel to animals. To make veal redder and chewier, calves are usually kept in cages or crates with no gaps.
There are different types of veal. Each kind of veal has different characteristics and flavors. These types of veal are usually graded according to the age of the calves. The special thing is that the price of veal is more expensive than beef.
Veal is widely used in various cuisines. There are many attractive recipes made from veal. The Italian, Mediterranean, and French cuisines have many delicious dishes with veal. The value of veal will be enhanced when combined with noodles, potatoes, and rice.
Better Cooking When You Know Exactly Veal Flavor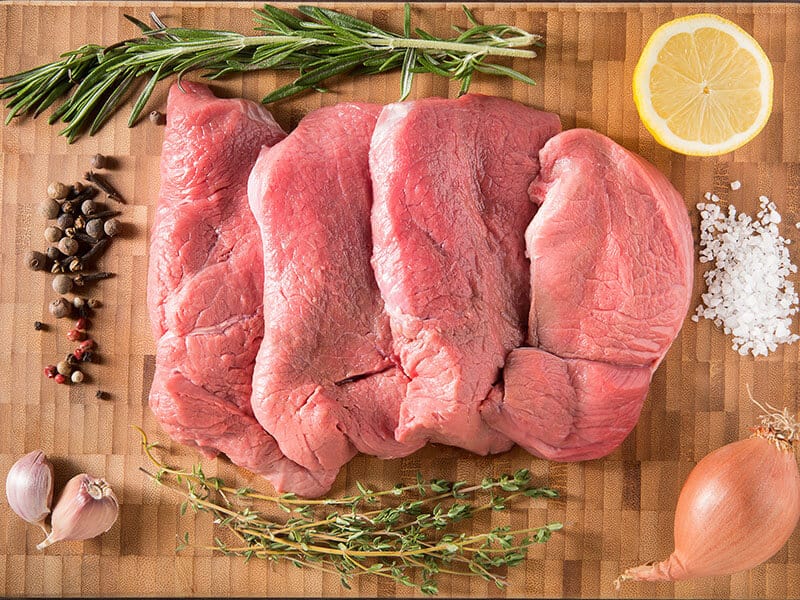 There is much controversy about the taste of veal. It is difficult to determine the exact taste of veal. Many people think that veal has the same taste as beef because they are the same kind of cattle. However, the flavor of veal is entirely different.
Veal has a mild, neutral flavor and feels pretty pleasant. Veal also brings a subtle and delicate flavor when incorporated into recipes. The taste of veal is similar to the flavor of chicken with red color. The color of veal is pretty varied, but mainly red and pink.
Veal is like a soft copy of beef. When you eat veal, you will feel it is more tender and smoother. The reason is the lack of muscle growth of the veal. In addition, the velvety and firm texture of the veal creates special highlights for it.
Veal is classified into different categories based on the age of the calves. Veal varieties include bob veal, milk-fed veal, grain veal, rose veal, and free-range raised veal. Let's explore the special things of these types right away.
| Kinds Of Veal | Age Of Calves | Color And Texture | Flavors |
| --- | --- | --- | --- |
| Bob Veal | Up to 3 weeks (Usually within 1 to 14 days) | Jelly-like texture | Mildest flavor |
| Milk Fed Veal (White Veal) | 18 to 20 weeks | Ivory and cream color, firm texture, and silky appearance | Delicate and neutral taste |
| Grain Fed (Red Veal) | 22 to 26 weeks | The dark red color and tender texture | Delicate flavor |
| Rose Veal | 35 weeks | Pink color and soft texture | Clean and lighter taste |
| Free Ranged Raised Veal | 24 weeks | Lean and firm texture | Robust and intense flavor |
1. Bob Veal
Bob veal is the meat of calves that have just been born for about 1 to 14 days. This variety has the mildest flavor because calves have not had time to develop. The texture of this veal is soft and silky like jelly.
2. Milk Fed Veal (White Veal)
Veal between the ages of 18 and 20 weeks is called a milk-fed veal. This is a breed of calves fed on milk formula. This dairy technique creates veal with unique ivory and creamy hip color. The combination of milk and whey as feed has increased the quality of veal.
3. Grain Fed (Red Veal)
Grain-fed is the product of calves between the ages of 22 to 26 weeks. Grain-fed calves will help enhance the flavor of the veal. The veal will have a tender texture and a dark red color. The grain will seep into the veal and add a good source of protein.
4. Rose Veal
Rose veal is the variety with the most protein. The high protein gives rose veal its pink color. Claves with 35 weeks of age will be slaughtered for the rose veal. Rose veal has a quite mild and clean taste.
5. Free Ranged Raised Veal
Free-ranged raised veal is the meat of calves raised on verdant pastures. This is veal from 24 weeks old calves. This type of veal has a characteristic and robust flavor. Its texture is also leaner and firmer than other types.
Extend The Shelf Life Of Veal By Storing Properly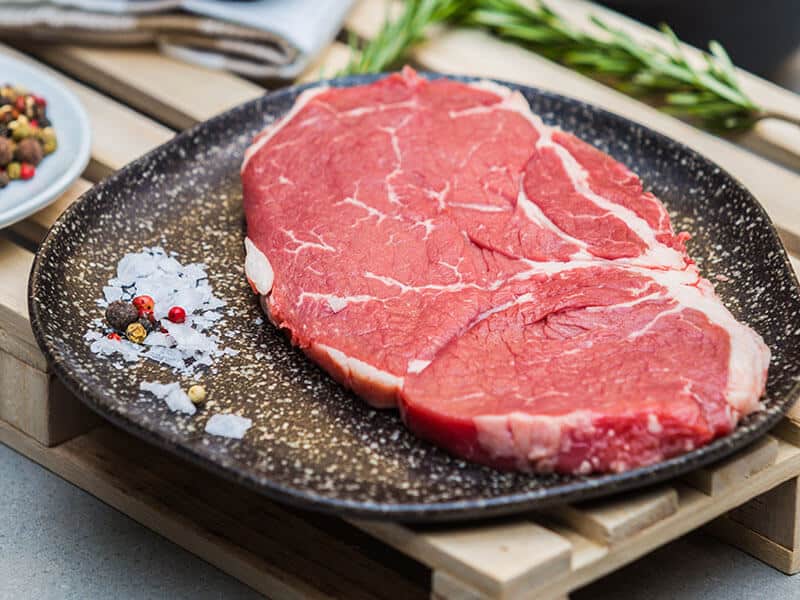 Food preservation is an essential job in order to keep freshness and extend the shelf life of food. Veal also needs a reasonable storage regime to maintain the quality of the meat for a long time.
1. Refrigerating Veal To Keep It Fresh
Storing meat in the refrigerator is always the best option to keep veal fresh for a certain time. In addition, Preserving in the fridge is convenient for use when you need veal immediately.
Step 1: After purchasing veal, you should not open the packaging when not in use for good preservation.
Step 2: For an opened veal, you need to cover the veal with plastic wrap.
Step 3: Place the veal in a food storage bag.
Step 4: Close the bag tightly to prevent air from entering.
Step 5: Put the bag in the refrigerator.
2. Freezing Veal For Long Term Storage
If you want to preserve veal for a long time, the only and best way is freezing. This is the fastest and most convenient storage method. You do not need to prepare too much. You just need to follow what I show below.
Step 1: Use cling film to wrap the veal.
Step 2: Place the veal in the freezer bag or container.
Step 3: Press to remove all air, and tightly close the freezer bag or container.
Step 4: Place the freezer bag or container in the freezer.
How Long Can You Keep Veal?
If you take good care of the veal, its shelf life can be longer than you think. Store-bought veal can be kept at room temperature for 2 hours. Extend shelf life to 3 to 5 days by refrigerated veal. When frozen, veal will last about 4 to 6 months.
If you cook veal but do not use it all, you can store it in the refrigerator for 3 to 4 days or in the freezer for up to 4 months. The shelf life of ground veal in the refrigerator is 1 to 2 days. It can last for about 3 to 4 months when stored in the freezer.
| State | Pantry | Refrigerator | Freezer (0 F) |
| --- | --- | --- | --- |
| Store-bought veal | 2 hours | 3 to 5 days | 4 to 6 months |
| Cooked veal | Not recommend | 3 to 4 days | 4 months |
| Ground veal | 2 hours | 1 to 2 days | 3 to 4 months |
Best Methods For Veal Preparation In Culinary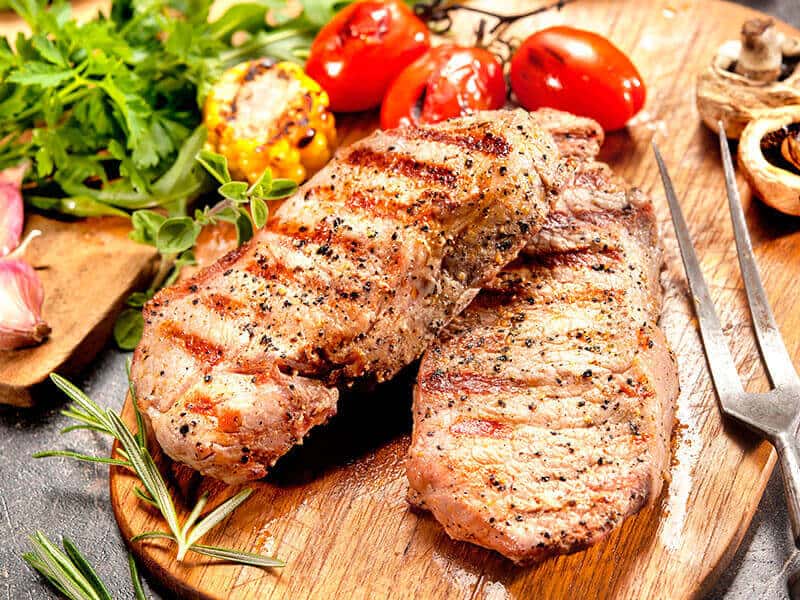 There are many attractive dishes made from veal. In countries like France and Italy, veal is often sliced and breaded to make a delicious and crispy fried veal. The fillet steak with veal is a culinary masterpiece.
You can easily make soups with veal and vegetables. Veal will be cut into bite-sized pieces and cooked with water. Spices, pepper, cabbage, and fried onion will be added and cooked for about 60 minutes. Add vegetables like carrots and celery for extra flavor.
You can combine veal with tomato sauce and white wine to make a delicious stew. Veal is sauteed with onion, garlic, tomato sauce, and white wine. You need to spend about 1 to 2 hours simmering until the meat is tender.
You can roast veal with bones or bread and combine it with other ingredients to make stuffing. The famous Italian Vitello Tonnato with veal is also a clever way to use veal. This recipe is a combination of veal and seafood.
The soft texture of veal is a fantastic choice for filling in baked dishes. In addition, there are still delicious veal sandwiches in the world. If you like vegetables, you can use the roasted veal with the vegetable recipe. The perfect temperature to cook veal is 160 degrees F.
Instructions To Prepare Veal Before Cooking
It is extremely essential to treat the veal before cooking because this will determine the quality of your dish. Veal needs to be seasoned carefully so that the spices penetrate evenly and the veal is tender and attractive.
Step 1: Wash the veal thoroughly to remove dirt.
Step 2: Use clean paper towels to dry the meat.
Step 3: Start marinating the veal with vinegar, lemon juice, or white wine, depending on your preference.
Step 4: Add a pinch of salt, chili, and black pepper to spice up the veal. Add garlic or ginger paste if you like.
Step 5: Wrap the veal with foil.
Step 6: Wait about 2 to 3 hours before cooking. At this point, the veal has become tender and absorbed the spices evenly.
Step 7: Take away fried, grilled, or whatever style you want. I recommend that you should cook by dry or moist heat with tender cuts, such as ribs, leg cutlets, and loin chops. On the other hand, it's better to braise or simmer breast of veal, ground steak, and stew meat with water.
Enhance The Quality Of Meal With Yummy Veal Recipes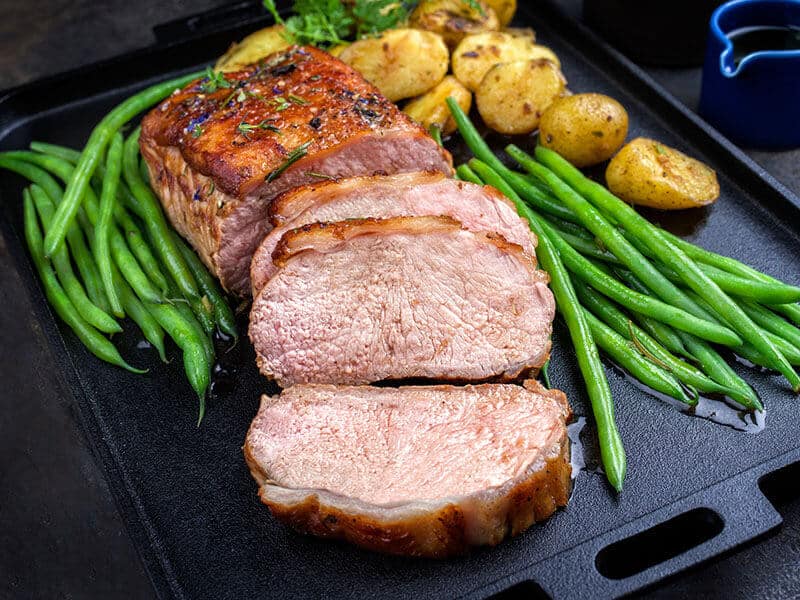 The mild and delicate flavor of veal is an element that chefs love to incorporate into their dishes. Therefore, there are many attractive recipes with veal as the main ingredient. Learn and do it today.
The taste of veal, when combined with mushroom, will bring an excellent flavor. The sauce made from Italian Marsala wine will bring out the unique taste. The softness and rich flavor of veal after being marinated will captivate you.
Breaded veal cutlets are one of the simplest recipes with veal. The dish only takes about 10 to 20 minutes to prepare. After being marinated with spices, the veal will be breaded for frying. You will feel the crispiness of the dough and the tenderness of the veal.
Listen to the detailed directions on making breaded veal cutlets.
Vitello Tonnato is a famous recipe in Italy. The dish is a mixture of flavors of veal and tuna sauce. Veal is seasoned with wine and spices to bring out a unique flavor. You will also feel the tastes of anchovies and tuna in this particular recipe.
Grilled veal chop with garlic herb crust is a recipe that maximizes the value of veal. Seasoned veal grilled with fragrant garlic will make you want to enjoy the dish immediately. The veal is grilled evenly from the outside to the inside, both tender and rich.
Veal piccata will make your party more complete. This is an Italian-style dish. The tender slices of veal will melt in your mouth. The sauce with white wine will add more flavor to the fantastic dish.
Go to the kitchen and make delicious veal for your dinner. You can see this video to know more:
What Are The Health Benefits Of Veal?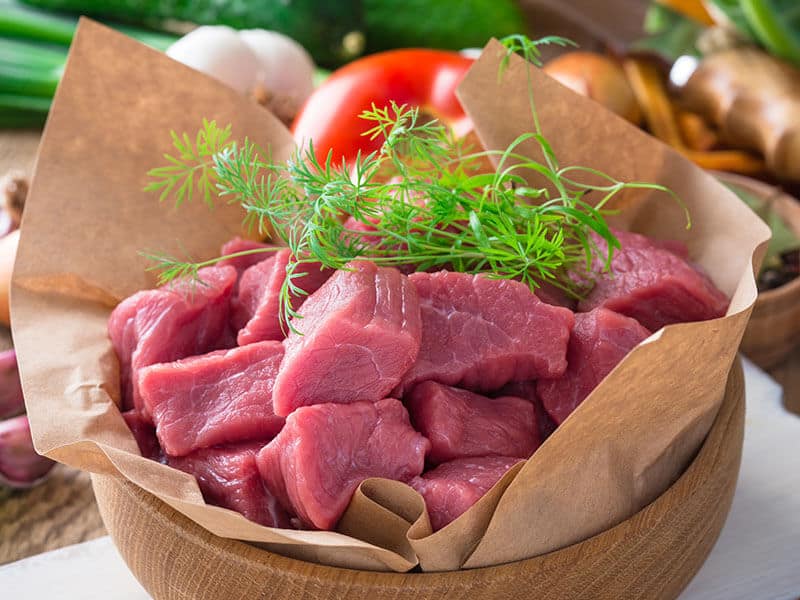 Veal includes a lot of beneficial nutrients to your body. You can gain a tremendous amount of vitamin B, protein, calcium, and other minerals when consuming veal. These nutritional components play a vital role in the growth of your body.
| | |
| --- | --- |
| Nutrients | Value |
| Water | 66.16 grams |
| Energy | 197 Kcal |
| Protein | 18.58 grams |
| Fats | 5.1 grams |
| Calcium | 12 milligrams |
| Iron | 1.37 milligrams |
| Zinc | 2.51 milligrams |
| Vitamin B | 2.28 micrograms |
| Magnesium | 31 milligrams |
| Potassium | 198 milligrams |
| Sodium | 103 milligrams |
Eating veal can improve your immune system because of the zinc element. Moreover, veal is good for metabolism because the saturated fat content of veal will support the metabolism.
If you are facing problems related to the high cholesterol content, you can eat veal without worrying since it has a low cholesterol content. Alternatively, it is also a rich source of Omega 6 fatty acid (2) ; this nutrient is good for metabolism.
Your body will be provided an essential amount of iron. If you are following a low carbs diet, you should eat veal. The soft texture of veal will be suitable for your digestive system.
FAQs
Besides the information I have provided, there is still other knowledge related to veal taste. I will bring that information to you by answering the most frequently asked questions on this topic.
Try Tasting Veal Right Away!
The taste of veal has never let me down. I love experiencing all the great recipes with veal from different cuisines. I think you have the same desire as me. The delicate and gentle taste of veal will melt the hearts of food lovers.
If you have never tasted veal, do it now. Maybe, you will be addicted to it. As always, please share and like this interesting post. Share your experiences and feelings with the veal flavor below. Thanks for reading.
References
En.wikipedia.org. 2021. Veal – Wikipedia.
A review of fatty acid profiles and antioxidant content in grass-fed and grain-fed beef.